Wood Deck Restoration with Behr Premium DeckOver
This post may contain affiliate links which won't change your price but will share some commission. Read more here.
This amazing wood deck restoration project was accomplished using Behr Premium DeckOver. The post includes tips on preparation, application and results.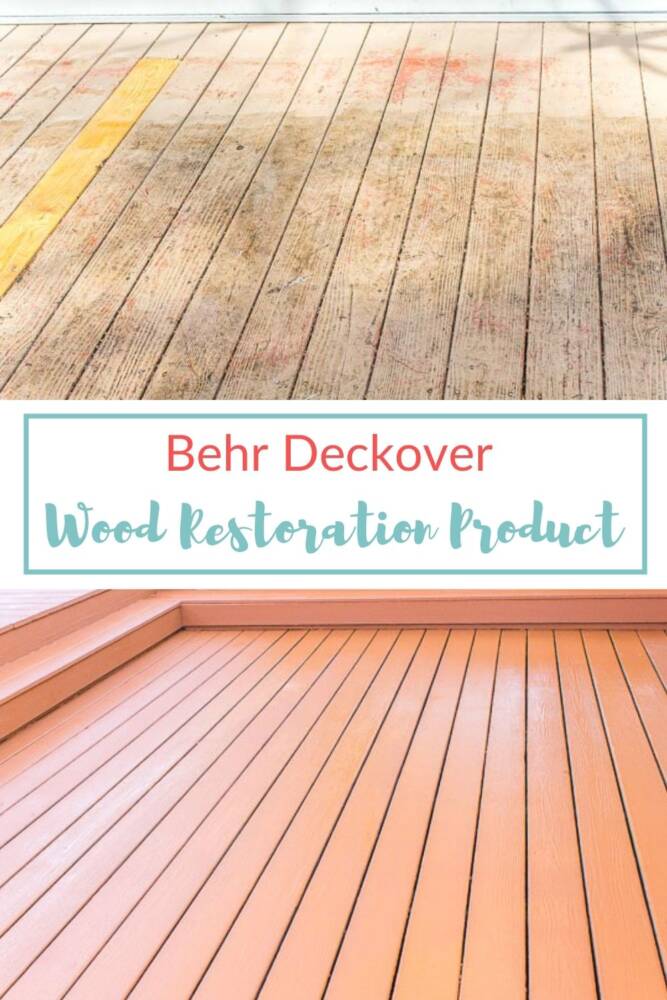 You can find a followup review of our wood deck restoration here (with additional tips on Behr Deckover.)
The post Wood Deck Restoration with Behr Premium DeckOver® was sponsored by Behr Paint but my DIY hubby and I loved this product!
Quick tips for using Behr Deckover wood restoration product:
Preparation – the first step in doing any deck project is to clean and prepare it.
Tips and Tools – you must keep this product stirred. It is also critical to remove ALL the debris off the deck.
Application – apply a generous amount of product and try to work in the cool of the day,
Durability – the first few times the product gets wet, you may notice white streaks or even dried white puddles. If this happens wash the entire deck with the hose to remove.
Shortly after we moved into our home 23 years ago my DIY hubby built the lower deck by our back door and then the upper deck around our large tree.
Oh, the stories this deck could tell!
Our kids used to hop on their ride-on toys and race around this tree with abandon!
One of our favorite funny home videos shows our youngest two riding a little bus with a coat completely covering their eyes. You could hear us hold our breath as they veered around the tree, barely keeping from falling off the deck, laughing hysterically in glee.
I don't remember any major accidents and thankfully we've only had one broken bone in all these years!
Throughout our parenting years we've hosted birthday parties, cookouts, a surprise graduation party, a sweet sixteen party as well as many holidays for our extended family.
With all the enjoyment our deck has given us the least we could do was take time and effort for a wood deck restoration project! Here's my handy hubby to tell you all about it!
From Tim: Recent repairs and improvements to the deck left it in dire need of a bit of spit and polish!
So, spit and polish is what it got…along with the most amazing deck restoration product from Behr called DeckOver!
This before picture shows what I was dealing with; old wood, bad stain and new wood. At the very right of this picture I added a wedge-shaped section of deck to fill a corner where a fence used to be.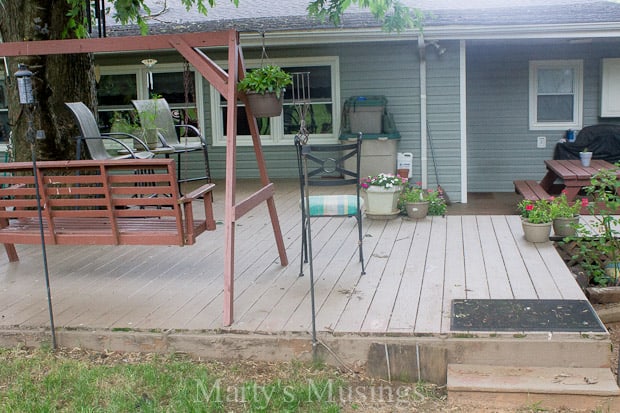 This is that section and became the new home for the swing…all new wood.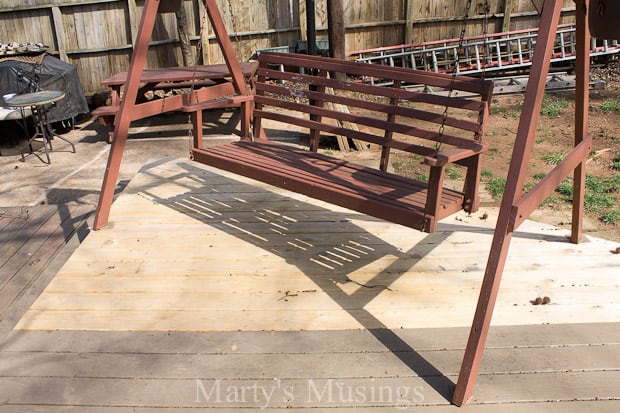 Here is a great shot of how weathered our decking was, compared to new wood.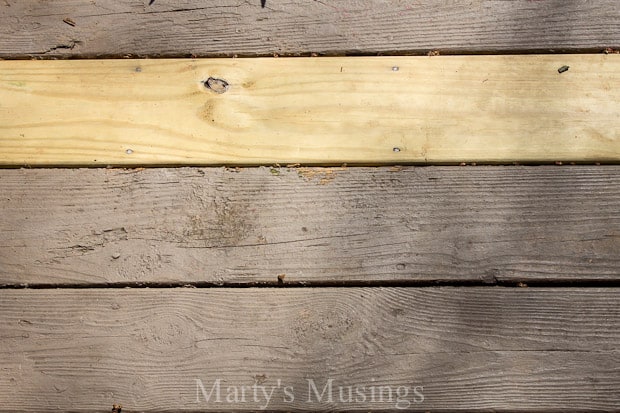 And another of older stain showing through a different coating that just didn't hold up. All those cracks would be filled with the DeckOver product…or so they say!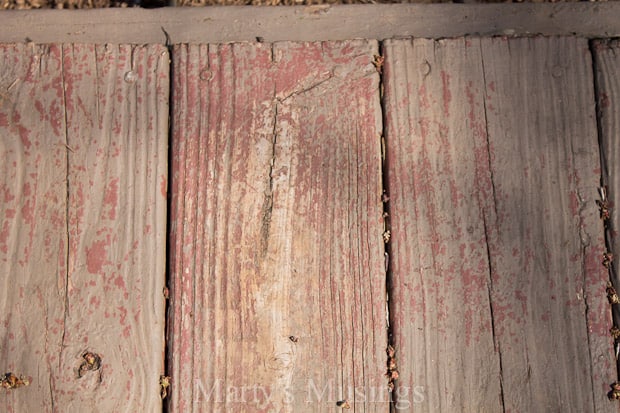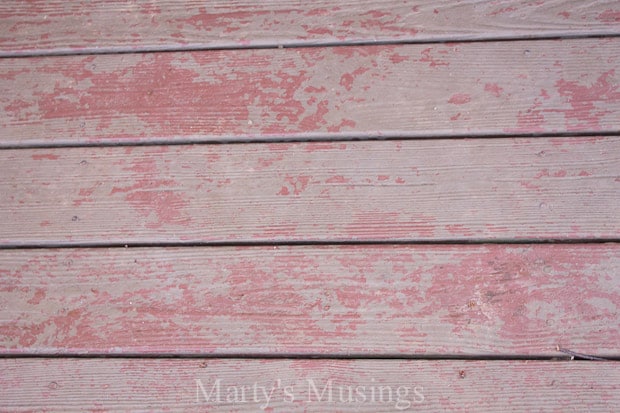 Wood Deck Restoration
(I've included some affiliate links for your convenience. Click here to read my full disclosure policy.)
Materials:
Behr DeckOver Wood Coating
Jomax House Cleaner & Mildew Killer
DAP® Premium Indoor/Outdoor Sealant
Industrial paint stirrer
Purdy Roller Covers
Roller frame
Cordless Drill
1. Preparation
The first step in doing any deck project is to clean and prepare it.
Here I'm using a really good cleaning agent called Jomax House Cleaner & Mildew Killer.
It is a concentrate that can be diluted and sprayed on the deck to release the build up of grime and dirt.
Best to let that product sit for about 10 minutes, and then pressure wash.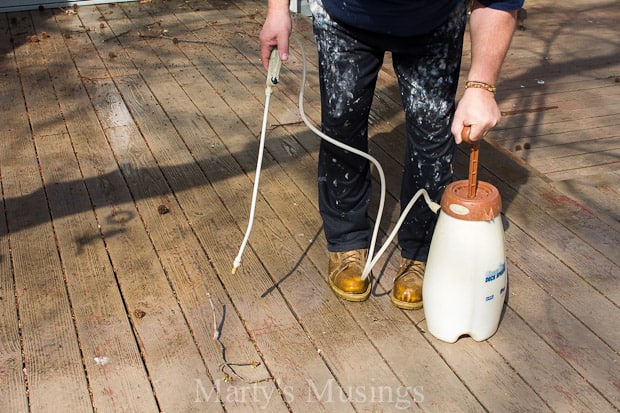 I am well aware that there is debate recently as to whether or not to pressure wash anymore. I have done it for 23 years and have no intention of stopping now.
It is the only thing that will get the surface clean enough to receive whatever product you will put on. Plus, it saves an incredible amount of back-breaking labor scrubbing with a brush.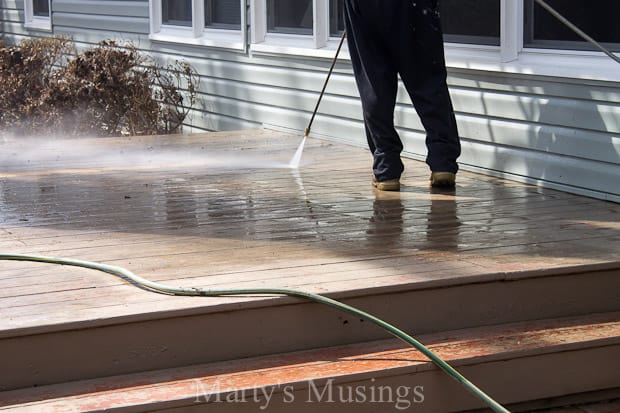 You can see here how one pass with chemical and pressure does the job!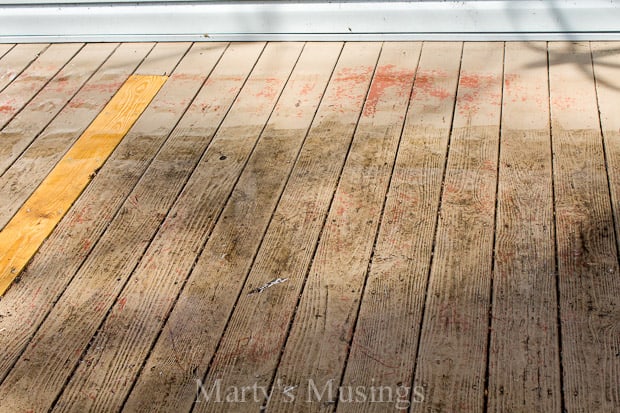 After letting the deck dry for a minimum of 24 hours (and this is true if it rains prior to sealing), I needed to fill some of the bigger cracks and knot holes with caulk.
This DAP® Premium Indoor/Outdoor Sealant
is great and was pretty close to the color of the DeckOver we would be using.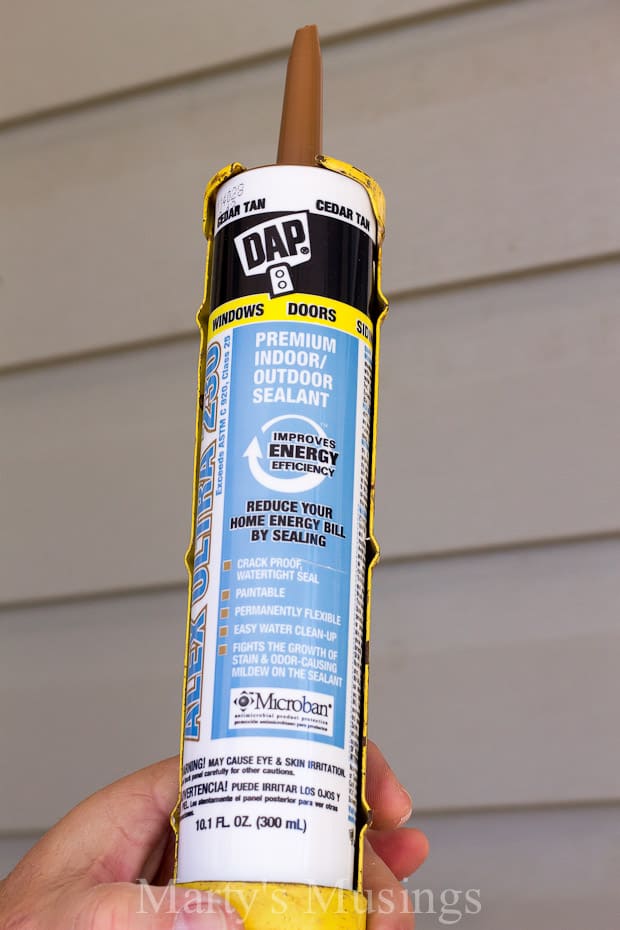 These were holes where deck lights used to live. Just squirt and smooth.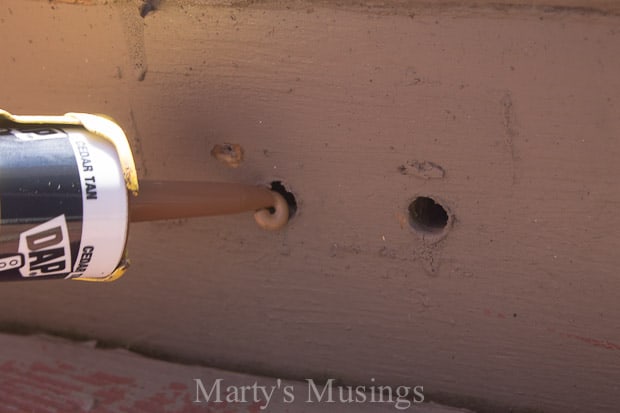 I walked the entire deck filling anything bigger than the DeckOver could handle (1/4″ according to Behr).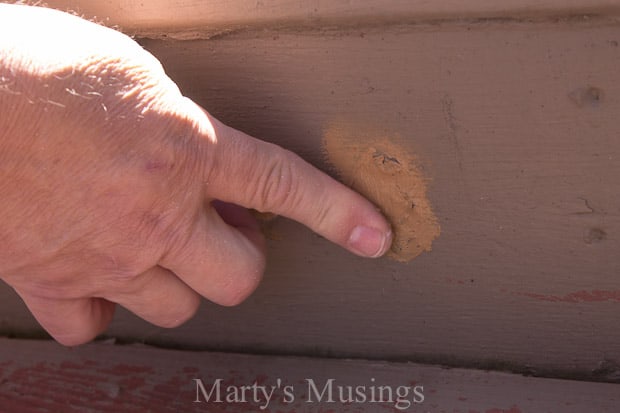 Here is a five-gallon bucket of the product we used, tinted to "Woodbridge".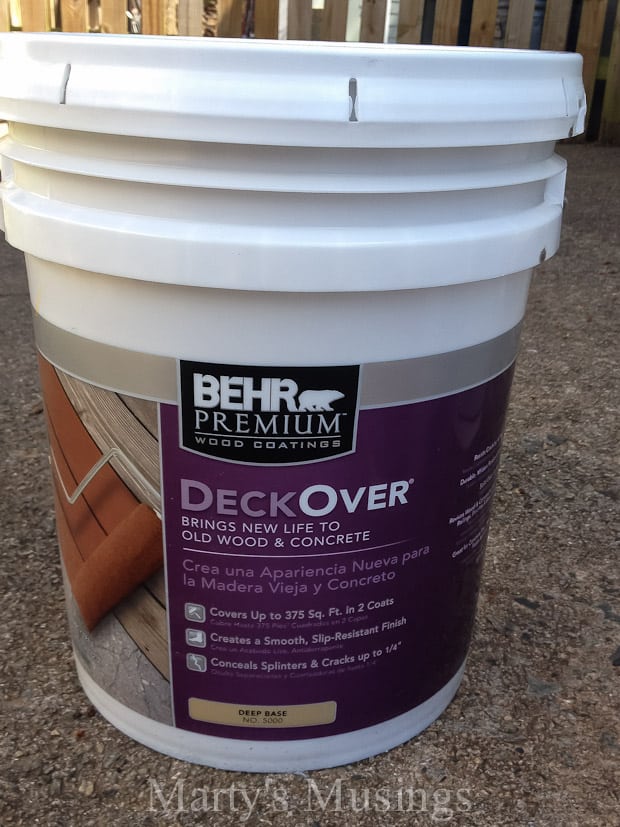 2. Tips and Tools
There are many tips for using this product and the first is that you must keep this product stirred.
It is very thick, almost like pudding, so you don't want any kind of settling, especially when working out of the 5-gallon bucket.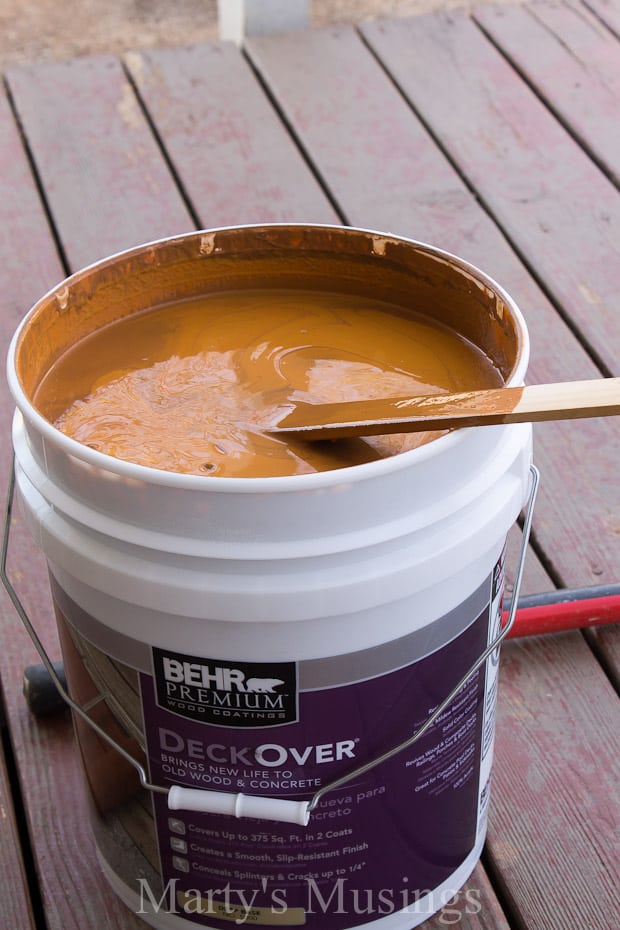 This is an industrial paint stirrer that attaches to any drill and, when used carefully, can totally handle the thickness of the product.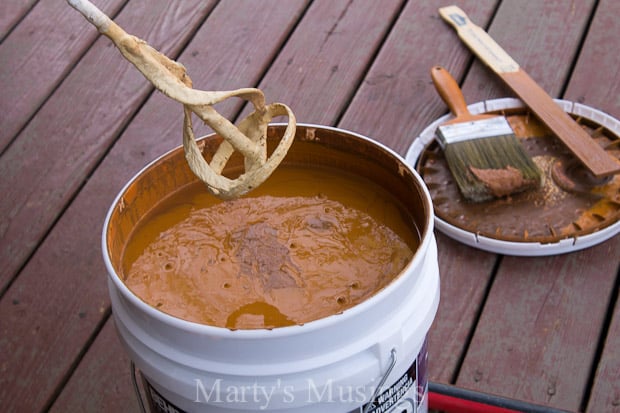 Here's an action shot and you really get an idea of the viscosity of the DeckOver product.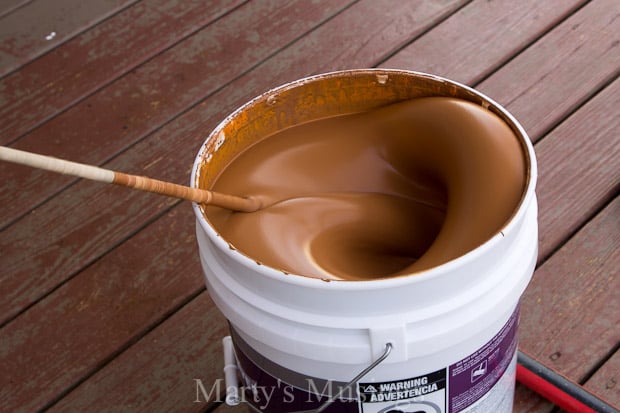 Before I go further, I really want to stress how critical it is to get ALL the debris off the deck.
Anything you leave between the space between boards will get picked up by the brush and roller and then get deposited back into your bucket or pan, only to be plopped back onto the deck later.
Clean as you go and keep it clean.

3. Application
The best way to work this product is three or four boards at a time…not like I started to do here! It sets up SO fast that, if you roll back into it, it pulls that product back into little peaks.
In addition, if something drops into your beautiful surface (bug, leaf, dog, etc.) DO NOT dab into that surface to retrieve it! Just leave it for the second coat and pluck it out then. This will be an essential tip on the second coat.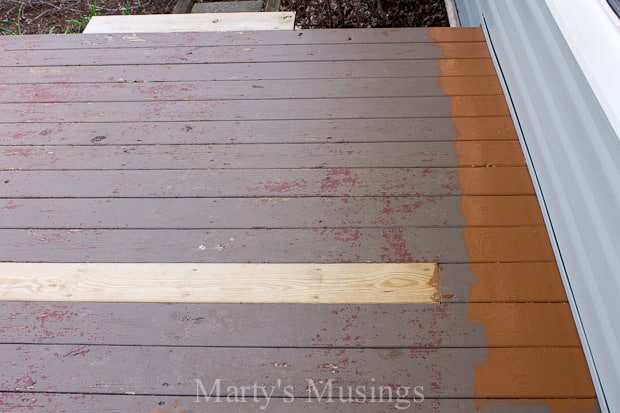 I chose to work right out of the bucket with a roller and paint screen. It is much easier than pouring into a pan and executing re-fill after re-fill.
Once you begin that 3 or 4 board run, you want to move along to the opposite end with no interruptions. FYI, I used a 3/8″ roller cover.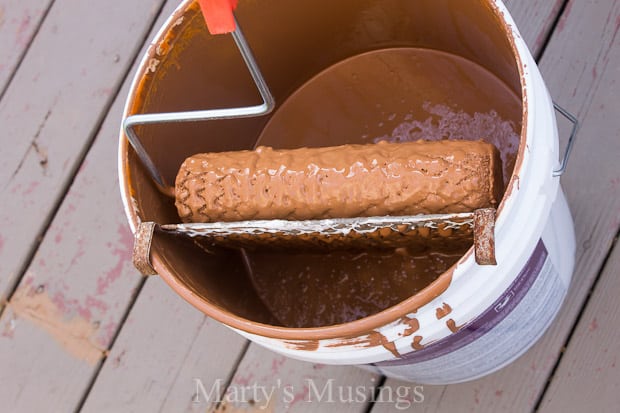 This is the first pass, with the roller on a long handle, and I was immediately in love!
Another good tip is to work in the cool of the day, if at all possible. I began right around 5:00 p.m., which allowed me to work in complete shade.
If you try and apply in extreme afternoon heat, work a few boards at a time and work very fast.
You want to apply a very generous amount of product. Don't try to stretch this stuff out. Load that roller often and run from one end to the other.
If you have a pretty good space between boards you may need to use a brush first and get those exposed edges. If you have a helper, this is where to use them!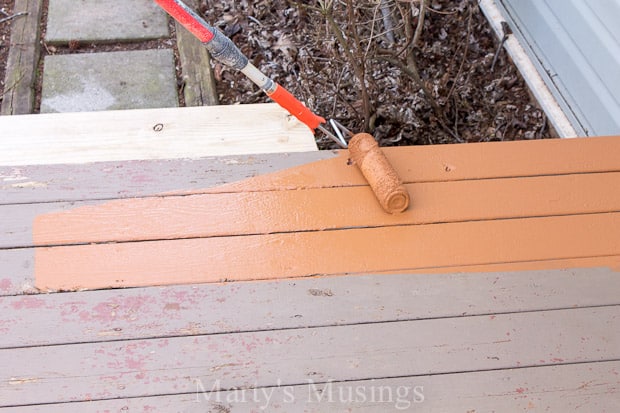 Here I'm just about to finish the lower deck and you can really see the dramatic difference!
I have been a Painting Contractor for a long time and have never used a restoration product. This truly lives up to the claims it makes.
The look after application is not glossy but will appear that way until it dries completely.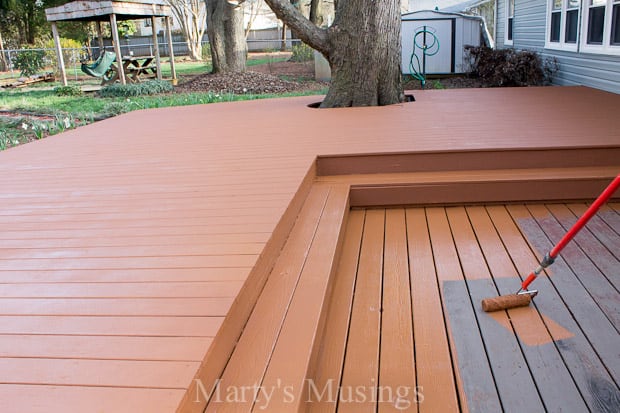 And here is the end of the first application! For the record, the upper deck is around 24′ x 26′ and the lower is 16′ x 16′.
I actually got better coverage than the instructions suggested, but I am guessing that it is because I have no railings, benches or substantial steps.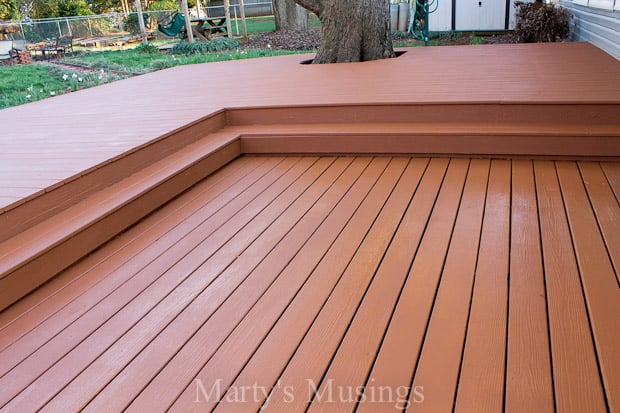 Since I had leftover product, I asked about a third coat and was told to hold off for now. In the future, another coat can be applied after light cleaning and brought back to this appearance.
4. Durability
A good question you might have is about durability. I had the same concern since I have dogs that think the decks are their personal potties, lots of foot traffic, birds and tree debris.
At the time I write this post, I am pleased to say that the product has not lifted off anywhere…after two months! I just wash it off with a garden hose and I'm back to clean.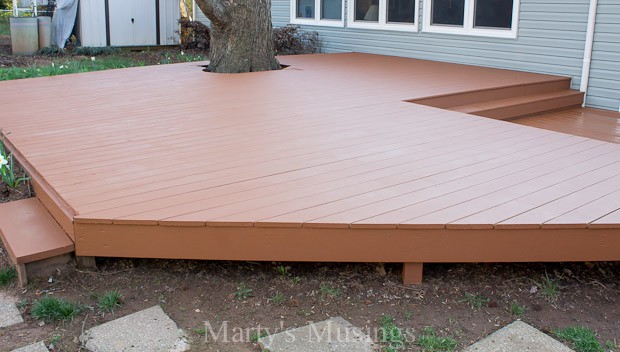 Now, here is something I've read can happen with this product and it happened to me. The first few times the product gets wet, you may notice white streaks or even dried white puddles that looks like somebody spilled milk all over your beautiful deck.
Not to worry, this is called "surfactant leaching" and is a bi-product of a material used in formulating the product. Surfactants are soapy carrying agents that help the product be distributed on the surface.
If you wet your fingers and touch these streaks, you will get a soapy sensation. I have seen this in some exterior paints and it really is nothing to worry about.
Mine appeared after a rain and I just washed the entire deck with the hose and they went away. I believe I did this one more time and they have never returned.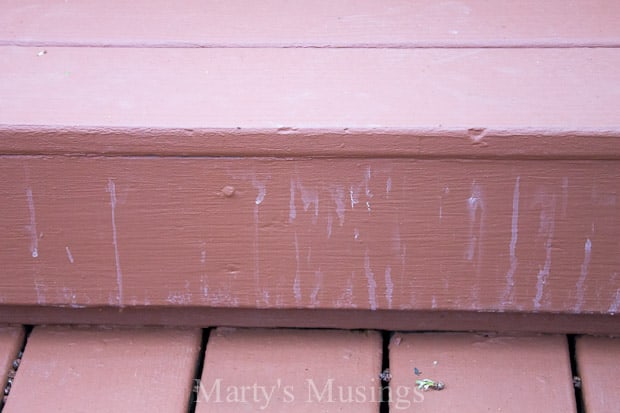 I really love this space, especially with the enormous silver maple tree, and the DeckOver was a welcome enhancement.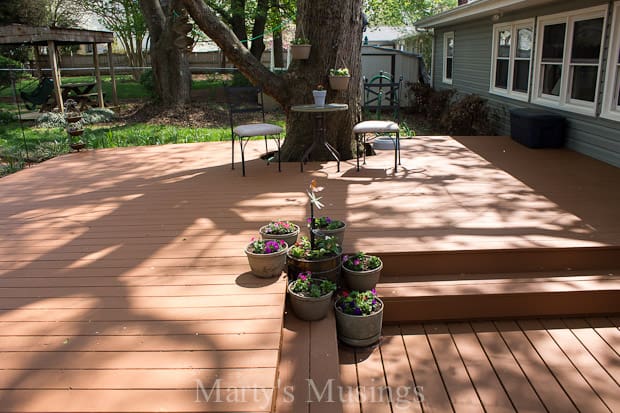 And, at the risk of being accused of being all "matchy, matchy", we also did the swing and a picnic table!
We love it, and I can't recommend Behr Deckover enough! Work it right and you can achieve the same results and even better! Good Luck!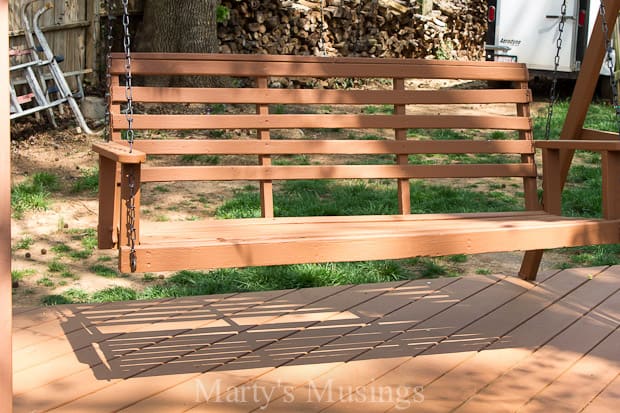 From Marty: My husband did a great job on the deck and the difference has been amazing. Do you have a deck you need to tackle? Let us know if you have any questions about the Behr wood restoration product!
***The Deckover color we used was Woodbridge.
Practical painting tips for the home that anyone can use, including chalk painting, accent walls and choosing the right colors.