Behr DeckOver Product Review
This post may contain affiliate links which won't change your price but will share some commission.
In this Behr DeckOver product review readers wanted to know if it lived up to claims of longterm coverage. Here's an update!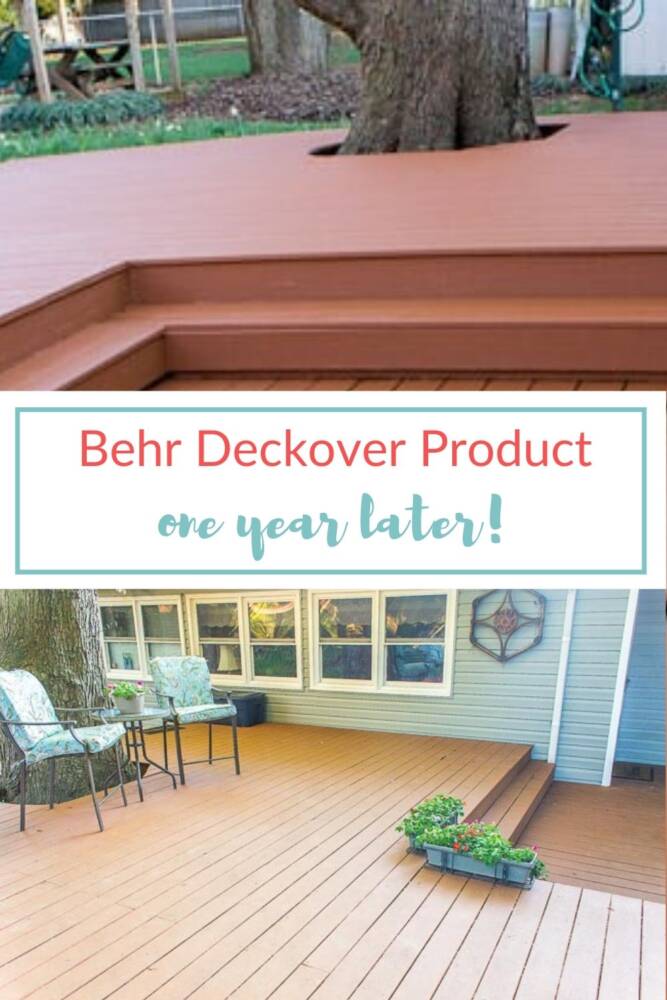 The post Behr Deckover Product Review was sponsored by Behr Paint but we have loved and used Behr products for years!
Behr Deckover Product Review:
Traffic: The amount and type of traffic affect the wear and tear on any outdoor surface.
Weather: The severity of the weather in your area may affect the success of the Deckover product.
Adhesion and durability: Protecting your deck from water erosion is a necessity.
Surface: Evaluating the age and condition of the surface is critical.
Cleaning and maintenance: Two types of cleaning options are available: chemical application or pressure washing.
Last summer my DIY hubby restored our 20+-year-old back deck with an amazing product from Behr Paint. 
Since then I've received more questions about that post than any other.
The most frequently asked question was how does the Behr Premium DeckOver® hold up? 
If you go back to that original post you will discover some great information from the comments as well.
But first…..a cute puppy alert!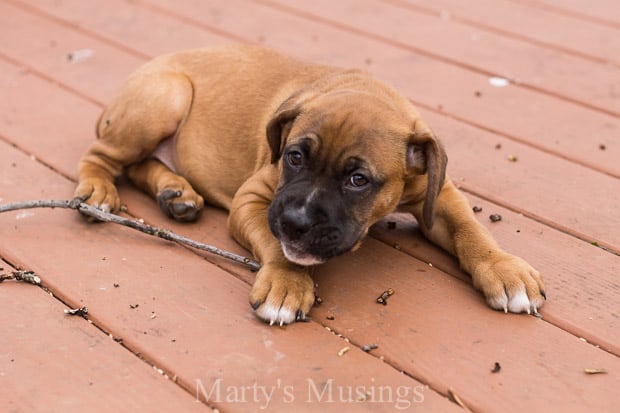 I think every post should begin with either a cute puppy or an adorable baby, don't you? The world would be a happier place!
You can see the deck is dirty from last year but otherwise in good shape.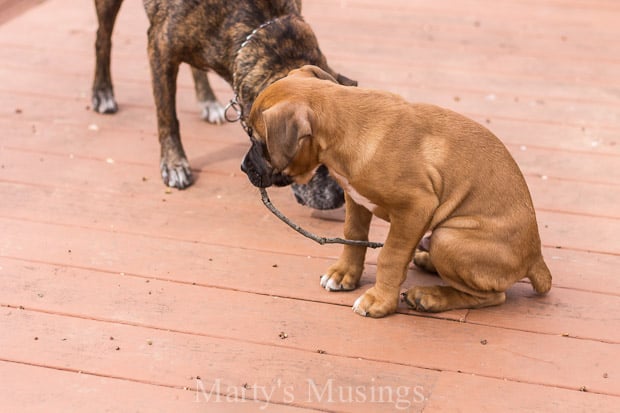 Here's my handy hubby to answer all your questions!
Behr Deckover Product Review
From Tim: One of the biggest concerns when undertaking a deck project and protecting a hefty investment is the durability of any product that is designed and used to protect it.
I want to offer firsthand experience on Behr's DeckOver product that has been on our rear deck for exactly a year, specifically how it has held up through a season cycle.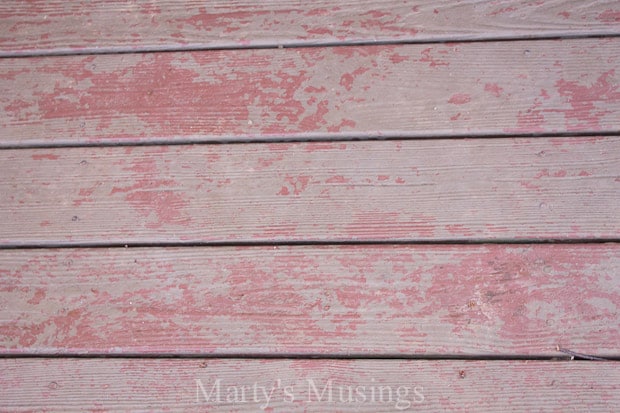 (our deck before using Behr DeckOver)
To fully appreciate this product and how well it has performed, it might be a good idea to go back to our original post on preparing and applying the product.
It cannot be overstated how critical a fastidious approach is to the success of the DeckOver product. Any deviation can cause failure.
Let me also offer the disclaimer that, while this restoration product worked beautifully for me, it may not do the same for you.
There are plenty of negative reviews on the internet that are easy to find. However, 12 months down the road I have no regrets about how DeckOver performed!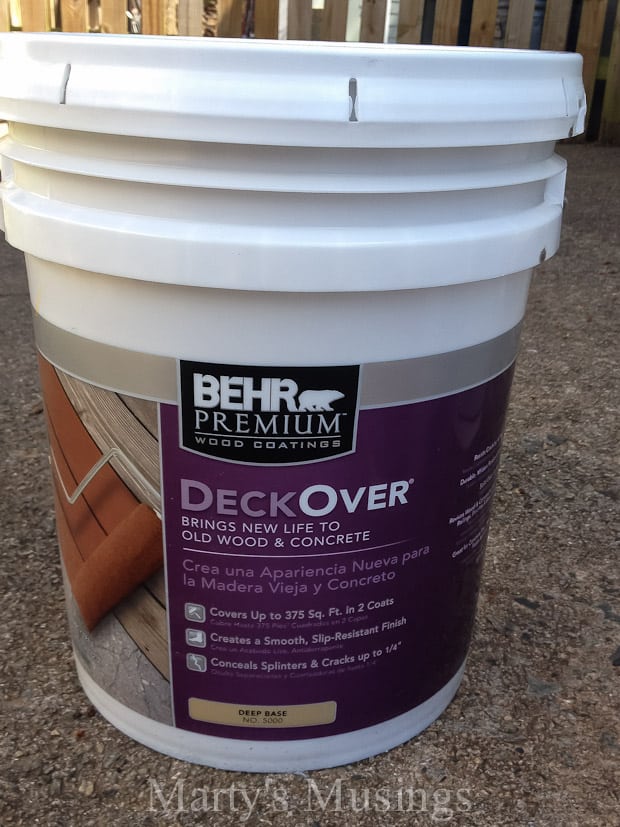 There are a number of factors that will affect the longevity of any decking product, and the fact that this is a restoration product makes those factors come into play even more.
Let's talk about a few of those in this Behr DeckOver product review and how it performed in those specific areas.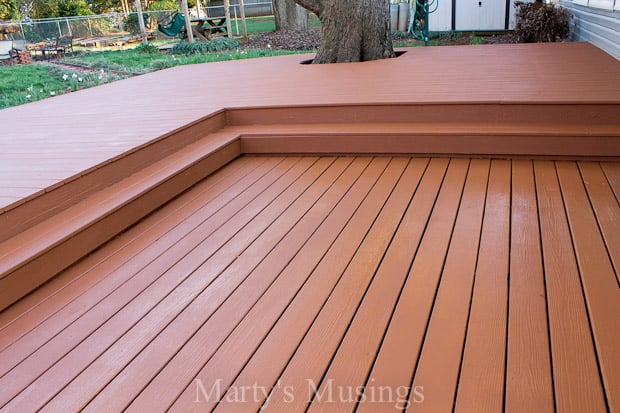 (last year immediately after application)
Materials used in the original application:
Behr DeckOver Wood Coating
Jomax House Cleaner & Mildew Killer
DAP® Premium Indoor/Outdoor Sealant
Industrial paint stirrer 
Purdy Roller Covers
Roller frame
Cordless Drill
Tip 1: Traffic
The amount and type of traffic affect the wear and tear on any outdoor surface.
We have had crazy dog traffic all over this deck throughout every season. Our new boxer pup drags everything and anything up onto the deck to shred it to pieces.
There is almost always some kind of debris and even icky doggie presents at times, but everything blows or washes right away.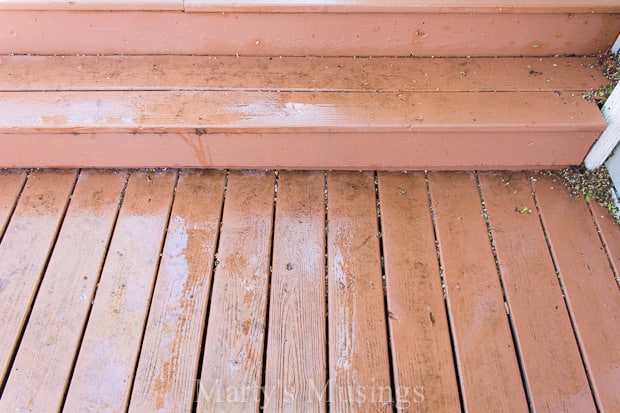 (before pressure washing this year)
I have pressure washed, without chemicals, once and not one chip was released from the surface.
All types of deck furniture seem to be fine on this product, too; metal, wood, plastic, heavy, light. Anything I've thrown at it has been fine.
Tip 2: Weather
The severity of the weather in your area may affect the success of the Deckover product.
We are located in central North Carolina and have a gentle to moderate turn of four seasons, with highs in the summer in the upper 90s to lows in the winter below freezing with snow every now and then.
Lots of pollen in the spring and tons of leaves in the fall. While it is far from harsh, it is a big enough swing to say this product performs well in a variety of conditions.
Tip 3: Adhesion and durability
Protecting your deck from water erosion is a necessity.
Remembering that two light coats are better than globbing the first coat on and flying through a light second coat just to be done, adhesion has not been an issue…with one small exception that is not the fault of the product.
The huge silver maple that the deck is built around will drop branches in a good storm, some very large ones.
One such branch came down, ripped the gutter off the house, and actually punched a hole in the deck board!
I have yet to repair the gutter and I noticed that the constantly repeated waterfall where the rain pours over has caused the DeckOver to release right at that spot.
I would say that any prolonged exposure to a steady stream of water could cause a problem. This might also occur under a hose, a water feature, a pet bowl, or potted plants with heavy drainage.
There is a saying in the painting business that is so true. "Water always wins!"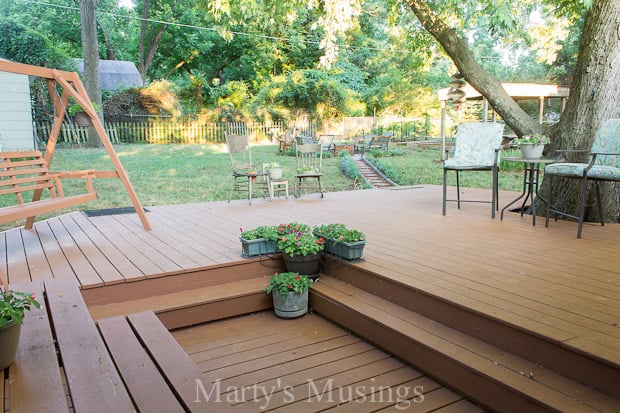 Tip 4: Surface
Evaluating the age and condition of the surface is critical.
This may be the biggest variable that is most difficult to address. New wood can be almost as big a problem as wood aged 20 years or more.
Old school thinking, that I still adhere to, is that new wood should age six months before ANY product is applied. So applying any earlier can cause problems.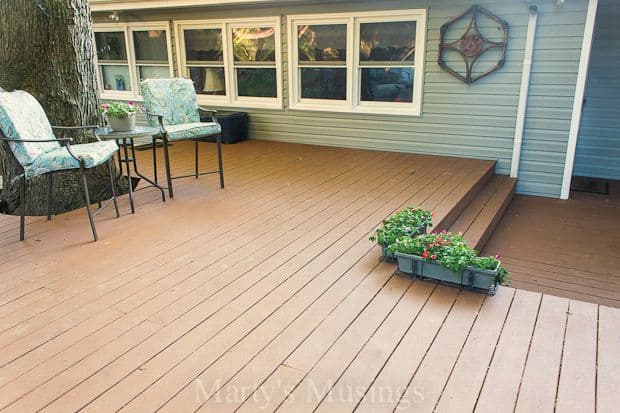 Conversely, there does come a point in the life of a deck that the only prudent action is to simply replace it, or at least the deck boards.
Outside of your own judgment, the manufacturer's suggestion is no cracks more than ¼". I found that to be true, and anything that was more damaged than that was filled with caulk (see original post) or replaced.
Tip 5: Cleaning and maintenance
You really have two choices to clean your deck once any product is applied: chemical application or pressure washing.
I really like the Jomax cleaner to remove mildew and algae. Ideally, you don't want anything with bleach that may alter the color.
If you just pressure wash, back off the nozzle setting from the yellow 20° tip to something a bit less concentrated.
Play with your distance from the surface and you should get good, safe results.
You can also use some chemicals and brush the surface if you don't have a huge surface to do. I chose to just pressure wash and got great results that brought the deck to "like new" condition.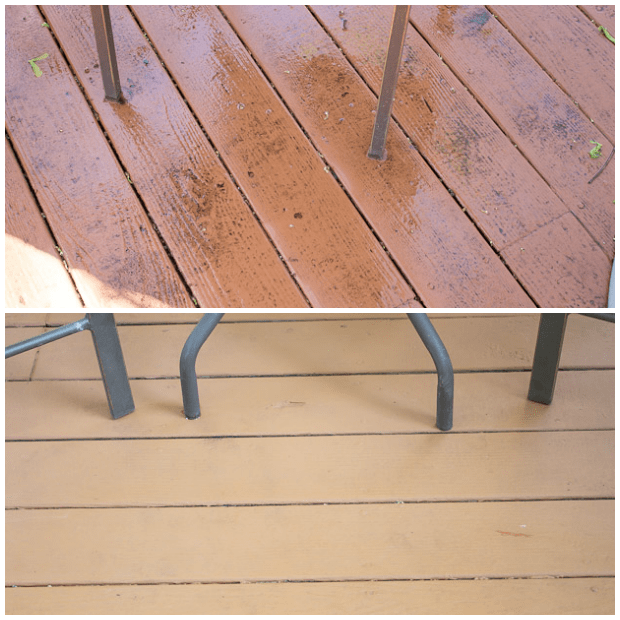 I want to close by saying that I just noticed Behr has come out with a DeckOver Textured product that looks like it doubles the "footprint" left on the surface, that is, a heavier texture.
For those with more substantial wear, this might be an option. Good luck!
***The Deckover color we used was Woodbridge.
Now to end with my adorable grandson and cute but not so little puppy!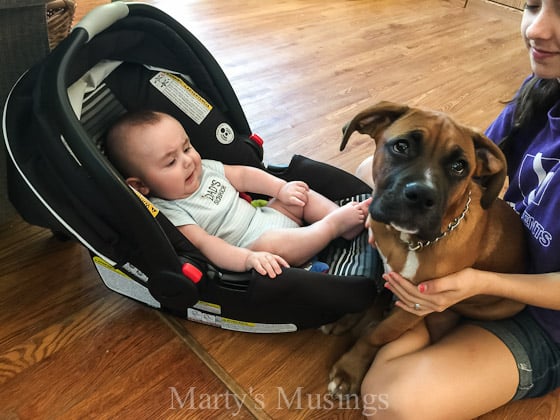 Have you tried the Behr DeckOver product?
Here are more outdoor projects to inspire you!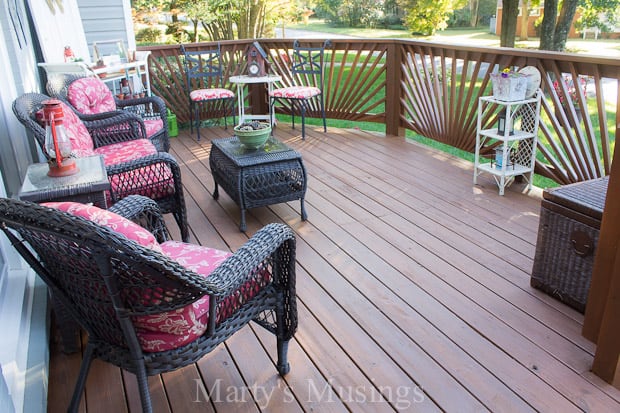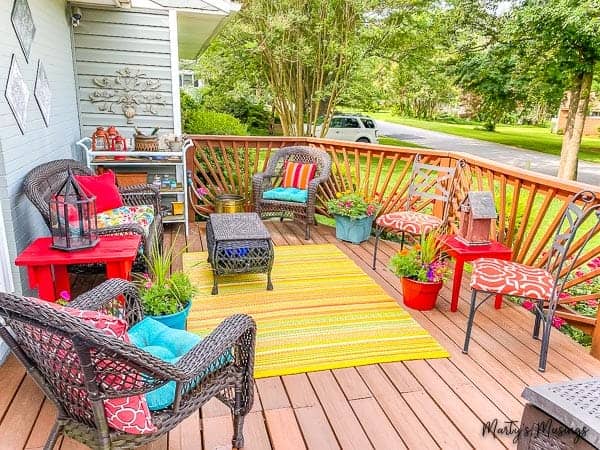 How to decorate your deck for summer