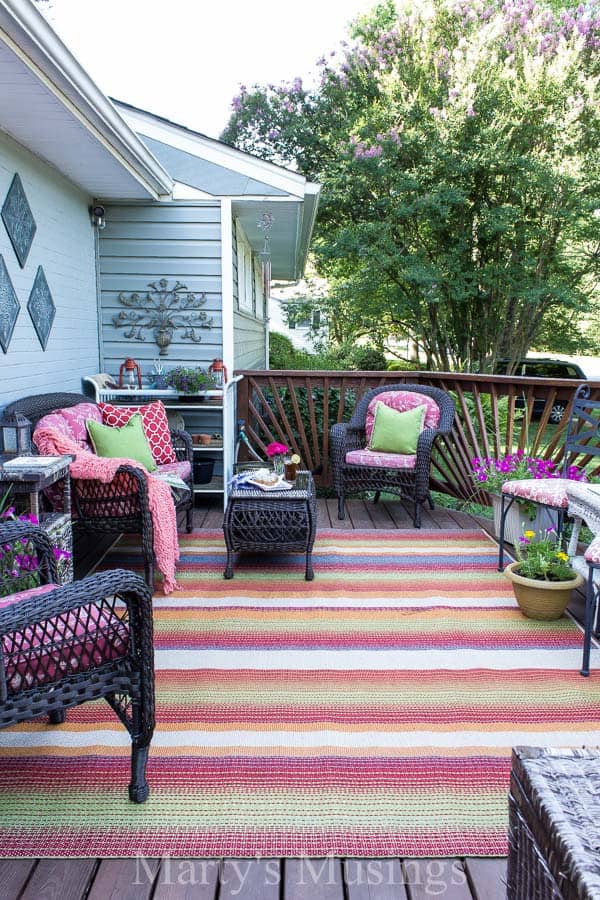 One of my favorite parts of summer is time spent outside on our front deck. I know my readers love learning how to decorate without spending a lot of money so here are my 5 deck decorating ideas on a budget!
This year I kept waiting for my DIY hubby to ask what kind of flowers I wanted him to pick up on his daily jaunts to the home improvement stores.
Oops. Kinda forgot he's no longer self employed and slapping paint on walls. (Hurray for the first steady paychecks in 25 years, though!)
That meant no daily trips to Home Depot or Lowe's. No pretty flowers for me in late spring.
Since I was late to the planting game my summer flowers were late blooming and spreading and looking pretty for pictures game.
Do y'all know how much work it takes to make a deck with no shade look good in NC in July?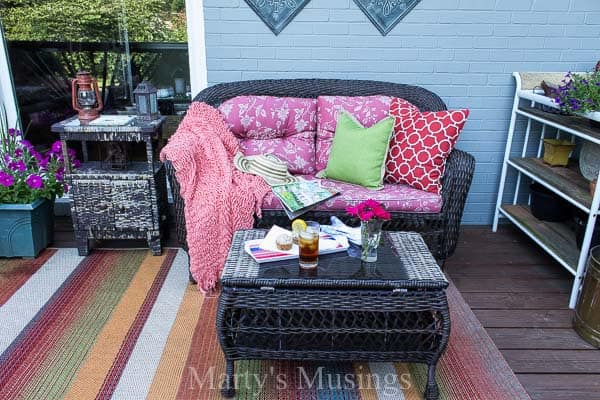 Good glory. There was a lot of pinching back flowers, watering and coaxing these babies to please not die in the extreme heat 'cause mama needs a blog post!
Then there was the styling.
Y'all, did I mention it was July when I took these pics and I started shooting at 8 am? Even at that early hour ice in the tea doesn't hang around long!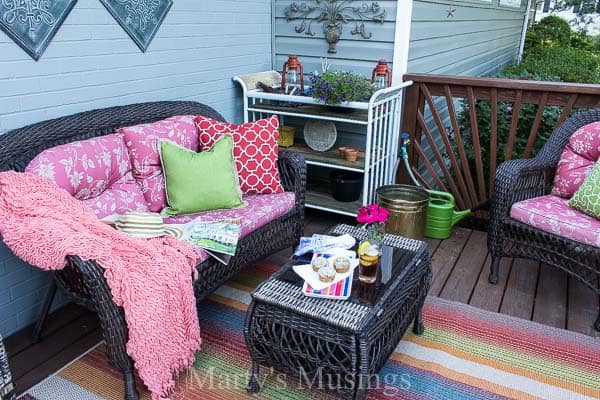 For the purposes of dreaming, just imagine there's a cool breeze blowing as we sit down to a delicious glass of Southern Sweet Tea
Our front deck may seem like such a little piece of real estate but for us it's the culmination of a dream and a place for a to enjoy time together late in the evening.
Here's what it looked like last year.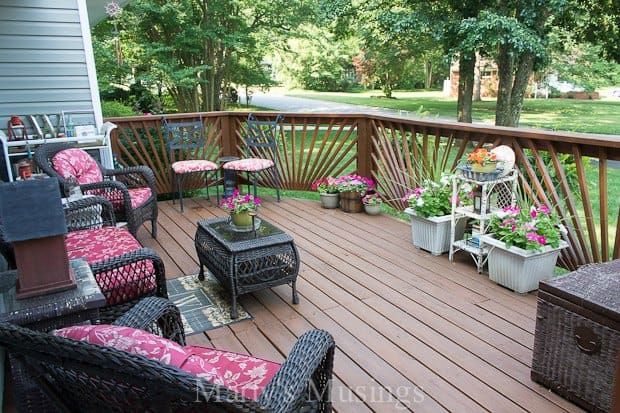 This year I've added a few deck decorating ideas and touches to spice it up.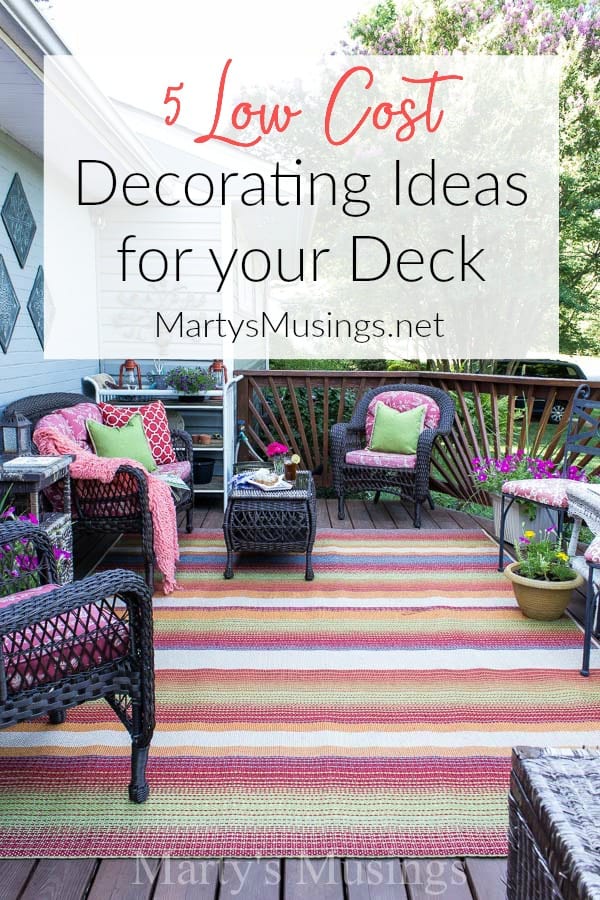 1. Patterned Area Rug
The most expensive addition at just over $100, but the one that added the most pizzazz was a patterned area rug.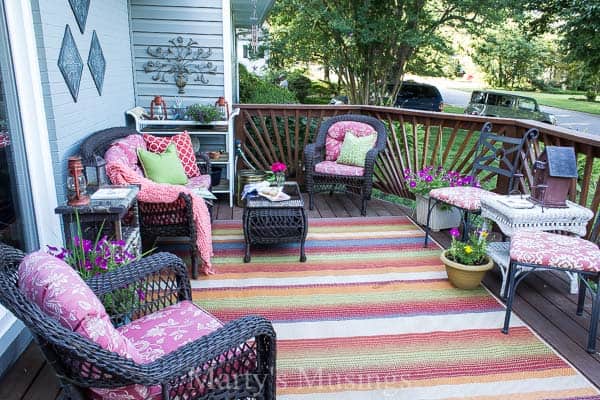 I'm a gal who loves color and I'm lovin' these accent stripes!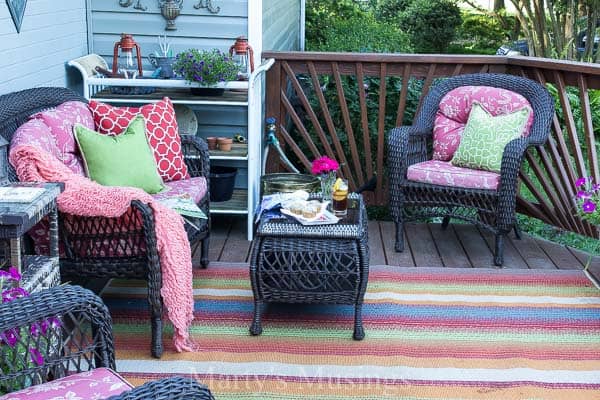 2. Throw Pillows
I love the deck furniture we purchased from Big Lots two years ago but the cushions are faded from the sun. This year I bought a few throw pillows for under $10 each to give new life to this area.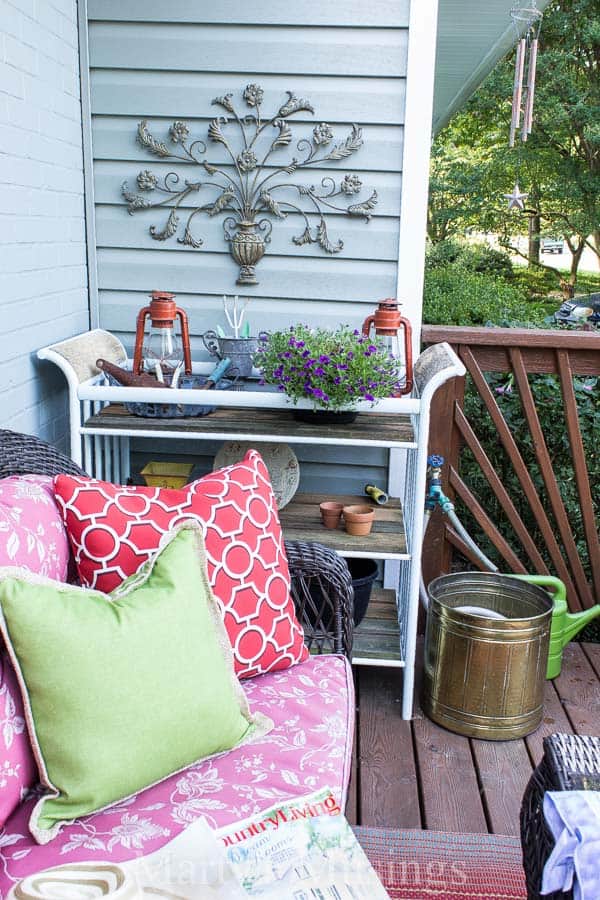 I added a throw to bring out more of the colors in the rug. Doesn't this just shout sunshine and happy days?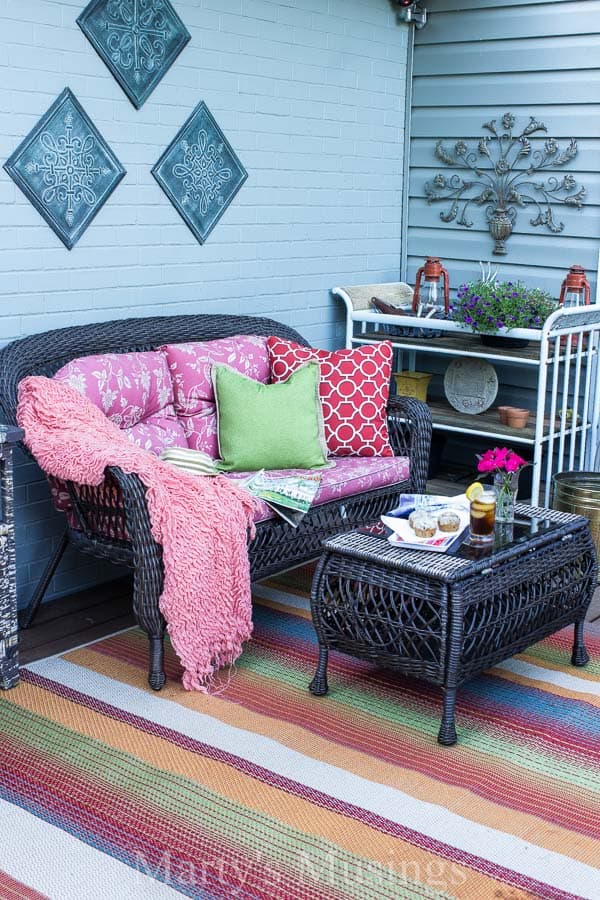 3. Seasonal Flowers
Those flowers that got a late start this year? They can be a lot of work but add warmth and beauty that can't be duplicated.

Plus, time spent among my flowers distracts from the many pressures of daily life. Its a win/win for me!
4. Trash to Treasure Furniture
Summertime is prime yardsale season (read my best tips here) and my deck is usually a recipient of a few treasures!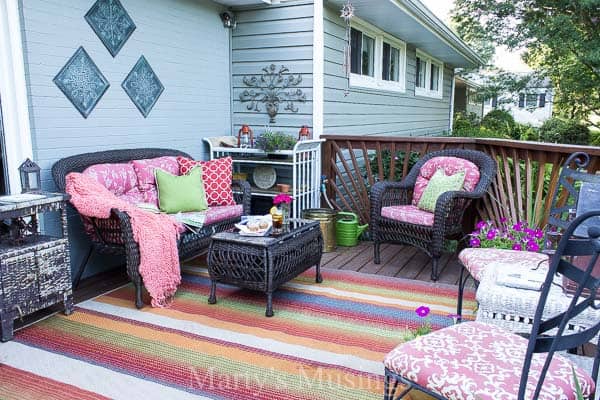 To the left of the love seat is a chipped table I found for a couple of bucks and to the right is my $15 changing table turned DIY garden cart. I also have two wrought iron chairs I bought for a steal at $6 each and a wicker chest for $10.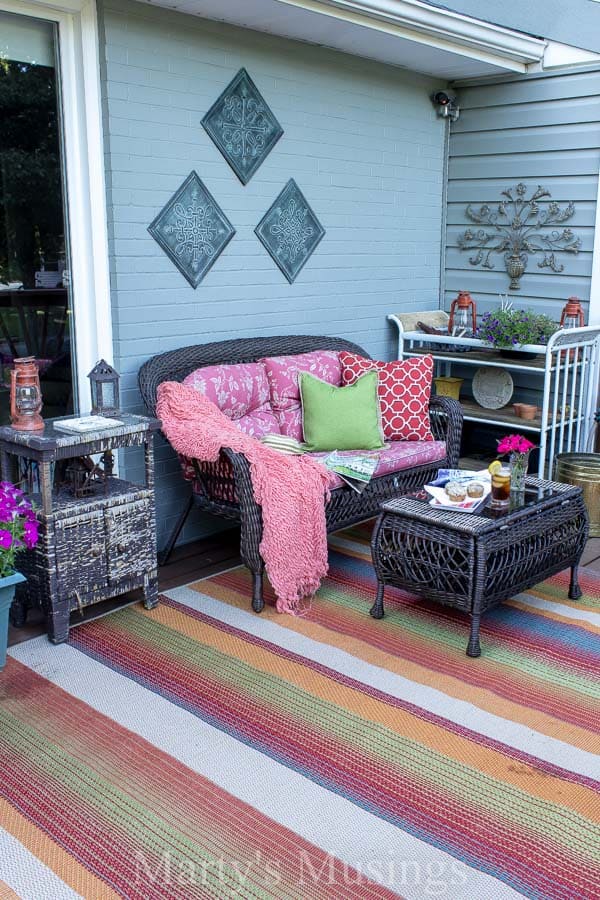 5. Inexpensive Accessories
My garden cart sports inexpensive accessories, including this $5 treasure I hung above it. I didn't originally buy this wall hanging for my outdoor room but it's the perfect addition for the rustic casual look.
My red lanterns mingle with old garden tools amid lovely flowers. The brass planter conceals a hose for flowers because this is real life, folks, and those flowers sure do get thirsty!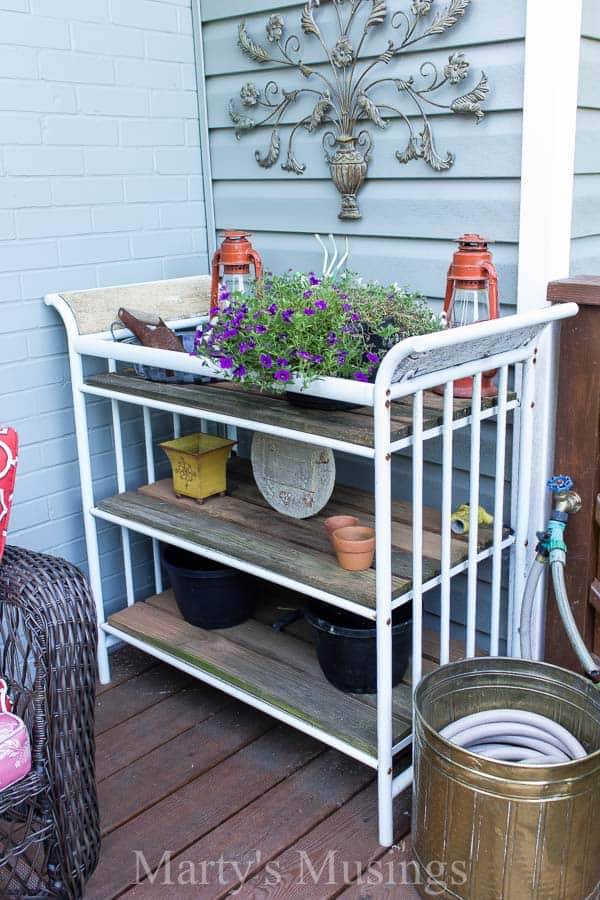 I hope these 5 deck decorating ideas on a budget will give you some ideas for your own outdoor space.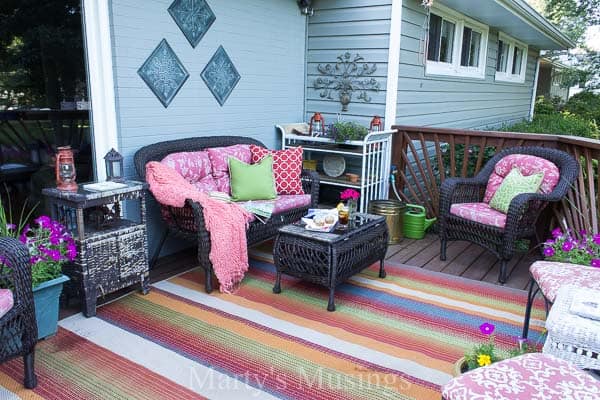 I'd love to know how you're spending your summer outdoors. Leave me a comment and let me know!