From Dream to Reality: Our Deck Reveal
This post may contain affiliate links which won't change your price but will share some commission.
Our dream deck has been years in the making. Endless conversations, researching, contemplating, pricing and saving.
The finished product is one of the only DIY projects my hubby did not do completely on his own from start to finish (with some help and opinions from his wife!)
This deck required having some help and we were blessed to be able to bring to fruition the ideas we hoped would work!
I have to say that my husband keeps asking me if I'm still calling this project our "dream deck." And the answer is yes! Not because it's magnificent or enormous, but because it is a joy to us and suits our family well.
I hope that you, my readers, will enjoy the story behind each of our projects. There are thousands of other homes more beautiful and elegantly decorated (just visit Pinterest for 10 seconds, right?) but it's not home! Home is where your story begins….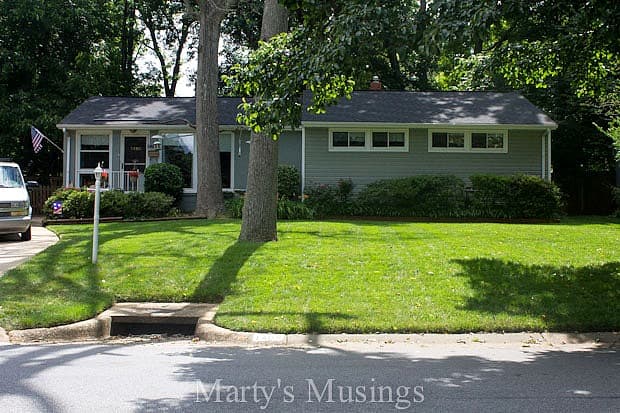 Here's the story behind our deck reveal….
The first step towards building our dream deck was to remove the two dead trees closest to the house.
Over the years we were constantly approached with estimates to help save us from costly damage in case of a storm. Tree removal is definitely a necessary but unwanted expense.
We do feel more secure knowing there is no longer a danger to our home in a storm.
(My husband also transplanted the azaleas to our backyard but sadly they didn't survive.)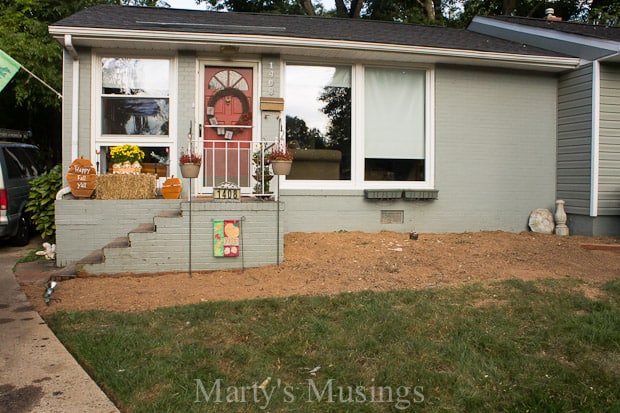 The second step was the jack hammer demolition of the front stoop and stairs so that the deck could go right over the stoop itself. Fun times. Not. You can read all about our adventures in family bonding, with a comical look at this project with a "he said" and "she said" commentary.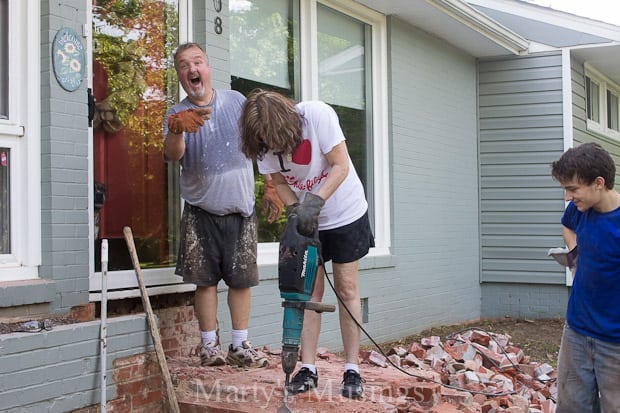 Now that we're done demolishing we'll go straight to the reveal! Here's a little bit of how far we've come!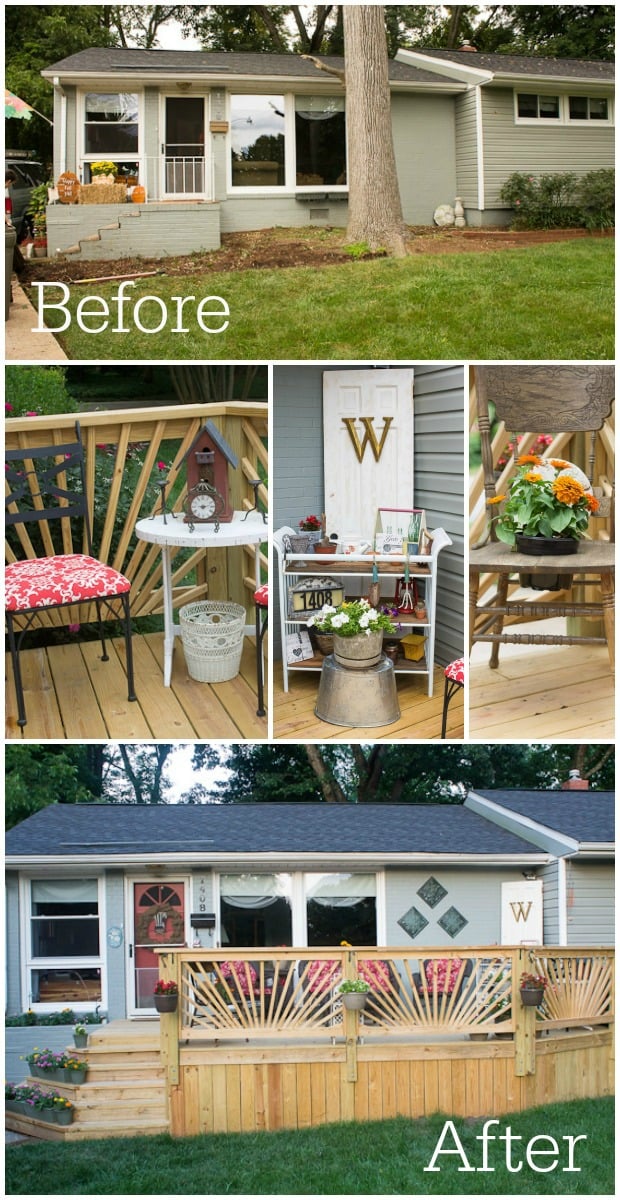 What do you think? It may not seem like a huge deal to anyone else, but it totally changed the appearance (and hopefully the market value) of our home.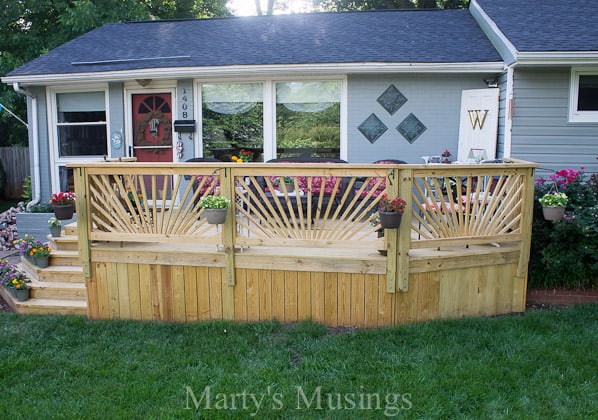 My top priority was stairs that went straight to the front door, and that's what I got!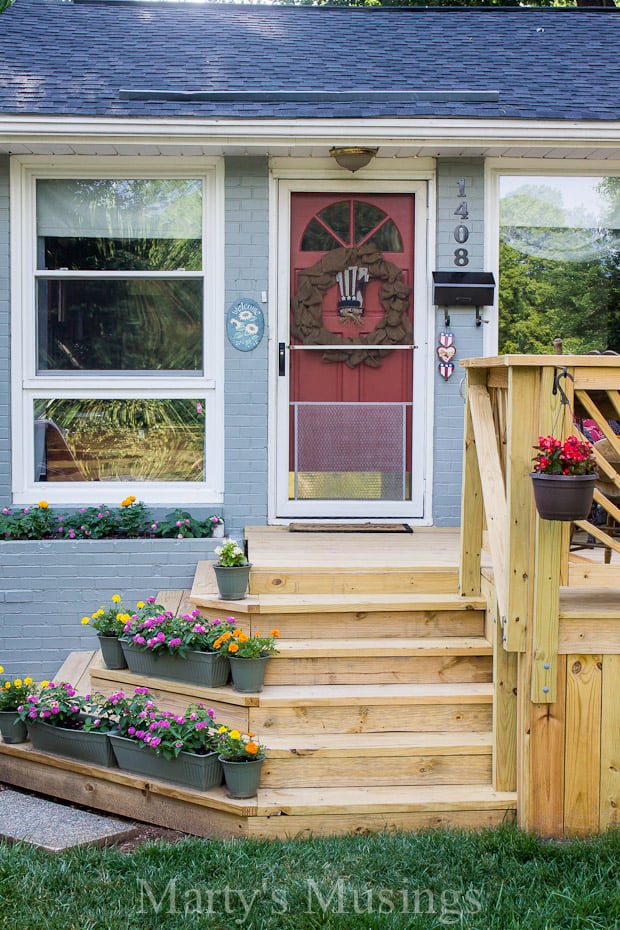 Our front entrance is now actually a set of stairs with access from the front and also along the brick wall by the built-in flower bed. In the middle the stairs connect to create a beautiful tiered landing for flowers.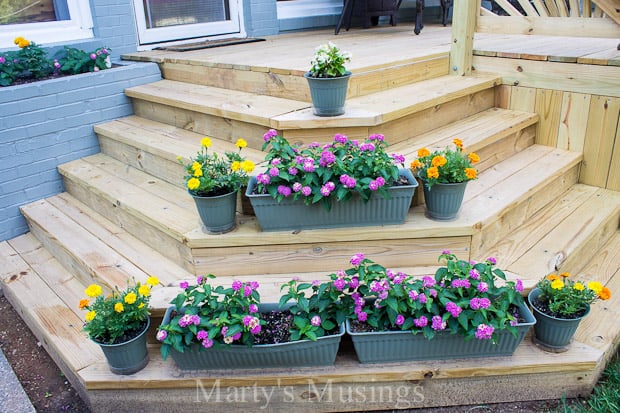 Everything on the deck except the love seat, two chairs and trunk were either bought at yard sales, found on the side of the road or transplanted from my home decor stash.
Seriously, every.single.thing. The decorating did not happen overnight. The deck was finished in May and I've spent a few weeks collecting and decorating this outside room of ours.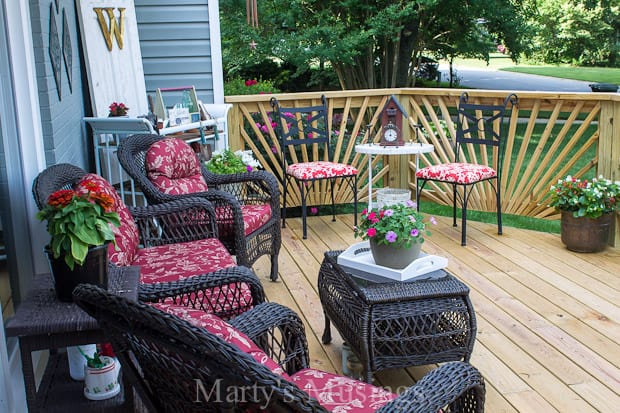 Let's start with the actual furniture. I am not in love with the fabric pattern on the furniture but we purchased it at Big Lots for 1/3 of the price of a home improvement store. We couldn't pass up the deal and have been completely thrilled with how it's holding up so far.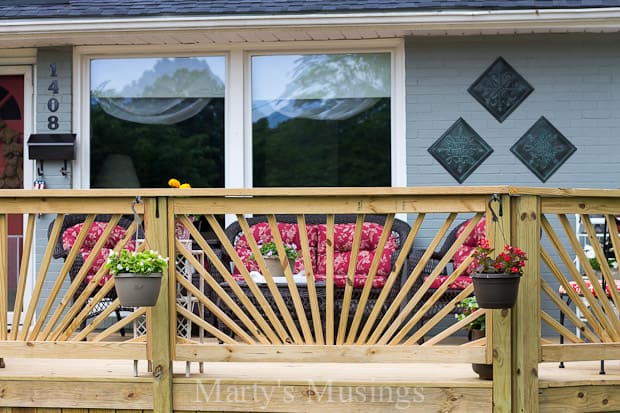 My youngest son loves to scavenge around the neighborhood the day before trash pickup and see what treasures he can unearth. The deck has been the recipient of many of these goodies!
This little shelf is a perfect fit in between the love seat and the chair. I've even scuffed it up a little bit more, but I love the look and the color matches perfectly!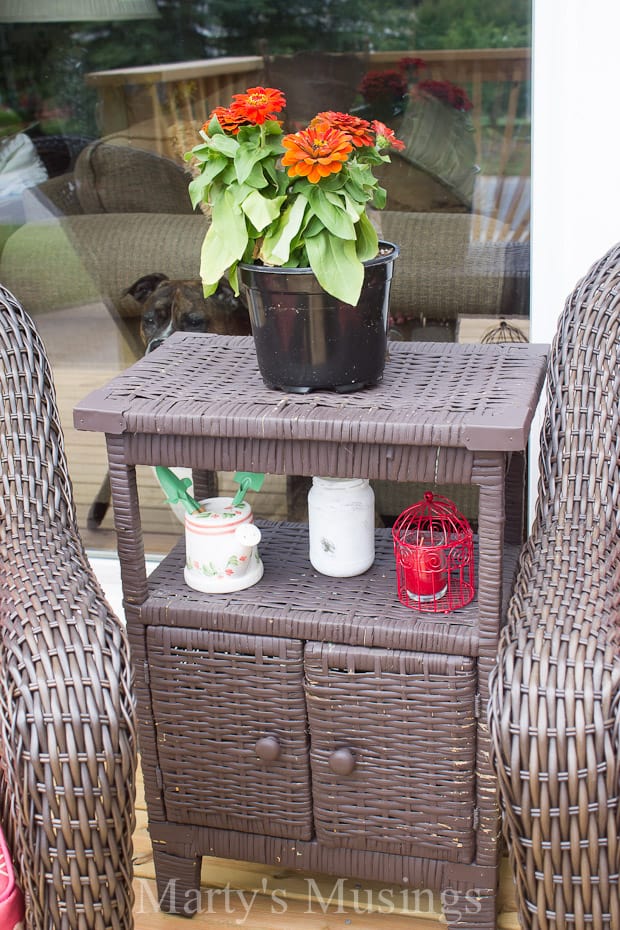 My very favorite part of the styling was this changing table (now turned DIY Garden Cart) that I bought at a yard sale for $15. My DIY hubby added fence boards and totally changed its look!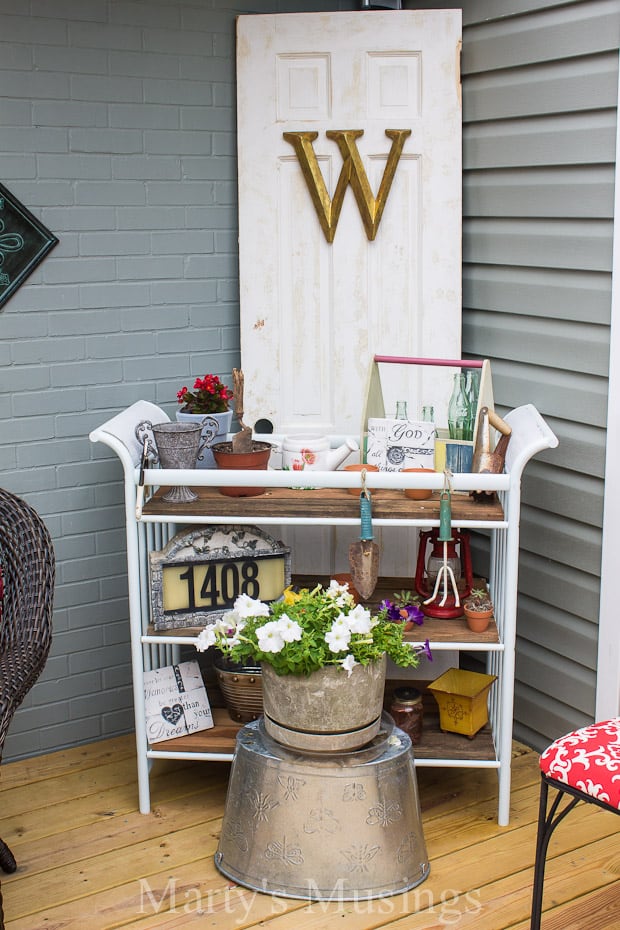 An old door stands propped behind the cart with a $1 beverage tub turned upside down in front.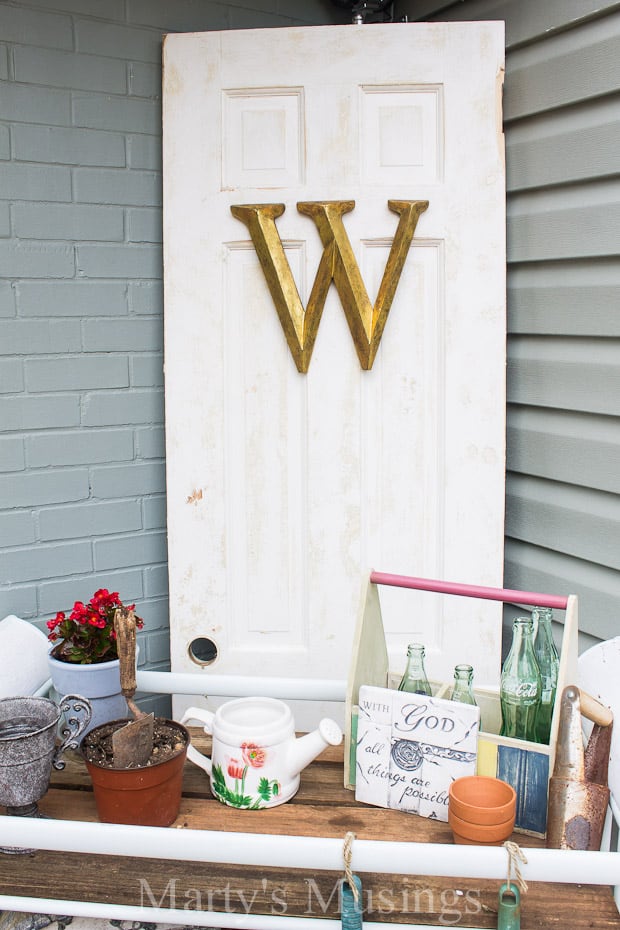 Dollar goodies mingle with yard sale finds and a reminder that "all things are possible with God!"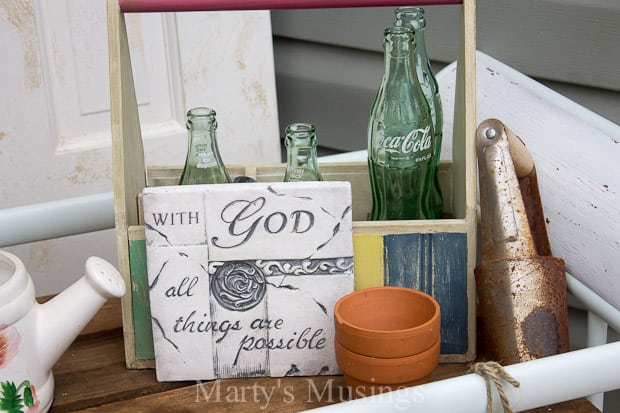 A mix of rustic with a beautiful flower and vintage spade add interest and color.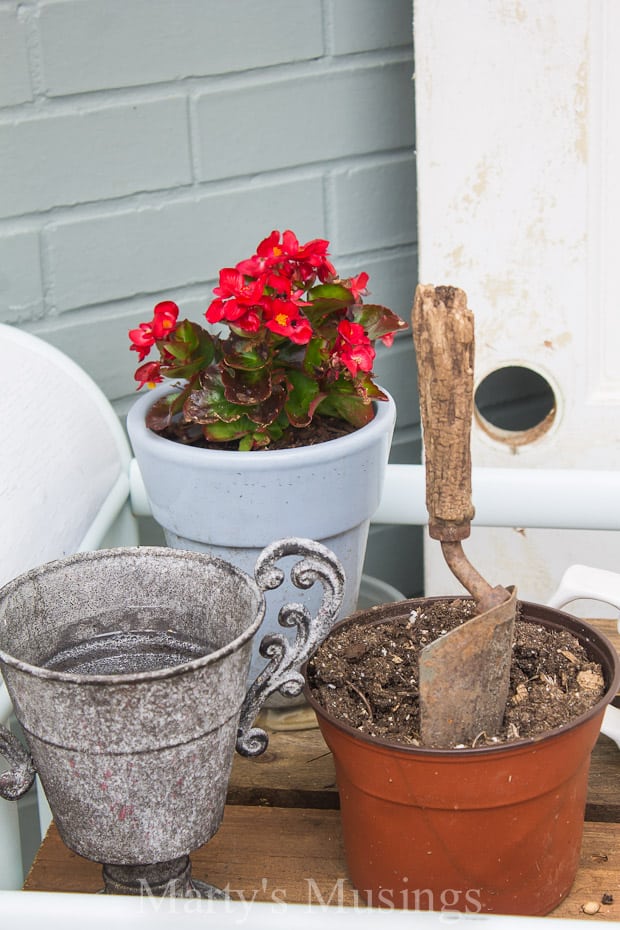 My husband did an amazing job adding the fence boards, and I had a blast yardsaling for a few accessories, including this weathered lantern.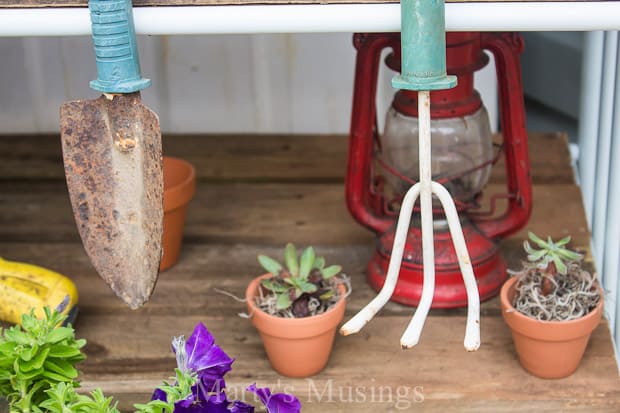 Another yard sale steal were these metal panels that were a dollar apiece. They accent the house color perfectly!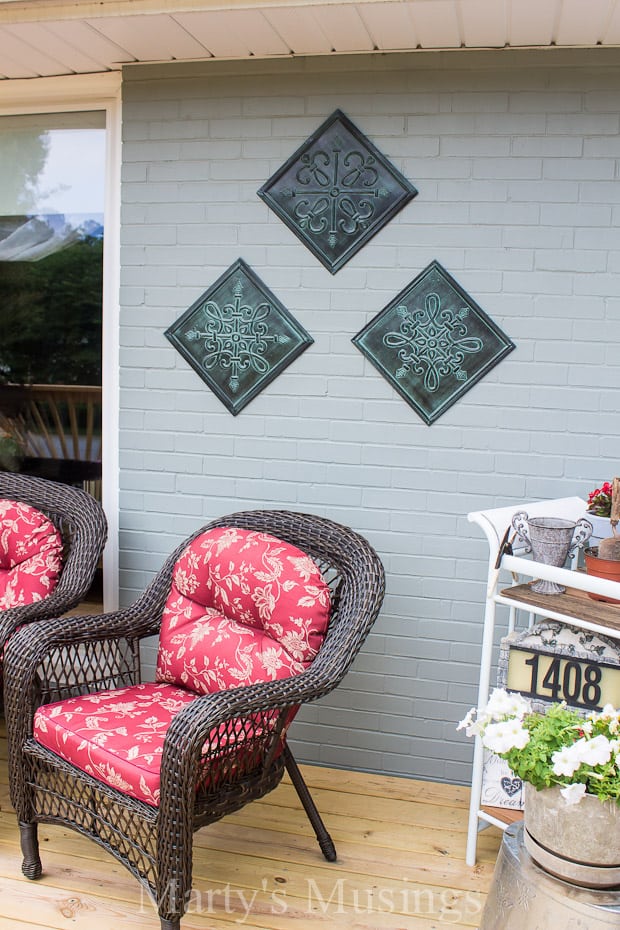 Often I will buy items at yard sales even if I don't know exactly where they will go. I'd rather spend a couple of dollars on something that appeals to me and then shop my attic later when I'm in need for an update or new decor. (Check out my best yard sale tips.)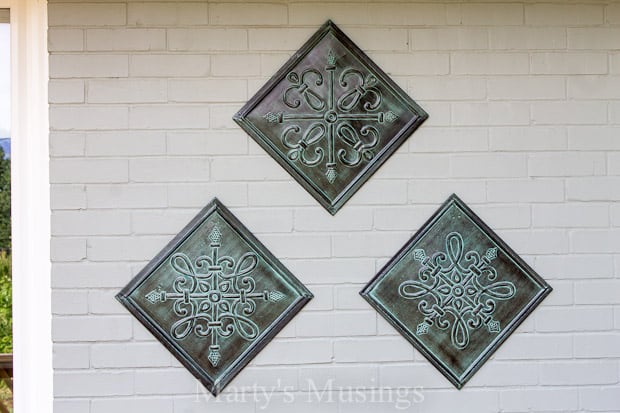 These two chairs were purchased a year ago for the back deck. I loved the previous fabric, but the squirrels got to them and ate all the way through to the stuffing! I had Tim recover them with this fun, bright fabric. I paid $6 originally per chair, and they are a perfect addition to the front deck for a little extra seating.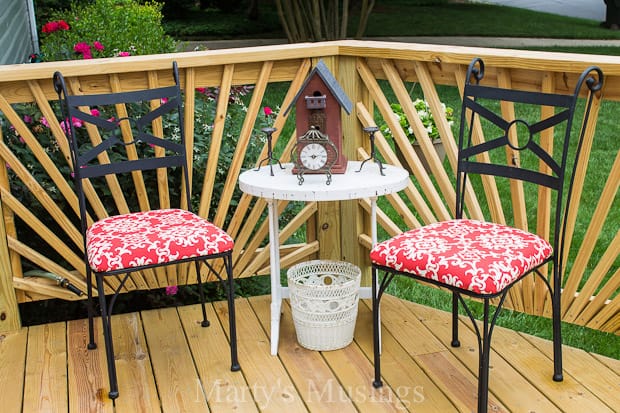 This little white table? Another curbside rescue found on my walk with the kids and hauled home by my industrious son. I love the distressed wood for outside because it looks chic and doesn't matter if it gets scuffed or battered by the elements. (See our tutorial on how to strip paint from wood surfaces.)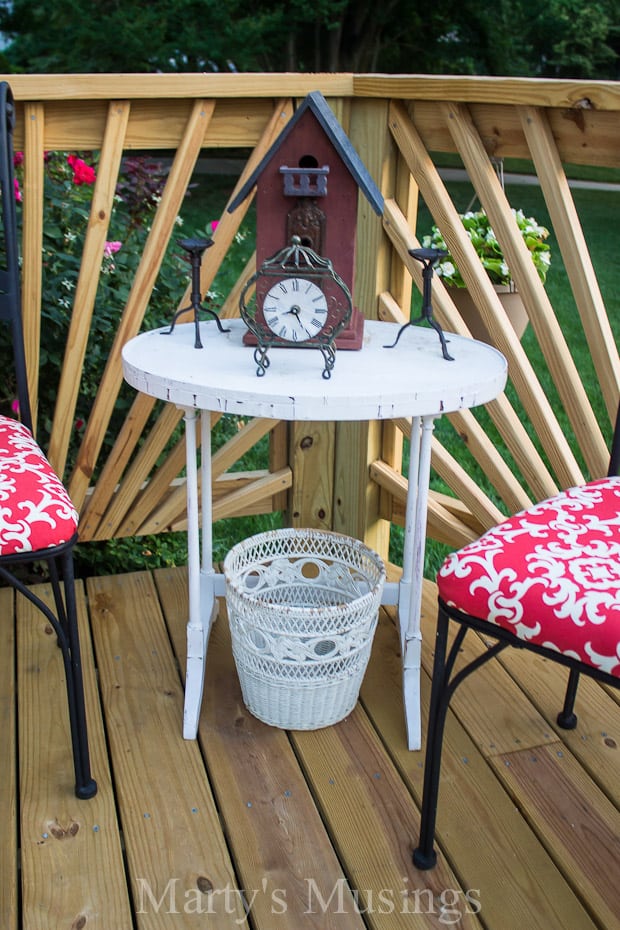 One guess for this shelf's origin. Yet again, someone else's trash is definitely my treasure!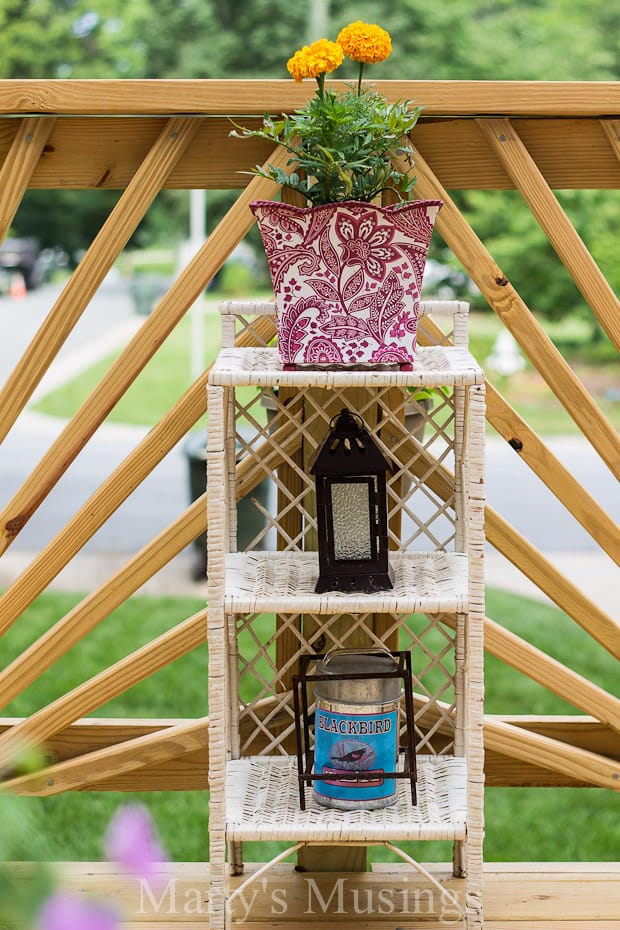 Yet one more trash day treasure! I picked up this chair with the idea of painting and distressing the wood.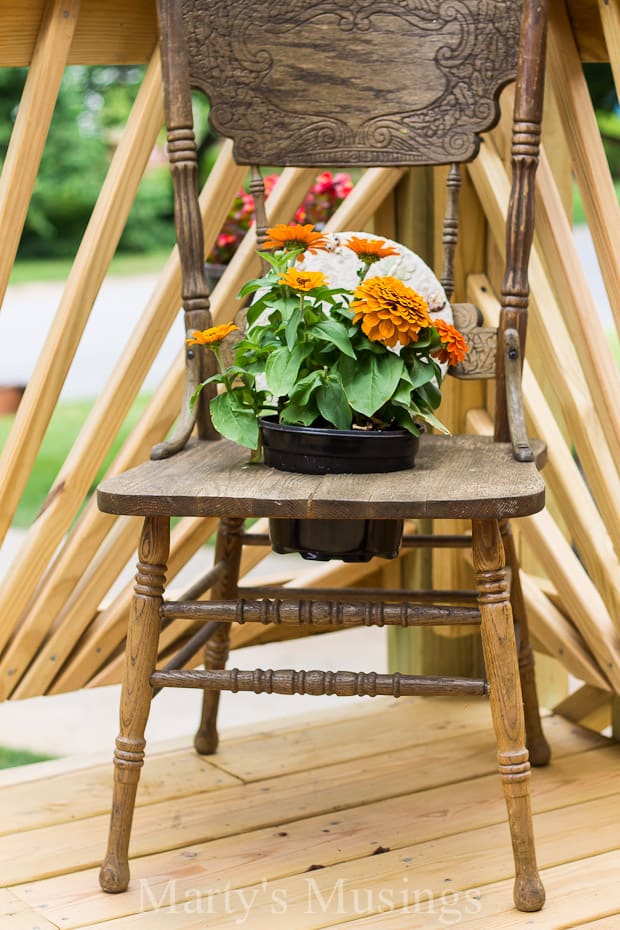 No need because the cracks and chips make it look perfectly imperfect with a pretty zinnia in the middle.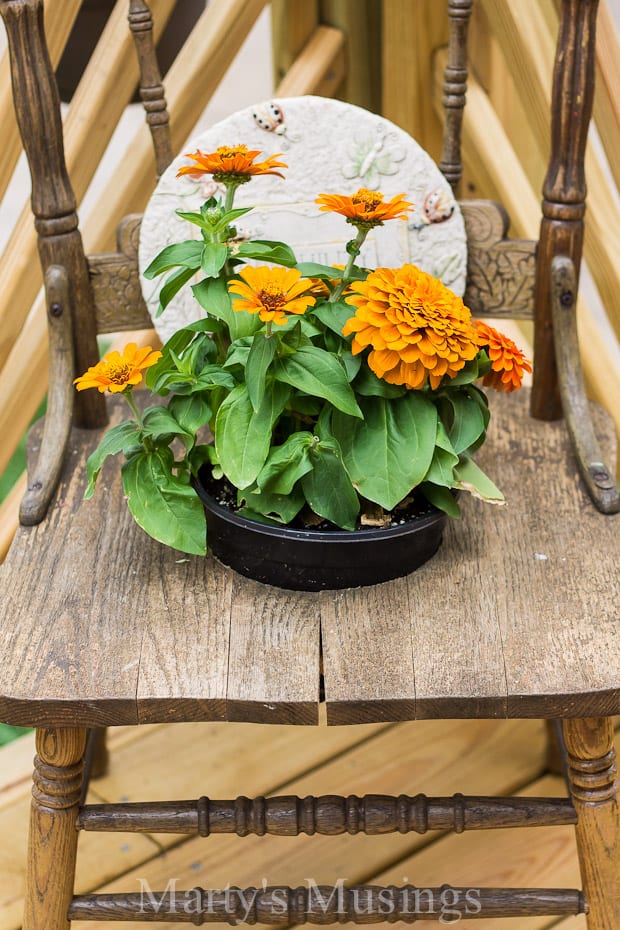 There will be more posts with the how to's and tutorials and details on everything from construction to decorating.
Because y'all know I took a lot of pictures, and I love to encourage others to repurpose and save money while creating something beautiful!
Until then, I hope you've enjoyed the reveal as much as I'm enjoying kicking back with a glass of southern iced tea!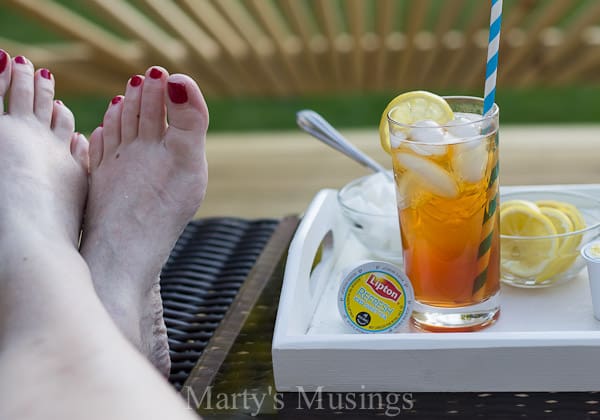 If you're in the neighborhood drop by and sit a spell! We've got plenty of room for company!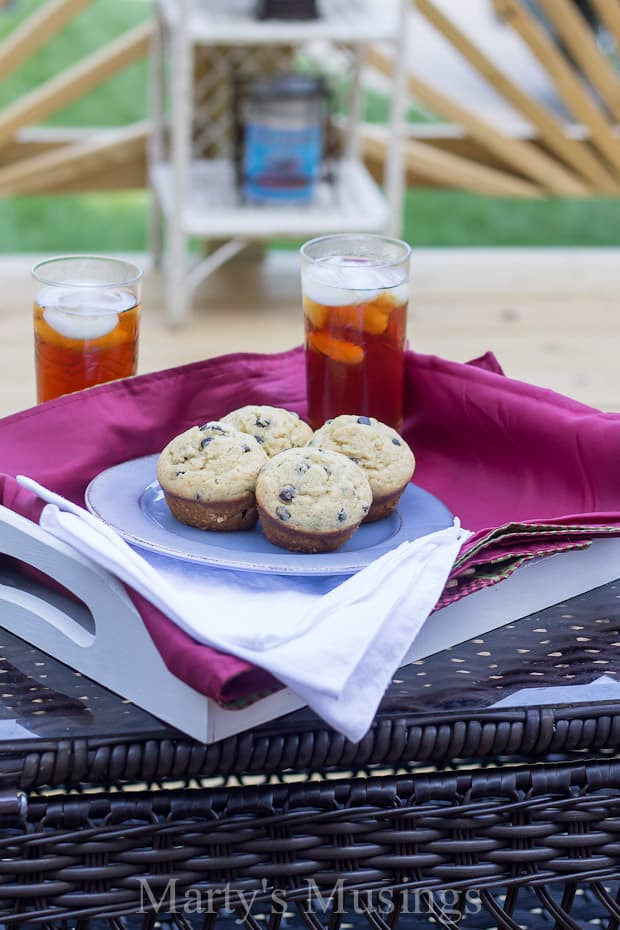 Want to see another amazing before and after? Check out our back deck restoration project.

We've been busy in the yard as well as you can see in these budget friendly patio ideas and free fire pit Tim made.