Tree Removal: Part One of Our Dream Deck
This post may contain affiliate links which won't change your price but will share some commission.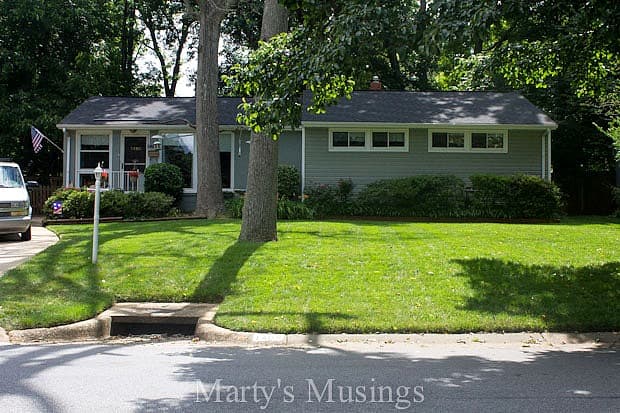 To read part two of our dream deck story (and watch me wield a jackhammer) go here.
I don't know what has gotten into my DIY hubby and I this year. We have been totally ADHD with our projects (and I say that in love because I have an ADHD son and totally know what that means!)
I knew I should never have chosen simplify as my word for 2014!
First there was the reorganization of all our Christmas decorations in our storage building at the first of the year.
Then I got tired of moving shoving all my craft and home decor projects out of the way in the craft room and decided I needed a new plan in there. (See my craft room inspiration.)
Before I could even finish that room we started in our master bedroom by totally rearranging the furniture (for the first time in 23 years) and painting both the walls, the furniture and pretty much everything I could reach with a paint brush. (Here are some of our bedroom inspiration ideas.)
We're also excited to be restoring our beck deck with product from Behr Paint as soon as the weather stays dry for longer than two minutes.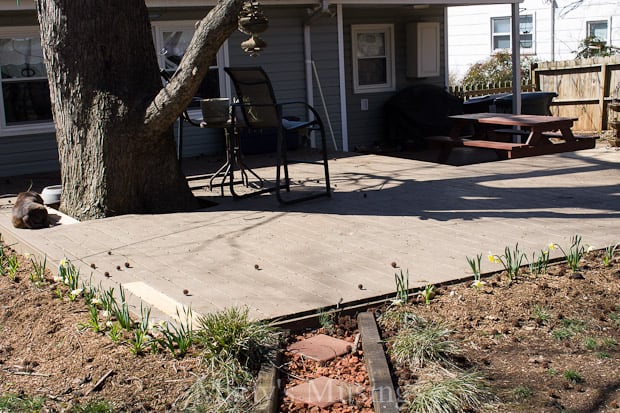 Mix in the fact that our kitchen is awaiting a new faucet, sink, countertop and backsplash.
No biggie. No worries.
COULD WE PLEASE JUST FINISH ONE PROJECT? PRETTY PLEASE, HONEY!
In all honesty, some of these projects are waiting on me. ~sad~ I'm facing the "I can't get it all done I'm only one person I need help" syndrome.
Can I get an amen?
But none of that has anything to do with what I want to share. (I just needed to get that off my chest!)
Since we've been in our home we've learned a lot about tree removal as we have had ten dead trees taken down over the years. Costly but necessary since a majority of them were pine trees. I've laid awake many nights during storms hoping we wouldn't wake up the next day with a tree through the roof.
To save money, one time we had three trees in the front taken down and cut into sections for us to take care of ourselves. Tim conveniently just happened to get sick at the same time, and you can image the hilarity of the kids and I rolling these massive logs down to the street to give away and the rest into the backyard to be cut up for firewood. Don't I look happy?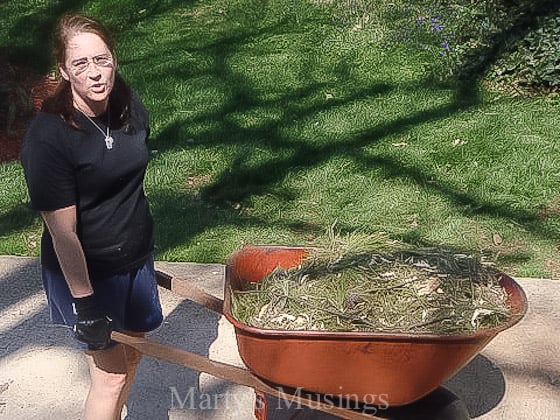 That's only slightly funny when you consider we don't even have a fireplace.
Our dream is to build a deck that will help the resale value as well as improve the aesthetic of our property. Plus, I really just want a porch to decorate! (Of course, I want a fireplace, too, but that's not happening!)
We literally shopped around for a tree service for months and months. We didn't end up with the most expensive or the cheapest. But having used an uninsured tree guy in the past we knew this project was cutting way too close to the house to take chances.
Here's the before pic of the front of the house. Say goodbye to the ugly bushes, beautiful azaleas and dead trees.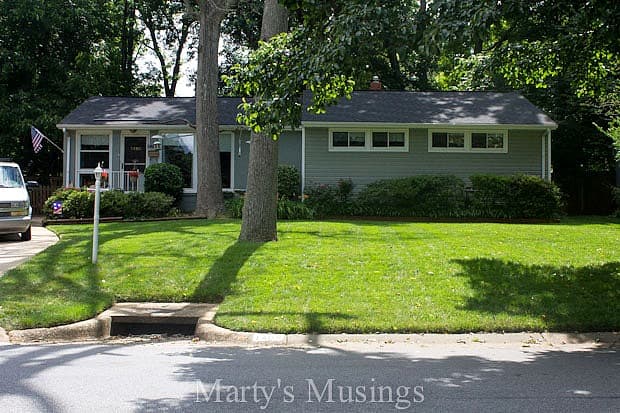 Totally cleared of any plants that would get nailed when the tree came down.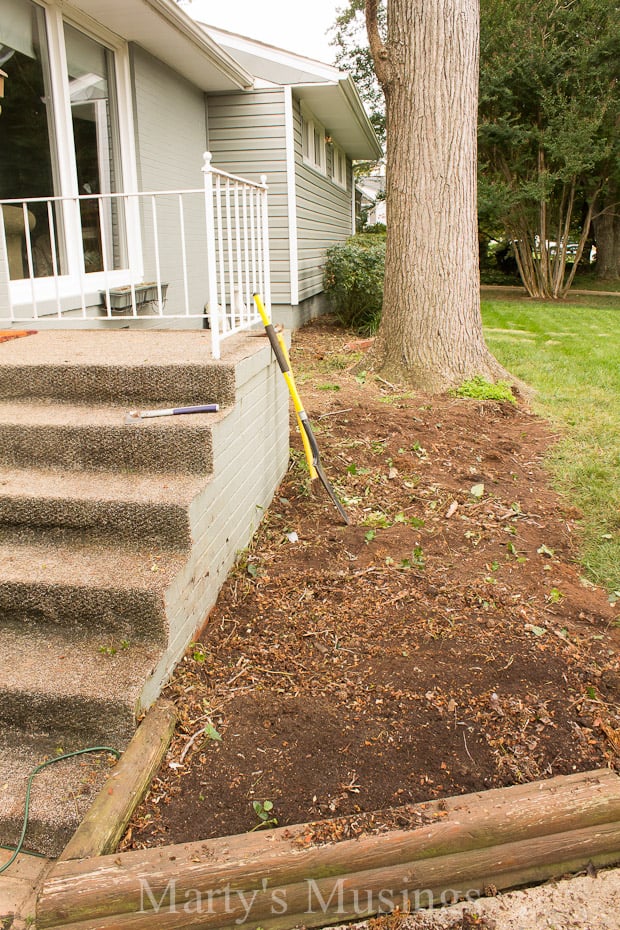 You can see the monstrosity right in front of our big picture windows. Tim and I love to sit on the couch and stare groggily watch with interest as all the joggers run by in the mornings.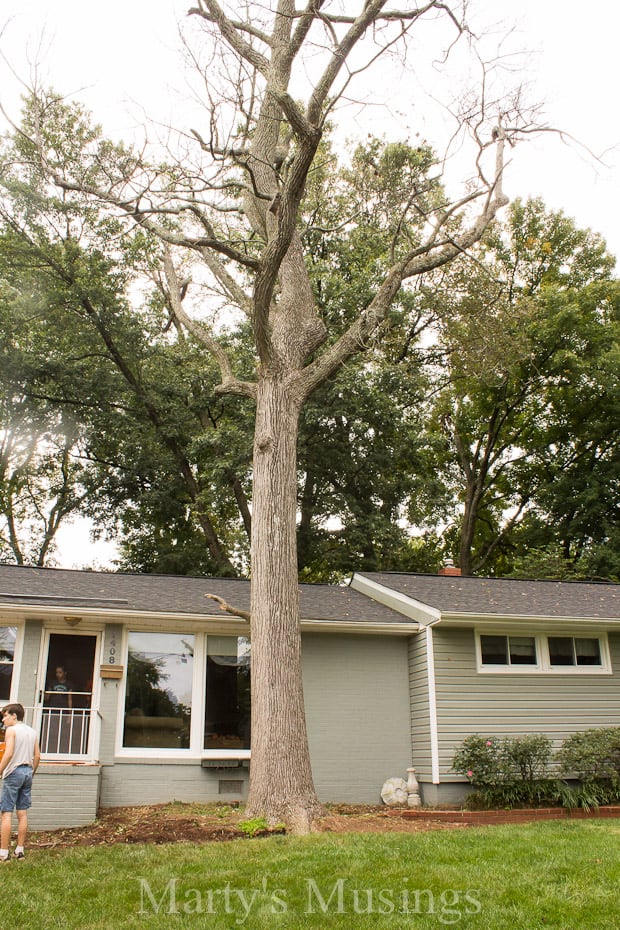 When we finally decided on the company we wanted to use, they were johnny on the spot and called to let us know they were coming the very next day!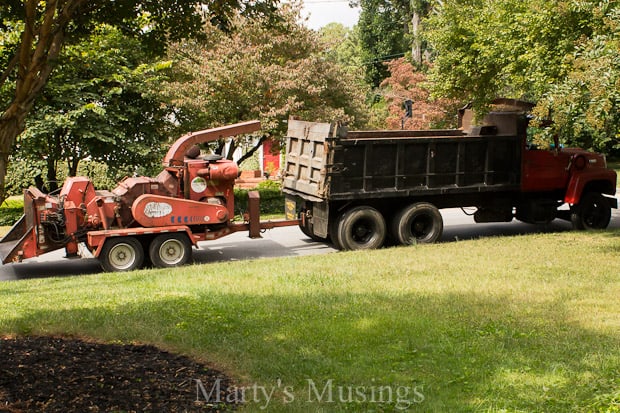 The bucket truck pulled all the way in the yard and got to work.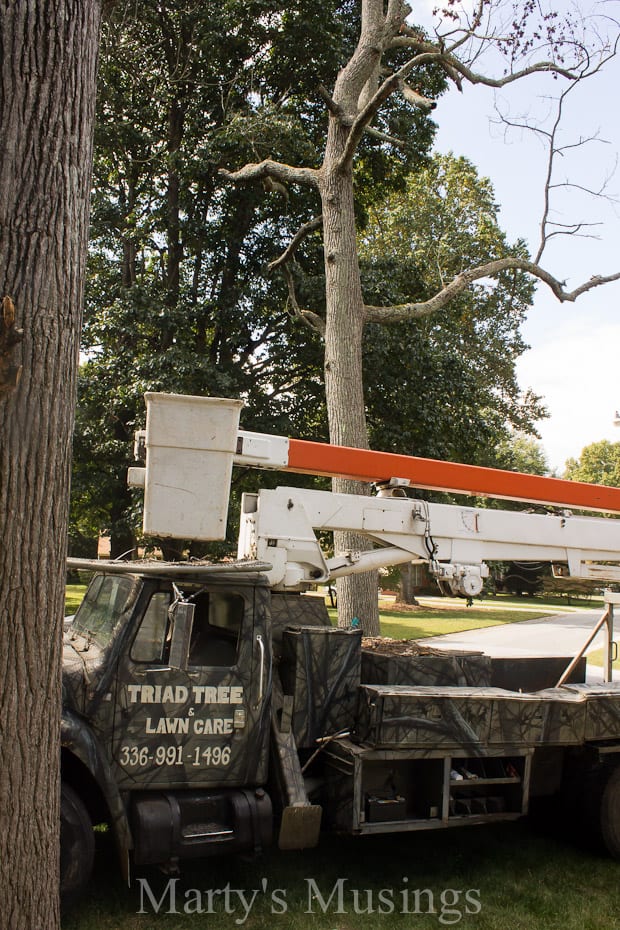 T
This just about made me hyperventilate!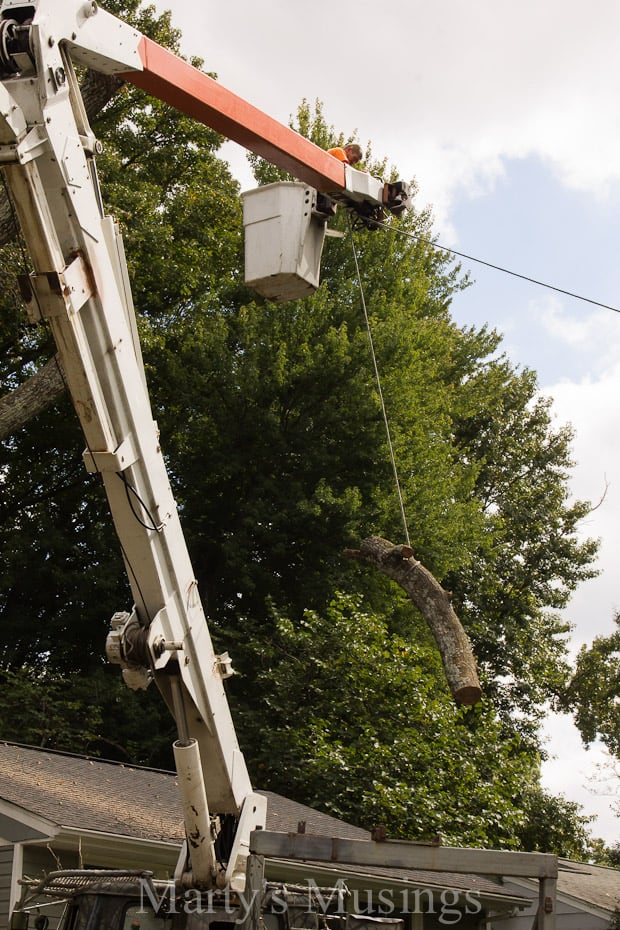 Yet my family was just chilling out by the fire pit in the backyard, watching the trees above the roofline.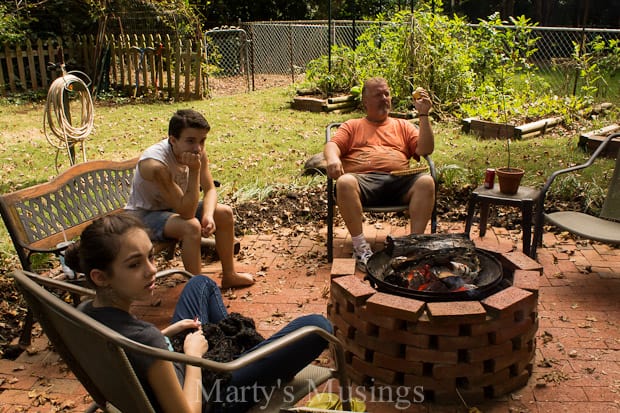 It was amazing to watch the control and expertise being exercised by the professionals.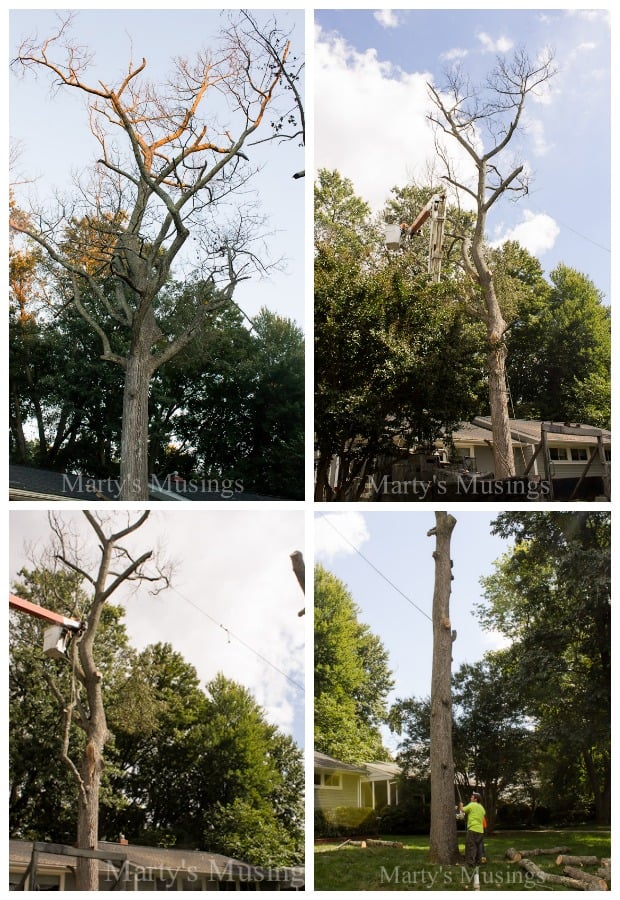 Now they're getting down to business. At this point I'm thanking God that we spent the extra money for someone else to haul those logs away!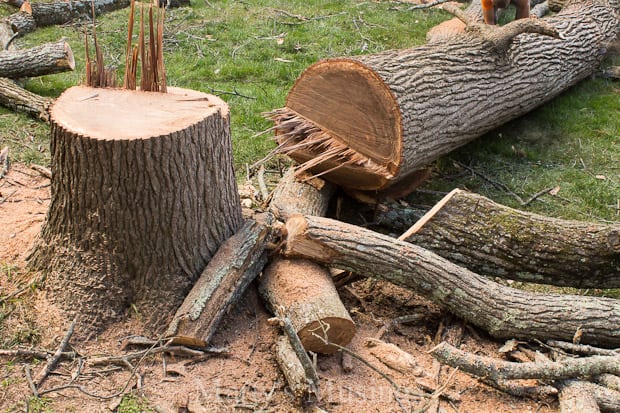 You can see the massive mess we had in the front yard, but this company finished the job in about six hours start to finish.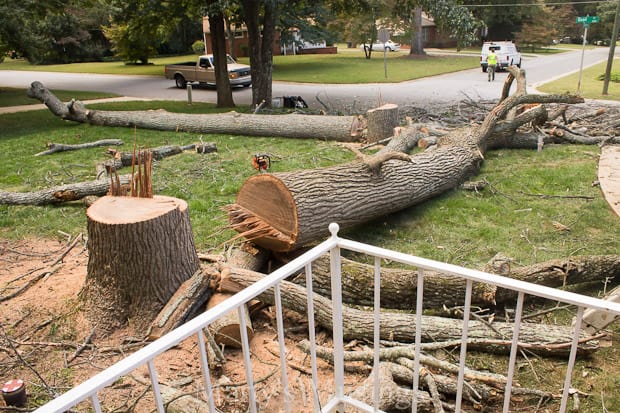 The last step was grinding the two stumps.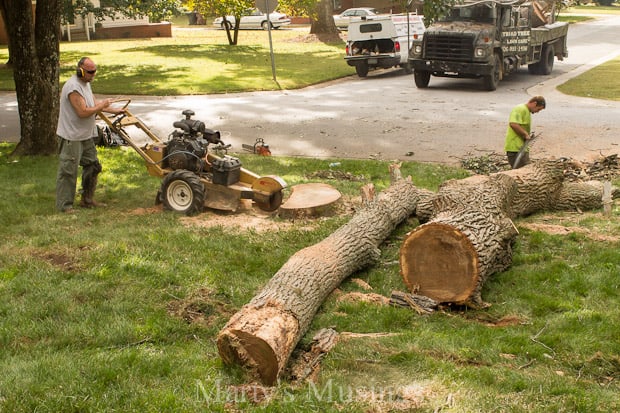 No more trees! Can you tell this project was completed six months ago (or I'm just really late taking down my fall decorations!)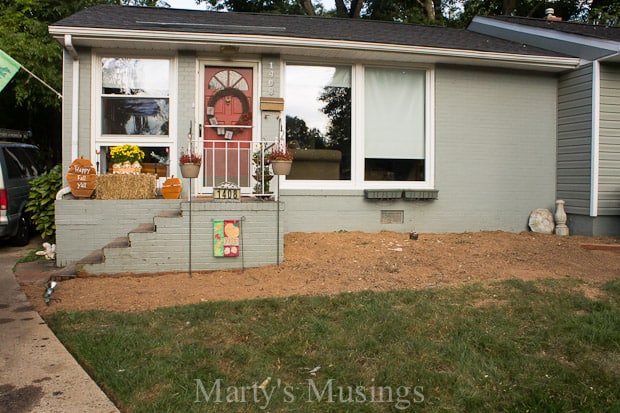 For Christmas my ingenious husband used wooden fencing for a temporary fix to the empty yard syndrome.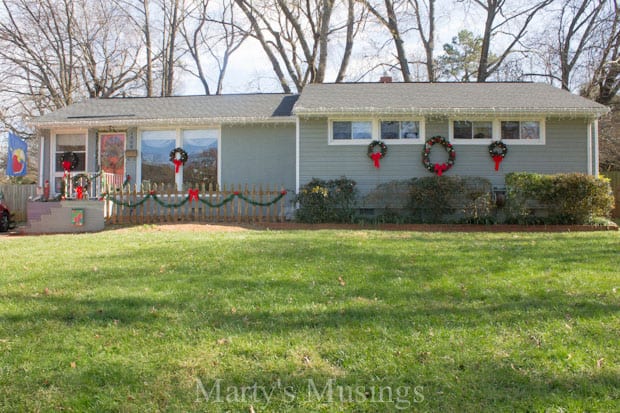 For the last six months we've been getting quotes for the deck, and Tim has been talking to his contractor brother Todd (see some family pics here) while we figured out whether he was up to tackling the deck building himself.
Tim built our back deck but this time we're turning over the basics to a professional and leaving the finishing touches to my hubby.
And because it wasn't ugly bare enough this past weekend my guys decided to go to town on the front stoop. Boys and their toys!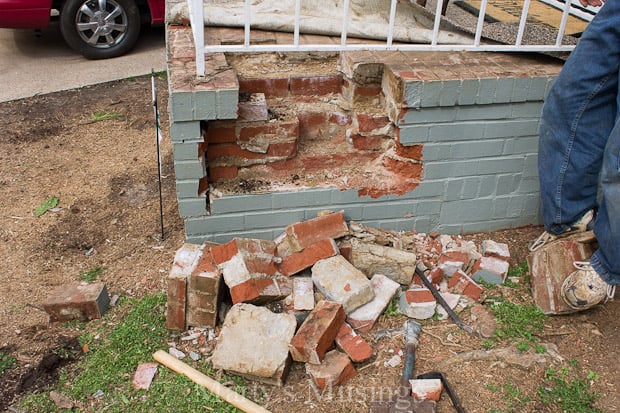 I hope you'll join me for this adventure as we're hoping for the deck to be built next month, fingers crossed!
You can follow me along on facebook, twitter or instagram for more updates (and I promise we're going to finish JUST ONE PROJECT VERY, VERY SOON!)
For more of our DIY shenanigans check out my Project Gallery for all our DIY adventures, crafts, recipes and more!