Easy Spring Table Setting Ideas
This post may contain affiliate links which won't change your price but will share some commission. Read more here.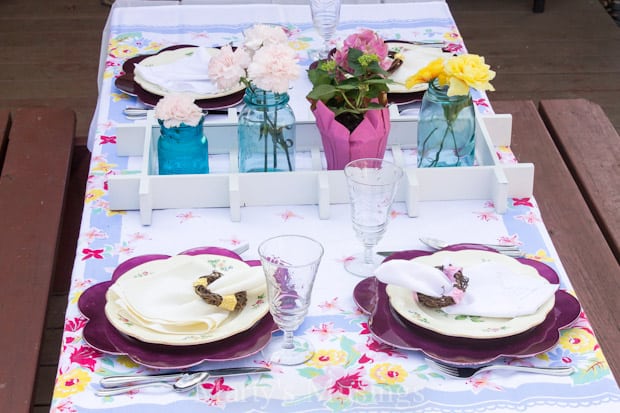 How do you feel about entertaining?
Does the thought give you cold chills and heart palpitations?
Do you only do it because you have to (family obligation or tradition)?
Today I want to share some easy spring table setting ideas that are inexpensive, easy to translate from one season to another and will hopefully inspire you.
Use what you have on hand
Opening your home doesn't have to mean breaking the bank but maybe just being a little creative with the decorations.
This white centerpiece box was a dollar yard sale picture frame in its former life. I removed the glass to leave the sections open and spray painted it white. When in doubt, spray paint white!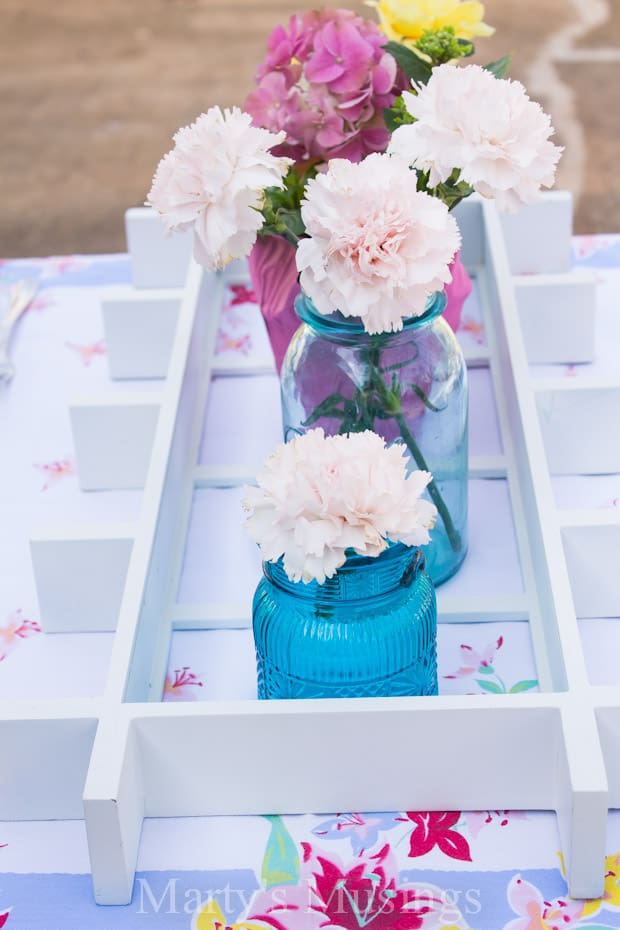 The flowers were a combination of real (a hostess gift from another family dinner and carnations from my youngest daughter's small group leader)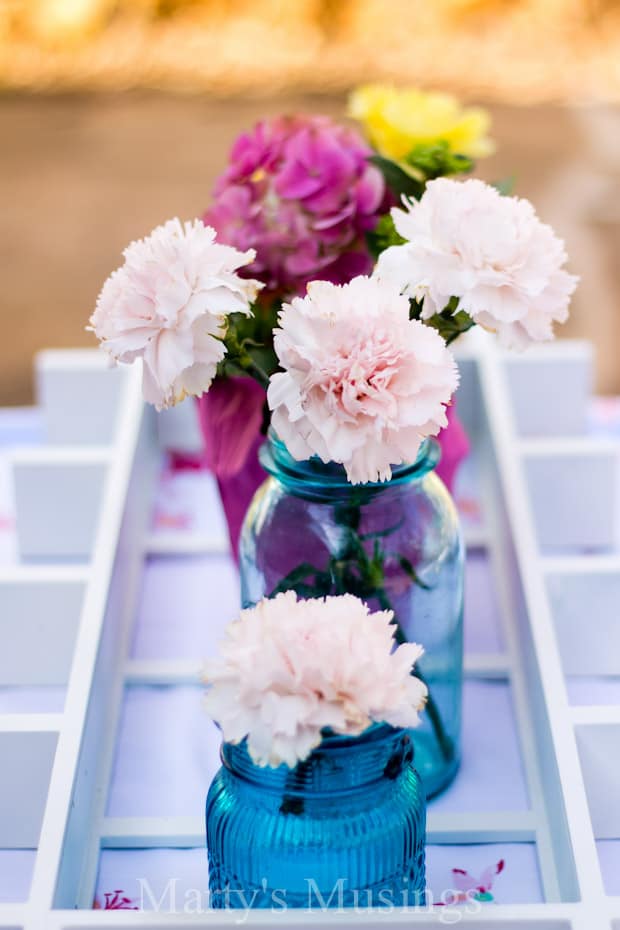 and silk (taken straight off my chalk painted china hutch!)
I literally just grabbed some things I had and mixed them together.
The blue mason jars were some I tinted before blue jars were readily available.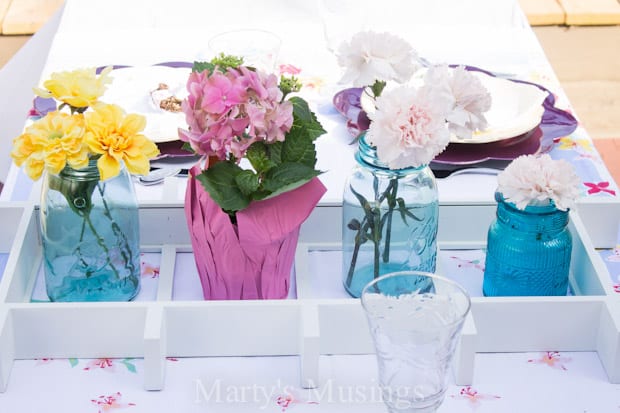 Mason jars are all the rage, and you could even use them as drinking jars. My youngest daughter's 16th birthday party is Saturday and we will have lots of ideas to share after the event!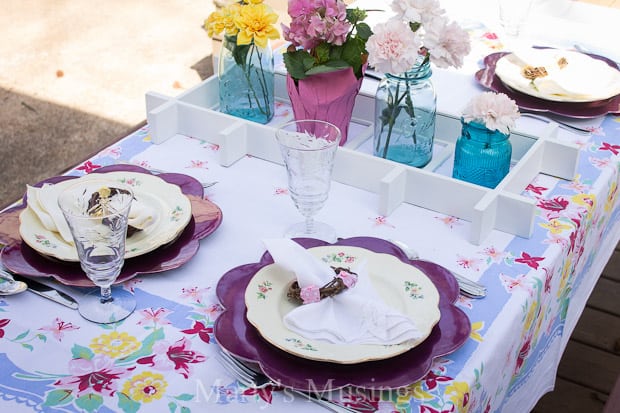 Look through your craft supplies
These napkin rings were made from old mini wreaths I had, a little bit of Duck Fabric Tape and some stray embellishments.
I have a ton of scrapbooking supplies so I need to find new ways to use what I already own!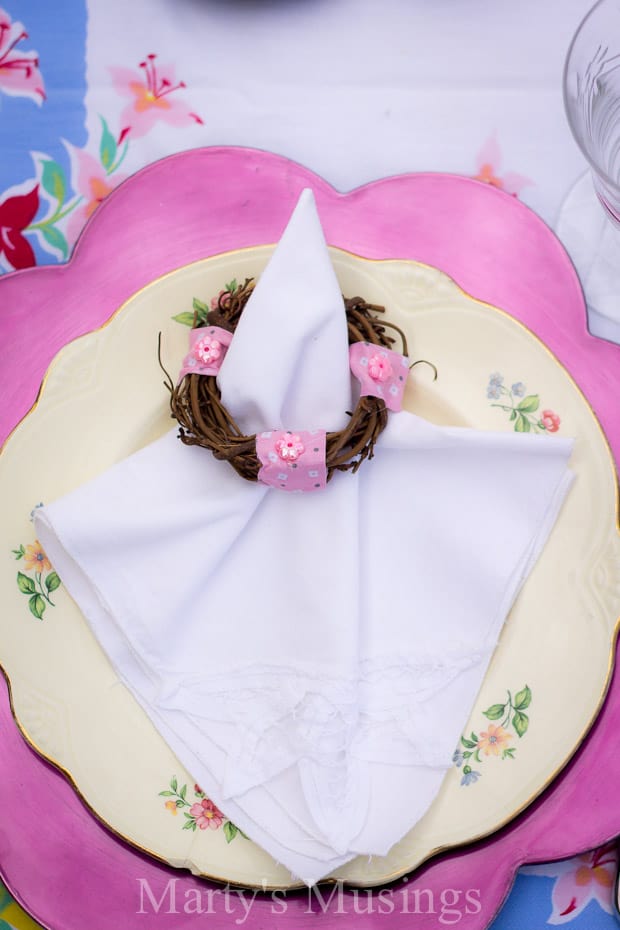 Pick up accessories at yard sales, thrift stores and at reduced prices.
This vintage tablecloth was a yard sale purchase and made all the difference in the table. Since we refinished our kitchen table I don't use tablecloths as often, but this is such an easy way to dress up the table.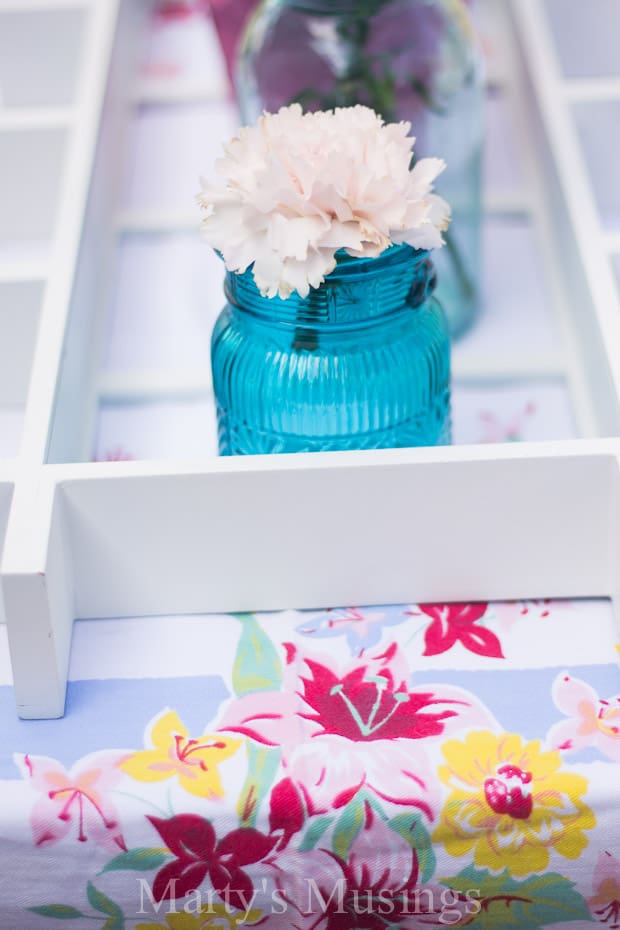 Since this tablecloth didn't cover the picnic table completely I threw on a dollar plastic cover first and called it good!
These plates were a yard sale buy for just pennies apiece.. They're not perfect and even have a chip or two, but they are a beautiful reminder that my table doesn't have to be perfect!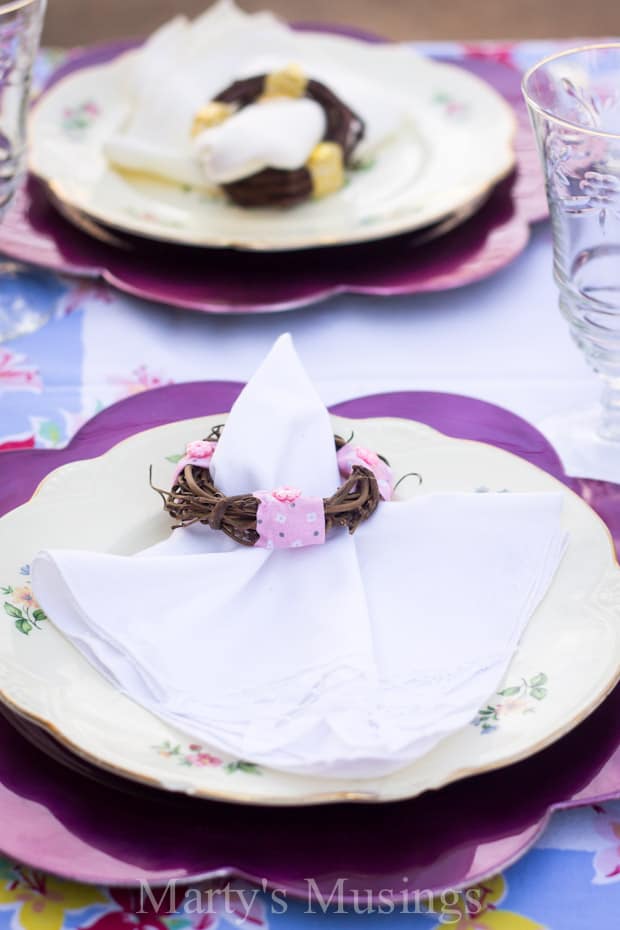 Mix and Match the Things You Love
Do you have lots of dinner plates? Or maybe several lace napkins passed down from a family member? Do you love chargers and want one in every color? Maybe you even have your mom's crystal?
Then embrace the idea of mixing and matching. For this tablescape I stayed within colors that match the dishes and tablecloth, but as much as I adore this look, I just pulled things together with little forethought and planning.
What is your best secret for overcoming entertaining anxiety? I'd love to know!
Want more tablescape ideas?