Christmas Home Tour with DIY and Thrifty Decor
This post may contain affiliate links which won't change your price but will share some commission. Read more here.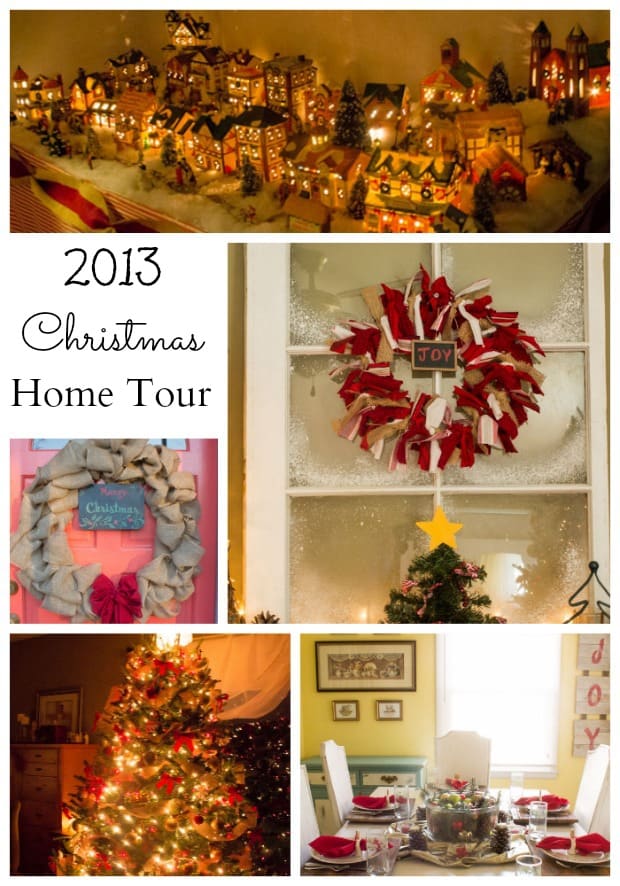 ***Thank you so much to One Kings Lane and all our other friends who have shared gift packages for our readers. Please stay tuned for the giveaway at the end of this post and links to the other home tours from All Things Home.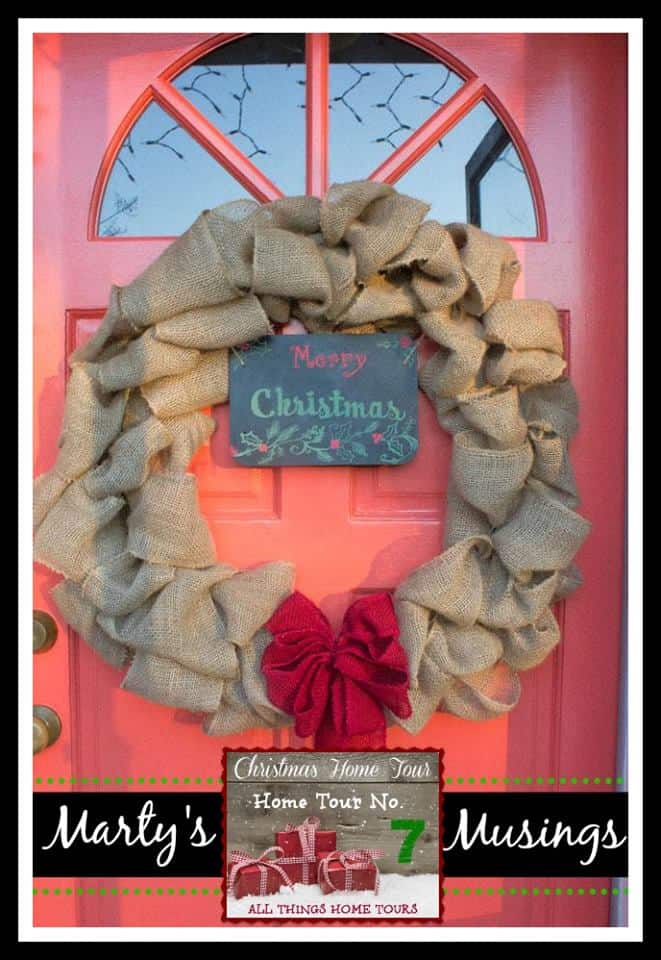 Every time I start to put together a home tour post my heart starts beating quickly and I ask myself what in the world am I doing?
I don't have a fancy house. It's not large and it's certainly not new.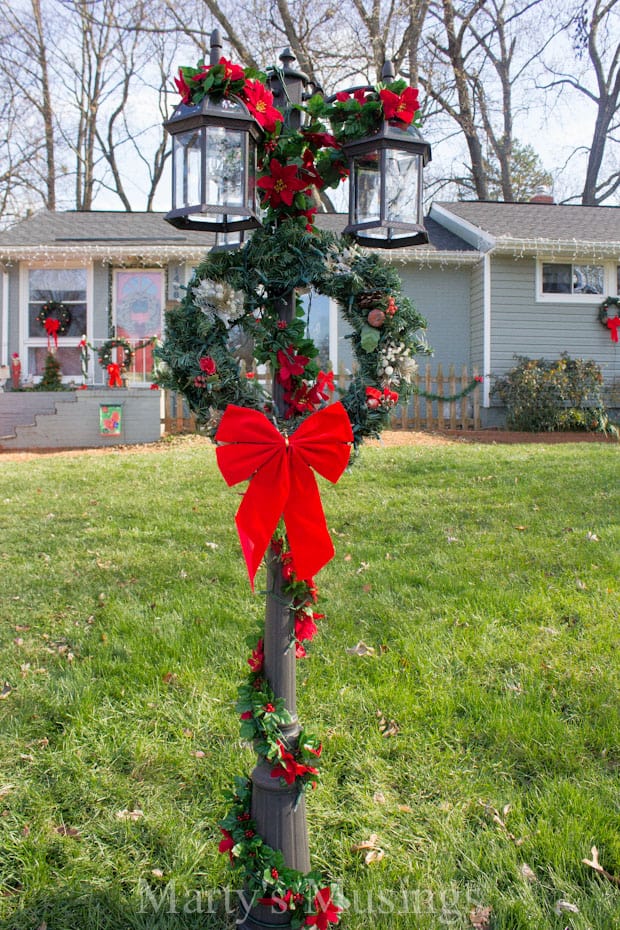 Better Homes and Gardens has not come knocking on my burlap wreathed front door to photograph my Christmas wonderland.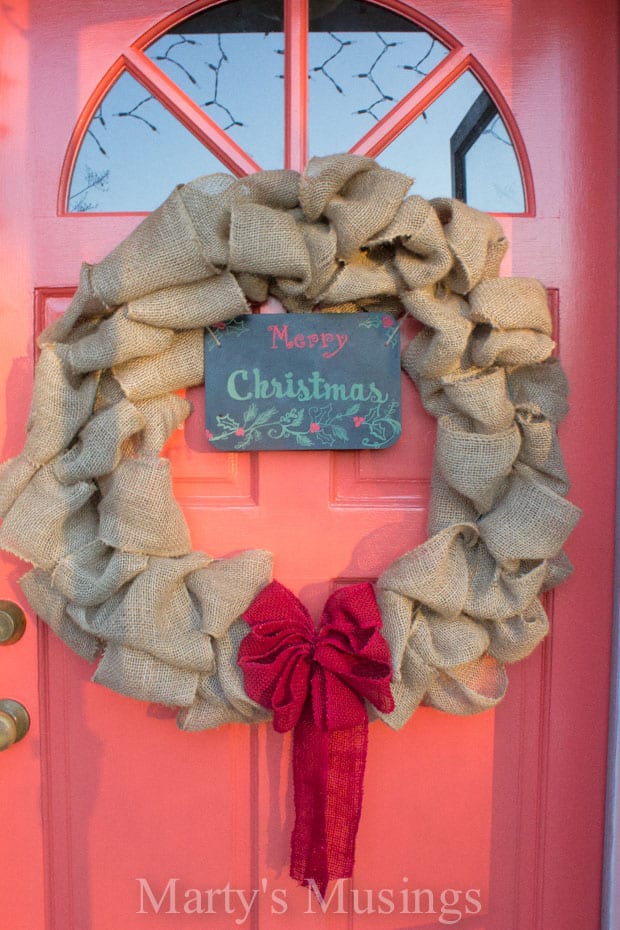 I feel like I should apologize every time.
But the part of me that wants to encourage other women to make the best of their homes and lives takes a deep breath, relaxes her tense shoulders and jumps right in.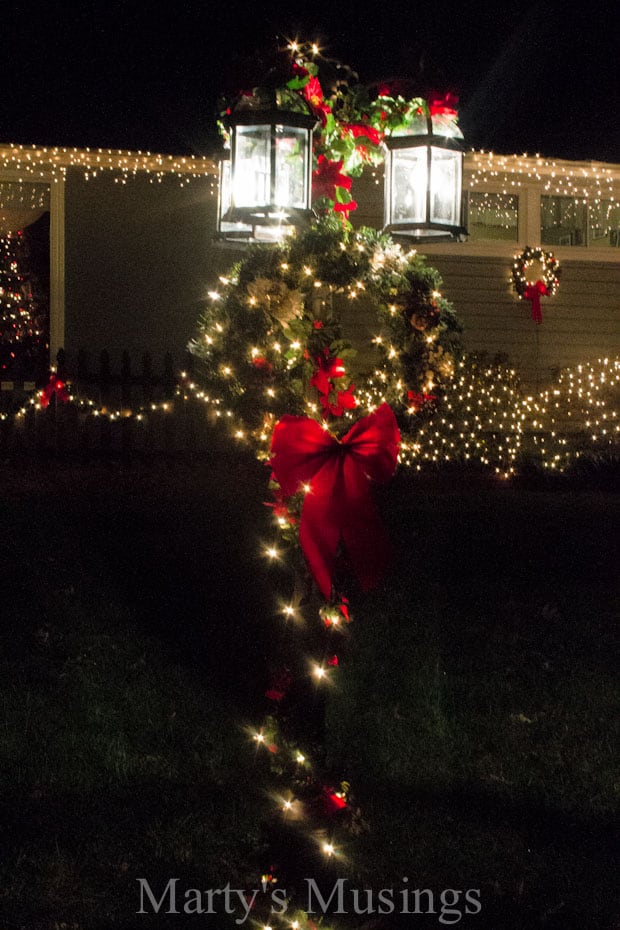 No apologies. No fears.
So here goes!
This is my home where Christmas is celebrated.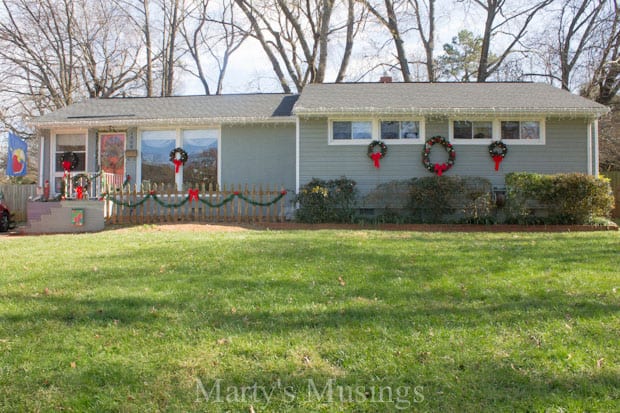 My DIY hubby is in charge of the outside decorating. We removed all the bushes and foliage in front of the big picture window when we had a large tree taken down recently. Yet another of my husband's creative uses of fence board is the temporary fence he used to string garland and lights on.
(Just wait until you see the front porch we're dreaming about!)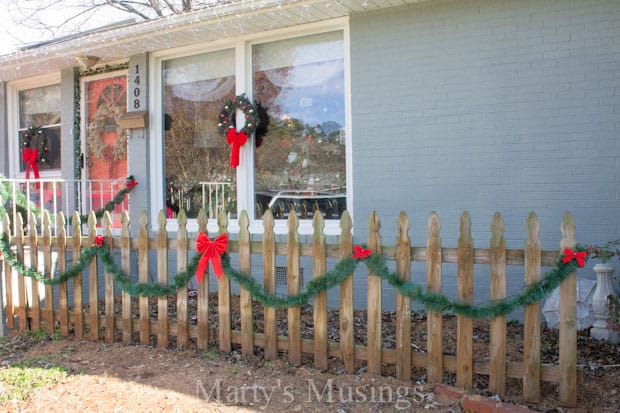 This little wooden reindeer was given to us sometime around our first Christmas and has reminds us of our 26 years living life together.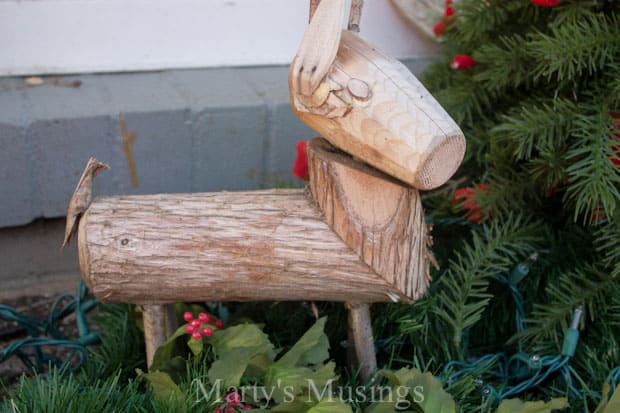 These lights are my husband's pride and joy. Since there is less space to decorate, our house no longer looks an airport landing strip, but our lights do twinkle and welcome guests to our home.
Tim mainly bought a few strands of new lights, but he's on a mission to discover the answer to the great mystery of why the lights go into storage and come out dead. Anyone know the answer?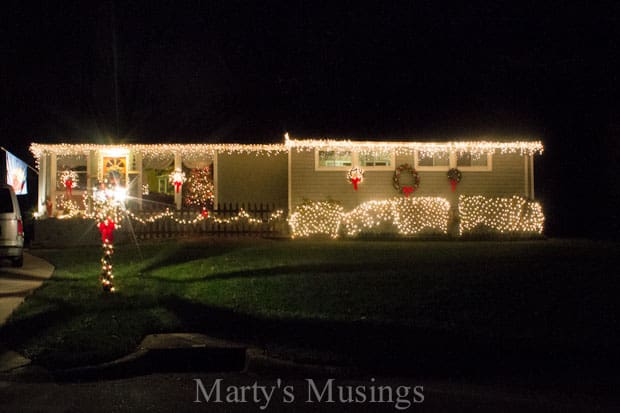 I really do have a burlap Christmas wreath I made this year (Better Homes & Gardens, are you watching?) The chalkboard welcome fits perfectly!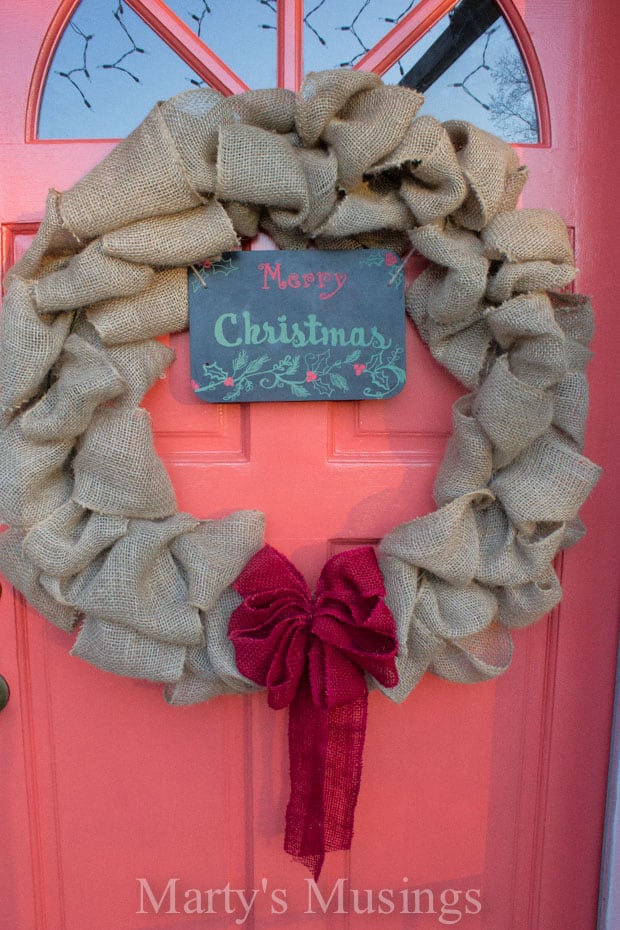 As you come into the living room we welcome you to Dickensville.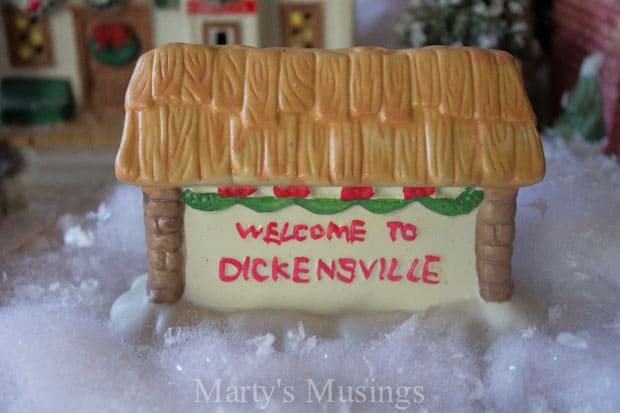 Filled with houses and people collected through the years, our Dickensville village delights us throughout the day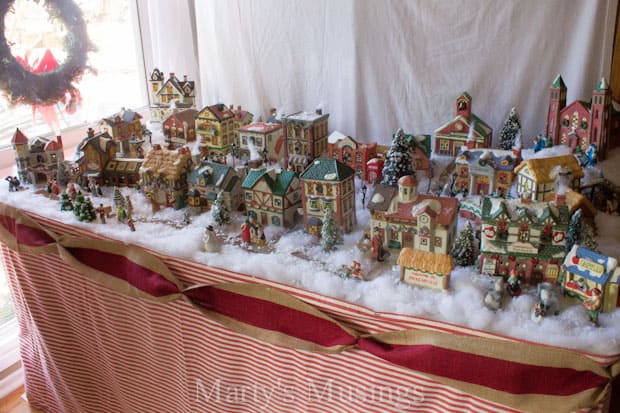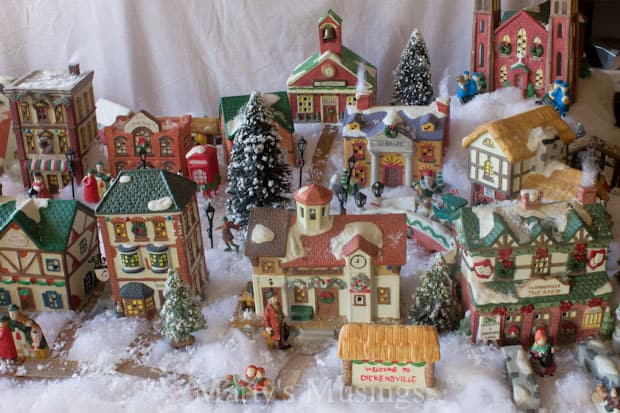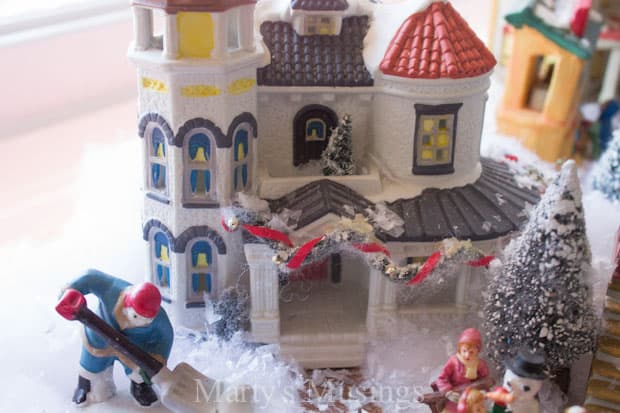 and night.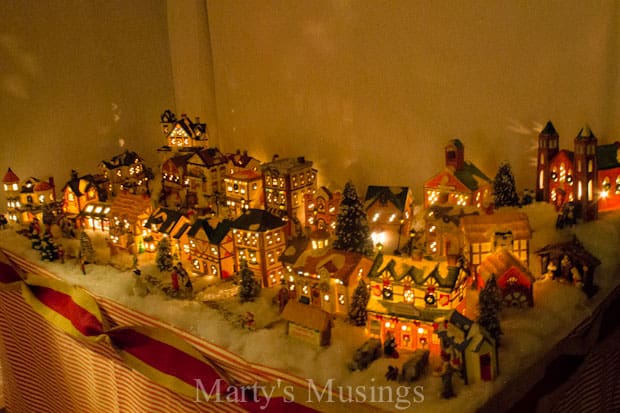 I imagine stories of families working and playing together, sharing life much as we do ourselves.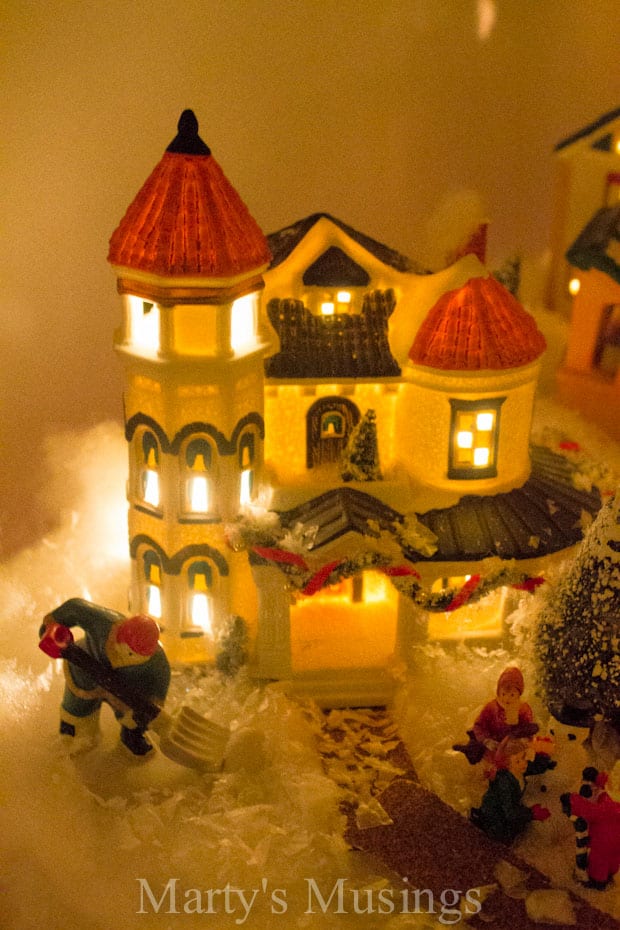 Move a couple of steps into our living room and you can see how I decorate our modest home with things I love.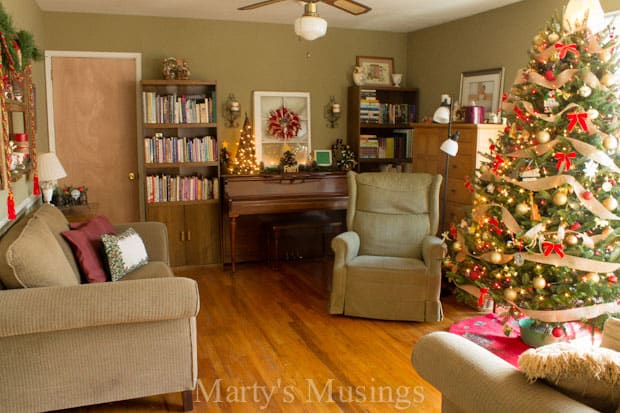 Just waiting for future grandkids (and great nieces and nephews already), my collection of lovable stuffed animals is a totally hands on exhibit!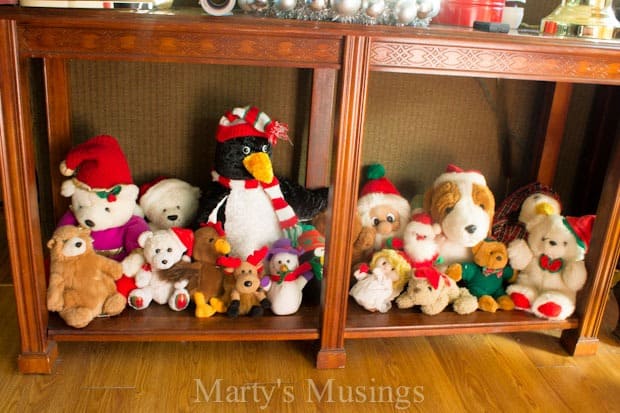 My most favorite place to change up for the seasons is the top of my piano where I pretend I have a real mantel.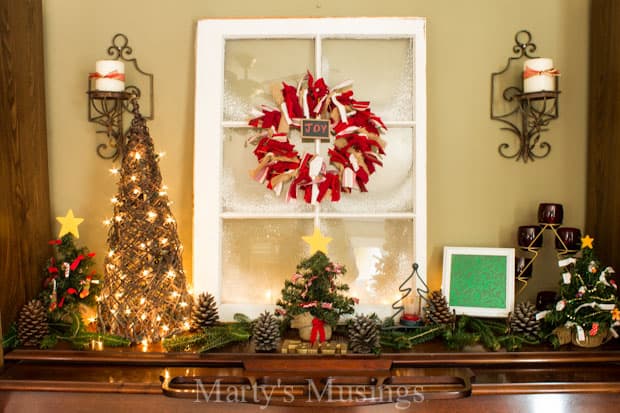 I love this old window that my clever husband sprayed with snow to look like real frost.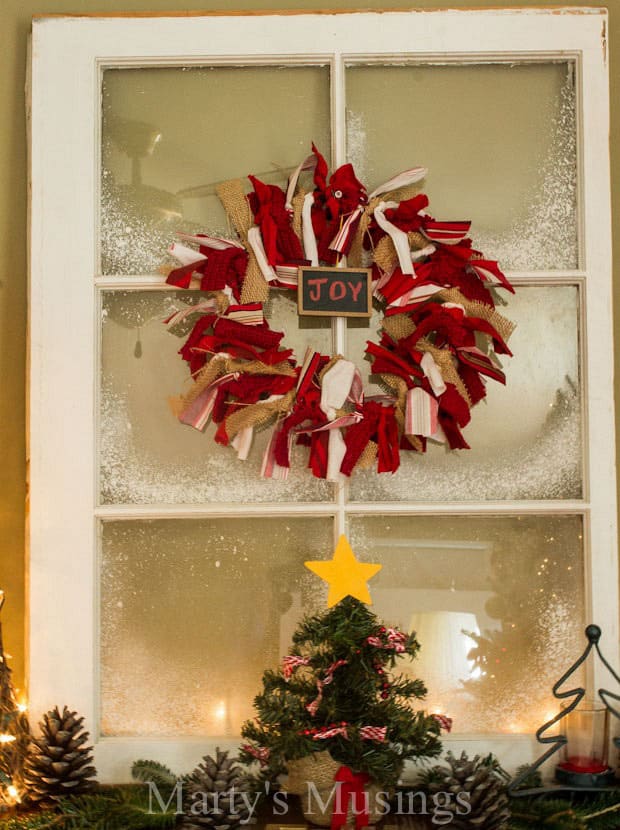 Making a rag wreath for my fall decor was so fun that I whipped up another one with Christmas colors and added a mini chalkboard "Joy."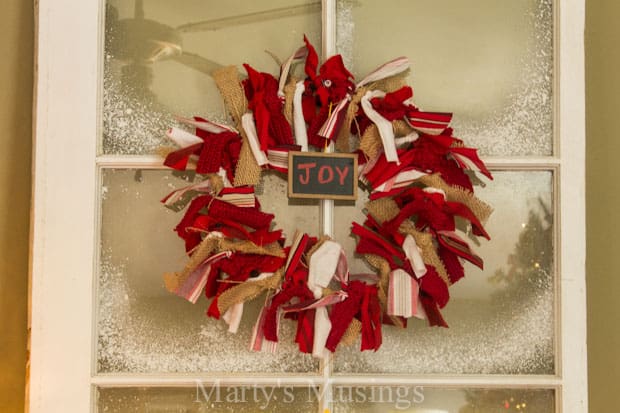 This grapevine tree was $1 at a yard sale, and with added lights for a bit of sparkle it also continues the tree theme on my "mantel."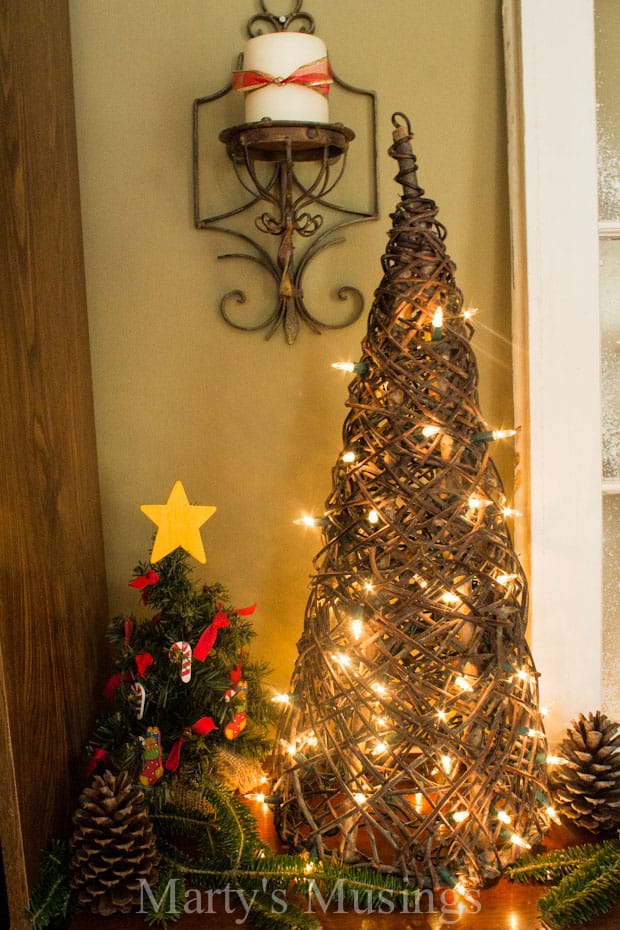 Ribbon wrapped candles and mini trees with new ribbons and ornaments also grace the top of my piano, as does scrapbook paper in a white frame.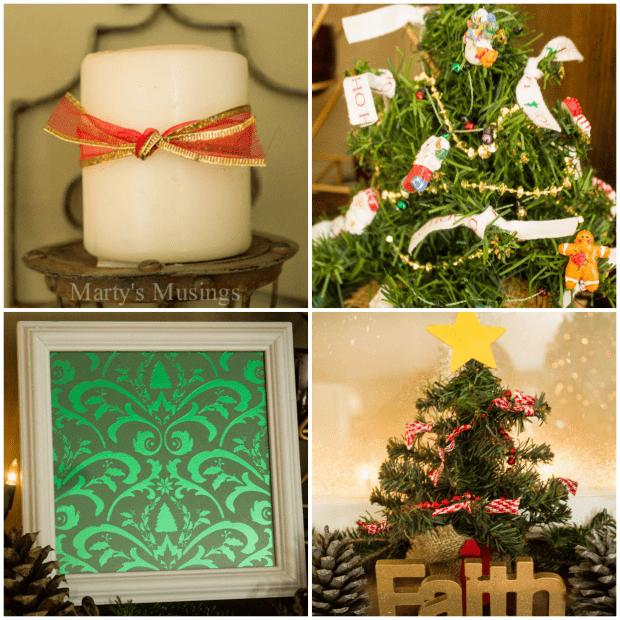 Every year we bring out this Precious Moments nativity from our early days as a married couple and remember the holidays we've celebrated together.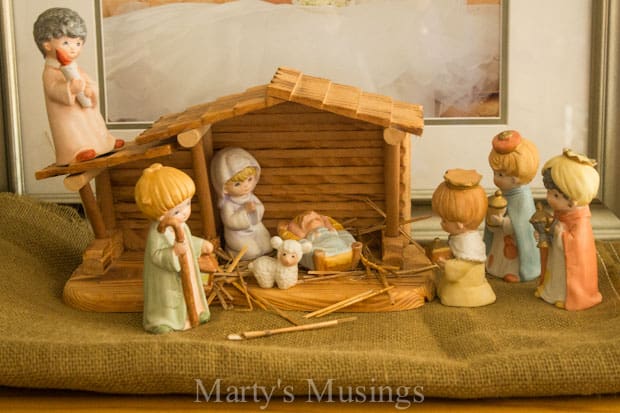 This new metal basket was another $1 yard sale purchase. Filled with fresh greenery, pinecones and ornaments it adds a fun touch to the room.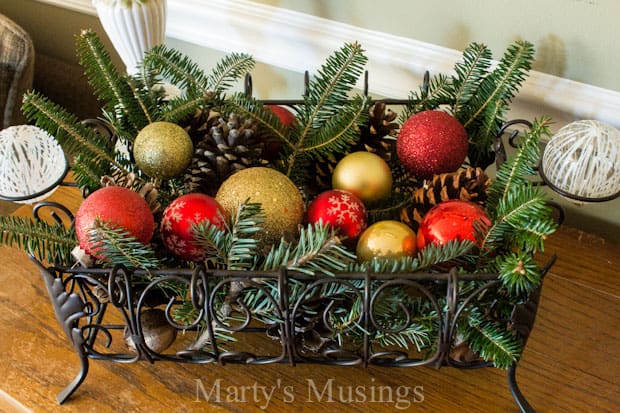 This pallet shelf was one of our first repurposed wood projects. I scavenged around my seemingly endless tubs of Christmas knick knacks to find some new and old treasures.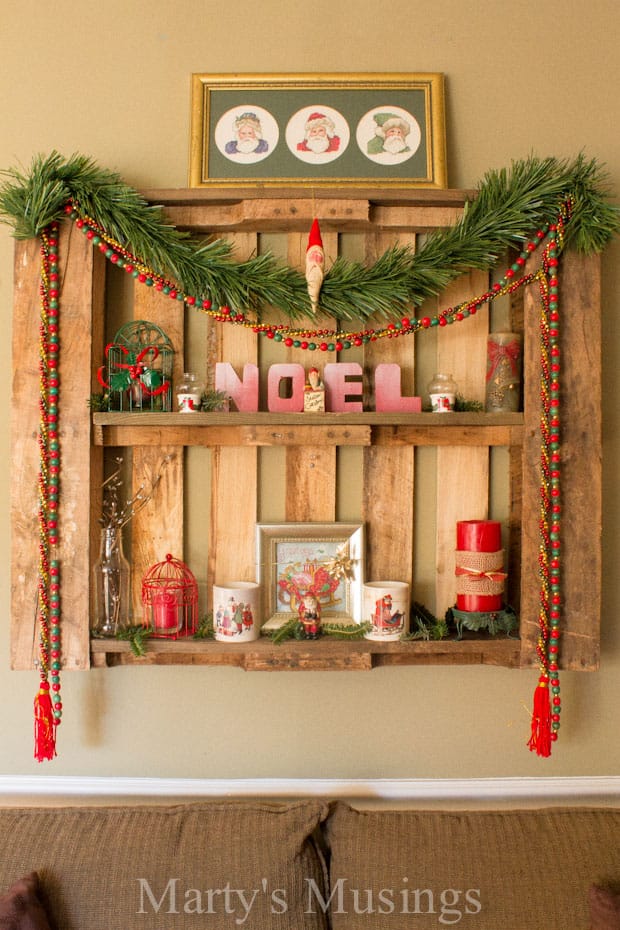 The "Noel" letters were made by a friend of ours almost 25 years ago and still hold precious memories of years gone by.
One of my favorite tricks to fancy up my decor is to add ribbon and burlap to candles. Just a simple and unique touch.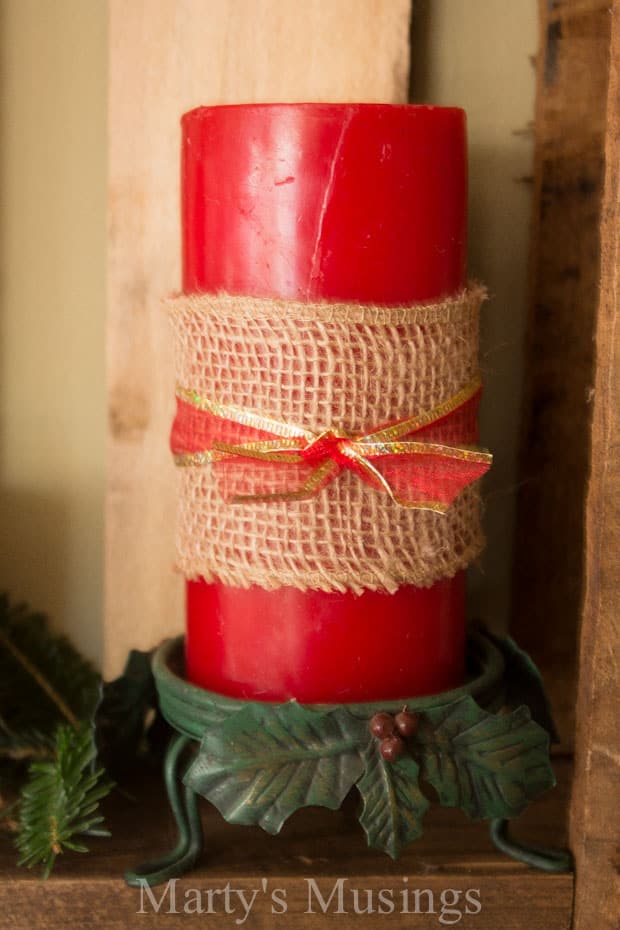 I collected nativities for several years and still like to display at least a couple to remind me of the importance of this season.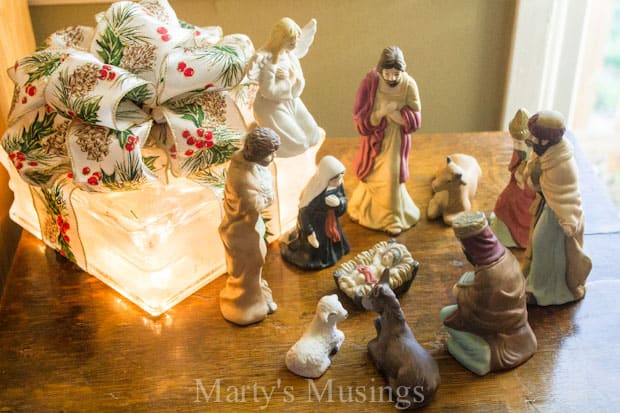 The shining star of our living room is our real Christmas tree. Even though two of our children are now adults they refuse to entertain the thought of an artificial tree.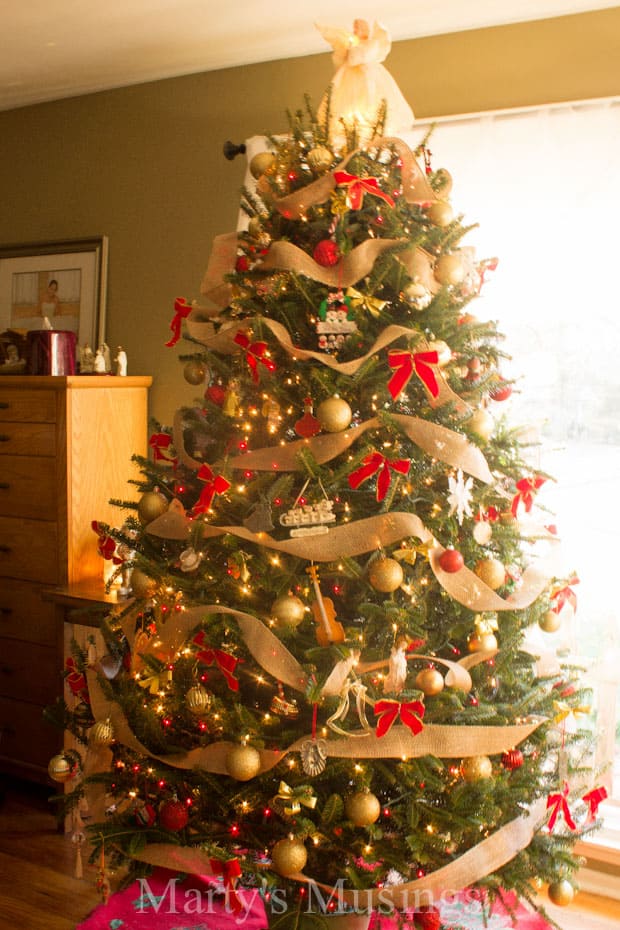 Each year we pick it out as a family on Thanksgiving evening and spend the next hours drinking Instant Russian tea, stringing lights, listening to Point of Grace music and reveling in what truly bonds us as family.
The burlap ribbon is new this year, and I had to fight with my family to make it work! My kids are very possessive of their tree, but the burlap won out over the red beads from years past. Red and gold sparkly ornaments and bows add the traditional touch.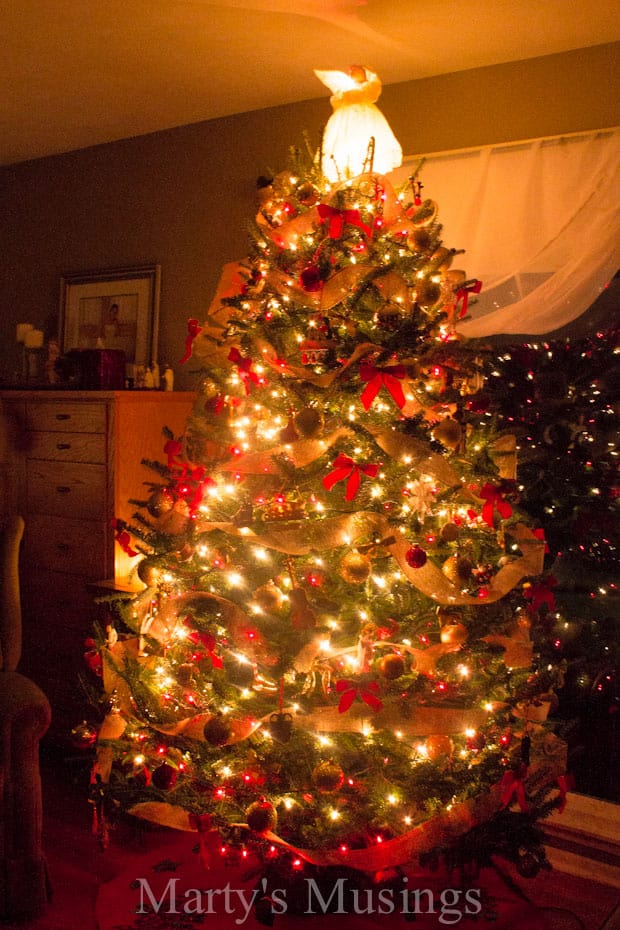 There is truly nothing better than sitting in my rocking chair late at night, listening to praise and worship songs and gazing at this beauty.
One more little Christmas tree passed down from my mom sits on top of a $1 yard sale ornament wreath.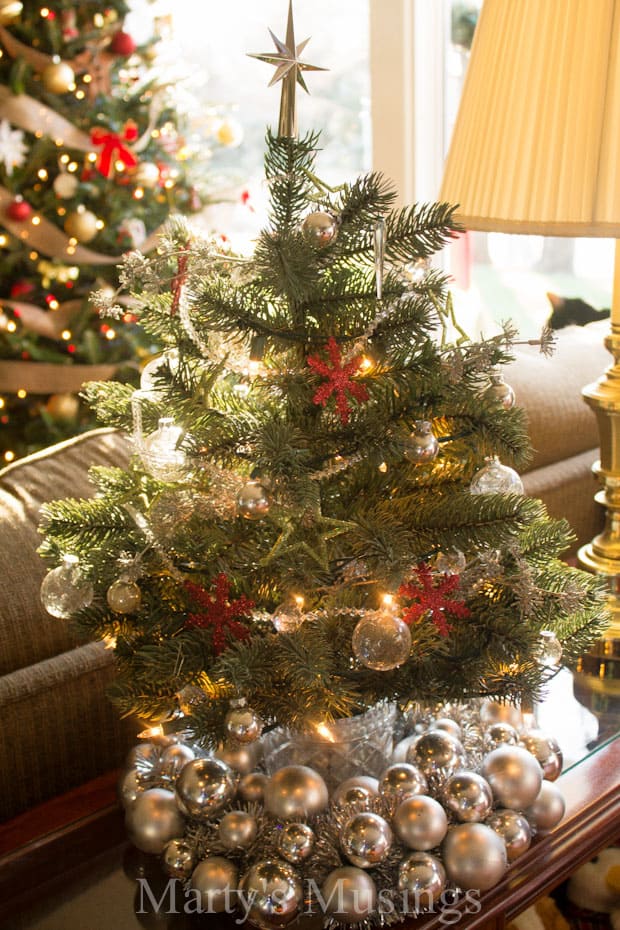 Even though I'm not big into Santas myself you'd never know it from my house! My kitchen contains all things Santa!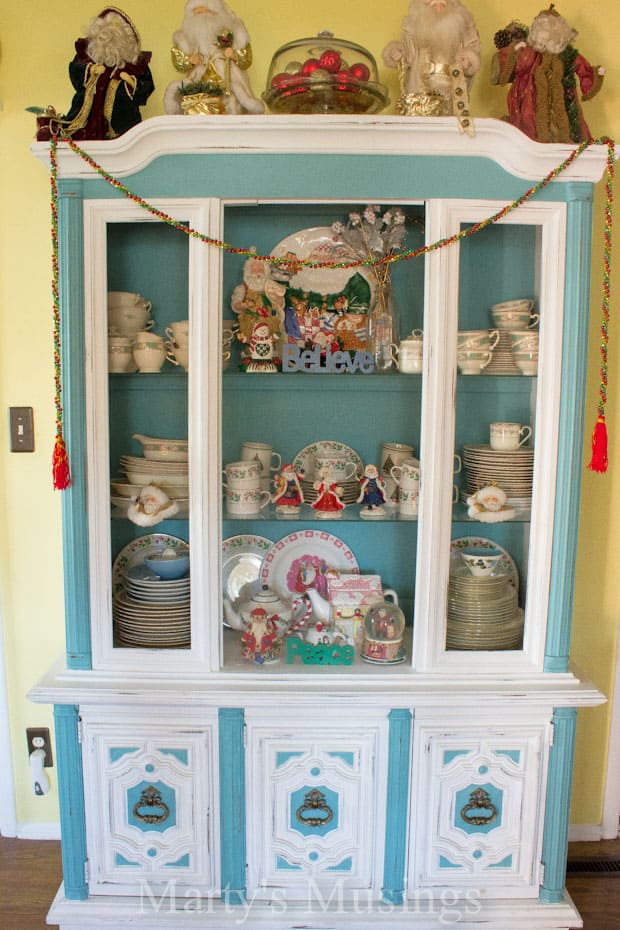 When my sister passed away suddenly in 2000 I gladly accepted part of her Santa collection and made it my own.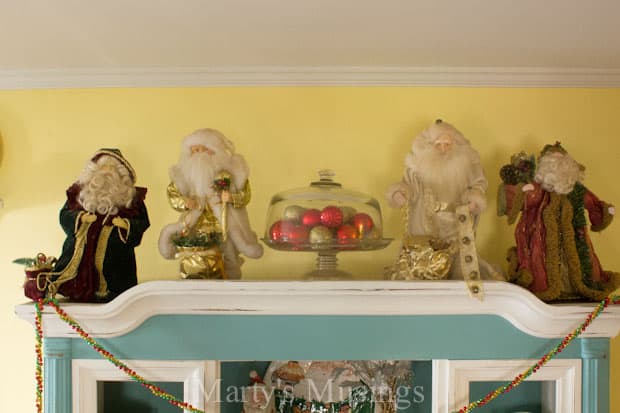 I celebrate the life of my sister by embracing her love of all things Santa.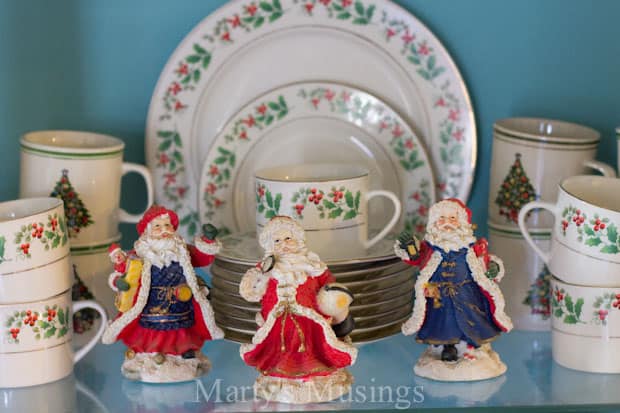 In this chalk painted hutch my Christmas china blends with the everyday, ready to host a gathering of friends at a moment's notice.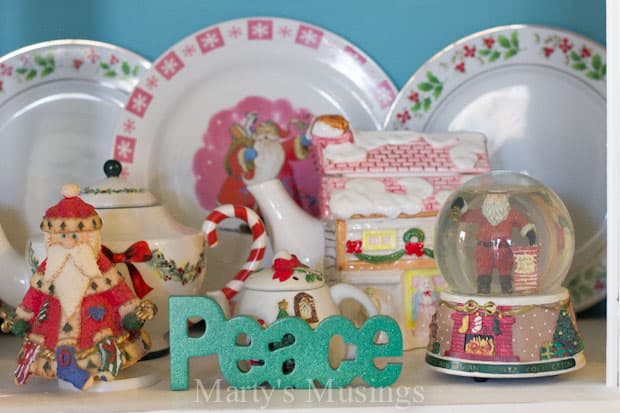 On the opposite side of the room additional Santas grace another shelf or two.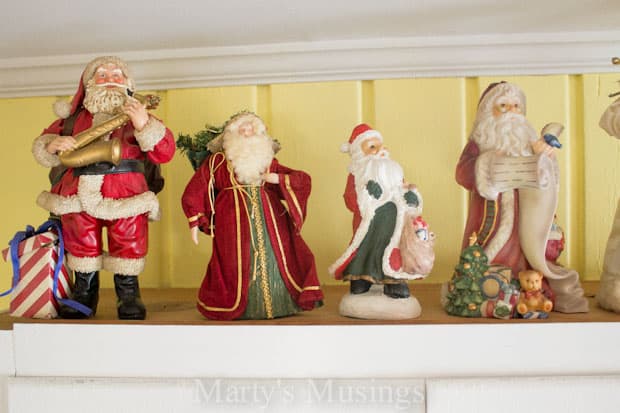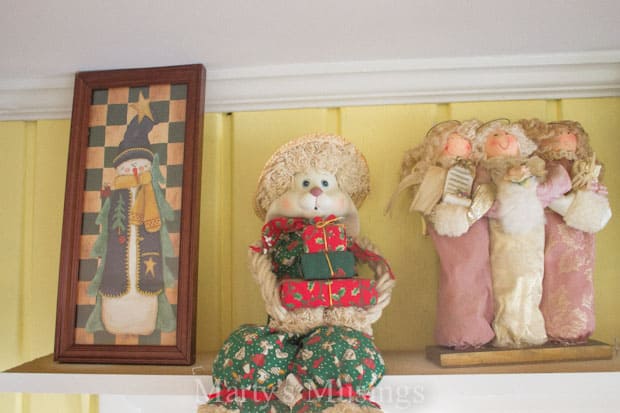 Last year my fence board Christmas tree was a hit for my readers, and it was a joy to bring it out again this year.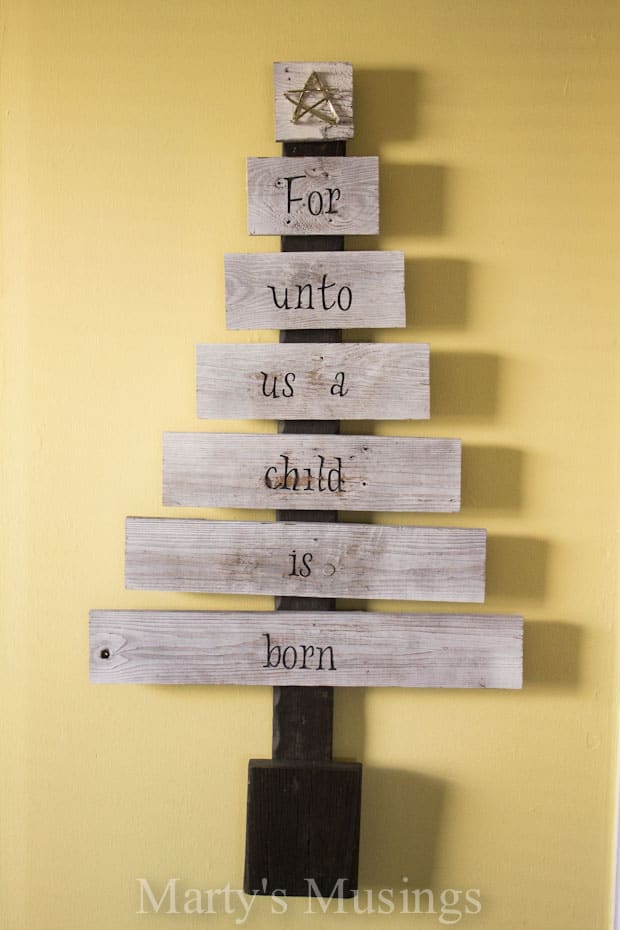 New for 2013 is this fence board Joy sign, yet another of my hubby's creative use of fence board.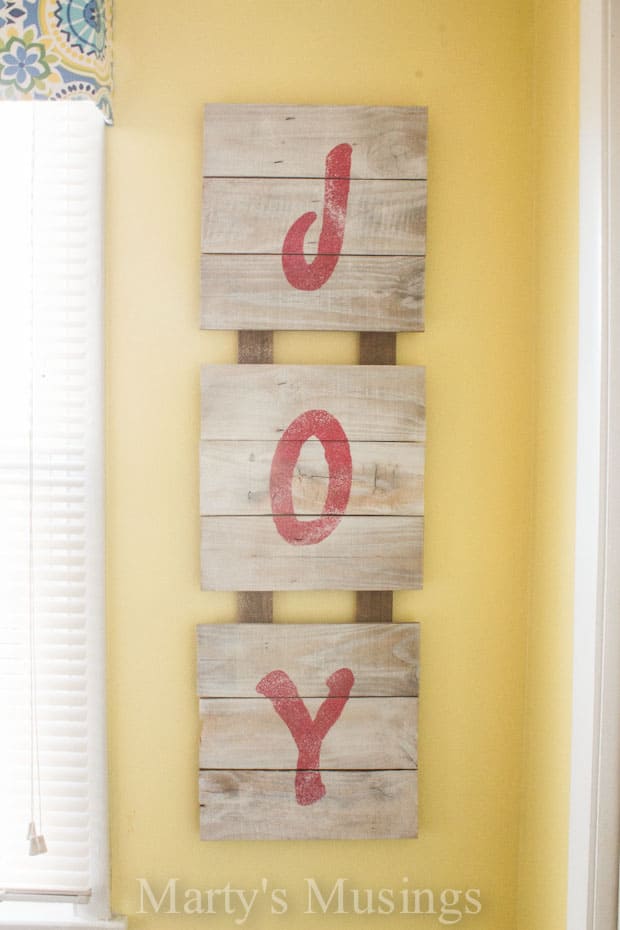 This tablescape is one of my new favorites, with the rustic wood chargers blending in with Christmas china and seasonal glasses.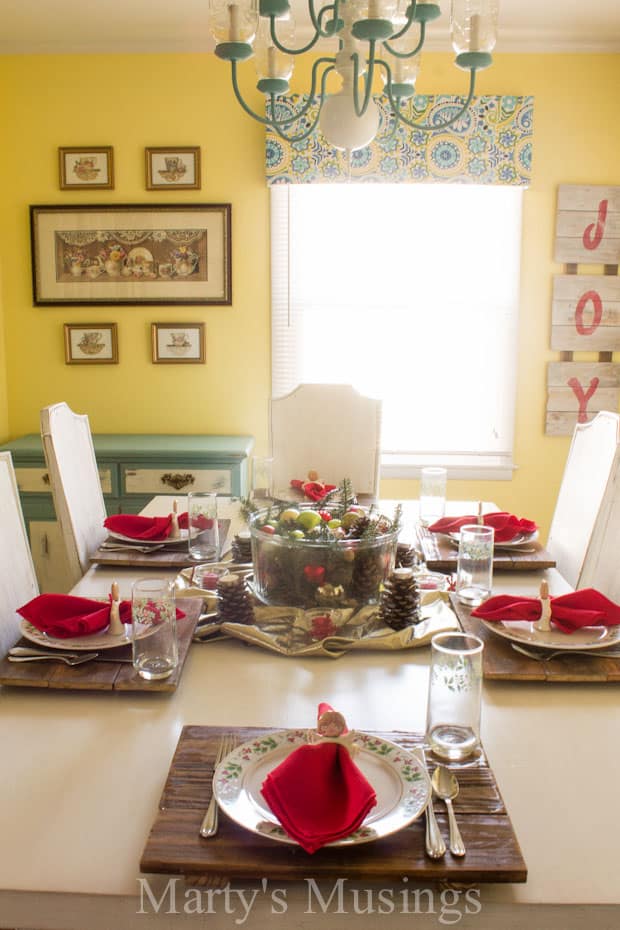 I love to mix and match fine china with casual serving ware.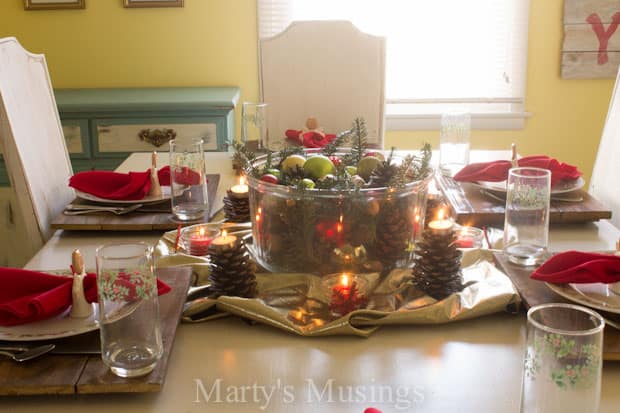 The centerpiece is gold fabric underneath a large glass bowl filled with greenery, natural elements and vintage ornaments.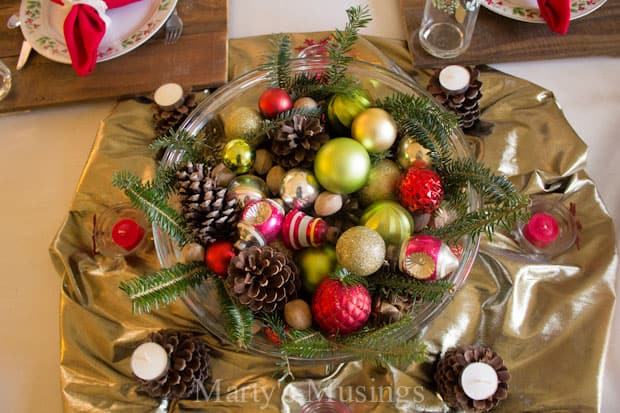 These angel napkin rings are years old but still make me smile.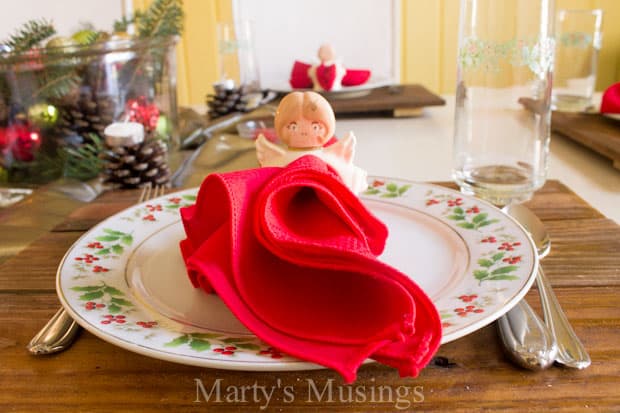 Moving into the den I have another opportunity to practice my vignette skills on the top of our entertainment unit.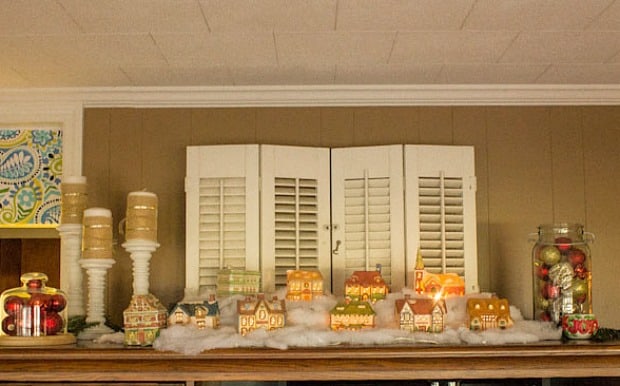 My husband dragged out these shutters for me, and I placed them behind our smaller village.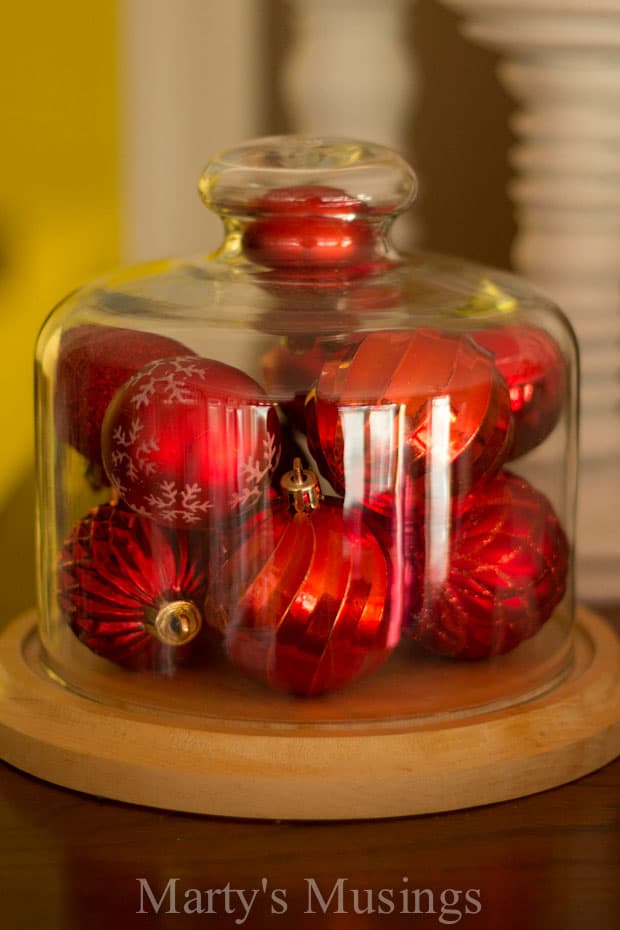 One of the easiest ways to dress up your home for Christmas is by mixing inexpensive ornaments with natural elements in a glass jar.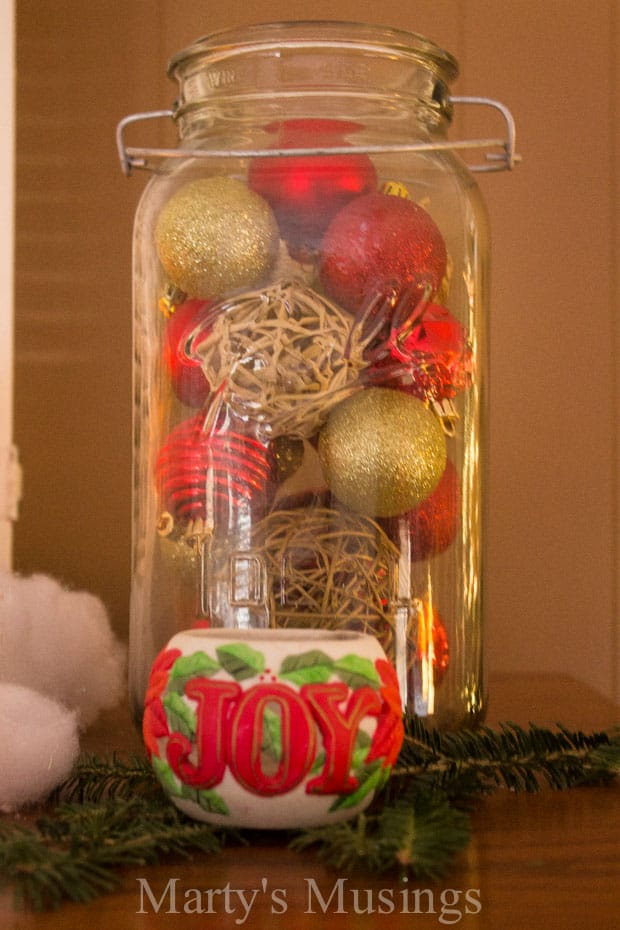 Again, my trick to dressing up the ordinary? Burlap and ribbon. What could be simpler?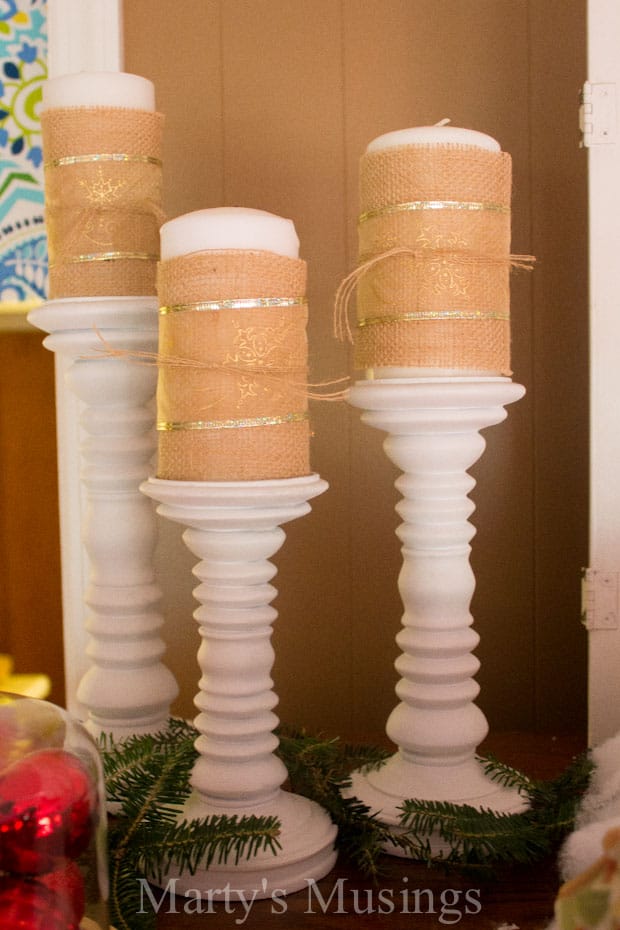 When we put up our Christmas tree in the living room our window table moves to the den. The candle set below was $2 at a yard sale, fresh out of the package.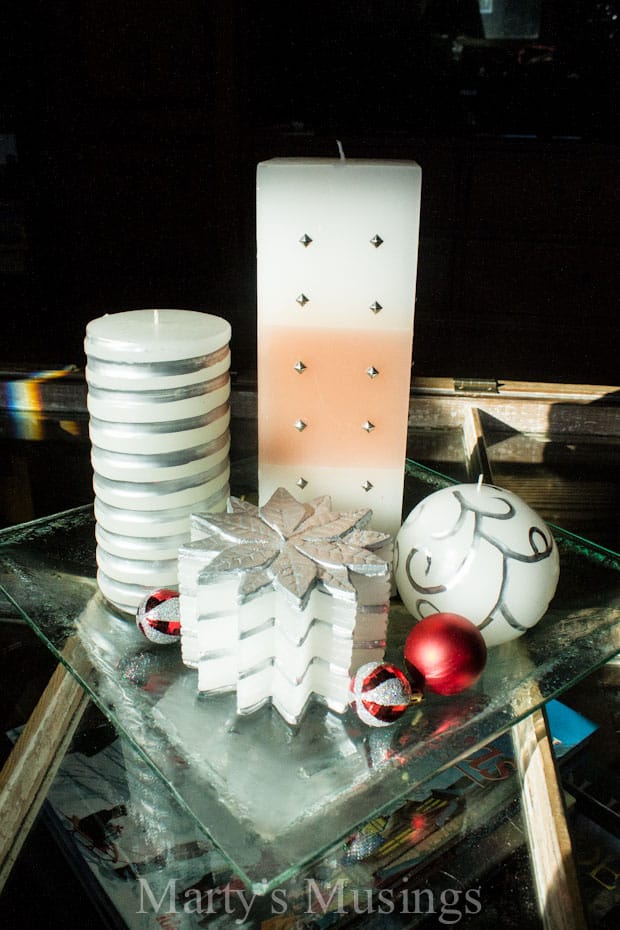 Since I definitely need a few more twinkling lights I asked Tim to use battery operated lights inside the table. Love it!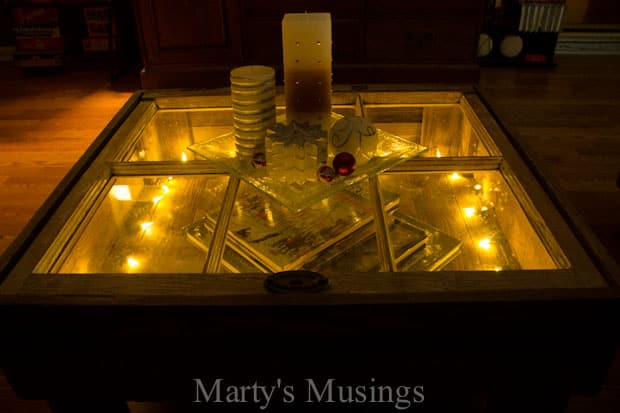 One project I hope to share you with soon is a mini scrapbook album I made with pictures and the history of all our favorite ornaments. This is a simple yet precious momento for my children to have one day.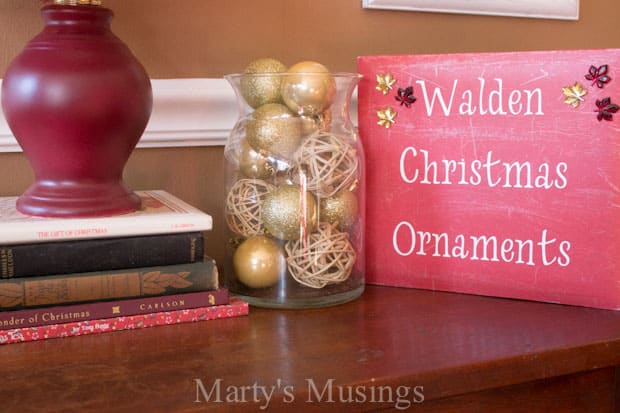 This Christmas my family will count our blessings and enjoy meals, traditions and treasured moments (including a hot cup of Instant Russian Tea).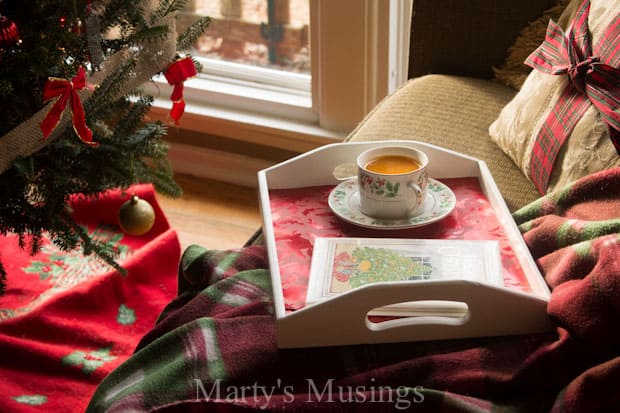 Thank you for stopping by for a visit. From my home to yours…..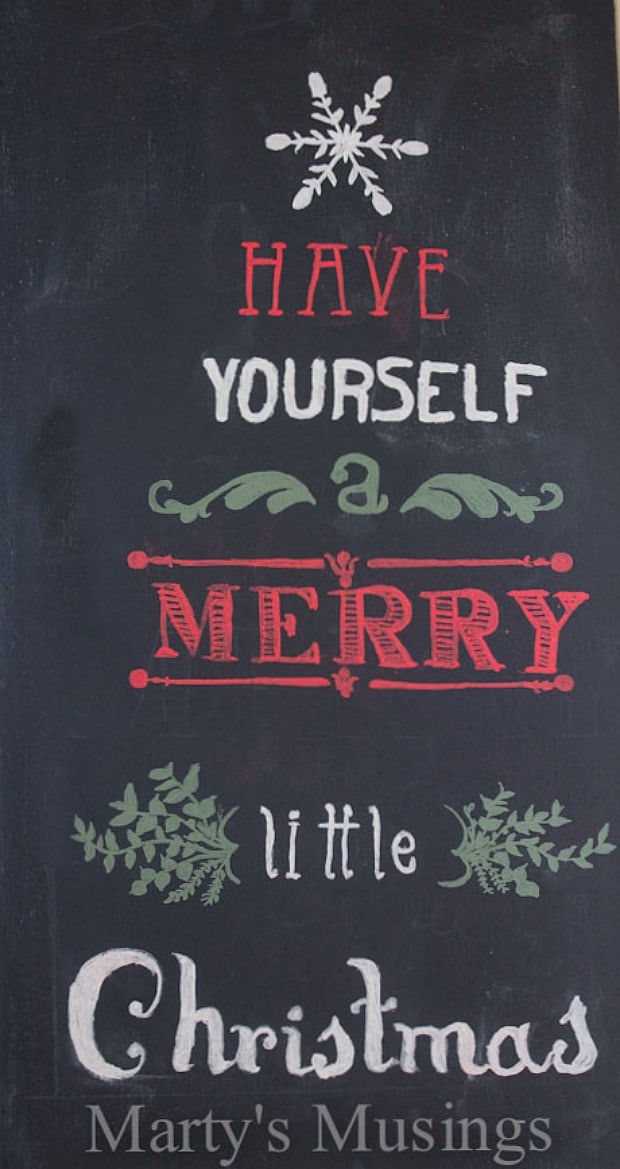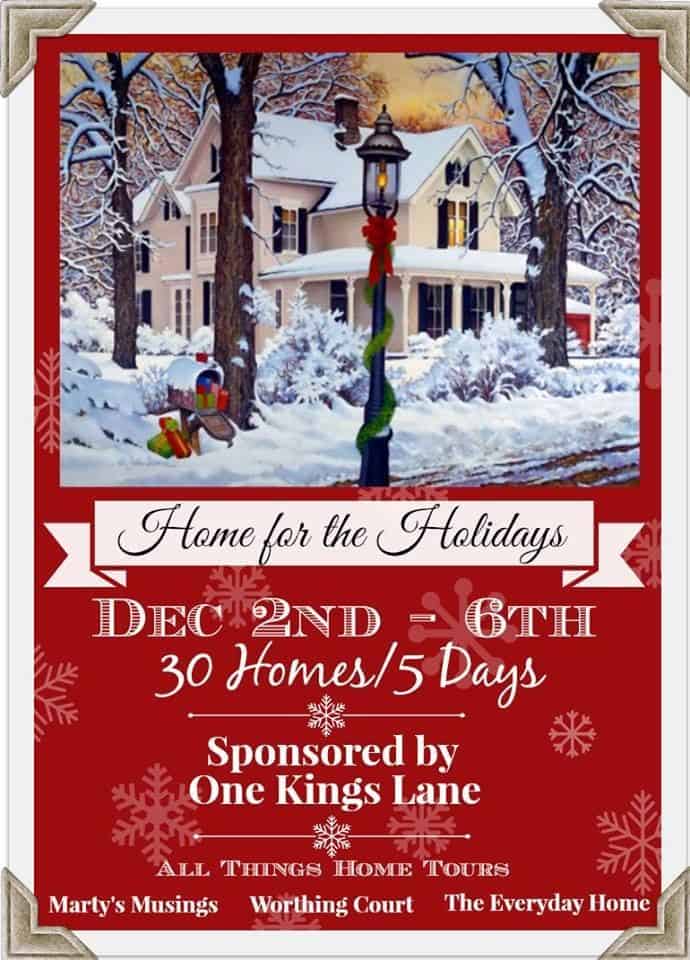 RAFFLECOPTER
a Rafflecopter giveaway

I hope you'll visit the other beautiful Christmas homes on our All Things Home Tour:
Monday
Worthing Court
French Country Cottage
Atta Girl Says
Town and Country Living
Decor Adventures
Lilacs and Longhorns
Tuesday
Marty's Musings
Mom 4 Real
All Things Beautiful
Making Home Base
The Happier Homemaker
The Lily Pad Cottage
Wednesday
The Everyday Home
Craftberry Bush
Celebrating Everyday Life with Jennifer Carroll
AKA Design
Hymns and Verses
Our Southern Home
Thursday
Stone Gable
Adventures in Decorating
Newly Woodwards
Setting for Four
Back Porch Musings
All Things Heart and Home
Friday
Cedar Hill Farmhouse
Cottage at the Crossroads
Top This Top That
Domestically Speaking
Mommy is Coocoo
Shabby Art Boutique