How to Create a Fall Vignette
This post may contain affiliate links which won't change your price but will share some commission. Read more here.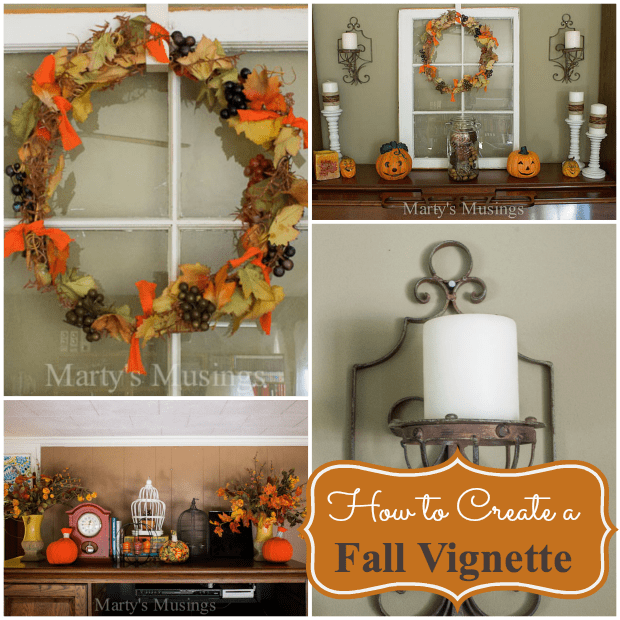 I am so excited and honored to be part of the Scoop on Creating Fall Vignettes. (A complete list of participants is located at the bottom of this post.)
I have to be honest. Until I started pursuing this blog gig purposefully I didn't even know what a vignette was.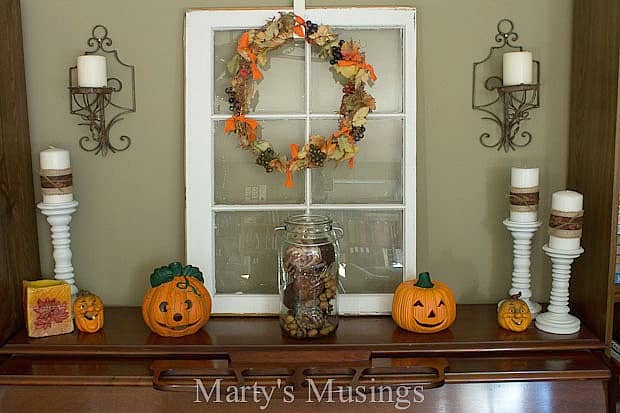 I just knew I wasn't very good at them. But there's one thing I've learned in this last year and a half of becoming a DIY blogger:
You can always find something to inspire you and learn from on Pinterest!
Our instructions were to provide step by step details on how to create a fall vignette and I'll also share my tips on making do with less.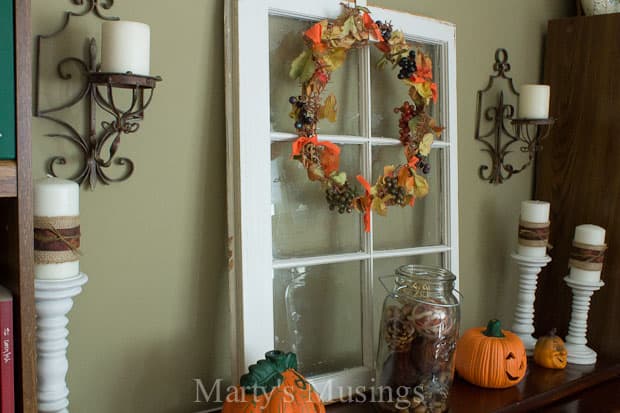 It all started with this window. My husband and I love to repurpose old windows into a table or even a family photo frame.
This is one of several windows my DIY hubby Tim got for free just for asking, and I plan on using them for years to come!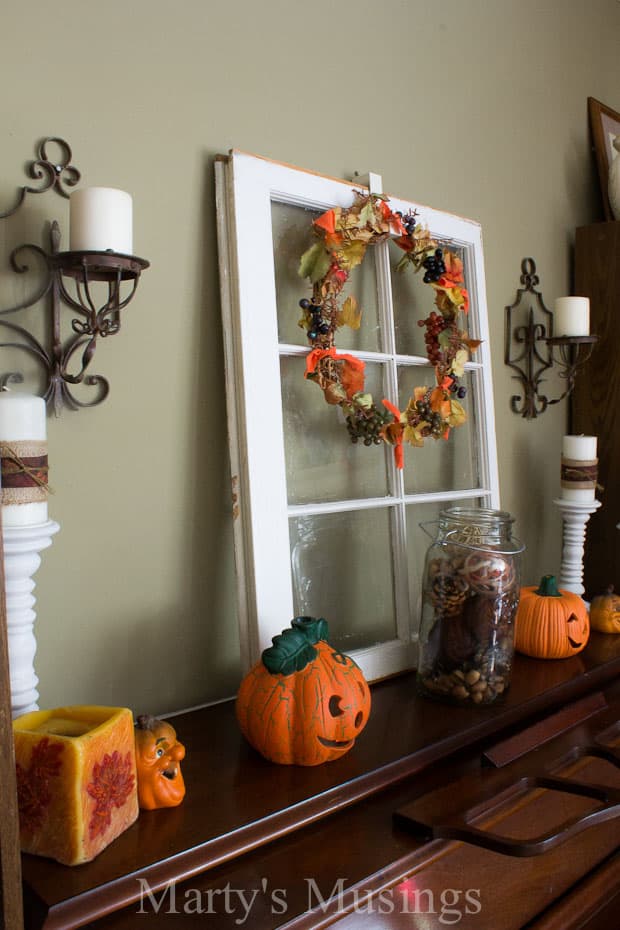 As I started pulling things together for this grouping I shopped my attic and the rest of the house.
Repurpose items and swap them out with other home decor.
These candle stick holders were used at my daughter's wedding, last year's fall and Christmas decor and even for Valentine's Day!
I simply added a bit of burlap, ribbon and thread and the candles were ready for fall.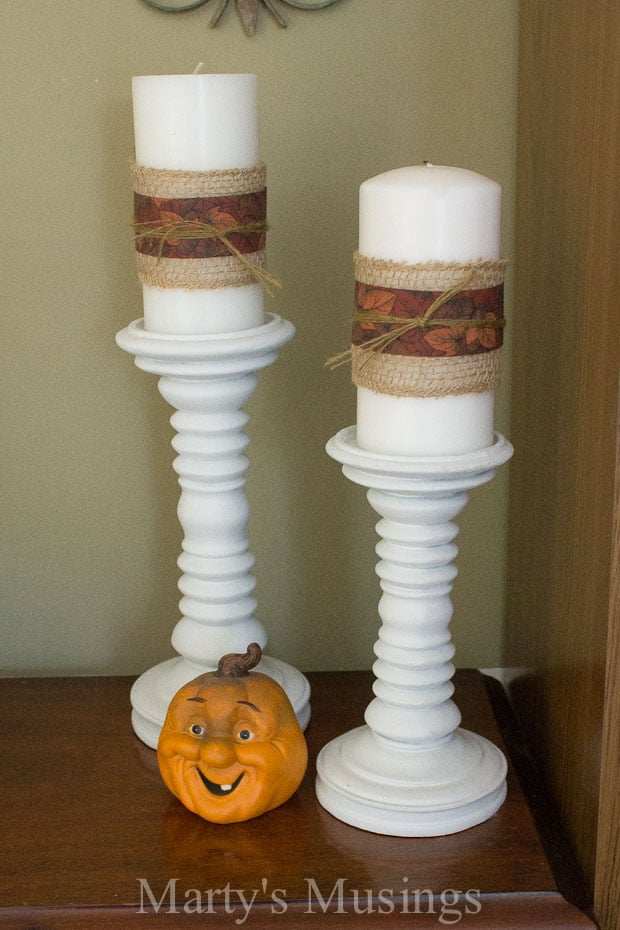 Shop at yard sales and thrift stores all year long.
The two sconces were a steal at $1 each at a yard sale. They are absolutely perfect for this arrangement and in the future I'll merely swap out the candle for a new look.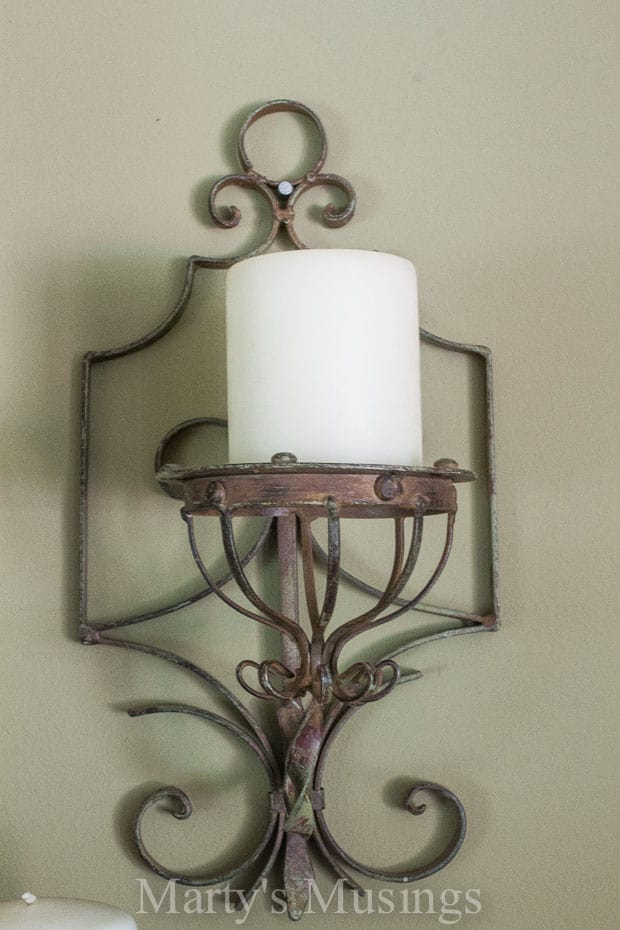 Use natural elements. They're free!
This oversized mason jar was another $1 yard sale purchase with pinecones, acorns and balls wrapped in yarn.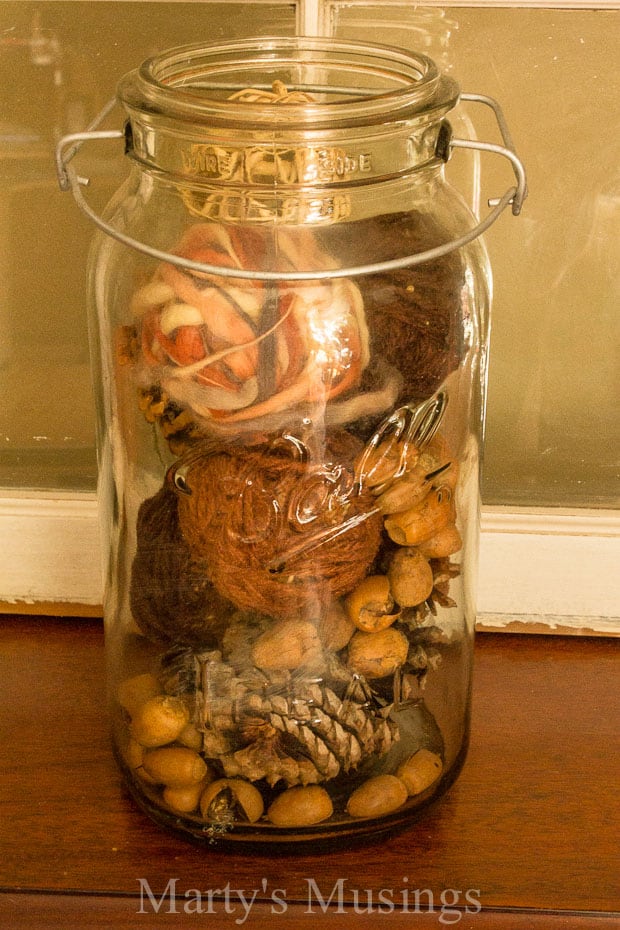 Add your own style to your existing decor.
This wreath was (yet again) $1 at a yard sale and I added the grapes and fabric ties (from an old t-shirt). Go here and here for more inexpensive fall wreath ideas.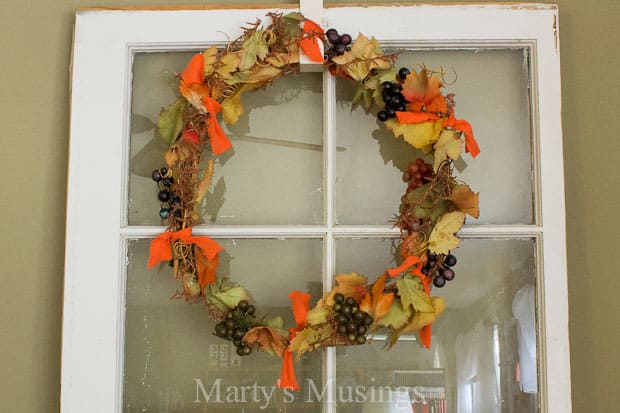 I found these adorable little ceramic pumpkins for $1 this summer while yardsaling. Are you sensing a theme here?
The whole vignette cost $10 at most.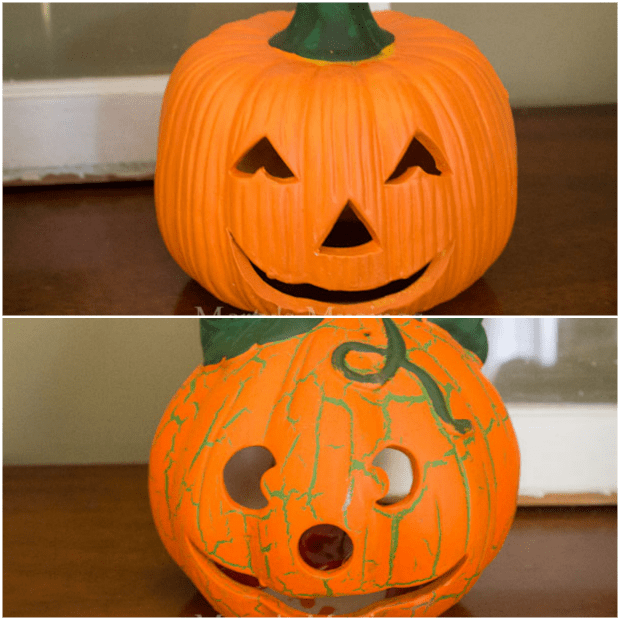 On to our entertainment unit in the den. I may never have a mantel but this large space provides me with ample opportunities to decorate.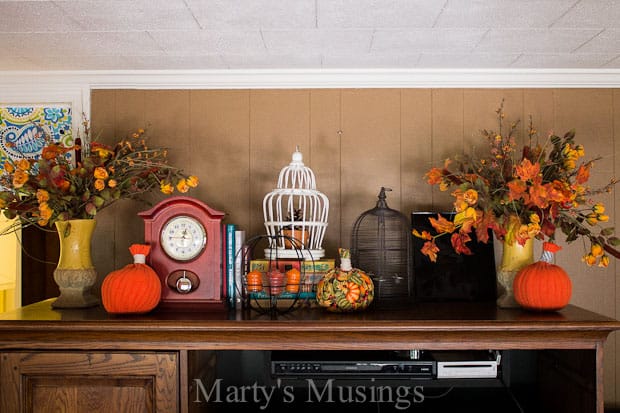 Again, we have repurposing. The birdcage stays in this location but I change it up with candles or in this case a pinecone in a clay pot.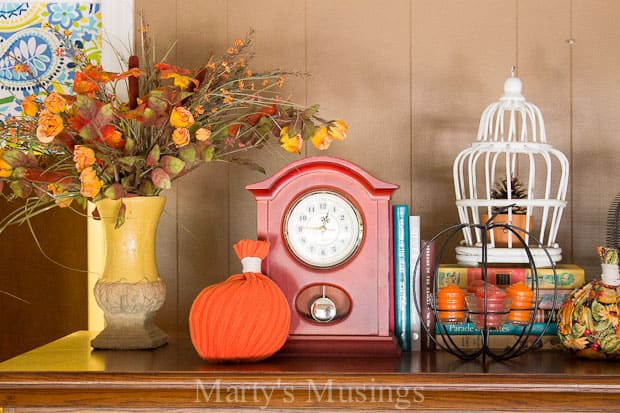 I found the metal pumpkin candle holder at a yard sale and wrapped some glitter fabric around a dollar store pumpkin to add a little bit of color.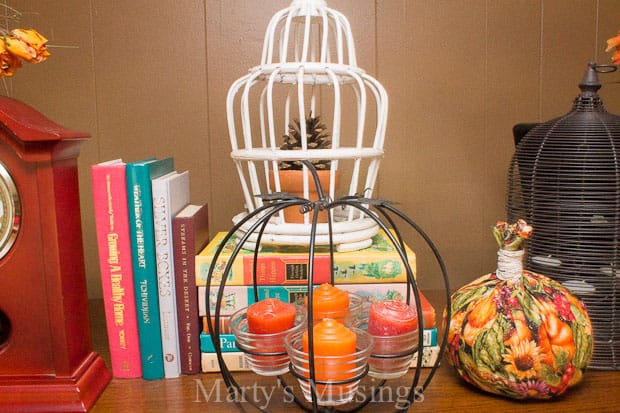 These two flower arrangements were a steal for $3 at a yard sale.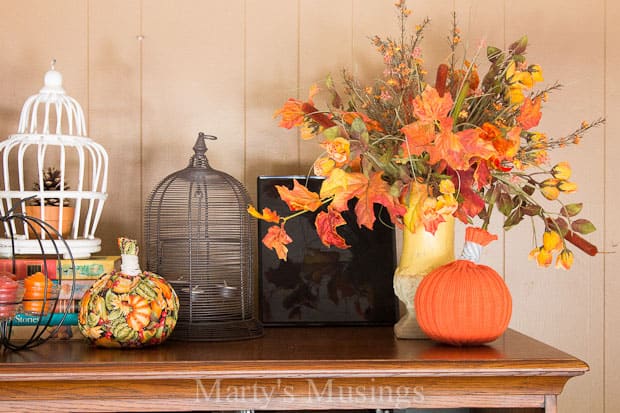 Move things around. Since I shot the original pictures I've added a couple of things and rotated some of the decor around. Don't be afraid to try a vignette and live with it for a bit to see if you like it. After all, we're women. We're allowed to change our minds!
Did you miss any of my DIY projects this fall?
I shared my fall home tour,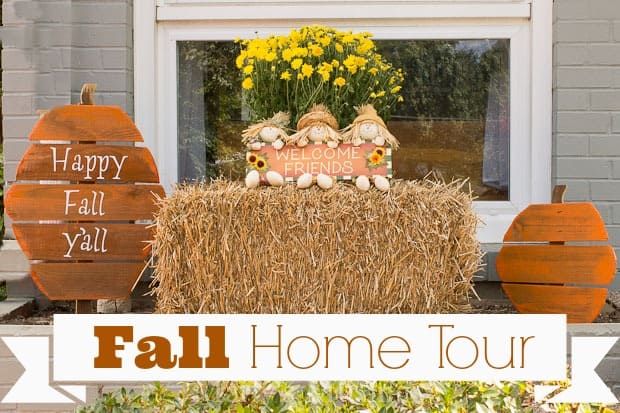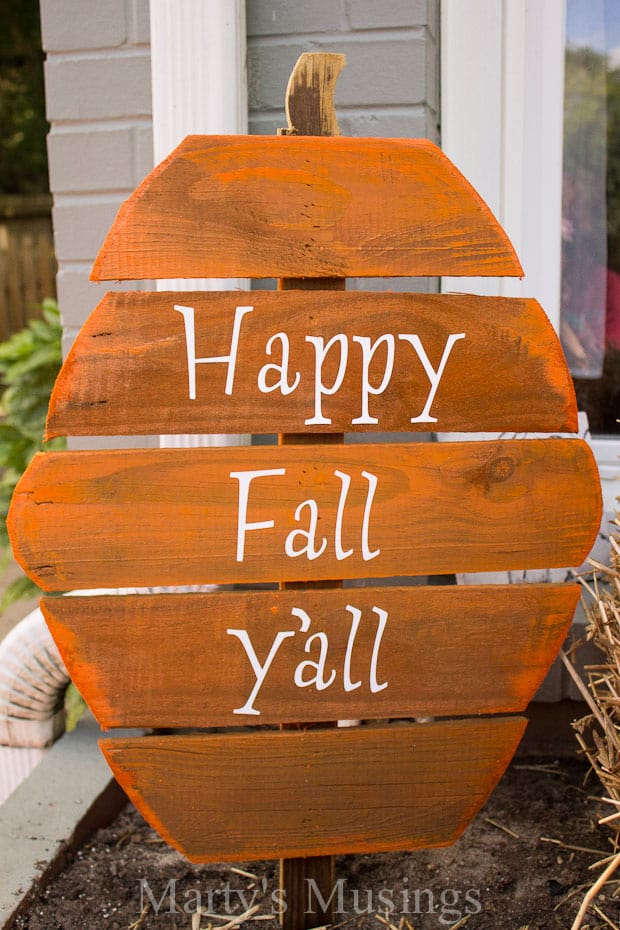 3 easy DIY fall wreaths,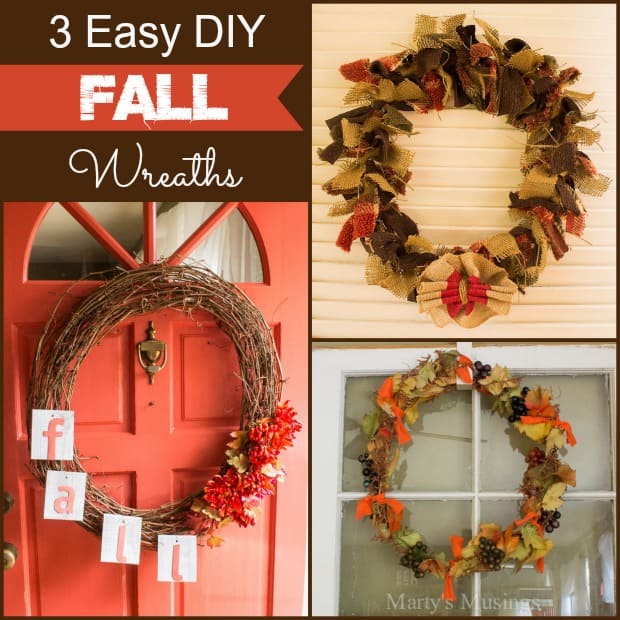 and a painted pumpkin craft project.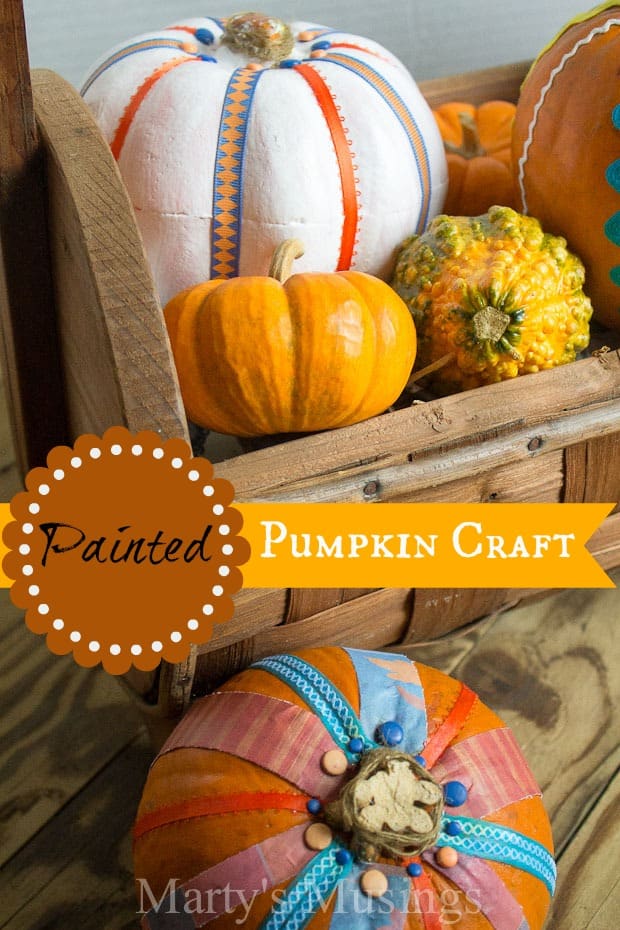 I know you'll enjoy visiting the rest of the bloggers on our "Creating Fall Vignettes" tour. Have fun!