DIY Painted Pumpkin Craft
This post may contain affiliate links which won't change your price but will share some commission.
Disclosure: The post DIY Painted Pumpkin Craft was sponsored by Behr but I've always used and loved Behr Paint!
This painted pumpkin craft is perfect for anyone who wants to impress friends and family! All you need is pumpkins and a few decorative accents.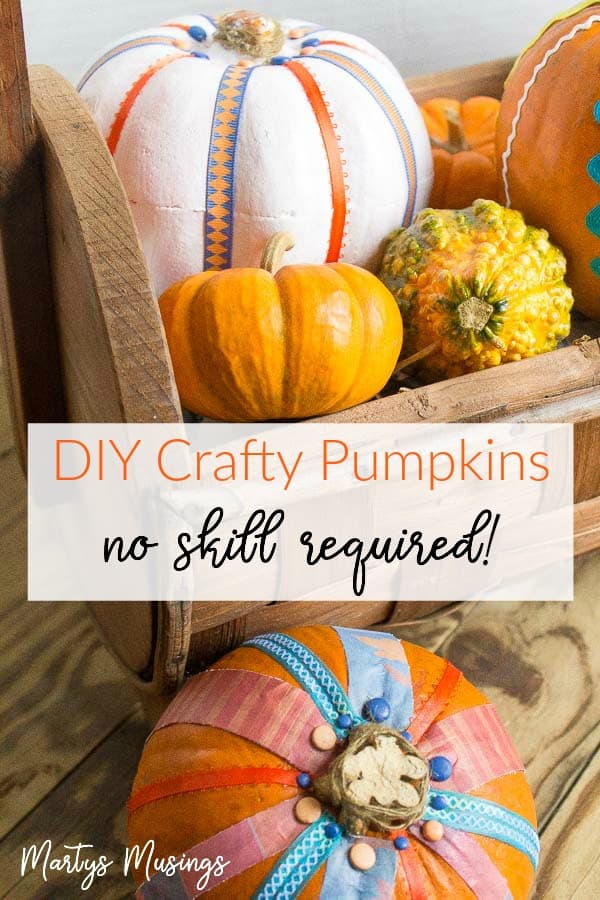 Anybody feeling a bit of pressure about now?
It's the last few days of fall before the blessed celebration of Thanksgiving and the race into Christmas where sane people lose their minds.
Those who enjoy their home 11 months out of the year suddenly think they need to reinvent the wheel and start over.
From scratch.
All homemade and DIY like.
I know I'm guilty.
But how about you and I make a pact to do just one little crafty project and call it good for now?
This painted pumpkin craft can be done in just a few minutes, with either real pumpkins or fake ones.
You can even hit your local dollar store and really keep it on the thrifty side.
Throw a few of these in different sizes on your Thanksgiving table and your guests will be completely impressed.
Trust me on this.
Painted Pumpkin Craft
Materials:
Pumpkins (real or styrofoam ones like these)
Paint
Scrapbook paper (y'all know I have a store full or you can find some here)
Ribbon (use what you have available or I used some similar to this)
Glue (I used Scotch Quick Dry Adhesive)
Hot glue (I use a mini hot glue gun but any kind will do)
Any other decorative elements you want!
Instructions
Since my husband is a painting contractor we always have paint handy. I chose Ultra Pure White Behr Premium Plus Ultra paint and primer in one. Here's my first pumpkin.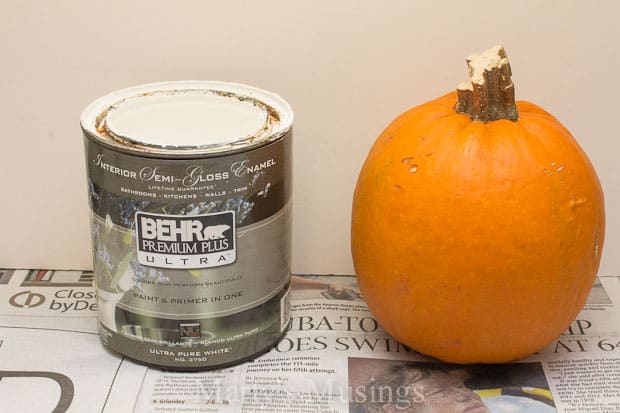 And my second one. Can you tell the second one is fake?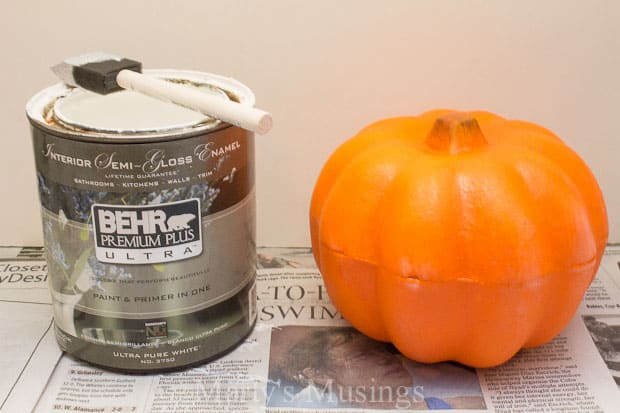 Step 1: Paint the pumpkin
I decided to experiment with both a real pumpkin and a dollar store carvable pumpkin.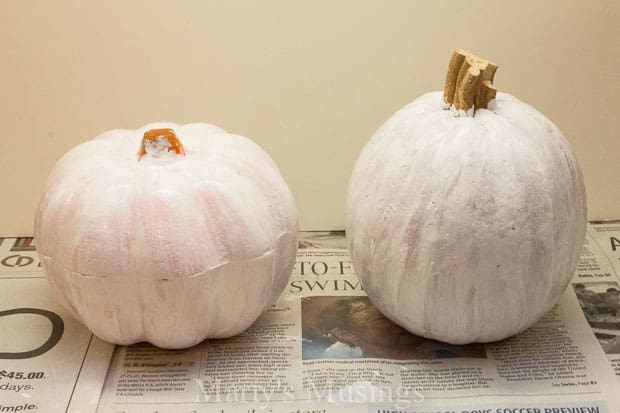 After 2 coats of paint I began having fun. Since I am the queen of ribbon and hoarder of paper I knew all I had to do was shop my own craft room for supplies to decorate the pumpkins.
Step 2: Add decorative accents
This painted pumpkin is just strips of ribbon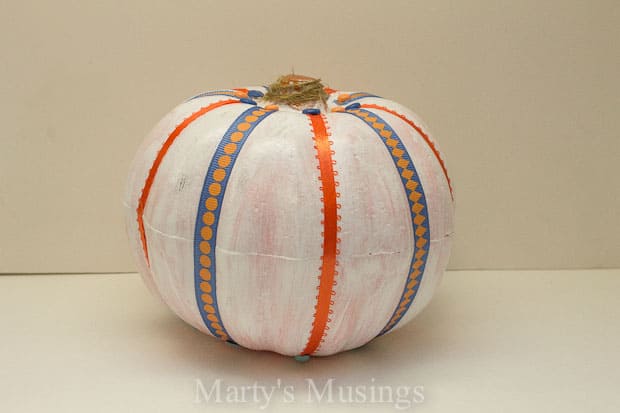 with brads used to secure the ribbon on both the top and bottom. This was so easy to do with the carvable pumpkin.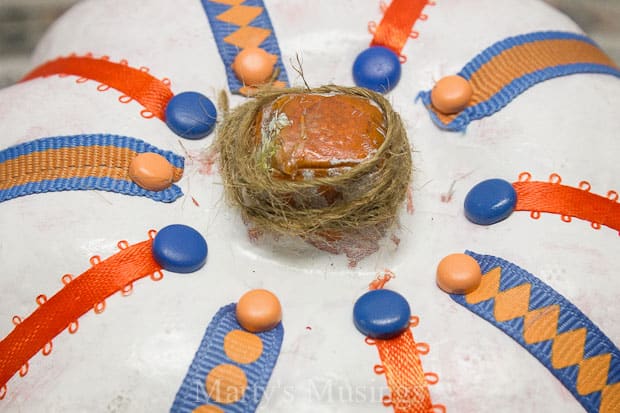 I used the Scotch Quick-Dry Adhesive to glue on the scrapbook paper strips on this unpainted pumpkin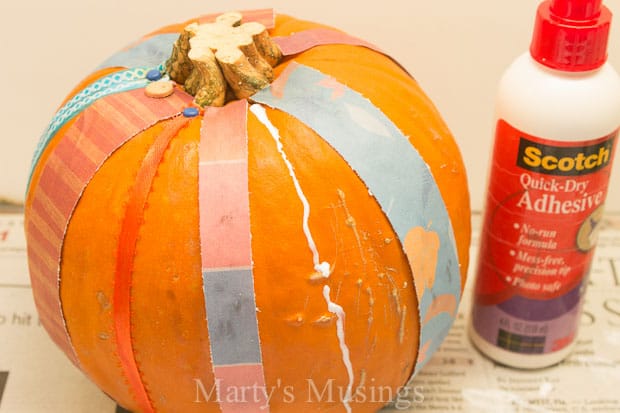 and on this painted pumpkin.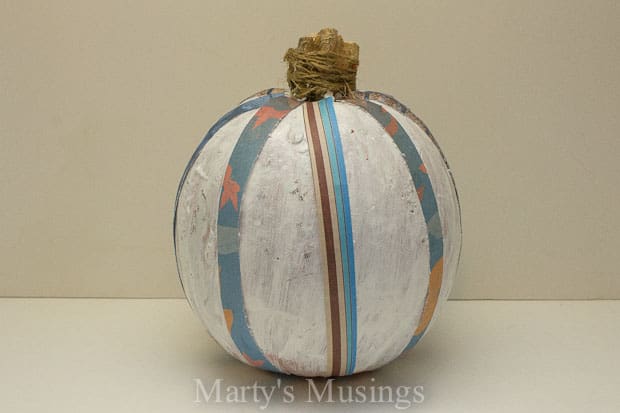 Step 3: Wrap stem
I used hot glue and jute to wrap the stem of each pumpkin.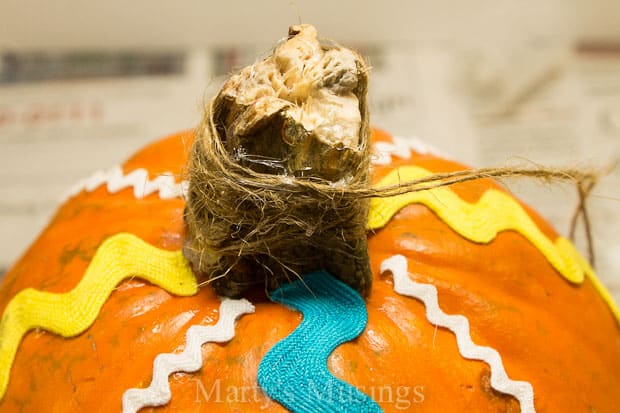 I nestled the pumpkins in a $2.50 basket I got at a yard sale. (The lady wanted $5 but I got her down to half price!)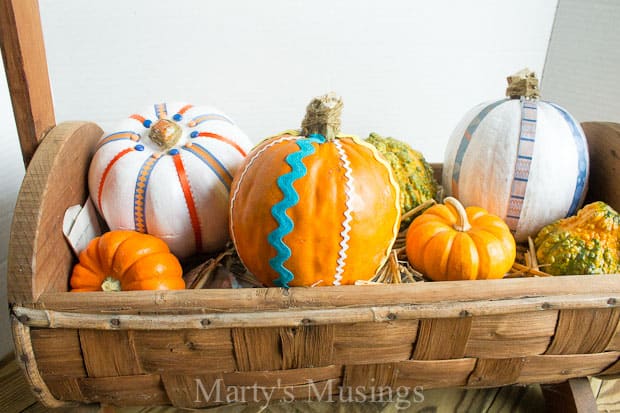 I love the unpainted pumpkin that I fancied up with rick-rack.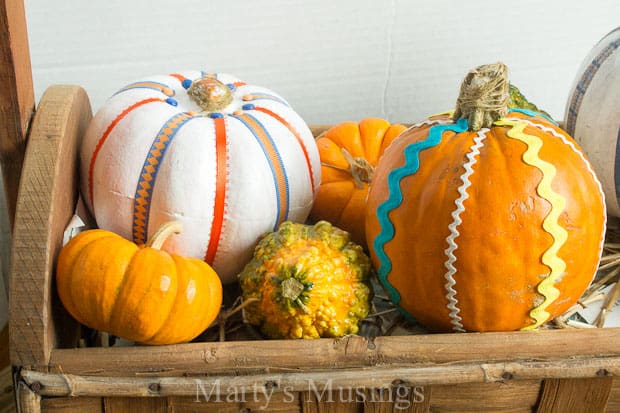 I just added a few mini pumpkins and gourds.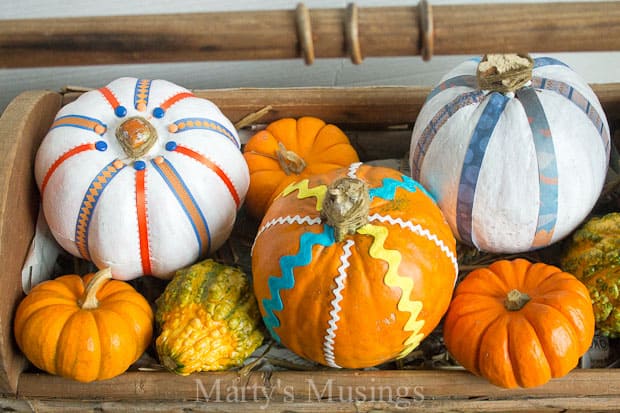 I propped the pumpkins up on an overturned basket to give them some height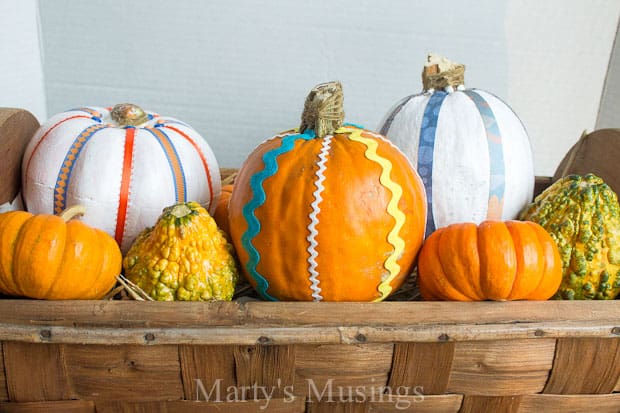 and filled in with some newspaper and hay. Totally easy!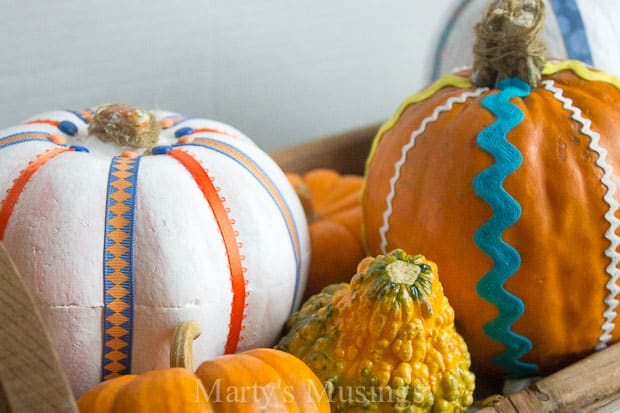 Anyone can do this! A few minutes of time and a couple of supplies and you'll be surprised at how creative your table and home will look.
If you love this idea I'd be grateful if you'd share or pin it!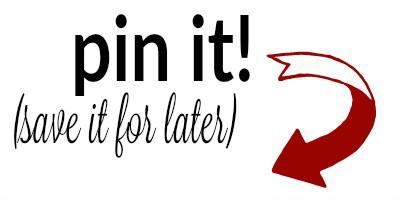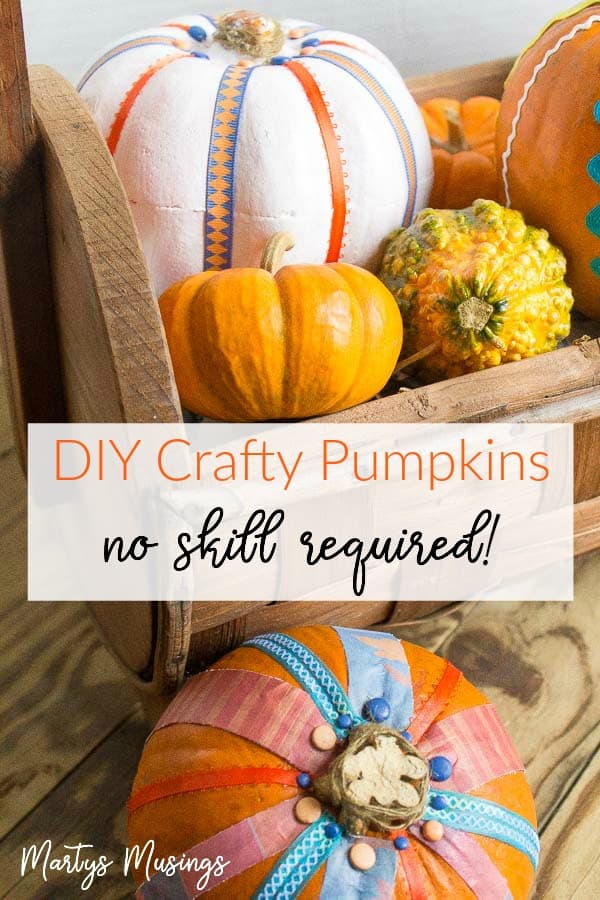 This post contains affiliate links, but I only recommend products I love. Read my full disclosure policy here.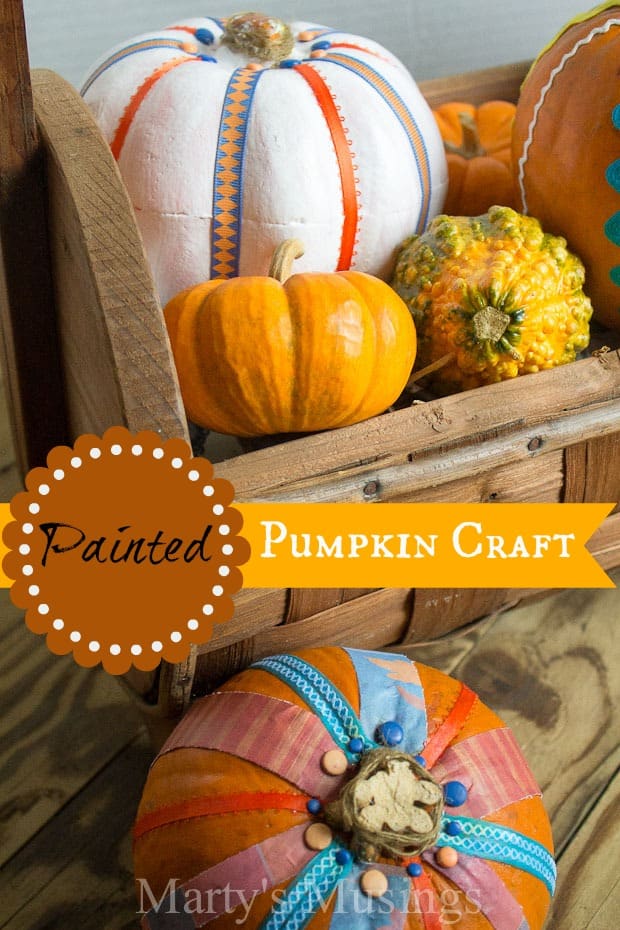 SaveSave