Den Decorating Ideas
This post may contain affiliate links which won't change your price but will share some commission.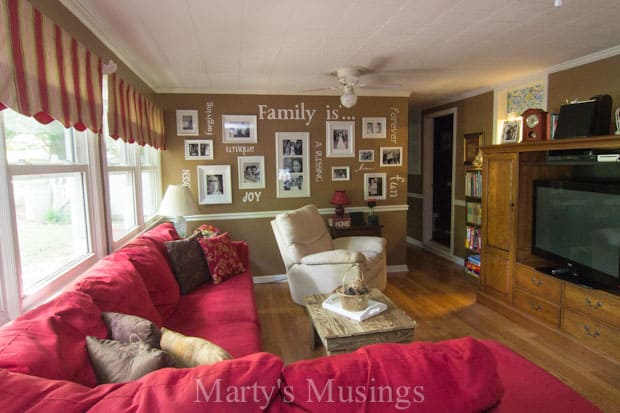 First of all, let me say that I am no decorator. Not even close. But I am learning what I like and allowing myself to step outside my comfort zone and try some things that may or may not work. Or maybe discover something new to create a beautiful home amidst the craziness of life. I hope these den decorating ideas will inspire you!
Our family room/den makeover actually began last December. I know. I know. That's been eight months. We've been enjoying it all this time and now I want to share it with you!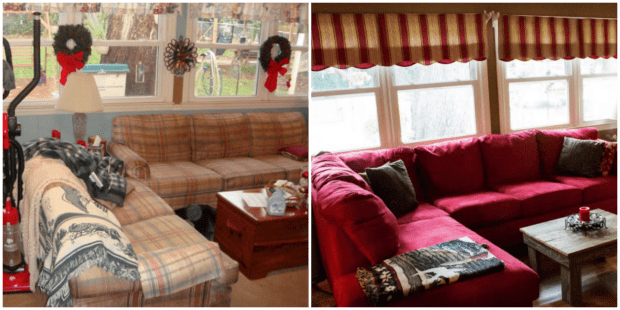 Our den before was an eclectic mix of hand me downs and hodge podge belongings. We had way too much in this room, and as we weeded out and moved things around the room began to take shape.
There are many things we've done to this room, but our favorite has been the replacement of our 20-year-old carpet with Pergo flooring. I'll write more about this later, but I have longed for this for years. Our poor carpet had been through five kids, three dogs and numerous cats. It was just plain worn out.
Doesn't it look amazing? My husband and youngest son did a terrific job of installing the flooring. We also changed the color of the room from the mint green to more of a chocolate brown.
We moved furniture around, bought a new sectional (only our second purchased sofa set in 25 years) and recliner, and my husband built a beautiful rustic table from fence posts.
One of my favorite projects ever, I designed a family gallery wall with white frames, black and white pictures and vinyl lettering.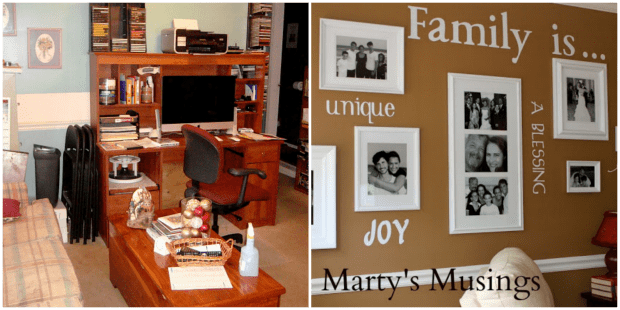 Here's a before picture of the wall. (And yes, we did this project during the Christmas season last year. Ugh.)
Here's the after. You'll want to
read this post
to find out how we worked on this wall together as a family.
Our entertainment center and shelving was made of pressboard and falling apart so my husband searched Craigslist and until he found this solid wood (and heavy) entertainment center for $100. The only little glitch is that our TV doesn't sit flush in the unit so we have it angled to fit. (Moral of this story: don't let the person you're buying from measure the unit. Bring your own measuring tape and do it yourself!)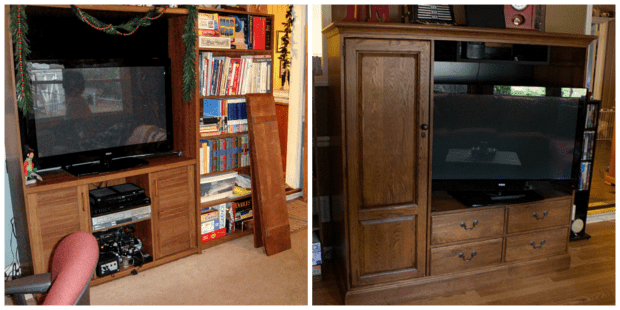 As a homeschooler and book lover we have a lot of books, but I managed to clean out our materials and get rid of one large bookshelf.
Who knew window treatments would be so difficult to decide on? My hubby found these at Lowe's, a perfect accessory for the room. (He's kinda frightening me with his "feminine side." He actually has very good taste and more decorating sense than me.)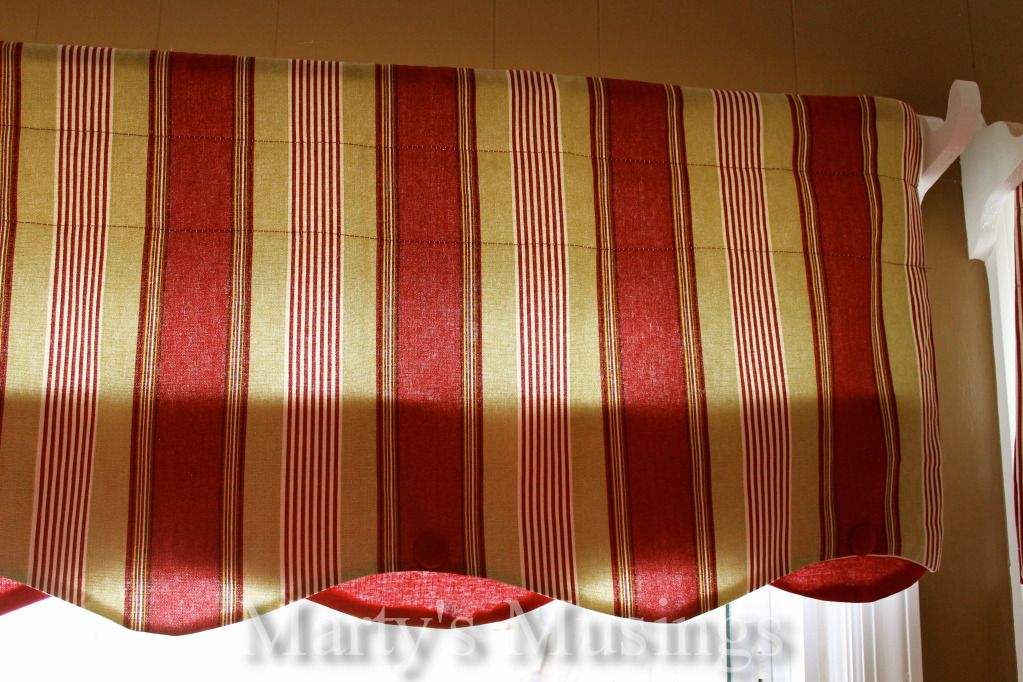 I used a little cafe curtain in a solid red for the back door.
This room was truly a labor of love, from flooring to paint to furniture to the special features that make our home unique. I won't even begin to tell you how Tim and I got the sectional through the back door (which may have included hoisting it up over the back fence. Oy.) It was a process of going through one decision at a time and watching the room develop into a place we love to hang out and enjoy our family.
***For those who have asked about the paint color: it is Behr Interior Satin Enamel Paint and Primer (brand) in Sherwin Williams #6095 Toasty (color). The couch is from Klaussner Furniture, and no, we didn't pay anywhere near real retail price. It was a showroom sample, one of a kind purchase. We had decided to buy a sectional but with a different configuration. When we saw this one we had to totally refigure the room but are so thrilled that we did!
Still want to see more of our DIY projects? Click on the picture to go directly to the post!