Jackhammer Demolition: Part Two of Our Dream Deck
This post may contain affiliate links which won't change your price but will share some commission.
Some dreams take a little longer to come to fruition, but when they do all the blood, sweat and tears are worth it!
(And in this case, hauling brick also works off a few calories!)
I last wrote about the progress on our front deck in part one, which detailed how we determined the necessity for taking down the huge tree right in front of our house.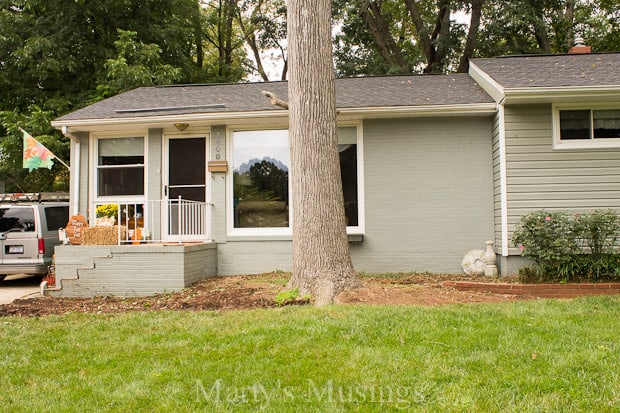 All that work got us to this point: no more enormous dead tree but a lot of ugly, open space!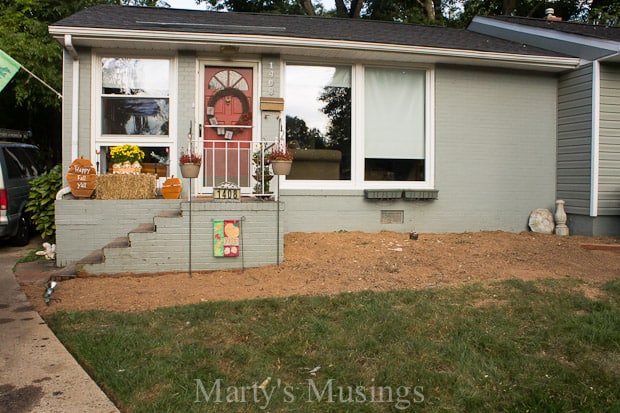 Now the next step involved jackhammer demolition, a man's dream!
My DIY hubby is going to tell you all about the trauma family bonding that ensued with the next step in the process (and my helpful narration will be in red.)
From Tim:
Well, well, well…of all the projects we have undertaken for the sake of The Blog, THIS was the worst. By far. Period. No question. End of discussion. (This project had absolutely nothing to do with the blog although I'm not against documenting every.little.thing if it will make people read my brilliant stories musings!)
After a great deal of deliberation, we decided that, rather than go over the stoop with the deck, the stoop would be removed, at least to very near the ground. And that's where the fun nightmare begins…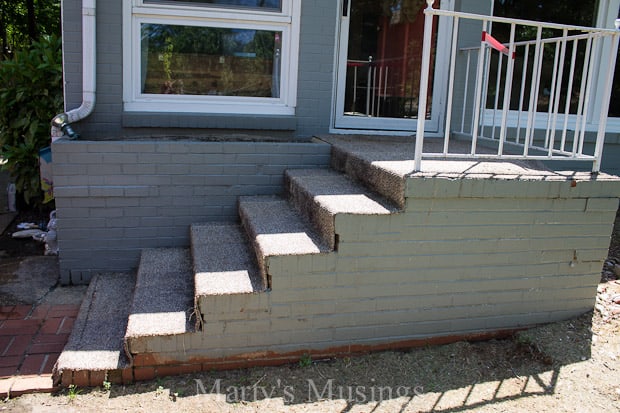 I am still at the point of discovery in this picture, and our son is the Great Discoverer. I had no idea what was behind that first layer of brick, even after a trip under the house. So, that left bashing, which my son thought was an absolute blast!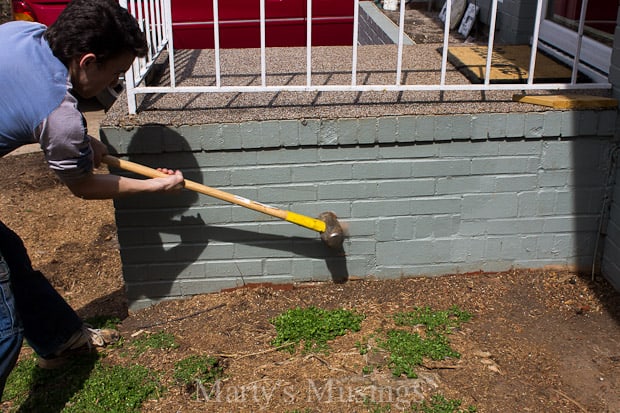 My turn, but it was clear results would be slow in coming. (Manly men at their best! Give a man a toy…..)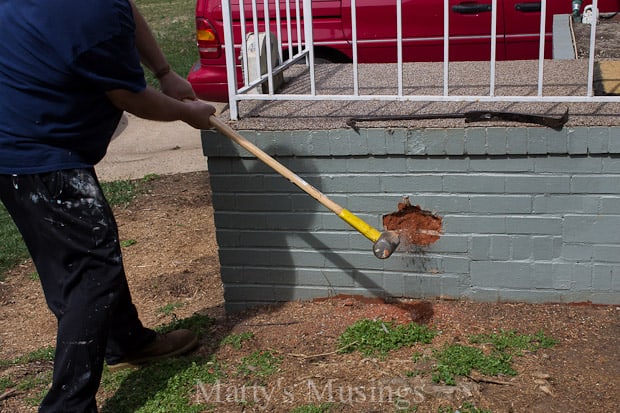 After more than an hour, this is where we ended the discovery phase and moved into the "rent a machine" phase. After asking around, I learned that most stoops from this era in our neighborhood would typically have been a multi-layered wall with a backfill of compacted dirt and then bricks on top. Not looking like that for us, but still unconfirmed…at this point.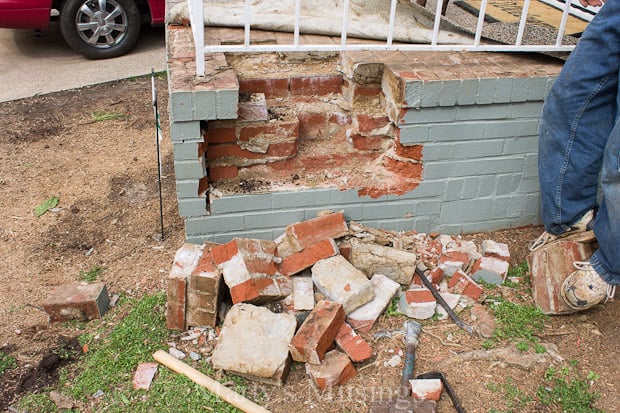 Time for the big gun with the big machine! Home Depot was kind enough to rent me a Makita jackhammer. This wasn't the Big Dog like you see the city guys using on street repair, but it was a hand-full, nevertheless. Oh, those are not my new eyes, just safety glasses. Important!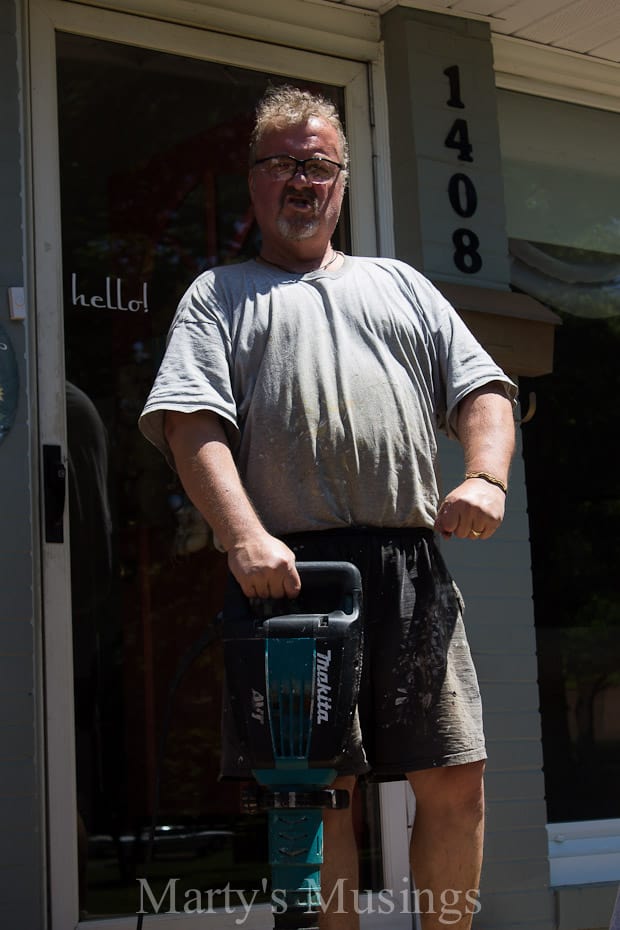 And we're committed! This quickly turned into a multi-user project and, as you will see, everybody took a turn. It was not extremely difficult (so he says), just very, very fatiguing. Oh, and it was the first hot Saturday of our late spring. Of course.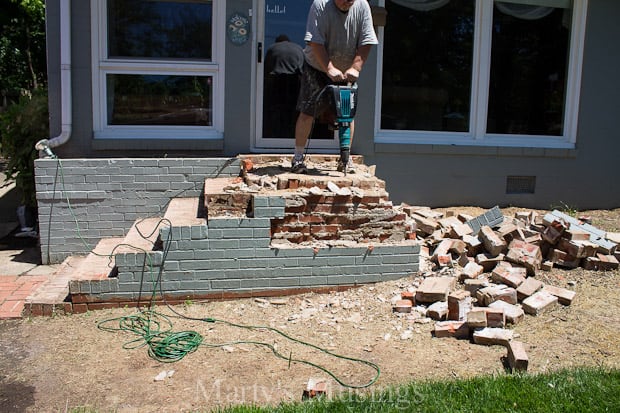 I really had no idea what we would run into, and I was more and more cautious as we got closer and closer to the house. More and more debris and still no sign of that dirt…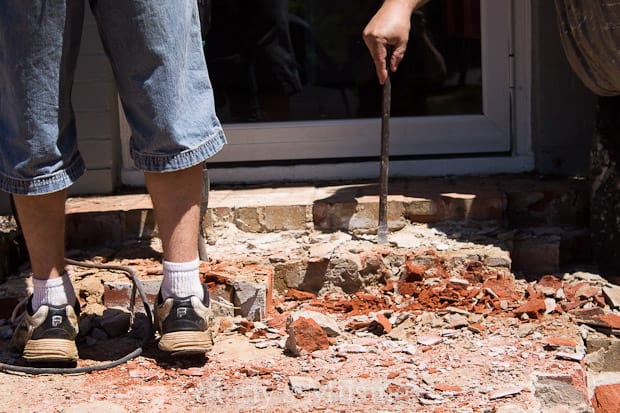 We were terrified astonished at how quickly the pile of busted bricks grew as the day went on. Honestly, I had not even given one single thought no plan for debris removal at this point and certainly not for the gigantic pile that was yet to come. Still no sign of that dirt…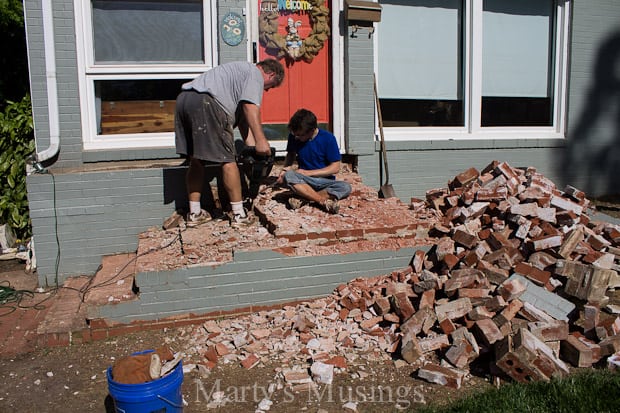 One of the more amusing parts of this ordeal was my ridiculous optimism ignorance in just how long this was going to take, as evidenced by my rental agreement. I initially chose the wildly optimistic length of 4 hours, the minimum length of time. We blew past that rental and went another 4 hours, until 8:30 at night…and then another 4 hours the next morning. Isn't that funny? Yea, we thought so, too…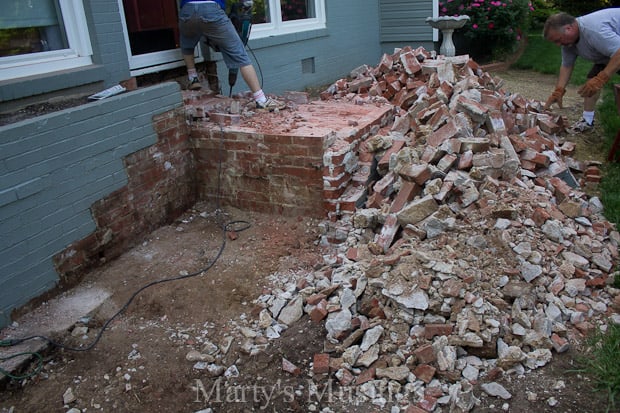 All right. There was no dirt. This stoop was solid brick! Amazing. At this point that debris pile had to go so that we could continue with the demolition. Our daughter's disgust reaction to the news kind of sums it up at that point. So, some moved brick and some broke brick and on we moved.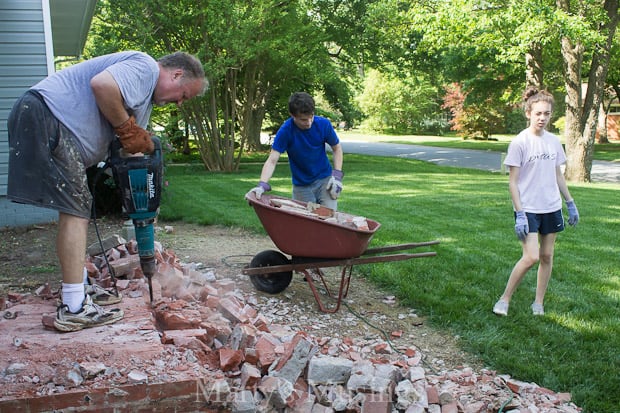 For comic relief (obviously that's my role in this story) we all decided it was The Queen's Mom's turn to take hold of the business end of the jackhammer. After all, how many times in a girl's life are those pictures going to be taken?! (Good thing I had my hair done for this foray into unknown territory.) So instructions were dispensed and the fun began…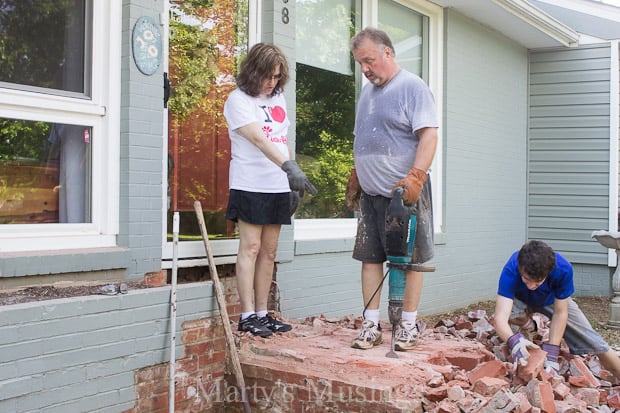 "ON" came as a bit of a surprise, but she was an amazing representative of women everywhere held on and did awesome! The paparazzi went wild!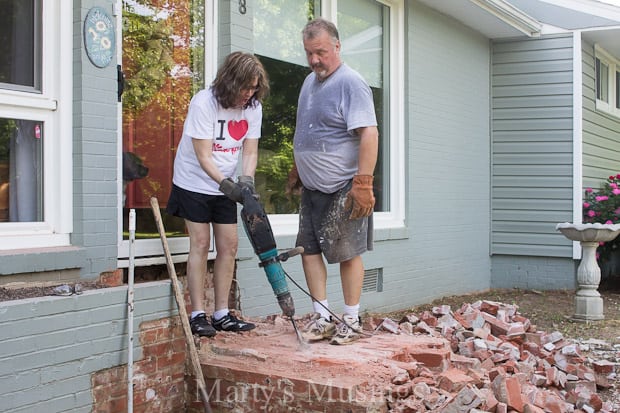 Of course, I couldn't resist mugging for the camera… (After 27 years, should this surprise me?)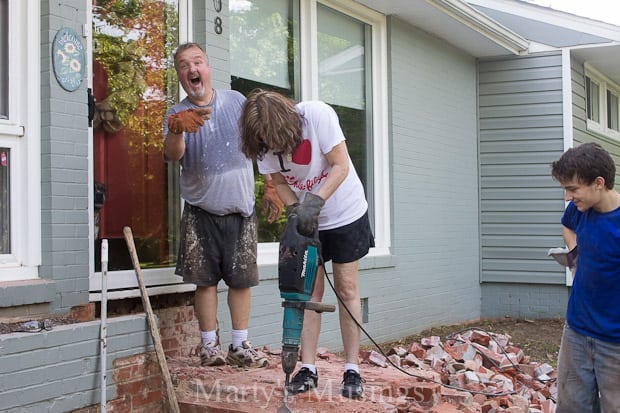 The last little bit of debris was moved into the driveway and we were poised to make a run for the nearest fast food restaurant the finish line.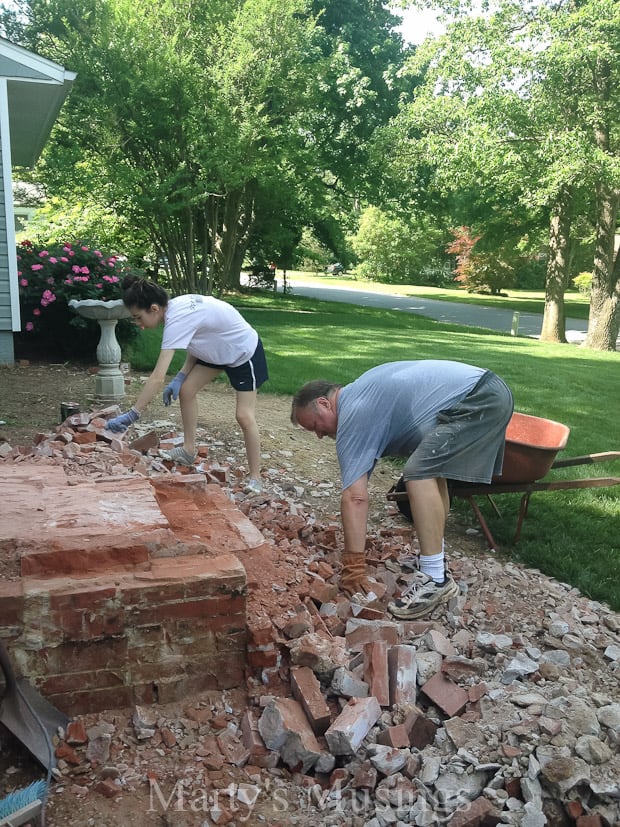 Oh, look! DIRT! But in the wrong place. This was the only minor surprise in the process. Removing the side of the stoop exposed the end of the flower bed next to the house, so I scooped away the dirt and executed my first masonry project in rebuilding that section of the flower bed. Unfortunately there are no pictures to document that brilliance (yes there are, honey, just the wrong post)…but I digress.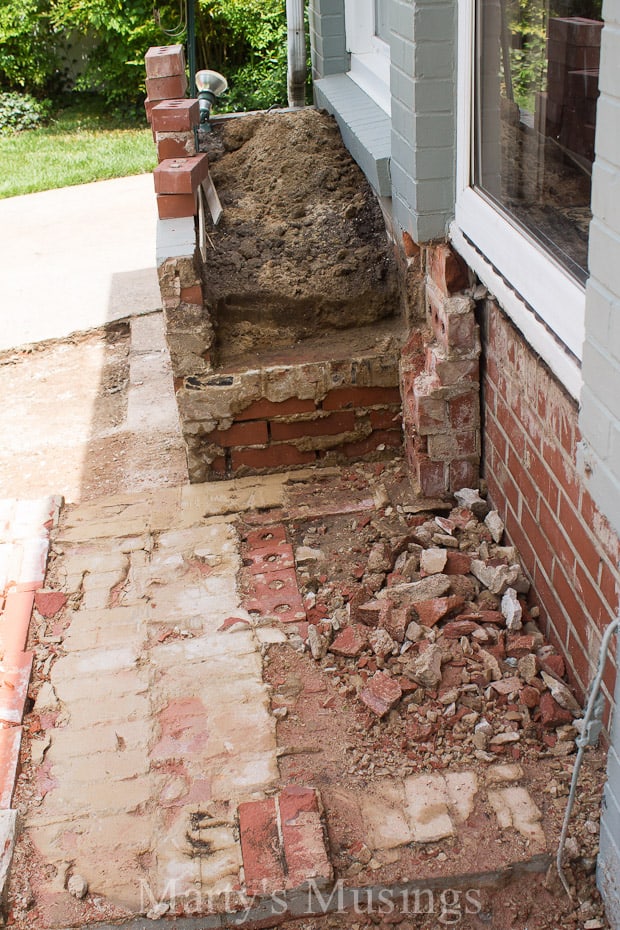 Here is where we ended up after many hours, gallons of water, several blisters and some sore backs. The support structure for the deck would go right over the top of what remained of the stoop and the decking itself would run right under the threshold of the storm door. In retrospect, it was exactly the right move and turned out to be a torturous experience great family project; something we accomplished together and would remember for a long, long time.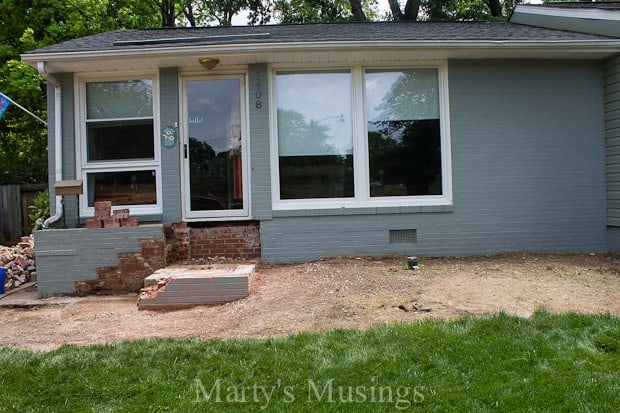 Ah, but now I am left with getting rid of this pile of reminders…bleck! They're free if anyone wants to haul them away!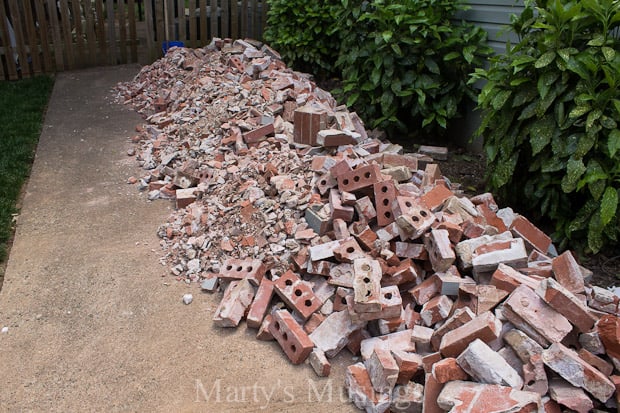 From Marty: Hmmm. Not so sure it's a good idea to give my husband control of the blog at the end of the day, although you can tell why he is such a good actor and comedian. Like it or not, butt of the joke or not, I still think he's the absolute funniest person I know!
Now the end is in sight! I am just about finished styling our deck and can't wait to show you the reveal!
Because really, don't we all just love to look at a good before and after project?
Want to see another amazing before and after? Check out our back deck restoration project.

We've been busy in the yard as well as you can see in these budget friendly patio ideas and free fire pit Tim made.