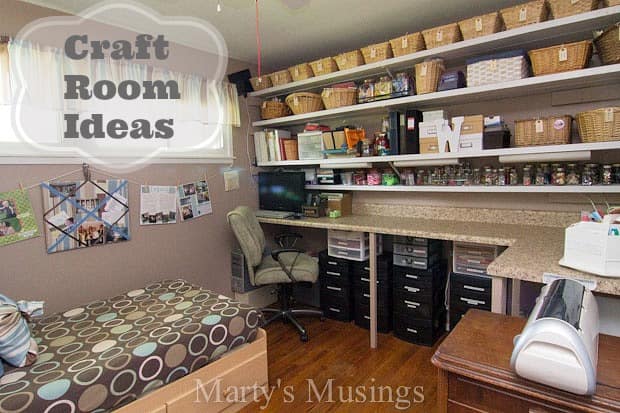 *I'm in the process of redoing my craft room and would love if you'd take a look at my inspiration board and follow my progress on Instagram!
***Want to see how close I got to my inspiration? Here's the reveal of my new craft room!
I thought I'd give a little update on my scrapbook room with ideas and organizational hints and post a few new and improved photographs.
To refresh your memory my room before the transformation looked like this:
My oldest son and I shared the space. It started out as my scrapbook room (after having many different occupants), and then my son moved into it the year before he went to college. I had all my "stuff" here but no room to work. Last fall Joshua moved to college and I reclaimed my room! He still uses it on visits at home and during the summer, but since we have a twin bed now it is much easier to keep manageably clean.
I spent weeks devouring websites and magazines trying to plan out my space. I was possessed with this project, probably more than any other one in our 20 years in this house. My husband and I enjoyed countless hours talking through my options and ways to keep the remodel as cheap as possible. We actually transformed the room in stages, moving out the full bed, chest and bookcase and replacing them with a twin bed. This immediately gave us a tremendous freedom in space! My husband also painted in stages as we repositioned things around the room. I had also cleaned out my supplies BEFORE we started moving things around and sold the extras on Craigslist.
Here's the main wall of the room. My husband built the countertop and shelves according to my specific needs and scrapbooking supplies. You will notice that my counter is waist high. I scrap and create standing up and there was much consternation over the exact height of the counter. Luckily, we figured right and it is perfect! I bought a desk chair at a yard sale and it was a great buy and the most comfortable chair. (My cats like it, too!)
The biggest splurge was the flat screen TV. The screen doubles as a computer monitor. Without this we couldn't figure out a place to put the old TV without losing a ton of space. This was a great purchase. I also splurged on an Ott-lite because I have heard wonderful things about them. Half price at Jo-Ann's. The countertop was discounted at Home Depot and I adore it! Blends in with the room without showing lots of dust and "mistakes!"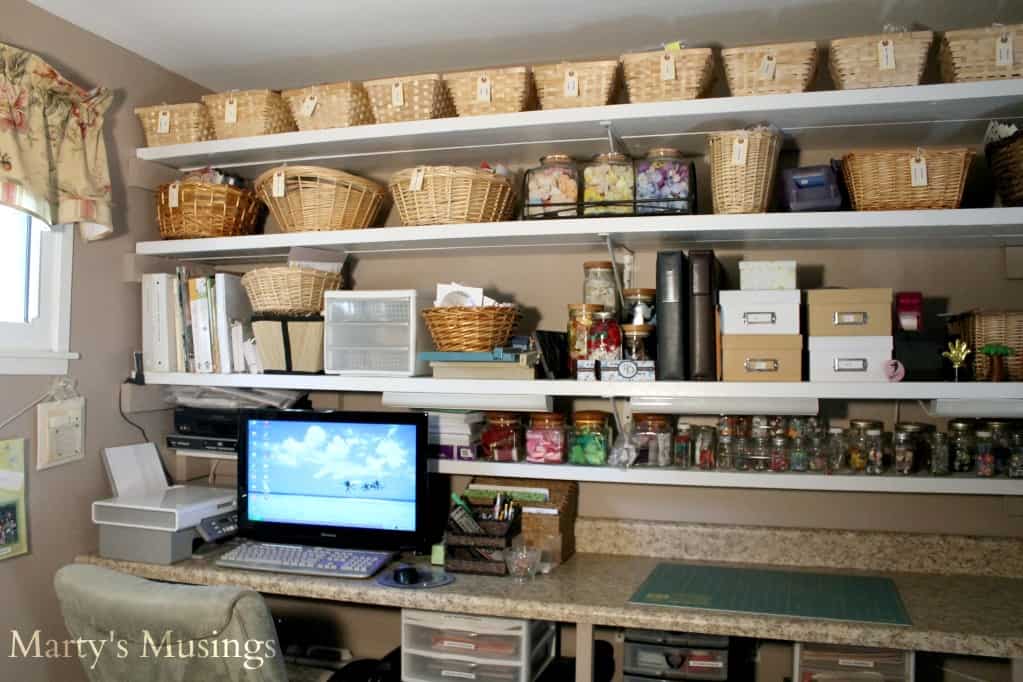 This is one of my favorite storage solutions! I adore ribbon and have far too many rolls that I have gotten at yard sales and craft stores. I wanted to be able to see as much of it as possible because it inspires me and I use it often on cards and layouts. My husband rigged the dowel rods and hooks. A perfect solution plus it's pretty to look at!
I have a stool here in case I want to scrap or work sitting down. One of my top goals for this room was being able to keep my Cricut out to use whenever I wanted. Score! This little table was in our living room and I repurposed it for my room. Perfect! (Actually, now I have an old non-functioning sewing machine that belonged to my mom and serves as the table for my Cricut.)

My husband built this wooden shelving unit for paper, but I repurposed it for idea books stored in the closet.
I used two of the tackle boxes for alphabet letters and misc. small embellishments. It's not the most immaculate closet but I can get to everything!
My scrapbook room's design ended up revolving around the two units I bought at Goodwill for $20 total (below). The unit had 6″x6″ cubbies with removable partitions. I removed several of them to allow the units to be used for 12×12 paper. Absolutely perfect solution for my massive collection! (I am slightly paper crazy.) This also allowed smaller compartments at the top for some of my other supplies.
Below this unit is storage I already had. All these units combined to give me one perfect storage unit that just thrills me to death! Inside the shelves and drawers are card products, pen and embellishment storage, etc. Don't you just love it? I am beyond thrilled!
I bought the twin bed with headboard from my niece and used a mattress and bedding we already owned.
Best feature: more drawers for my ribbon stash! It seriously was taking over the world!
Total Price for My Scrapbook Room Makeover: $500!
To see even more pics from scrapbook room transformation click
here
and to read about the way I'm enjoying photo freedom in my scrapbooking click
here
. Also,
here's
a pic at how I used my Cricut to decorate my wall.
Want to see more of my DIY projects? Simply click on the pictures below to be taken directly to the post.