Ribbon Organization Ideas
This post may contain affiliate links which won't change your price but will share some commission. Read more here.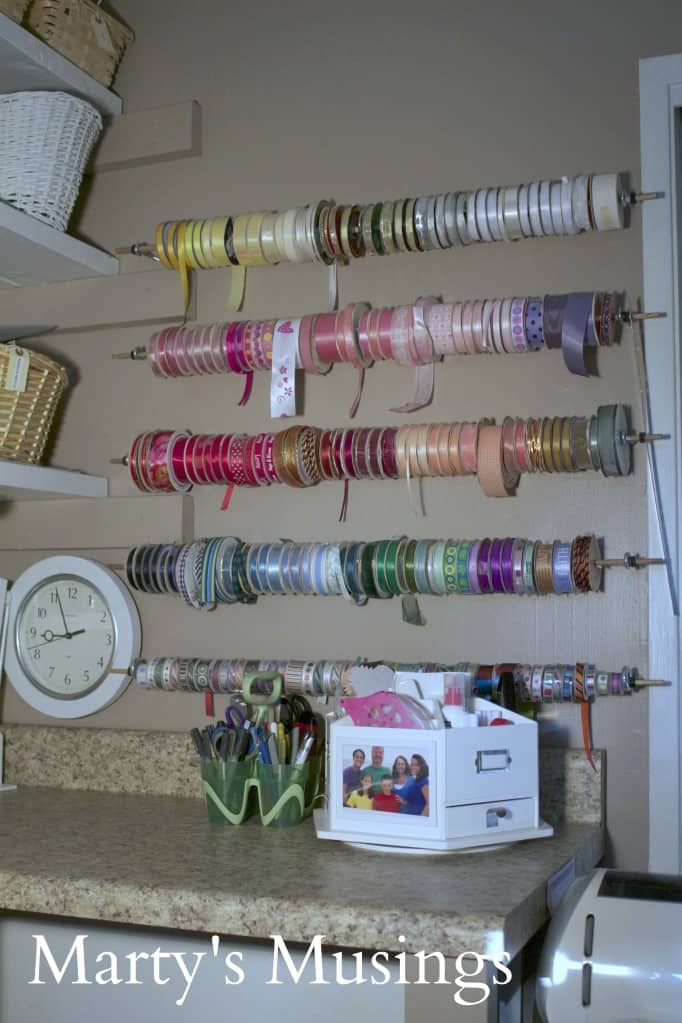 As well as being a paperholic I'm also a ribbon hoarder and I wanted to share my ribbon organization ideas. One glance at my scrapbook room and it's true confessions time. Much of this ribbon has been collected over the years. Yard sales, after Christmas and holiday sales, crafting products from years and years ago, hand me downs and thrifting. Surprisingly, with all this ribbon I'm not a bow maker. I'm sure there's a great tutorial on Pinterest, but making a pretty bow is not something I'm good at. Collecting ribbon is.
What do I use all this ribbon for? Mostly for scrapbook pages and cards. I just love the added touch they bring. I'm all for tactile in my pages as much as possible. I also use the ribbon in tablescapes and home decor when it gives a special look.
The twin bed we have in the scrapbook room has a great selling point: drawers underneath for storage. Guess what I found to put in them! More ribbon. Imagine that.
This is the prettier version of ribbon storage. Five wooden dowel rods 1/4 inch thick, as the individual ribbon rolls demanded. We hooked off the ends with a washer and hung them up with a eye bolt. Easy and pretty to look at. I tried to organize according to color families. I'm a little OCD like that.
See all those tiny rows of ribbon spools on the bottom row? I won those in a blog drawing quite a while back. Yes, I actually won something! Can't beat free!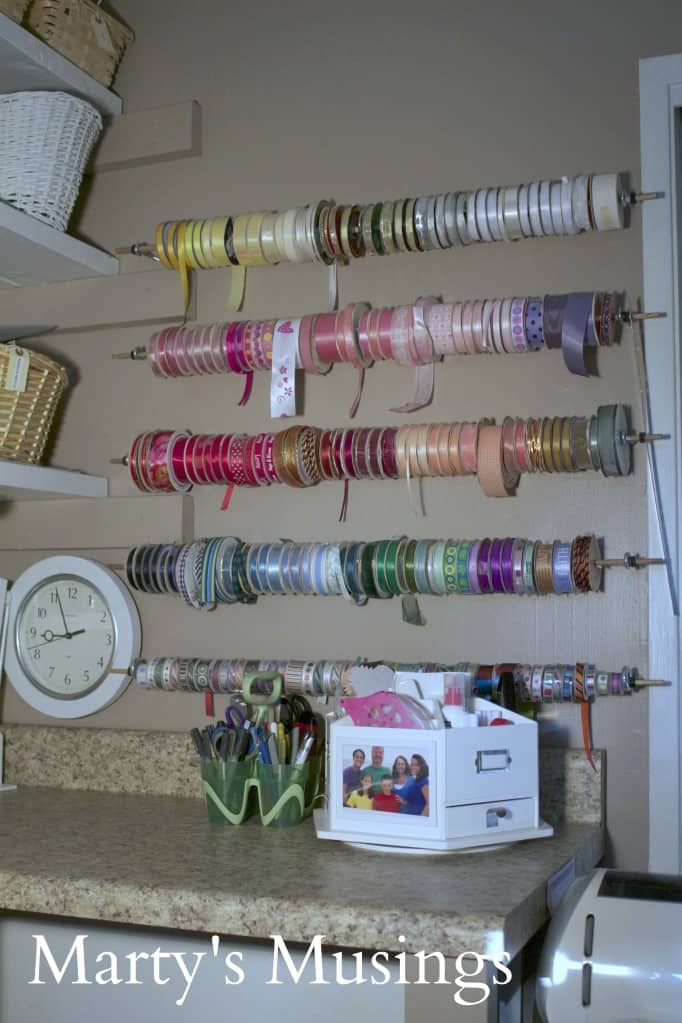 Yes, there's still more. I used a cd rack (yard sale for $1) and bought baskets at the dollar store to store even more ribbon. Not crazy about the colors but they were inexpensive.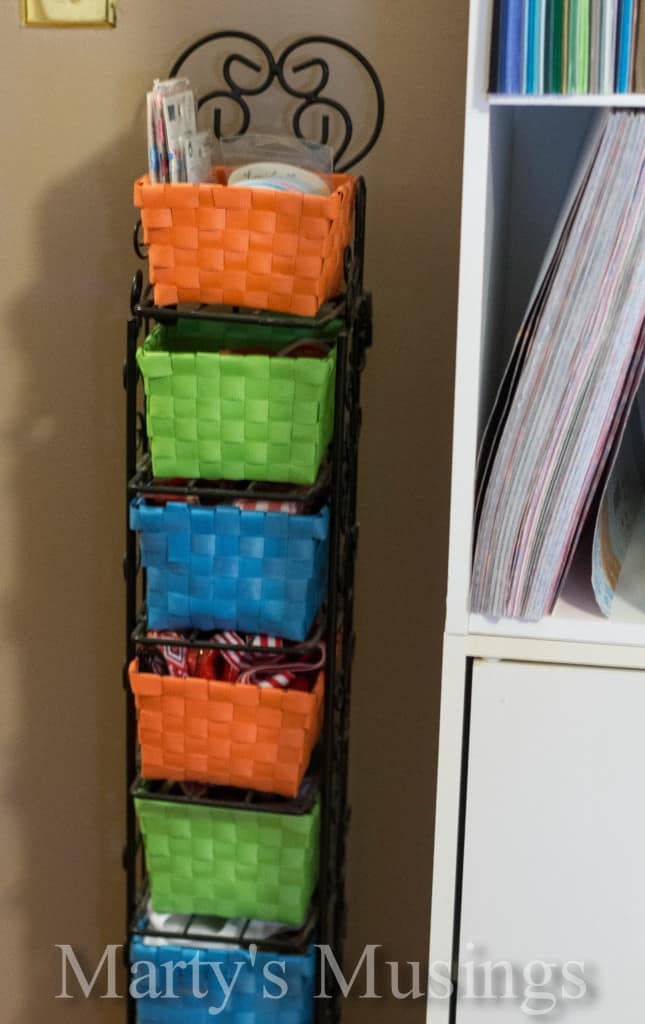 I know. I'm a little obsessed. Don't tell me husband, k?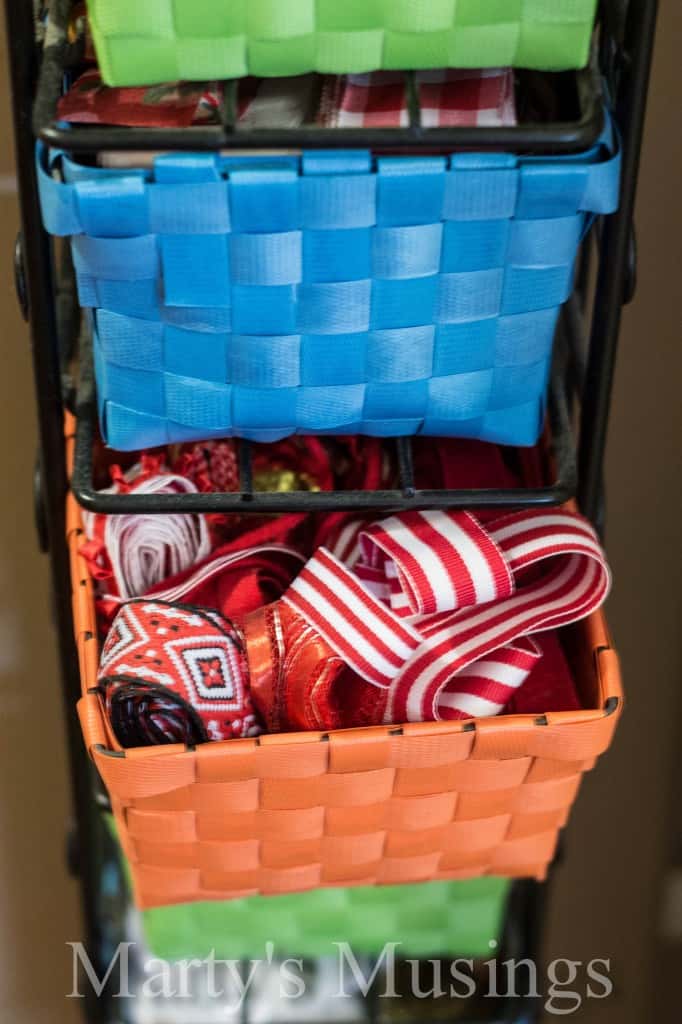 I would love for you to see the vinyl wall quote I made for my scrapbook room to inspire me. I also used my Cricut for a family gallery wall in our den.