Real Life Homeschooling: Coupon Math
This post may contain affiliate links which won't change your price but will share some commission. Read more here.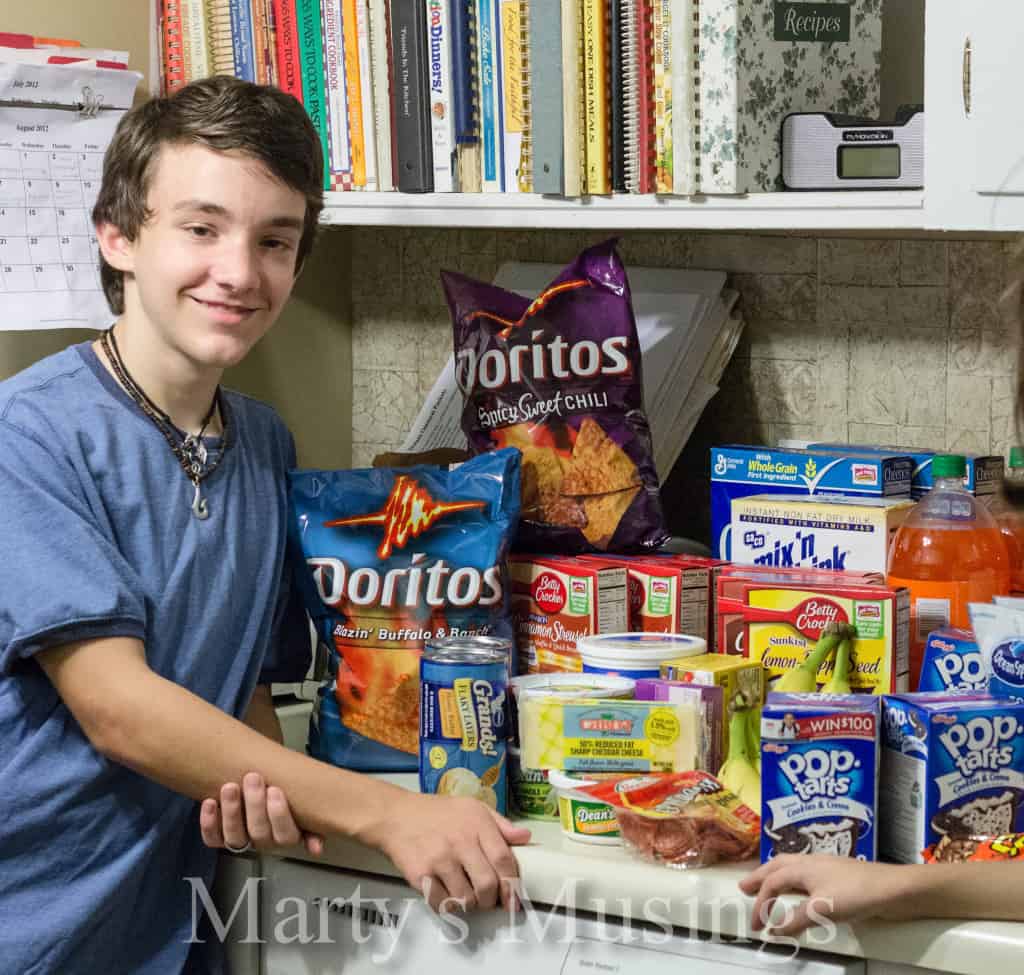 How do you teach practical math skills? Watch as real life and homeschooling intersect with coupon math!
As a frugal mom, I try to stretch our money as much as possible, and I also want to teach my children how to use their money wisely. When Harris Teeter had Super Doubles going on one week we jumped on it!
I have found that I need to make sure I'm rested and coherent enough to teach my kids in the grocery store how to work the "system." It's best not to use grocery shopping as a teaching tool when I'm exhausted, irritable or just "done" for the day.
When I first began homeschooling (and when the kids were younger) I would give them a coupon with a picture on it, head them in the right direction and see if they could find it. This can be an early reader because they are basically trying to match the picture to an item on a shelf.
(As an aside, my children never wandered the grocery store before age six or so, and even then, it was with explicit instructions and teaching on how to handle strangers. This is an excellent at home teaching opportunity to educate your child about safety. My kids also had to stand by the product they found until I came and got them . (I was never more than an aisle away when they were younger.)
As they learn to read they can try and find the product by aisle headings and groupings on the shelves. As their reading improves I teach them to read the fine print on the coupon: size, exact product match and quantity needed for purchase.
When my kids are teenagers we go with the intent on finding good bargains. They have to figure out with their coupon (or super doubled or triple doubled coupon) if the item is on sale and what it would cost after the coupon is applied. They still wait in the aisle for by their product (usually hoping I'll buy it because it's generally something I wouldn't normally purchase!) All of this is mental math, done without any calculator or paper.
Last week we went late morning to HT and it wasn't too packed (which makes it easier to use the time as a teaching tool). When a grocery runs a special coupon week like this they tend to run out of products quickly. If you can find out when a truck is coming (usually every other day) then you have a better chance of finding the stock to match the coupons. Getting a rain check won't help because by the time the product is in the super double coupons have expired. If it means shopping two or three times during the week, do it if the savings is worth the time investment.
Learned something new this week as well. The register coupons you receive after paying for your groceries specifically say "no doubling." I always thought HT doubled anyway, but I was wrong. They will double the manufacturer coupon but not their own register coupons. I would have passed on some of the items if I had known. Lesson learned for mama.
One of my kids' favorite parts is guessing how much all the groceries will total. We love viewing the total then watching the cashier press the key that starts taking off all the discounts. It's suh-weet.
On this shopping trip I spent $58.74 and saved $62.60. This included: 2 bags doritoes, 2 chocolate syrups, 1 greek yogurt, 1 nonfat yogurt, heat and eat dip, 2 guacamole dips, 2 grands biscuits, 6 muffin mixes, 4 pak margarine quarters, box nonfat dry milk (this was a big expense rarely incurred, about $7), 2 frosted Cheerios, 3 orange Crush, 3 six-pack ramen noodles, 1 smart balance, 3 boxes poptarts, bananas, cream cheese, 8 oz cabot cheese, pepperoni, peanut butter chips, 5 cran raisins, and 2 shredded cheese. Not bad.