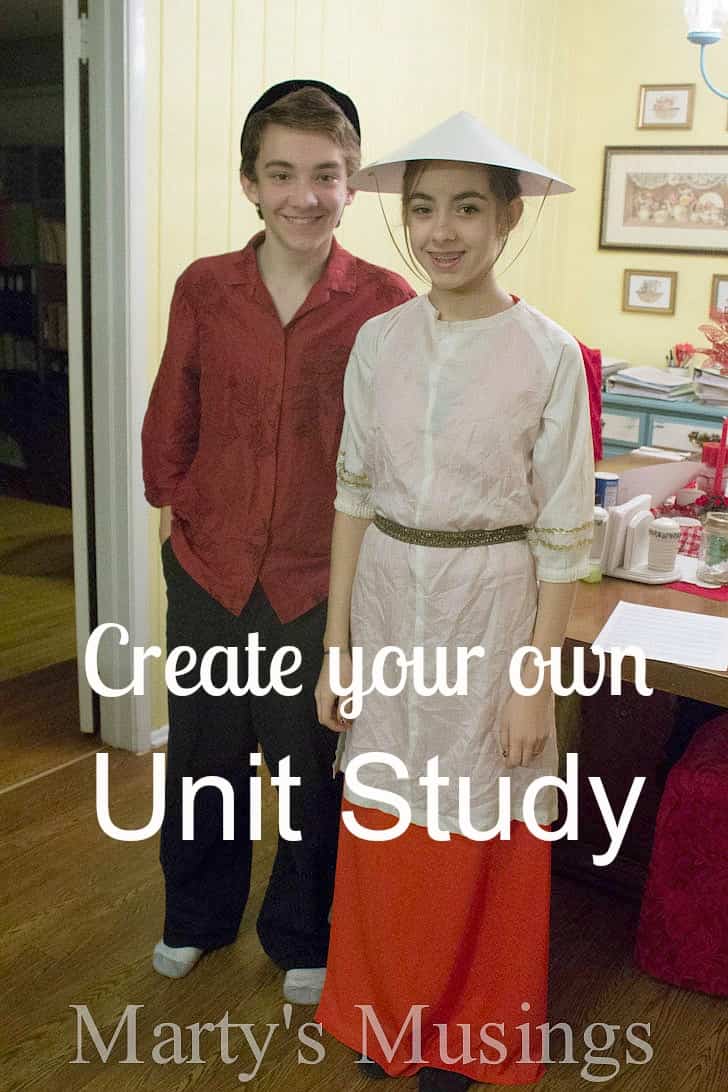 How to create your own unit study, that is the question! As a homeschooling mom of 19 years I've put together many different studies on varied topics through the years. I thought I'd share a little bit about the process I use.
One of the most fun things we do at least once a year is a unit study night. Usually it correlates with our history or geography study (Ancient Rome, Ancient Greece, Victorian Era, India, China, etc.) and we make a big night of it. We dress up, fix food of the time period or country and give reports. I say we because I spend weeks with each student working the process and preparing and by the time they give their report, I know just about everything, too!
This year I decided to take a break from The Story of the World and do a study on Vietnam since our oldest son was headed for a week long mission trip there. The first step for me is to reserve as many books from the library online as I can, with as varied topics as possible. We pick up the books and the kids search through to find a topic they are interested in studying.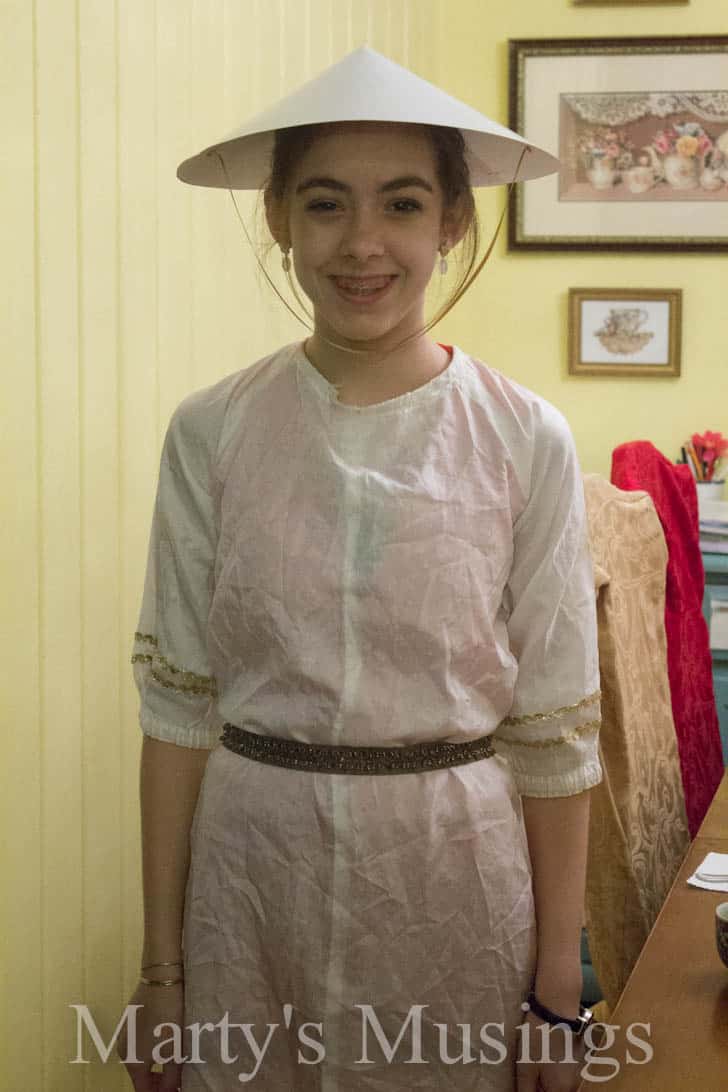 I do a google search for sites that might be helpful or have crafts, games or facts the kids might be able to use. This time I also searched Pinterest and found a board with some helpful links. I also started my own Pinterest board on Vietnam. This gave me a central location to store all the websites I wanted to bookmark. Love Pinterest!
I also choose a read aloud book for us to read together during our unit study. This time I chose Last Airlift by Marsha Forchuk Skrypuch. The book is the story of a vietnamese orphan's rescue from the Vietnam War. The kids also read at least one fiction book each that related somehow to our study.
Since we no longer have cable but use Netflix and Huluplus I searched their site for videos that might teach us more about the country. We watched Dogfights on Netflix and Vietnam Symphony on HuluPlus. Toward the end of our study we watched We Were Soldiers, a 2002 movie starring Mel Gibson that is the story of the first major battle of the American phase of the Vietnam War and the soldiers on both sides that fought it. The kids and I took one afternoon to view it and had some great discussion about it. It is rated R, which is not something I even usually watch myself and certainly don't let my kids watch. However, the movie received this rating for sequences of graphic war violence and language. I forwarded through some of the most graphic scenes as much as I could and still retain the essence of the plot. The language I didn't like but realistically, I'm pretty sure it was/is standard for war time battles. I really liked the story and the issues of character and determination that were presented, as well as the strength of the family in the stateside scenes. I haven't seen any negative behaviors/attitudes from my kids since viewing the movie, and I felt it gave a sense of realism to a topic we studied fairly abstractly.
In our homeschool this year I am emphasizing communication (both written and verbal) so we spent a lot of time working on their written reports. M chose to study the Vietnam War itself and S studied the culture of the country. We worked through taking notes, writing an outline, the body of the paper and introductory paragraph and conclusion. They are doing their papers on the computer now and that allows me to check them and have them make corrections without rewriting it.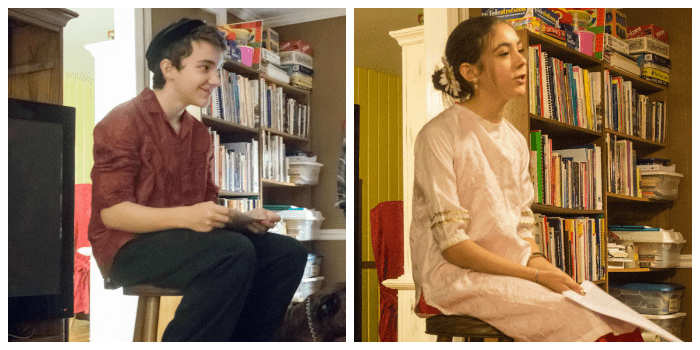 I really hadn't intended on dressing up this time because we were not studying a specific time period but rather a more general look at the country. The day of our presentation, however, we drug out the dress up tub and used google images to research pictures of the clothing styles.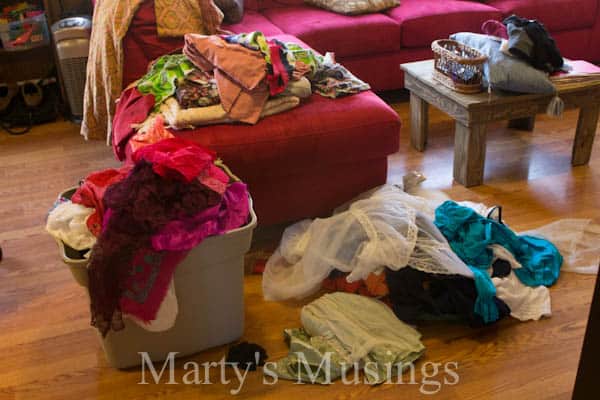 We even decided to make a hat, and we found a video link for making one on youtube.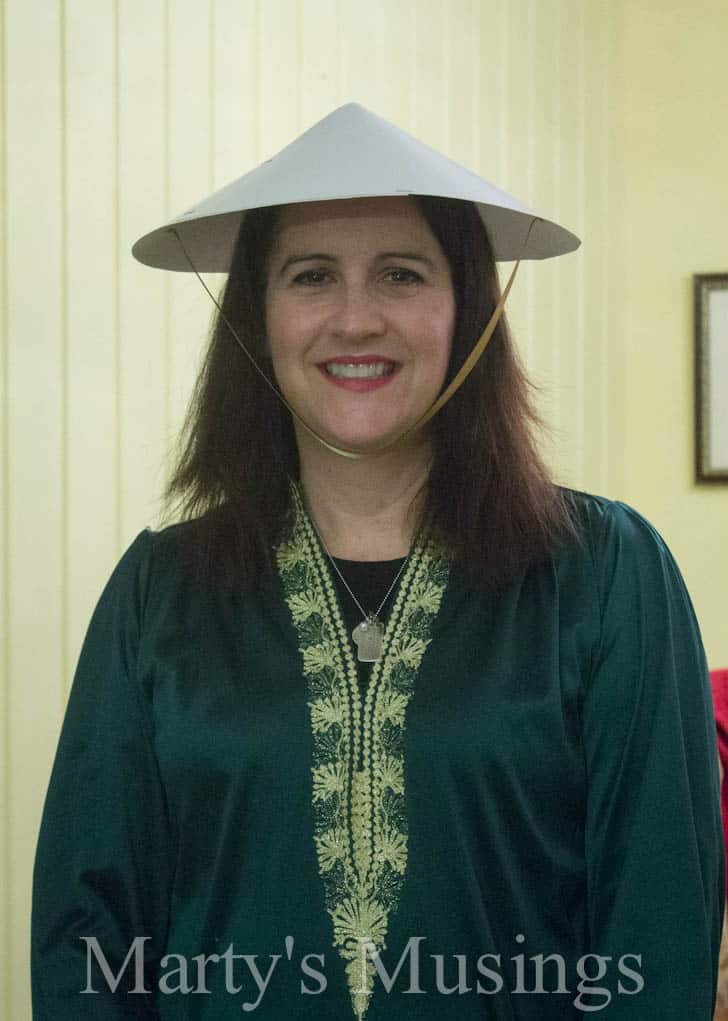 We invited Rachel and her husband Donny over for our dinner, Joshua was here on Christmas break and his girlfriend came into town to join us.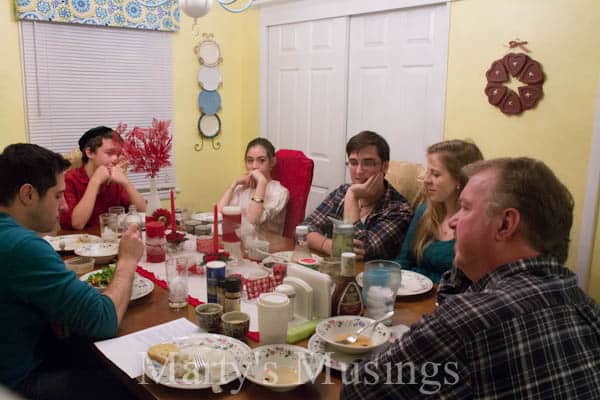 S and I together made a salad with dressing made from fish sauce and rice vinegar, pork and vegetable stir fry with a Vietnamese sauce and rice. No dessert! We also had hot tea available. Joshua shared with us the differences in the food he ate while in the country. Ours was not completely authentic but it was enough to give us the "flavor" of the country!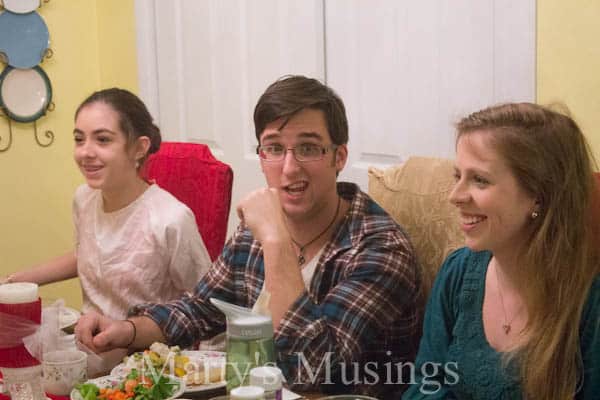 (Our daughter and son-in-law being goofy as usual!)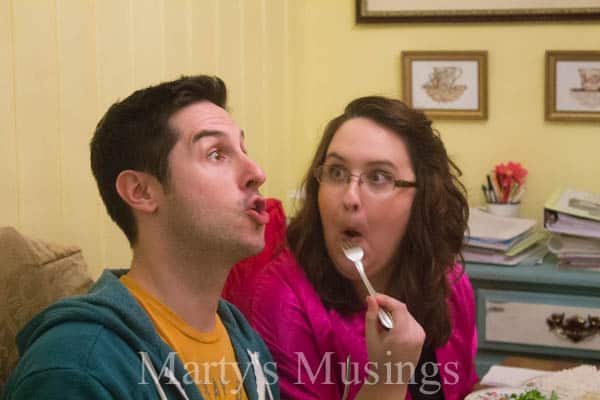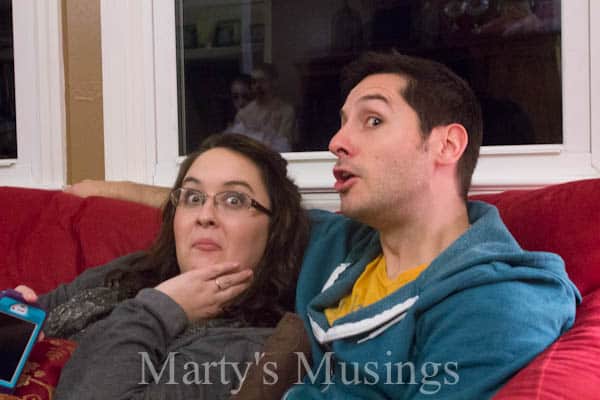 After our kids read their reports our son Joshua shared more of his observations from his mission trip. Below is a picture from one of the temples.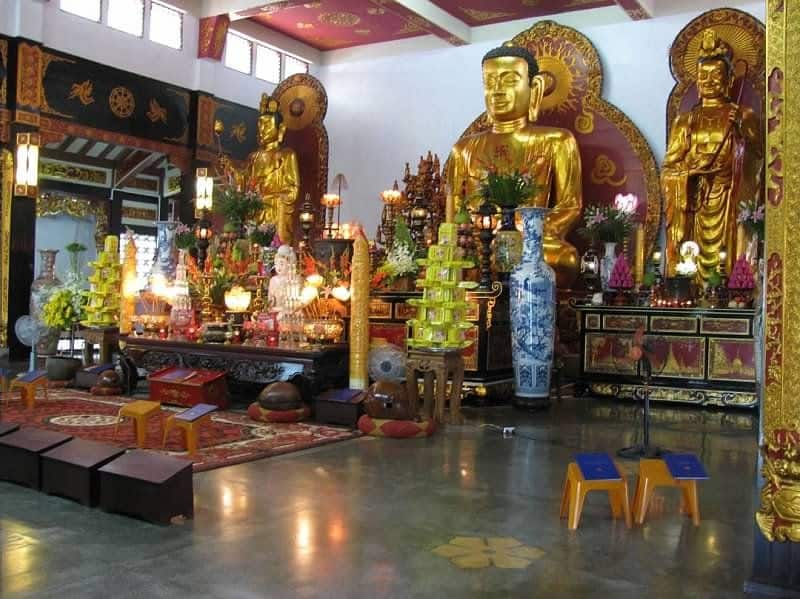 We had a great evening, but there was a lot of preparation and work involved. My older kids still remember the fun we had from these evenings and I have the pictures to remind me. Totally worth the time and effort to make those family memories!
The one negative was that our son went to Vietnam in November and we ran into the holidays without finishing the written reports. There was a lapse of continuity in our study but it didn't seem to affect what the kids retained from the study. Real life interrupted intersected school life!
Like to read more about our homeschooling adventures? Check out our unit study on Ancient Rome, lessons learned in a corn maze, coupon math and the truth behind homeschooling (or click on this tab to see my homeschooling archives).
Would you like to know more about a day in the life of a homeschooler?
How about the lessons learned in a corn maze?
Join us as put real life homeschooling and coupon math to the test.
Or how do you know if you're a mean mom or not?
Linking with: Weird Unsocialized Homeschoolers, A Mama's Story, The Modest Mom Blog, Hip Homeschool Moms, Mercy (ink), Growing Home, Far Above Rubies, We are That Family