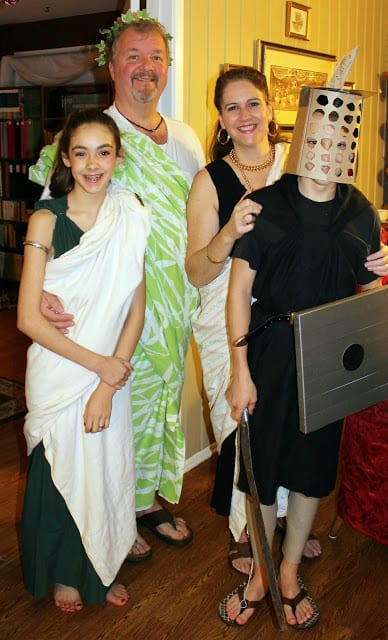 I wrote earlier about the 
great anticipation
 of the culmination of our Ancient Rome unit study. Tonight was the night! We had our four here plus another homeschool mom and her two kids, as well as my oldest daughter and her husband. M and S were prepared with their costumes and we put the finishing touches on their written reports today (a lot of it done at the orthodontist office.
(Terrible picture of hubby and I but it is very characteristic of his goofy side! I've played straight (wo)man to him for almost 25 years.)
My sweet Roman girl (Flavia Gemina as she named herself)
Our menu was served in five courses. First was fruit (strawberries, grapes and blackberries) and bread and cheese (homemade focaccia bread and french bread).
The second course was sliced hard boiled eggs with a pine nut sauce (though I had to use sunflower seeds instead). Third course was lentils (cooked on the stove top, with vinegar, fresh lemon juice, oil, salt and ground coriander added to the drained beans. The fourth course was chicken (marinated in lemon juice and seasonings) cooked in the oven and carrots with honey. The last course was individual Roman cakes (made with flour, ricotta cheese and eggs, formed into buns, placed on bay leaves in a casserole dish and baked. Before serving these cakes sat in honey until saturated.
(I got distracted and busy and don't have any more food pics!)
The kids read some information about the food and customs of the romans while we were eating each course. Our friends that joined us actually dressed appropriate to the times so we all looked and felt silly but had a great time! When it was time for the reports we went in to the living room  and both of mine read their written reports as well as having some sort of a visual demonstration. M told about the costume he made and the different components for his armor. S had done a pencil drawing of the Roman Colosseum. They both did a great job of speaking slow enough and animatedly enough to engage their audience.
I thought our evening was a success. A lot of work, but a success! In the midst of parenting children with wounded hearts it's good to be able to see we've made progress in their homeschooling this year. There were many dark days when I never believed they would be capable of following through on a task this large, but they did and we had fun as well. Proud of my kids!
Like to read more about our homeschooling adventures? Check out our unit study on Ancient Rome, lessons learned in a corn maze, coupon math and the truth behind homeschooling,,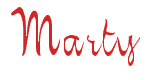 Linking with: ABC and 123 Hip Homeschool Mom Finding Beauty, Living Life Intentionally, The Modest Mom Blog, Homegrown Learners, 3 Boys and a Dog
 Like what you read? Follow me here: