Exterior Painting Tips
This post may contain affiliate links which won't change your price but will share some commission.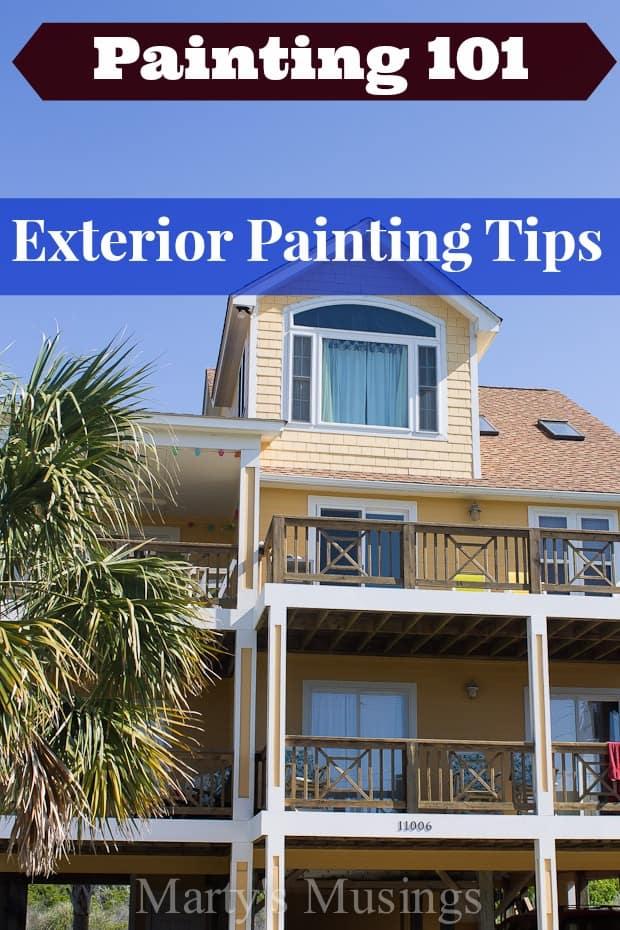 Just in case you wondered, no this is not our beach house! We don't have a beach house. Or a beach camper. Or even a patch of sand to call our own. Nothing. Nada.
Whew! On to the next Ask Tim question!
My friend Wendy, my college roommate for 1 1/2 years, asks Tim for some exterior painting tips.
What's the longest lasting and best paint for the outside of the house? Also, what are good questions to ask when looking for an outside painter? Our last paint job did not hold up well on the trim work. Not sure why. Should have called them back at the 1.5 year mark to show them. I was hoping to get 5 years out of it.
Wendy,
Several thoughts here.
Prep Work
I have always used the very best, and most expensive, paint I could win bids with. There are some exceptionally expensive products out there that can run over $100 a gallon, but the ultimate responsibility for longevity falls to the applicator – the painter. Proper surface preparation is critical, as are the conditions under which the paint is applied. Cleaning with chemical and a pressure washer is a preferred start, then scraping, priming, caulking, filling holes, replacing all rotted wood, etc.
The ideal, on the entire house (which nobody ever pays for), is a prime coat and two finish coats…everywhere. Obviously pretty costly. Most clients and painters settle for one coat slapped on over whatever is already on the house. An important consideration is always latex over latex and oil over oil. Rapid peeling usually happens when one is incorrectly applied over the other. Switching requires a prime coat. This is also true of interior painting.
Product Choices
As for a specific product, Behr (Home Depot) has some good Consumer Reports ratings. Sherwin-Williams also has good exterior products. Stay away from anything at Lowe's. Every painter will have his own preference. Benjamin Moore is also an option but has virtually priced themselves out of the market, at least where I am.
Hiring a Painter
As for questions for a prospective painter, insist on a reference or two (or three) and then use them. He will give you people he wants you to talk to, so you might want to ask the references if they have references. With so much unemployment, there are a lot of people who bought a brush and are now "professional painters." You may want to ask about license and bonding. It isn't necessary but reinforces credibility. My work and references have always been enough.
Have him walk you through his process, start to finish, and listen for detail in his work. You don't really care what he's doing, you want to know how he's doing it. Ask if he requires a deposit and then decide if you trust him with that requirement (back to the references). Check him out with the BBB. Ask if he has a crew and if he will remain on the job until completion. Some guys work a couple days and then disappear with all kinds of excuses. If he has a crew, you have no idea who will be around your house. Give him a scenario in which he punches a hole in your window with a ladder. What happens? Does he provide all materials?
How Long Does it Last?
As for your specific issue, not many painters will return your call after the first year – too many variables. They'll charge you to fix your problem, regardless the fact that you'll never use them again. With everything considered above, you should get 5 – 7 years out of a good job and great product. If you keep the mildew off and don't have wild weather swings/damage, could be longer. This will really vary, however, with the kind of surface you have. Masonite siding is the worst and requires constant babysitting. And vinyl is final, they say!
WAY too much info here, but I hope it helps. I hate to see people get a bad paint job. Good luck!
Tim
Have any more challenging questions for my DIY hubby? Painting, DIY projects, home repair, decor ideas (seriously, he's got definite opinions 🙂 Leave a comment on this post or my facebook page;
Practical painting tips for the home that anyone can use, including chalk painting, accent walls and choosing the right colors.