Small Farmhouse Bathroom Remodel (reveal + details!)
This post may contain affiliate links which won't change your price but will share some commission.
You will not believe this before and after of a small farmhouse bathroom remodel. Extra space was added by opening up the shower and using a DIY dresser turned vanity.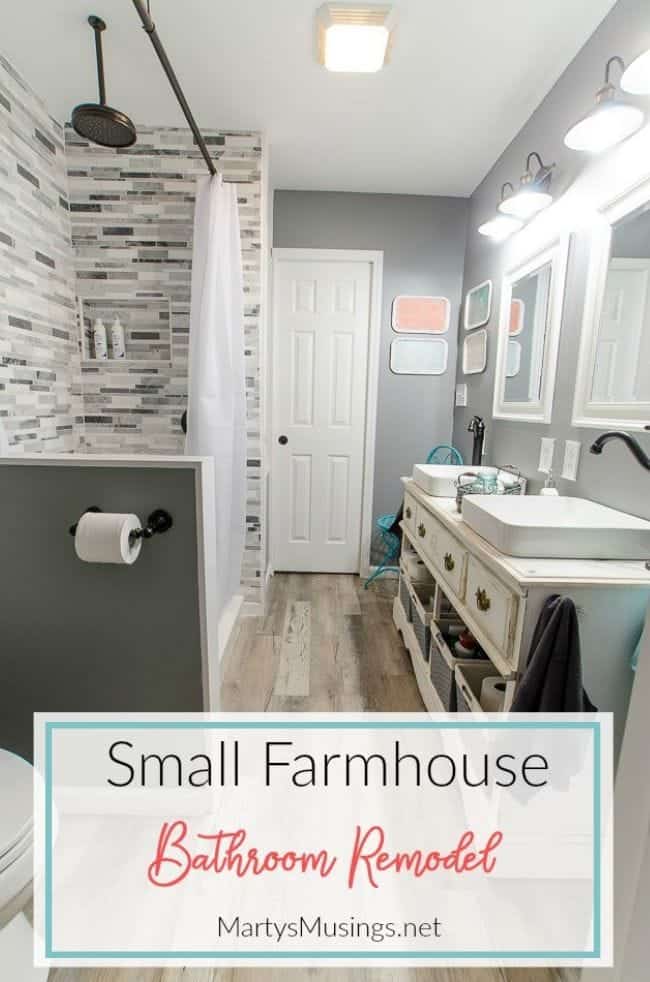 This post has been a long time in coming, my friends. A looooonnnng time.
I promise I'm not exaggerating. We finished our kitchen remodel (took down a wall and gutted the entire space) in less time.
Ten months. That's how long it took from start to finish. But let me back up and give you some perspective on this project.
We've lived in our home for 28 years. Lived and loved hard and deep in this place.
When we moved in as first-time home buyers there were some projects that had to be done because this was a true fixer upper (hole in the ceiling, air condition unit still in the wall, bathrooms a wreck.)
My husband Tim and I did what we could on a limited budget and used paint as our primary decorating tool. (He's a painting contractor.)
Tim learned a lot about fixing things. We discovered it's only on the weekend that our plumbing failed and we needed outside help (at time and a half, of course!)
Our home has two bathrooms and we remodeled the first one just a few years ago.
The second one? Yikes. Where to start?
Here's a picture just before we gutted it 10 months ago. Pretty, isn't it?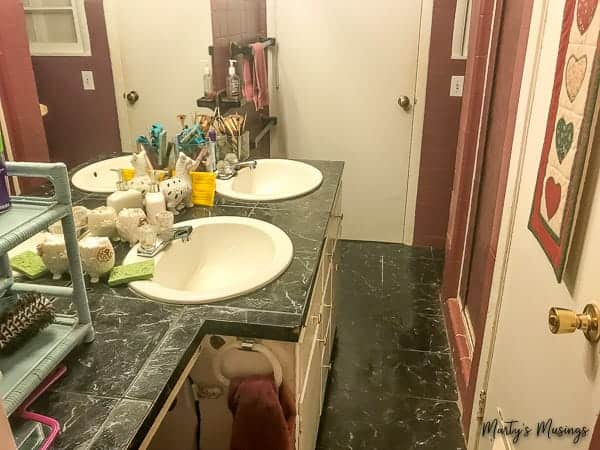 The window belonged to the original house before an addition was added on to the back. I'm not sure why the window was never taken out.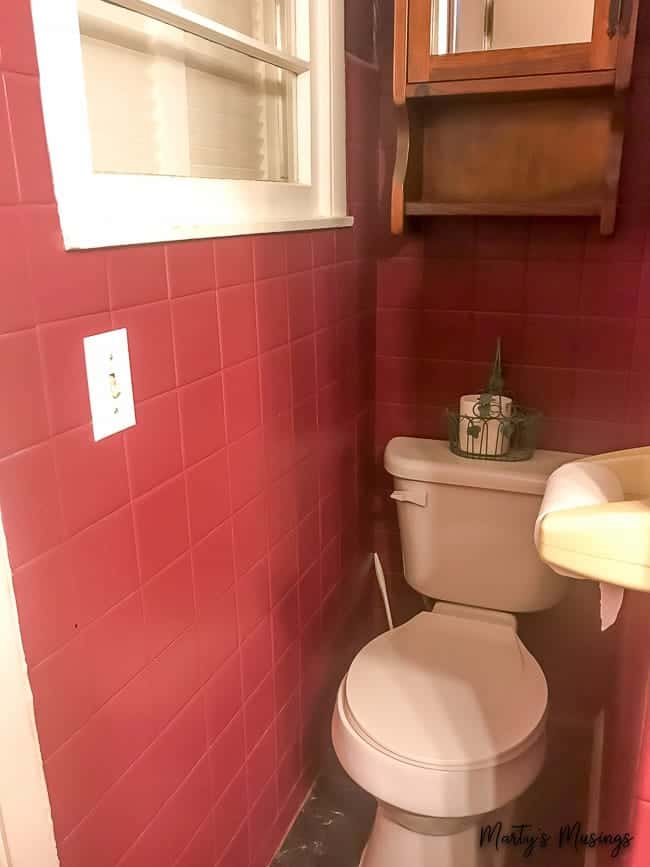 The toilet area wasn't built to code so only skinny people could use it. Just kidding. Not really.
Somewhere along the line Tim sponge painted the shower door burgundy because it was so atrocious (and the walls as well). (Anyone else go through a burgundy stage? No? Just me?)
He used floor tile for the countertops. We're talking inexpensive fixes here.
But there was just no denying how tight this walk-through bathroom was. (It joins our front and back hallways.)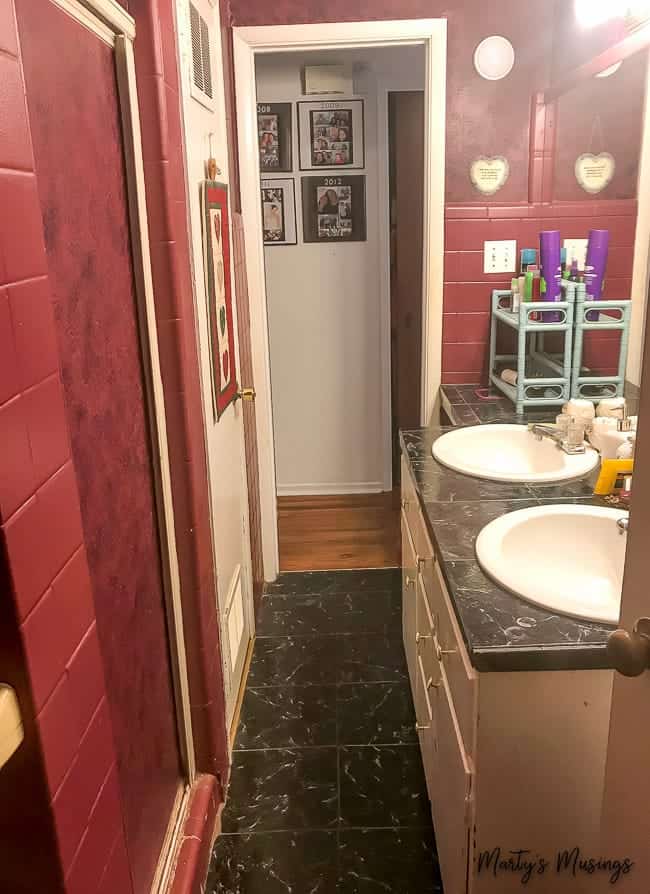 Our five kids never really liked the shower because it was like being in a cave. A very small cave. Or maybe that was just me again! Claustrophobia, anyone?
The shower always had issues from the very beginning. At the time of the remodel, we only used it to store extra flooring!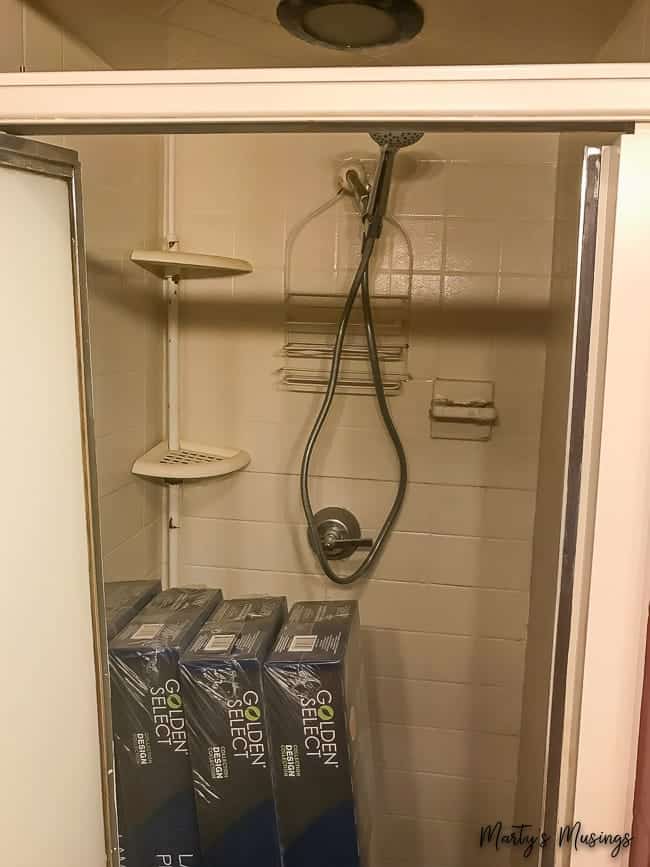 Our heating unit used to be in the small closet. We moved it when we remodeled the kitchen so this farmhouse bathroom remodel could be possible.
While we were waiting to remodel Tim added some shelves and we just stored cleaners and misc. junk in there.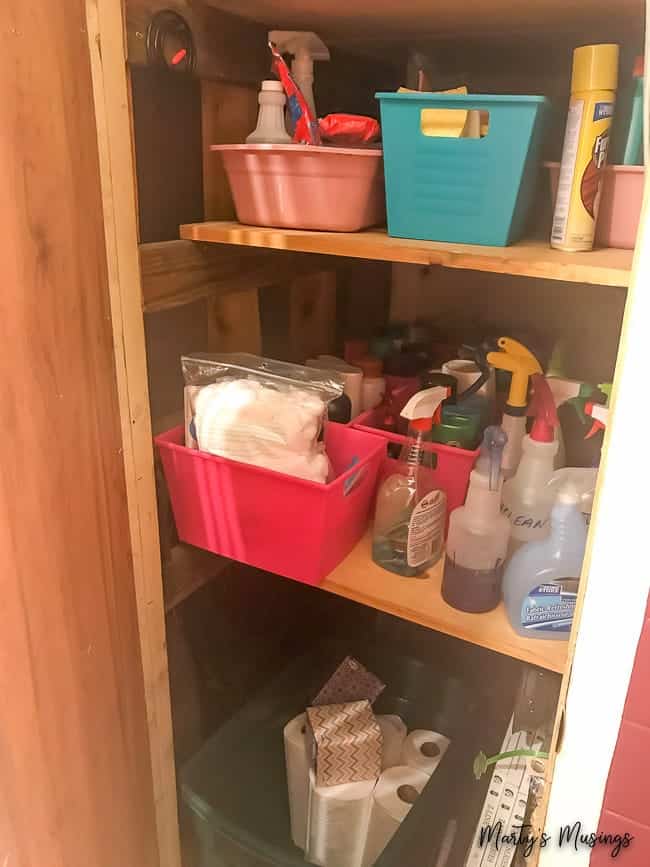 Hands down, the number one challenge for this space was to open it up so it didn't feel so tiny.
Since we no longer have kid helpers, the demolition fell to my husband. He carried tile and debris outside for many days and nights. What a trooper!
Once Tim demolished the shower we could see immediately how the room was going to be much bigger!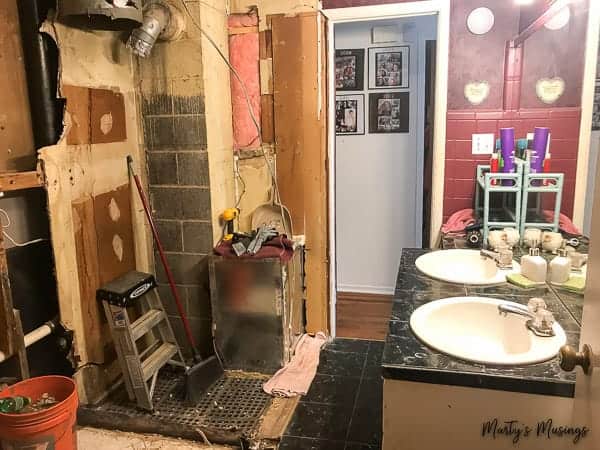 And, of course, like all big projects at our house, we had to have the floor jacked up. We had the same contractors we used for the kitchen do this part, as well as add pocket doors and do the electrical and most of the plumbing.
But my guy did most of the heavy lifting. Literally.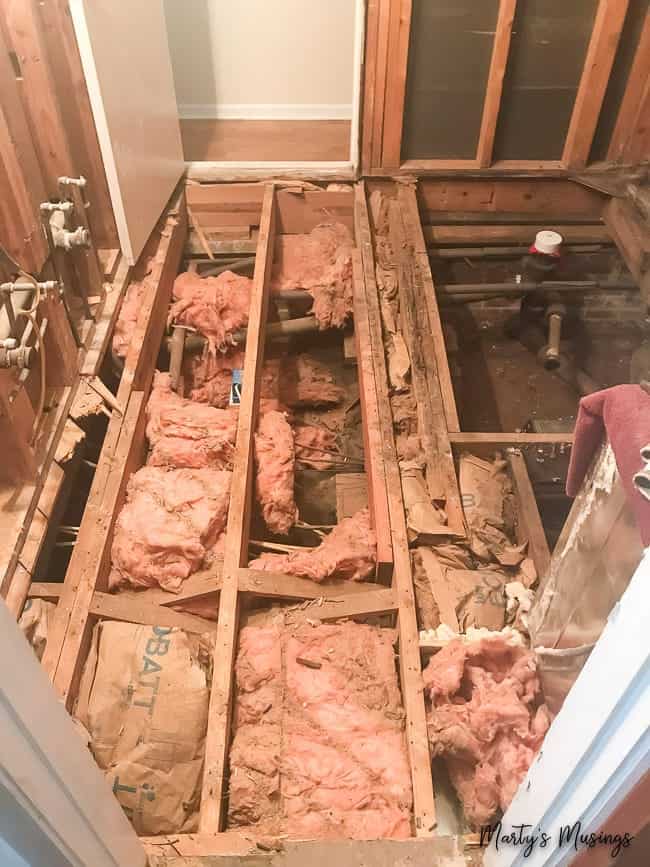 In another post I'll share about why we made the decision to tackle this renovation after 27 years of living in our home. But mostly, I know you want to see the pretty finished product!
Small Farmhouse Bathroom Remodel
A very special thanks to Build.com for providing us with some products for this bathroom remodel. We are so grateful for their support!
Here it is, looking from our back hall towards the front hall!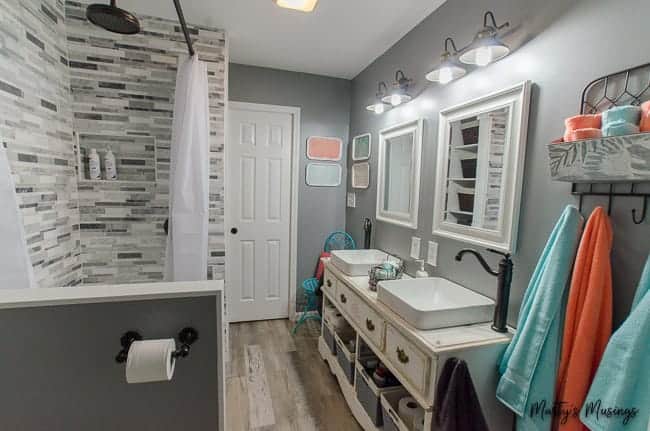 Can you believe it?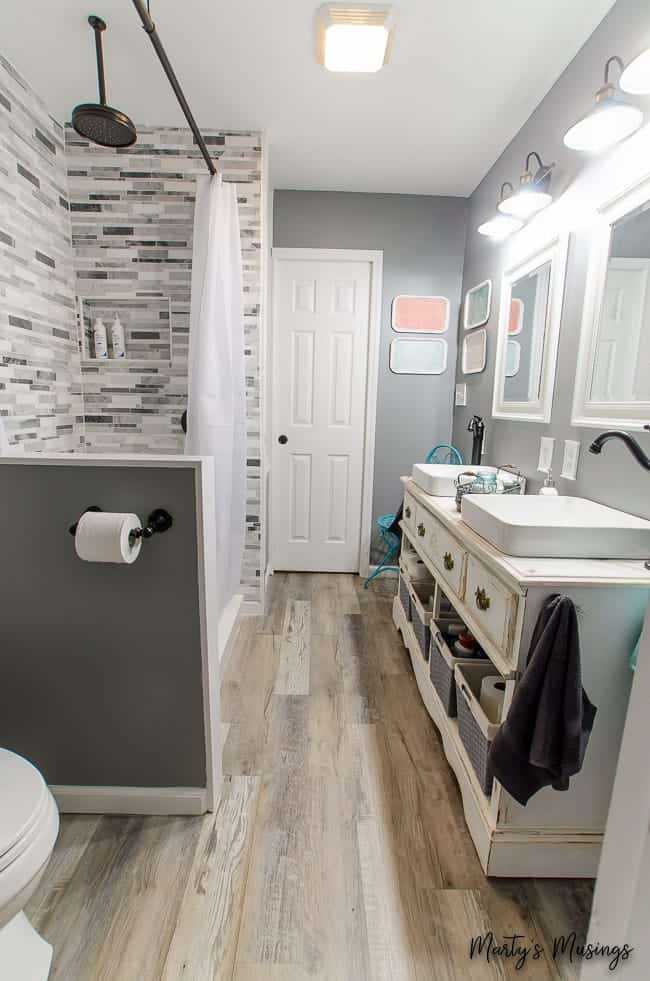 Here's the view from the front hall to the back.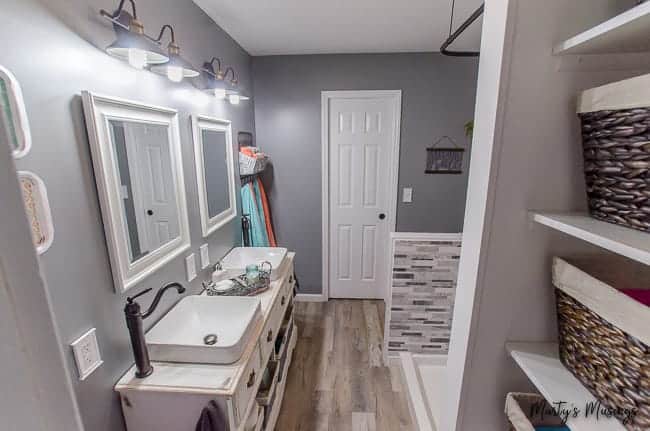 It was our pleasure to partner with Build.com on this DIY project. Build.com has the best selection of home improvement products in every category from top brands.
Tim and I designed our bathroom to enhance the selling points when/if we decide to sell down the road. Build.com was a big help in understanding trending styles. We also loved the unique finishes that modernized our old outdated bathroom.
Our rainfall shower head is the absolute best! Totally a game changer in style and functionality for this small room.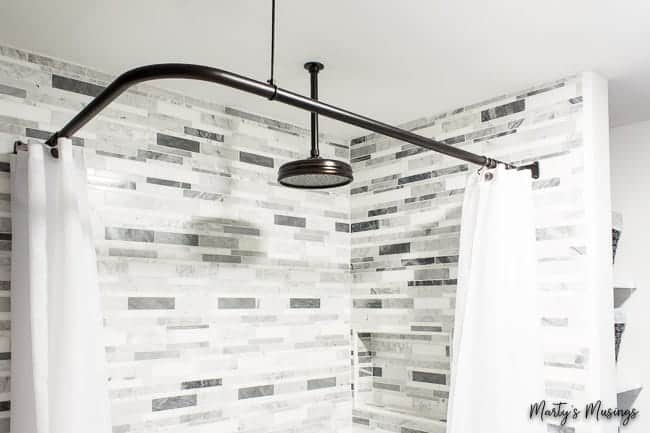 Build.com offers unrivaled customer service with live, US-based Project Experts, available by phone, email, or chat 7 days a week. Have a question when you're in the middle of a project? These experts are serious about their products and helping you complete what you started.
We knew we wanted to turn this $3 dresser from Goodwill into the perfect chalk painted vanity. The white vessel sinks and oil rubbed bronze faucets add just the right touch without taking up a lot of space.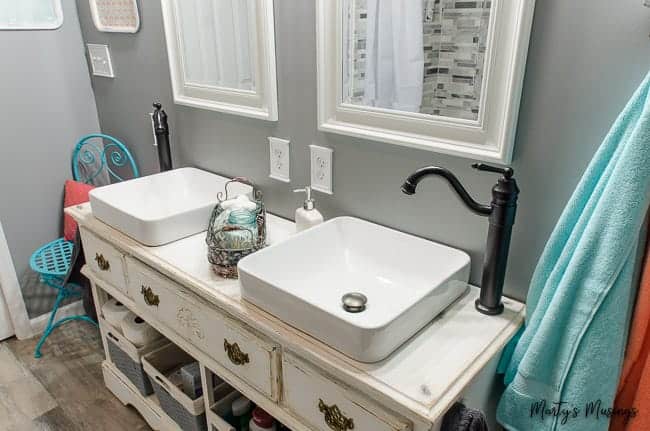 To be honest, I was torn between styling the vanity baskets all pretty like or just showing you this bathroom is functional for real people.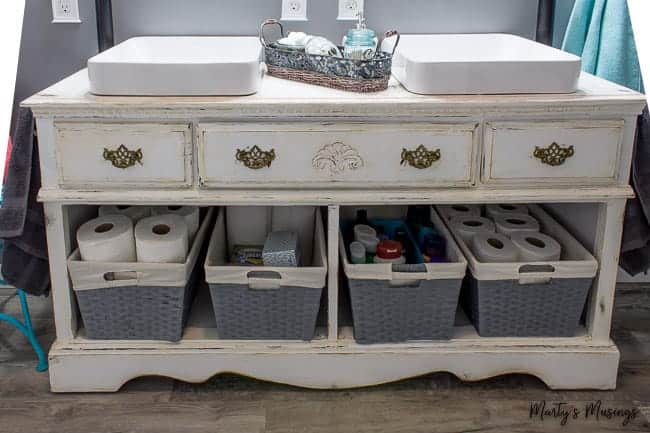 My desire to be real won out so you can see that I'm using the baskets for storage. I wanted to do mostly items underneath the sink that wouldn't be toxic for my grandsons' little hands. (And there's a whole 'nother story about the plumbing fiasco. What I saw in my mind didn't turn out to be so easy…….or cheap!)
Can I tell you how much difference the right lighting makes? These vanity lights are amazing!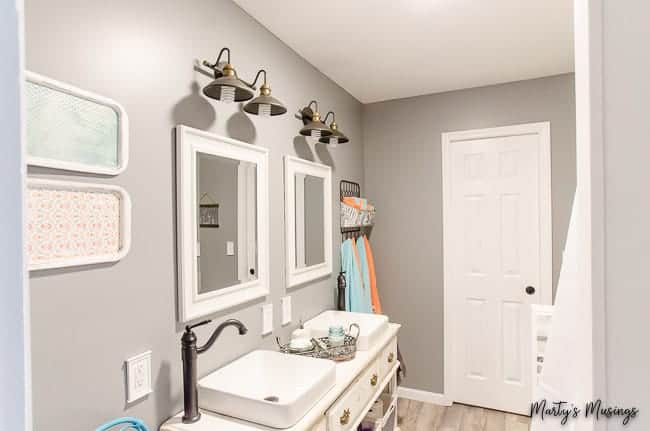 Originally I wanted Tim to build me a barn wood towel holder but when I found this one at Hobby Lobby for 75% off I was smitten! I love that I got my pop of aqua and coral with the towels!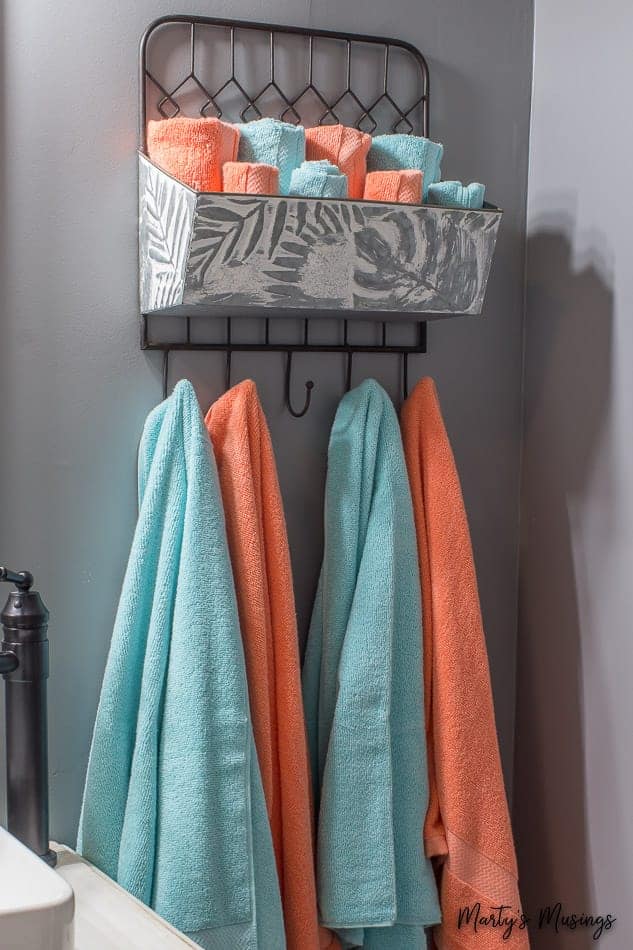 From the very beginning we realized figuring out how to hang a shower curtain was going to be a challenge. This corner shower rod was a little bit tricky but Tim fixed it so it would work with our two shower curtain liners.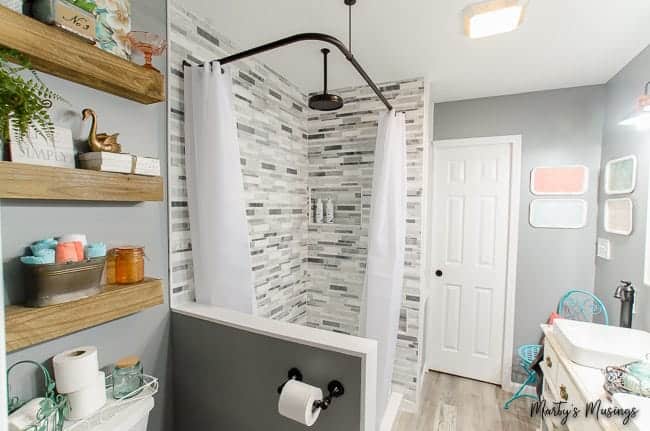 One of my favorite features of our farmhouse bathroom remodel is these floating shelves out of fence board. They're full of thrifty goodness that just makes me happy!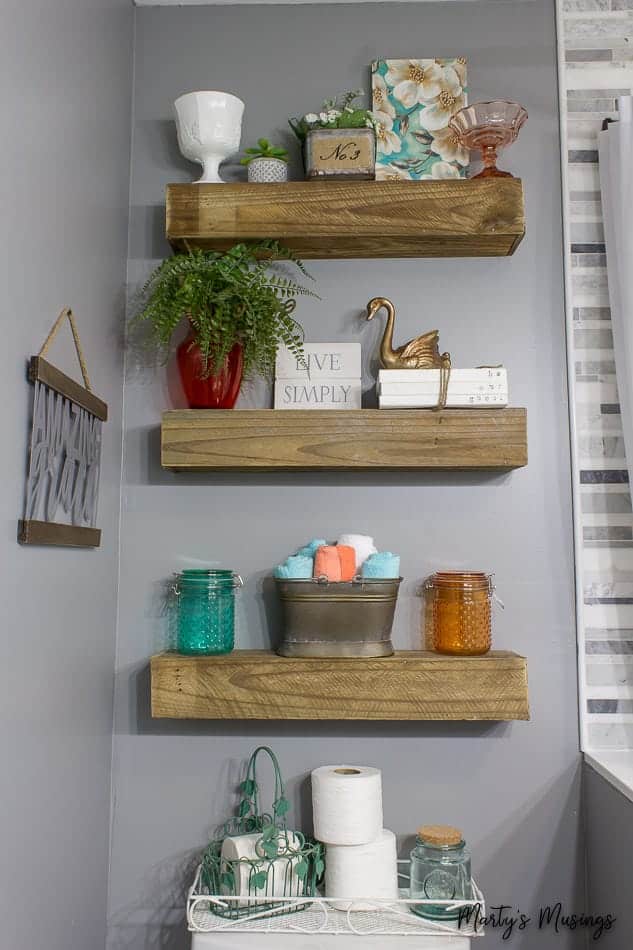 This little nook allows for basket storage that is both pretty and functional.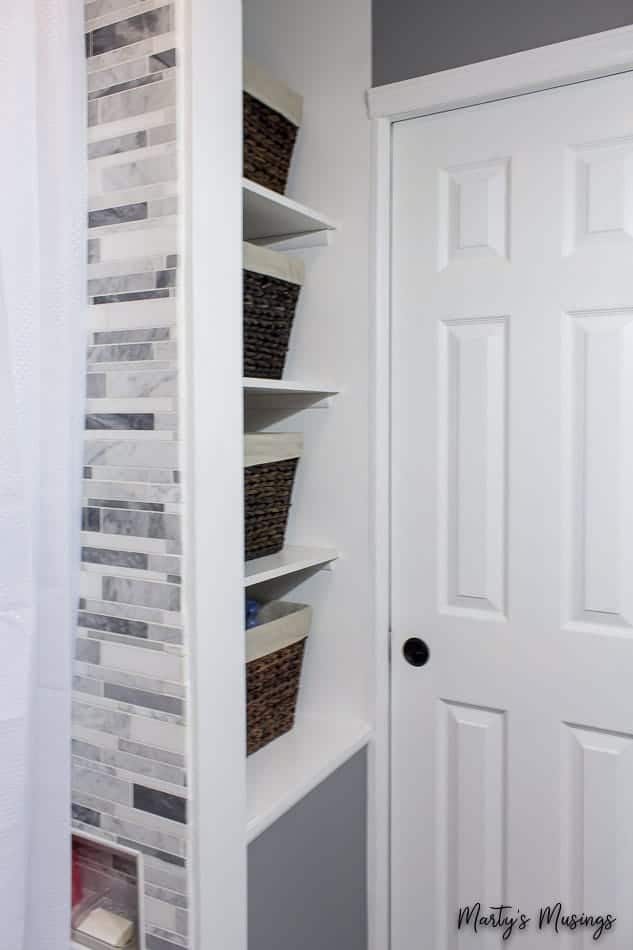 And those are the highlights! More details to come soon! But until then take a look at these before and after shots.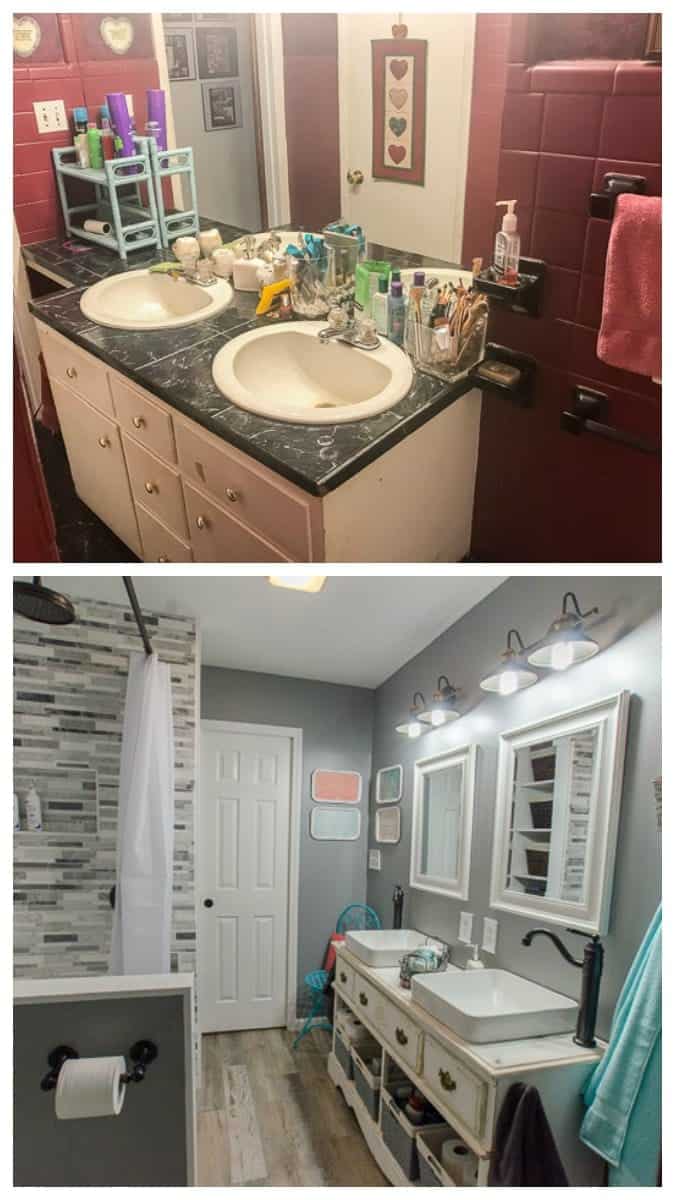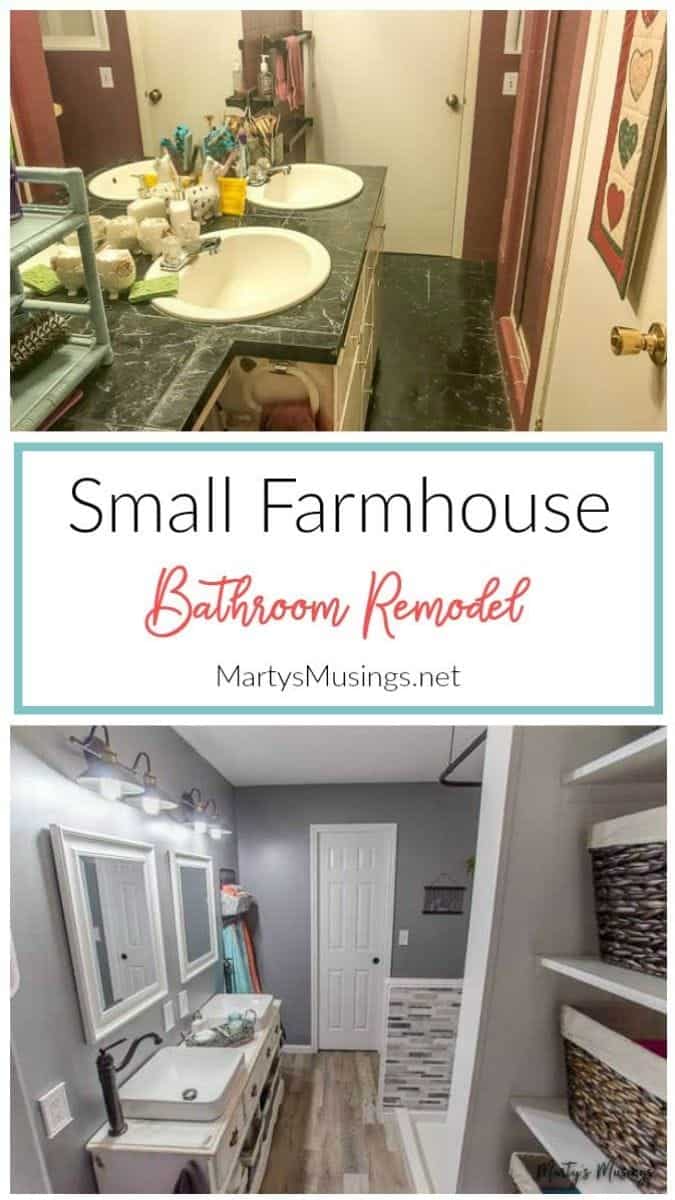 Bathroom Remodel Sources
(I've included some affiliate links for your convenience. Click here to read my full disclosure policy.)
Wall Color: Cosmic Quest by Behr Paint
Oil Rubbed Bronze Faucet / Vessel Sinks / Rainfall Shower Head / Shower Handle / Shower Arm / Pressure Balancing Valve / Vanity Light / Mirrors (similar to ours) / Shower Curtain (can be used as a liner as well) / Corner Shower Rod / Mosaic Shower Tile / Waterproof Plank Flooring / Aqua and Coral Towels / Faux Rattan Grey Baskets / Water Hyacinth Basket
What questions do you have for me? I'm going to be writing more about this amazing farmhouse bathroom remodel in the near future!