How to Design a Room Around an Inspiration Piece
This post may contain affiliate links which won't change your price but will share some commission. Read more here.
Learn how to design a room by choosing an inspiration piece and using texture, colors and theme as the starting place for an entire room makeover.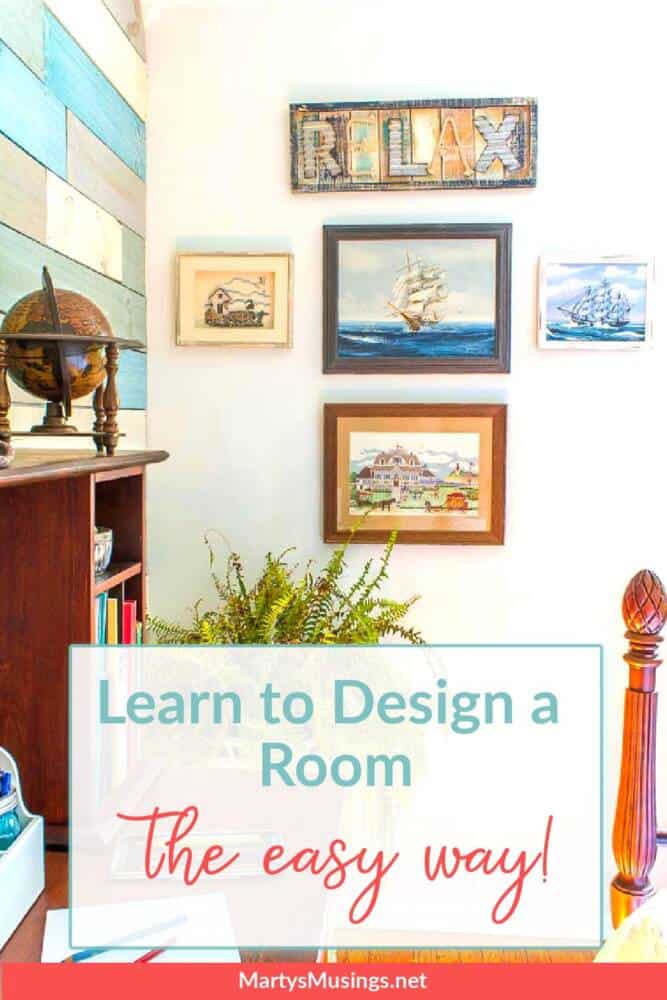 How many of you loved the home design show Fixer Upper? Seriously, who didn't?
A well deserving family or individual chooses one of three homes for an amazing husband and wife team to radically makeover just for them!
I KNOW. It's the stuff of dreams.
First of all, Chip and Joanna Gaines are the real deal. ('Cause y'all KNOW we're buddies and on a first name basis.)
They're sweet and kind, real and funny. I completely empathize with Joanna. She's plotting and planning on how to design a room, and Chip is cutting up and mugging for the camera.
Totally like my DIY hubby. With one big exception. My hubby doesn't exactly do what I tell him to.
Like, ever.
Ok, maybe sometimes.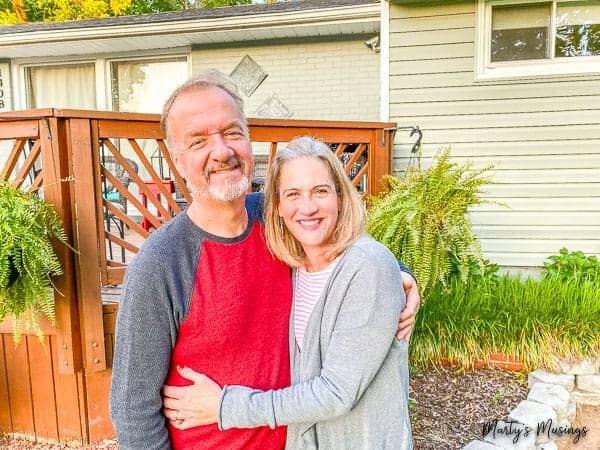 Come to think of it, there's another exception.
No hit TV show. No TV show period. Unless you count my Youtube channel.
Nah, that doesn't count!
But I do have a room to share that he actually allowed me to design from the ground up. (Plus some other inspiration that will teach you how to design a room the easy way!)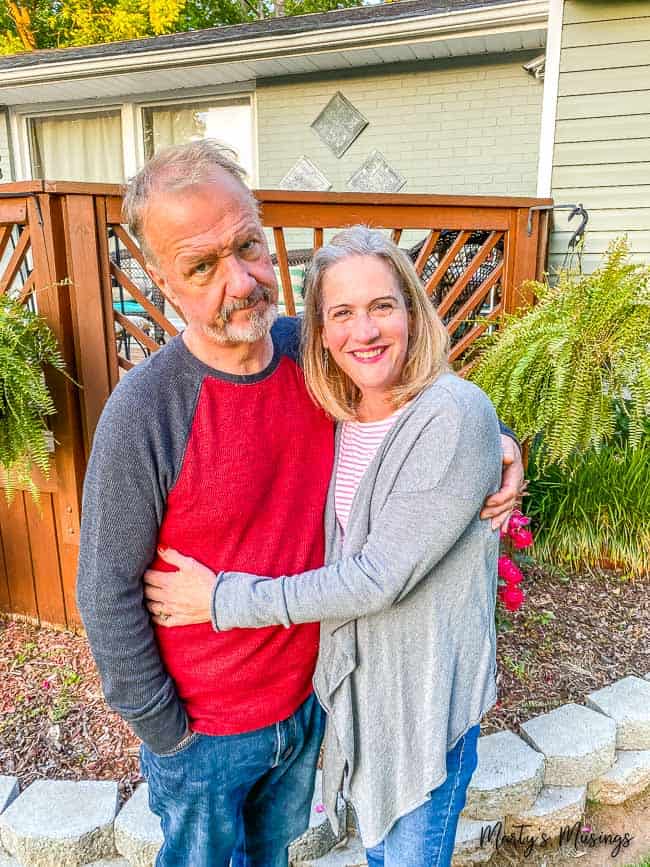 This room was pulled together one repurposed, trash to treasure DIY project at a time.
Since my hubby was a painting contractor for 25 years (his best DIY tips here) he painted in a LOT of different homes. From the finest, most expensive in town to everyday ones like ours, he observed many different styles and trends.
As I was discovering my own personal style, what I liked and didn't, why certain colors worked and others bombed, my hubby of 29 years developed pretty strong opinions of his own.
~insert double eye roll~
Might have caused a few decades years moments of conflict as we've been working on our home over the last few years. (Our total kitchen makeover was a challenge for sure!)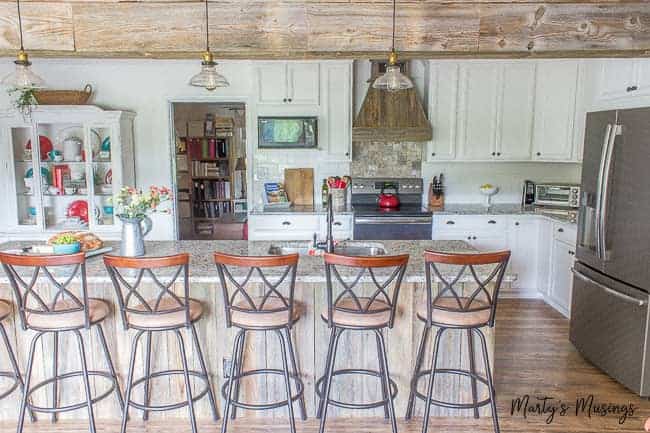 DIY is a lot like marriage, though. There's give and take, compromise and disagreements!
Tim still has his opinions but these days he loves the joy I experience as I create my own perfect style in our home. I'm the one who derives the most pleasure in both the creative process and beauty of the dwelling we live in and share together.
Besides, I'm the one who is blessed to write and share all of it with you guys!
Y'all know I'm not a designer, have absolutely no training but am discovering as I go.
I hope to inspire you to create a home YOU love without spending a lot of money or time. That's what I'm doing and I'm having a blast!
Sometimes room changes happen out of necessity or desire. Here's where this room makeover began, with my now 21-year-old adopted son's room, after he ran away from home a few years ago.
In reality, my son was not running away from our family that loves him passionately, but from deep wounds in his heart.
Even though this was an incredibly difficult time for our family, I loved transforming this space to create beauty out of chaos.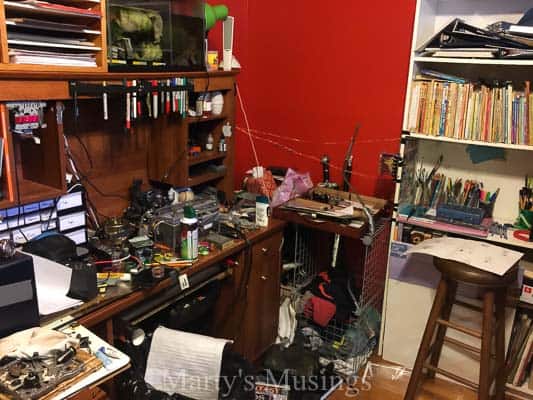 Here's just a bit of the amazing after. Can you believe it's the same room?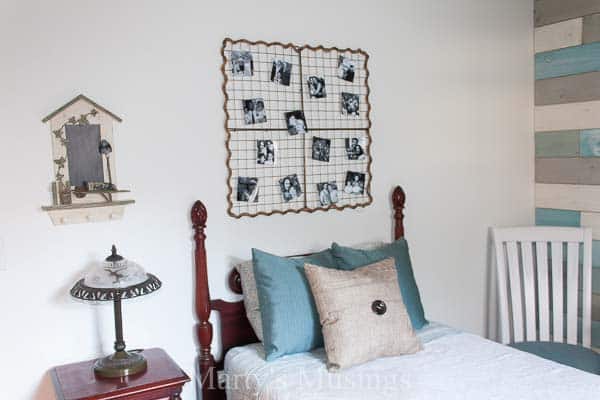 Tips for designing a room around a specific inspiration piece:
Find a texture you love and build from there.
Choose colors that evoke a certain mood.
Choose a theme that will connect your decor. Whether it's a word or a cohesive style, figure out what works best for you!
I designed this room with a single coastal colors inspiration piece in hand, thinking about my son's likes and dislikes.
Not knowing what the future held, I still wanted this room to be a haven, a room where peace and love reign, for however long my son might live with us.
Let me show you how to design a room around an inspiration piece. (It's really easy, I promise!)
I knew I wanted to go with lighter walls (read all the details here). That was a no-brainer! After years of shocking red and a chalkboard paint accent wall the room spoke to me and said, please give me calm!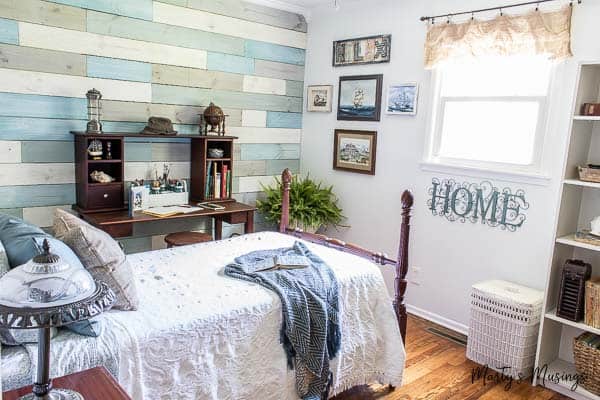 At first I was drawn to royal blue for painting some furniture we had, but my youngest daughter just kept telling me to go with "seaglass" accent colors.
Nope. I'm the designer. I get to decide.
Of course, we go shopping at Michael's and see the perfect piece with coastal colors, on sale half off, and I'm sold.
Teenaged daughter, 1. Mom, 0.
Here's how this little piece of art inspired my vision for the entire room.
How to Design a Room Around an Inspiration Piece
1. Find a texture you love.
I love the mix of rustic wood, rope and metals in this focus piece. It's different than anything else in my home, yet still along the lines of the repurposed, shabby chic projects I love so much.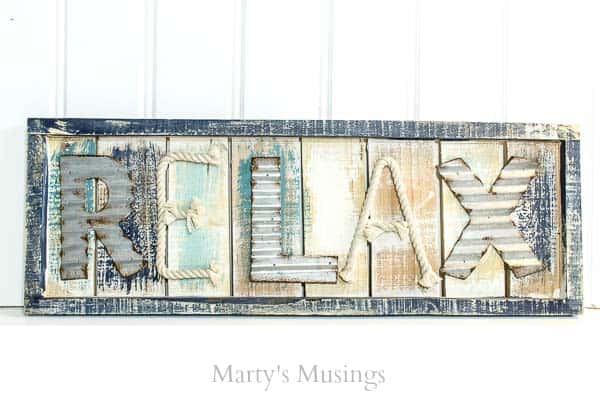 Sometimes my home decor revolves around a season and related textures, like this throw in the picture below.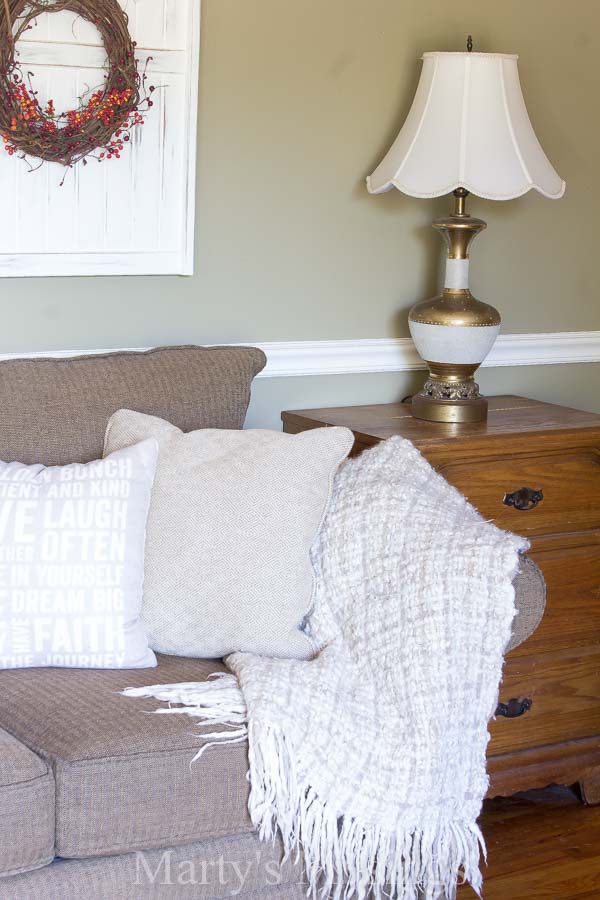 2. Choose colors that evoke a certain mood.
My daughter was right. The colors just speak calm to me, especially against the painted walls. Our DIY chalk painted plank wall is perfect for adding several colors in the same family.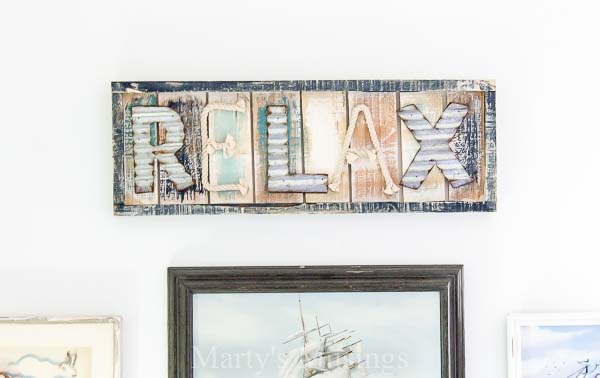 Sometimes you have to experiment to find the colors that work for you.
We painted a wall purple in my craft room a few years ago.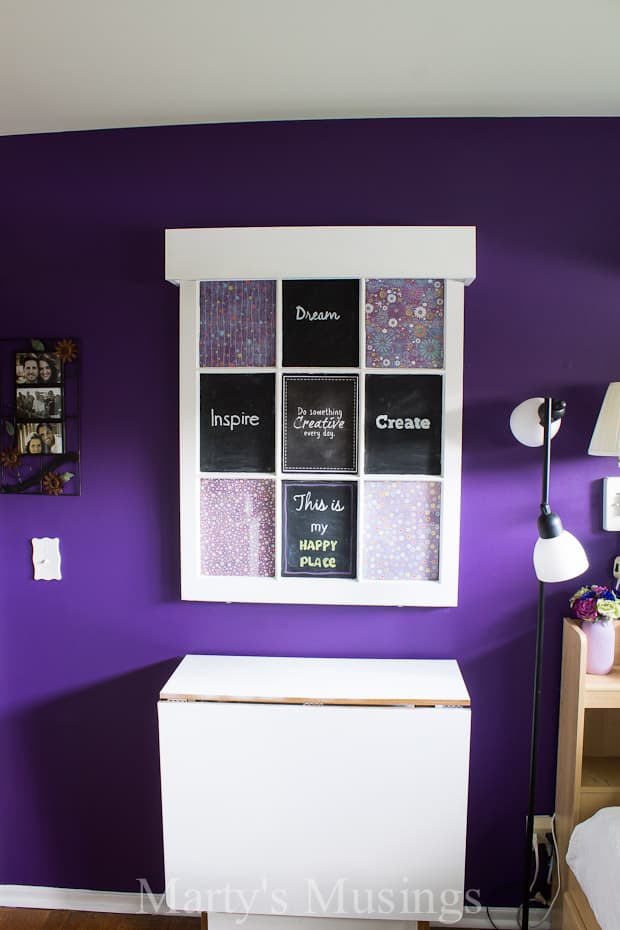 Although I loved it so much at the time, eventually I decided to go more neutral. (Read how we created an office nook in a closet and how different the colors are today!)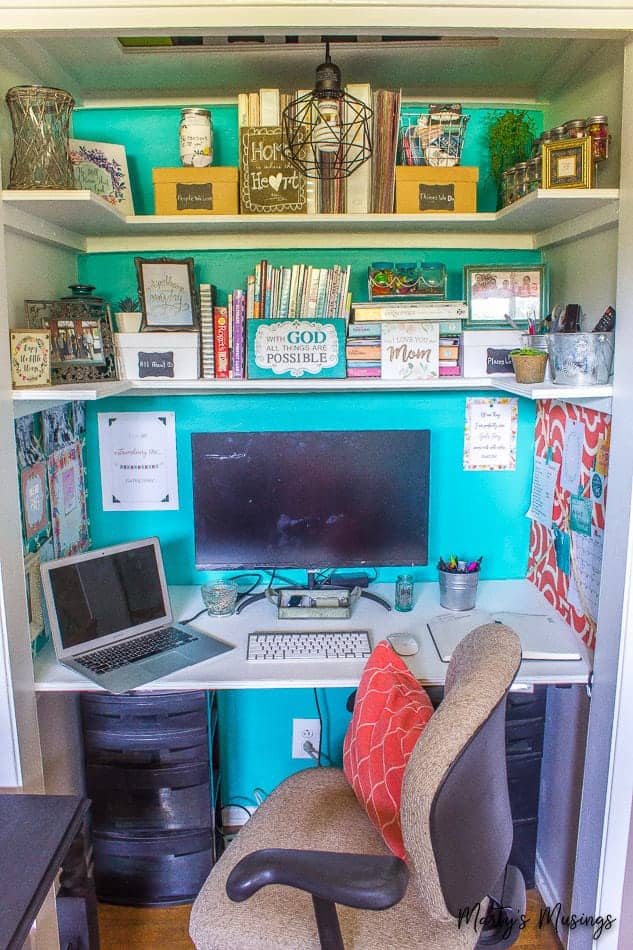 I decorated our front deck around the bright colors in a new rug. (Read all the details here.)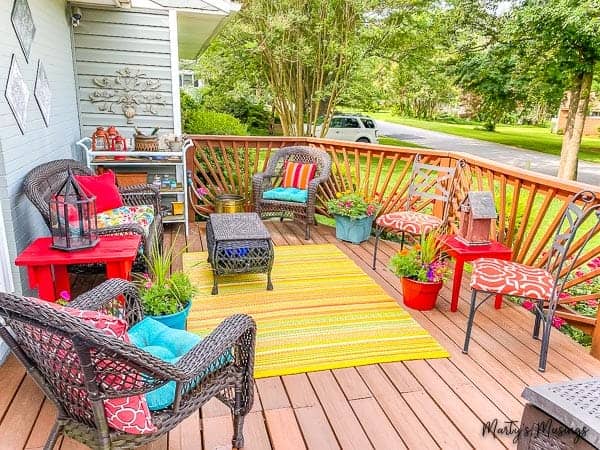 3. Choose a theme that will connect your decor.
The word "relax" pretty much says it all, however, I knew I didn't want to go all out with a beach theme. My son does love to collect seashells and could walk aimlessly for hours along the shore.
As I began to accessorize the room, specific pieces in my attic stash, or items I found at yard sales became obvious choices for a more relaxed vibe.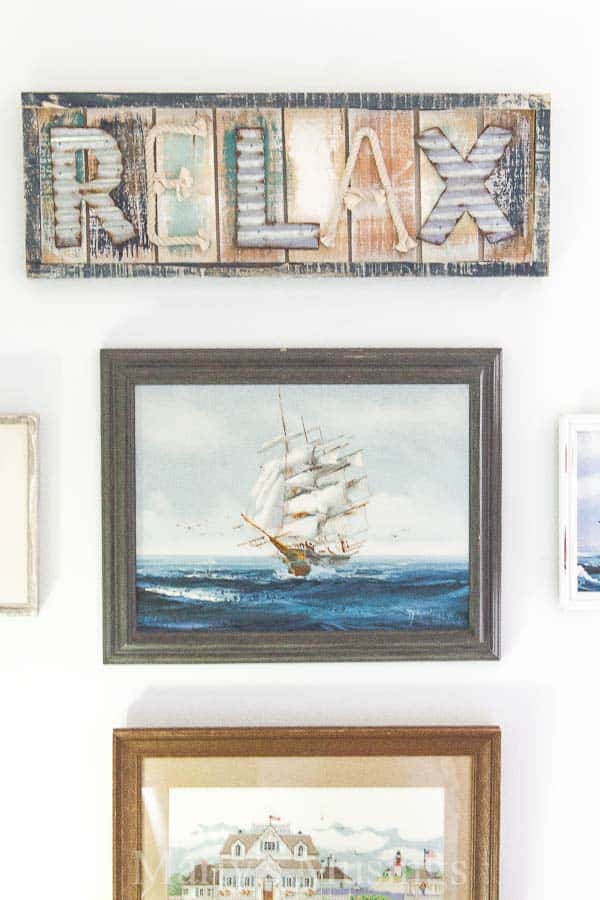 For our huge kitchen remodel, I knew I wanted both our kitchen, living room and dining area to be similar colors and style. This added to the flow of our now open space.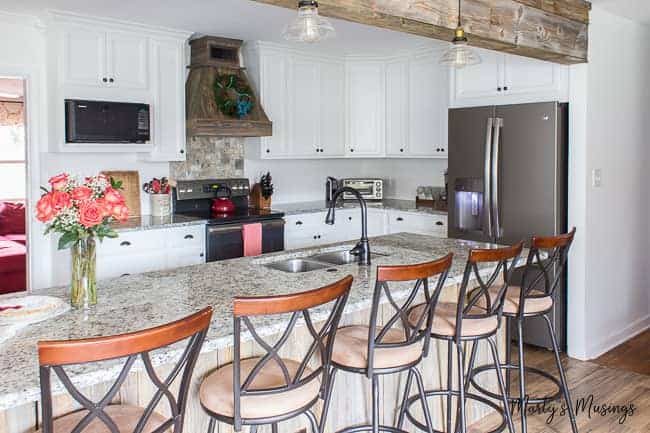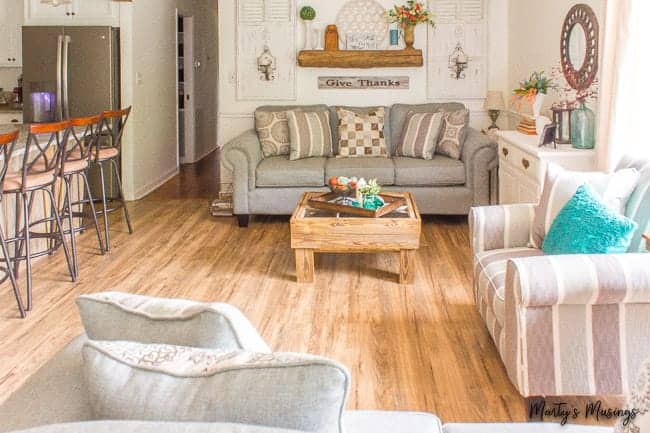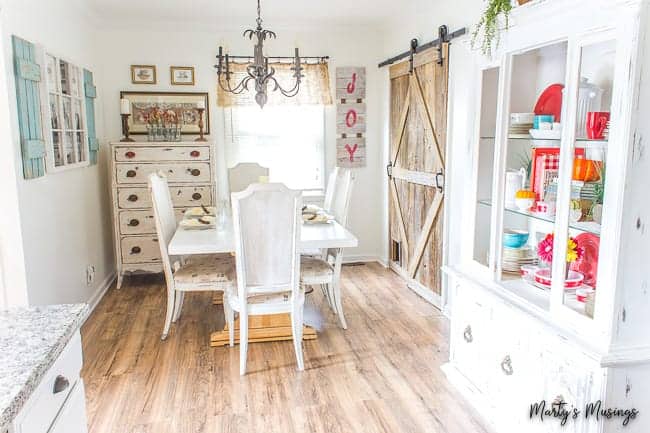 I'm still learning but room by room, I think I'm getting better and closer to my "real" style!
Chip and Jo, y'all are welcome to come to NC and start from scratch with my house. There are still a few rooms that need some HELP.
Serious help.
What do you think of the room so far? Do you like the color choices?
Read all the posts in our Coastal Bedroom Makeover series:
♥ How to Paint over Dark Walls
♥ Teen Boy Bedroom Makeover
♥ How to Design a Room Around an Inspiration Piece (you're here)
♥ How to Paint Furniture with Chalk Paint
♥ How to DIY a Plank Wall with Chalk Paint
♥ Inexpensive DIY Beach Decor Ideas and a Bedroom Makeover