DIY Shower Tile for Amateurs!
This post may contain affiliate links which won't change your price but will share some commission.
Disclosure: I was given product from Bondera Tile Mat Set to use in tiling our shower. The opinions expressed here are my own (or my husband's!)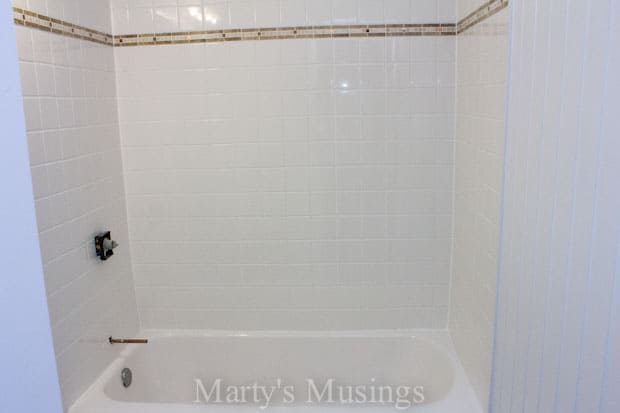 ***Edited: 3 1/2 years after installing, the Bondera Tile Mat Set has held up amazing and our shower still looks great!
Just to refresh your memory, my DIY hubby shared a great tutorial on DIY shower tile Part One, how to tile your shower with Bondera Tile Mat Set. (You really need to go read that post to see how we got to this point in the transformation.)
Since the process has several steps I broke the tutorial up into two parts and now you're ready for part two!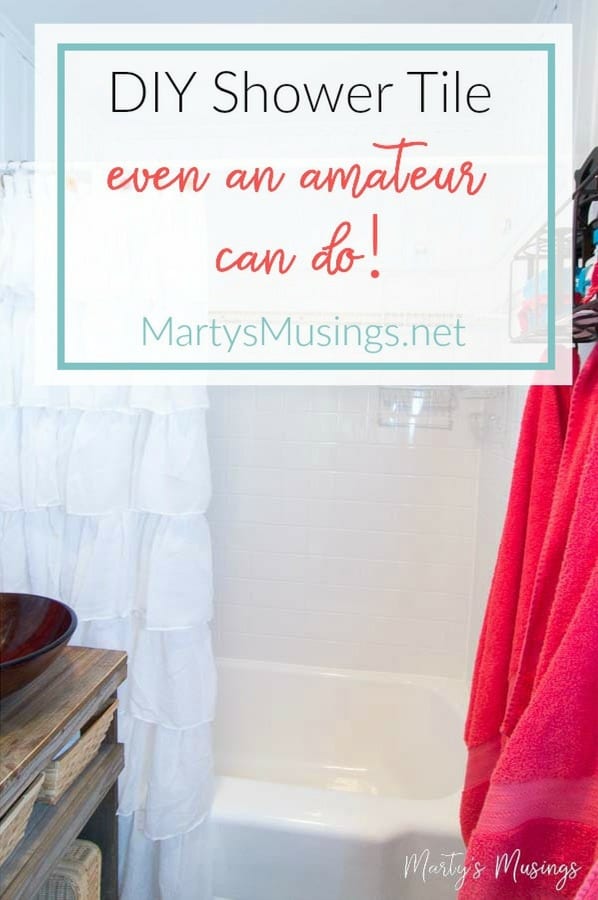 Here's a reminder of how our shower looked before and after tiling. It was bad. Oh so bad.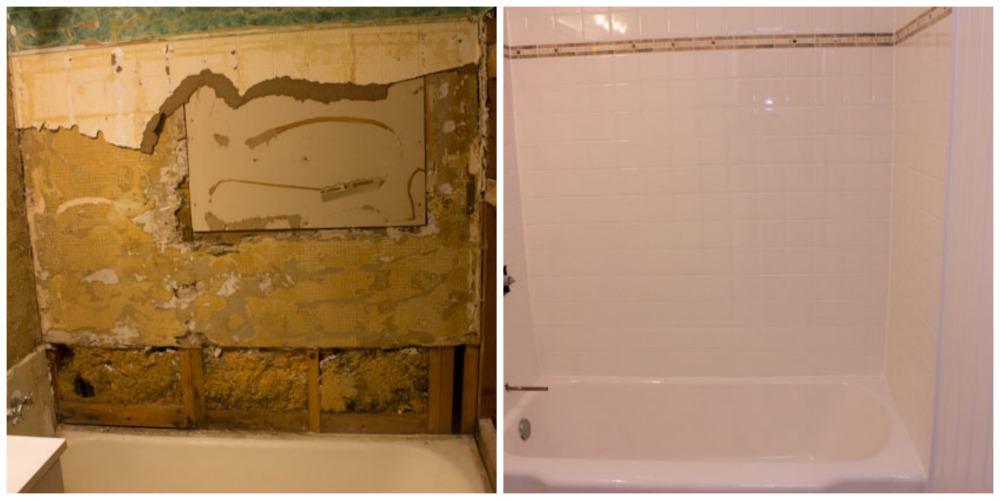 We Tim had gutted the whole bathroom except for the tub and toilet due to a leak in the old shower kit. He and I had discussed back and forth what to do in the shower. He was afraid of tiling and I didn't want another shower kit.
If you followed me on Instagram you got to see some of the bathroom remodel as it was happening. Yup, here we are having fun choosing tile!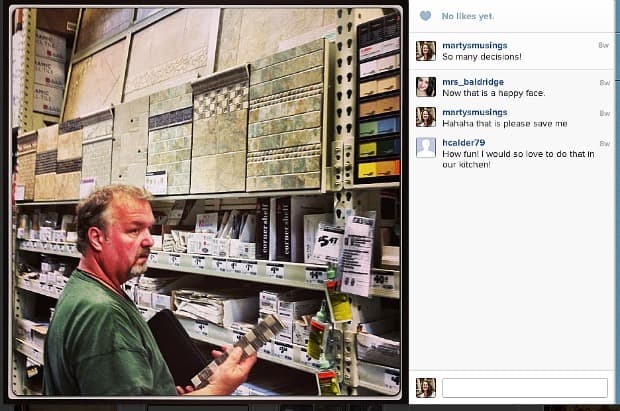 We decided on a plain white 4×4 tile with an accent strip around the top. And I might add, this strip just happened to go perfectly with the peel and stick floor tiles we chose. Am I good or what? (Yeah, that was pretty much an accident!)
Hubby back in the saddle:
As a reminder, the fabulous Bondera product is ready to have tile installed. However, the protective film has NOT been removed in this picture, nor has the Bondera seam tape been applied over all seams and corners. This step happens immediately before the tiling begins.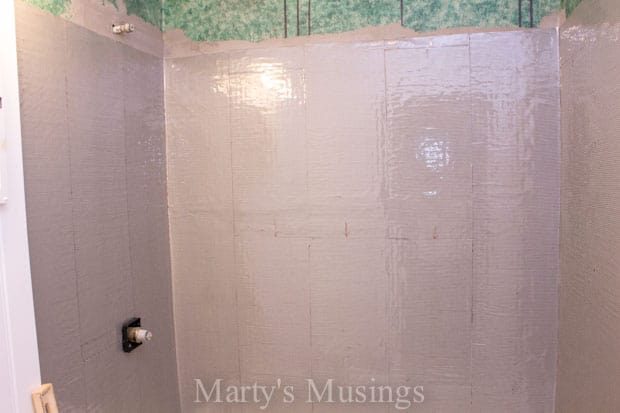 Now the film has been removed (notice my marks are gone) and four vertical strips of the Bondera seam tape have been applied to those seams. The tape is double-sided super sticky, so you don't lose any adhesion at the seams. Peel the backing off, beginning at the top, and press it onto the sticky Bondera surface. There is NO wiggle room here, so don't let it stick to itself or to the wrong place on the surface. I would continue to put the tape on all the seams and the vertical corners, then remove the front film and commence tiling.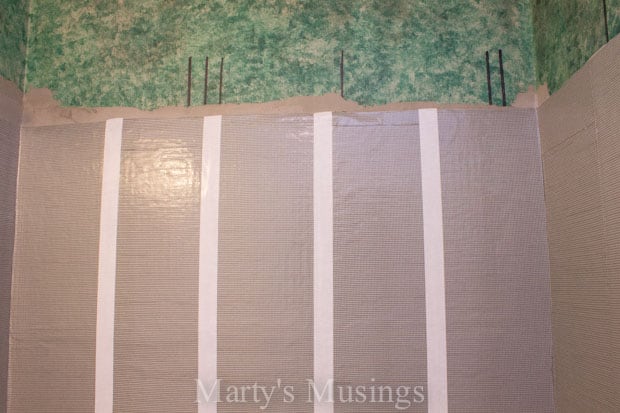 And the tiling has begun! Having never tiled before, I was really concerned about getting this right. I mentioned in Part 1 that it is critical to maintain level lines.
With the quick set application process (where you trowel on the medium and then press the tile into it) you can establish the center of each wall, both vertical and horizontal, and then draw lines to make sure you remain true to level. THIS IS NOT POSSIBLE WITH BONDERA! Once you remove the protective film on the surface to be tiled and apply the clear tape (which you can barely see at the seams in the pic) that surface is incredibly sticky with an almost clay-like texture. No writing on it anywhere. As a novice tiler, I was unspeakably grateful that the tub was level and I could just work from the bottom up. Phew!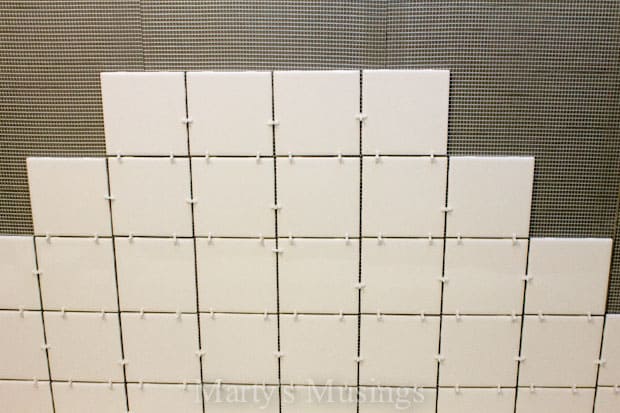 Let me clarify that I was able to establish horizontal center on this back wall and mark it on the tub. Then I adjusted slightly to allow the same size tile at each corner…wasn't lucky enough to finish exactly with a full tile. Now, you do have some wiggle room when placing the tile onto the BONDERA. Once the spacer is set (those little white x's) you can lightly press the tile into place and push it harder to secure. If you totally get it wrong, the directions just say to carefully pry the tile off and start over.
My tiling pattern was to build from center and run out to each corner. Not sure if that was good, but it worked for me. You can't really tell in the pic but I did put spacers right at the tub line – the tile is not installed right on top of the tub. Yes, that tub is nasty, but its beautification was soon to come!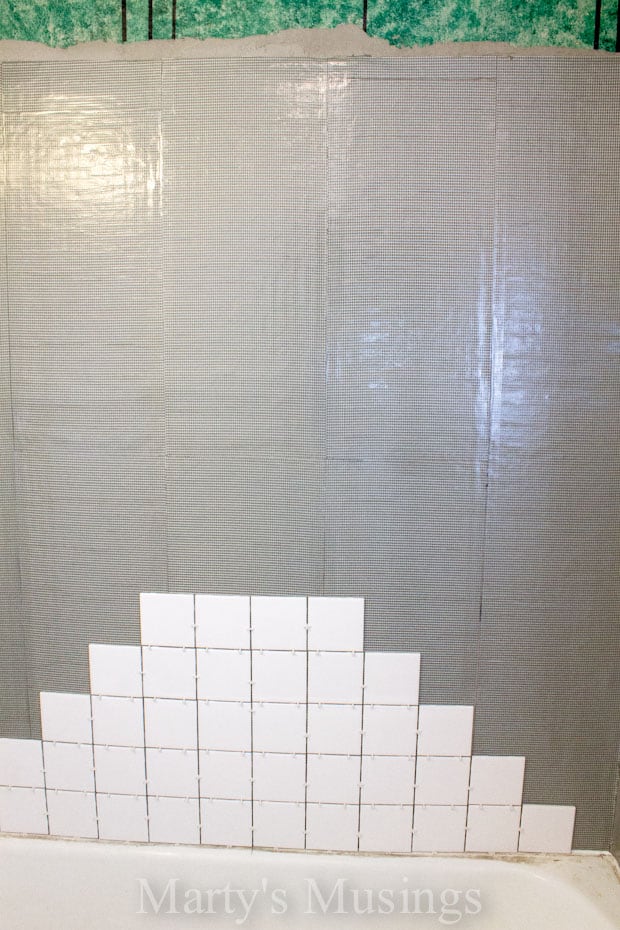 Just maintaining level and we're still good! Happy, happy, happy…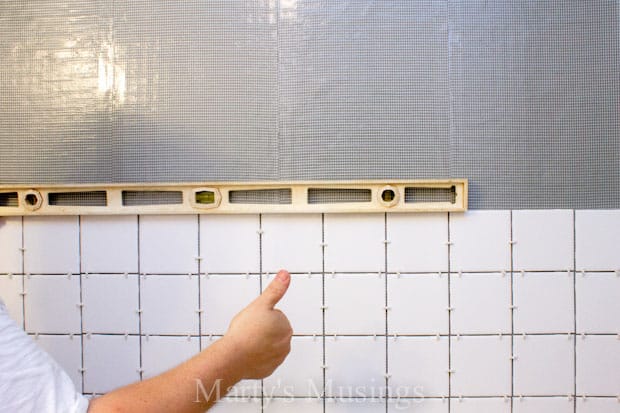 Here we are up to the decorative tile line on the first wall…this was going to be a LONG night! I wasn't worried about the corners being perfect because the tile on the side walls would actually run over the tiles installed previously, and ultimately caulked (NOT grouted, remember?) Notice that, for better or worse, we chose not to install any kind of shelving, storage nooks or even a soap dish. I just didn't have the expertise to pull that off, plus I don't believe the Bondera would hold the weight of those pieces. Additionally, if I really, really had to, I knew I could drill through the tile and install what we needed. I just hated the idea of screwing up that surface and letting water behind the tile. The plan was to just get some nice wire racks and hang them above the tile line.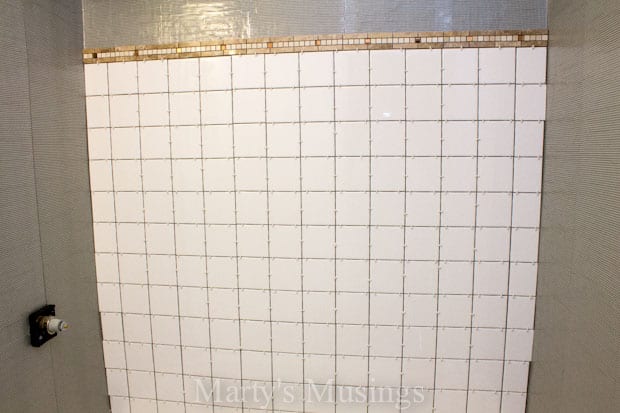 There was no magic place to put the accent tile. We just eye-balled and put it here. There are two more rows of white tile to go above this. The beautiful thing about this accent piece is that it worked out perfectly with full pieces right into each corner. Awesome!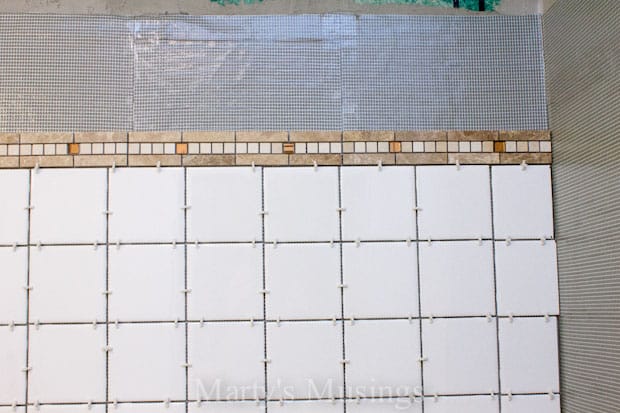 Close up of the spacers. I think these are 1/8″ spacers and I used almost 1,000 all told. These would all be pulled back out before grouting, which totally frustrated me.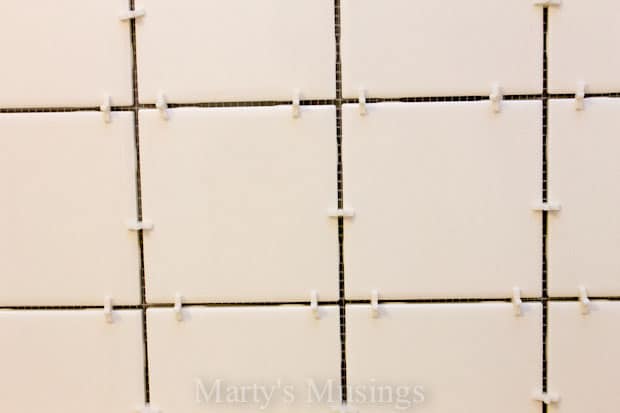 We've moved onto the trim wall (where the fixtures are) and the only thing I think you're NOT supposed to do is cut ceramic tile at less than 1/2 its width. So, since these are 4″ x 4″ tiles, I should not have any cut less than 2″ wide. Clearly not the case here, but I needed that extra tile to clear the edge of the tub down to the floor. I didn't think it would be a problem, since I was still on the Bondera.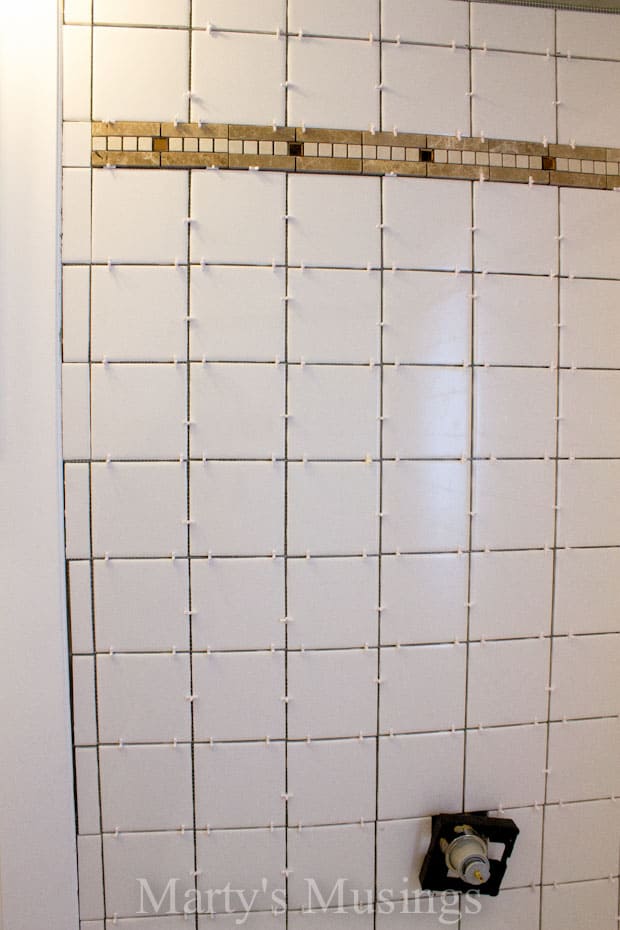 Still maintaining the proper spacing, even around the accent tile.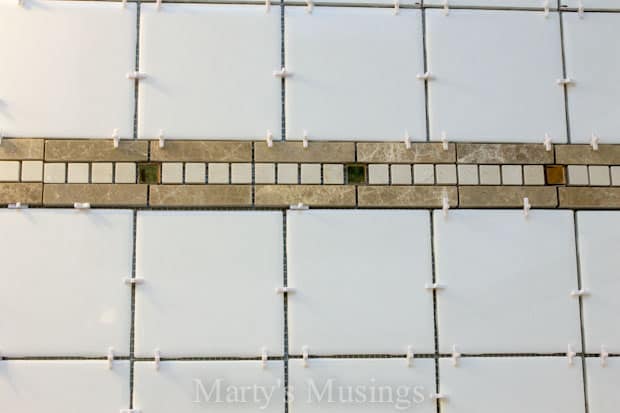 So this was the most terrifying part for me. I've just spent HOURS spacing all these tiles out and then pulled all of them out. I have re-pressed the tiles into the Bondera one last time with the float and I'm now ready to screw it all up with a really poor grout job. At least that was my fear…remember, I've never done this before.
This is a snow- white sand free grout mixed up and ready to apply. I think this was about 9:00 at night…did I mention it was going to be a long night? The Bondera instructions were quite clear that you MUST grout within 8 hours of applying the tile, and I had heard that it is a very bad idea to split grout mixes into different application times. Something about the water mix not matching, which can throw the color off. So, it was now or never!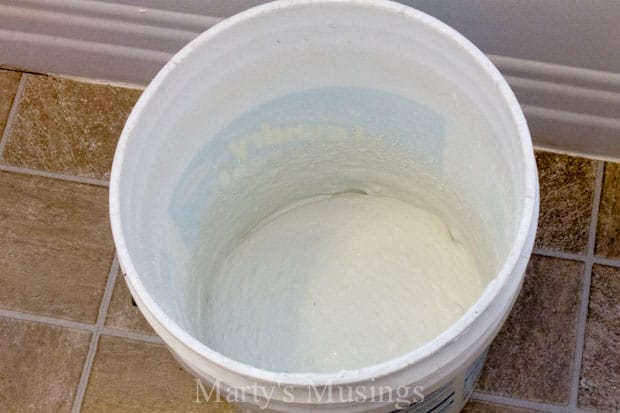 And we're off! Not rocket science here, just press as much grout into the (spacer-less) lines as possible and wipe the excess off. I really began to work quickly at this point because I could tell that the grout would continually thicken as the minutes passed. There is a window of opportunity before the grout has to be sponged off and the tile cleaned.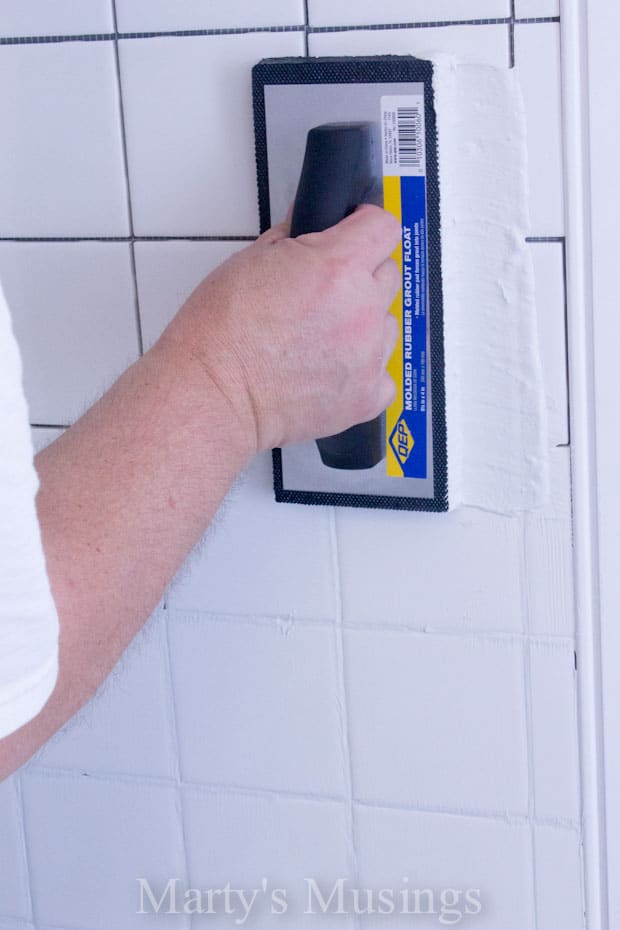 Fortunately I had a sheet rock mud pan that worked great for getting the grout onto the float. I just scooped from that 5-gallon bucket with a 6″ spackling blade into the pan and then pulled the grout out with the float.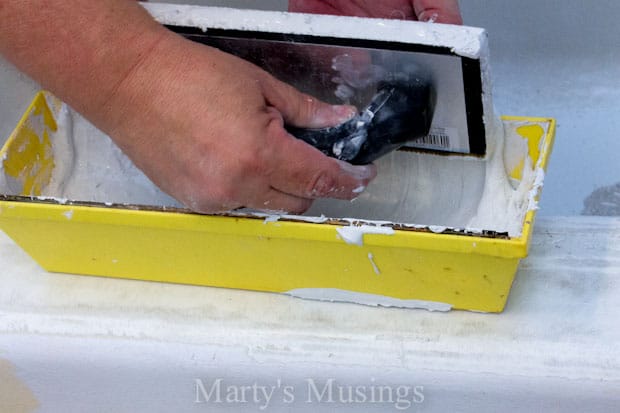 I totally panicked when the first area I grouted had set up and was ready to be sponged clean, but I needed to continue grouting the next sections. I called in the free help and rattled-off some quick instructions! Seriously, my 14 year-old son is a big help and he is removing the excess grout with a large wet sponge.
You professionals know that the key at this point is to keep that sponge clean and constantly change the water. We used multiple buckets, which really helped. You also need to be careful not to remove too much grout from the lines and constantly check for holes and missed spots. A good grout job is essential to waterproofing the tub surround. Remember, don't grout the corners or the the tub line; those must be caulked later with a mildew resistant tub-and-tile caulk. Oh, see that ugly green where my son's left hand is? Check out the next picture…gone!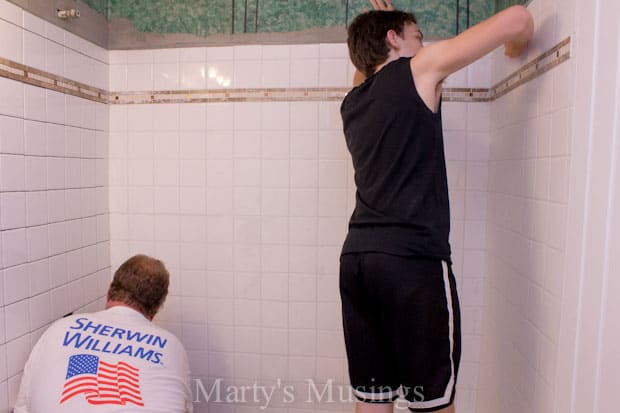 I ran premium-grade white bead board from floor to ceiling in the entire bathroom and also above the tub surround. It was amazing how vertical lines can lift the ceiling and make the entire space look bigger, but we'll tell you all about that later!
I decided not to end the tile with a bullnose because that transition was a little rough. So I trimmed the entire surround with a never-rot vinyl product that is never supposed to…well, rot! Even though I'm more than 5′ off the tub here, there was still an aspect of moisture exposure that needed to be honored. This was a good choice, both functionally and aesthetically. I assure you that the colors are all the same, the surfaces are just bouncing the flash differently.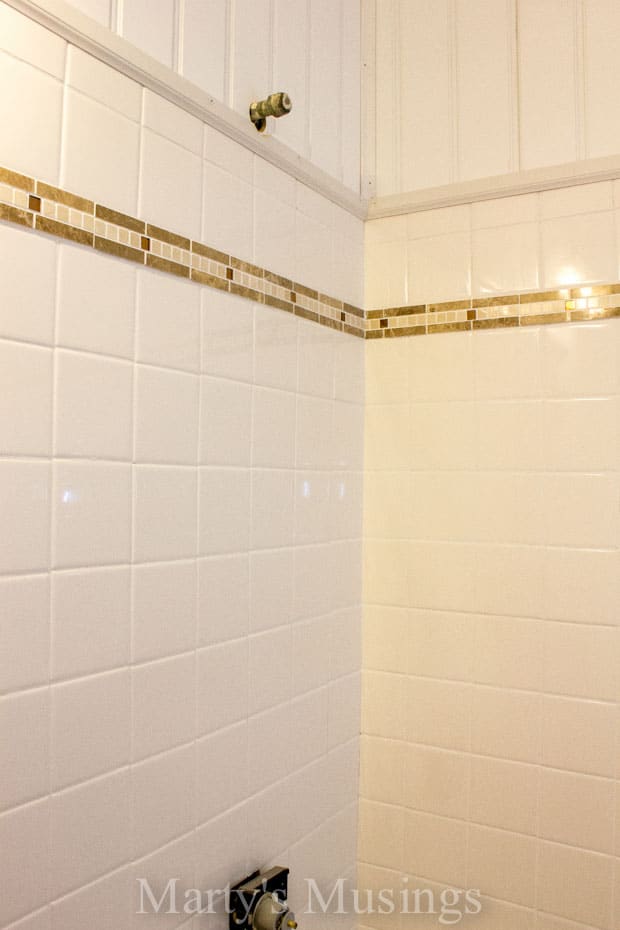 Still a bit of finish work to do – filling nail holes, caulking and painting, but I thought this was a reasonably impressive result for my first time out.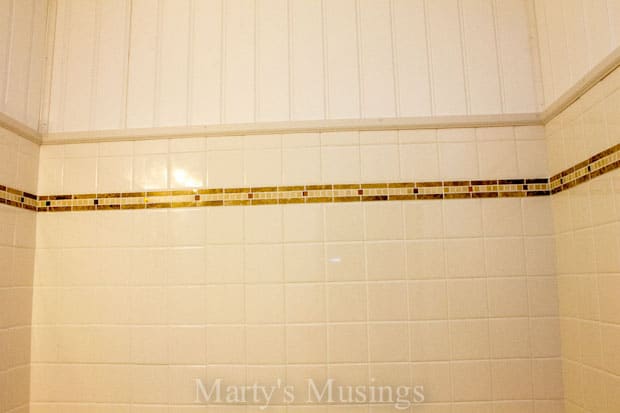 Love the accent tile and it made my bride very happy. She made a great choice!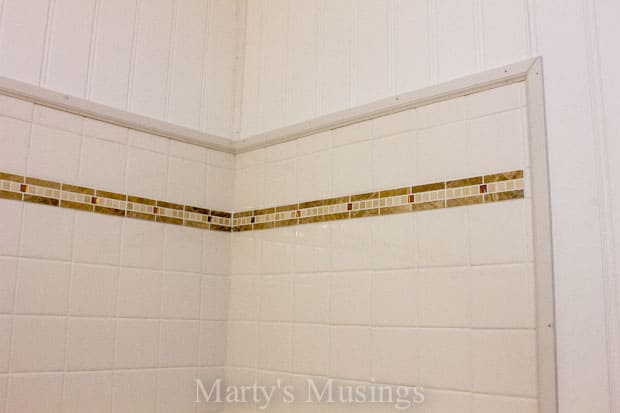 And here is the finished tile job with a newly re-glazed tub! No shower doors going back up and some very cool oil-rubbed bronze fixtures yet to be installed, but I was very happy with the new look. Well worth the effort and made quite simple with the Bondera product.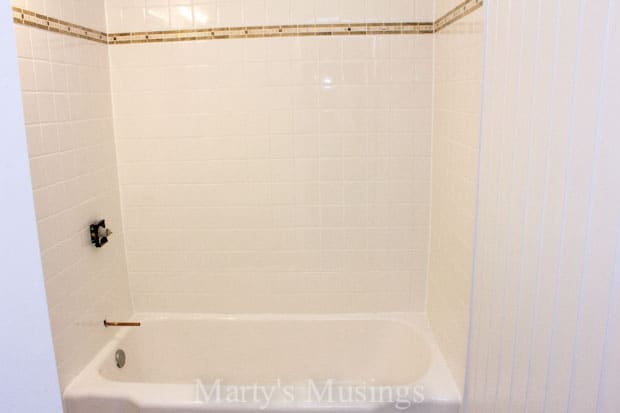 Marty again: Didn't my husband do a great job? I think he was more nervous about this part of the bathroom project than any other because it was the solution to the original problem. I am totally thrilled with the look and am closing in on the bathroom reveal!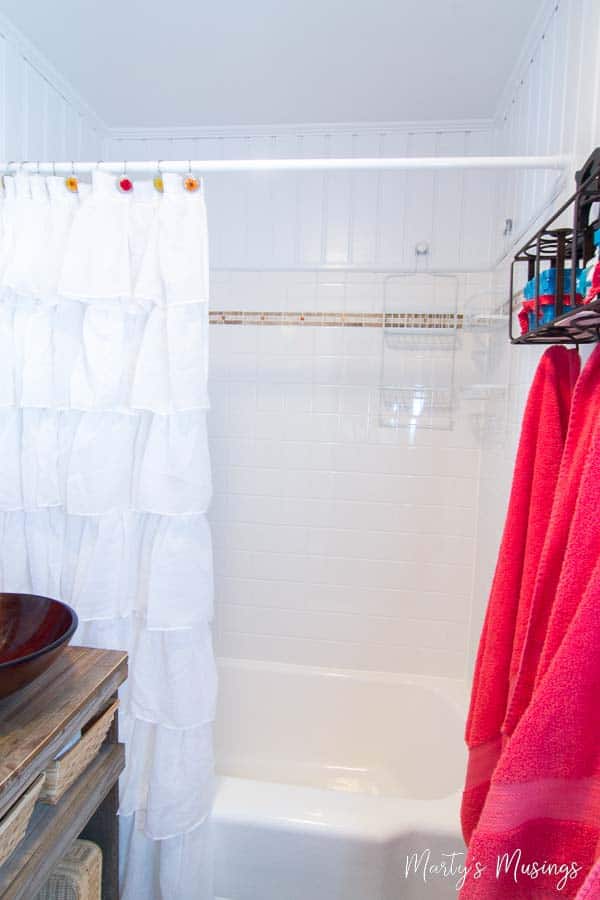 This was our biggest makeover so far and well worth the time and money invested. We seriously questioned our ability to ever sell our house without at least one decent bathroom. Now, honey, about that other bathroom……..
Don't forget to check out Part One of this process!
You can see our small bathroom remodel reveal with the cool fence board cabinet, our old window mirror above the sink and the hole in the wall I found for extra storage……. literally!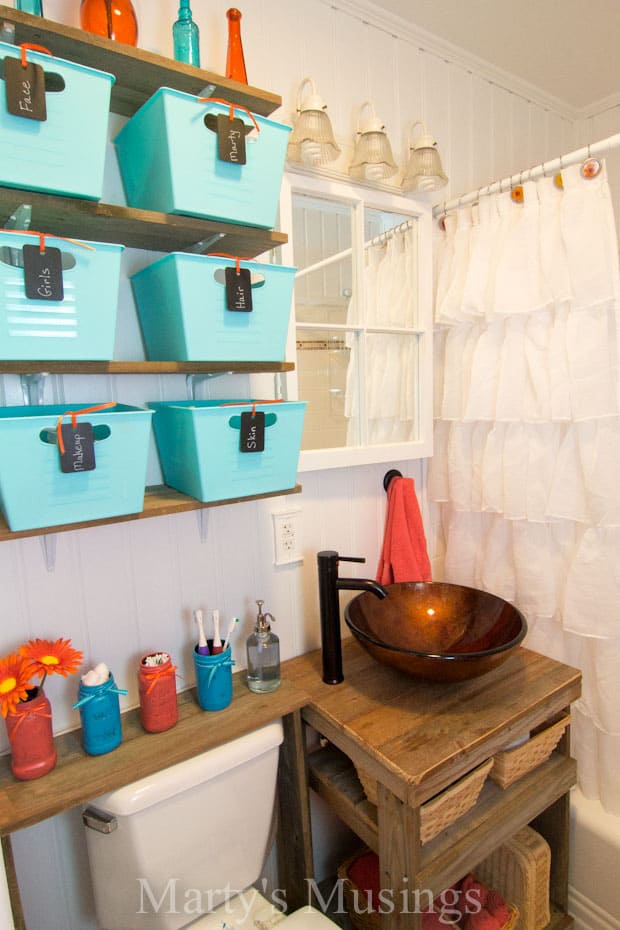 If you loved this idea or were inspired by it I'd love if you'd share it!
READ ALL THE POSTS IN OUR SMALL BATHROOM REMODEL:
DIY Shower Tile Part Two (you are here)