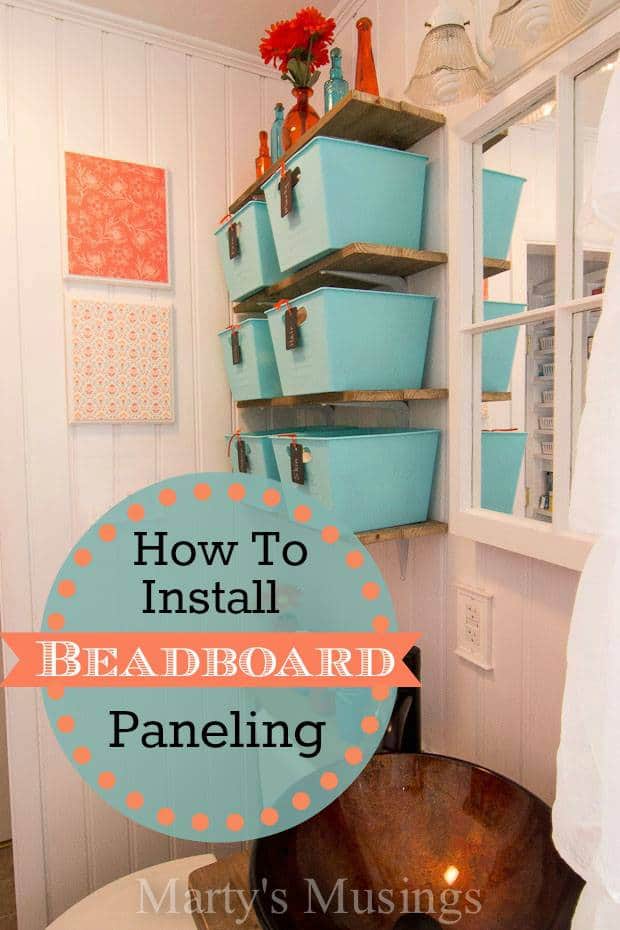 When Tim and I started talking about our bathroom problems (leak behind the shower kit, ugly tile walls and inefficient use of space) we knew we wanted a different look than what we've lived with for 22 years now. We literally spent hours upon hours tossing ideas back and forth, estimating products and measuring the space.
In the bathroom reveal I showed you how thrilled I was that everything came together beautifully.
I first showed you the amazing shower makeover, both part one and part two.
Next up on the list of projects to share is how to install beadboard paneling.
I'll start with the ugly before. Don't you just love the green sponge painting on the walls?
Good grief, could it be more dated? And that lovely "security light" or whatever it's called? If the power goes out, I'll certainly remember to press this big white plastic circle , although it won't come on because the batteries will be dead!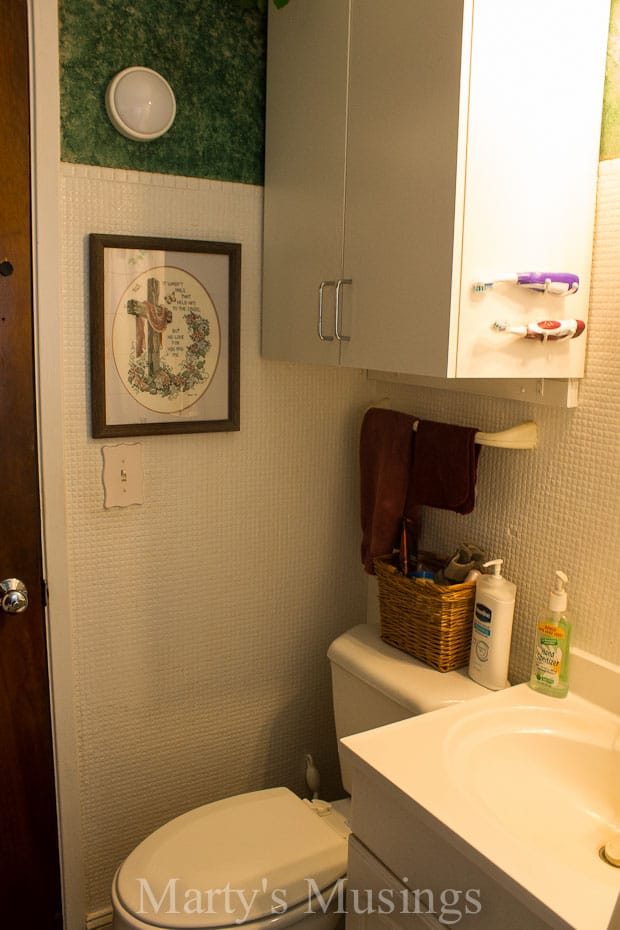 Do you see this lovely tile? It was 3/4 of the way up the wall over the entire bathroom. If I remember correctly, it contained gold specks in it 22 years ago when we moved in.
Even covered with white paint it was truly ugly.
I'll turn over the details to my DIY hubby.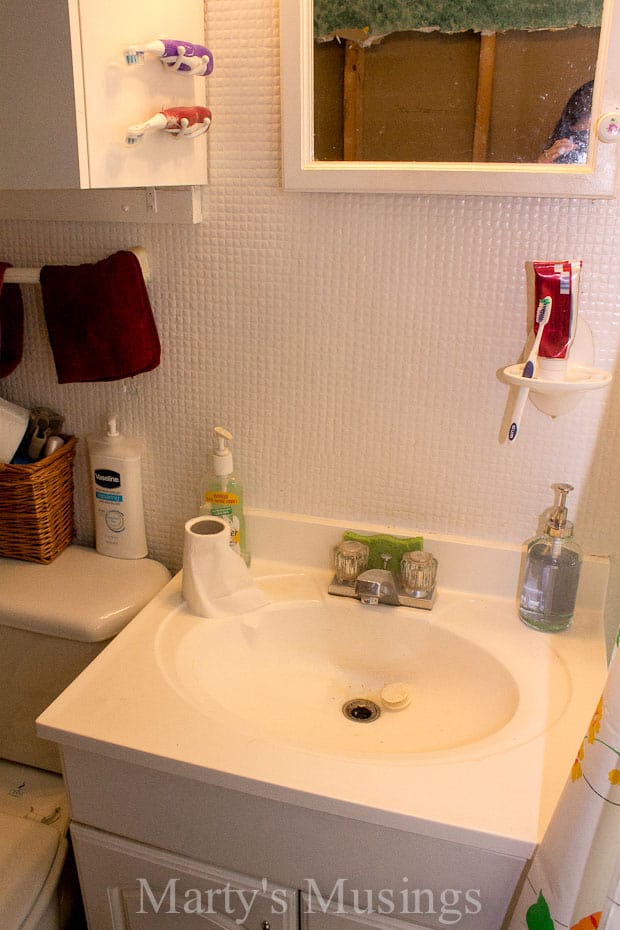 From Tim: Usually every construction project begins with de-construction of some sort. In our little hovel's bathroom, the mosaic tile simply had to go. I knew from other projects that this would come at the cost of the sheetrock underneath, so rather than deal with an entire room filled with repair work, we decided that leveling and covering was a better option. And the answer was beadboard!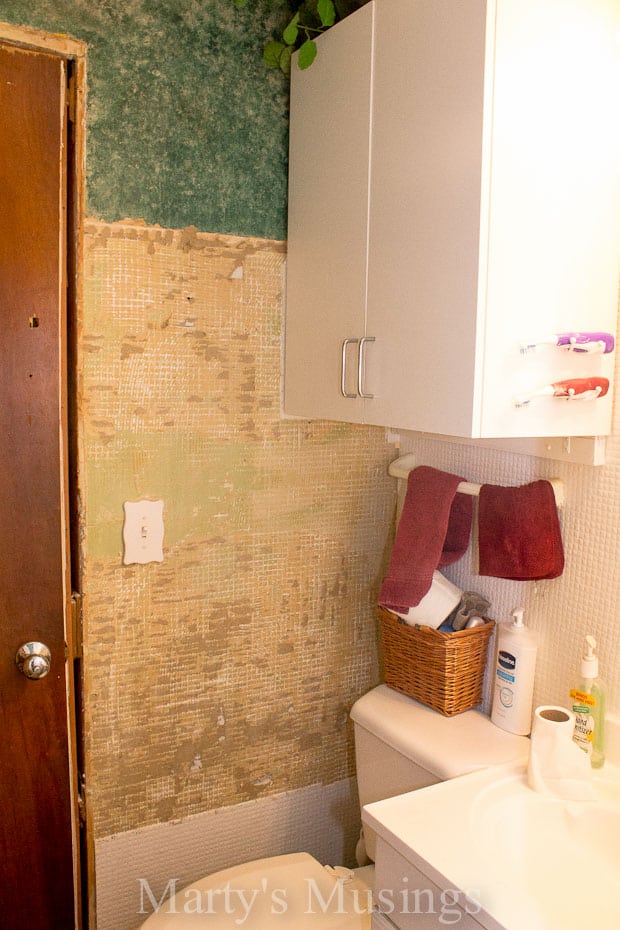 See what I mean about repair? YIKES! This was intimidating, but it gets even worse…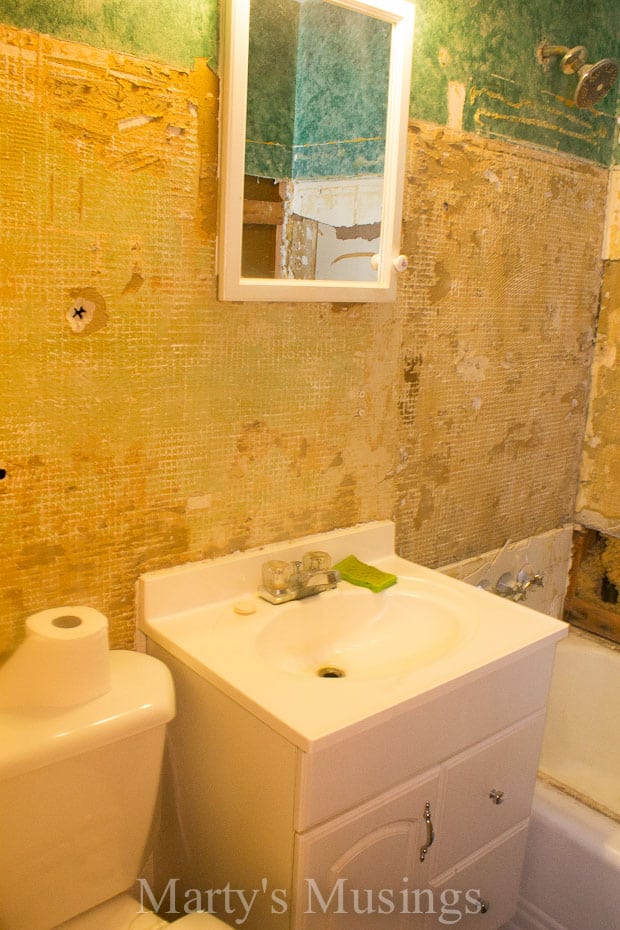 Not only did the tile come down but most of the sheet rock as well. There was both electrical and plumbing work to be done behind it all so almost everything you see here was removed and replaced.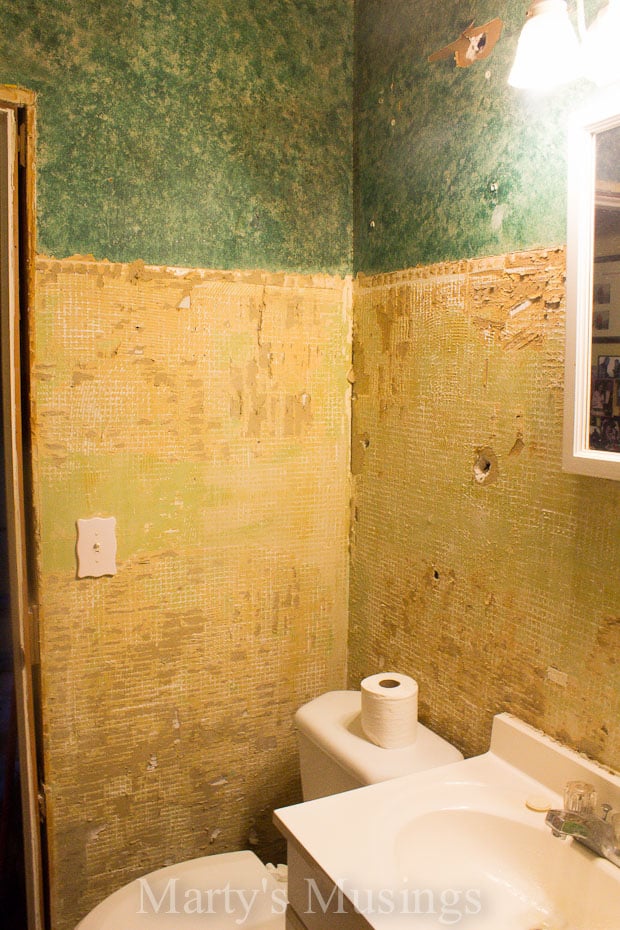 SO many transitions here! Coming out of the tub surround was the Durock (cement board), then new sheet rock running into existing sheet rock. The concern was to maintain everything at the same level – 1/2″ thickness in preparation for the beadboard. Not looking for perfection, just level.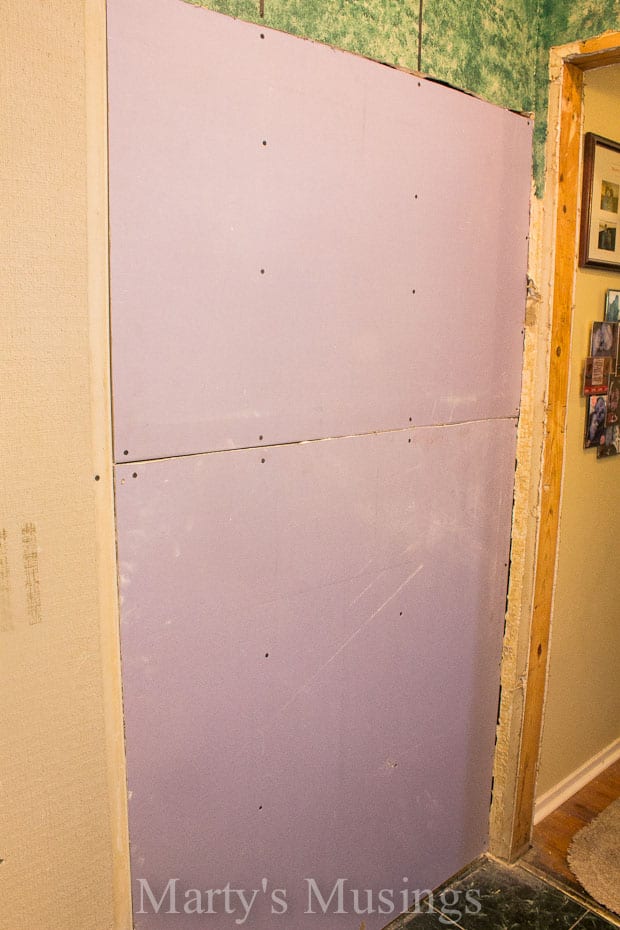 A good idea, even before this point, is to mark the studs in some way on the floor and/or ceiling so you know where the solid points are. I used painter's tape and a marker. Even though the beadboard would be glued and sparsely nailed, I still wanted to hit those studs as much as possible.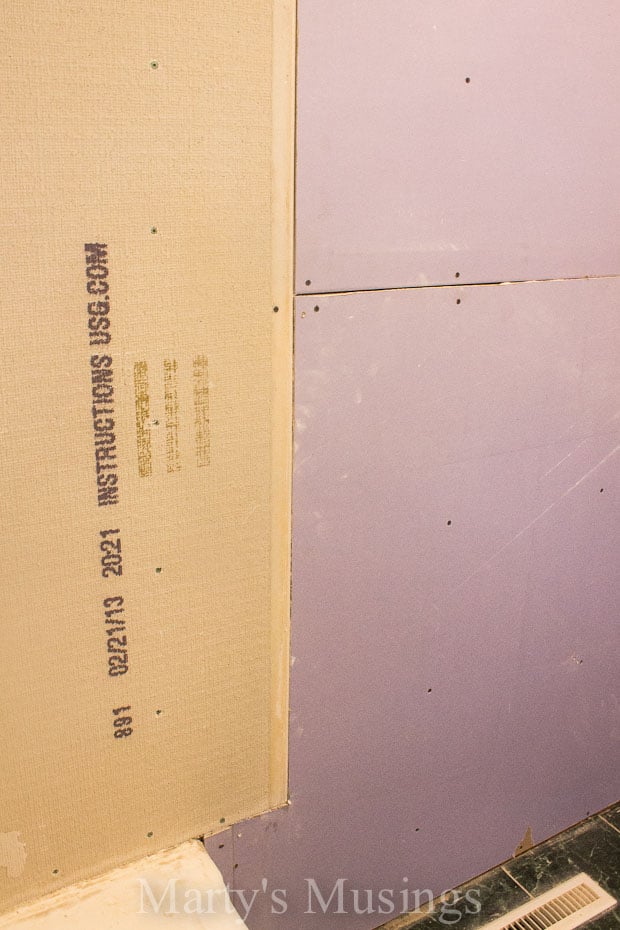 Again, not pretty, just level.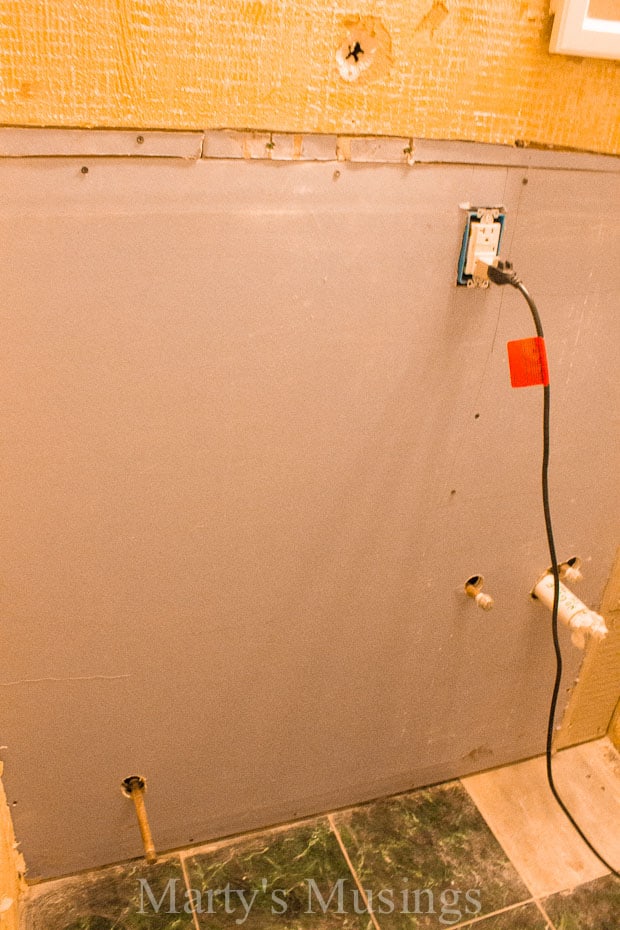 The electrical is new, a GFCI and a three-way switch for the new ventilation fan/light combo (with the existing light above the vanity). These were additional obstacles to consider when cutting the beadboard…but I had a solution…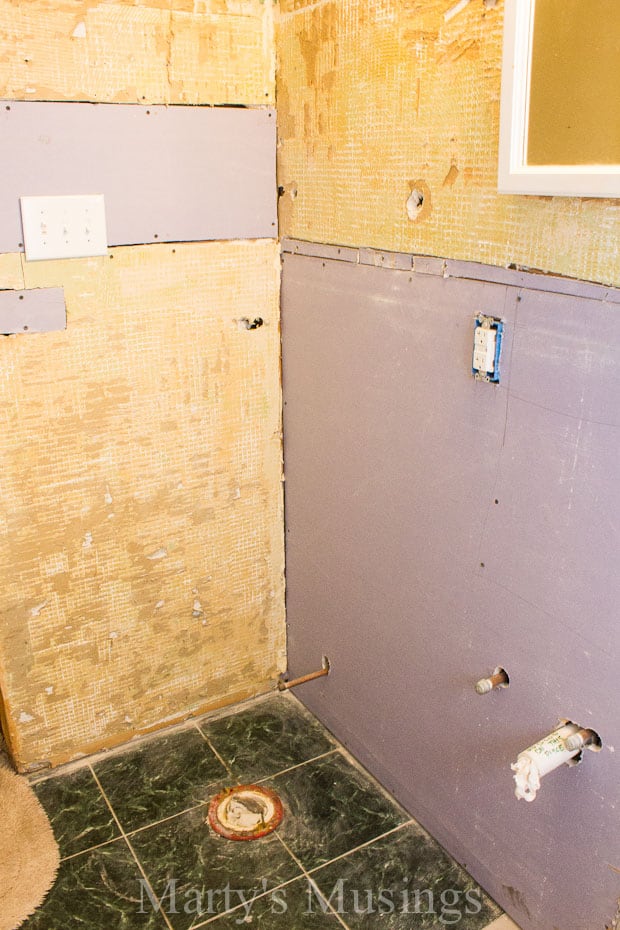 A template! Beadboard comes in 4′ x 8′ sheets, so we made a replica out of brown construction paper that comes on a roll. The template was held up on the wall and all those things we knew we had to cut around were easy to find; pipes, electrical and even the big hole for the medicine cabinet! There is NO wiggle room when using beadboard, especially when running it from the floor to the ceiling. Everything had to be in exactly the right place or the $32/sheet beadboard was toast. The template was genius! After marking and cutting out the holes, those were transferred to the sheet of beadboard with a marker and then everything was cut out with a jig saw.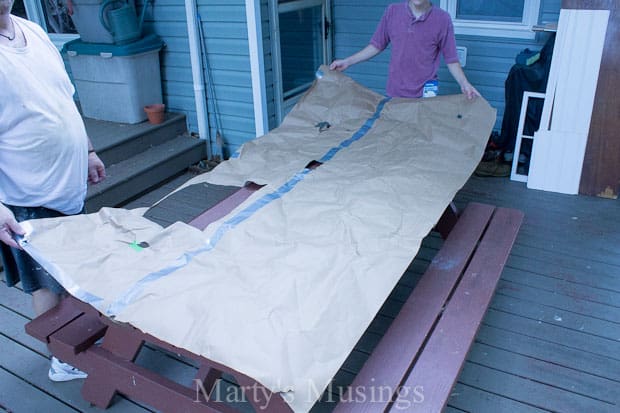 Ah, the obligatory pause in the project for the camera…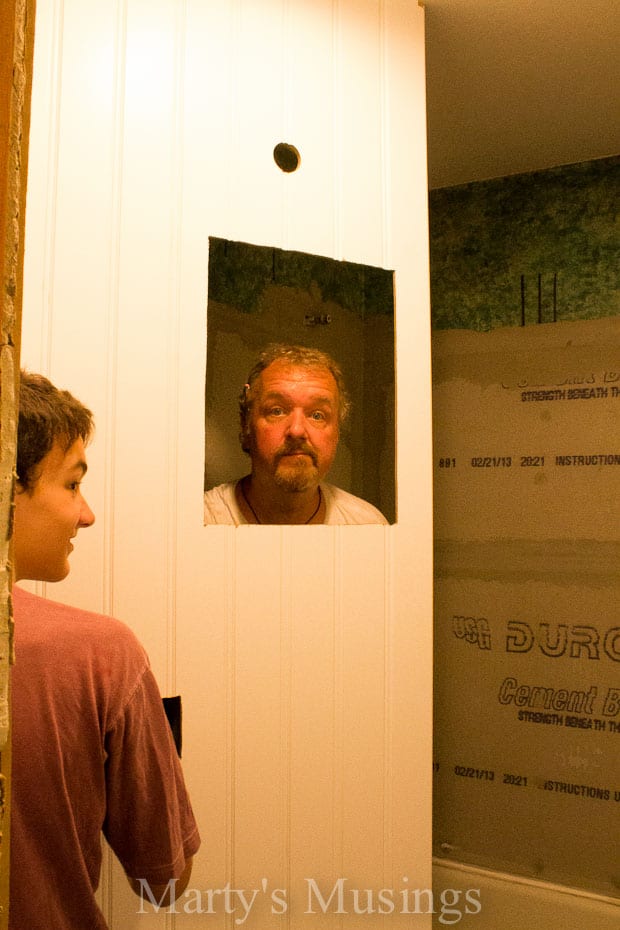 And here is the perfect fit! Each piece was glued to the sub-surface with Liquid Nails construction adhesive and then nailed along the top, bottom and corner where I knew the trim work would hide the nails. In the entire bathroom, I only had 4 partial seams that were not in corners, since the tile coming out of the tub surround ran right to the beadboard.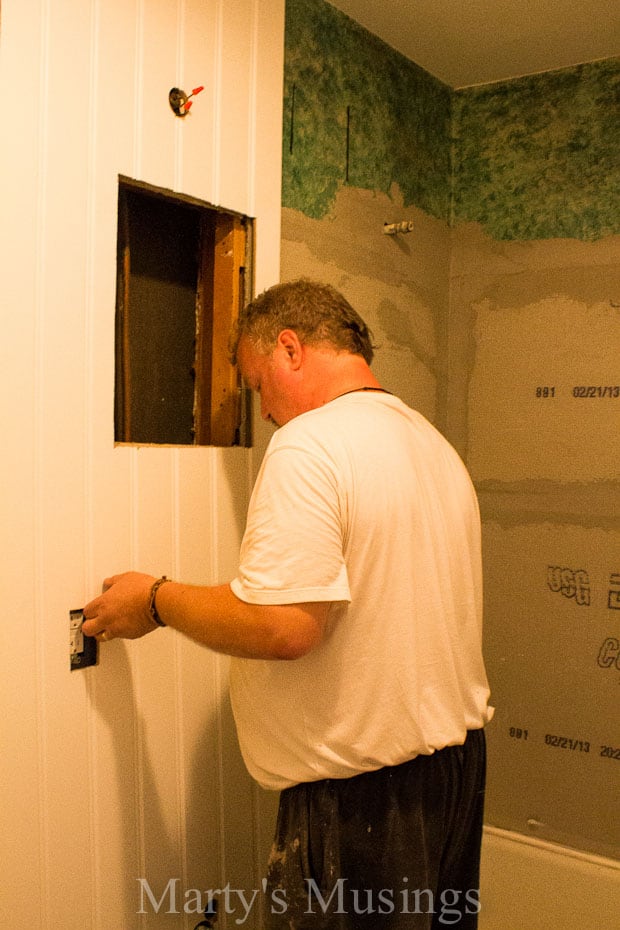 Glued, nailed, and moving on. You can see what I mean about those cutouts needing to be exact. No wiggle room…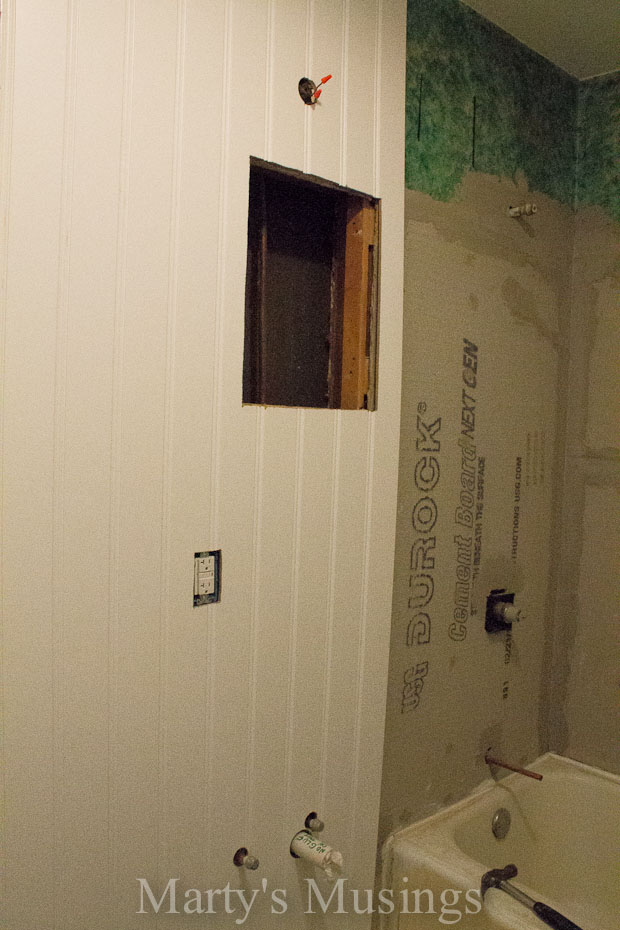 These seams would either be covered or lightly caulked; crown molding at the top, corner molding and then baseboard at the bottom. Everything got a coat of paint to finish it off.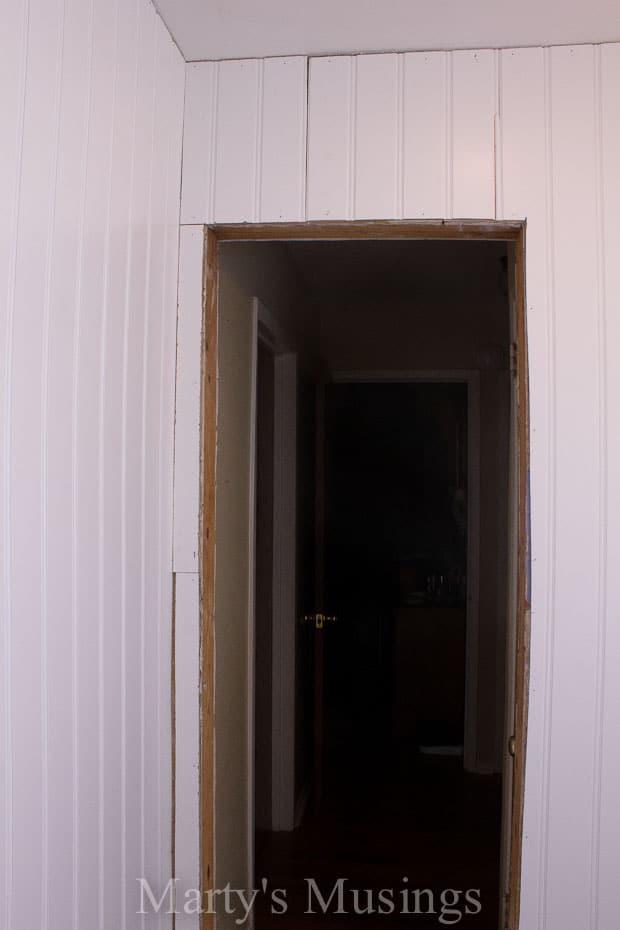 It is astonishing how these long, vertical lines make the little bath seem bigger. I'm glad we decided not to stop it with a chair railing.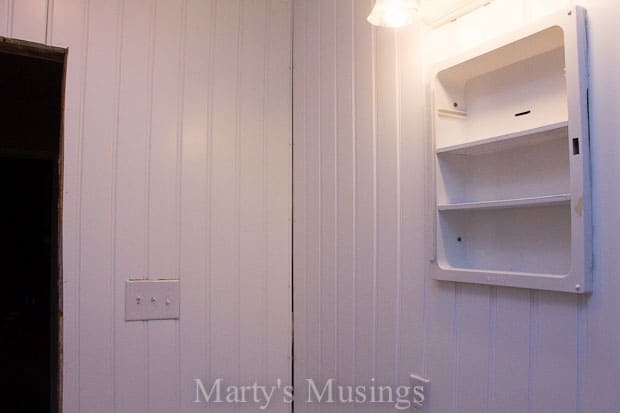 Some finishing touches and ready to move to tiling!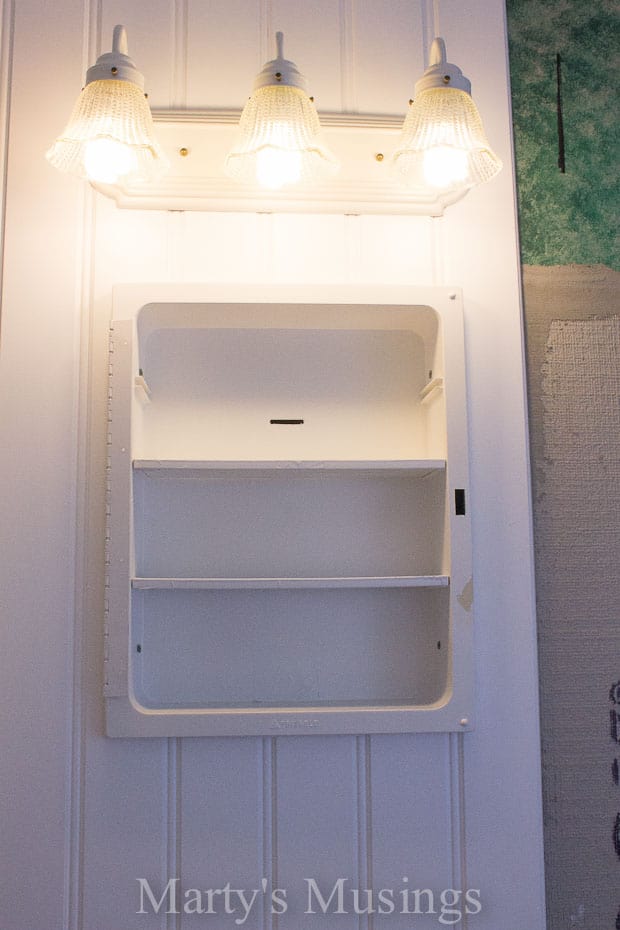 From Marty: My husband does such a great job of making everything look easy! In case you're wondering, the entire bathroom remodel took about 6 weeks, working almost every day.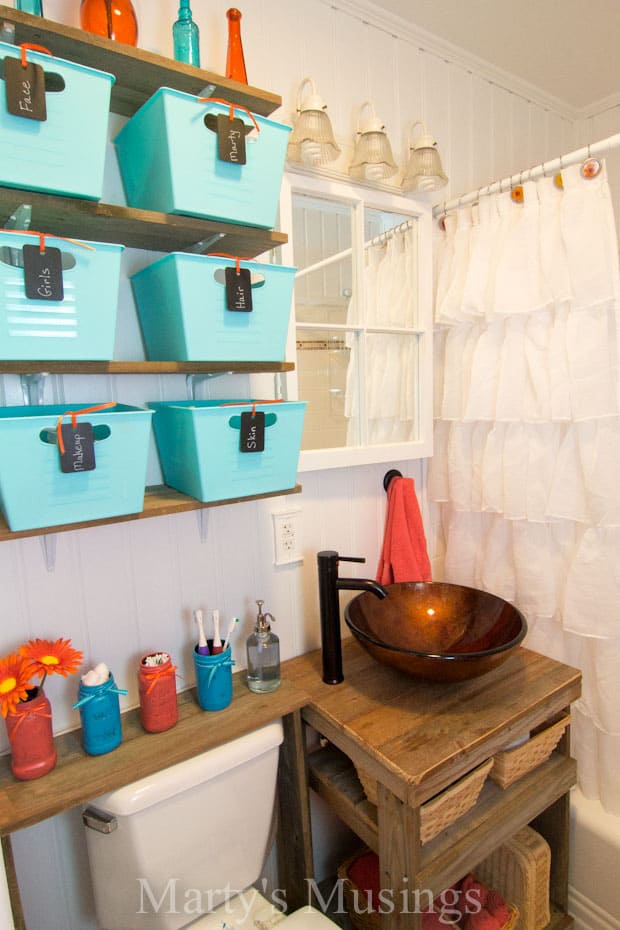 It was totally worth it! Every little detail was planned, down to the rustic jars, coral accents and blue baskets.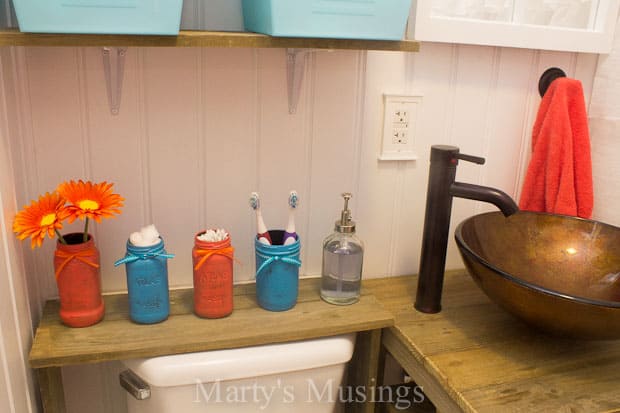 I love the way the beadboard makes this tiny bathroom feel so much larger. It's a fabulous clean look for us.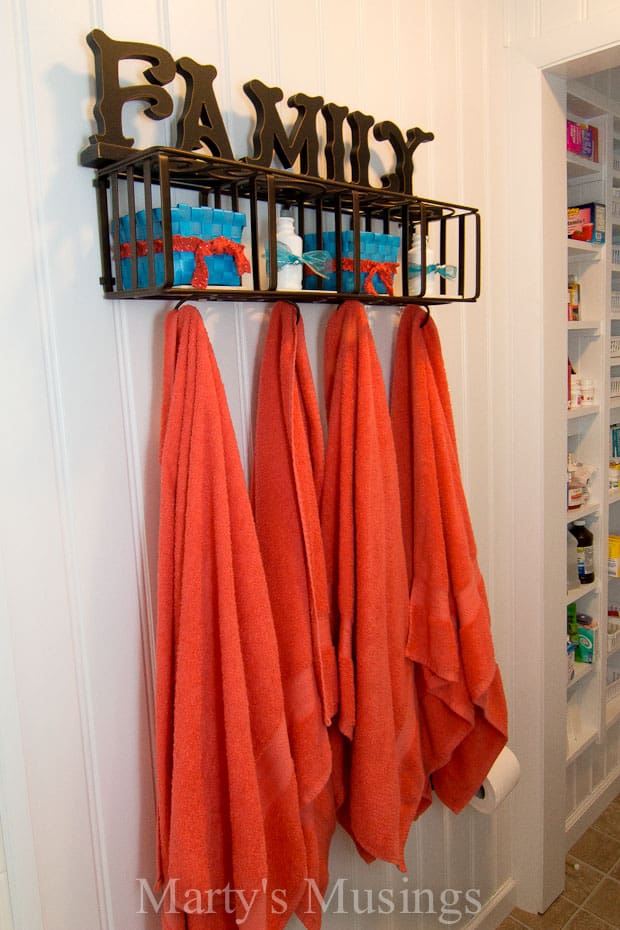 Want to see more of our DIY projects? You'll want to start with our recent home tour. Just click on the picture to go directly to the post.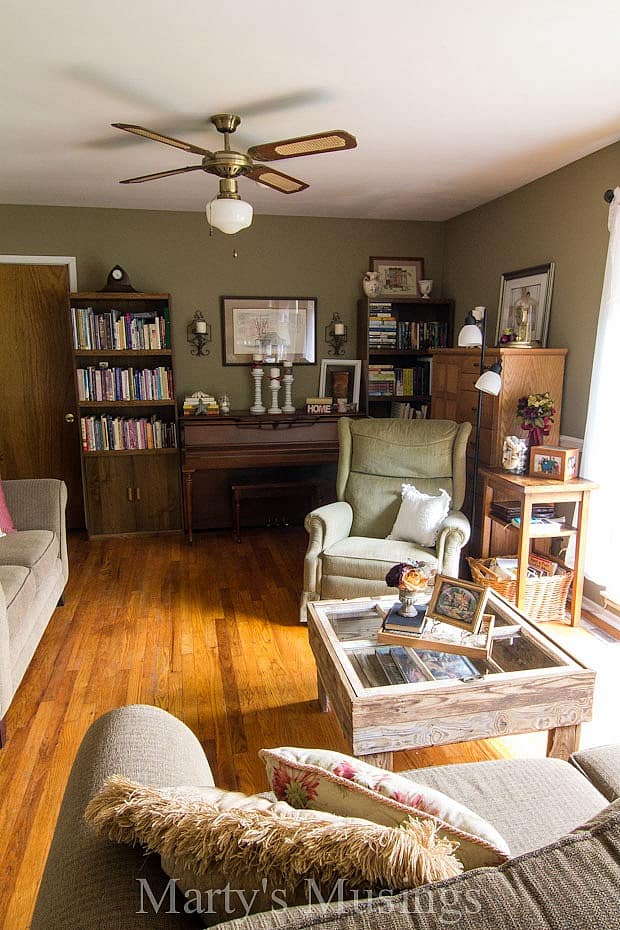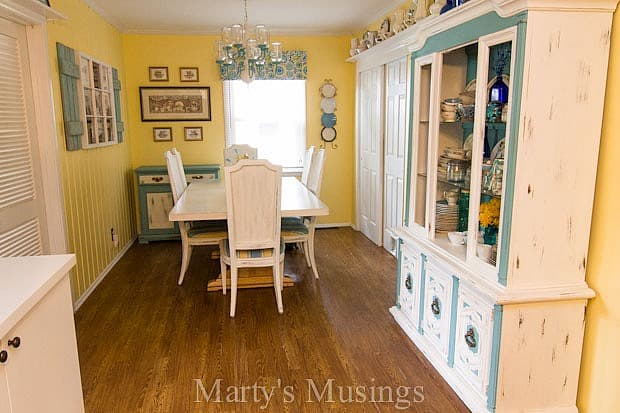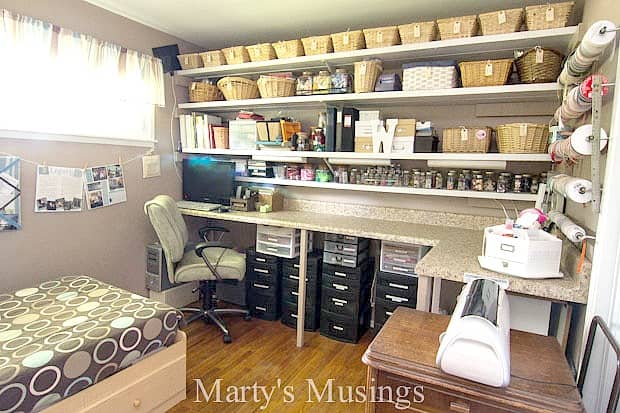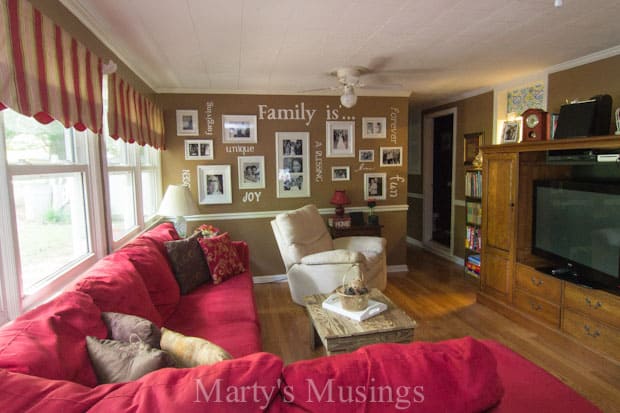 Linking with: DIY Showoff, Between Naps on the Porch, Savvy Southern Style, The Shabby Creek Cottage, The Shabby Nest, Chic on a Shoestring Budget, Craftberry Bush, Shabby Art Boutique, Imparting Grace, Remodelaholic, Beneath My Heart, Thrifty Decor Chick
Want thrifty home ideas you can do yourself?
Sign up and get my FREE guide: 5 Easy Ways to Decorate Your Home for Practically Nothing!