How to Make a Small Bathroom Look Larger
This post may contain affiliate links which won't change your price but will share some commission. Read more here.
Are you struggling with an ugly bathroom with little storage space? These 7 tips will show you how to make a small bathroom look larger AND more beautiful!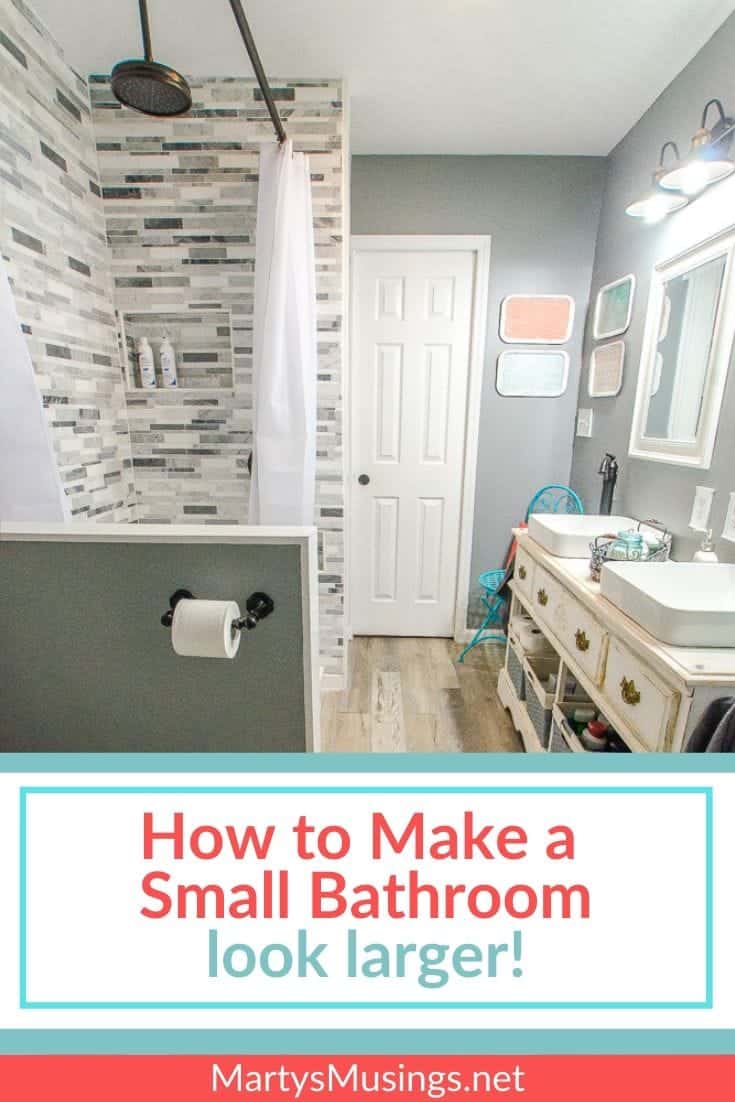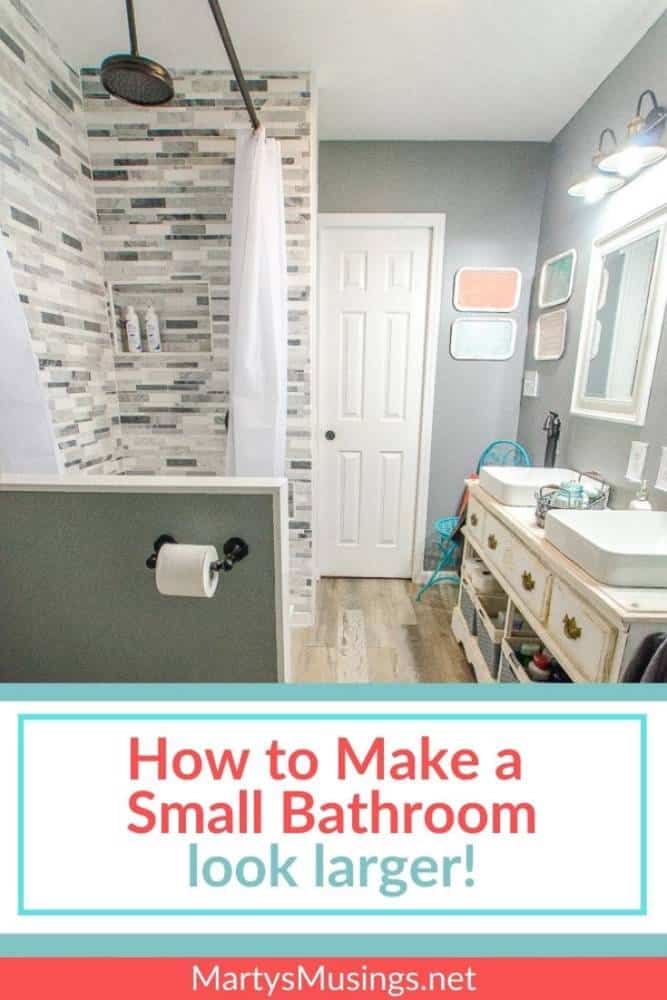 When you live in a small home with a big family you have to learn to be a little creative with storage.
At the busiest time in our lives, there were 5 kids, 3 dogs and 4 cats living in our almost 2000 sq. foot house.
#chaos
All our bedrooms are small and different kids shared a room over the years, depending on their ages. That time in our lives was filled with incredible challenges (homeschooling and adoption among them) as well as tremendous blessings.
As our kids began to leave home when they reached adulthood we knew it was time to tackle some BIG projects.
First up was taking down a wall between our kitchen and living room and totally gutting the kitchen and starting over. (You can read all about that adventure here.)
That was a GINORMOUS project and we hired out some of the bigger jobs.
About a year later we decided it was time for our second bathroom remodel. (You can read all about the first one here.)
This space was an absolute train wreck. The room joined our front and back halls but was impossible to use. The toilet was in a nook that wasn't even up to code and was literally made for little people!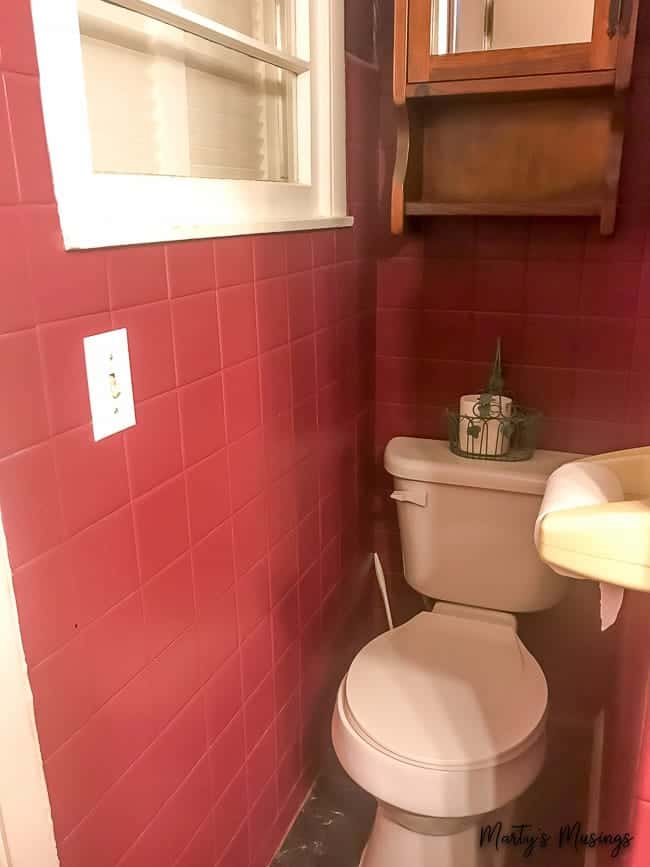 If you wanted to pass the person using the sinks both people had to suck it in or move out of the way. So frustrating!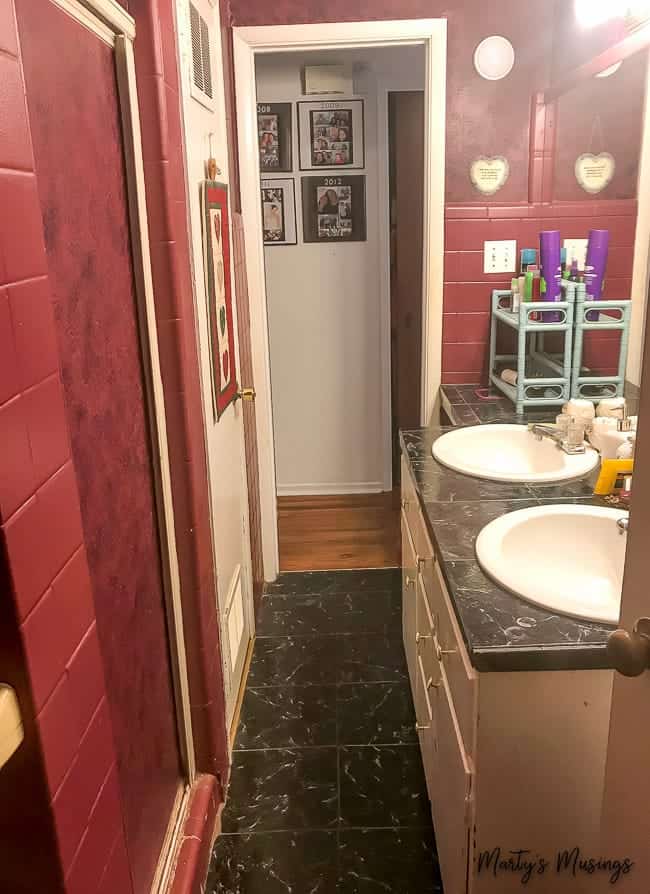 Our five kids never really liked the shower because it was like being in a cave. A very small cave. Claustrophobia, anyone?
The shower always had issues from the very beginning. At the time of the remodel, we only used it to store extra flooring!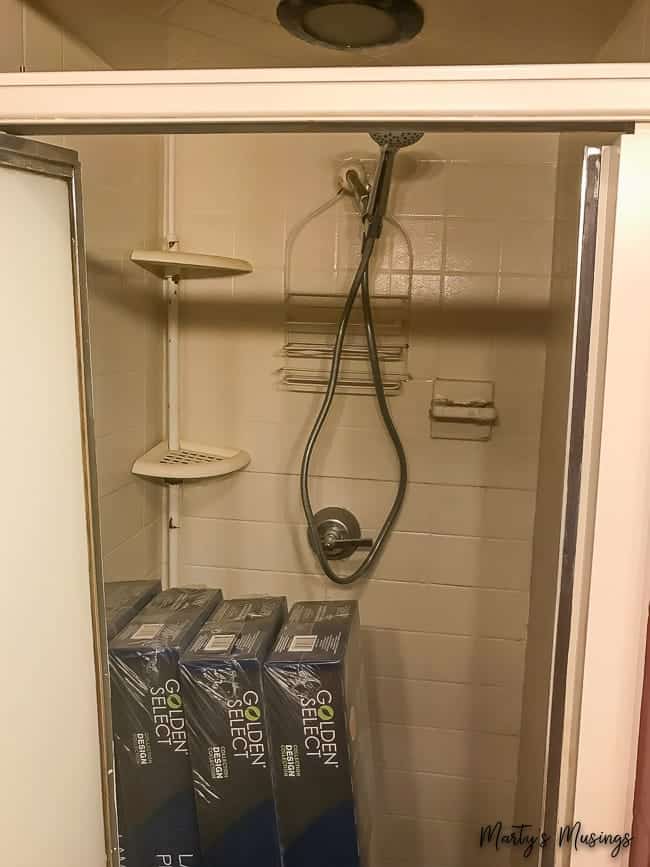 Our heating unit used to be in a small closet next to the shower. We bought a new system and moved it under the house when we remodeled the kitchen so this farmhouse bathroom remodel could be possible. (See the full reveal of our farmhouse bathroom here.)
The large cement structure is a chimney used in conjunction with the furnace. It would have been great to have had that additional amount of space but would have been a pain to take apart!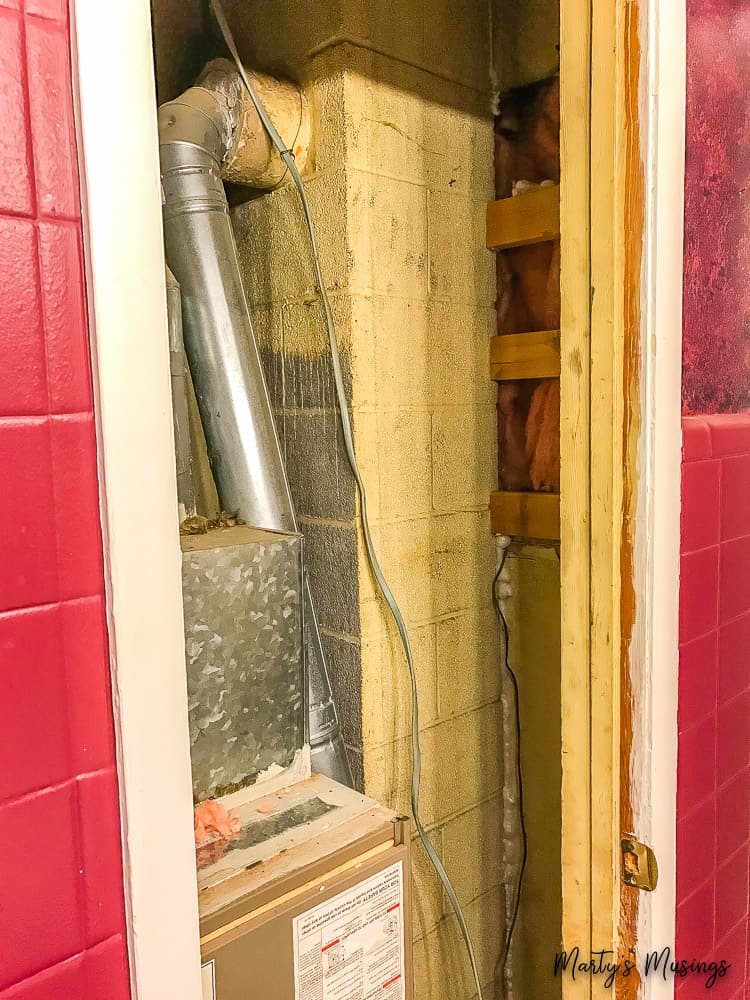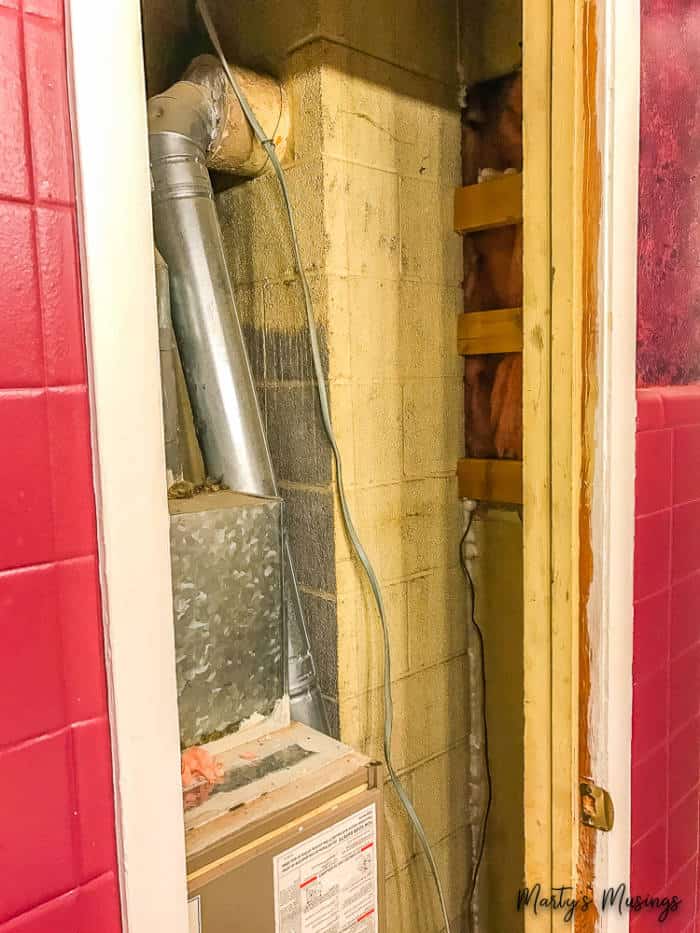 By moving our furnace under the house the only thing we needed to keep in this space was the return unit.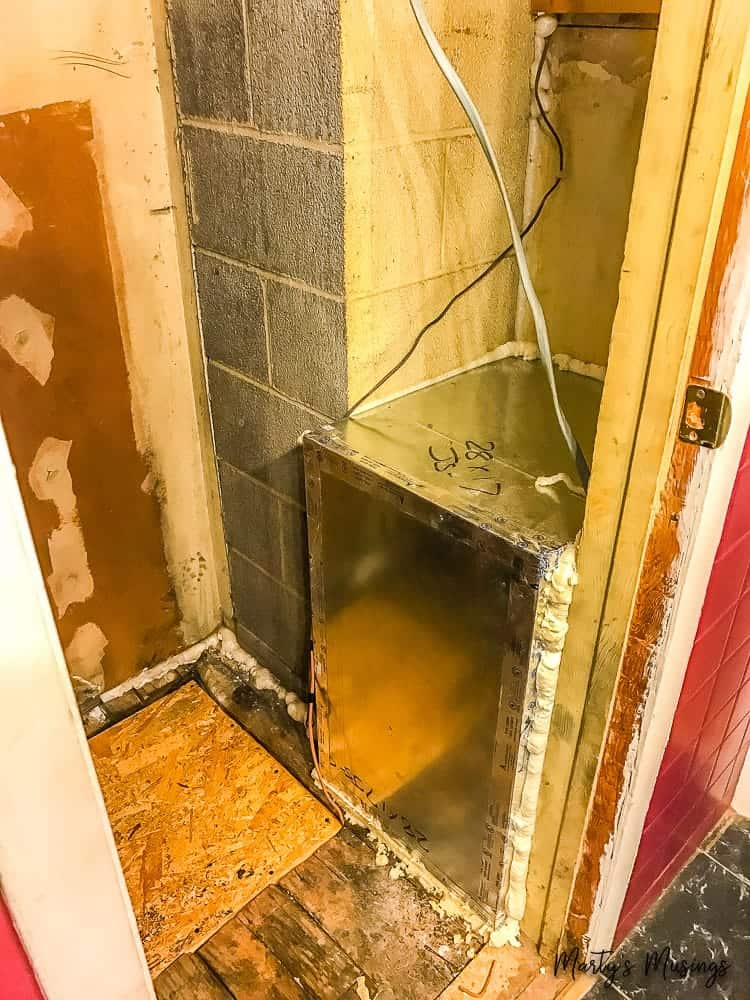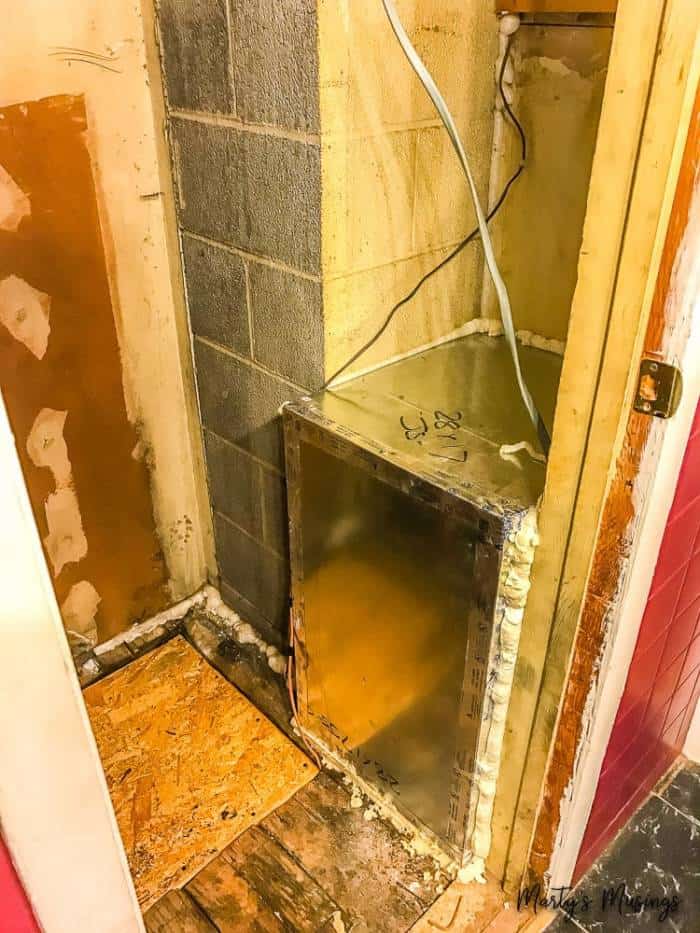 Our number one goal was to create more space, or even the illusion of it.
How to Make a Small Bathroom Look Larger
Disclosure: A very special thanks to Build.com for providing us with some products for this bathroom remodel. We are so grateful for their support!
1. Install pocket doors
Often in older homes the placement of doors is awkward. Our bathroom had ugly vented doors, one that opened out into the hall and one that opened into the room.
I knew I wanted to get rid of the ugliness plus make the room more spacious. We decided pocket doors were the solution. Our contractor built them for us and they slide into the wall when not in use.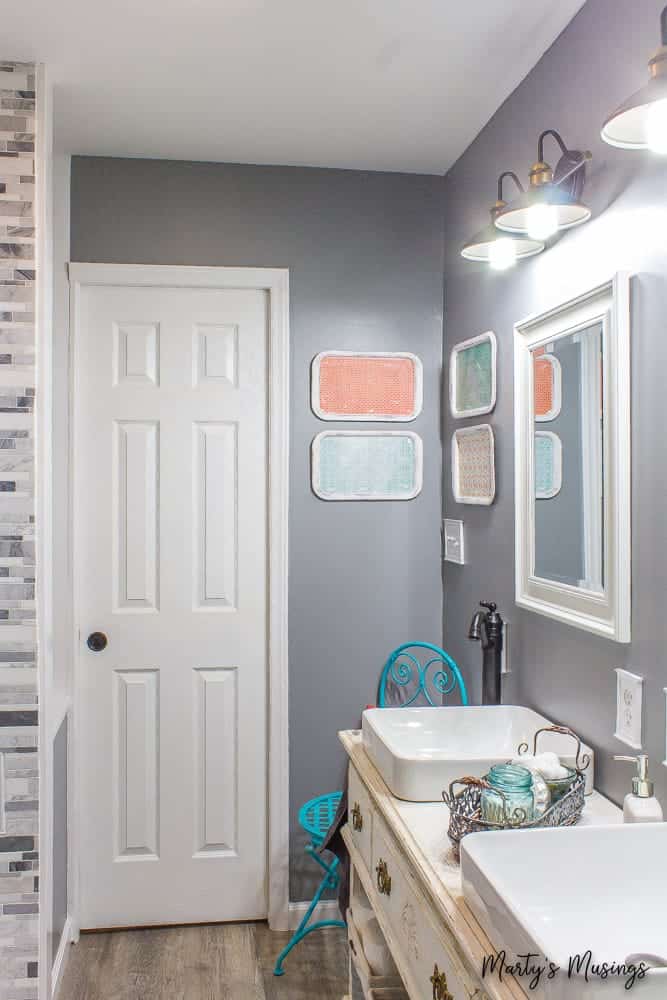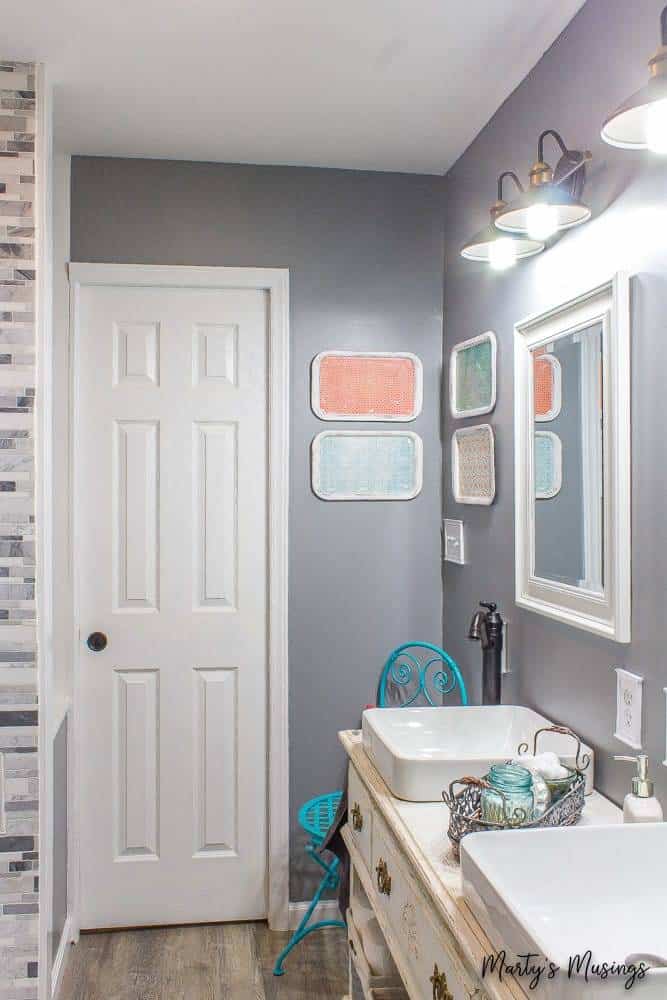 2. Build an open shower
The one step that will immediately make a small bathroom look larger is to demolish the shower and rebuild with a pony wall but no shower door.
We literally had no idea how the room was going to feel once it was completely gutted. Astonishment probably best describes it!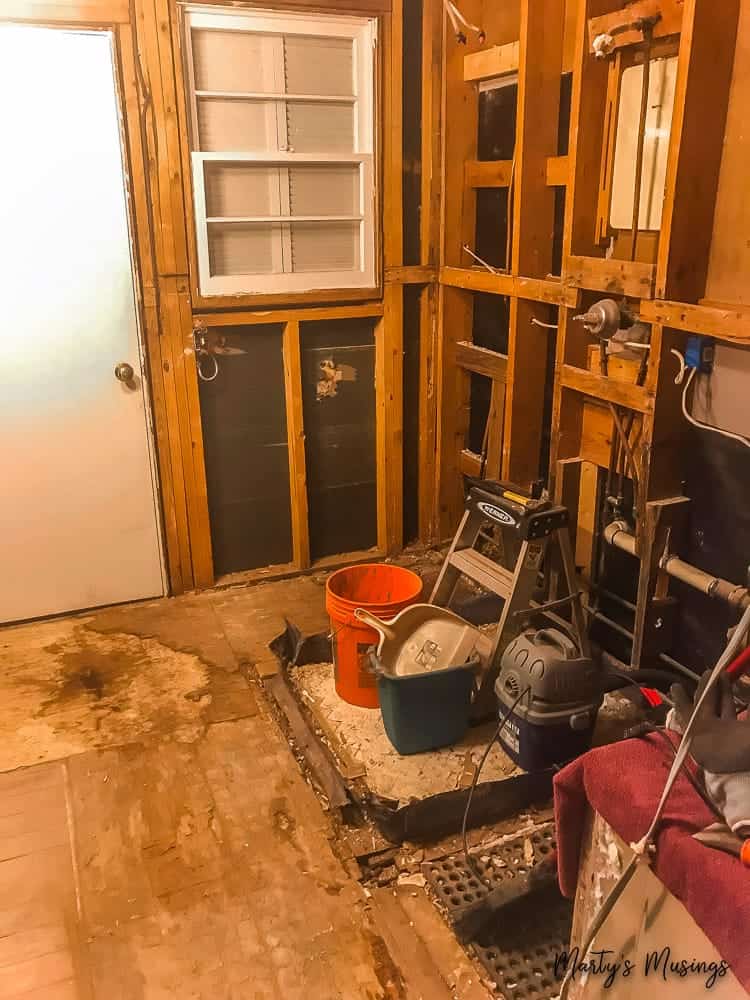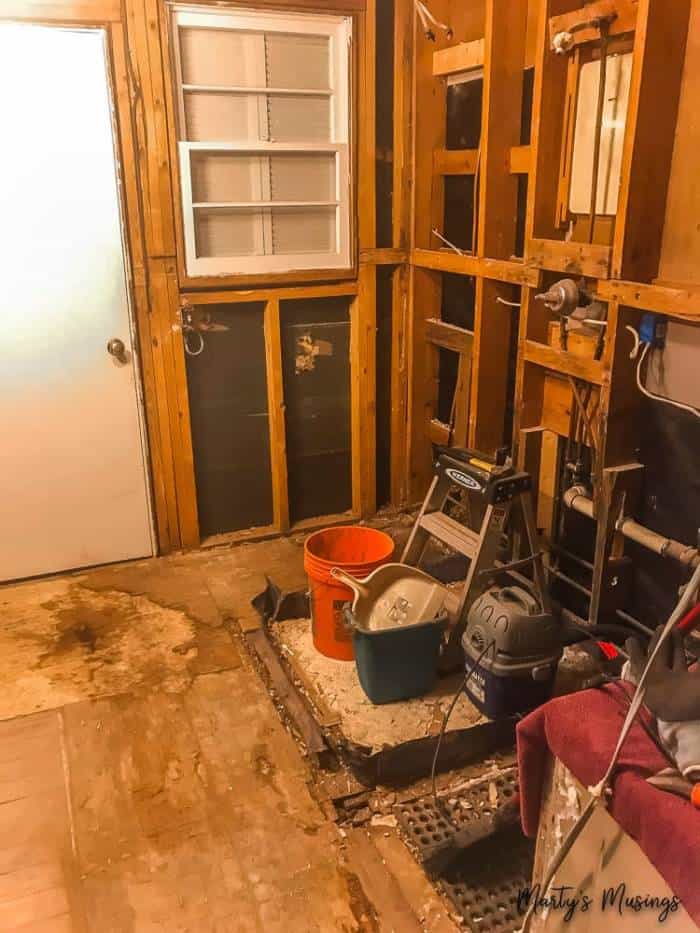 The closed shower kept the room small but creating a pony wall (the half wall between the toilet and shower) and tiling enlarged the space automatically.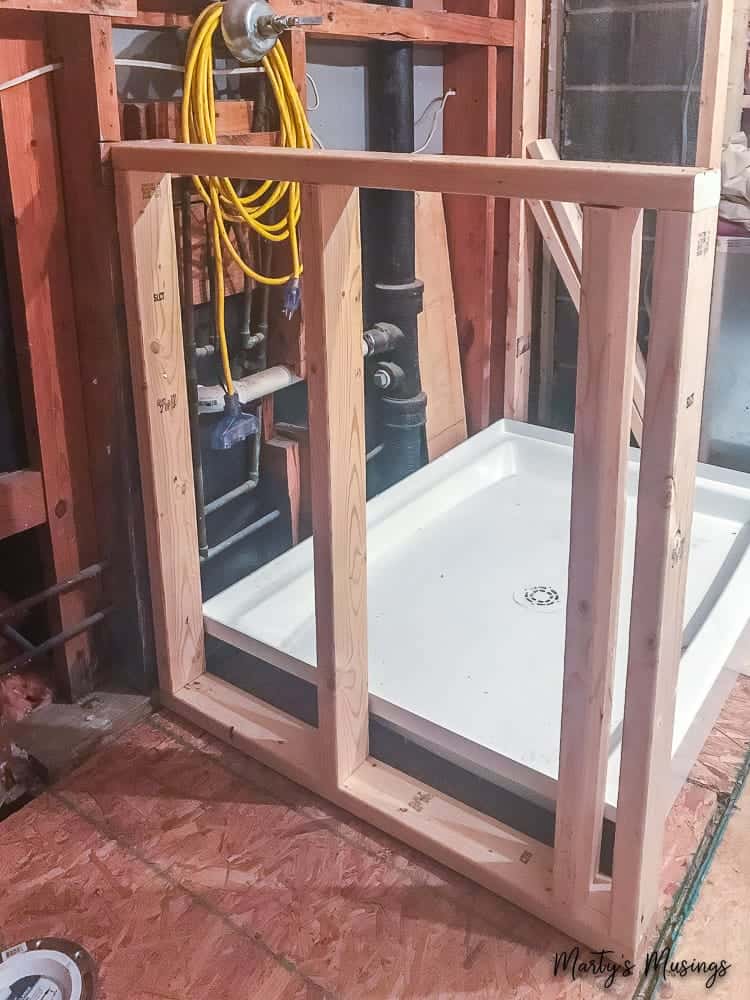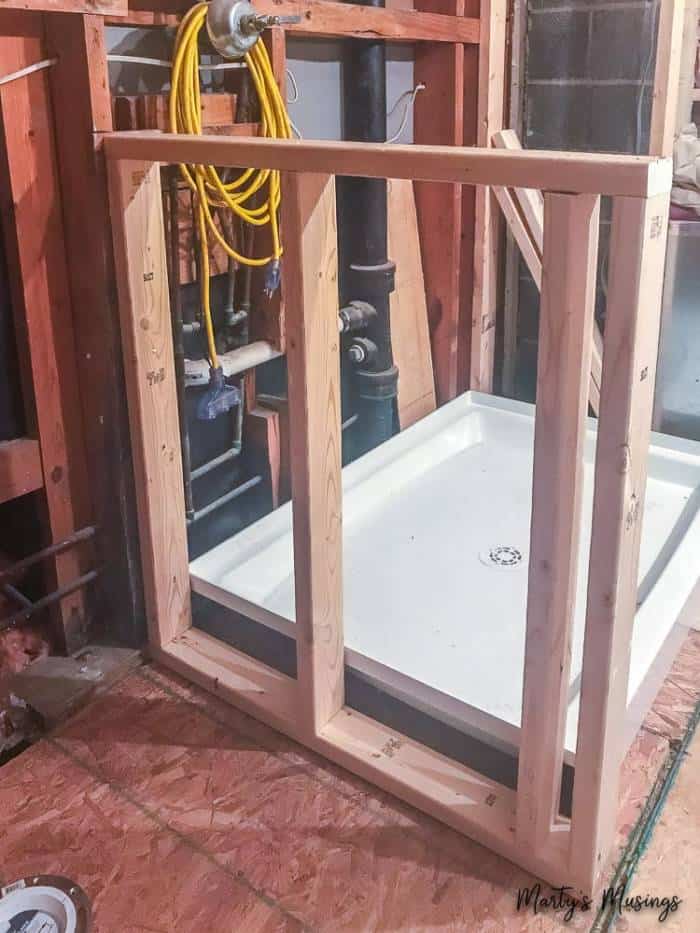 I knew I also wanted to update the shower head for resale purposes down the road. Our rainfall shower head is the absolute best! Totally a game changer in style and functionality for this small room.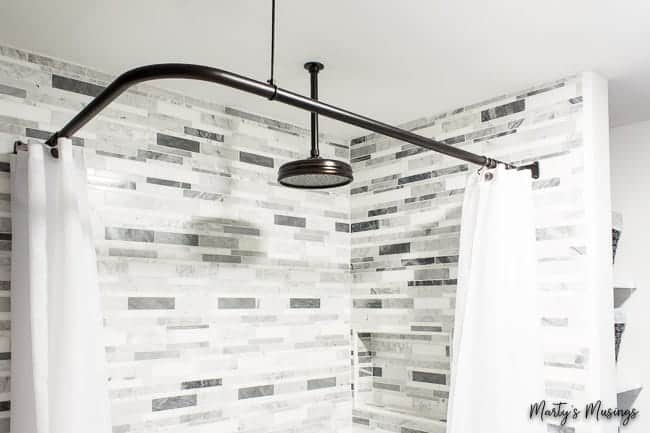 3. Use a non-traditional vanity
This bathroom remodel ended up costing more money than we wanted to spend. (Don't they always?!) Per our normal, we had to hire contractors to jack up the floor for us.
One way I saved money was by purchasing a dresser at Goodwill for $3. Yep, you read that correctly!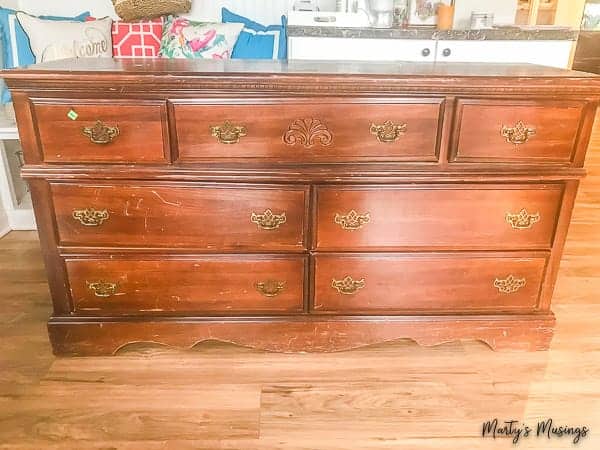 There was a broken drawer but I knew I wanted to use baskets so that didn't matter at all. The paint process was fairly involved, but I couldn't be happier with the result! (Also, the plumbing is a story for another day!)
The center drawer actually works but the ones on either side are just glued to the vanity to allow room for the pipes.
The white vessel sinks and oil rubbed bronze faucets add just the right touch without taking up a lot of space.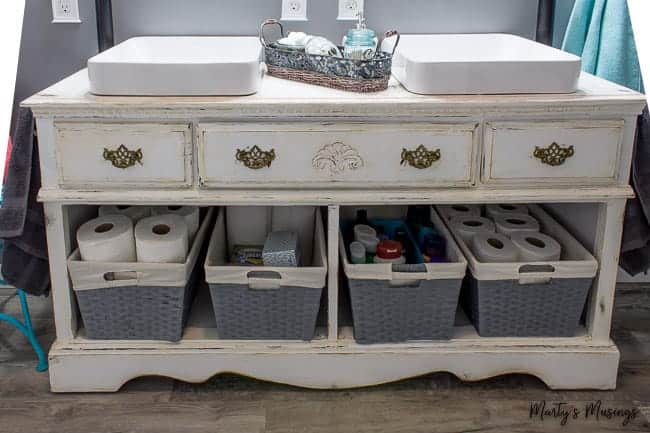 It was our pleasure to partner with Build.com on this DIY project. Build.com has the best selection of home improvement products in every category from top brands.
Tim and I designed our bathroom to enhance the selling points when/if we decide to sell down the road. Build.com is the perfect place to find products for your entire home improvement project.
The Kichler light fixtures add to the farmhouse style and go perfectly with the rainfall shower head. I love that each one comes in a set of two lights.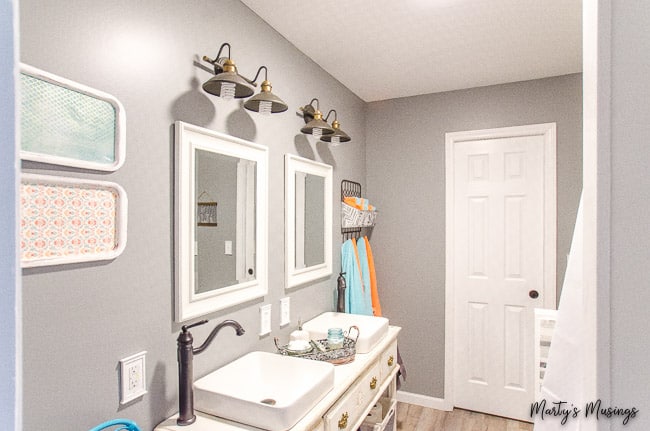 4. Add floating shelves
Almost every project my husband and I undertake has some kind of wood accent or repurposing DIY going on. Tim built floating shelves out of fence boards to hang above the toilet area.
My job was to decorate with all the inexpensive home decor I could find!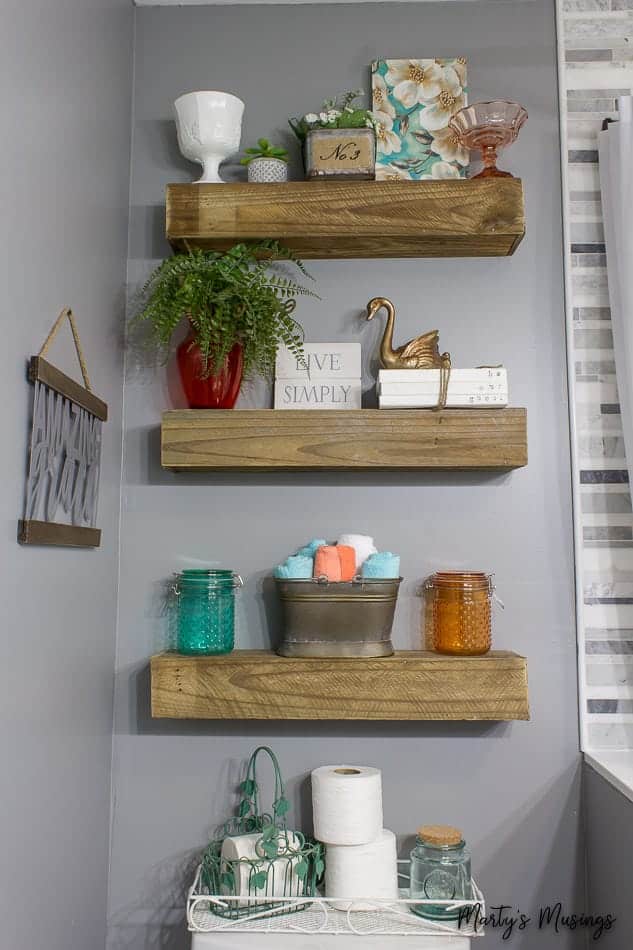 5. Use baskets for storage
I knew I wanted to use baskets both under the sinks and in the new closet space. The baskets add a decorative element while still providing desperately needed storage.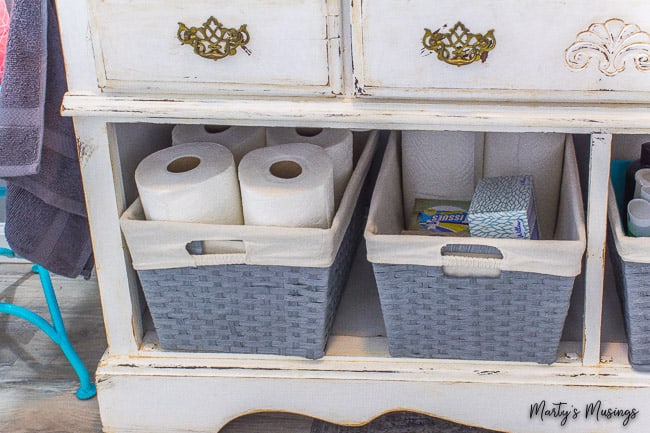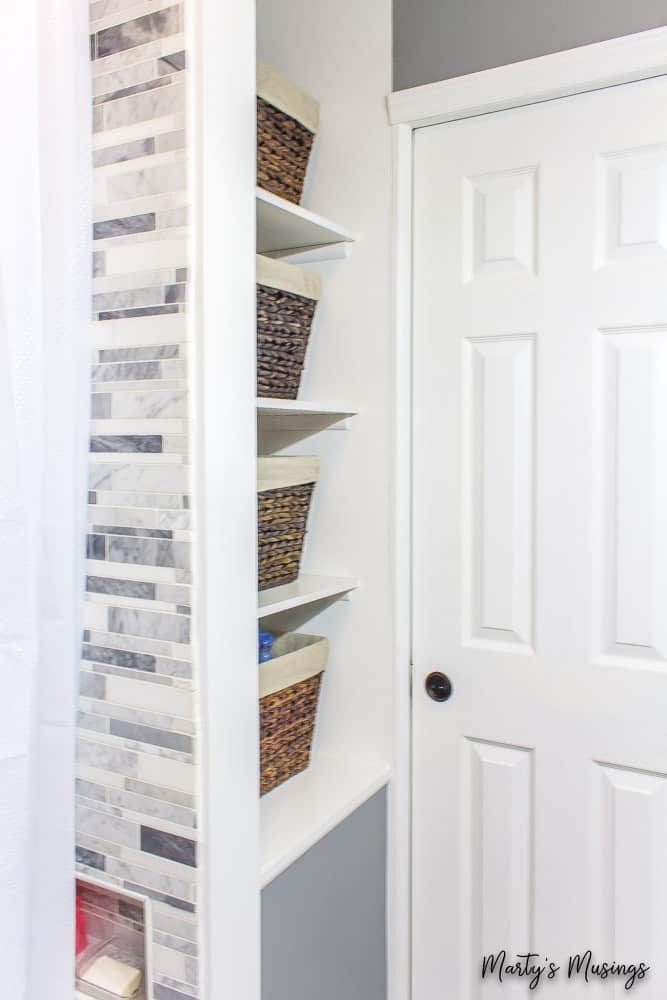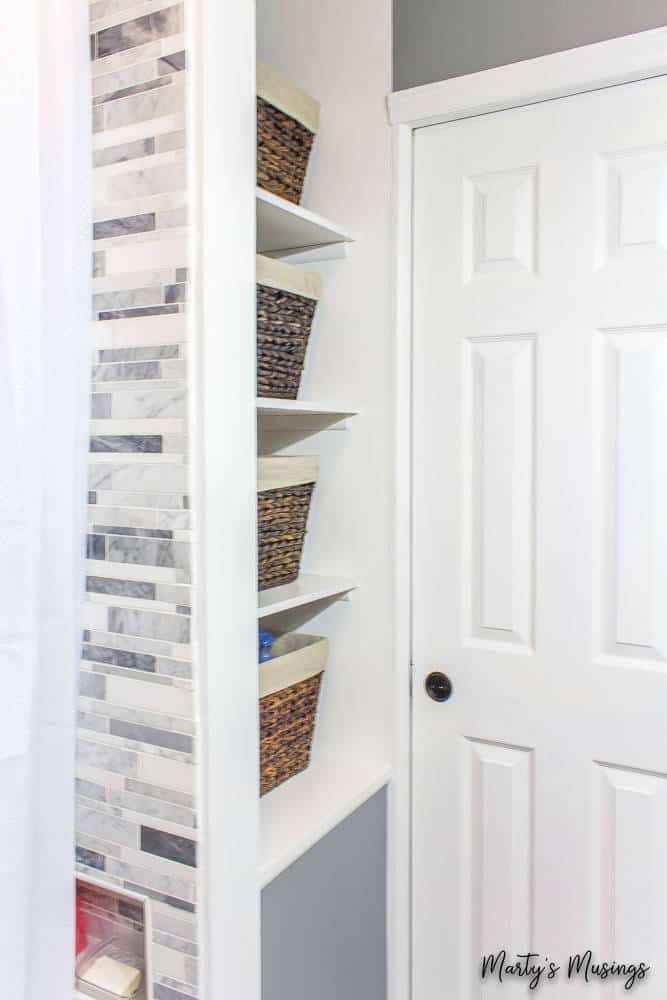 6. Pick your colors wisely.
Use pops of color while staying in the same color family for the majority of the room. I originally went with a lighter gray but decided I wanted a darker wall color to go with the shower tile.
But I had to have some color and these coral and aqua towels and accents add the perfect touch!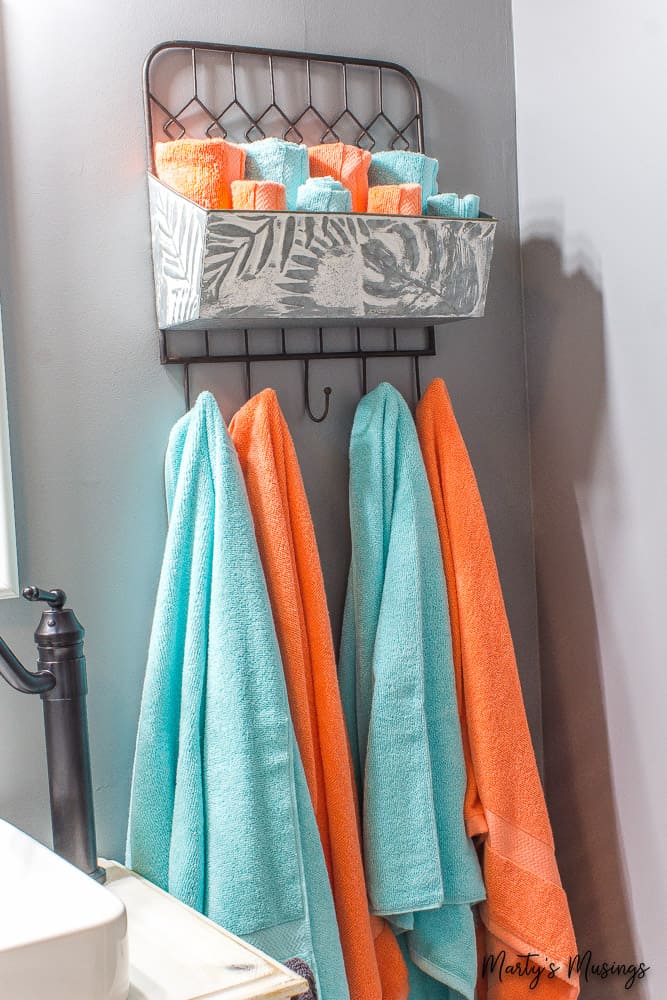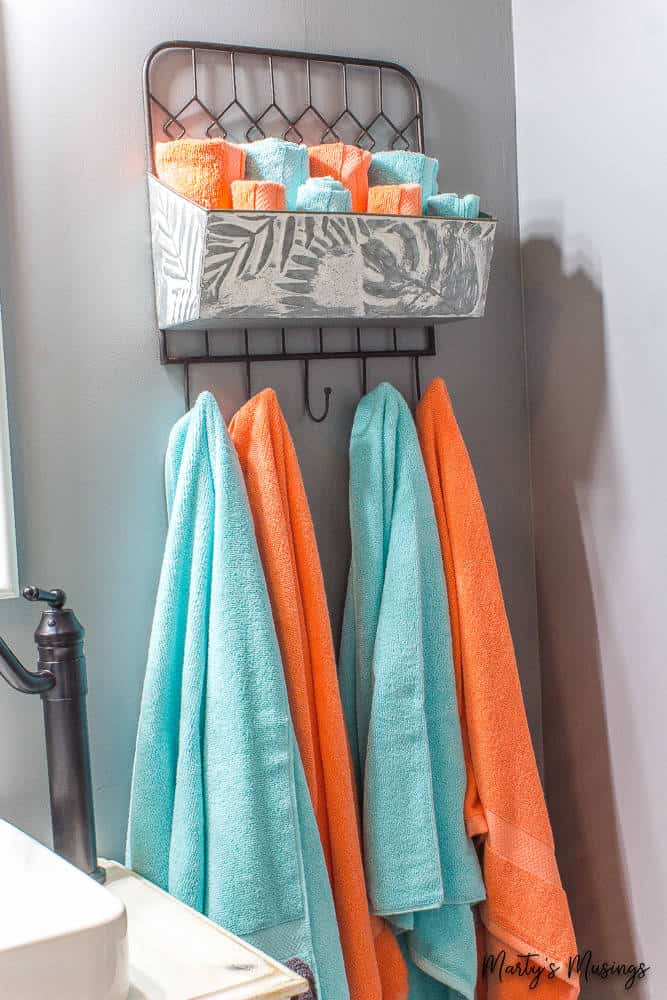 7. Create an eye catching design element.
For this bathroom, the open shower definitely is the show stopper! My husband did a great job tiling the shower and pony wall.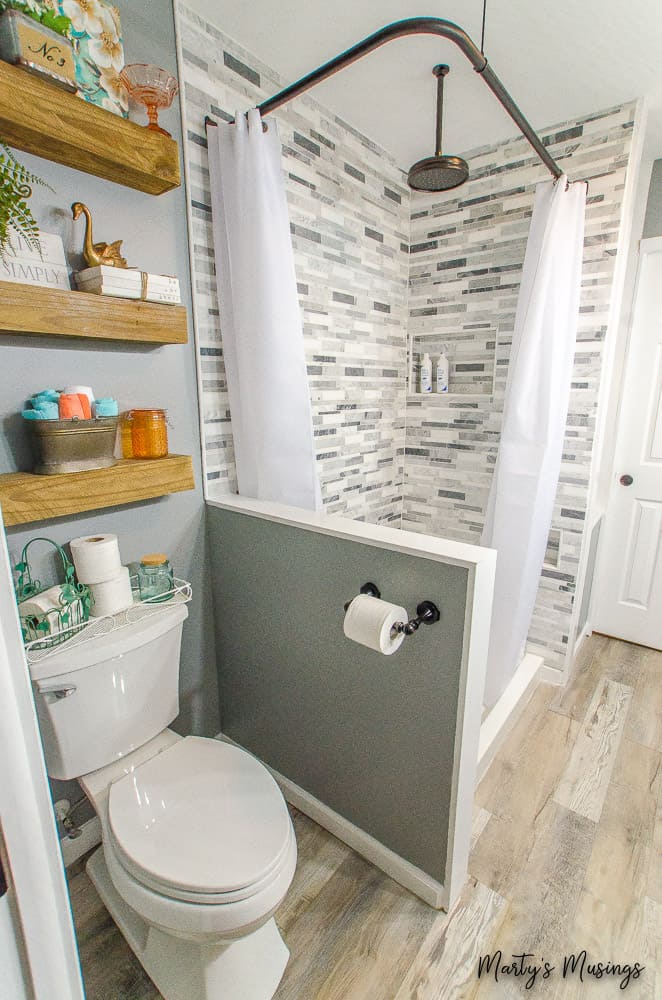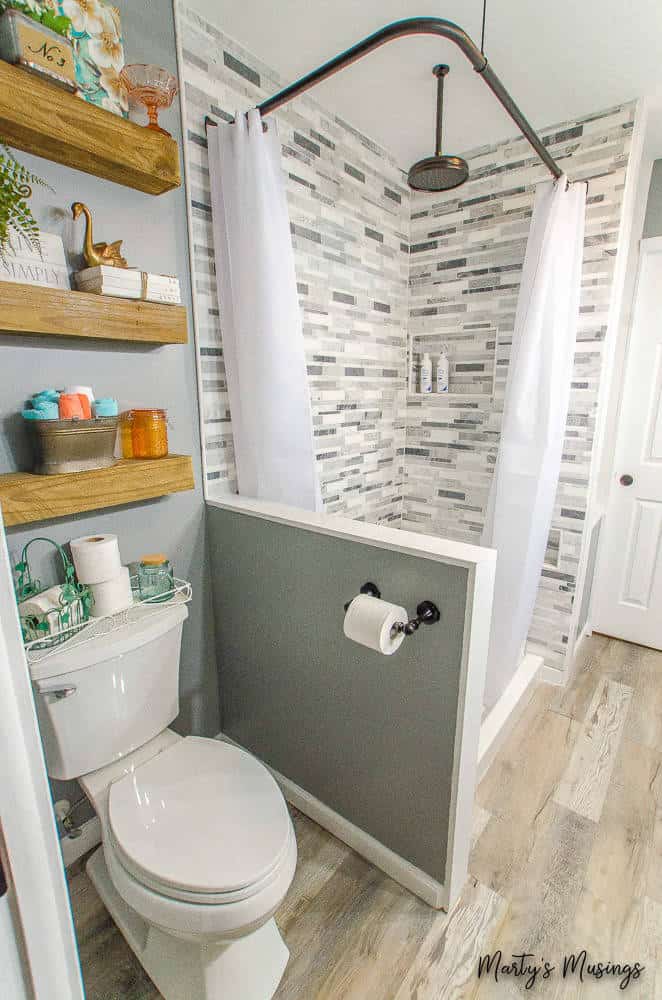 We keep the shower curtains open which emphasizes the beauty of the tile.
It IS possible to makeover a bathroom and create more space! What is YOUR favorite way to make a small bathroom look larger?
BATHROOM REMODEL SOURCES
(I've included some affiliate links for your convenience. Click here to read my full disclosure policy.)
Wall Color: Cosmic Quest by Behr Paint
Oil Rubbed Bronze Faucet / Vessel Sinks / Rainfall Shower Head / Shower Handle / Shower Arm / Pressure Balancing Valve / Vanity Light / Mirrors (similar to ours) / Shower Curtain (can be used as a liner as well) / Corner Shower Rod / Mosaic Shower Tile / Waterproof Plank Flooring / Aqua and Coral Towels / Faux Rattan Grey Baskets / Water Hyacinth Basket