25+ Christmas Gift Ideas for Her
This post may contain affiliate links which won't change your price but will share some commission.
These 25+ Christmas gift ideas for the woman in your life are both inexpensive and creative! Guaranteed to find something for everyone!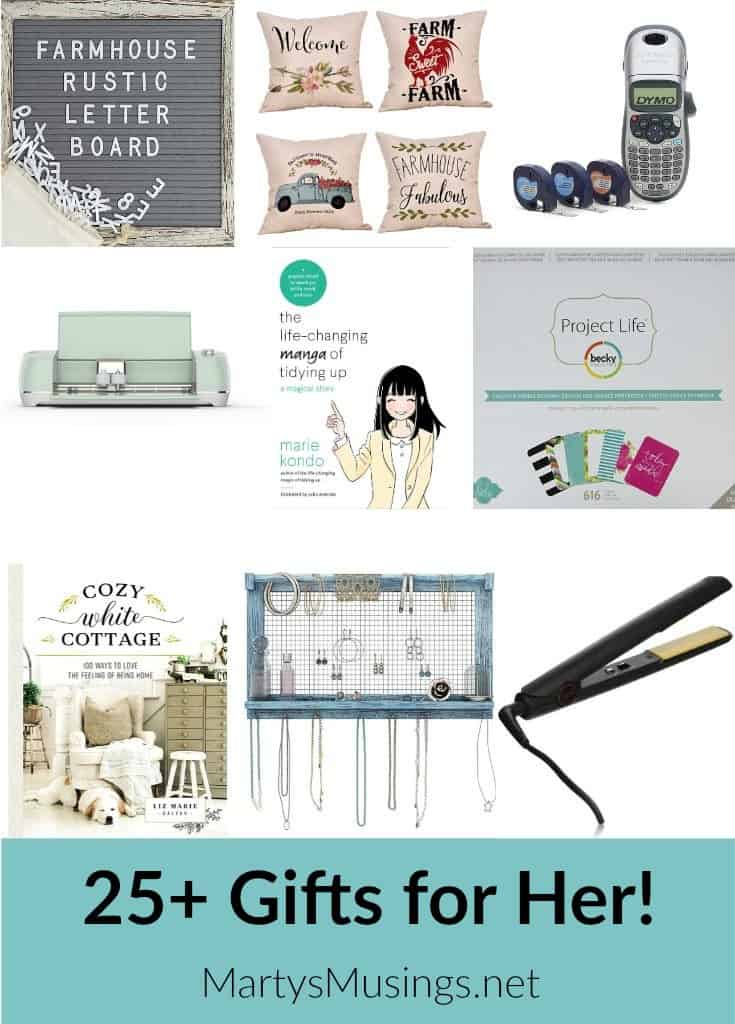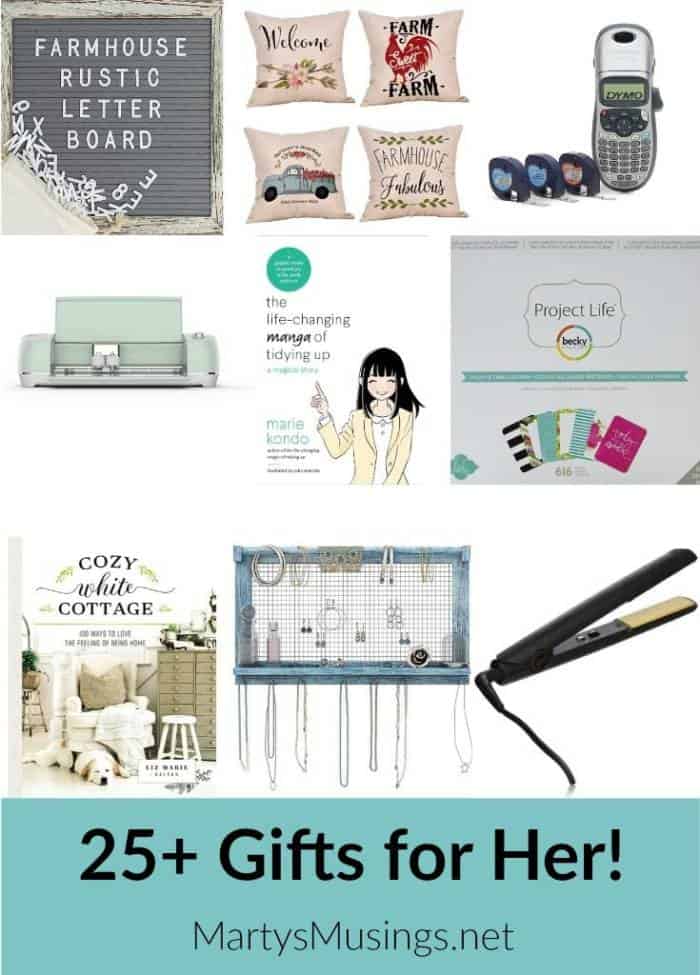 When I was a little kid the Sears Christmas wish book contained all of my heart's desires.
What in the world was that, you say?
It was a hold in your hands, cut pictures out, dare to dream and drool over, catalogue of toys for every kid (and Sears way to empty the parents' pockets!)
Today we have the internet, tv and Amazon to infiltrate our kids minds with the must have gifts of the season.
Since I know I love getting recommendations from trusted friends for products they love I thought I'd share a few Christmas gift ideas that I'm eyeballing! (Plus you know they have to be a good deal!)
Can I get an amen?
25+ Christmas Gift Ideas for Her
Y'all know I love a good bargain so the products linked below are the best deals I could find.
Home Decor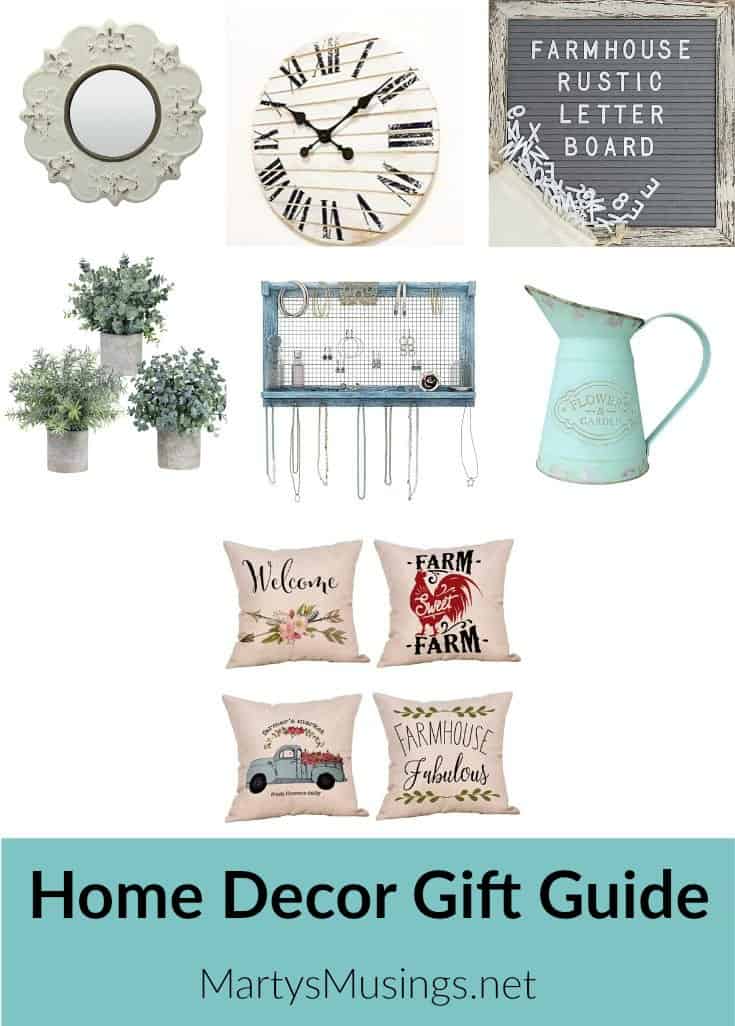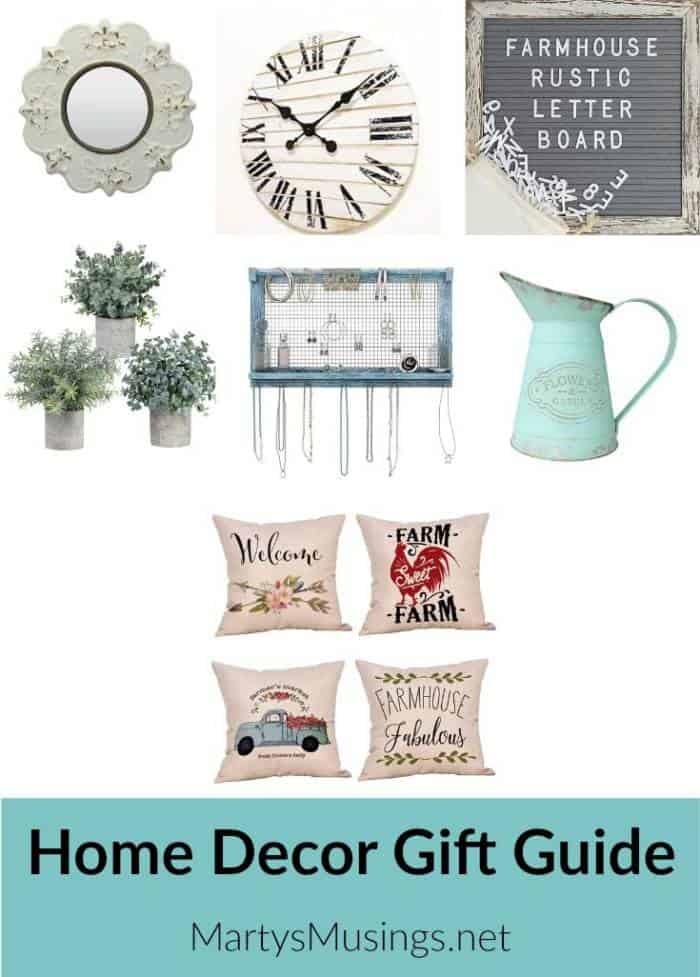 Rustic Jewelry Organizer – if you don't want to make your own this one is so reasonable!
Farmhouse Rustic Letter Board – so perfect and original!
White Rustic Clock – I love the farmhouse look of this one.
Shabby Chic Metal Jug – perfect for flowers or stems.
Farmhouse Pillow Covers – I love these to use with yard sale pillows or inexpensive pillow forms.
Vintage White Ceramic Mirror – perfect for any home!
Potted Eucalyptus Plants – you can't tell they're not real.
Galvanized Tiered Tray – I absolutely adore this and have a similar one on my kitchen island.
You can find more of my favorite home decor items here.
Crafts
Just a few ideas for your favorite crafter!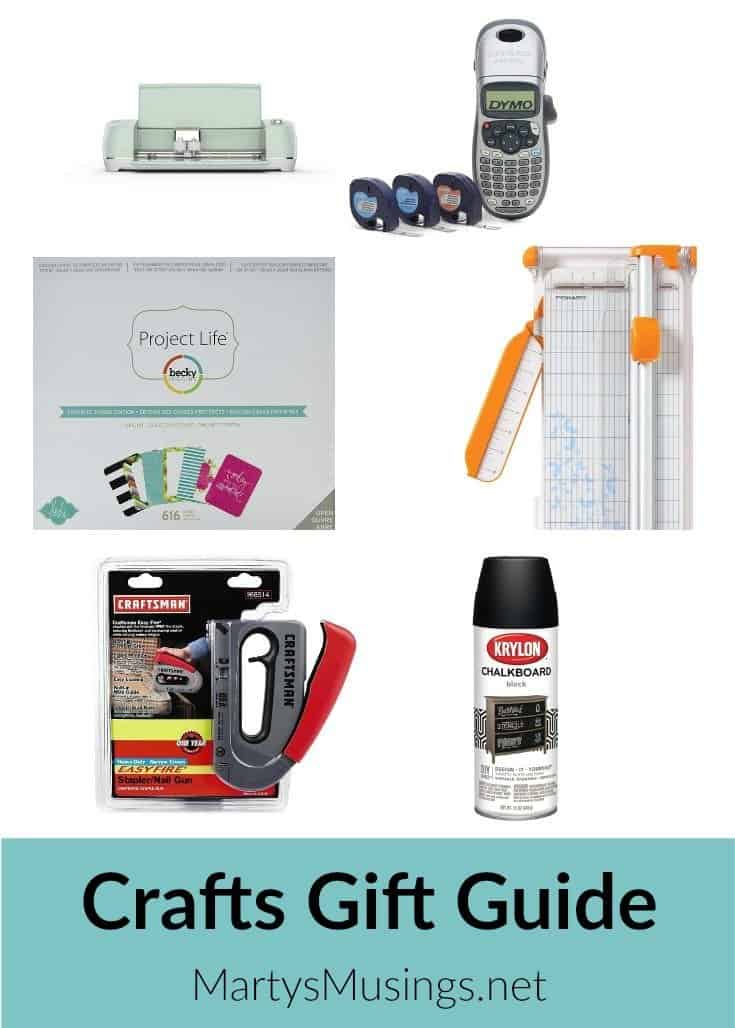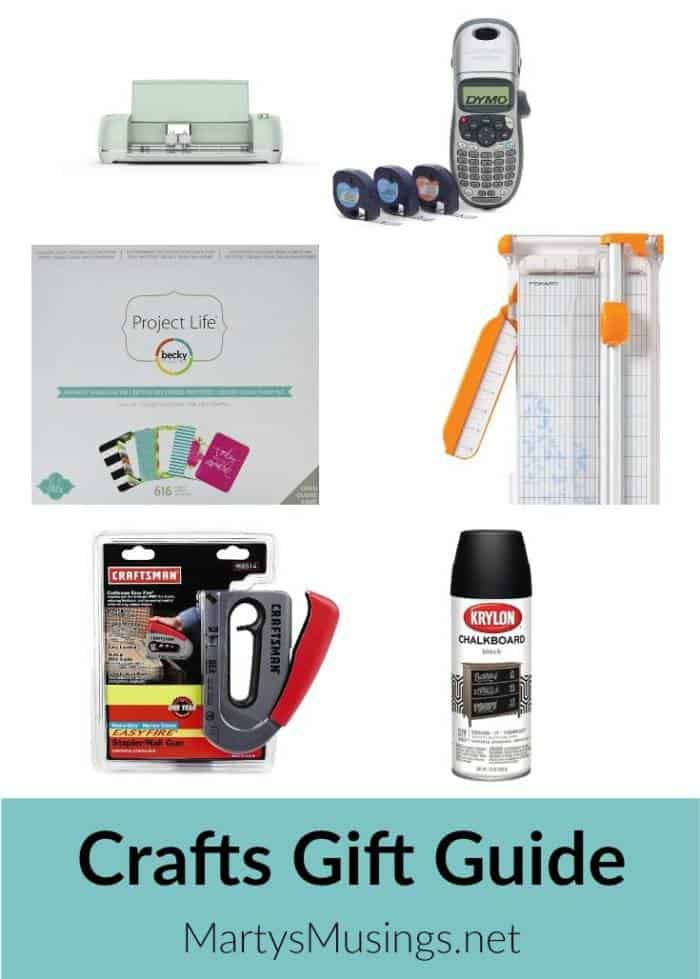 Cricut Explore DIY Cutting Machine – I really want to upgrade mine since I have one of the very first ones to come out!
Project Life Core Kit – if you want to record your family memories but don't want to invest in tons of products this is where you need to start.
Portable Paper Trimmer – this is my favorite one.
DYMO Label Maker – if you like to organize as much as I do this is for you!
Chalkboard Spray Paint – my favorite for creating fun projects.
Staple/Nail Gun – if you want to flex your DIY muscles this is perfect for all the projects!
You Cana find more of my favorite craft ideas here.
Favorite Books and Things
These are just a few of the books I've enjoyed the most or helped me grow in my personal development.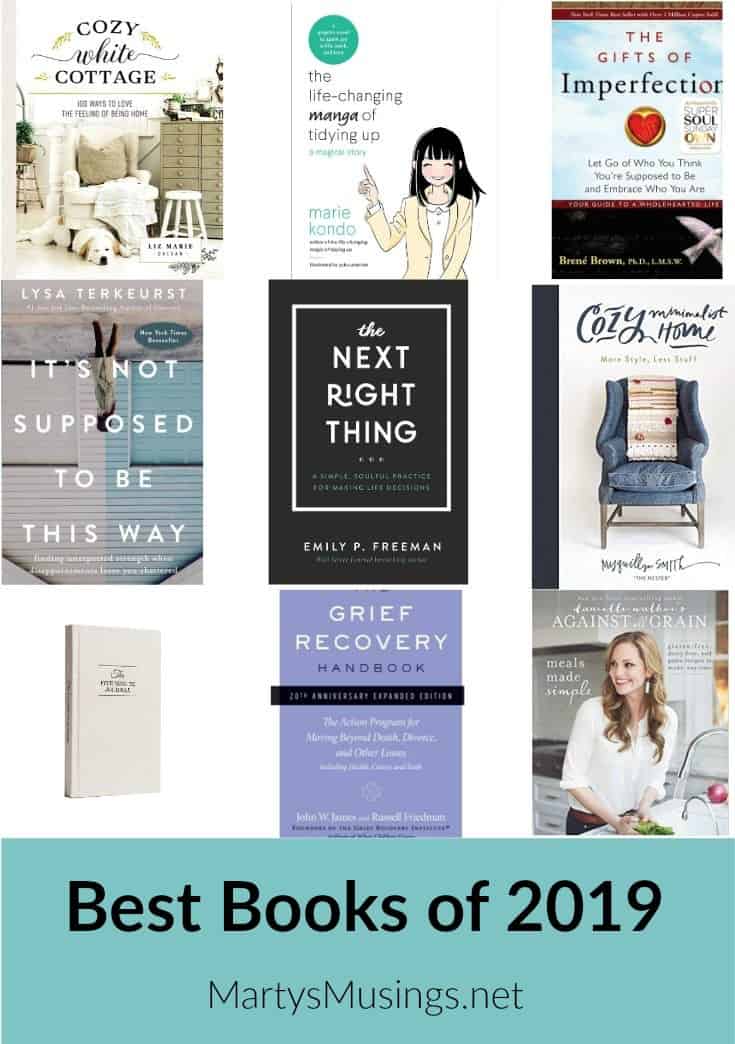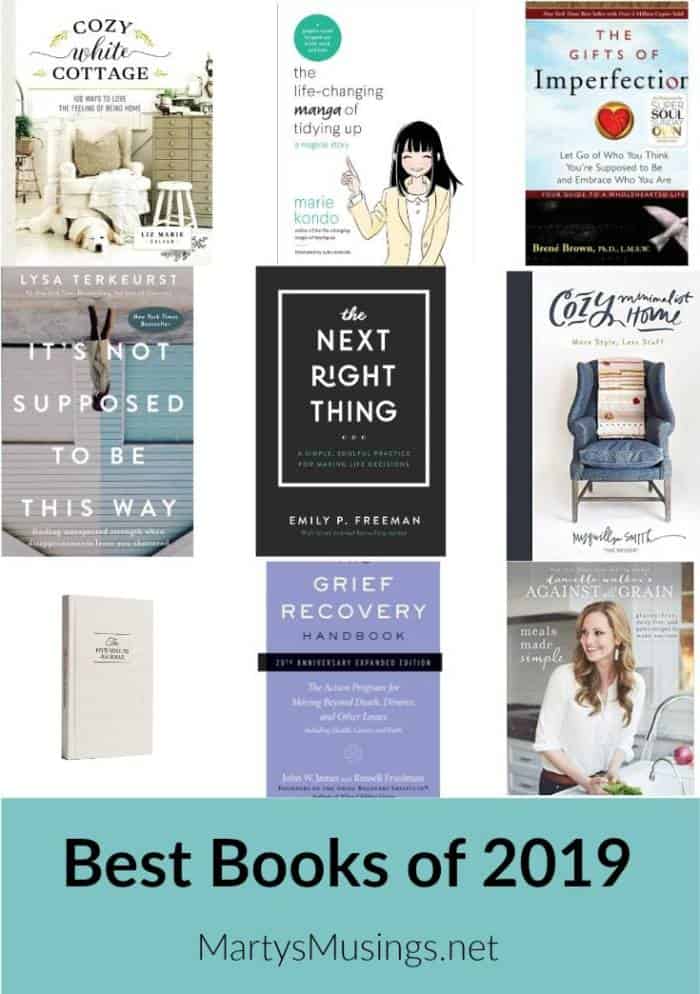 Subscription to Audible – this is such a good deal!
Cozy White Cottage by popular blogger Liz Marie Galven. A great book!
The Gifts of Imperfection by Brene Brown – as a "recovering" perfectionist this was perfect timing for me!
The Grief Recovery Handbook – my husband and I both worked through this with a certified grief counselor and it was life changing.
The Search for Significance by Robert McGee – through this amazing book I learned my self worth is determined by God, not what others think.
It's Not Supposed to be This Way by Lysa Terkeurst – this book is for anyone whose life didn't turn out quite like they imagined. Highly recommended!
Cozy Minimalist Home by popular blogger The Nester.
The Next Right Thing by Emily Freeman – sister to The Nester and an author from my hometown.
Against All Grain by Danielle Walker – great book for anyone who has had to give up dairy and gluten, among other things.
The Life-Changing Magic of Tidying Up by Marie Kondo. Has anyone not heard of this amazing process of decluttering? So good!
The Five Minute Journal – perfect exercise for developing gratitude.
I love books and you can find all my favorites here.
Beauty Products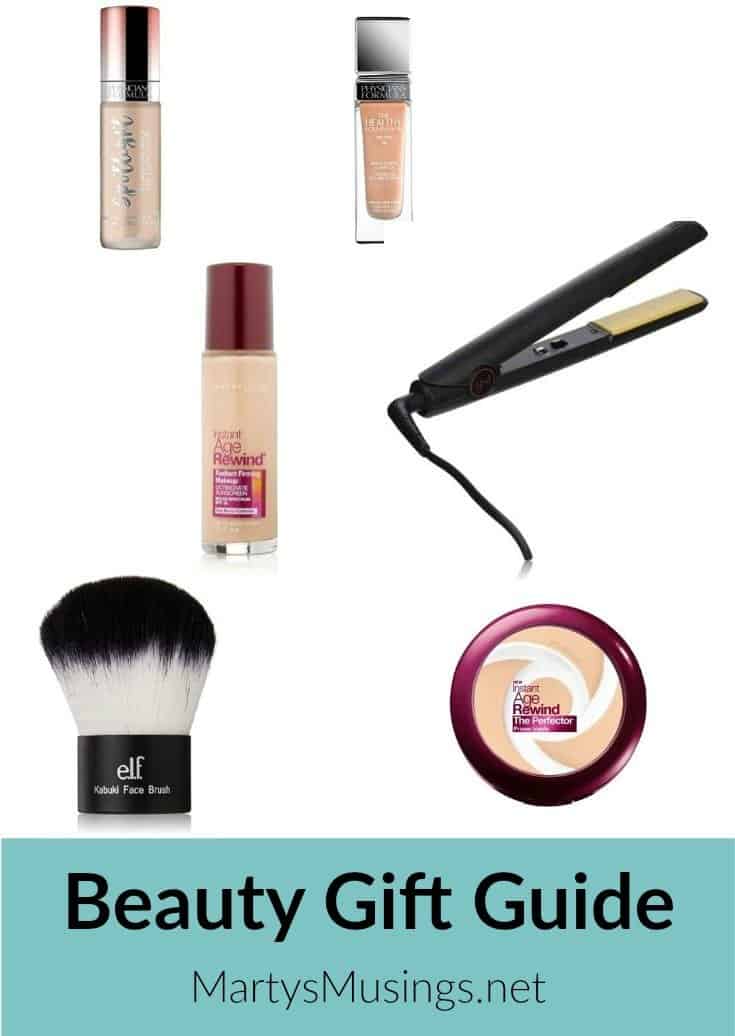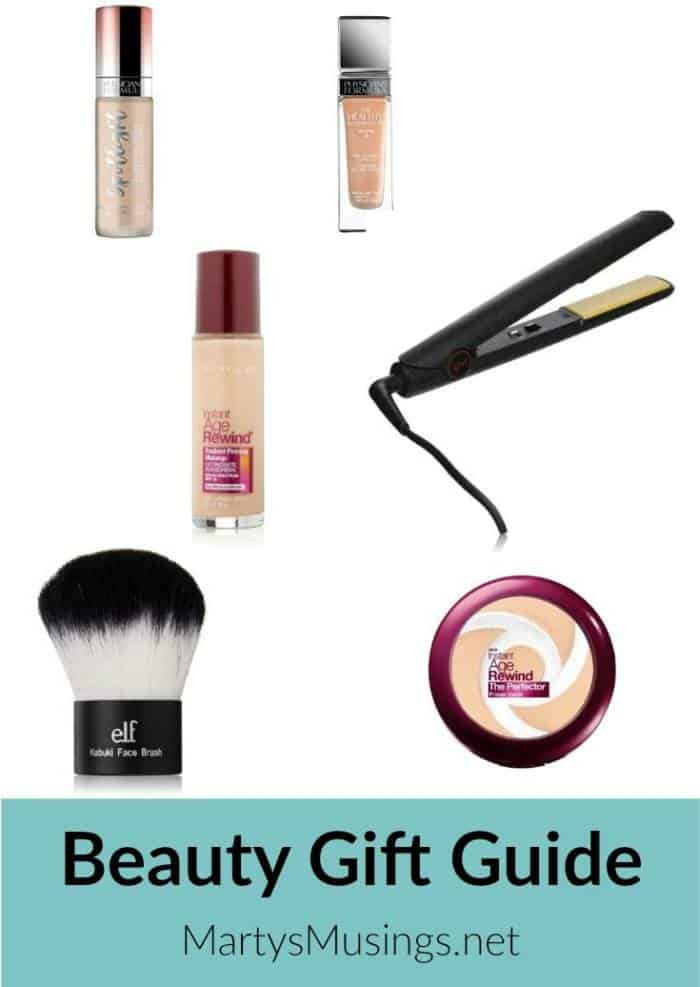 Since I'm over 50 there are a few products I love that are reasonably priced and work well for me.
Maybelline New York Instant Age Rewind Radiant Firming Makeup Since I can't really rewind the years this foundation is a great product for now!
Maybelline New York Instant Age Rewind The Perfector Powder Hands down this is my favorite powder for covering up those imperfections in my skin and smoothing out my foundation.
Usually as soon as I find a skin care line I like they'll discontinue it! Good ol' Amazon to the rescue!
Physician's Formula Healthy Foundation – this is another foundation I really like. It's not heavy and chalky like some.
Physician's Formula Spotlight Illuminating Primer – by far one of my favorites for brightening up my skin! And Lawd knows I need all the brightening I can get!
e.l.f. Kabuki Face Brush– this is the perfect blush brush and makes the biggest difference in the amount of blush applied. Very inexpensive as well.
ghd Classic 1-inch styler hair straightener I still can't believe I bought this straightener because it's pricey but I haven't regretted it.
Since I went short and blonde (I know, crazy!) this flat iron has been worth it to get the look I paid for! It was a total splurge, but a girl needs to do that once in a while.
You might also enjoy this post with great ideas for the man in your life.
What are you hoping to get this year for Christmas?