These 5 cheap Christmas decorations will help you create the simple, authentic home you've been longing for. No more boxes of costly decor or wasted time!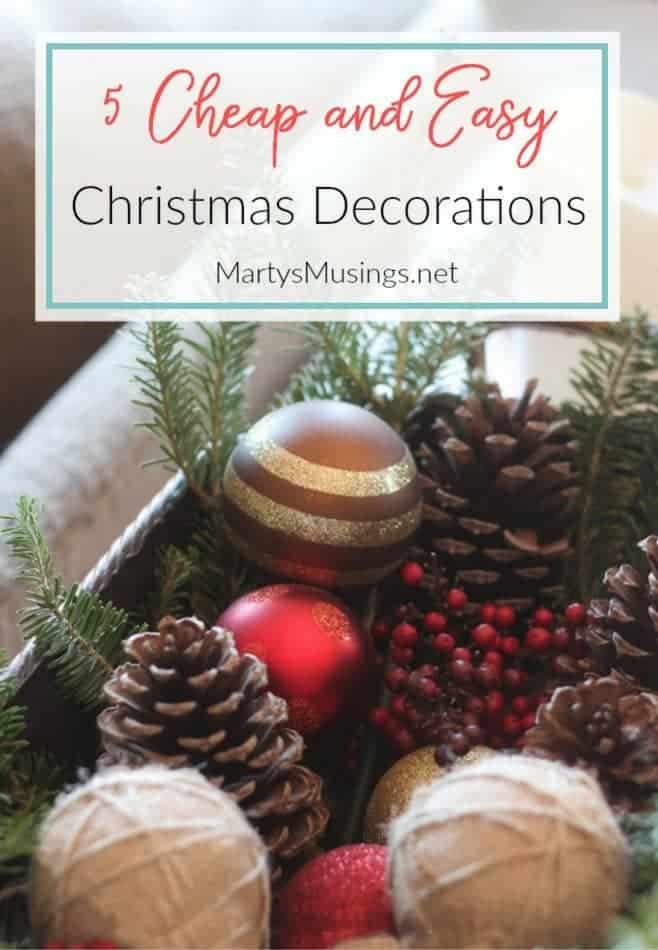 You have a few minutes to kill while waiting in the carpool line so you scroll Pinterest for a few Christmas decorating ideas.
Beautiful flocked trees with handmade ornaments. Perfectly designed rooms with a color theme executed throughout the home.
Every.single.room is decorated.
After all, it's the most wonderful time of the year and you MUST keep up with Pinterest perfection.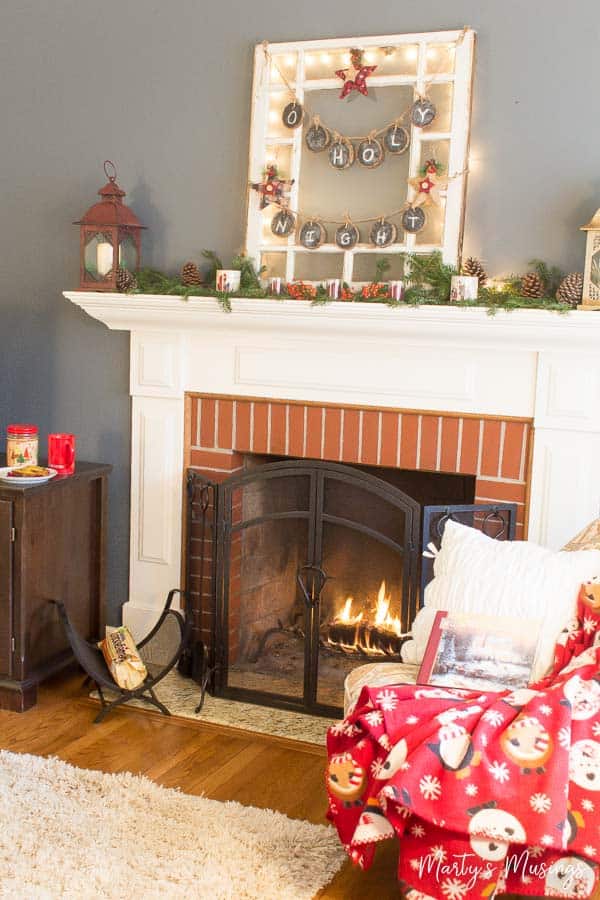 How to Decorate a Christmas Mantel the Cheap Way!
Pretty soon you're discouraged and ready to give up on the idea of a REAL Christmas home, filled with the things you cherish and people you love.
Why does Christmas have to feel so stressful and require so much stuff?
Newsflash. It really doesn't.
When I first started blogging I joined all the Christmas tours and did all the things. But somewhere along the way I've realized that my blogging journey can look different from others.
Now I'm okay with not being invited to do group tours and projects.
And actually, I'm on a mission to discover my own personal style while living with less STUFF. What I've learned from you, my readers, is that you want help with that same problem.
You want to spend less money, declutter and have stress free decorating.
You want to concentrate on the things that matter most: family, friends and cherishing the moment.
Is that even possible?
I believe it is so here are the 5 cheap Christmas decorations I often use to create a simple, authentic home.
5 Cheap Christmas Decorations for a Simple, Authentic Home
1. Ornaments
Ornaments are one of the most cheap Christmas decorations you can buy. I find them everywhere from the dollar store, at end of season clearance sales to yard sales.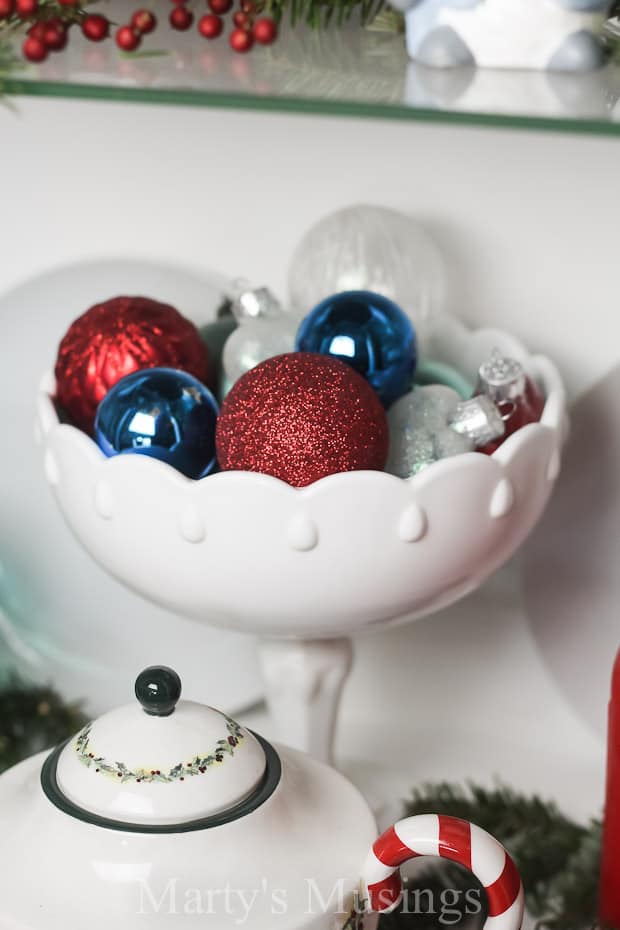 Ornaments are also for more than decorating the tree. Collect them in containers, add them to a bit of greenery and berries or even layer them in a bird cage like I did!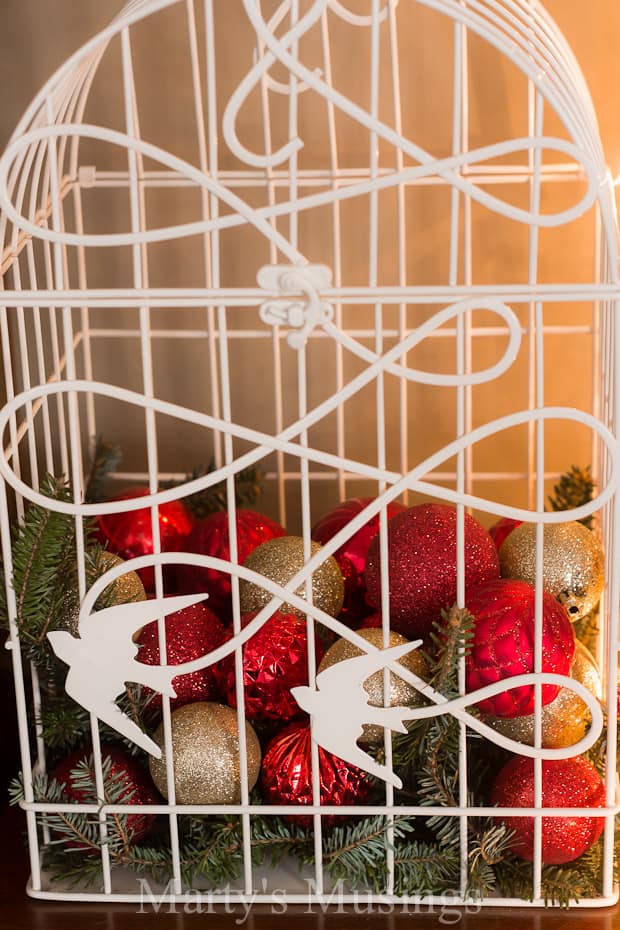 10 Creative Ways to Use Extra Christmas Ornaments
I love a little bling at Christmas, but I'm always on the lookout for everything from vintage ornaments to colors I might want to incorporate in a new scheme for coming years.
Think outside the box and let your creative juices soar!
2. Natural Elements
Can you say free? Free is good! A touch of greenery and pinecones with these ornaments and burlap balls add simplicity to a beautiful tablescape.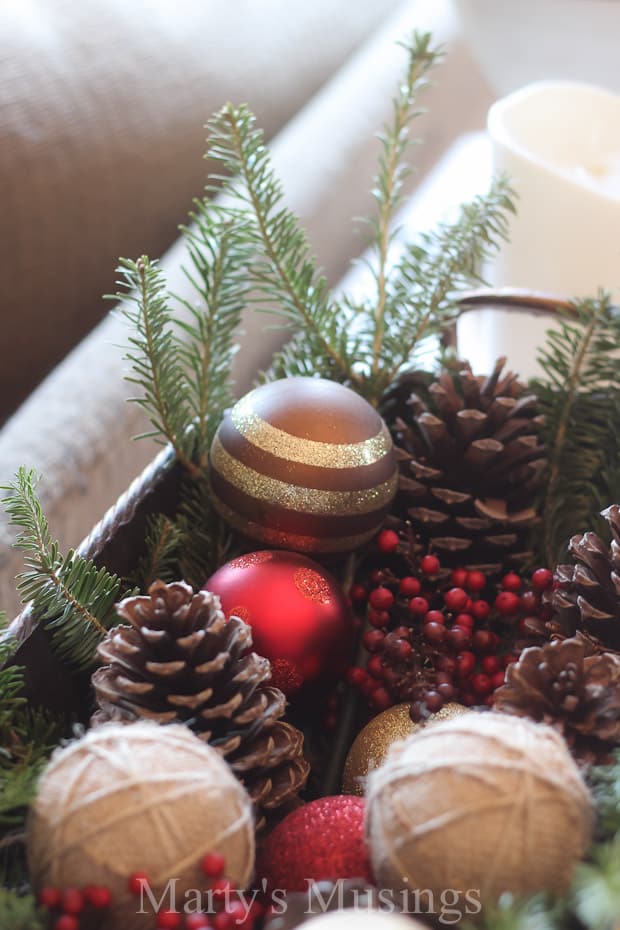 This chalk painted hutch is a bit more full than I have it now (I'm working on decluttering, y'all!) but I do love the greenery in my yardsale basket.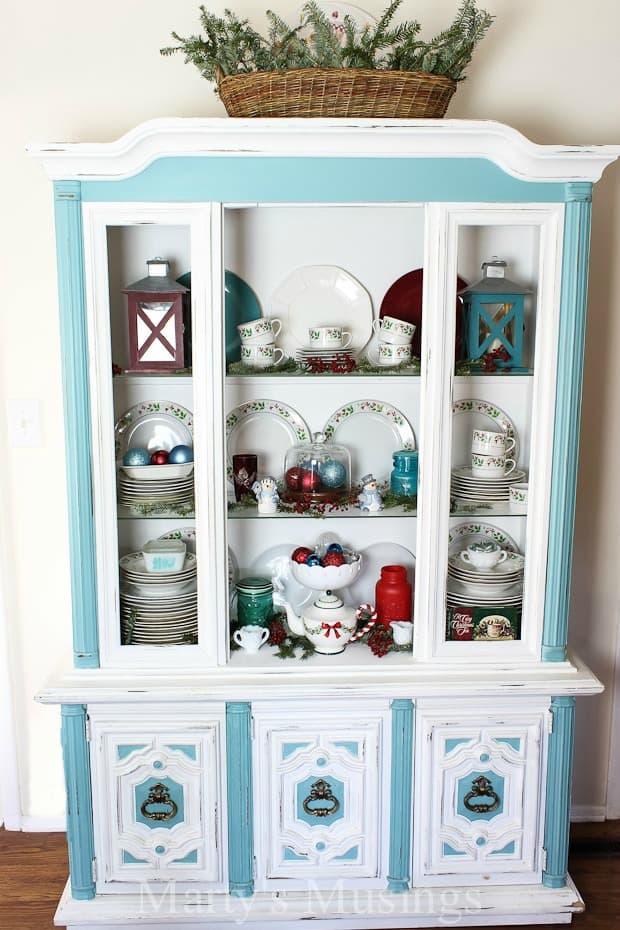 Now this is what I'm talking about! Simple and easy! My best tip is to ask for extra tree limbs if you get a real tree each year. I use them throughout my home with red berries from our bushes. Beautiful and free, the words I love to hear!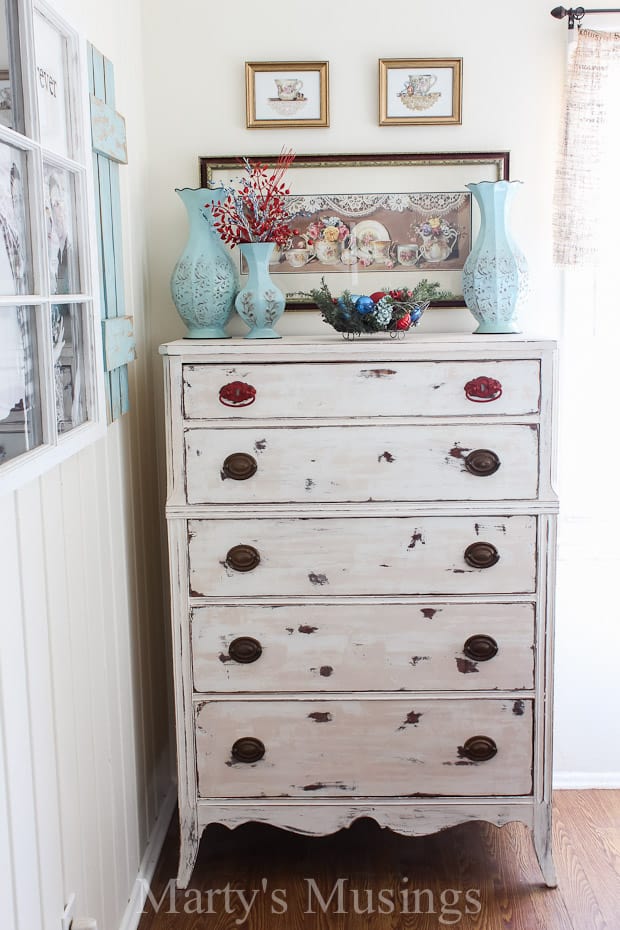 3. Lights
There's just something peaceful about sparkling lights at Christmastime. This was one of my favorite pretend mantels and was created from garland I bought at 90% off at the craft store at the end of the season. Add in a strand of lights, a few inexpensive ornaments and my $10 cathedral window makes a stunning focal point.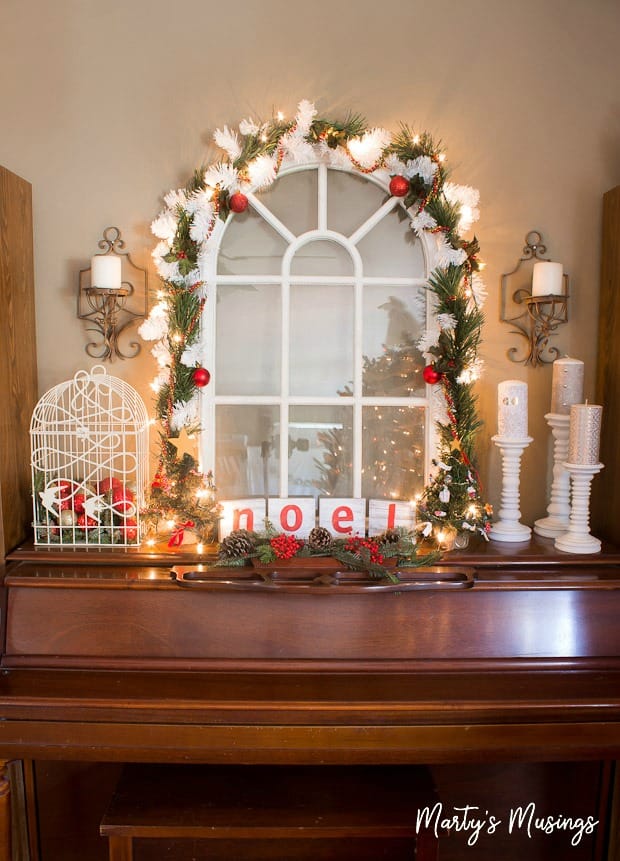 A hand-me-down Christmas tree with one strand of lights sets the tone on my chalk painted buffet.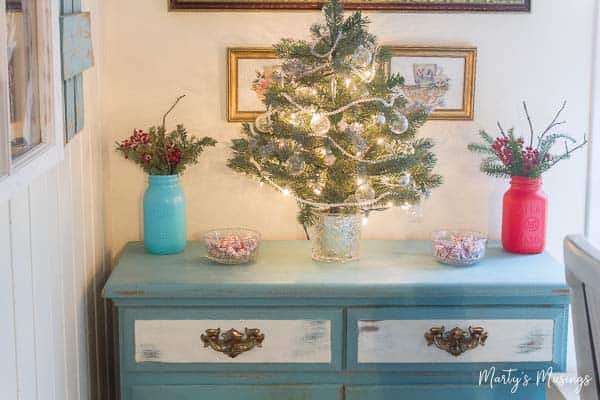 4. Candles
I love using candles in my tablescapes and vignettes, but most of the time I don't even light them. I often buy beat up candles for pennies at yard sales and then wrap them in fabric or scrapbook paper, like these below, to dress them up. Aren't they lovely?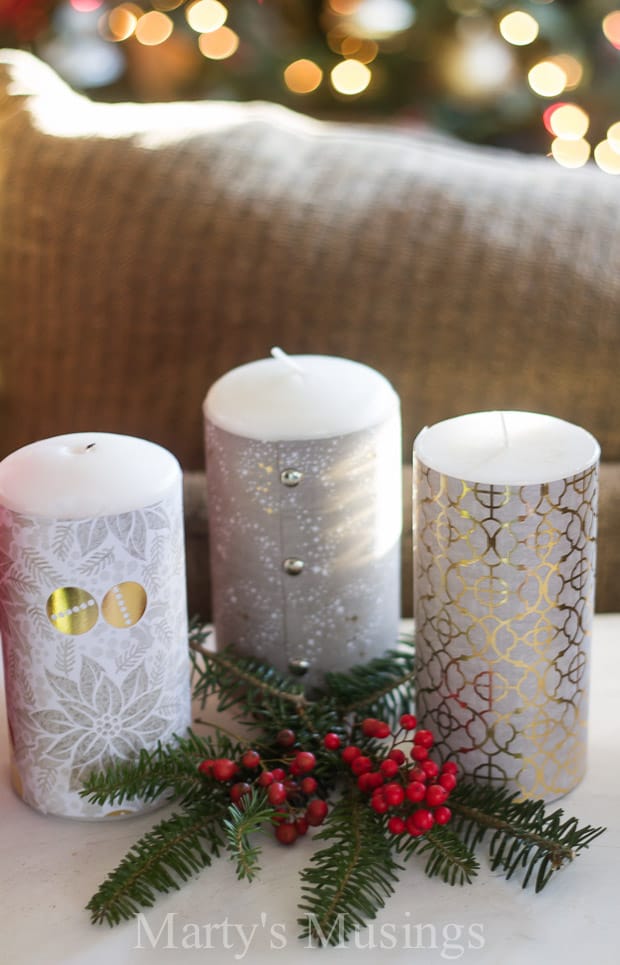 Look closely and you'll see my branch candle centerpiece dressed up with red candles. You may not be able DIY your own but you could use a simple piece of wood with votive candles to add your own rustic touch.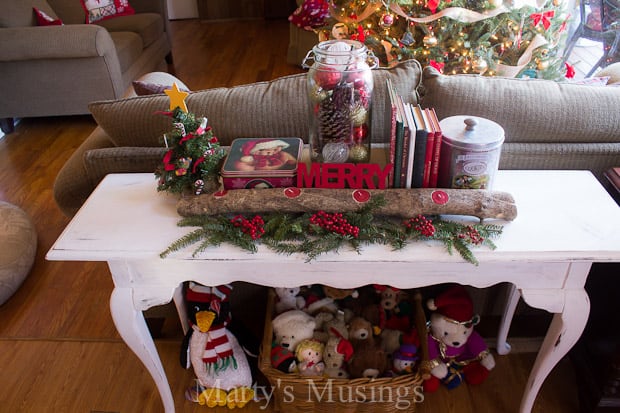 These luminaries are over two decades old but I pull them out every year for our enjoyment. When we built our front deck I realized they were perfect for the narrow steps we don't really want people using.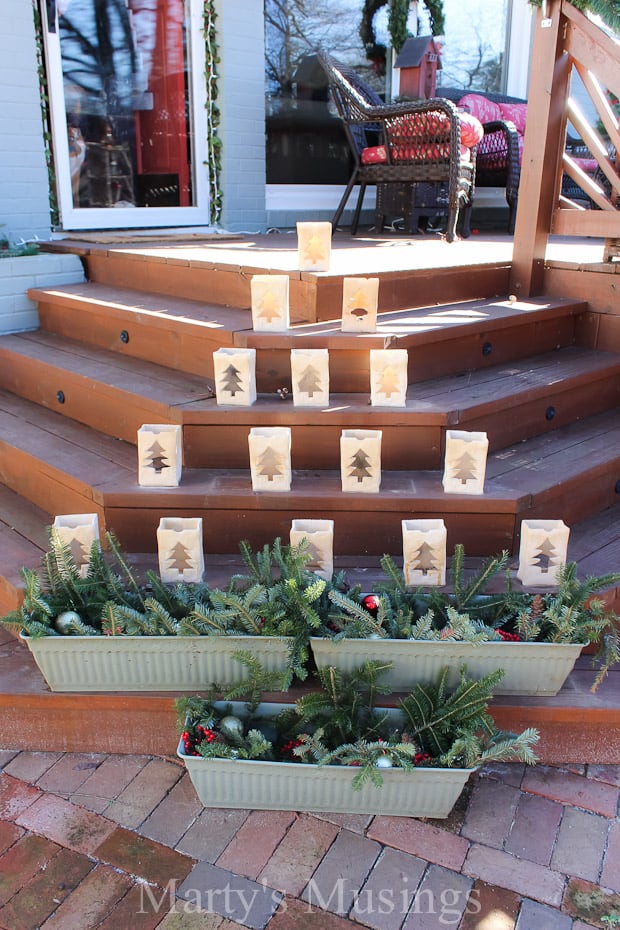 Christmas Tree Luminaries and Outside Decorating
Plus, they're the perfect way to greet visitors to my annual Christmas party!
If you don't want to buy ceramic ones like I have you can merely make your own with paper bags and sand.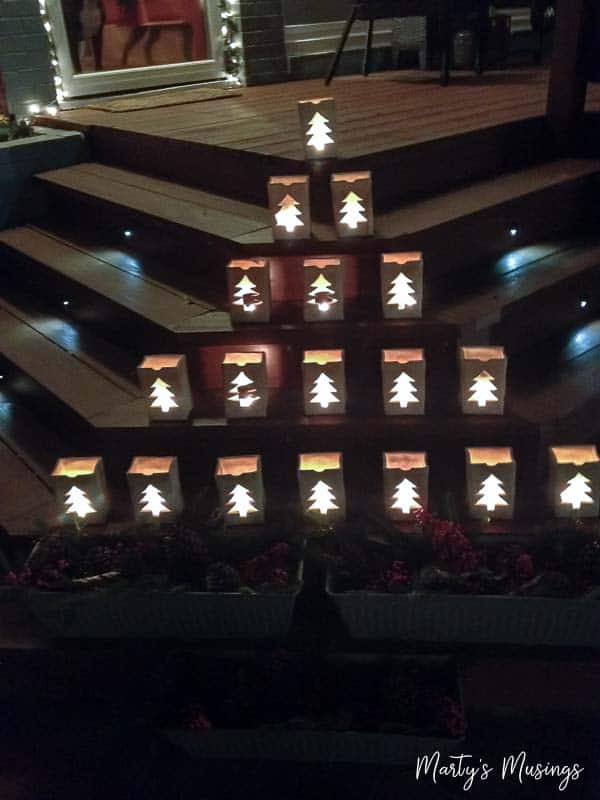 5. Paint
Say what? How in the world is spray paint a Christmas decoration?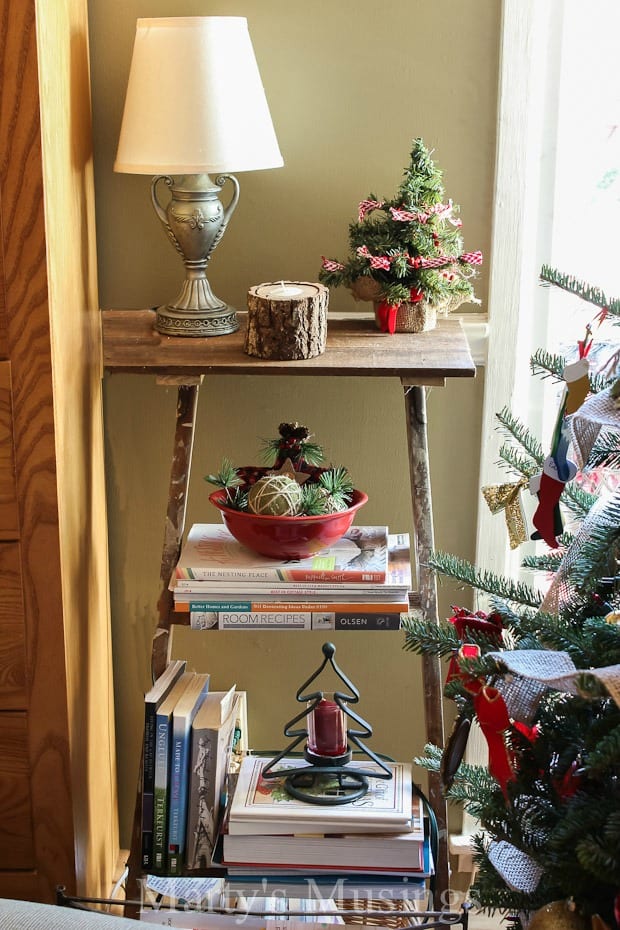 I'm always on the lookout for things to paint at yard sales, like mason jars or home decor accessories that need sprucing up.
I love aqua and red in my kitchen and this Christmas tablescape is perfect with my ornaments, natural elements (see how I'm using all these cheap tips!) and painted mason jars.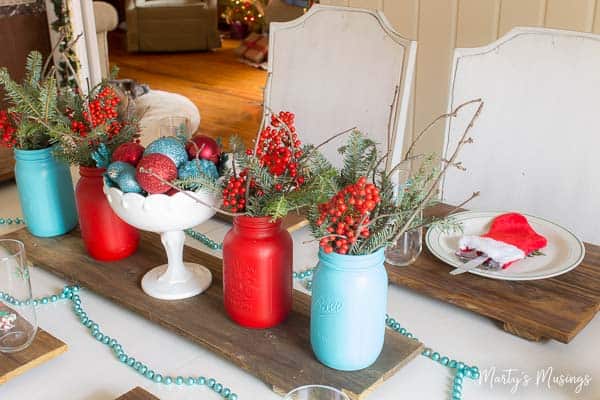 Decorating with Red and Aqua at Christmas
I also bought these shutters for $1 at a yard sale and spruced them up with chalk paint. Now it's one place I change out seasonally, like with these $3 wreaths from the craft store.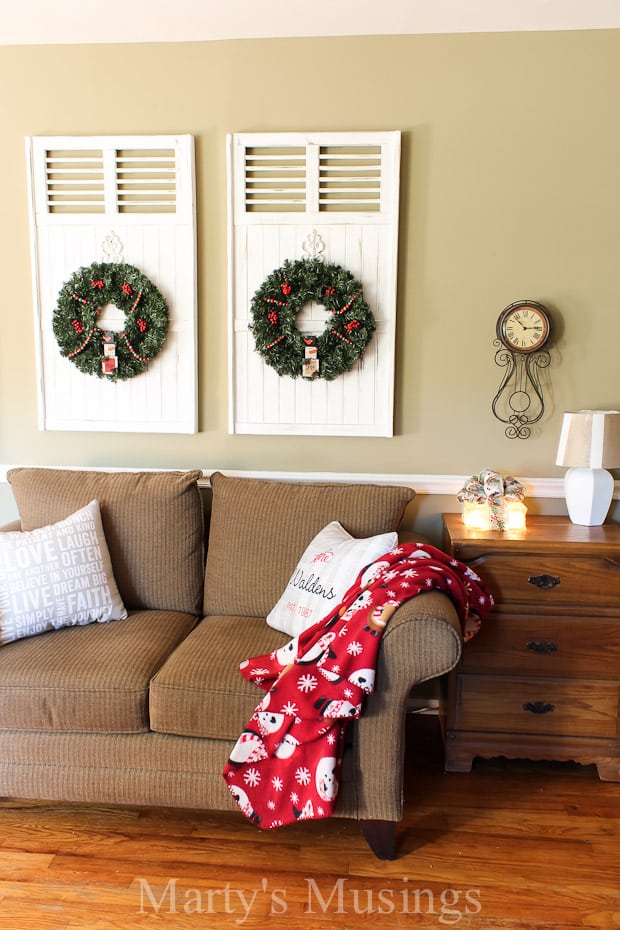 Whew! These are a lot of tips, but I hope you can pick a few to try this year and maybe some things to shop for in the months to come. An authentic home you'll treasure is right within your grasp!
Which of these cheap Christmas decorations will you try first?
If you were inspired or encouraged by this post I'd love if you'd share it or pin it and save it for later. Thanks so much!