10 Creative Ways to Use Extra Christmas Ornaments
This post may contain affiliate links which won't change your price but will share some commission.
Want a beautiful holiday home without spending a lot of money? Try some of these 10 creative ways to use extra Christmas ornaments for tips and ideas!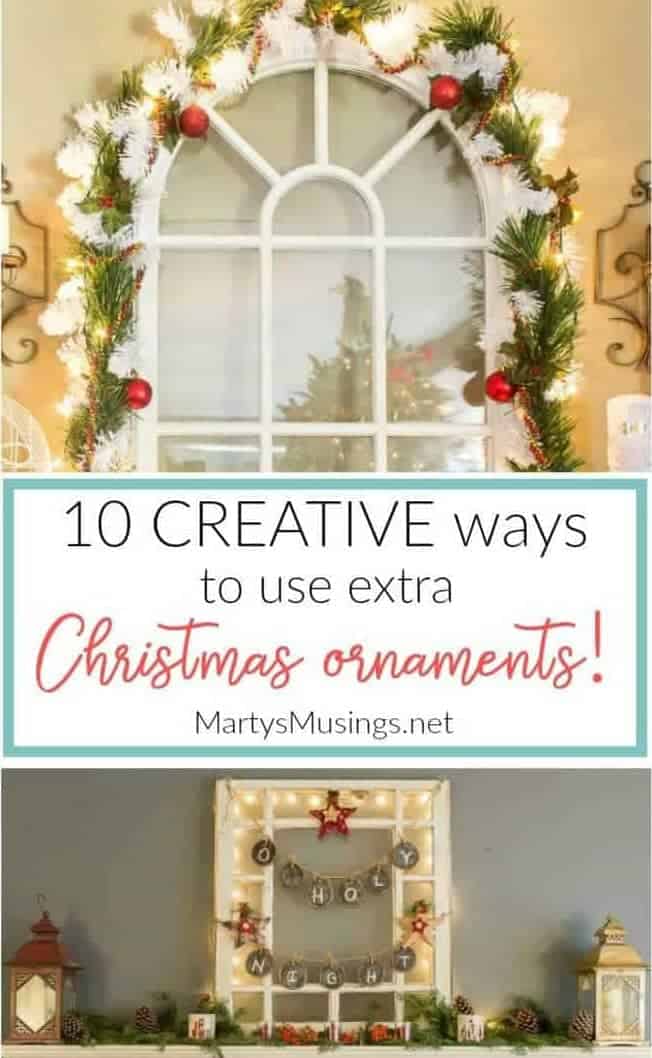 Every year it seems I'm full of conflicting emotions when it's time to decorate for Christmas.
I'm excited to create a welcoming home full of sparkle and glitter.
(The kind that stays in place, not the kind you have to clean up for days!)
Yet I also dread dragging out boxes full of Christmas decor and trying to decide how to change things up so everything is not just the SAME OL' SAME OL'.
Anyone else feel the same way?
And yes, I still need to do some more organizing and getting rid of stuff I don't use (this post will help you, too!)
I started going through my pictures from years past and realized one of the easiest (and cheapest!) ways to decorate is probably also the most overlooked.
Ornaments. Those little balls and shapes that are almost always on sale dirt cheap or can be purchased at the dollar store.
THEY'RE EVERYWHERE!
They're inexpensive, come in all different colors, shapes and sizes and are the perfect accessory for so many Christmas decorations.
I'm guessing you have a few, or tons like me, lying around and you don't know what to do with them besides hanging them on your tree.
I'm here to help!
My Christmas gift to you this year is my list of 10 creative ways to use extra Christmas ornaments!
10 Creative Ways to Use Extra Christmas Ornaments
In case you want the comfort of shopping from your own home I've included some links to similar Christmas home decor items at the end of this post.
1. Decorate a mantel
After living in our home for almost 27 years we finally have a mantel! Still no fireplace but I'll take the barn wood one my DIY hubby built for me any day.
Before that I just used the top of my piano and pretended!
All you really need is a flat surface and some imagination. Here I added greenery and some burlap balls and ornament stars for variety.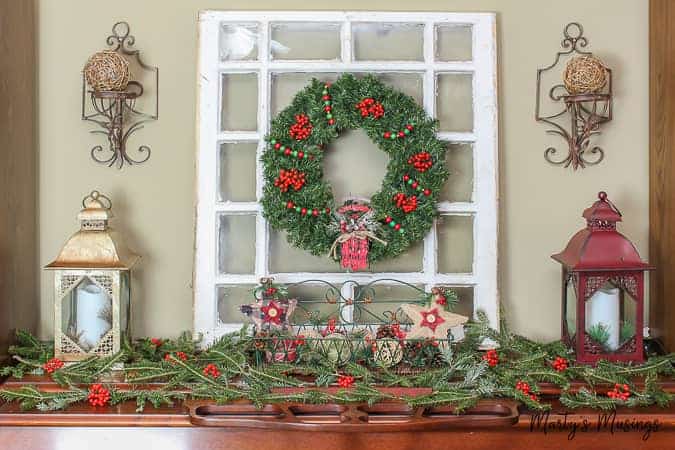 Easy and Inexpensive Christmas Mantel Decorating Ideas
2. Create a centerpiece bowl
Christmas is one of my favorite times of the year to decorate my table. I don't have a dining room so the kitchen table is it!
I used a giant glass bowl and filled it with greenery, pine cones and just about every type of ornament I could find, from vintage to dollar store.
By adding some gold lamé fabric, pine cone candles and my DIY wood chargers, I created a charming rustic tablescape.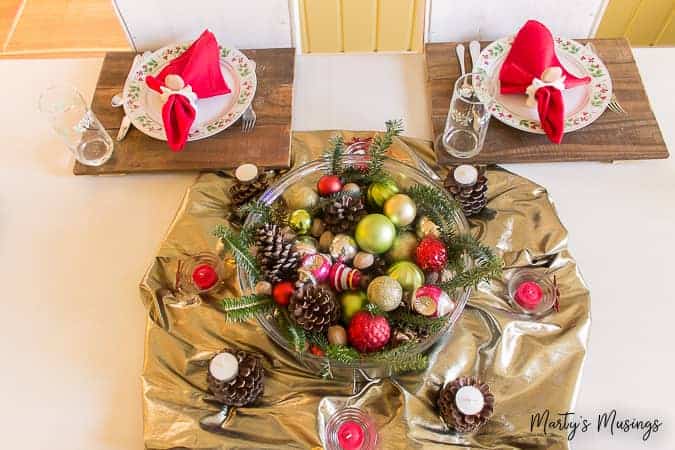 Thrifty Tips for a Rustic Christmas Tablescape
3. Add to garland around a window frame
This is one of my favorite uses for my $10 yard sale cathedral window. I bought the garlands dirt cheap after Christmas and intertwined both the green and white with some beads, ornaments and lights and the result was a show stopper!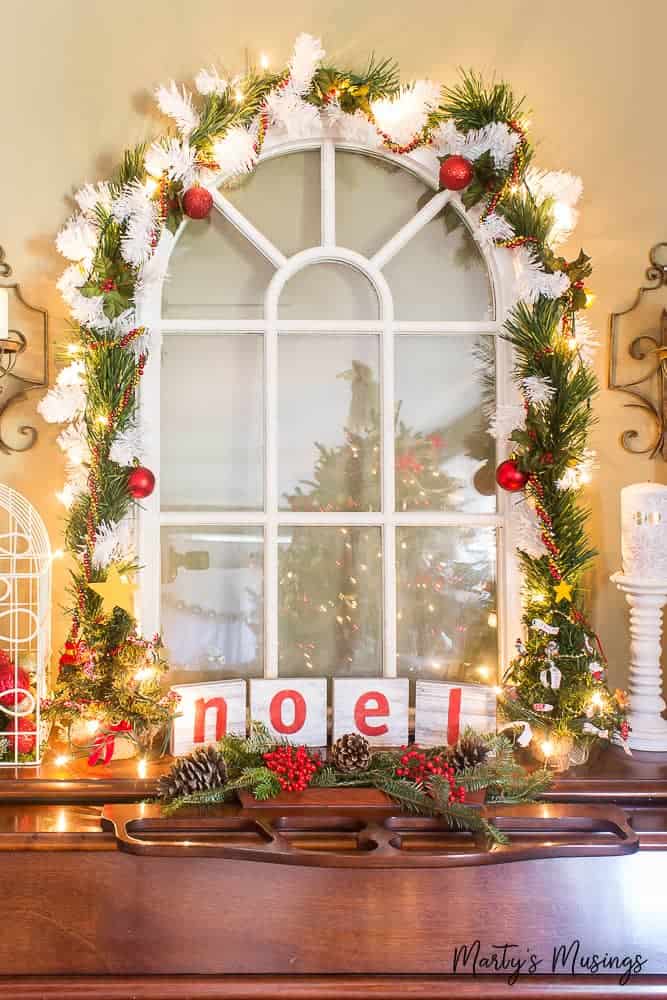 Perfectly Imperfect Christmas Home Tour
4. Hang on an old window
Even though I don't have a mantel I borrowed one for a project! I love these burlap stars I added to my chalkboard banner and another old window display.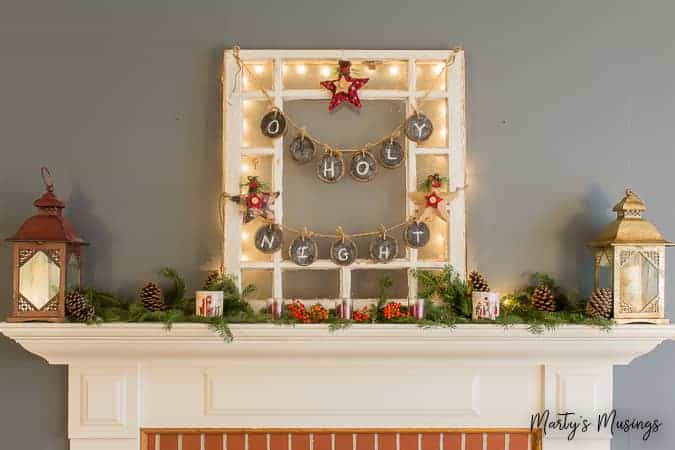 How to Decorate a Christmas Mantel the Cheap Way!
5. Use in a vignette
What could be simpler than gathering some fresh greenery into an interesting container with natural elements such as pinecones and berries? Add some yarn balls and glittery ornaments for sparkle and you have a beautiful and cheap vignette!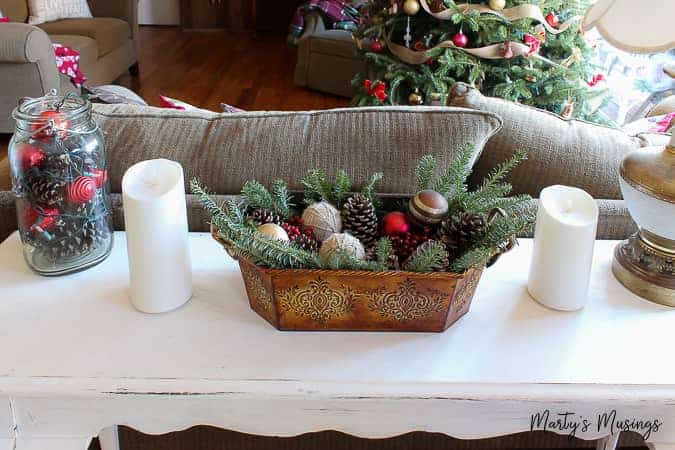 6. Collect different shapes and colors and display
I've always been a red and gold ornament girl but in recent years I've added in aqua as part of my color scheme. I always buy my ornaments at after Christmas sales for the best prices and stash them away for the following year.
I mixed my Christmas china with a milk glass bowl of aqua and red ornaments and loved the result!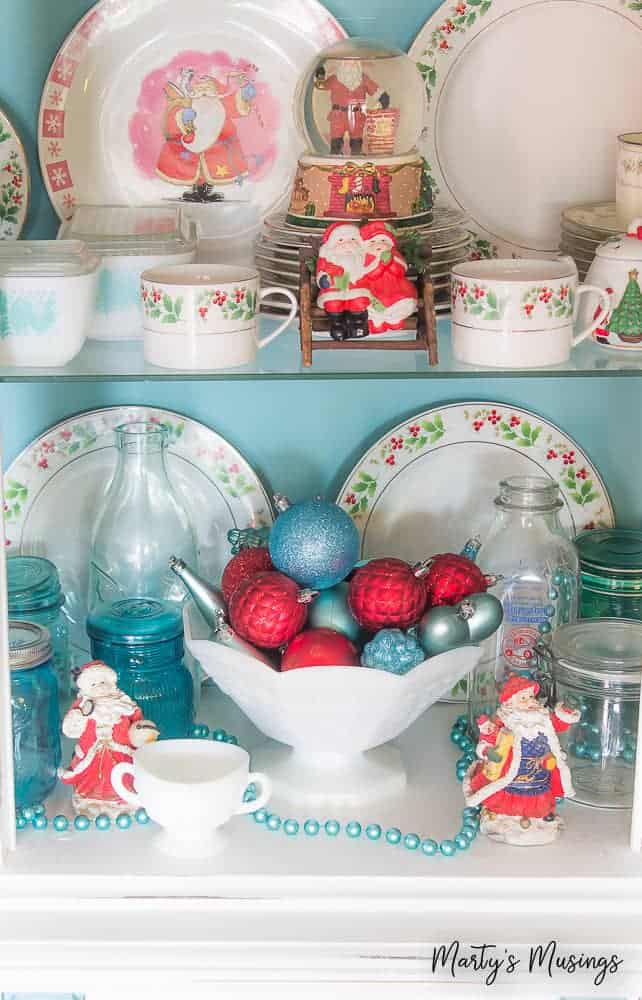 Decorating with Red and Aqua in the Kitchen at Christmas
7. Fill a metal basket
If you can't tell, I love shopping yard sales (you can read some of my best tips here) and try to pick up interesting containers and baskets for my decor even if I don't have an immediate need. 
This metal basket was $1 and transitions through the seasons in my home.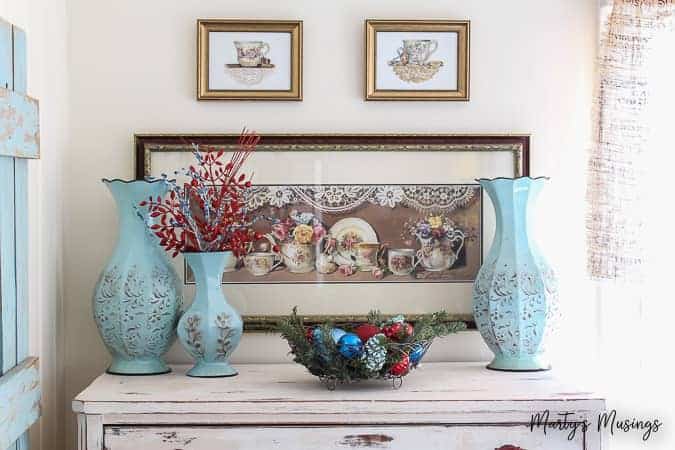 5 Cheap Christmas Decorations for a Simple Authentic Home
8. Make an ornament nest
Have you wondered about all the greenery in these pictures? My thrifty tip is to ask for cuttings when you go get your tree (if you have a real one.)
We use the same tree lot every year as part of our family tradition and I always take home an arm load of branches to use in different ways throughout my home.
Free and beautiful? Yes, please!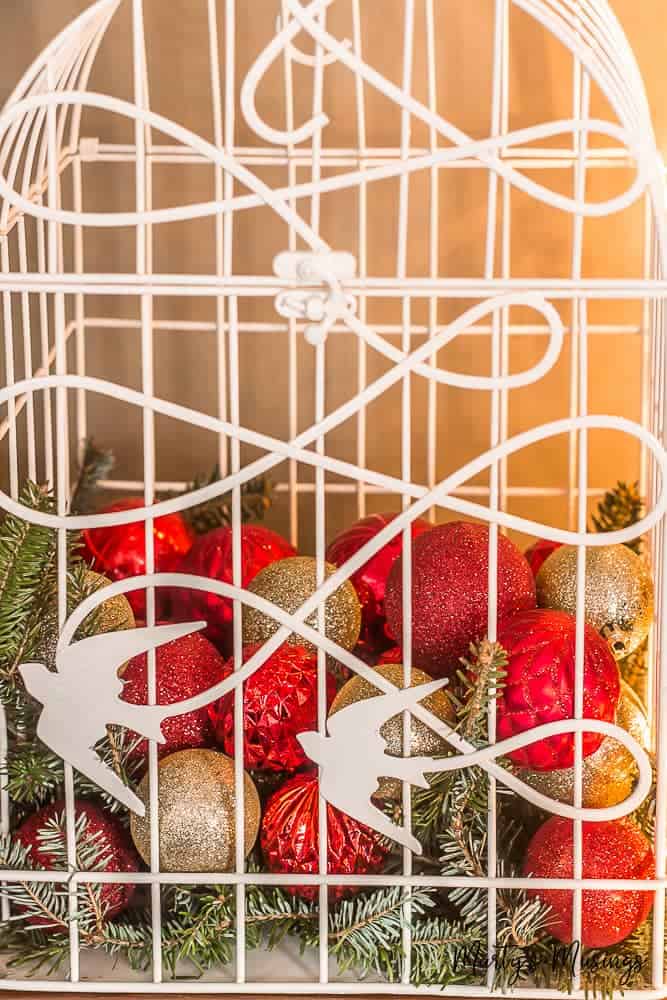 Inexpensive Christmas Mantel and Home Tour
9. Layer in a cloche or small glass cake dish
It's taken me a long while to figure out how to arrange my chalk painted hutch. It still needs to store wedding china belonging to my mom and me but I also want it to look tasteful, not cluttered.
A few ornaments collected in a glass cake dish or cloche add a simple, elegant touch.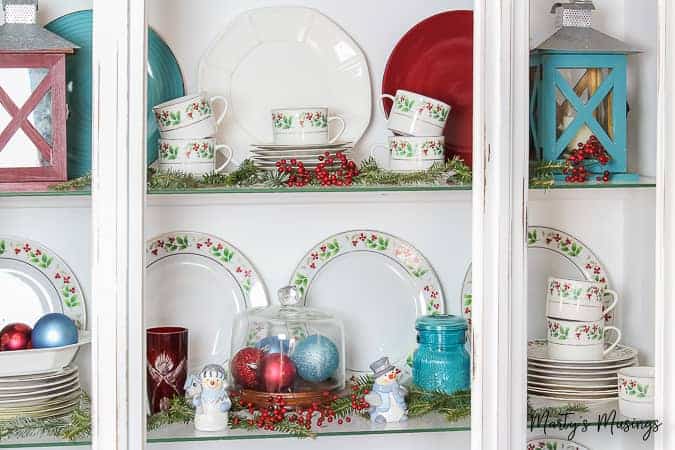 10. Use as a Christmas tree skirt
This is one of my cheapest and most favorite decorations, a $1 yard sale ornament wreath with inexpensive glitter stars and snowflakes on a tree that was passed down to me from my mom.
Inexpensive, bright and meaningful! Love it!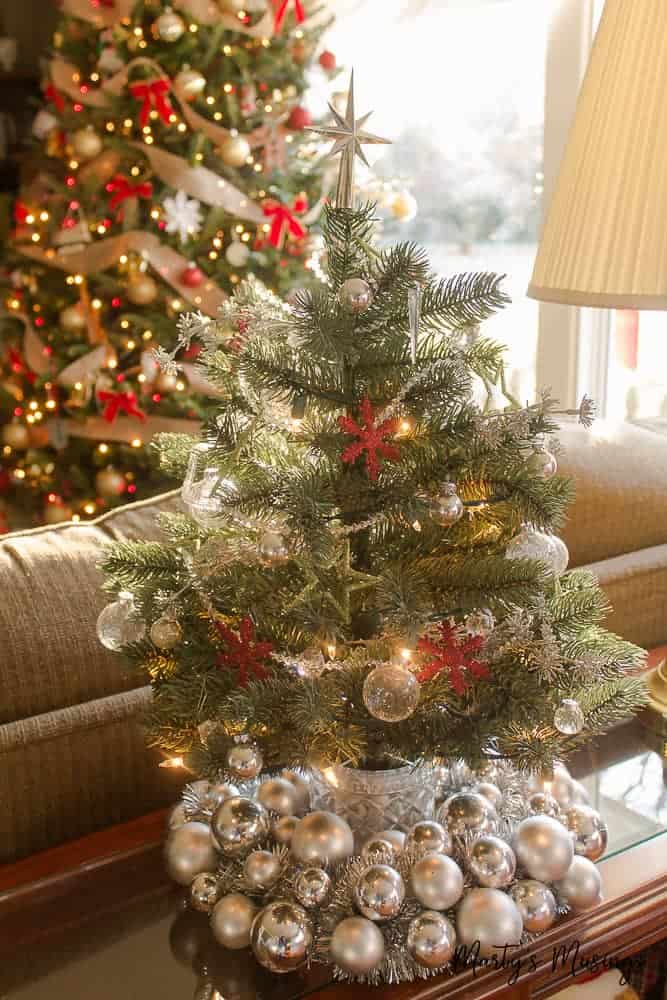 Can you think of any other ways to use extra Christmas ornaments that I haven't thought of? I'd love to know!
Home Decor Shopping List
(I've included some affiliate links for your convenience. Click here to read my full disclosure policy.)
Ornament wreath
Rustic style natural pinecone candle holders
Shatterproof Christmas ornaments
Vintage Christmas ornaments
Burlap ball ornaments
Glass cloche