These 11 ways to add buffalo plaid Christmas decorations to your holiday home are simple AND inexpensive! Perfect for the DIYer and crafter!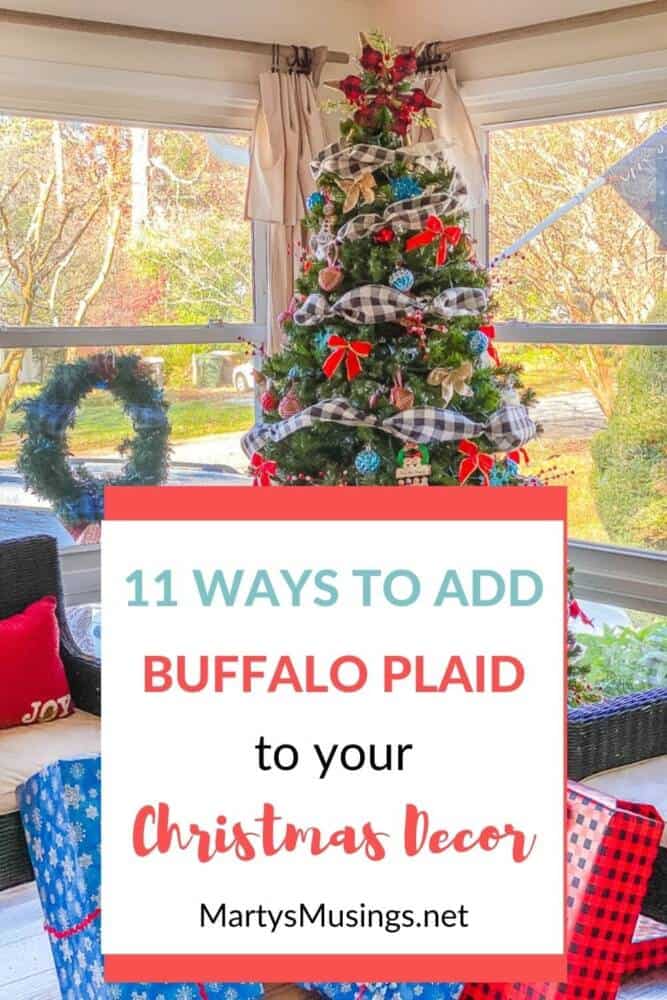 Am I the only one who has a mad crush on all things buffalo plaid?
No? Good because you've come to the right place! For fall I added some touches of black and white plaid to my decor and just loved it!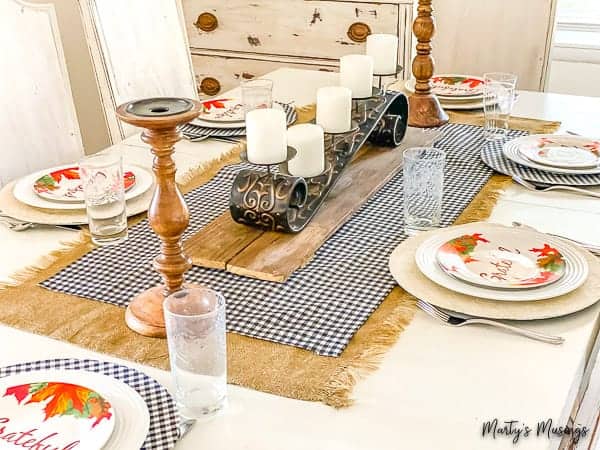 No sew table runner and buffalo plaid chargers
So this year I blended both black and white and red and black buffalo plaid together! There might have been a tiny mutiny when it came to decorating the Christmas tree but I stayed firm!
If you've been around here a minute or two you know I'm not a designer or decorator. Just a woman who loves Jesus and wants her home to reflect His love and beauty.
I'll admit it takes a lot of courage at times to bare my home for all to see but my heart's deepest desire is to encourage you to find what you love and GO FOR IT!
For me, that was all things buffalo check! I thought I'd give you a few ideas to get you started before I share my home tour in a few days.
Ways to add Buffalo Plaid Christmas Decorations
1. Make an easy Christmas wreath.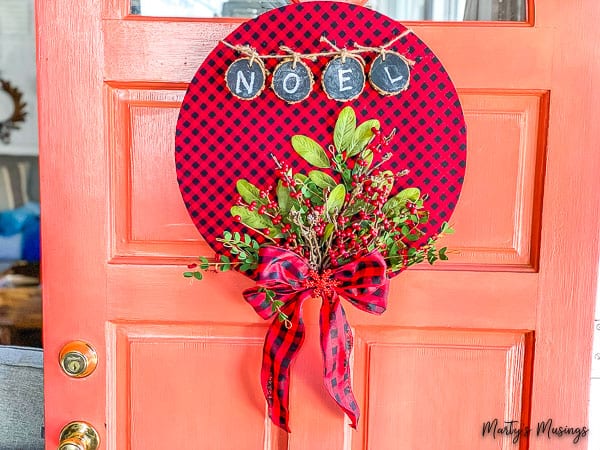 DIY buffalo plaid Christmas hoop wreath
2. Layer buffalo plaid table runners.
Here's a quick look at this year's Christmas table.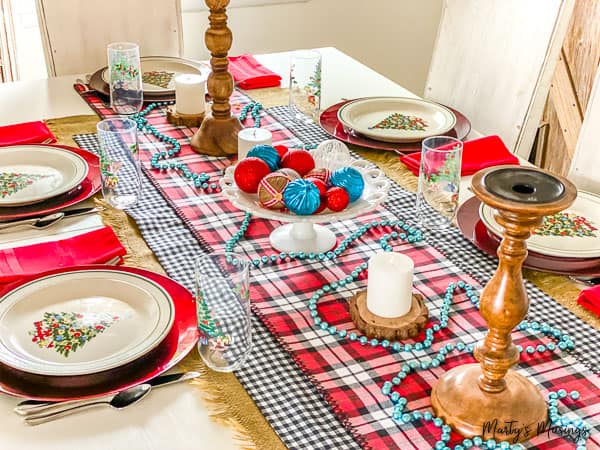 I simply added a red plaid table runner on top of my fall basics and used all my Christmas pretties.
3. Use a flannel sheet on your Christmas table.
Last year's Christmas table uses the remnants of a flannel sheet thrown in the center.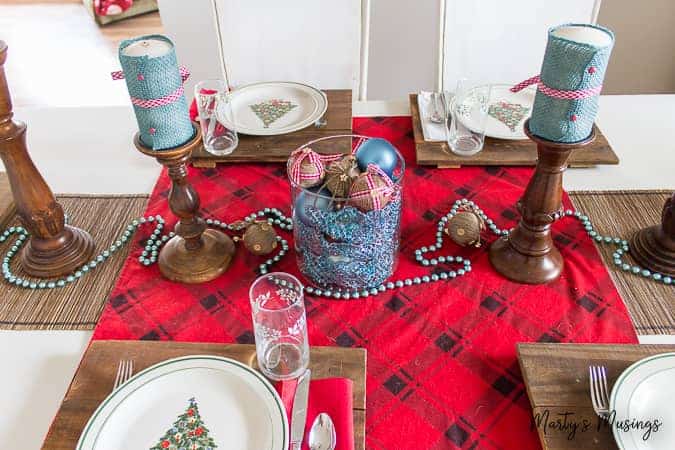 Rustic Christmas table decorations
4. Wrap your presents in buffalo plaid paper.
I always buy my wrapping paper after Christmas when I save at least 50% or more!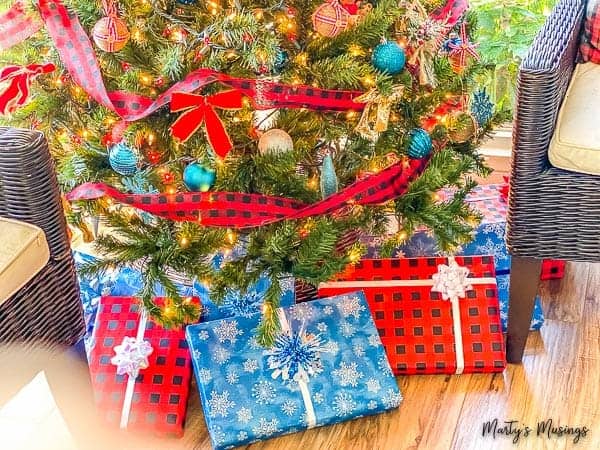 Rustic farmhouse Christmas decorations
5. Add texture with a buffalo check throw or a scarf.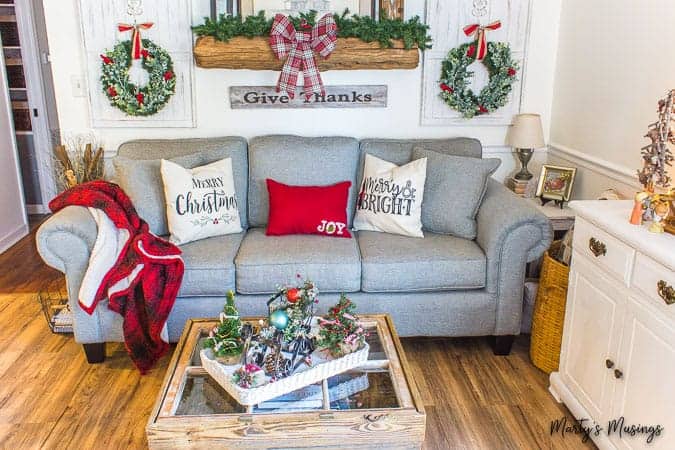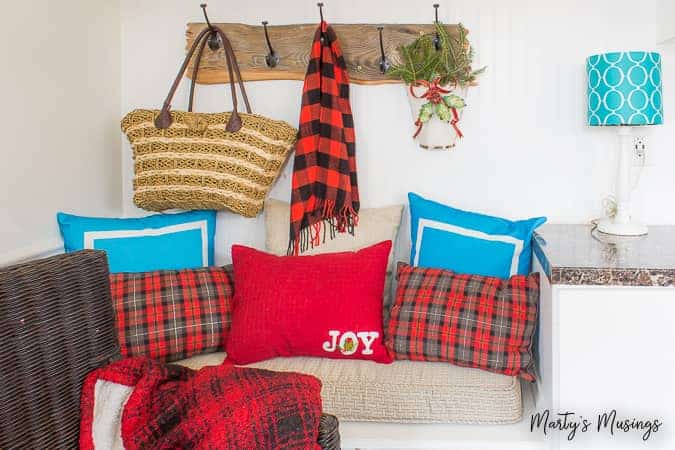 6. Make no sew pillows out of place mats.
This is one of my favorite ways to make pillows – the no sew way!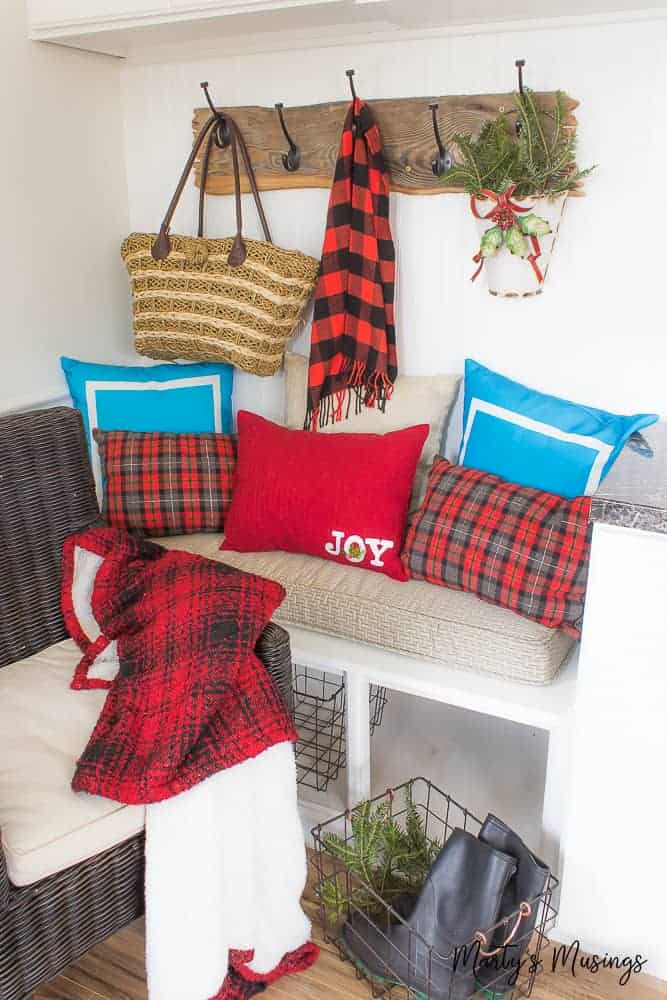 7. Layer rugs by the front door.
I love to layer rugs and these beauties are my favorite (plus I had a helper when I was taking photos!)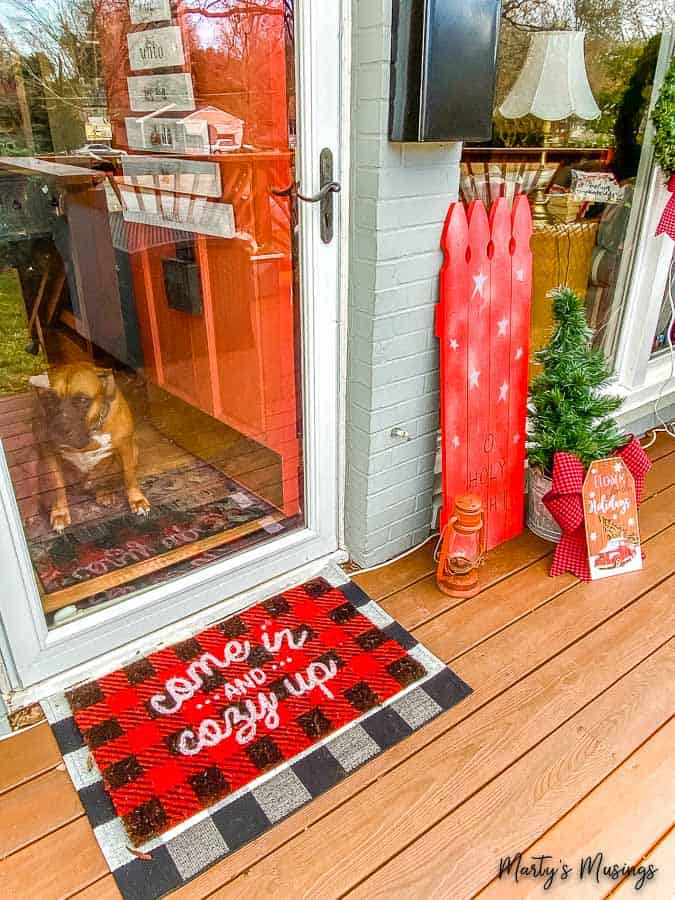 Decorating outside for Christmas
8. Add premade bows.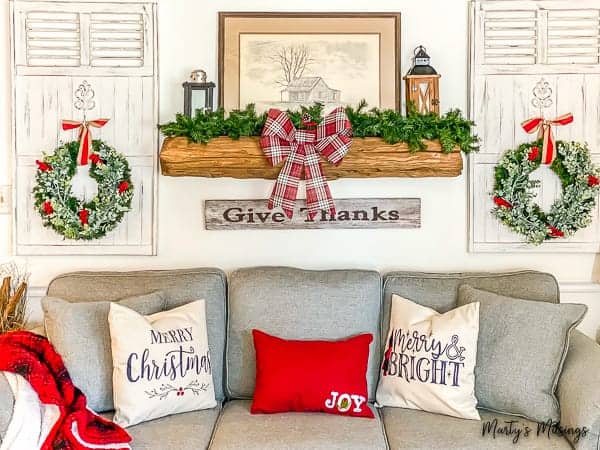 If you're not great at making bows (I'm not!) buy some already put together and make it easy on yourself!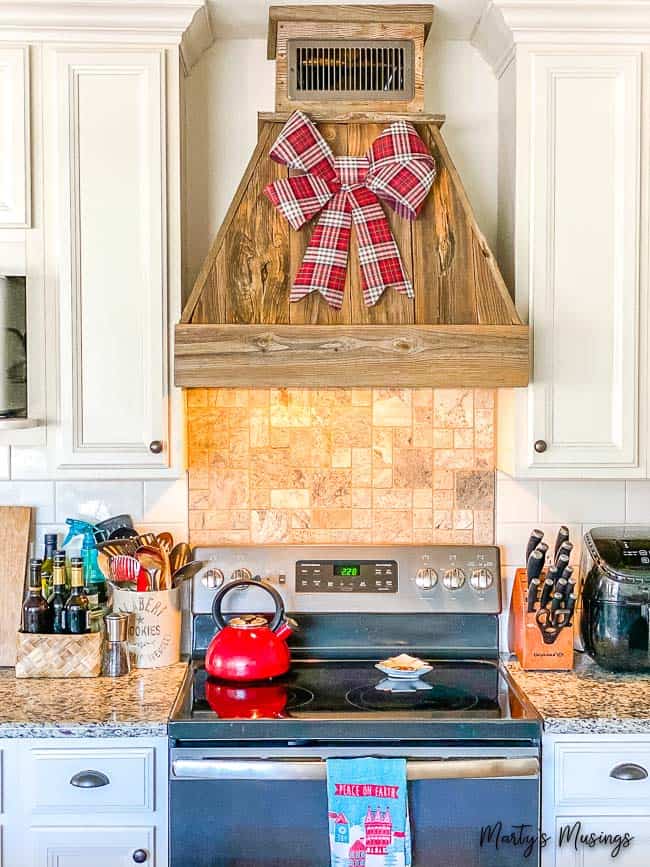 9. Wrap a piece of fabric around the base of a miniature tree.
Even though my deck isn't covered this little piece of fabric has lasted all season through cold and storms!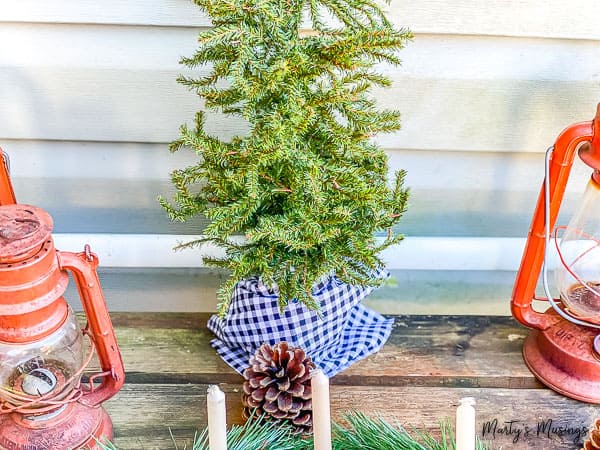 10. Use buffalo check ornaments and ribbon.
Last year's Christmas tree was a favorite, with both blue and red mingling together happily.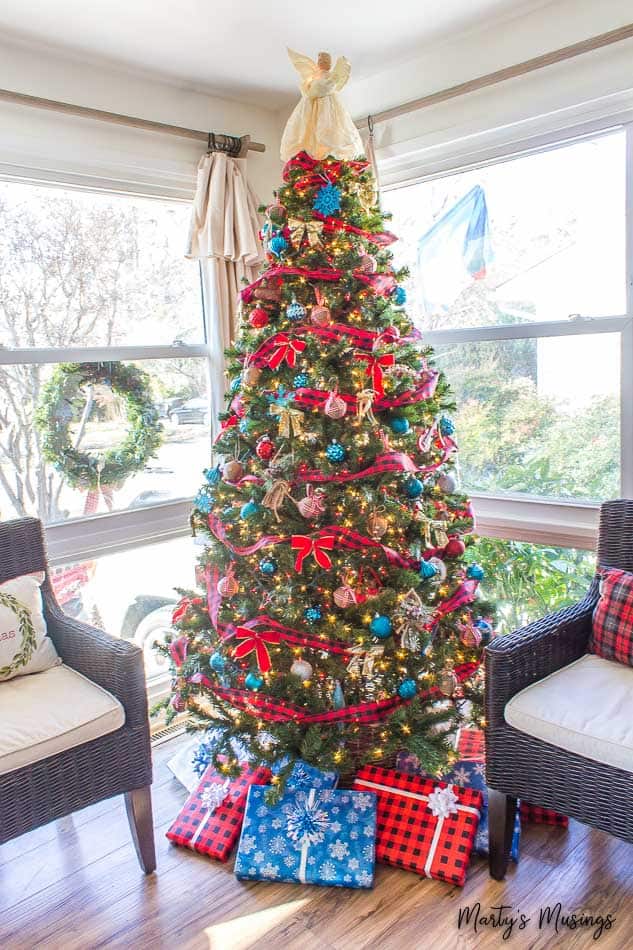 This year's tree uses black and white buffalo check ribbon mixed with pops of red and blue. I'm glad I held my ground!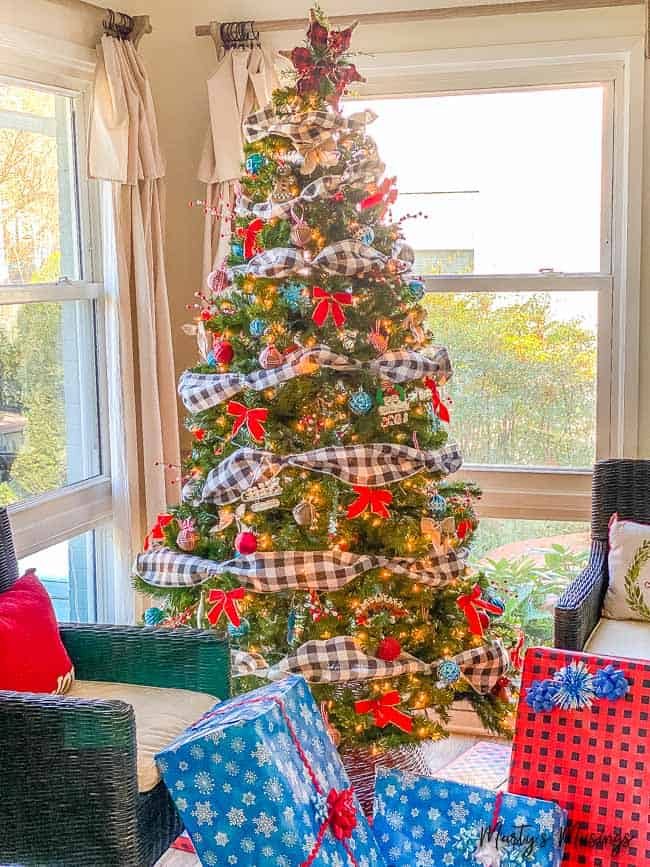 11. Buy or make a buffalo check banner.
I got this beauty on sale after Christmas last year and it gives the pop of color I love!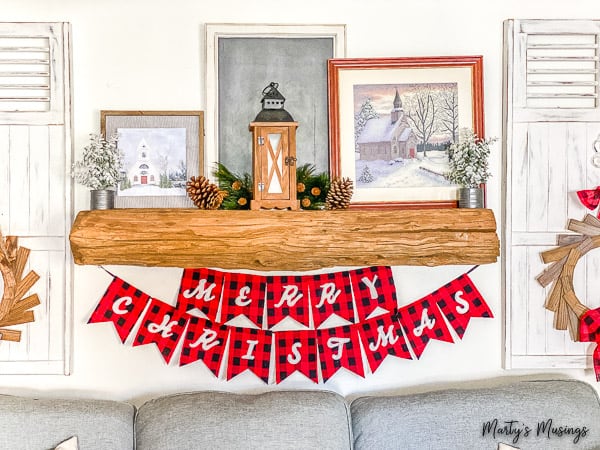 Do you love buffalo plaid at Christmas like I do? What's your favorite way to add it in your decor?
Sources for my favorite Buffalo Plaid Christmas Decorations:
(I've included some affiliate links for your convenience. Click here to read my full disclosure policy.)
Christmas Tree
Buffalo Plaid Ribbon
Pillow Covers
Large metal baskets (similar to the ones in the drop zone)
24″ Noble Fir Christmas wreath
6 Ft. Eucalyptus Garland
Red and Black Buffalo Plaid Throw
Black and white buffalo check rug
Red and black buffalo check doormat
Merry Christmas banner