How to Decorate for Christmas on a Budget
This post may contain affiliate links which won't change your price but will share some commission.
Filled with simple DIY projects and thrift finds, this tutorial will teach you how to decorate for Christmas on a budget!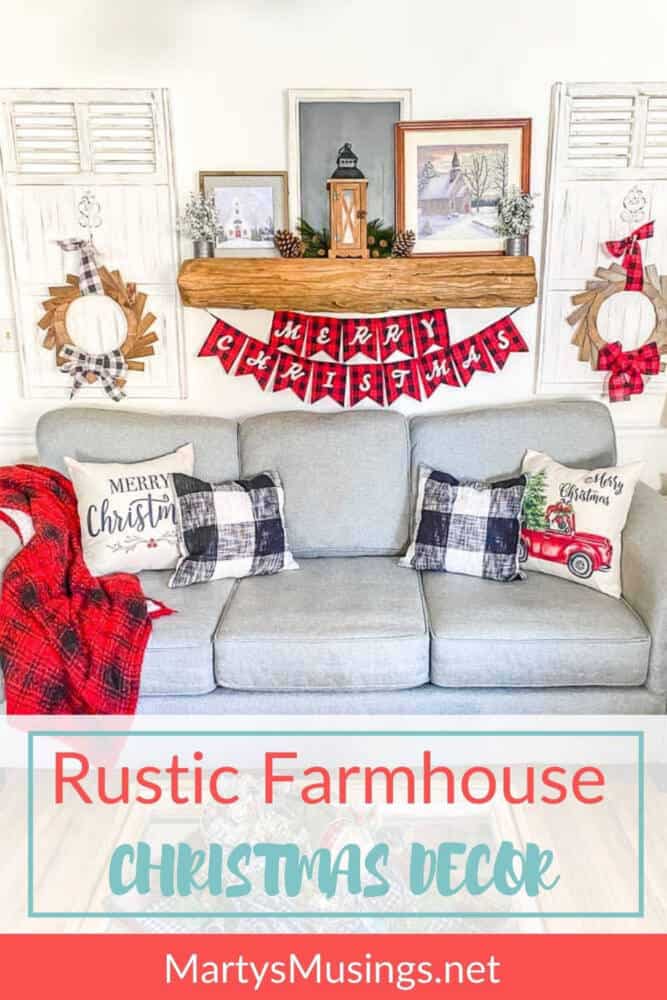 One of my favorite and funniest Christmas stories happened in 1989. Whoa, that certainly seems like a long time ago!
My husband Tim and I were living in Little Rock, Arkansas with our one-year-old firstborn daughter Rachel.
Our heart's desire was to come home to Greensboro, North Carolina, to spend the holidays with family.
As you can imagine, a 14-hour car drive with a young child was a challenge. Our solution? Leave mid-afternoon, stop for dinner and pray for Rachel to fall asleep while we drove the rest of the way!
However, the weather was so blistering cold the windows on our Pontiac Sunbird were frosting impossibly on the inside. We could barely see ten feet in front of us.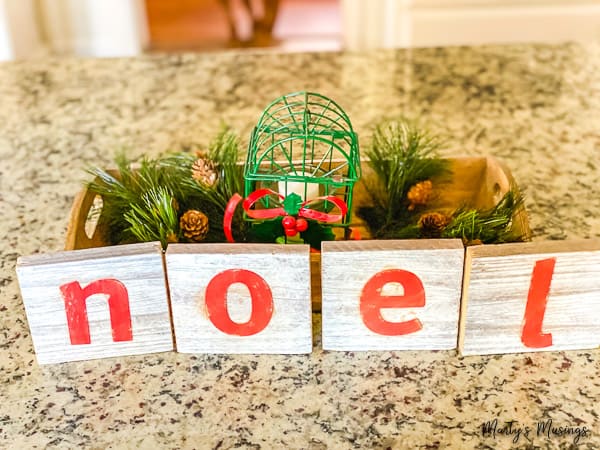 About midnight nature called and we stopped at a rest stop, only to find all the water lines frozen. Yep, no bathrooms for us!
Meanwhile I broke out in hives from all the stress! That's a vivid memory even 30 years later!
After driving for what seemed an eternity and not finding any restrooms we decided to stop at a hotel. Not in our plans or budget but we needed to warm up and try to sleep.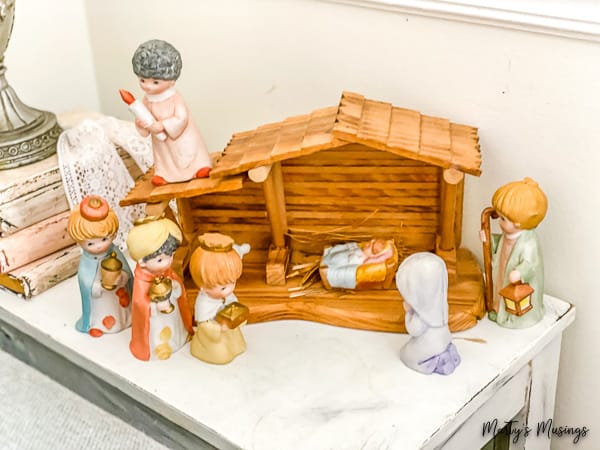 You know where this is going don't you? Rachel thought it was time to get up and play! Tim slept and I lay there itching and exhausted with a busy toddler!
With only a short night's rest we got up, only to discover problems with a sluggish car. After driving up hills at about 30 mph we finally realized we had water in the gas tank line. The condensation from the bitter cold wasn't helpful!
We finally got the car going and drove the rest of the way to Greensboro that afternoon. Since Rachel fussed in the carseat ALL DAY LONG I finally unbuckled her in desperation to nurse. I KNOW. Don't ever do this but we were all three losing our minds!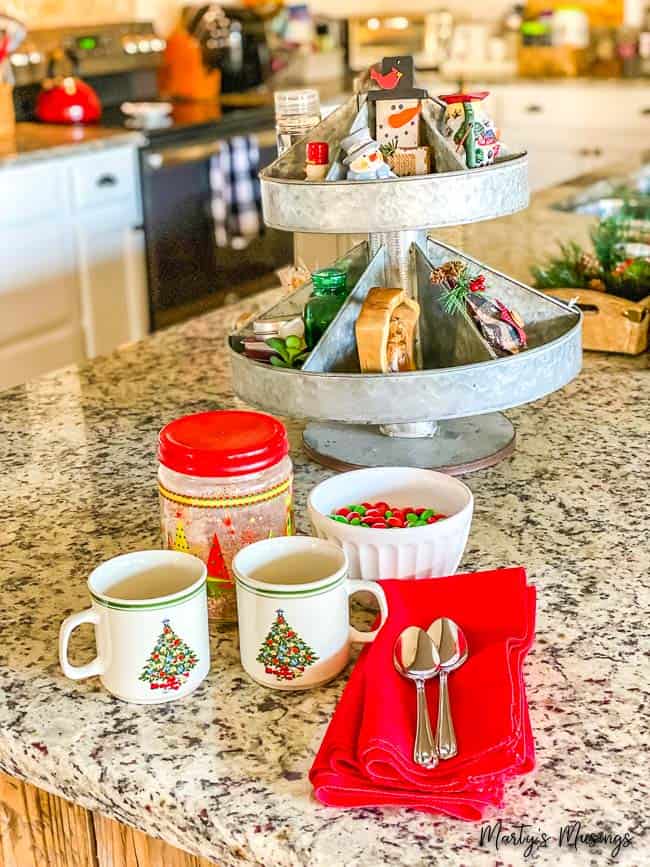 Finally making it to my parents' house, the rest of the vacation resembled normality more than fiasco! We celebrated Rachel's first birthday on Dec. 26th with special family and friends and watched her take her first steps!
A week later we journeyed back to Arkansas with much less fanfare……until we got to our rental home.
Before we left, my husband planned ahead and filled the fireplace with wood so we could start a fire after hours of driving. Unfortunately, he stacked the wood too high and it began blazing out of control!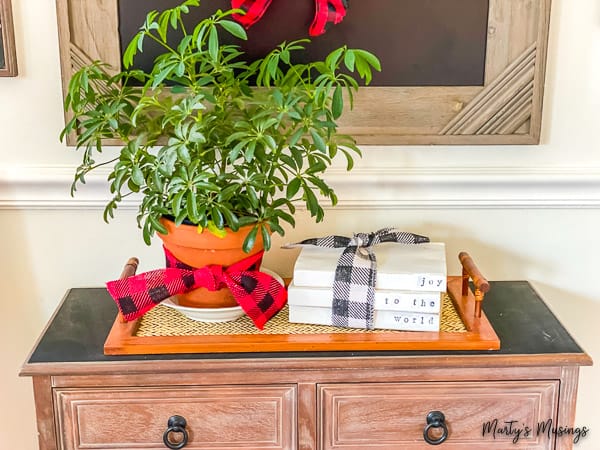 He tried to fling a log or two out into the garage and sparks dropped on the carpet, leaving burn marks. Wanting to avoid a fight I went to check on our three cats in the guest bedroom, only to notice something a little unusual.
The outside wall of the guest room was bowed in the middle with a large crack running up the wall. After much investigating we discovered our across the street neighbor's car had rolled out of its driveway into our home!
Can you believe it? What a glorious end to a memorable Christmas vacation! (And thankfully we were renting so none of the fixes fell on us!)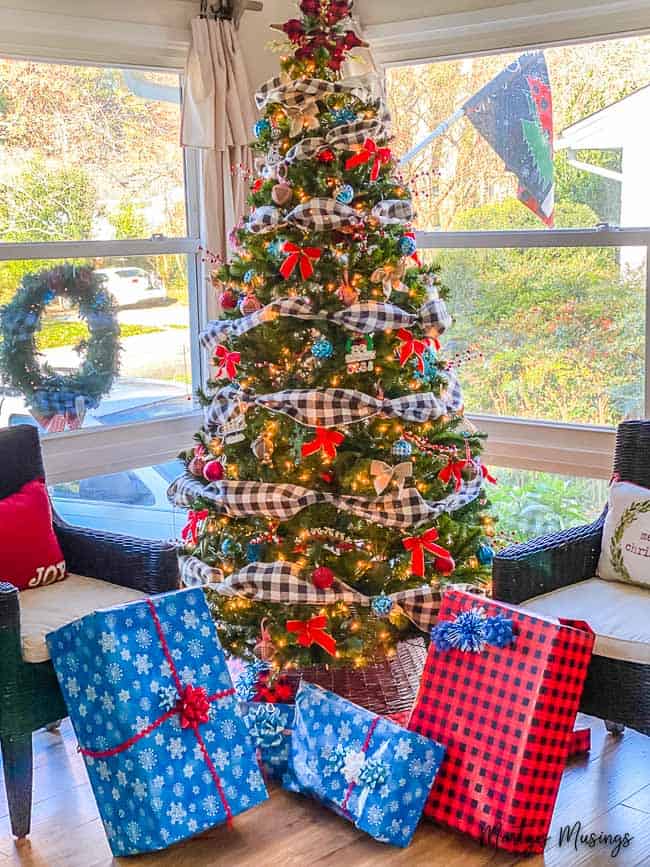 Why do I share this ancient story with you? Because sometimes you need a little perspective when you're in the middle of hard times, holiday season or not.
2020 has been the year of change for most of all of us. This has been a season of immense grief for all of us.
Many of you may have lost all enthusiasm for decorating your home this year. I get it. Truly.
When we were in the midst of raising our adopted kids from trauma and shepherding my parents through their last years, often I did the bare minimum to survive during the holidays.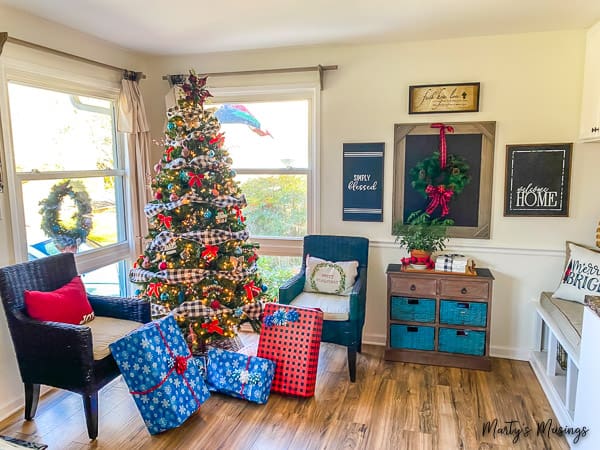 Maybe that's where you are today and if it is, big hugs and much love to you. My desire is always to encourage women in hard places because I've lived through it and understand the struggle to just survive from day to day.
So my Christmas home tour each year usually comes with a heartfelt story and love from our home to yours. May this encourage you with hope for the future.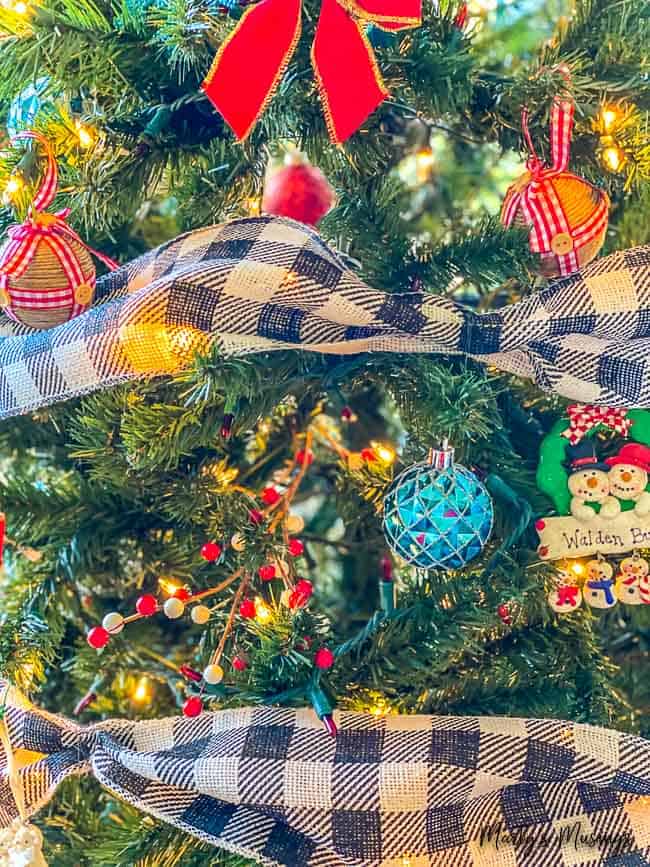 How to Decorate for Christmas on a Budget:
Step 1. Use what you already have.
Step 2. Pick up inexpensive decor from thrift stores, yard sales, dollar stores and after season sales.
Step 3. Add texture with throws and pillows
Step 4. DIY a Christmas wreath.
Step 5. Find creative ways to use all those extra Christmas ornaments.
How to Decorate for Christmas on a Budget
Step 1. Use what you already have.
This is always my best tip when you're trying to save money. Don't get lost in Pinterest land and decide you need to change all the things.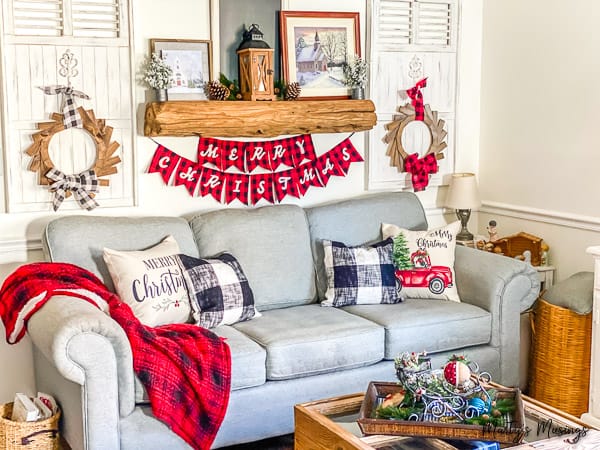 Go through all your decor at the beginning of the season and figure out what you like and don't like. If you're changing or adding colors spray paint is your best friend!
I made this buffalo check tray for fall and I simply restyled it for Christmas.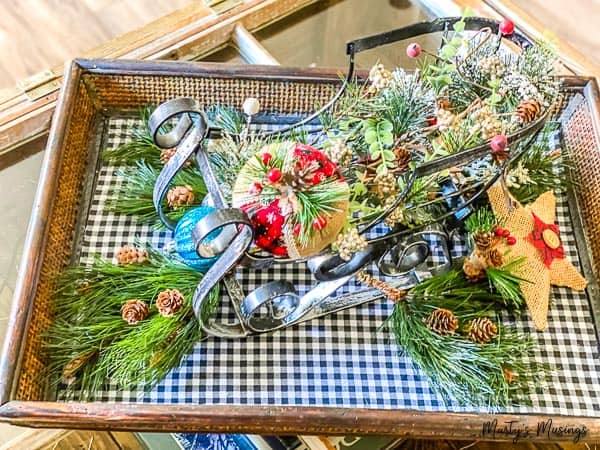 I also built my mantel around a framed cross-stitch my sister made for my mom many decades ago. The inexpensive church I paired with it was picked up at Walmart for pennies last year, along with the frosted mini trees.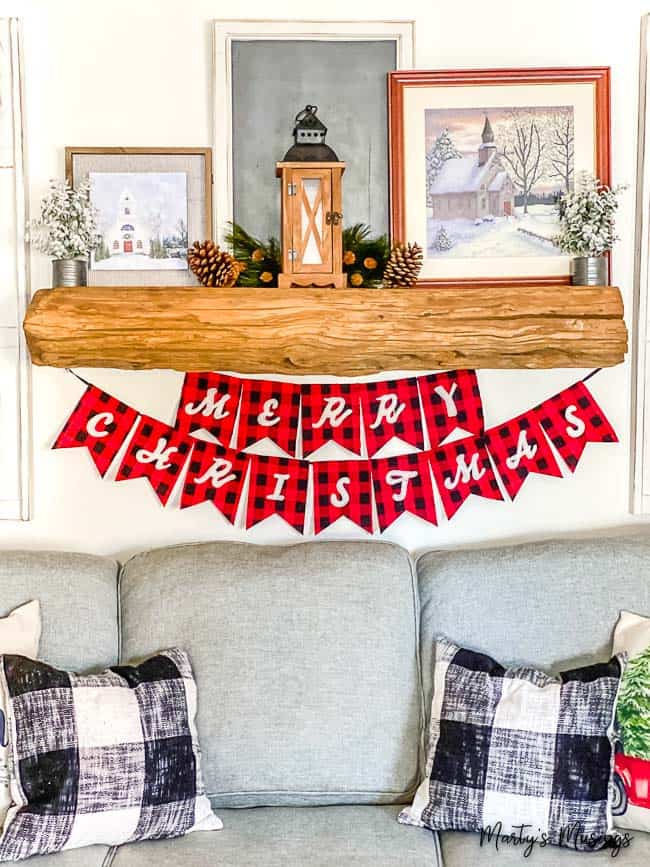 The adorable banner was also purchased at the end of the season!
Step 2. Pick up inexpensive decor from thrift stores, yard sales and after season sales.
One of the best ways to save money is to shop BEFORE you need something. Thrift stores and yard sales are great places to find unique Christmas items regardless of the time of year.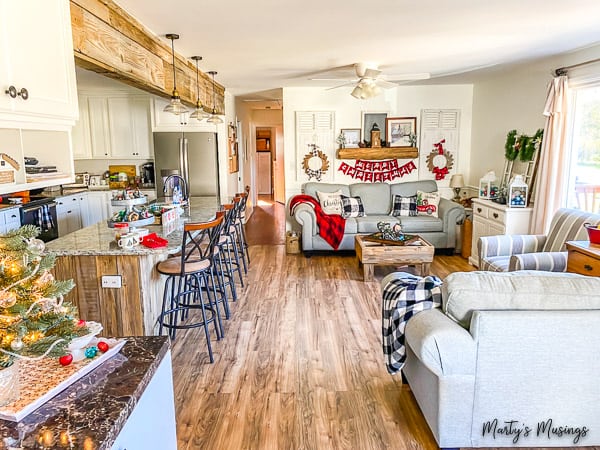 My husband was a self employed painting contractor for 25+ years and was such a help in finding items no one else wanted. One time he got all the old windows he could fit in his van and we've used them in several projects (including the one below.)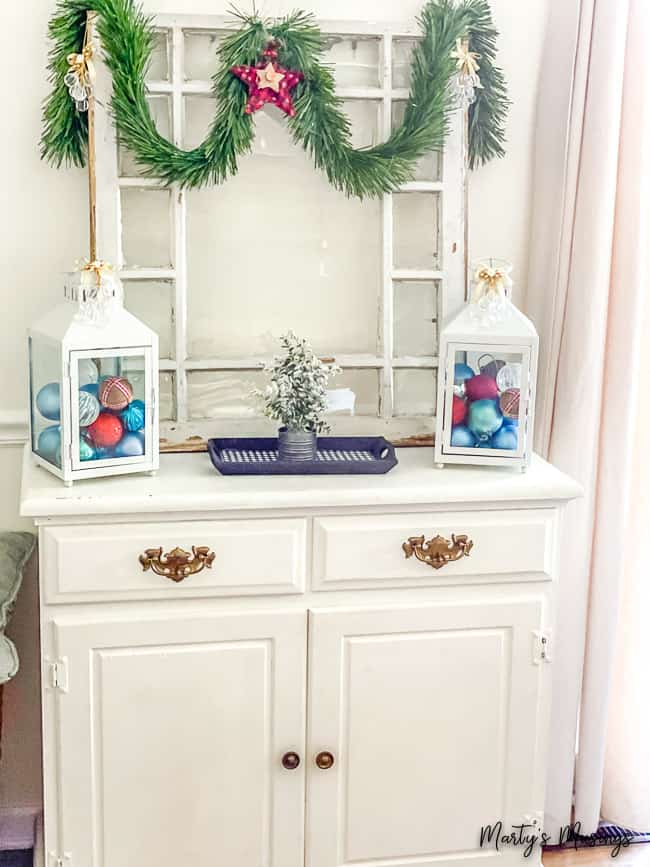 Step 3. Add texture with throws and pillows.
Inexpensive pillow covers, an old buffalo plaid scarf and a fluffy down coat add texture to our drop zone.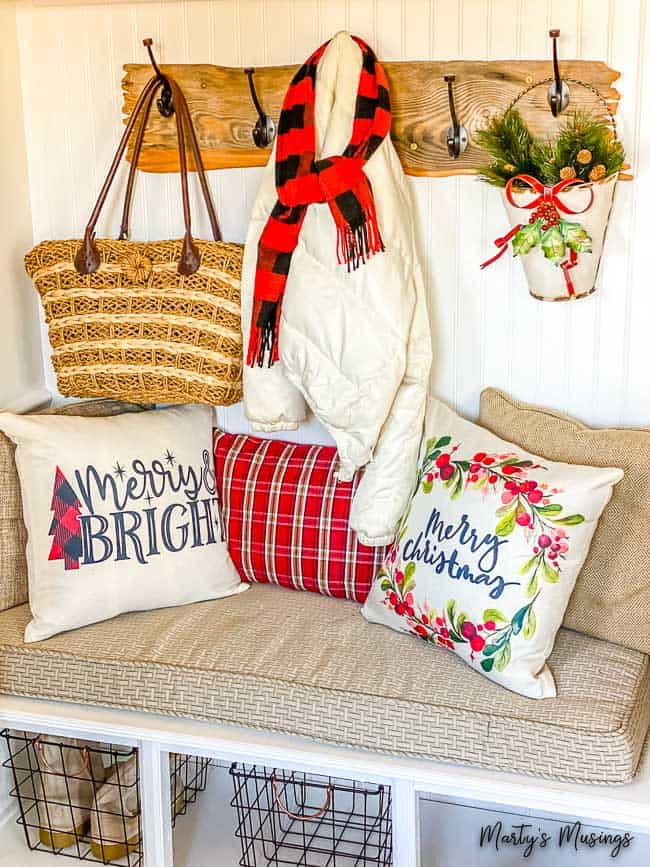 Add some baskets with boots and a Christmas tin filled with greenery and this space is perfectly decked out for the season!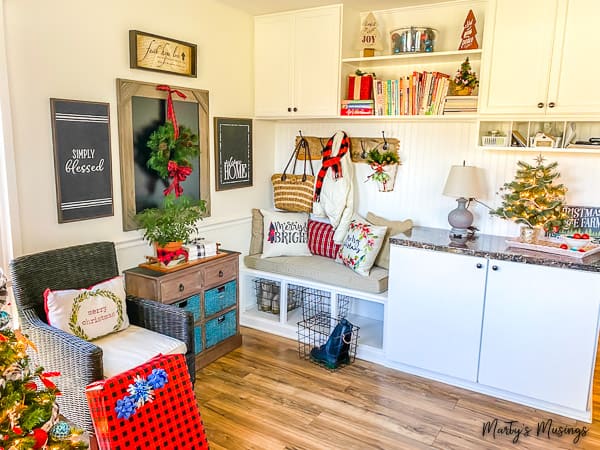 (Read here for 11 ways to add buffalo plaid to your Christmas decor.)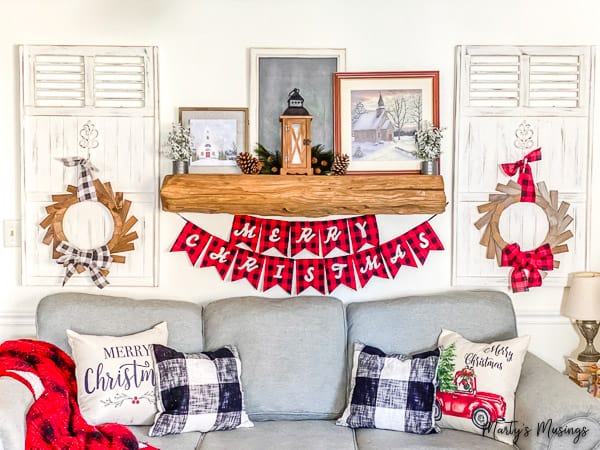 Step 4. DIY a Christmas wreath.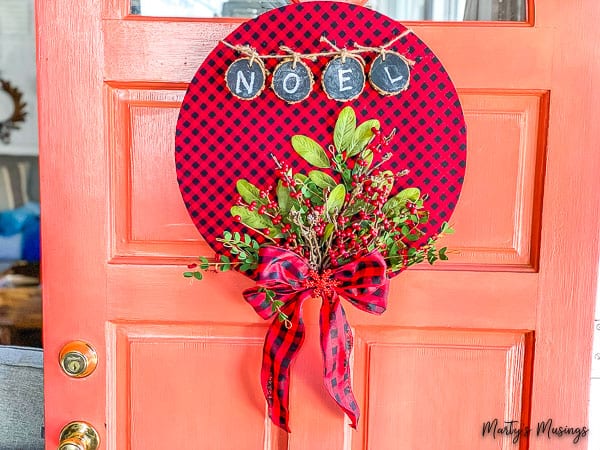 I could NOT figure out what I wanted for my front door but settled on a buffalo plaid Christmas hoop wreath. A seriously easy project that could be translated to any season with different fabric!
This wood shim wreath is also a favorite to simply decorate with buffalo plaid ribbon.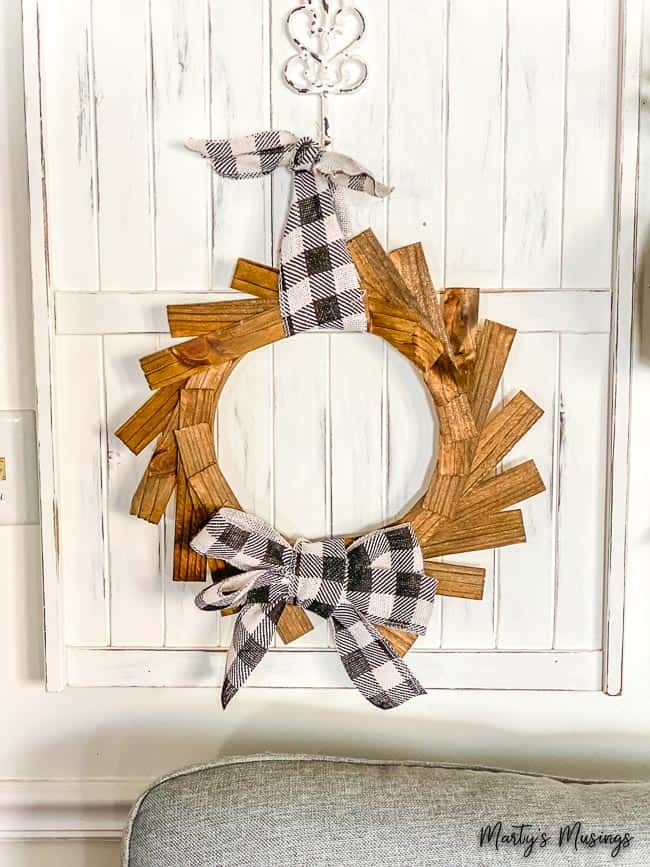 Here's a simple basic green wreath and premade ribbon and the perfect place to hang it on our vent hood. (You can find more easy DIY wreath ideas here.)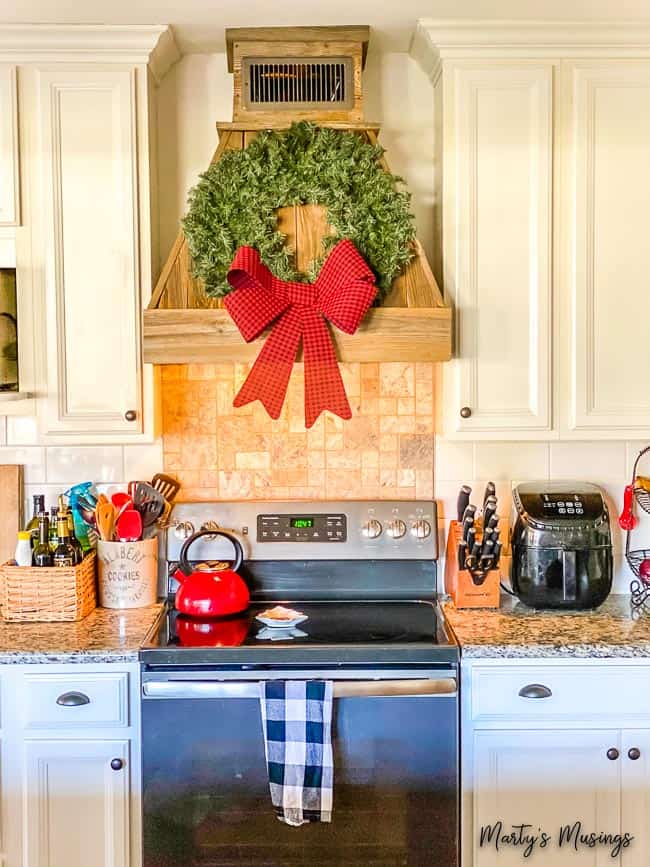 Step 5. Find creative ways to use all those extra Christmas ornaments.
One of my favorite ways to stretch my Christmas decorating budget is by using ornaments. (Read about 10 creative ways to use extra Christmas ornaments.)
Gather your favorites in a bowl, dish or whatever you have on hand. I love using blue and red for my decorations and the tray just has scrapbook paper on it for a seasonal touch.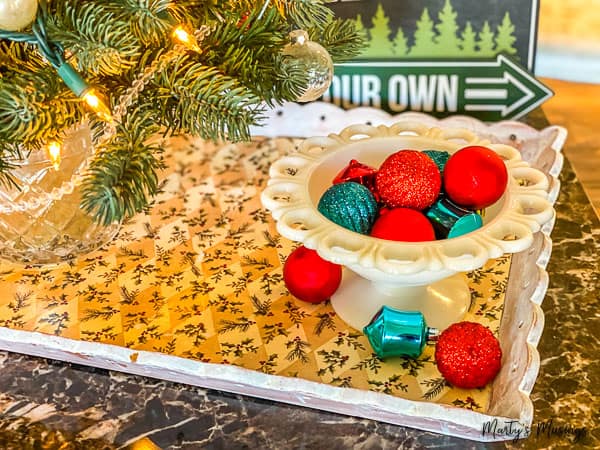 What's your favorite budget decorating trick? I'd love to know!
My favorite Christmas Home Decor:
(I've included some affiliate links for your convenience. Click here to read my full disclosure policy.)
Christmas Tree
Buffalo Plaid Ribbon
Pillow Covers
Large metal baskets (similar to the ones in the drop zone)
24″ Noble Fir Christmas wreath
6 Ft. Eucalyptus Garland
Red and Black Buffalo Plaid Throw
Black and white buffalo check rug
Red and black buffalo check doormat
Merry Christmas banner
For more Christmas inspiration check out these past home tours (and see how my style has evolved!)
Front porch Christmas Decorations 2020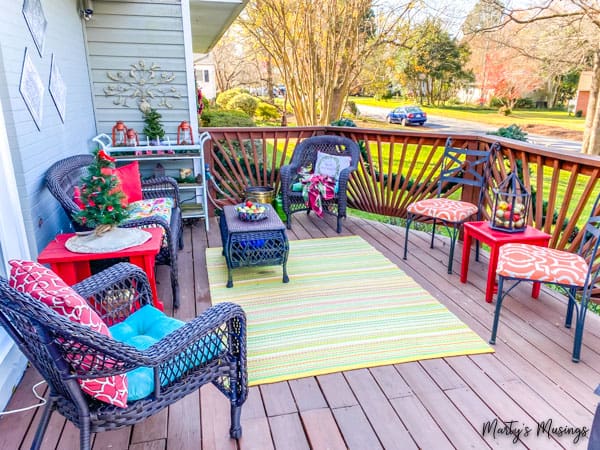 Decorating Outside for Christmas 2019