Decorating Outside for Christmas: 5 Easy Ideas!
This post may contain affiliate links which won't change your price but will share some commission. Read more here.
These 5 easy and inexpensive ideas for decorating outside for Christmas include using what you already have with free natural elements!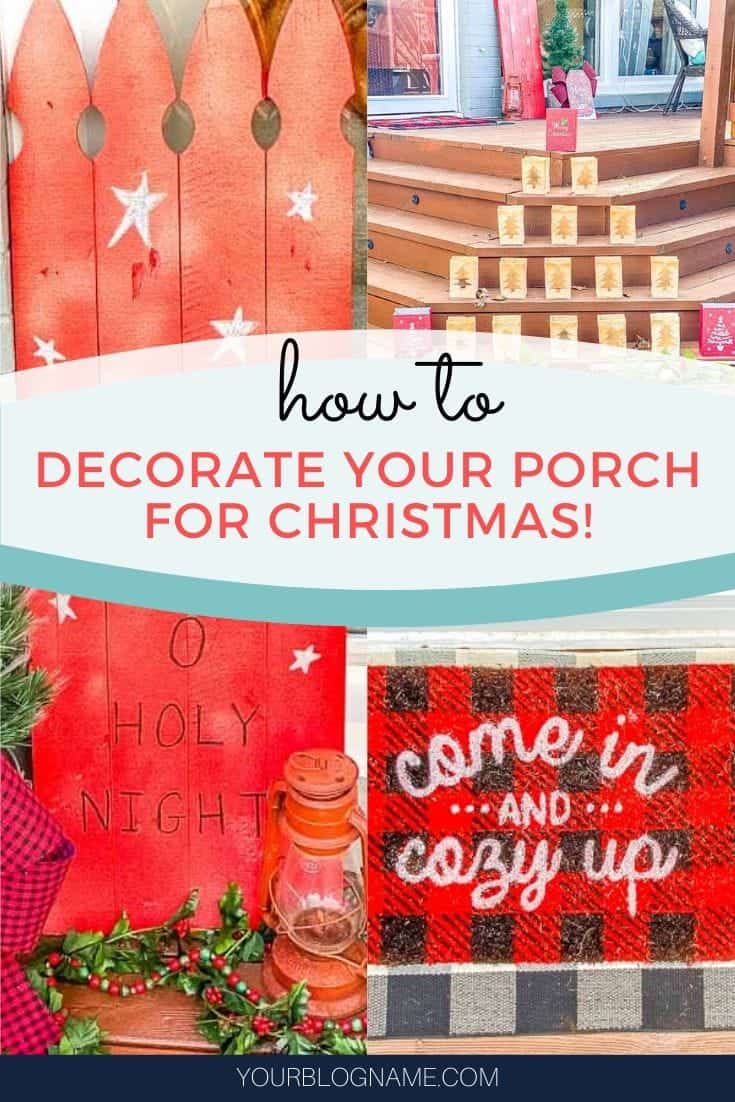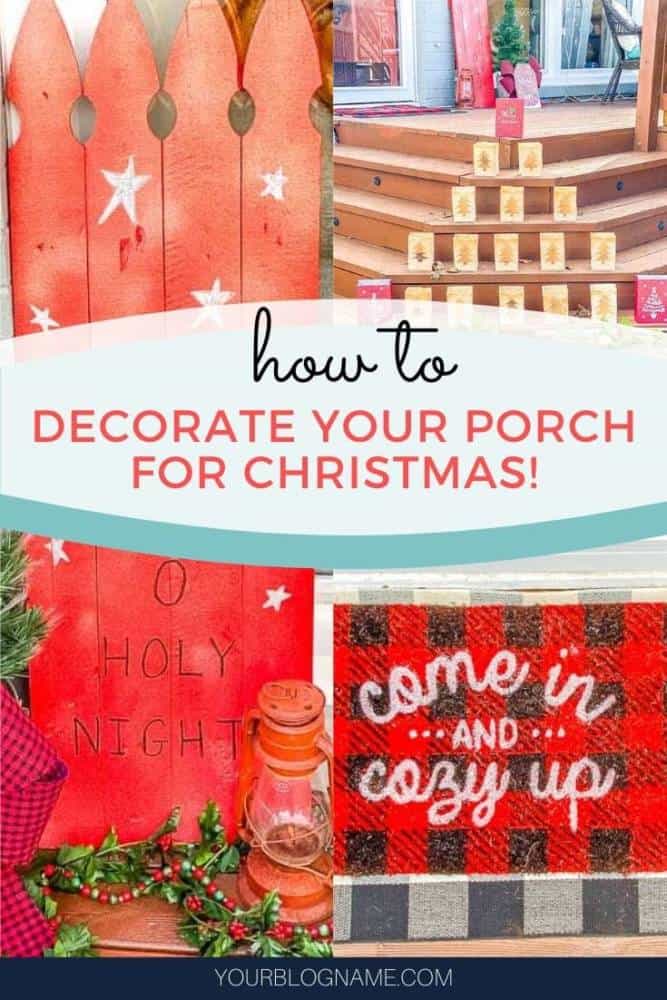 We built our front deck about five years ago. (You can read all about it here.) Before we added the deck we just had a tiny stoop.
It wasn't pretty and decorating outside for Christmas was not a thing.
Once we added the deck I had great big dreams about how I wanted this space to look. (Don't we all?!! lol) Too much Pinterest gazing and not enough reality.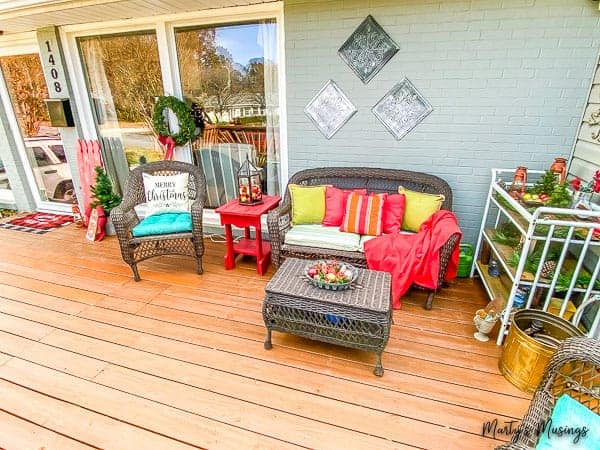 In general (at least when all the kids were home), my husband takes care of the outside projects and I do all the cleaning and decorating inside.
Tim loves to decorate outside with all.the.lights he can find. When we used to host a Christmas party I would tell people to look for the landing strip!
Since our kids are all grown Tim doesn't have any help with the outside decorations. He's simplified things and it doesn't take days to set everything up.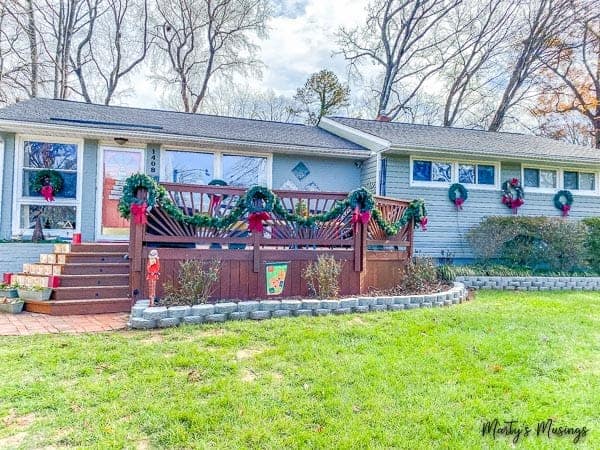 I worked hard this year to simplify my decorating inside as well. (You can see my rustic farmhouse Christmas tour here.)
This year I was determined to decorate my front deck. Remember those big dreams? Yeah, not as easy to implement!
Tim blows the leaves out of the gutters and they land in every crack and crevice of this space. Then the wind blows and it's just a big mess.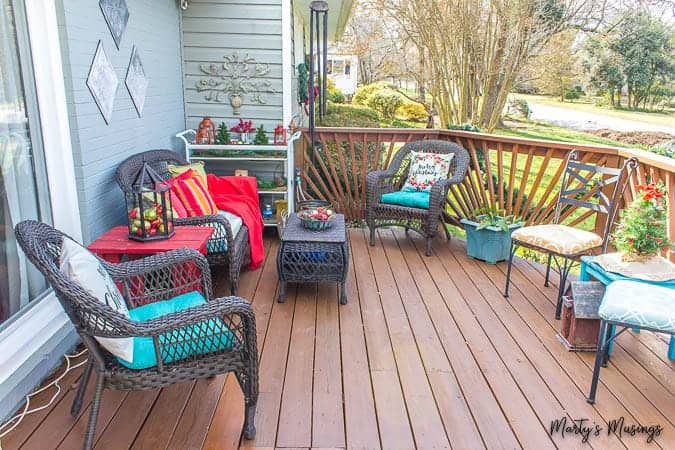 Cleaning and making the deck pretty are WAY harder than I ever imagined! But for this Christmas I wanted a pretty space to welcome guests and family.
Here are my best tips for creating a beautiful welcome space outside your home.
Decorating Outside for Christmas
(I've included some affiliate links for your convenience. Click here to read my full disclosure policy.)
SOURCES FOR ALL MY FAVORITE DECORATIONS:
Black and white buffalo check rug
Red and black buffalo check doormat
Pillow Covers
1. Flip your cushions and pillows.
This may sound silly, but it's totally worth it! I haven't flipped our cushions since we bought them, so instead of cleaning them I flipped them over!
Look who's winning here? This girl!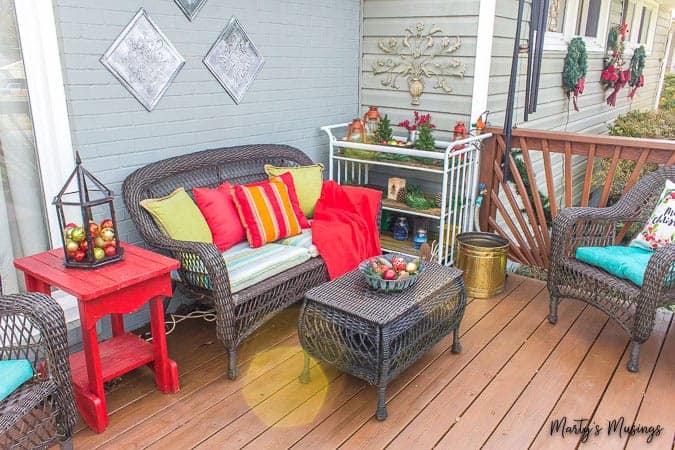 I love the pillow covers but in all honesty, they're not waterproof so they're just for staging!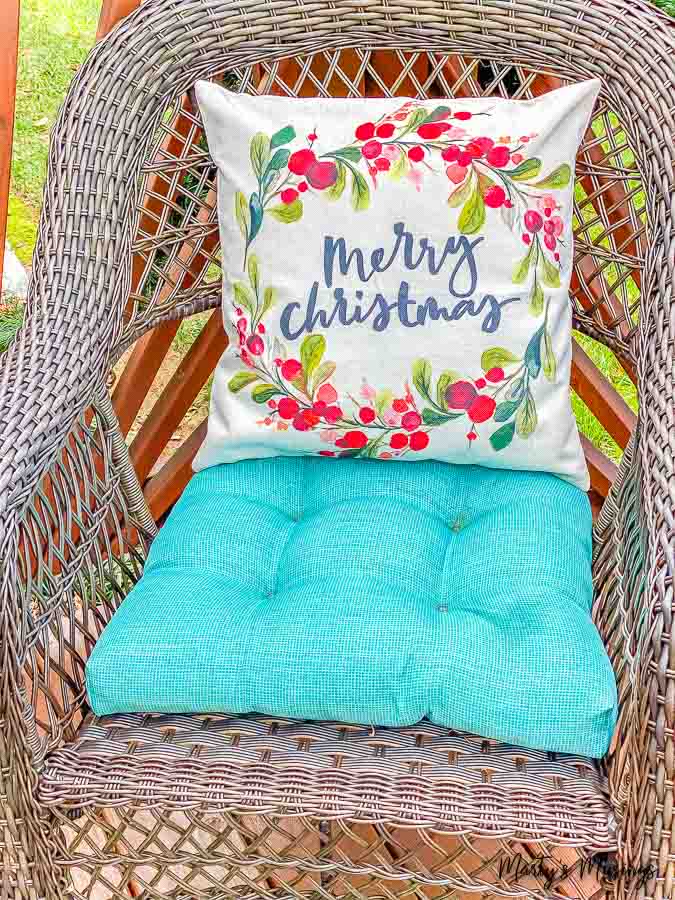 The ones on the love seat bench are from a yard sale and they'll stay out all year.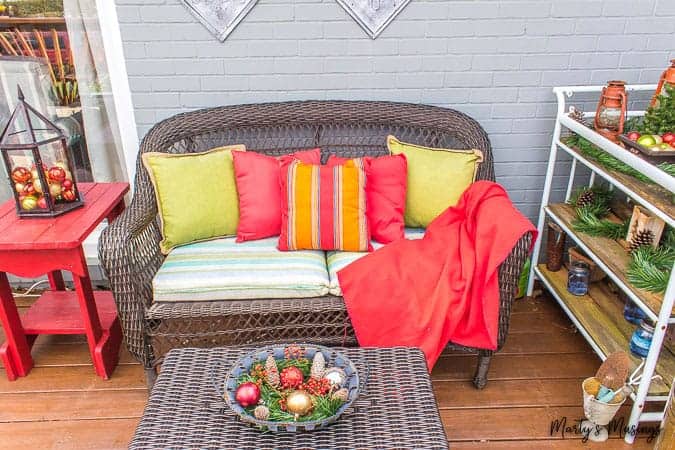 2. Use inexpensive ornaments for decoration.
This $15 changing table turned DIY garden cart is decorated simply with yard sale lanterns and inexpensive greenery and mini trees.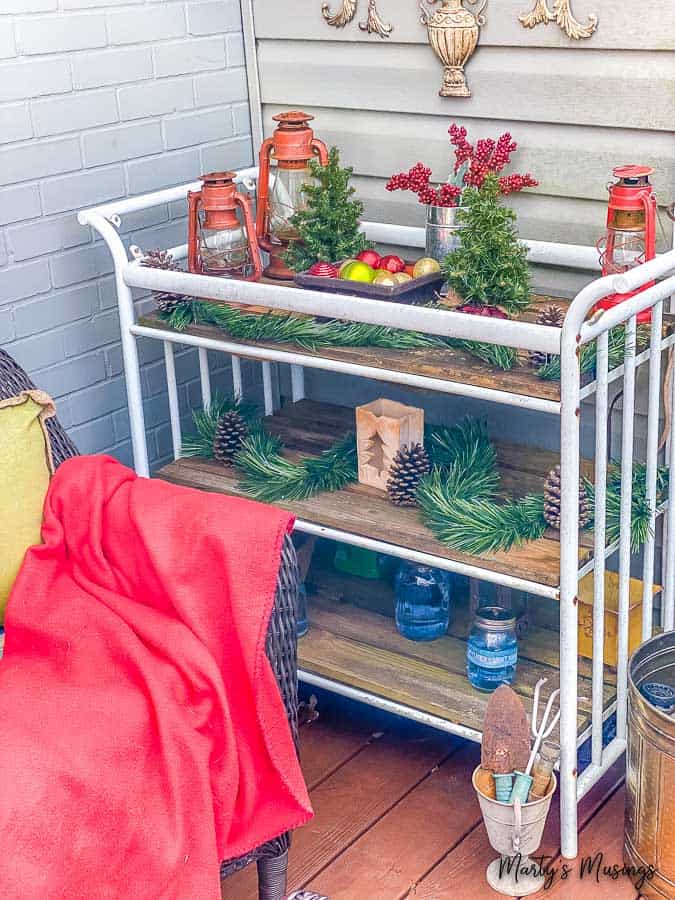 A couple of years ago I shared several different ways to use inexpensive ornaments around your home. Our deck is the perfect example of this strategy.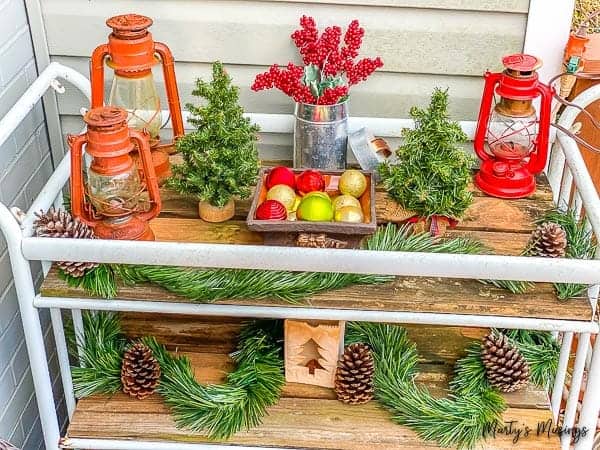 This rustic lantern was $1 at a yard sale and is perfect filled with old ornaments.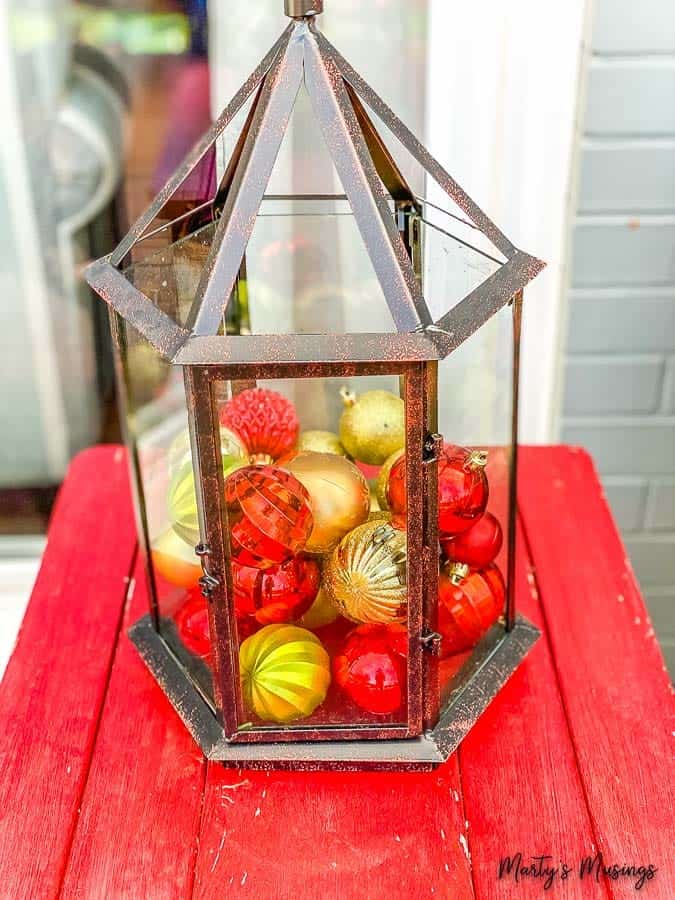 3. Buy a new door mat.
This year I layered two mats together, a black and white buffalo check and a red and black buffalo check. I can't tell you how happy it makes me (and I'll continue to use it in January.)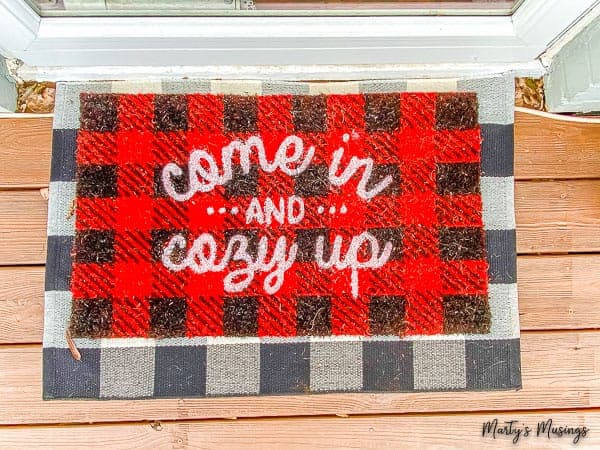 4. Use natural elements.
I didn't feel like moving these empty planters off the deck so I filled them with leaves, pine cones and ornaments.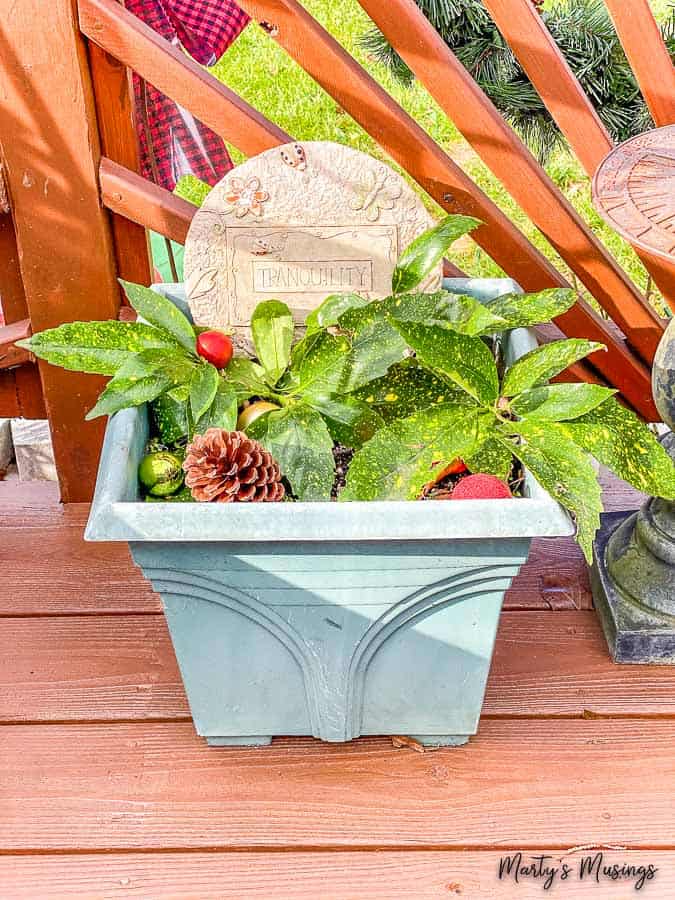 This was our first year without a real tree in 30 years so I missed getting extra greenery from the Christmas tree lot. But I made do with what I could find around my own house!
5. Decorate the steps.
The angle of our center steps makes it difficult to walk down, and I purposefully decorate those to keep people from falling.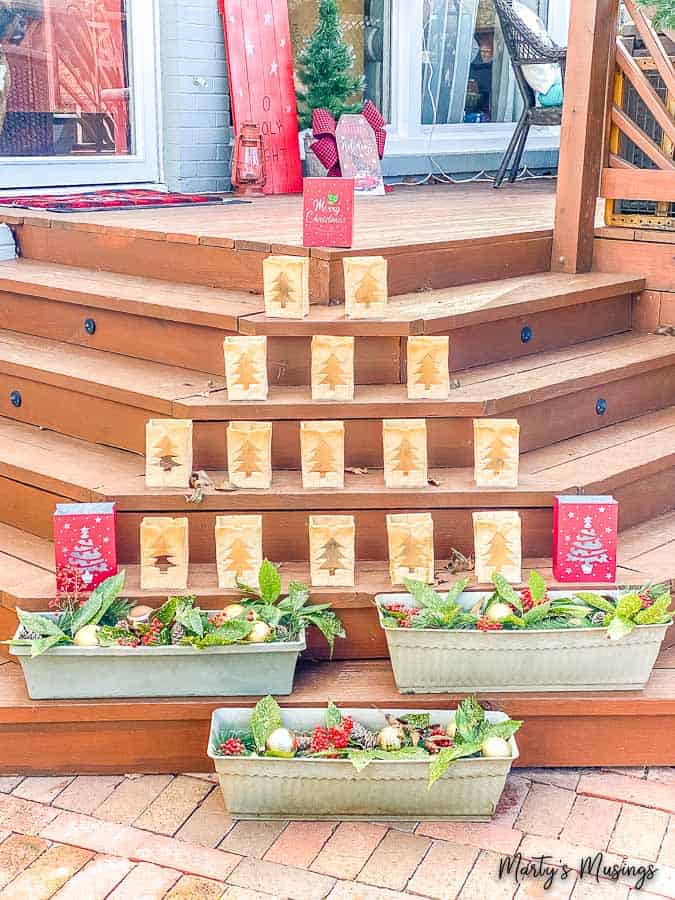 I originally decorated this section a few years ago for Christmas (read all about them here.)
The ceramic luminaries are probably 25 years old. Since I break at least one a year I bought the red LED ones to fill out the tree shape.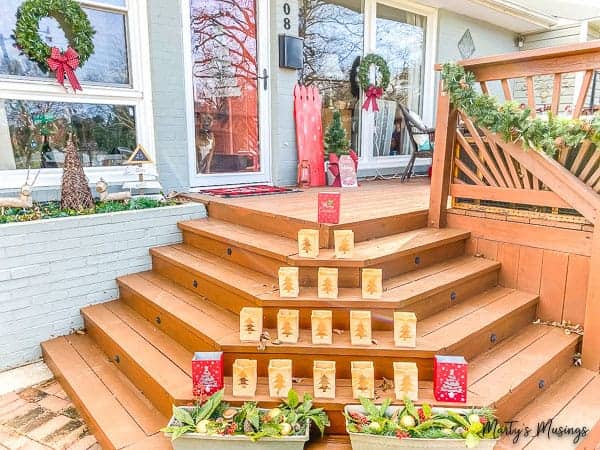 My most clever use of natural elements? These planters using newspaper as filler, greenery and berries from our bushes with pinecones and ornaments to complete them.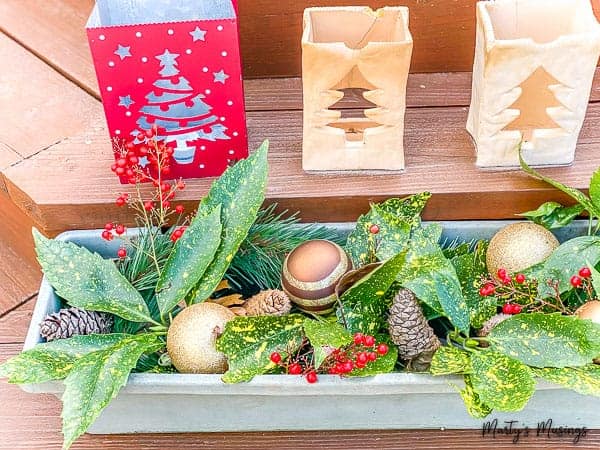 Believe it or not, these have survived several heavy rains recently.
Right beside our front door is a built-in planter that my hubby decorates each year. These reindeer are decades old, and we built the rustic Christmas countdown a few years ago.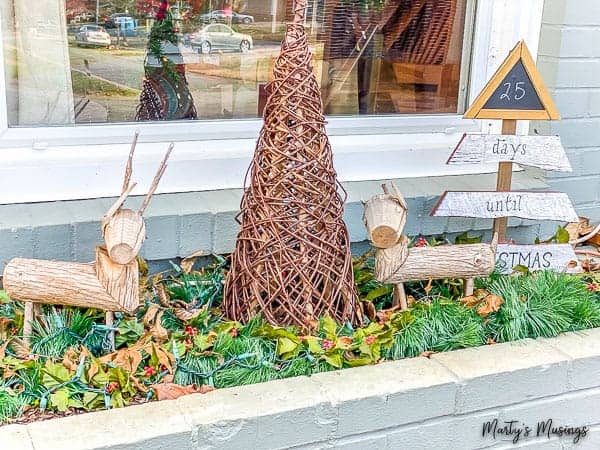 This is my absolute favorite picture! So typical of my dog, always wanting to be near me!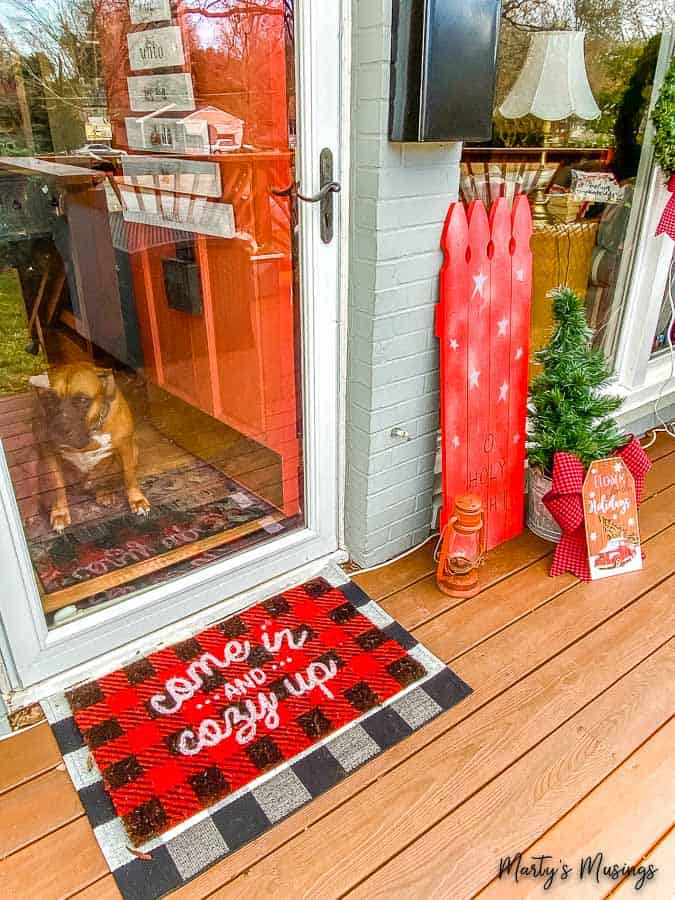 This is the first year I've ever decorated right beside the front door, and I wanted to find a place for this fence board O Holy Night sign.
FYI, I made this sign with my Cricut but the vinyl letters weren't for outdoors and fell off. This year I simply hand wrote the lettering and stars with Sharpies!
The "Home for the Holidays" was from the dollar store and everything else just decorations I already had.
Ha! There he is again, on the couch, watching the world go by!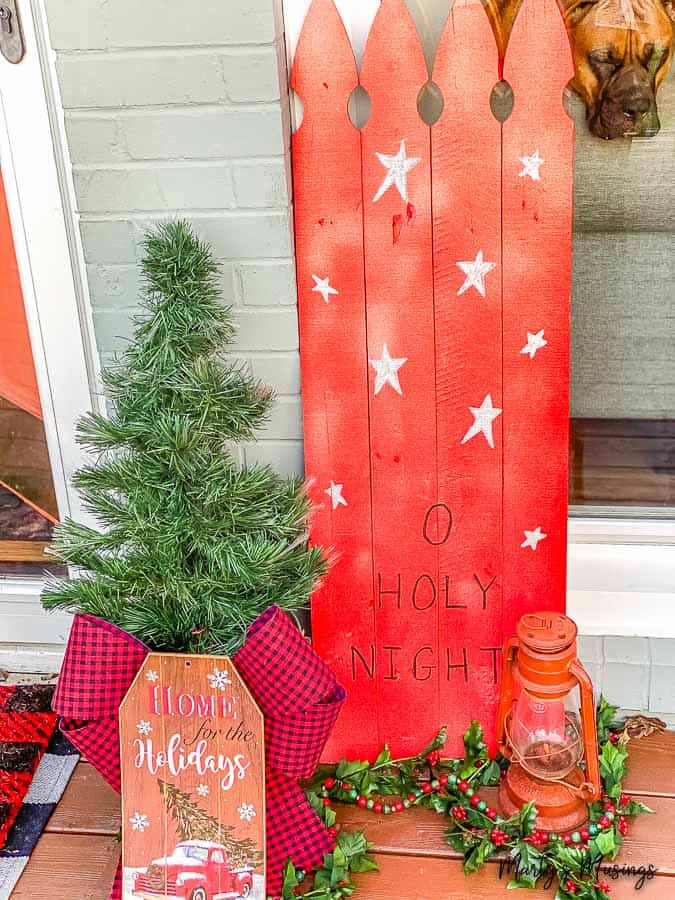 This scrap wood Christmas tree is one of my favorite front door decorations. With these adorable rugs, I believe guests and family feel welcomed when they come to our home.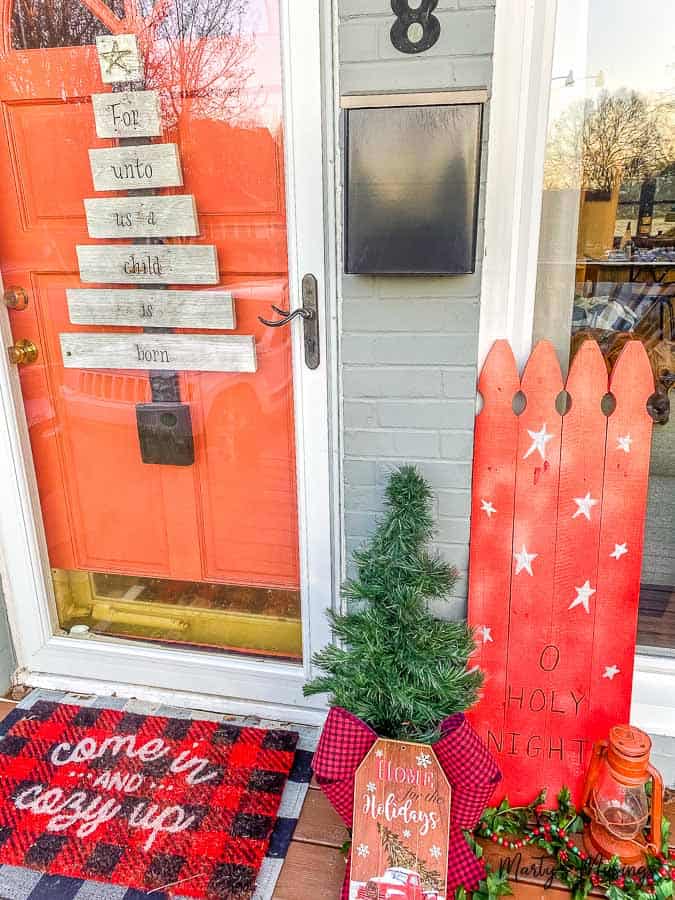 Do you decorate the outdoors of your home?