Rustic Farmhouse Christmas Decorations
This post may contain affiliate links which won't change your price but will share some commission.
These rustic farmhouse Christmas decorations will encourage you to shop your home, yard sales and thrift stores to create a home you'll love!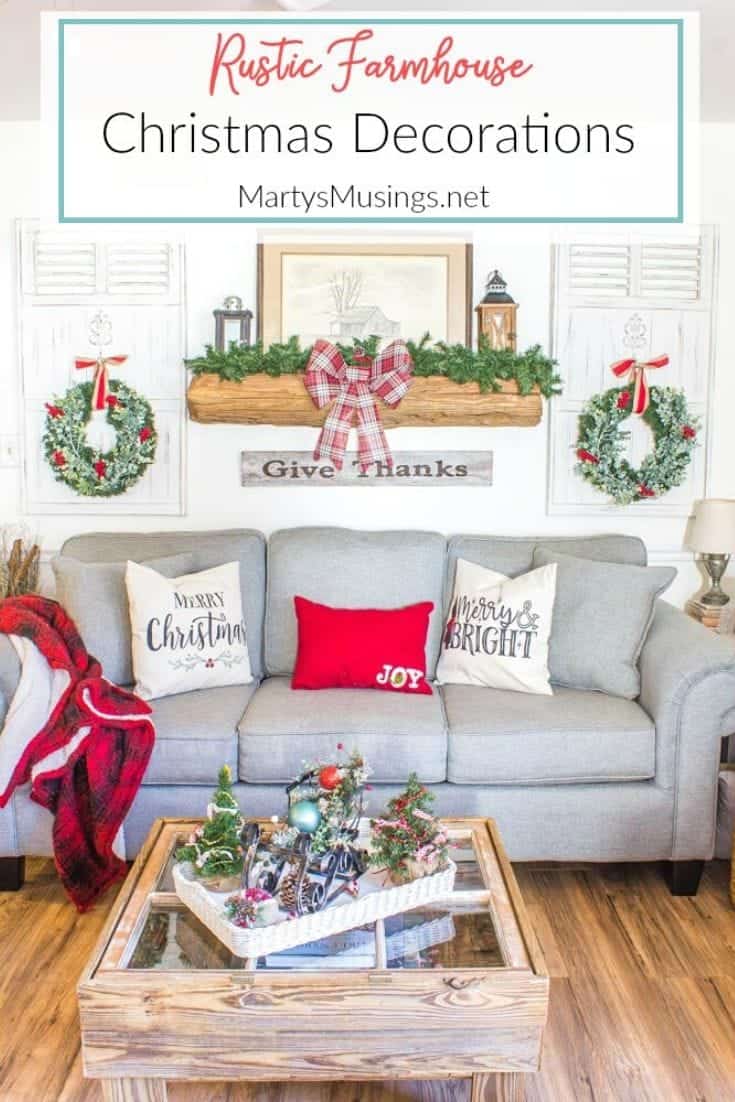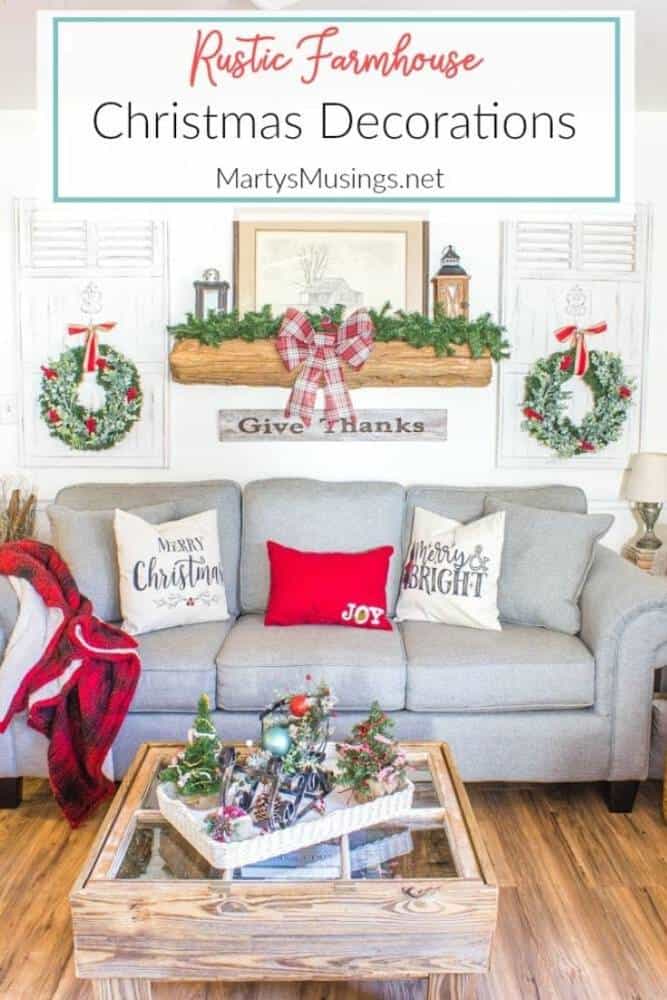 I have to be honest and upfront with you, my friends.
Christmas can be a struggle for me.
Sometimes this season feels a little overwhelming, a struggle between my misplaced desire for perfection and the idea of a warm, welcoming home where people long to be.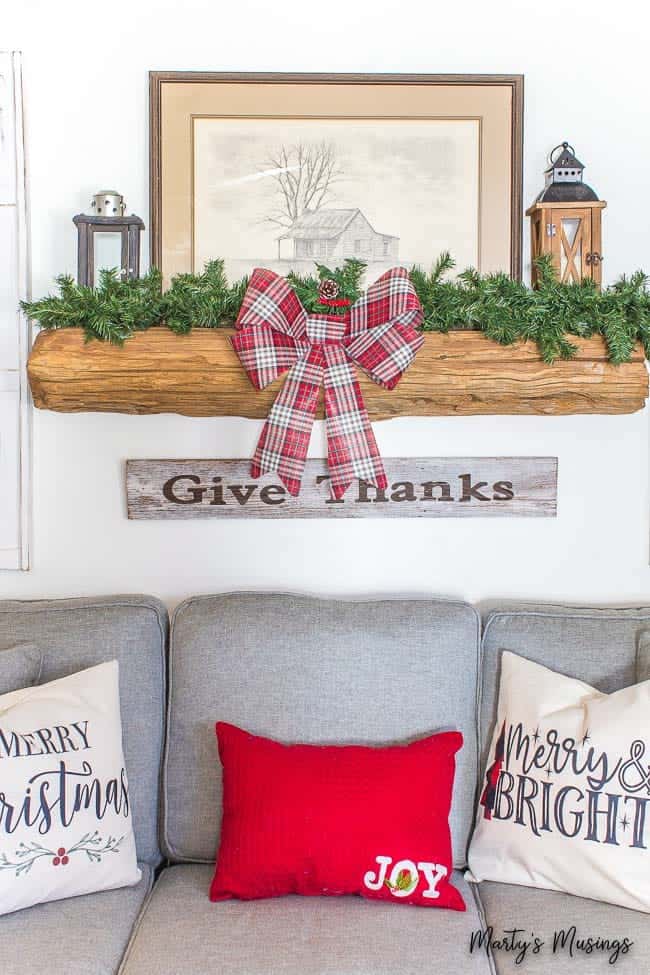 Life is hard at times, sometimes achingly, heartbreakingly so.
It's the most wonderful time of the year, yet I can guarantee my marriage will struggle, my insecurities flair and my inadequacies blossom.
Maybe it's because money is always tight and my husband and I were raised in two polar opposite families. He came from plenty and I came from little.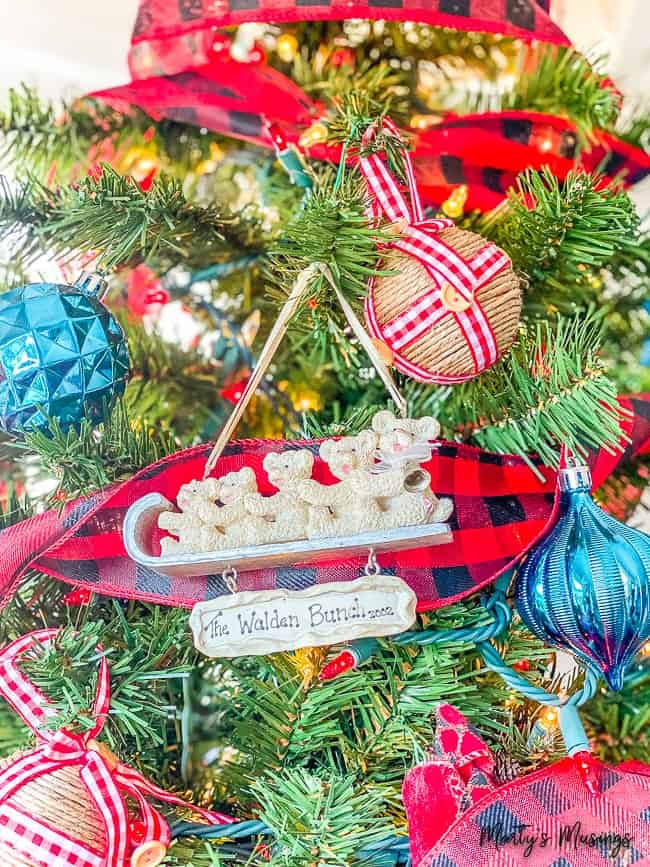 When our kids were growing up we had this epic battle EVERY YEAR. I would buy as many things as I could on sale and at yard sales all through the year, and he would go to Costco and buy ALL THE THINGS at the last minute.
Our home was like Santa's workshop and opening presents with five kids took hours. All I could see was the mess and the conflict.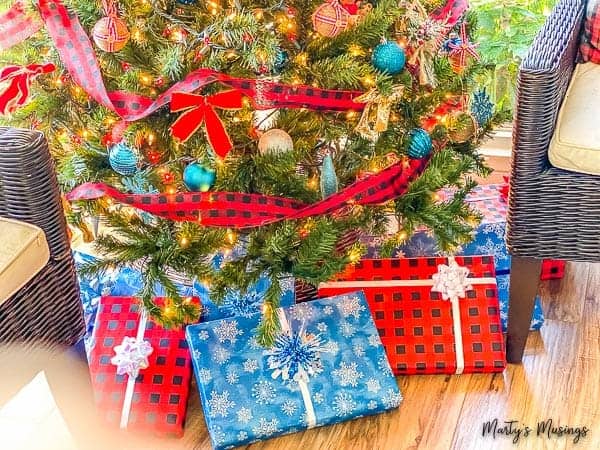 This year I got to add trigger finger release surgery to the list of stressful events. Conversations are difficult, and it's easy to feel helpless and alone.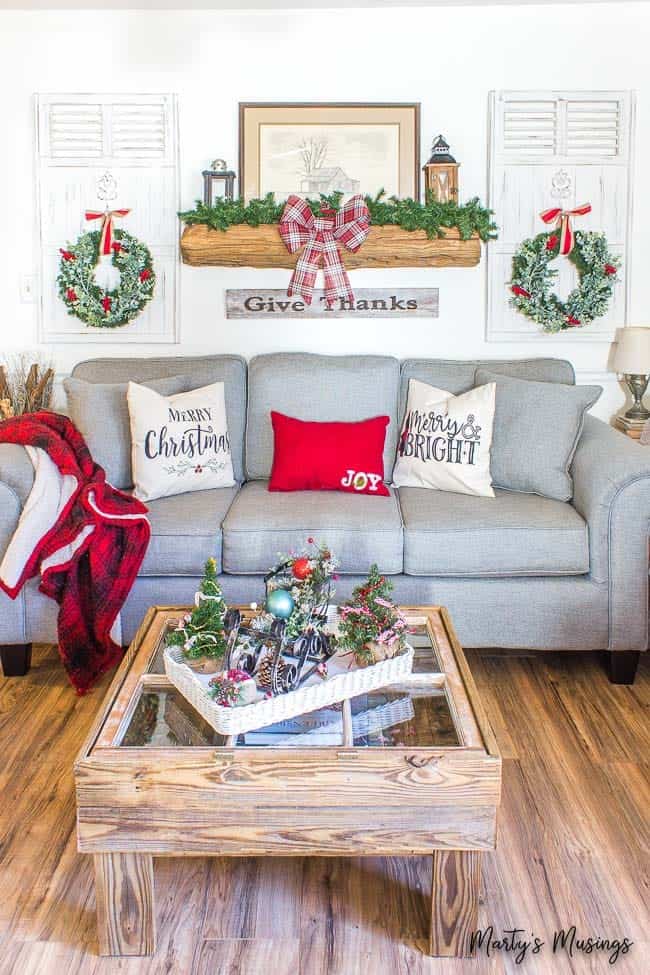 Even though we've made great progress since our marriage fell apart, there is still conflict. I believe most of us live in the place of our childhood pain and often need help to work through it.
If you're anything like me, holidays bring out the worst in your family. Possibly the worst in you as well.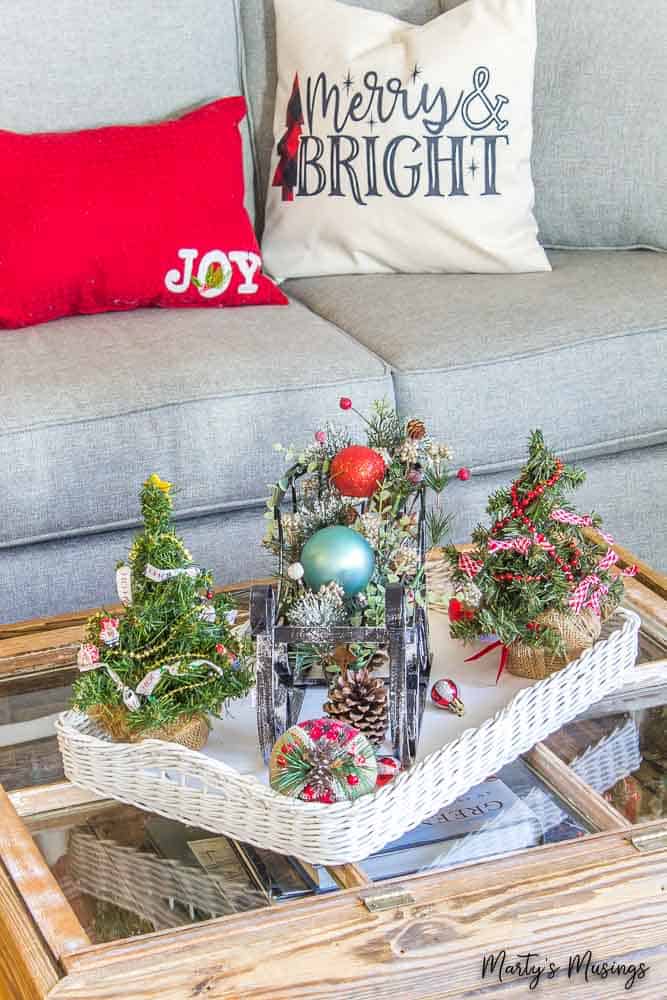 I have no control over anyone else's actions but I can change what I believe about myself.
I am loved.
I am chosen.
I am enough.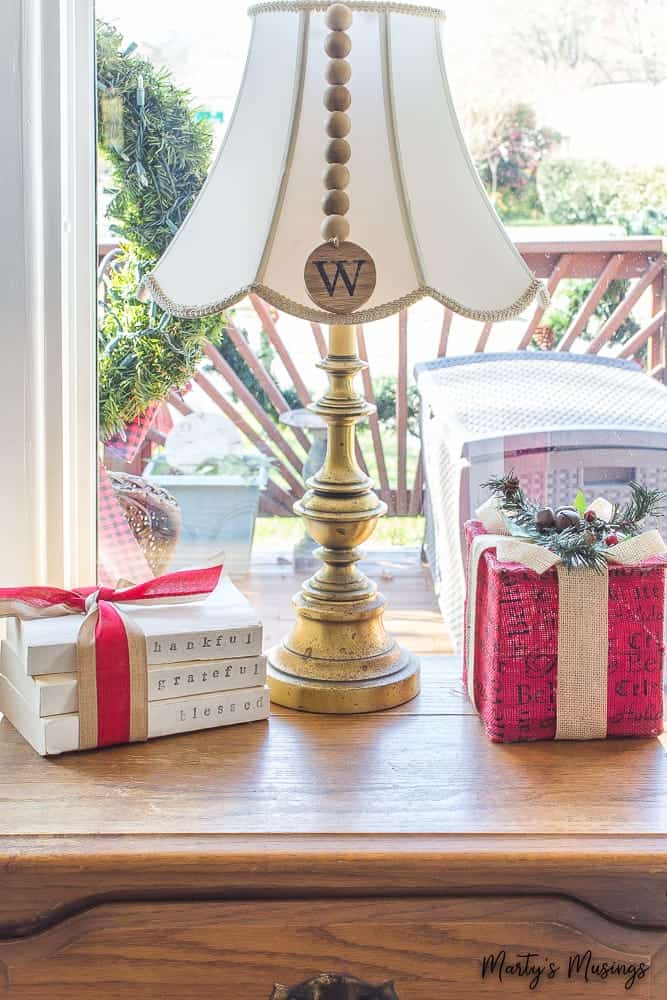 I am not helpless. I don't have to live for someone else's approval. My Father God says my best is good enough.
I don't have to desire someone else's life and picture perfect home that I see on Pinterest.
No one can truly steal my JOY.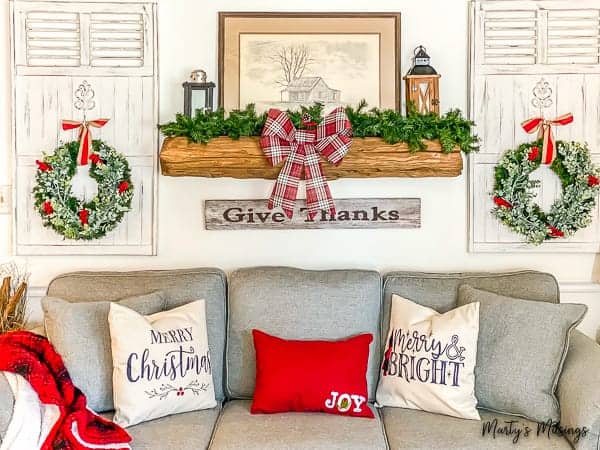 So you may have come here for a Christmas home tour, but I believe you were sent here for a heart check.
You are more than your personal conflicts, more than your difficult relationships.
Your home is more than just decorations. It's the place where love lives, even in the stress of everyday life.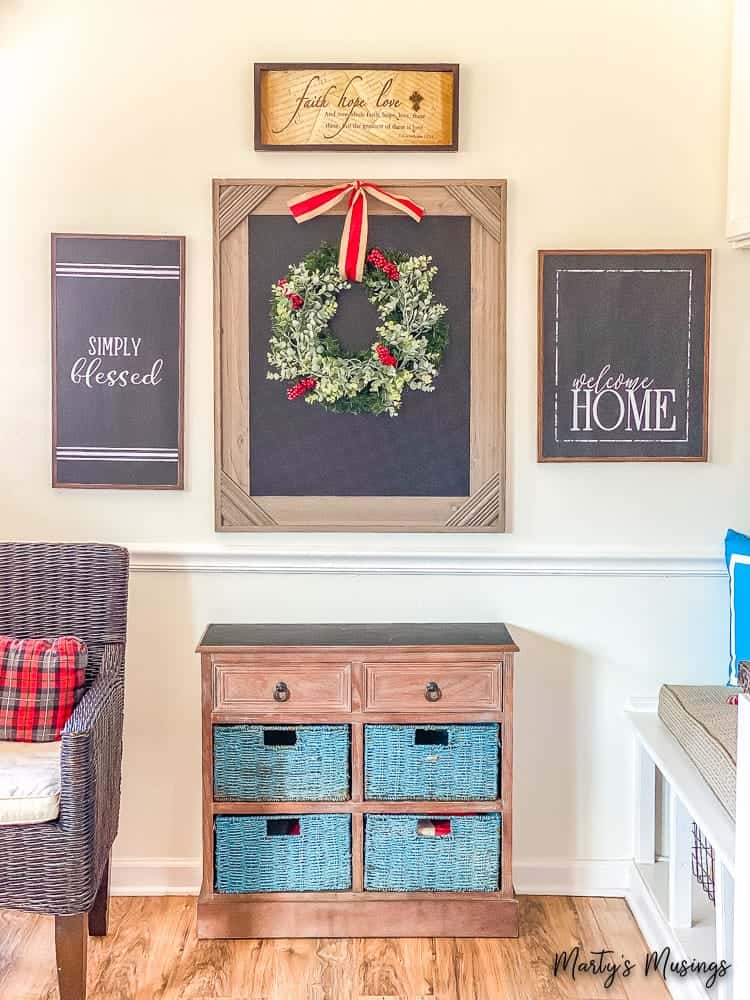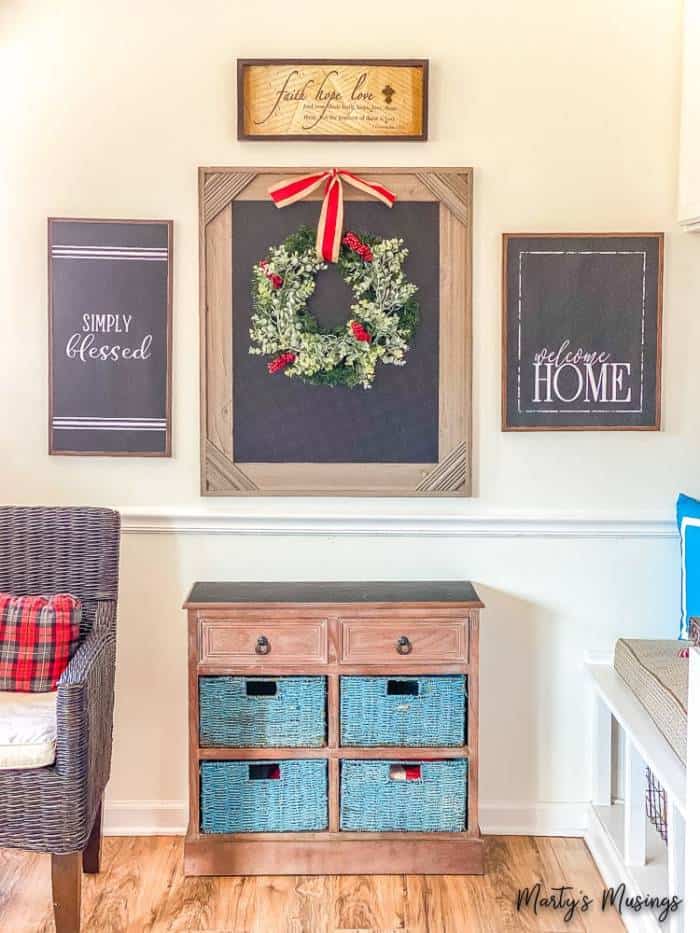 (Read about my simple DIY wreath here.)
In the most precious corner of your soul that feels broken, let me be the one to tell you you're not.
You may be wounded, torn and twisted about, but you have the ability to change your feelings.
What do you have control over?
You can offer more transparency and love instead of hiding your wounds behind the closed doors of your heart.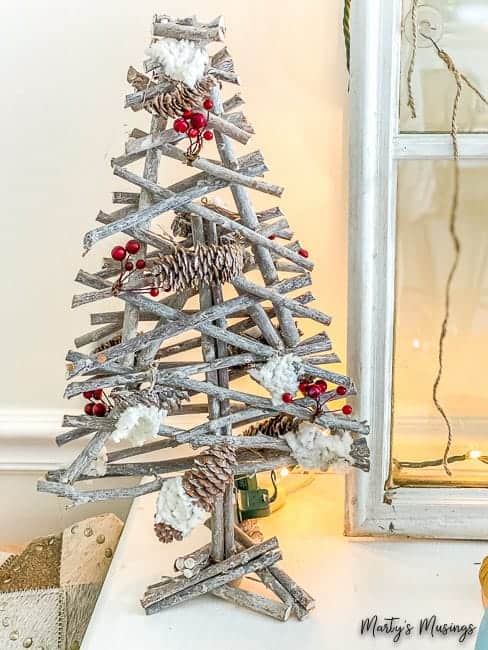 Maybe you can tenderly cradle each other's hearts instead of using them as weapons.
You are more than your fear. You don't need permission to be courageous. Just take the first step.
Rustic Farmhouse Christmas Decorations
(I've included some affiliate links for your convenience. Click here to read my full disclosure policy.)
Sources for all my favorite decorations:
Christmas Tree
Buffalo Plaid Ribbon
Pillow Covers
Large metal baskets (similar to the ones in the drop zone)
24″ Noble Fir Christmas wreath
6 Ft. Eucalyptus Garland
Red and Black Buffalo Plaid Throw
Okay, I will tell you a little bit about our rustic farmhouse Christmas decorations! I just felt called to be transparent with you today about real life.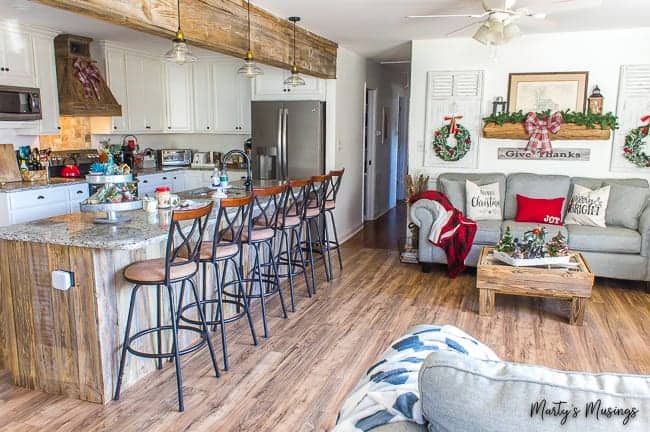 For 30 years part of our Thanksgiving tradition has been to get a real tree. Same Christmas tree lot, same Frosty the Snowman blowup, same sled to use for picture taking.
A couple of years ago this tree lot moved to the local Target shopping center. Just not the same. So this year we bought an artificial tree.
I tell you, some of the kids shouted "heresy!" But these almost empty nesters were ready to save on that expense.
We are so pleased with the tree (here's the link if you're interested) and the mixing of buffalo plaid ribbon and my favorite blues.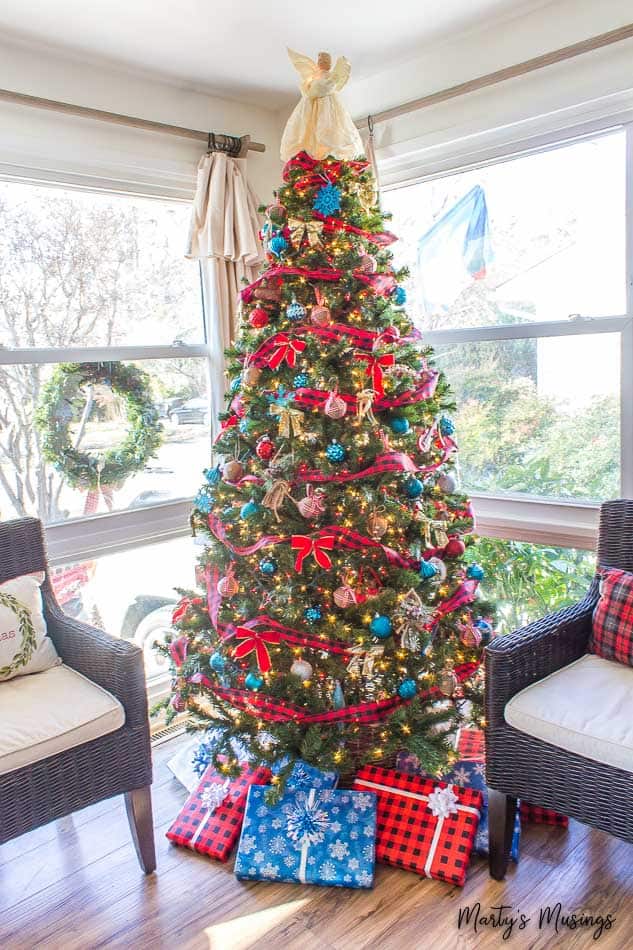 All of our kids and families, even the grandsons, help decorate the tree. This is T-R-A-D-I-T-I-O-N, my friends.
One day I will have a tree where everything is perfectly placed and designer worthy. And I imagine I'll be incredibly sad when that happens. I love our imperfect tree.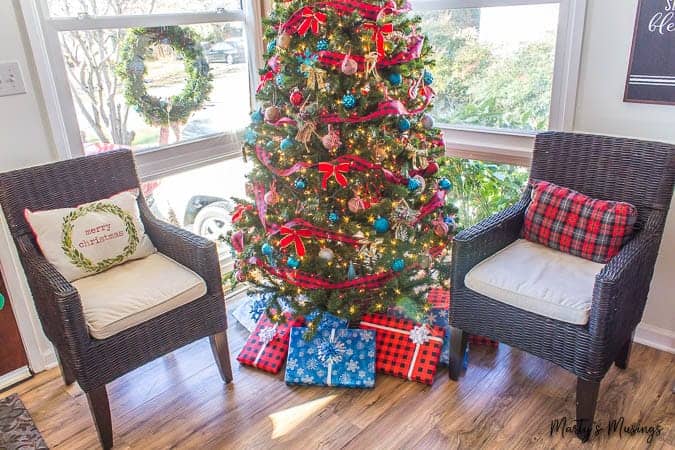 I used aqua and red again this year, and I just love the pops of color!
Any other family fight over pillows? My husband can't STAND them and our dog Carson just knocks them off on the floor.
Me? I really love the look but refuse to spend so much money on pillows. So I either make placemat pillows (like the Joy one below) or use pillow covers like the Christmas ones below (find the link here.)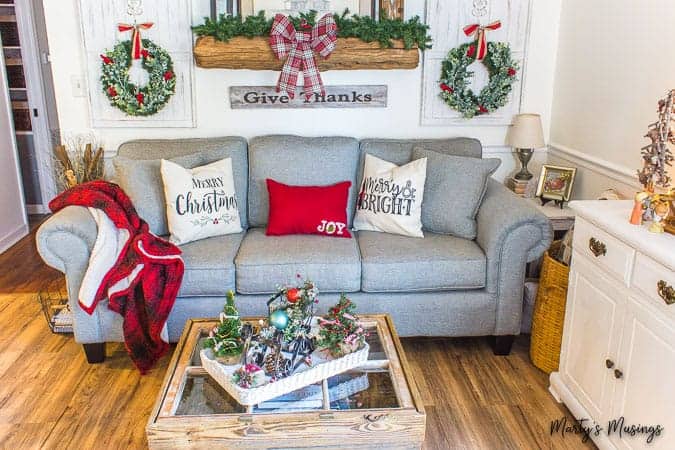 On my chalk painted buffet I used a simple arrangement focusing on my $10 yard sale cathedral window and my husband's childhood nativity scene. (You can find the tutorial for the chalkboard banner here.)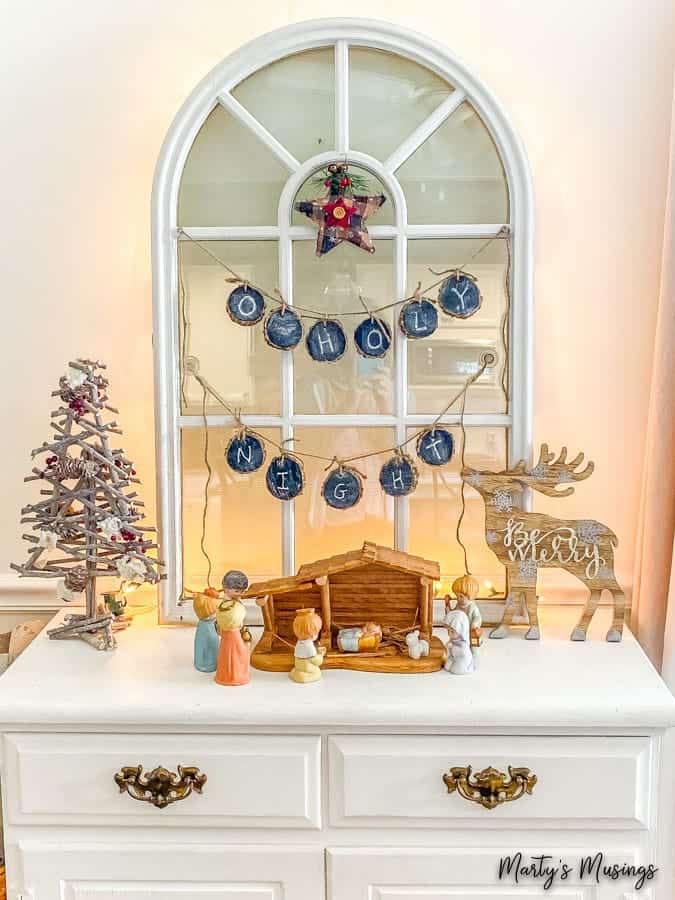 I decorate with red and blue in my kitchen throughout the year so I simply added a few Christmas dishes and called it good in my chalk painted hutch!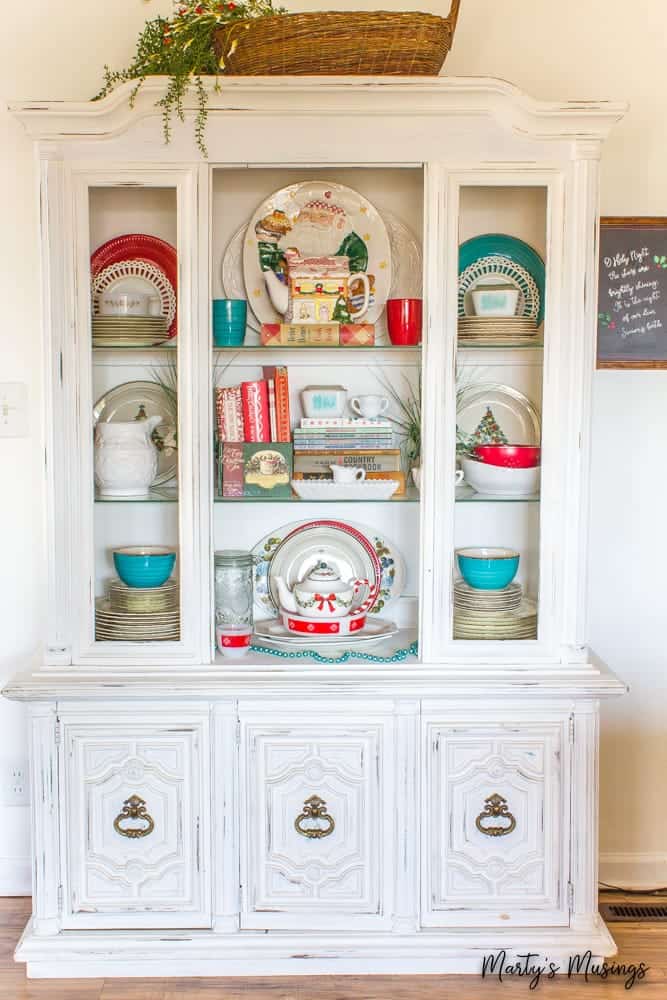 Our drop zone is one of my favorite nooks in our home.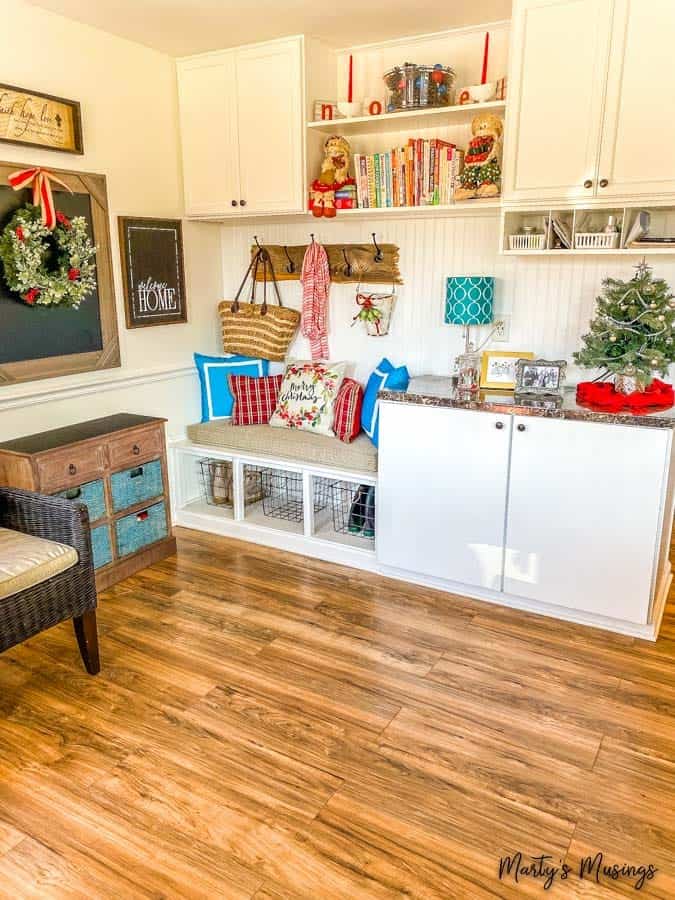 Here are more of my placemat pillows and inexpensive pillow covers!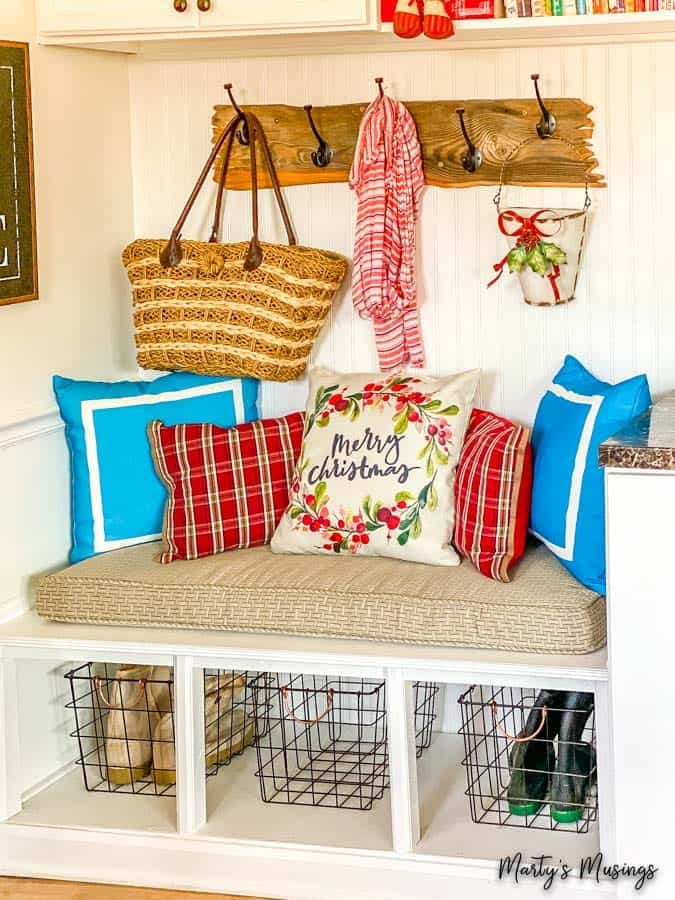 This glass bowl is filled with inexpensive ornaments and pine cones. (Read 10 ways I decorate with extra Christmas ornaments here.)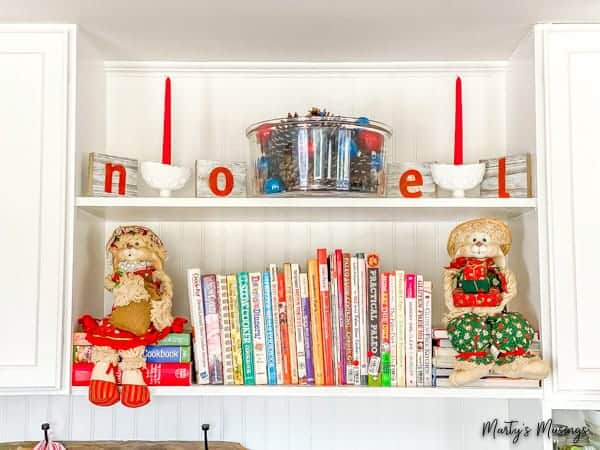 One more picture of the entire room!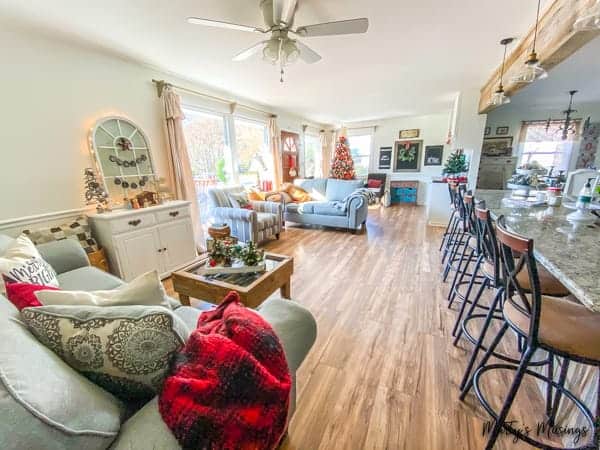 Anyone else struggling this time of the year?