Rustic Christmas Table Decorations
This post may contain affiliate links which won't change your price but will share some commission. Read more here.
Think entertaining has to be expensive and stressful? Not anymore! Celebrate the heart of the home with these rustic Christmas table decorations and practical tips for both simple decor and treasuring your guests!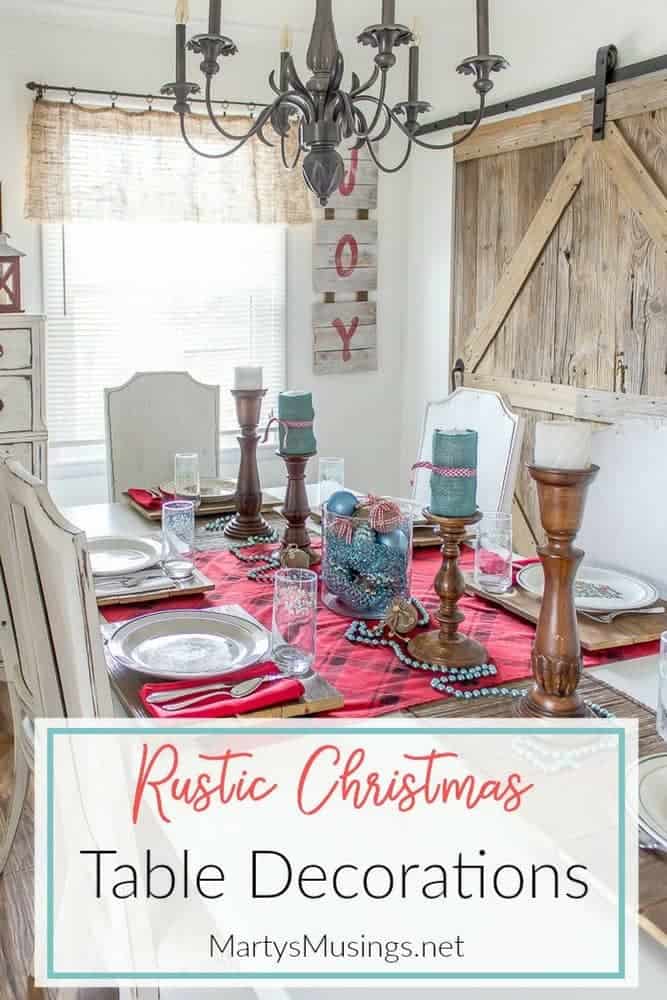 In my younger years I used to be "all things Christmas" beginning sometime in October.
Ok, if I'm being honest the planning probably actually started in September.
You see, in my "younger years" I hosted a Christmas party every year for the choirs I directed at my church.
It was one humdinger of a party.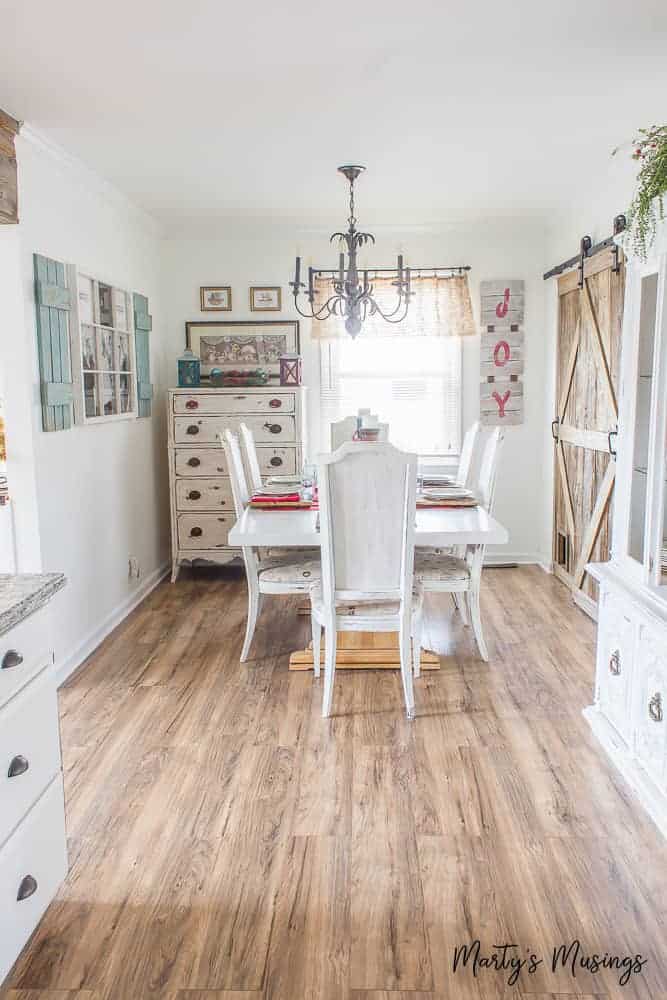 Luminaries greeted guests as they walked up the steps to our home.
(My husband made sure our house was lit with enough white lights just in case Santa needed an emergency landing strip.)
Inside our home was decorated with Christmas beauty from one end of the house to the other.
Our rooms may have been small but THEY SCREAMED CHRISTMAS.
You might be wondering, what's the big deal, Marty?
It wouldn't have been such an undertaking except for one small detail.
I DID IT ALL.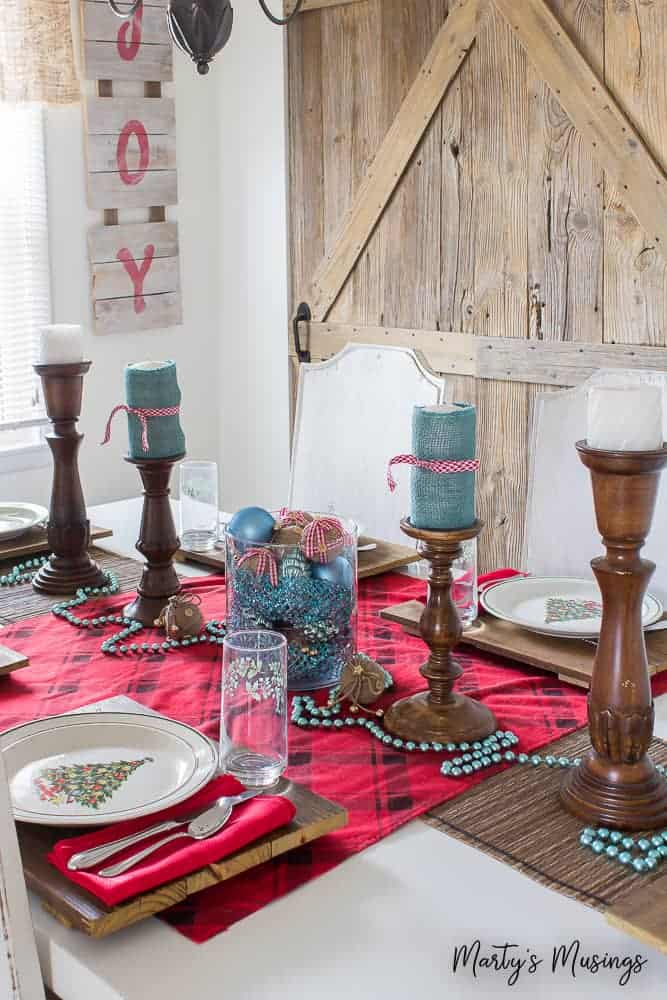 Homemade invitations. Crafty decorations. Perfectly arranged appetizers on Christmas platters. Chocolate Chip Cheeseball and Almost Like Candy Bars recipes to die for.
Every.single.detail.just.perfect.
I was the original Martha Stewart!
I truly loved welcoming my choir families into my home, but I was so exhausted by the end that I think I missed the point.
I concentrated more on the way things looked than the way I felt in my heart.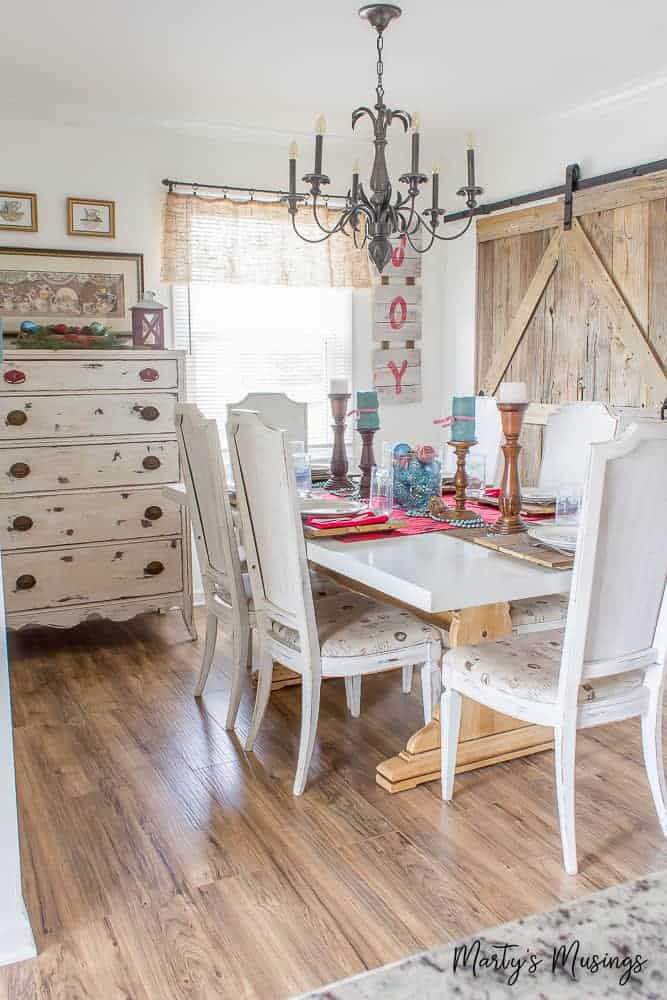 Even though I may have been gifted at entertaining I should have focused more on how my home made OTHER people feel.
Thankfully somewhere along the way I gained valuable wisdom.
Actually we just adopted a bunch of kids and continued homeschooling the whole bunch.
That'll put a crimp in your free time and creativity right there!
We still invited friends over but the event became less elaborate and more about relationships.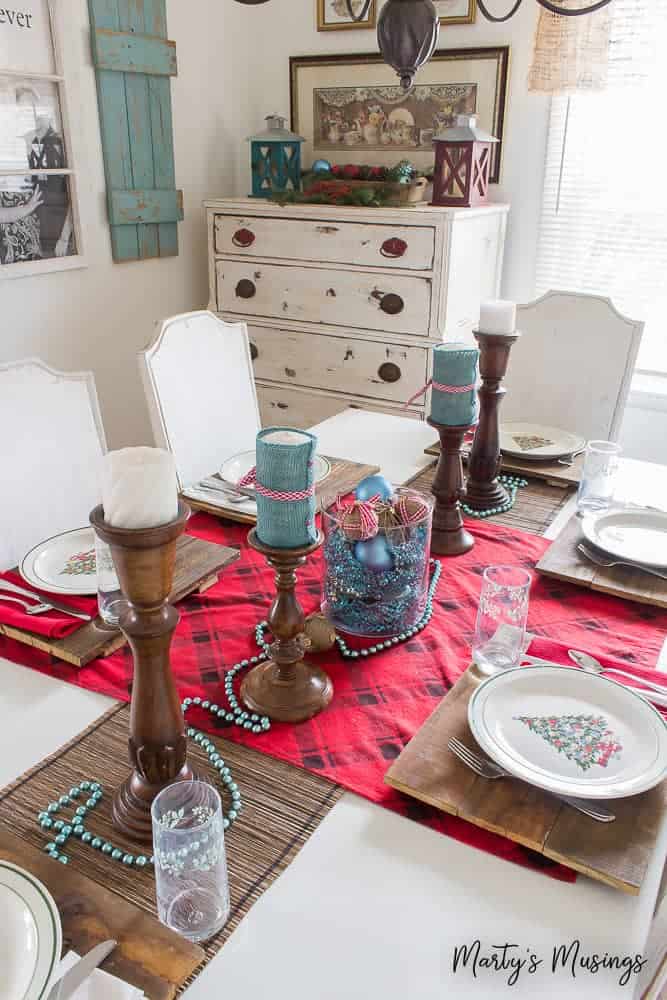 Just the way God intended it.
Today I want to encourage you that entertaining, or sharing a meal together, can be beautiful and life giving without all the stress of perfection.
Rustic Christmas Table Decorations
Here are just a few tips to help you enjoy your home AND your guests!
Tip #1: Shop at yard sales and flea markets
Anchoring this table setting is thriftiness at its best! The red plaid square is part of an old flannel sheet I got at a yard sale many, many years ago.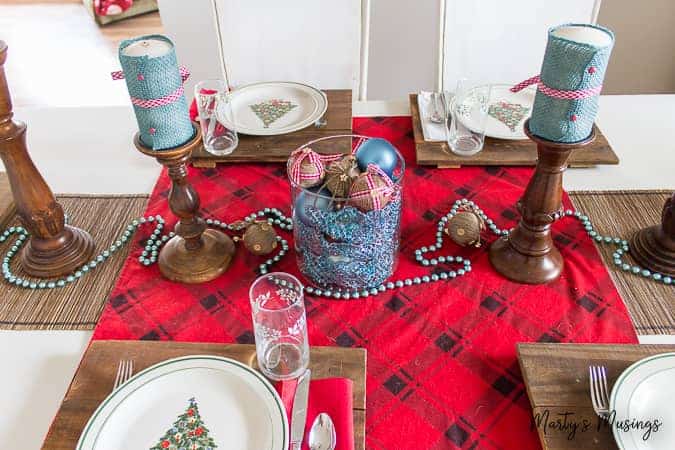 Seriously. I loved it 20 years ago and used it in a craft project or two and saved the remnant because I loved the fabric.
All I did this season was cut it into a square, use hem tape on the edges and drape it over the center of the table.
Out of that $1 sheet came numerous projects and a love of red plaid that is totally in style today. Score!
The rustic runner in the center of the table was a yard sale purchase as well that I used for fall. I loved it so much I just kept it! So easy to transition from one season to another with just a few changes.
(Here are my best yard sale tips.)
Tip #2: Shop after holiday sales
If you visited my Christmas home tour post or read the details on my rustic Christmas kitchen you'll know I used burlap and red plaid ornaments practically everywhere!
(One of my favorite posts is 10 Creative Ways to Use Extra Christmas Ornaments!)
You can find them in these rustic Christmas table decorations as well!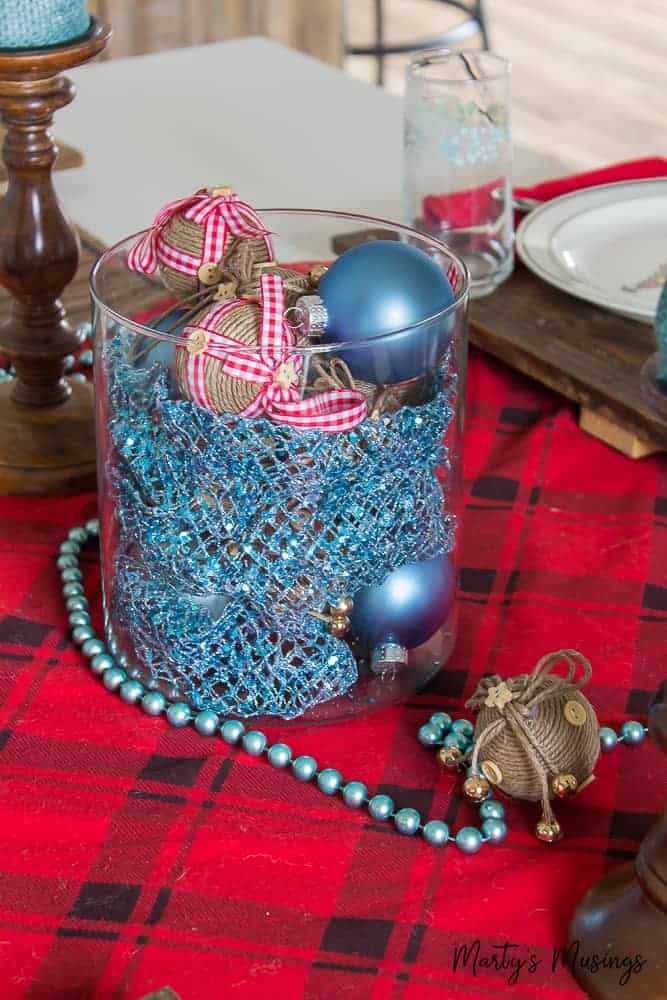 I always shop after the holiday is over and snatch up bargains for the next year, especially if I want to change styles or colors.
Last year we were in the middle of our fixer upper kitchen remodel and I knew I wanted to continue using aqua and coral (as well as red) as the main colors in this new space.
As I was shopping after Christmas I bought whatever delighted my heart, was CHEAP and fit into my color scheme!
Tip #3: Use what you already have
There's nothing like a string of beads to upgrade a table from plain to beautiful!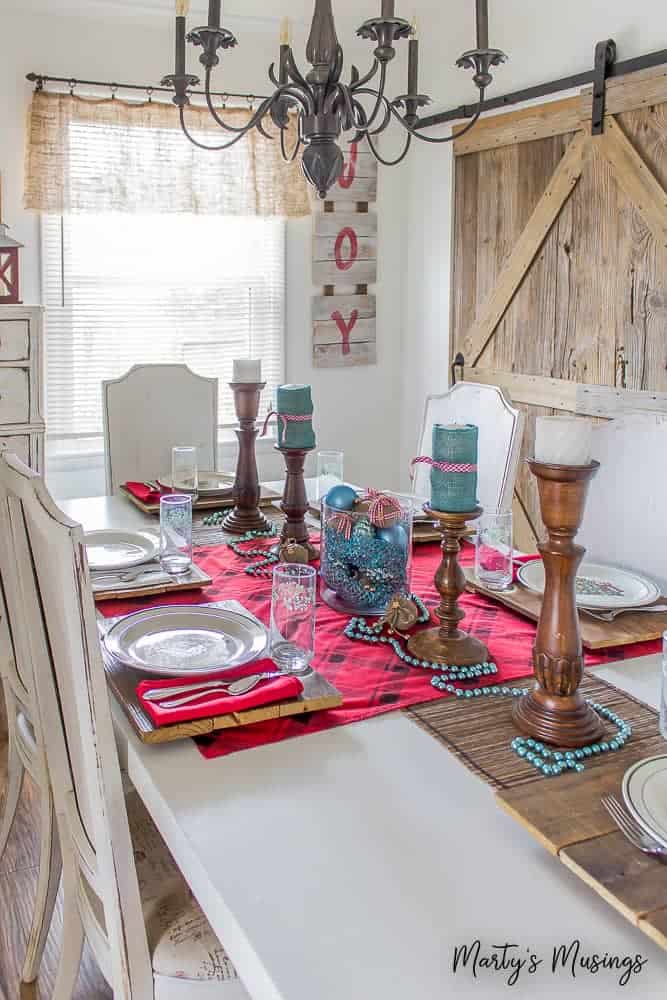 Seriously, how easy is it to randomly throw some beads on a table? That's my kind of easy decorating!
One word to the wise, though. Young toddler boys might find them fascinating and want to use them as a lasso. Ask me how I know. ~eye roll~
I might have saved my favorite items for last, y'all.
These wooden, mismatched candle holders? Purchased for $1 apiece at a yard sale a couple of years ago. I think they found a home amidst my rustic Christmas table decorations!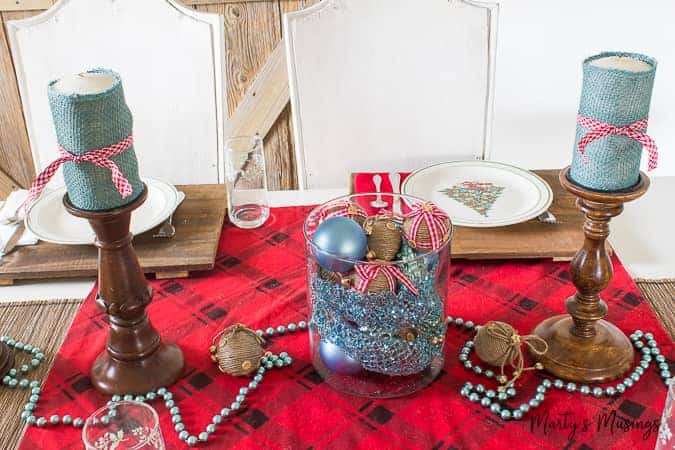 One of my favorite tricks to use with old candles is to wrap them in a bit of fabric, pin with brads and wrap with ribbon.
So.very.easy.
DO NOT LIGHT THE CANDLES WITH FABRIC AROUND THEM.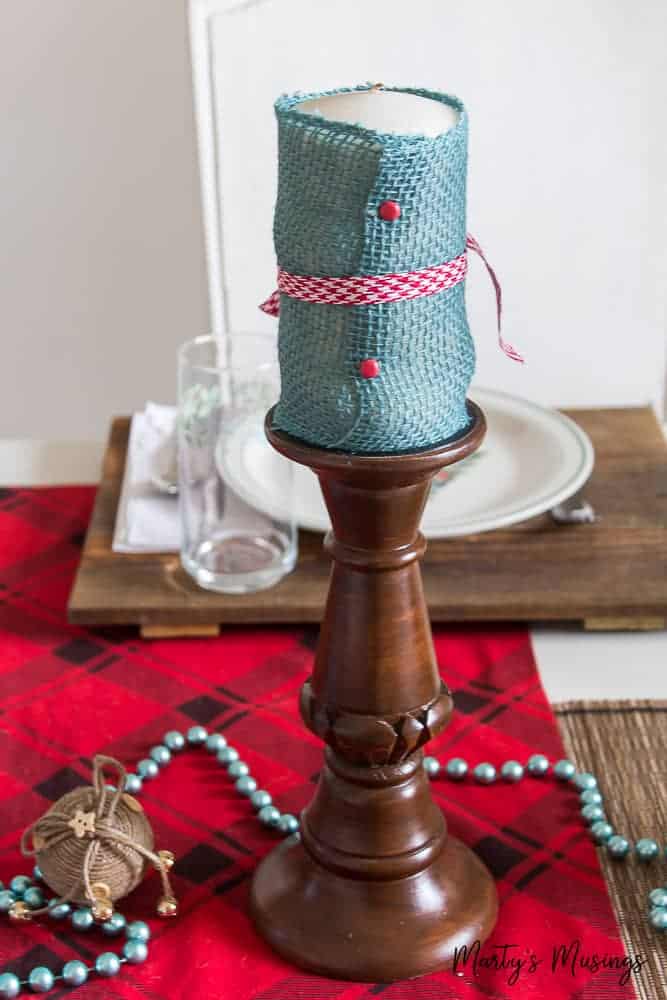 There's your warning. They're just for the pretty value. ~smile~
The place setting is my mom's Christmas china, some inexpensive glasses and these DIY rustic wood chargers my husband made me. Love!
Tip #4: Celebrate the guests not the home
The beauty of Christmas and every day is found in the ones we share life with.
The moments that seem so little today will one day be indelibly etched in our minds.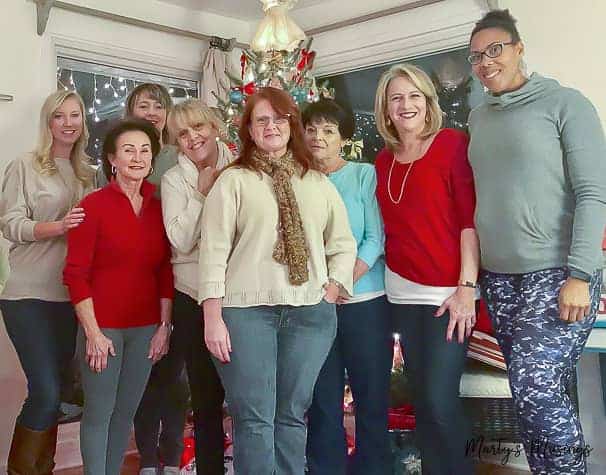 As an older woman now I can look back with fondness on my "younger self" and laugh at all the overwhelm I could have avoided.
But they're all part of the person I am today and I don't regret the lessons learned through hardship and choices.
Every single time our family gathers together I breathe in the moment as my spirit fills with gratitude for the abundance of our lives.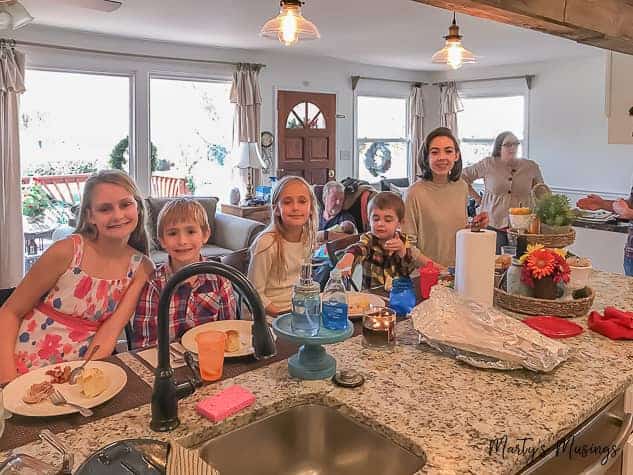 We aren't guaranteed tomorrow. Don't miss today's precious moments worrying over details that will never be remembered.
What are you most looking forward to this Christmas?