Filled with thrifty aqua and red decor and easy DIY tips, this 2017 Christmas home tour also gives encouragement for embracing the heart of the home.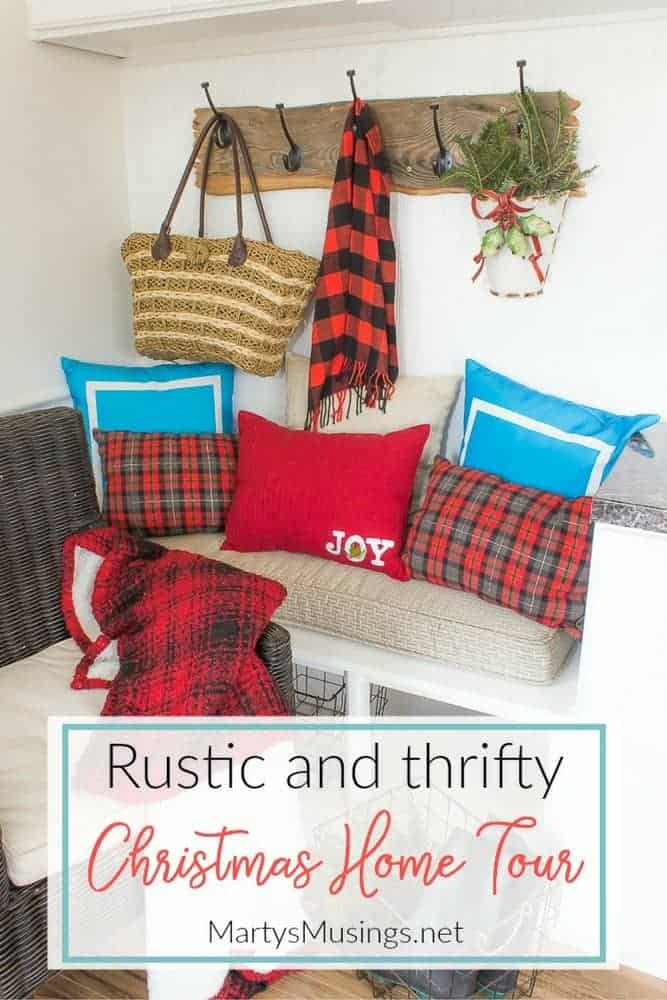 As I photographed my home this year I was filled with such conflicting emotions.
First, I was stunned I actually had some of my house decorated and photographed before Christmas!
You see, many years in the past I made excuses……
There was the year my first grandson decided to come into the world four weeks early on the heels of my DIY hubby's rotator cuff surgery.
Talk about being torn between two loved ones!
I named my Christmas home the Perfectly Imperfect Christmas Home Tour that year.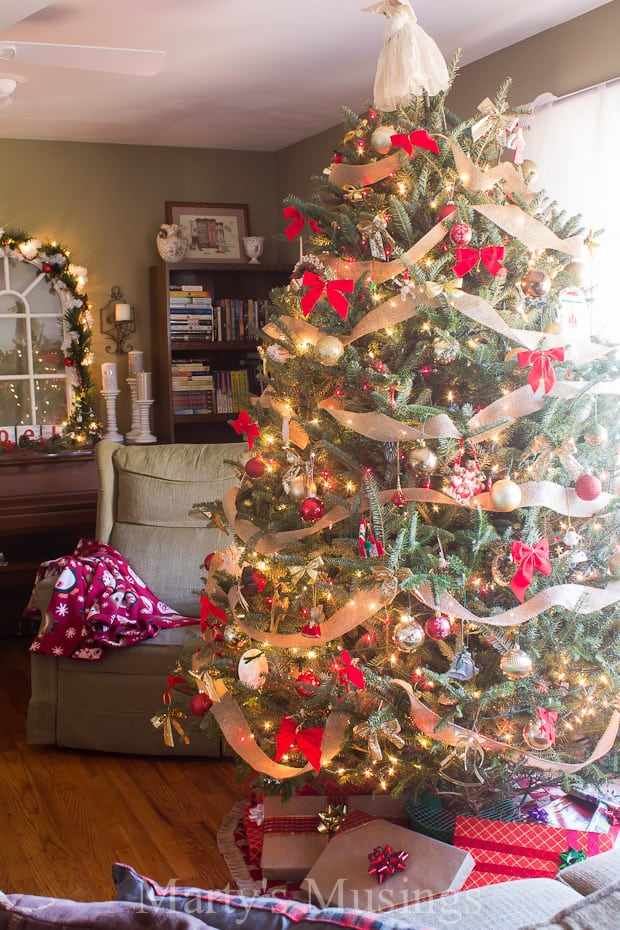 There was the shining year we just had some fencing thrown up in front of the house because we had taken down our trees but hadn't started our front deck. Our kitchen was also still bright yellow ~grin~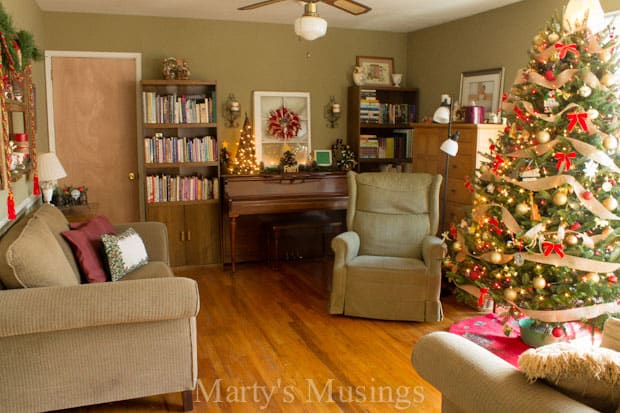 We've come a long way since then!
Even when I got my act together and the courage to put my home out for the world to judge it never felt good enough.
I freely admit I'm not a designer or decorator.
I'm just an ordinary woman, learning to create a home I love, one step at a time, with mistakes and failures just pieces of the process.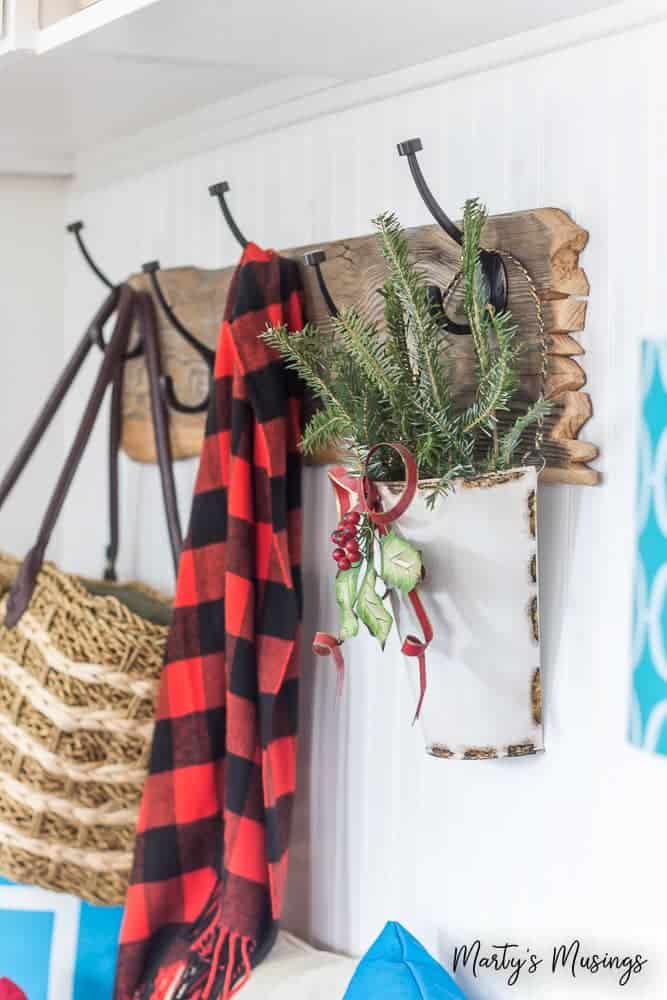 Last year at this exact time my husband and I were taking down a wall between our kitchen and living room and completely gutting our kitchen.
It was total chaos.
I had no idea how symbolic that wall and process would be.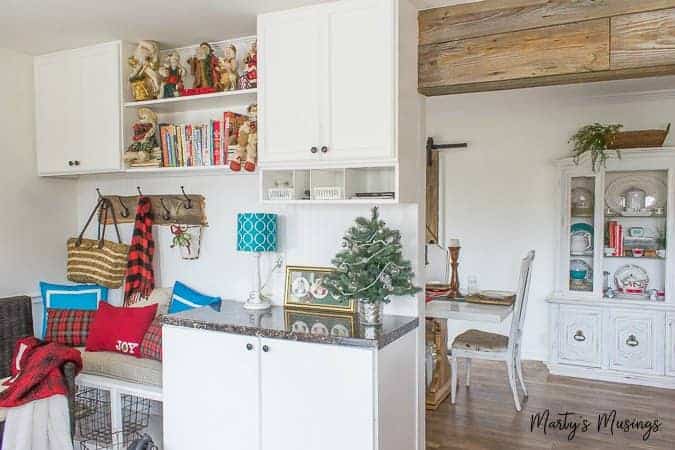 2017 has been a humbling year for me.
This was the year that almost broke me.
In all honesty, it has been both the worst and best year of my life.
I've parented my adopted children with wounded hearts for 17 years, lived with the grief of losing many loved ones through difficult circumstances, but this year the pain became too much.
This was the year I needed to work on me.
To be even more transparent, this was the year my marriage "hit a wall" and I couldn't find my way in the dark.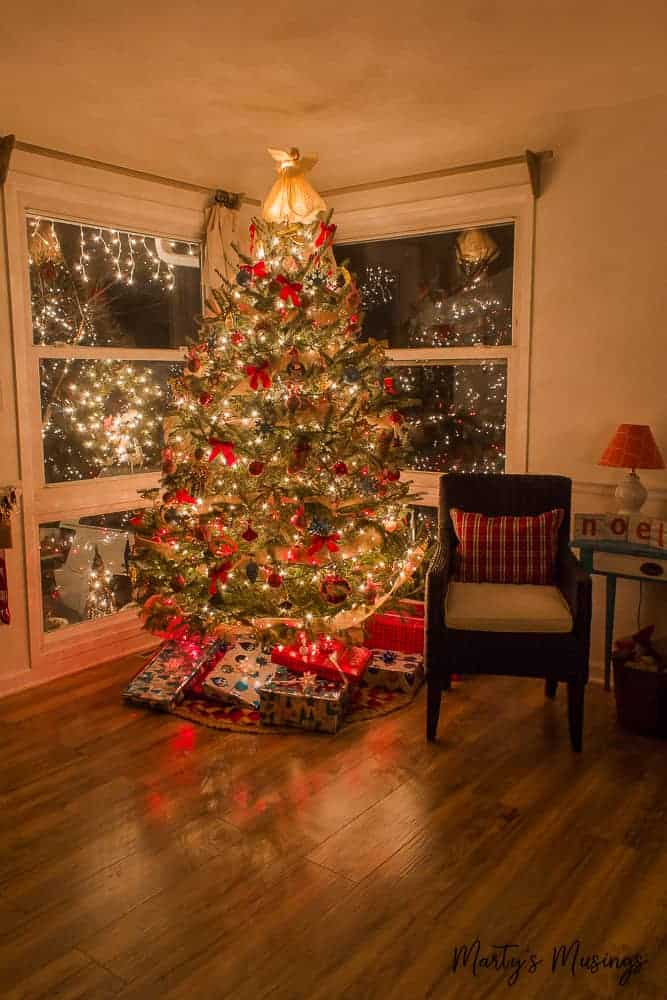 I didn't know what each day would bring or if 30 years walking side by side with my husband would sustain us.
We were both wounded soldiers in this life God had called us to and we were just broken.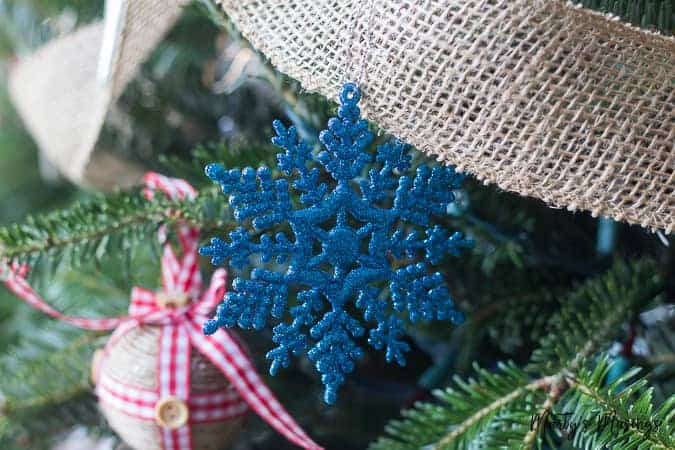 Yet as I type this 12 months later, I am filled with such gratitude as tears stream down my face with soul filling joy.
I've learned more about myself this year and faced hurts long hidden by the needs and demands of everyone else around me.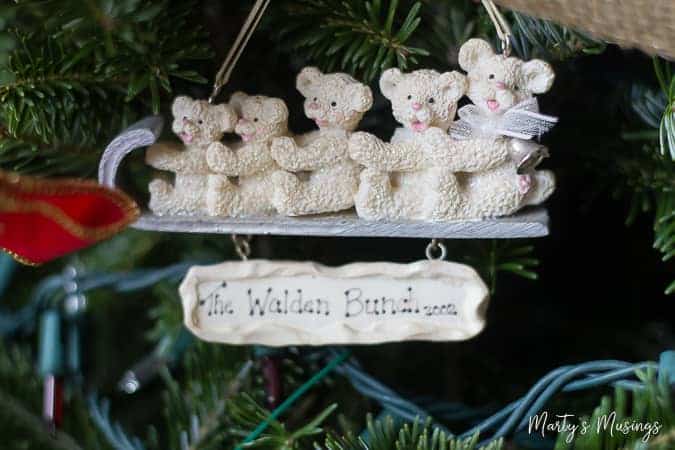 This was the year I stopped making excuses and got to work.
It's been a heartbreaking, soul searching undertaking of discovery.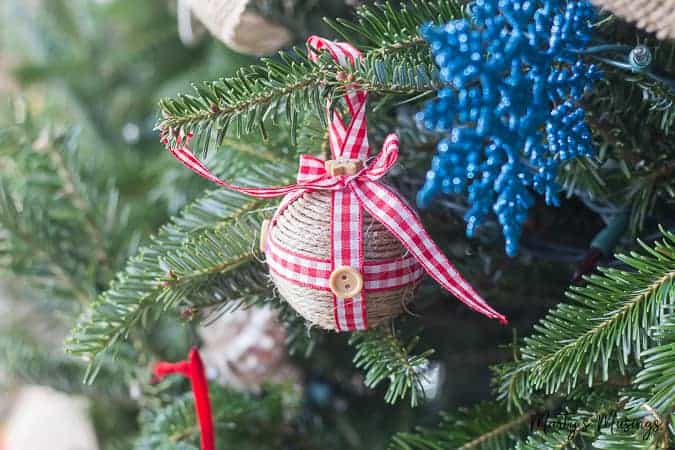 I learned it wasn't selfishness to put myself first in this season. In fact, it was long overdue.
Day by day, moment by moment, as I leaned into God, my struggles released me to receive God's life giving, powerful words of strength.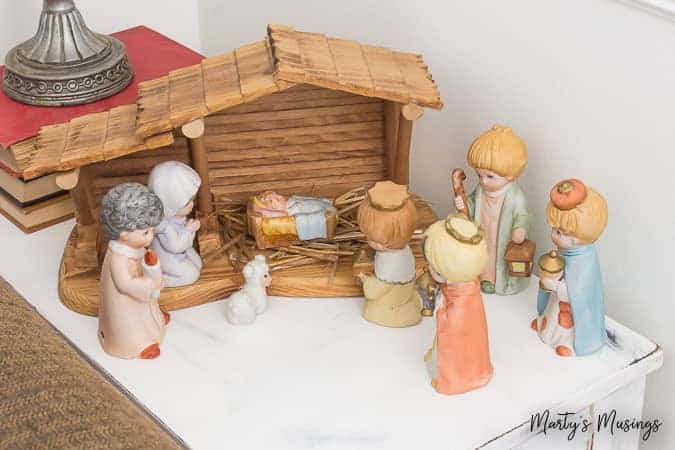 After months of separate counseling my husband and I began joint counseling. We picked up the pieces of our life together and ran towards each other instead of apart.
And just like in our kitchen remodel, the wall has come down. Not as dramatically or as quickly as our kitchen but with so much greater impact.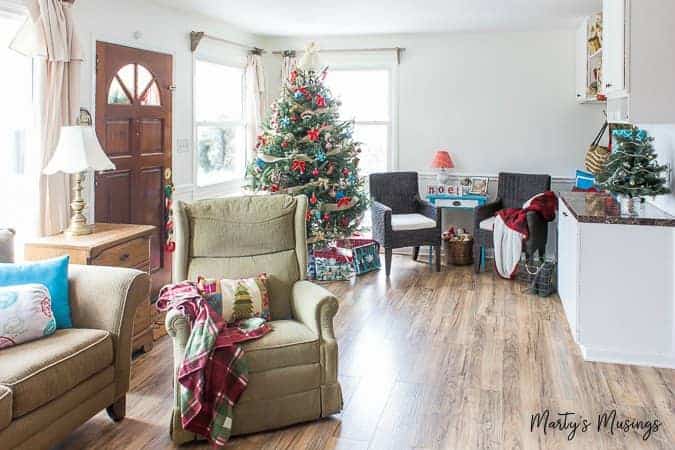 Thirty years of life together, with both hurts and joys, and we have found each other again.
We have done the work God has asked of us with beautiful, life giving restoration.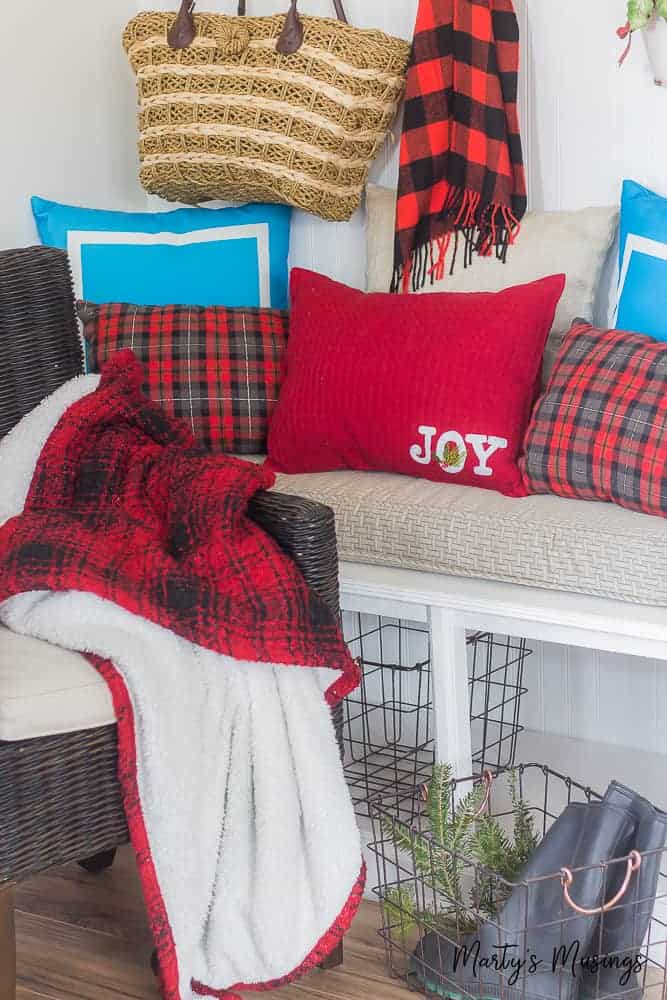 So maybe you thought you were coming to see a pretty Christmas home tour but I think you were sent here for more.
To hear the hard fought message I've learned this year: I am enough.
You are enough.
[clickToTweet tweet="Even if you're at the end of your rope with no light at the end of the tunnel THERE IS STILL HOPE." quote="God has created each of us with a purpose and a plan. Even if you're at the very end of your rope with no light at the end of the tunnel THERE IS STILL HOPE."]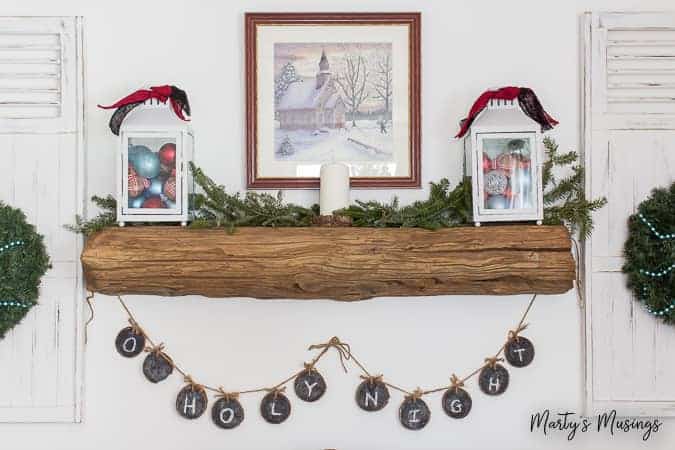 The valleys you're experiencing can give you the strength to discover new joy and understanding IF you are willing to do the work.
What does this actually look like?
It may mean you need to allow trusted friends into your life to give you wisdom.
You may need to ask advice from a trained therapist, counselor or pastor for deep hurts that need time and attention. (And quite honestly, you may need to try more than one until you find the best counselor for YOU.)
Maybe you don't have any idea what the next step is but you know it's time to do SOMETHING.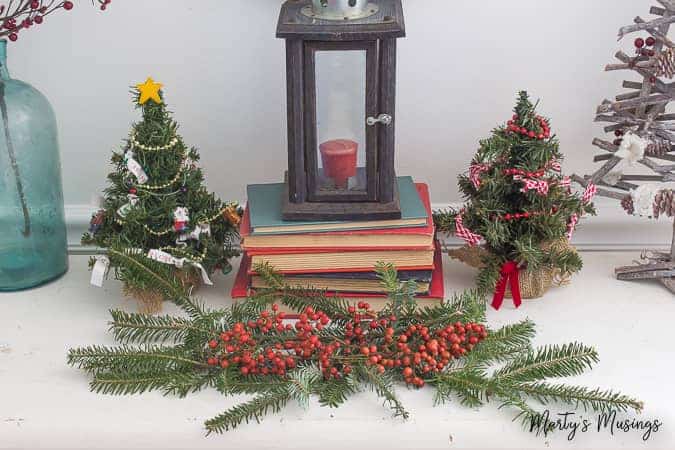 Pray to God and ask our loving heavenly Father to show you the way.
You are good enough.
[clickToTweet tweet="No matter what you are going through and how much your heart grieves this year, YOU ARE ENOUGH." quote="No matter what you are going through and how your heart grieves this year, YOU ARE ENOUGH."]
God loves you and sent His perfect Son as an infant in a manger because you are so precious to Him.
My prayer is you will find your true joy in Him this season.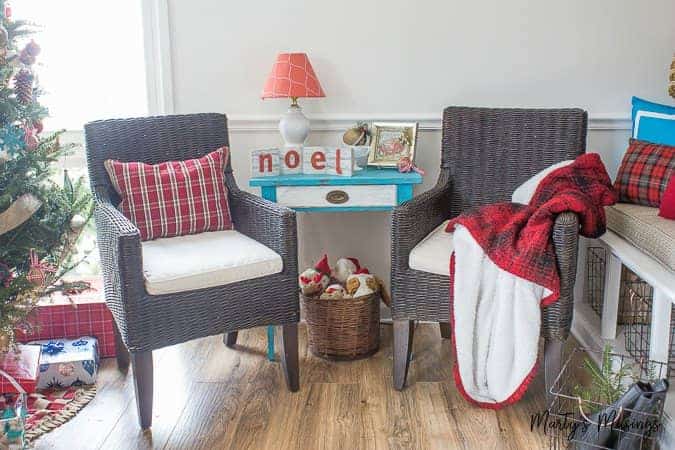 And because you know I'm still a DIY blogger encouraging you to create a home you love I'm going to share a bit more about my 2017 Christmas home tour!
2017 Christmas Home Tour
Since we opened up our living room and kitchen, this is the first year in our new space.
We decided to put our Christmas tree just inside the front door and I love that it's the first thing to greet guests to our home.
I also chose to stay with my normal everyday aqua color scheme and added some of those ornaments on the tree after the family was done decorating. I know. Sneaky of me!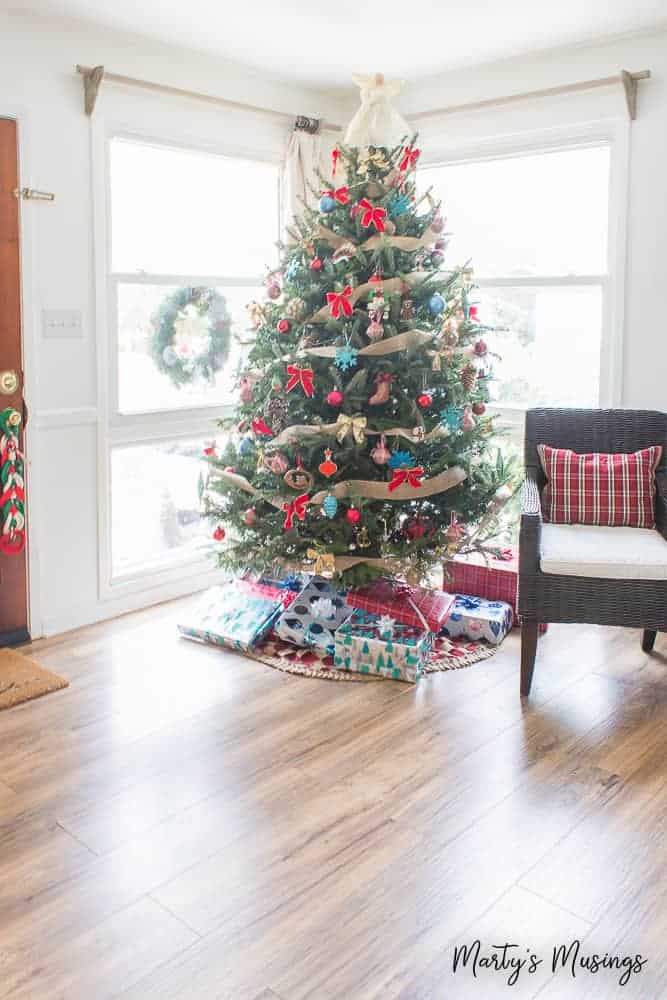 The chairs and table that are usually where the tree are got scooted next to our new drop zone that I designed and Tim built.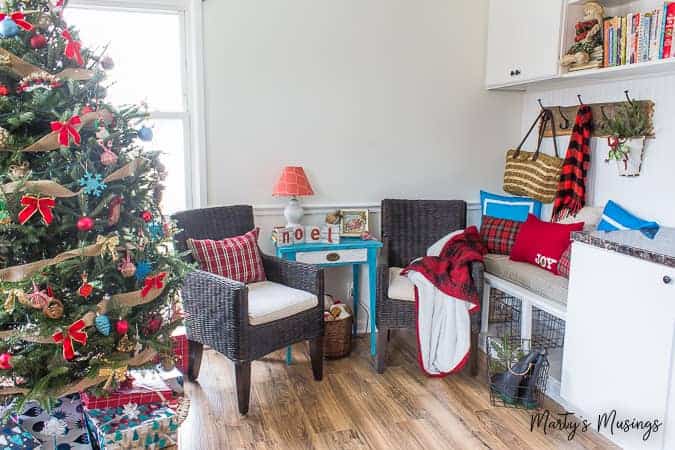 By using ornaments I bought on sale in years past and things I already had, I was able to decorate simply with red plaid and aqua. (See my 10 creative ways to use extra ornaments here!)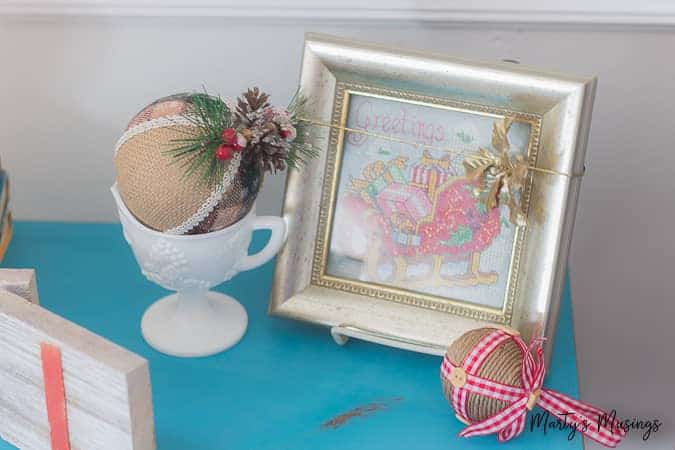 This hardworking nook is one of my favorite additions to our new space and includes Santas in honor of my sister who passed away in 2000.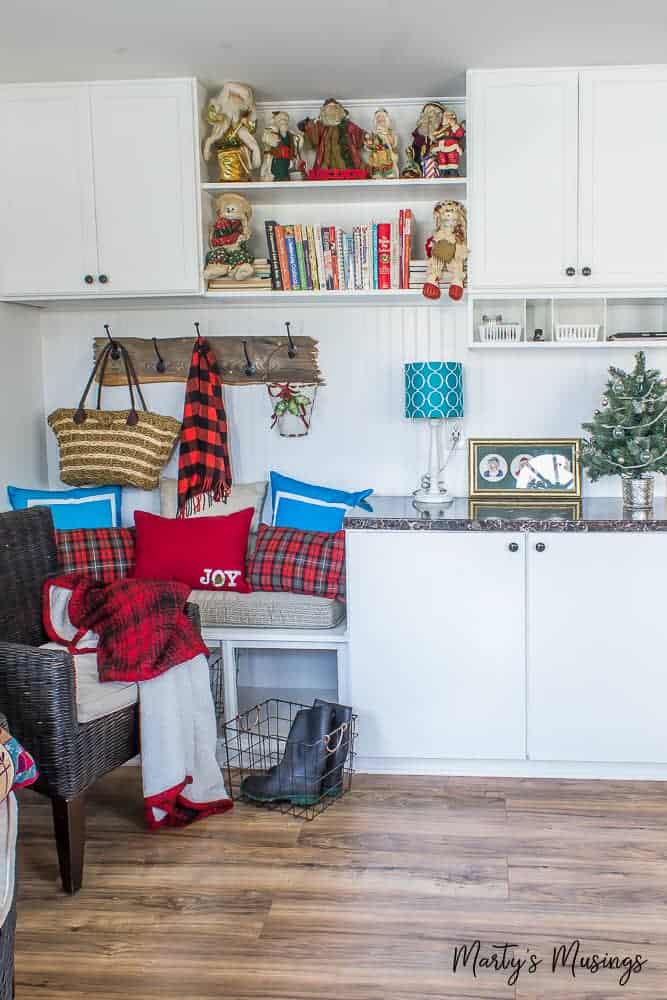 The red plaid and Joy pillows were place mats, one of my favorite inexpensive ways to make pillows. (You can find the no sew tutorial here.)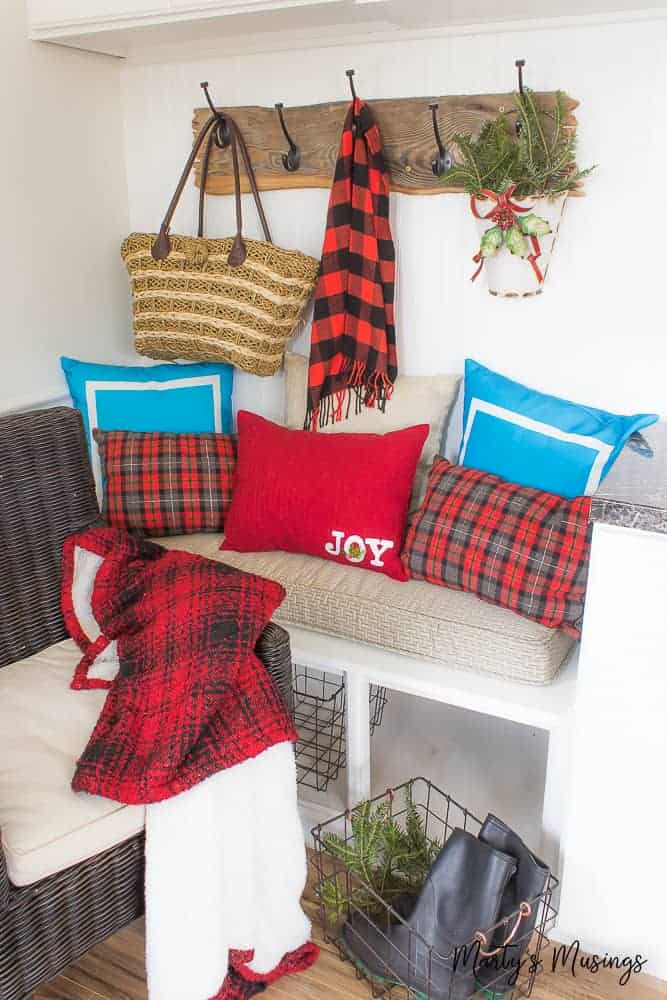 There's certainly nothing fancy about my Christmas decorating. The plaid throw was on sale half price at Target on Black Friday and I grabbed the scarf and bag out of my closet.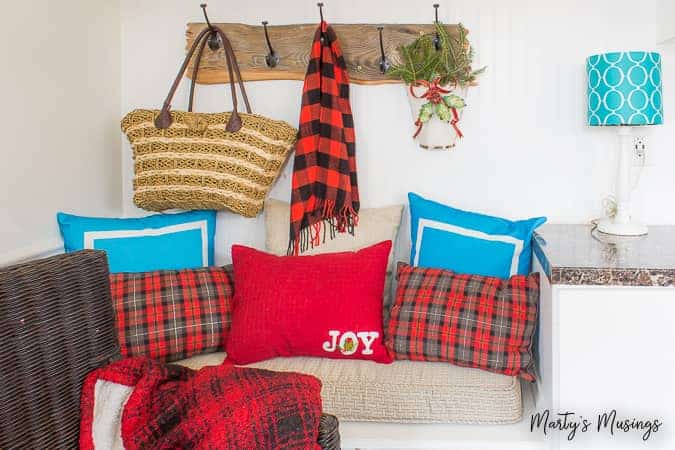 One of my favorite tricks is to ask for extra branches when we get our Christmas tree and cut sprigs to place around our home. This $1 yard sale container was a perfect place for a cutting or two!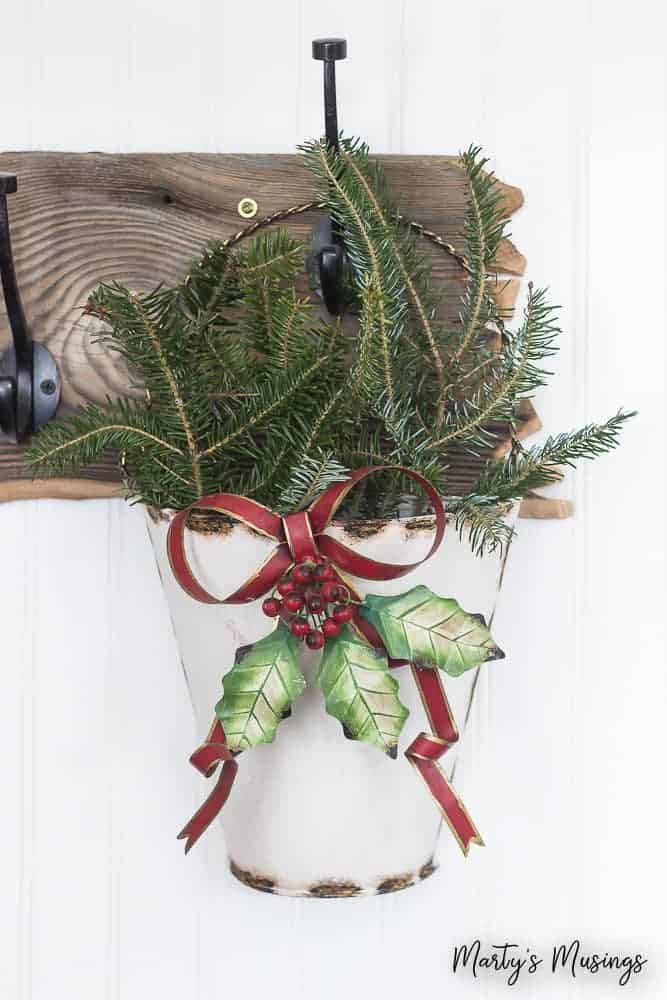 At the other end of the room I've got more place mat pillows and my chalkboard banner from wood slices.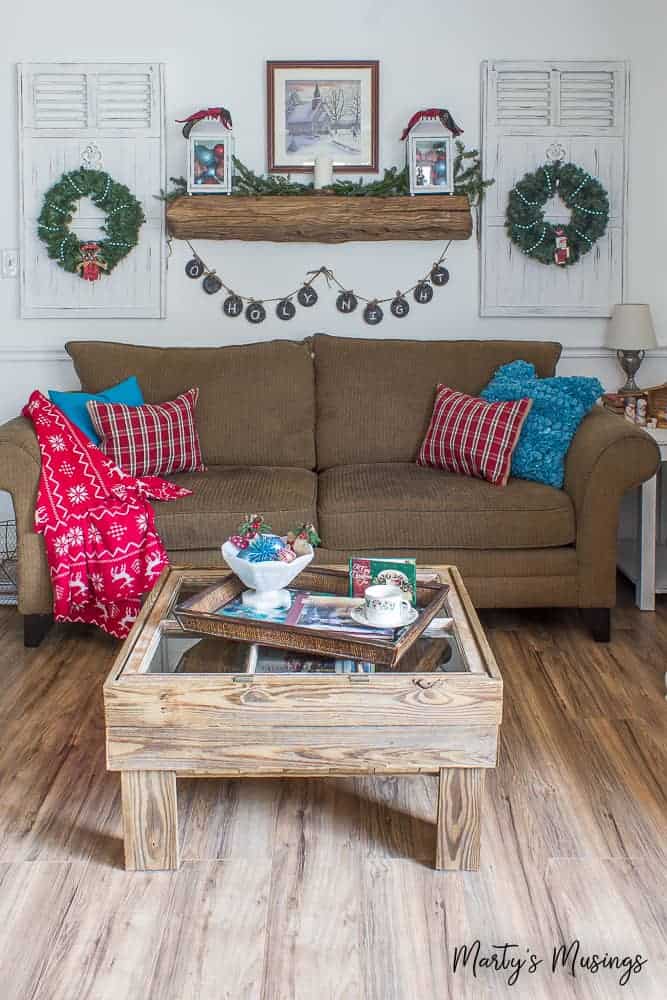 The framed church is a cross-stitch my sister made for my parents many years ago. After they passed away I kept it to use in my own home.
Simple and full of meaning, that's how I want Christmas to feel when guests spend time with us during the holidays.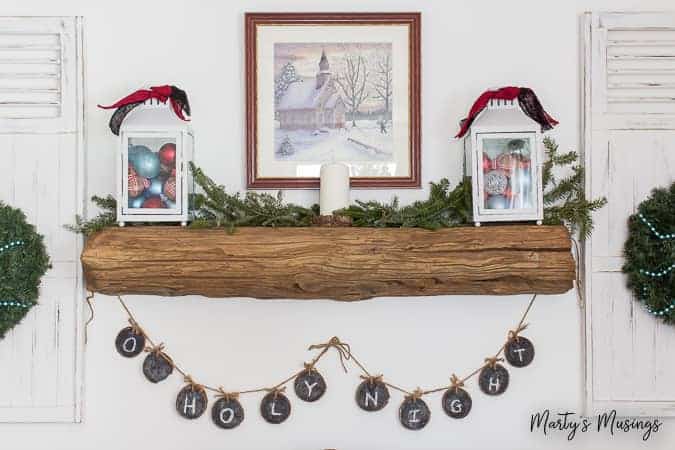 A simple length of red and black burlap tied around a lantern filled with red and aqua ornaments and my mantel is complete!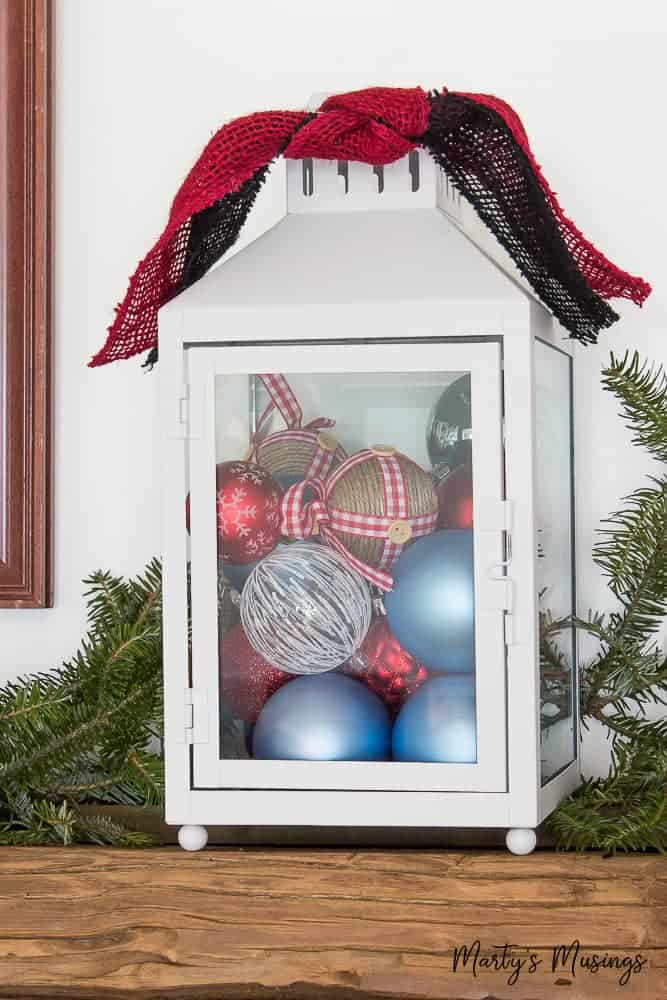 My husband's Precious Memories nativity is nestled in one corner and a chicken wire basket full of Christmas reading material beside the sofa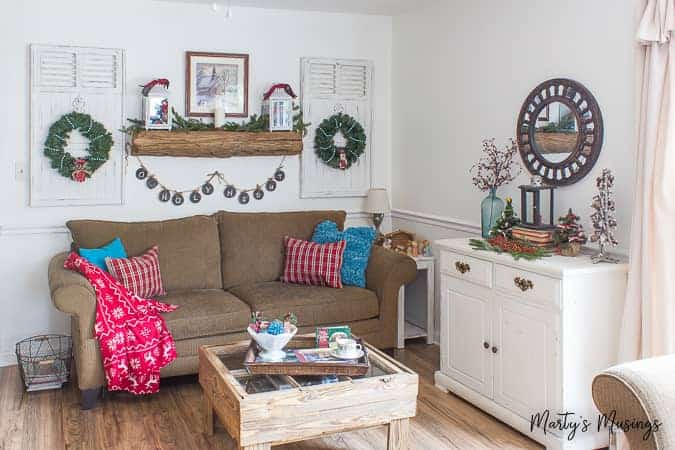 My DIY window table holds a tray I spruced up with the wrapping paper I used for our gifts.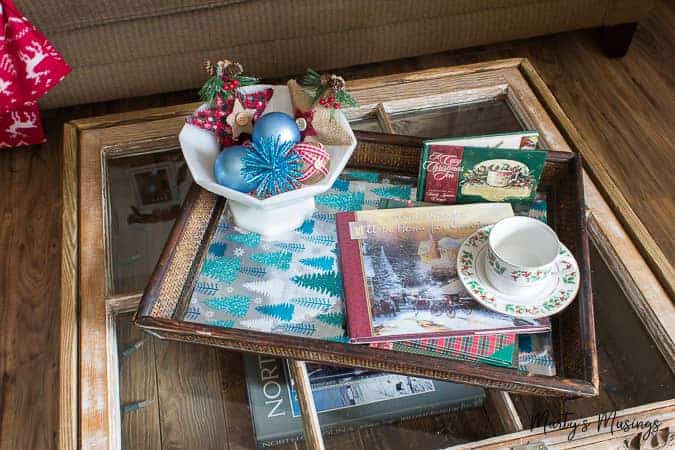 This simple vignette is filled with yard sale finds and after Christmas bargains.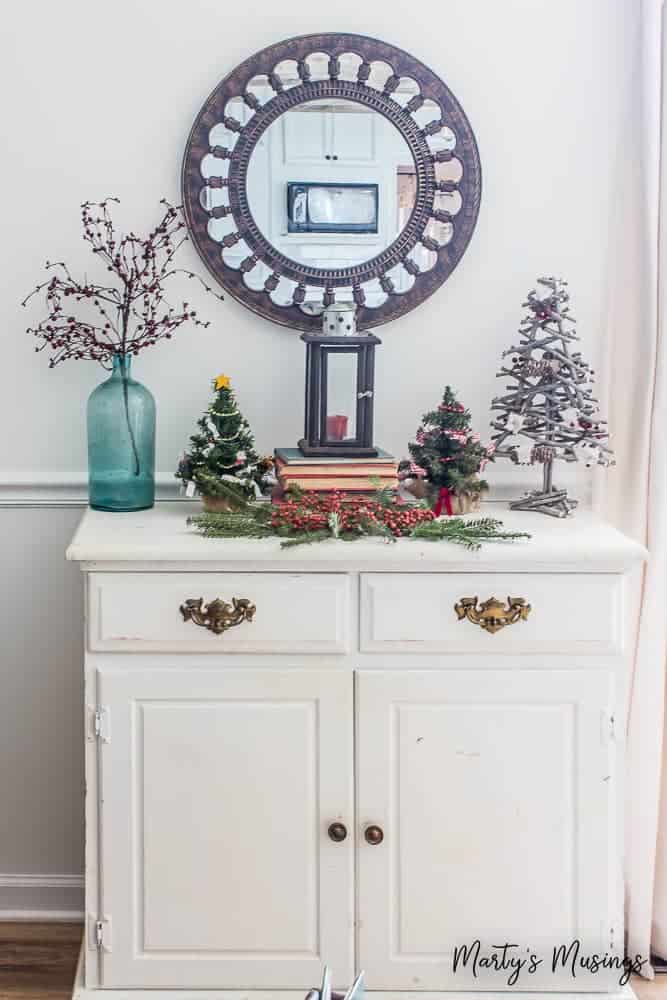 I hope you've been inspired by my 2017 Christmas Home Tour! I'd love to know how you create a home you treasure and still live within your means!
HOME DECOR SHOPPING LIST
In case you want the comfort of shopping from your own home I've included some links to similar Christmas home decor items.
(I've included some affiliate links for your convenience. Click here to read my full disclosure policy.)
Red plaid sherpa throw
White rustic lantern
Rustic Cottage burlap ball ornaments
Rustic Cottage burlap sleigh ornaments
Rustic burlap star ornaments
Shatterproof Christmas ornaments
Rustic wood lantern
Red plaid Christmas pillow cover
Miniature Christmas tree
Joy place mat (for pillow)
A Cozy Christmas Tea by Sandy Lynam Clough