Front Porch Christmas Decorations
This post may contain affiliate links which won't change your price but will share some commission.
These 7 tips for creating beautiful front porch Christmas decorations won't cost you a lot of money or time! Create a welcoming space for all to enjoy!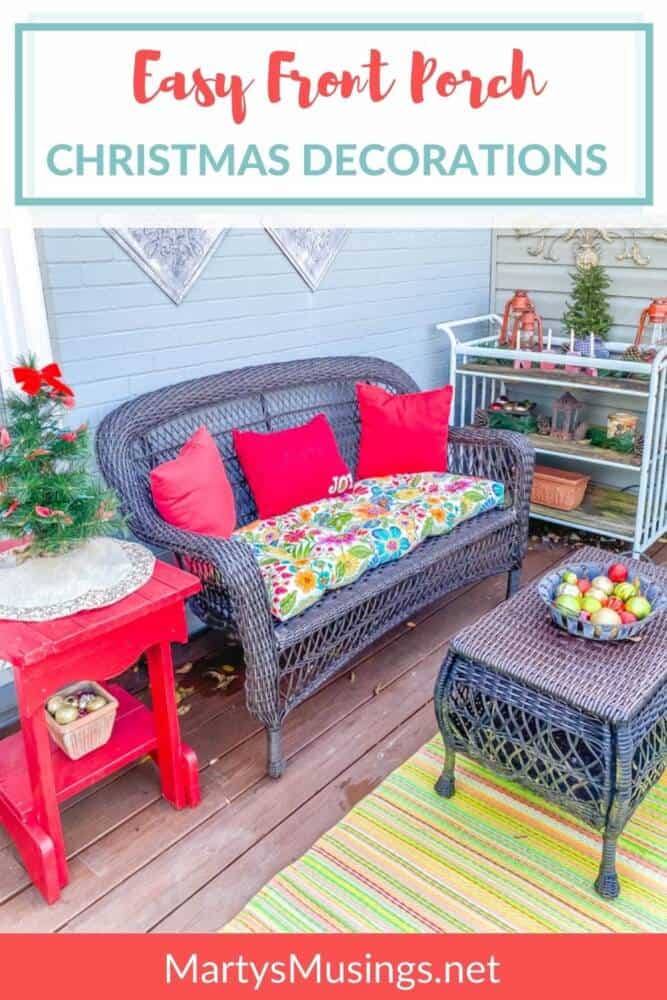 **Scroll to the bottom to see more amazing outdoor inspiration from my favorite bloggers!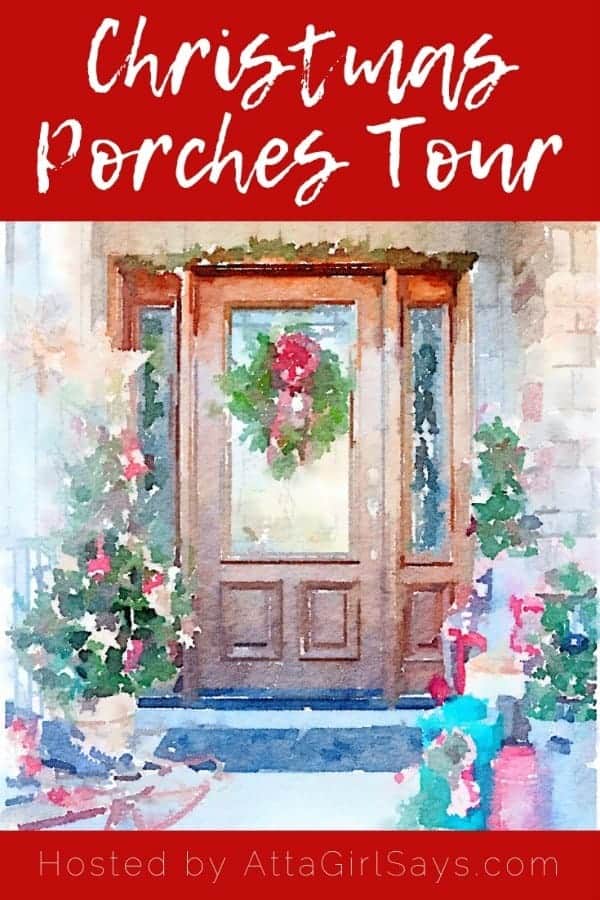 Anyone else struggle with all the decorating things this year? 2020 will not be forgotten anytime soon and may indeed be the year that is spoken of with much angst by our kids and grandkids.
Each year I struggle with what I WANT to do and what I HAVE to do when I decorate for Christmas.
The answer is I get to choose! My deepest desire as I've gotten older (hooray for maturity or maybe just exhaustion!) is to simplify my home.
Each season I throw out the junk and give away what doesn't interest me anymore. I want to give you permission to do the same!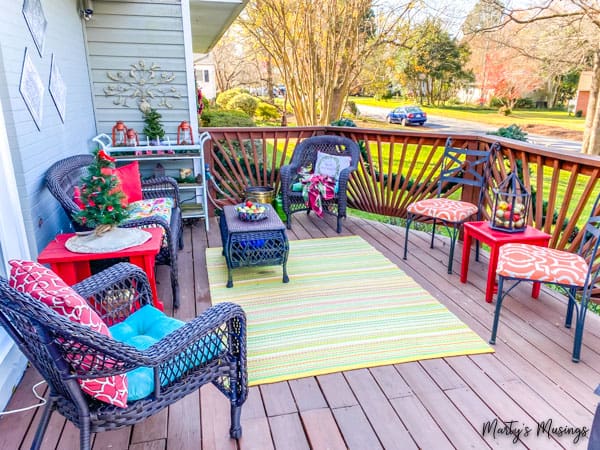 Complicated doesn't always equal beautiful but simplicity usually does. I want the focus to be on family and enjoying life together.
I don't always "decorate" my front porch but I absolutely love sharing this outdoor space at Christmastime.
Now I realize it's not actually a front porch because we don't have a roof over it. It is, however, a truly welcoming area for anyone who walks our neighborhood or visits our home.
When we first dreamed of this addition all we had was a front stoop. It was narrow and awkward and NOT welcoming! (You can read all about the deck build here.)
Now I have plenty of opportunities to create something that's easy and charming but doesn't cost much either!
Here are my favorite ideas for decorating your front porch for Christmas.
Front Porch Christmas Decorations
Step 1. Use what you already have.
As I weed through my Christmas decor I look for things that can be used outside and withstand the weather. There is definitely a downfall to having a deck rather than a porch.
When I shop yard sales and thrift stores I don't mind spending a little bit of money on decor with the rustic look. Withstanding the elements just makes everything more vintage and rustic looking!
This little arrangement right beside our front door usually contains seasonal flowers. For Christmas I let my husband put his favorites in this flower bed.
The rustic tree and wooden deer have been with us since our early married days.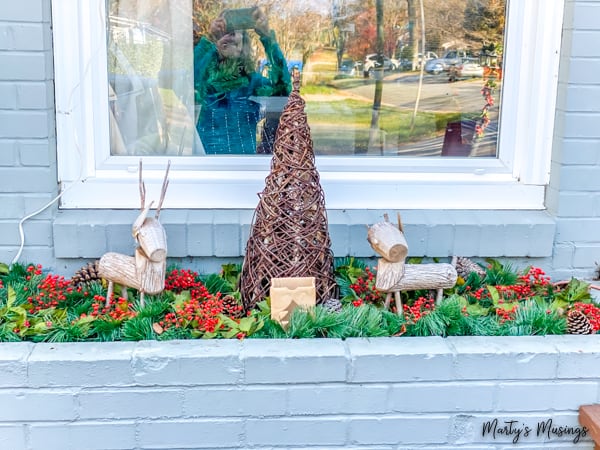 If you look closely you'll see one of the deer is missing its antlers! I love the cute factor!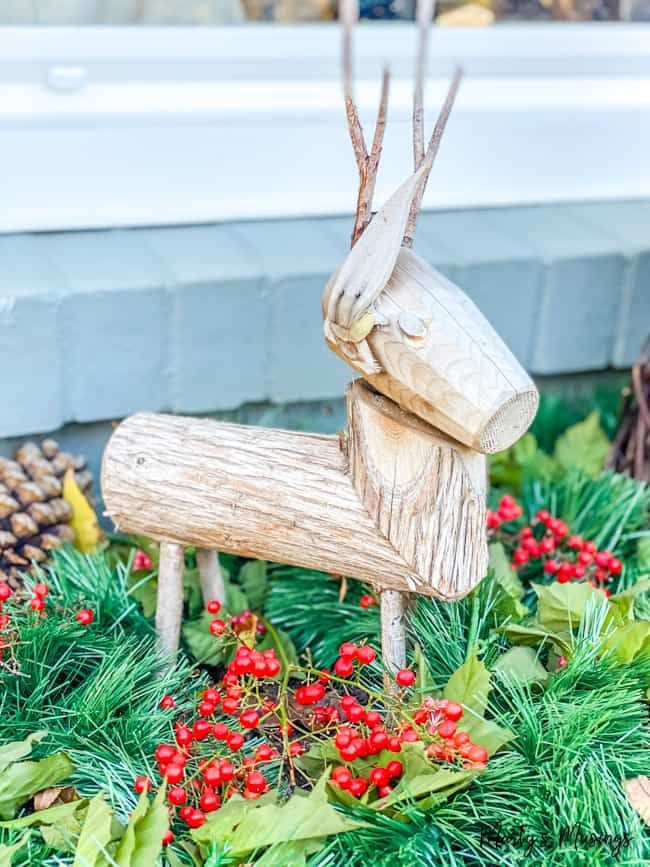 My changing table turned DIY garden cart doesn't always look so put together but I rounded up a few simple pieces for a festive look. (Just ignore the fact it needs to be pressure washed!)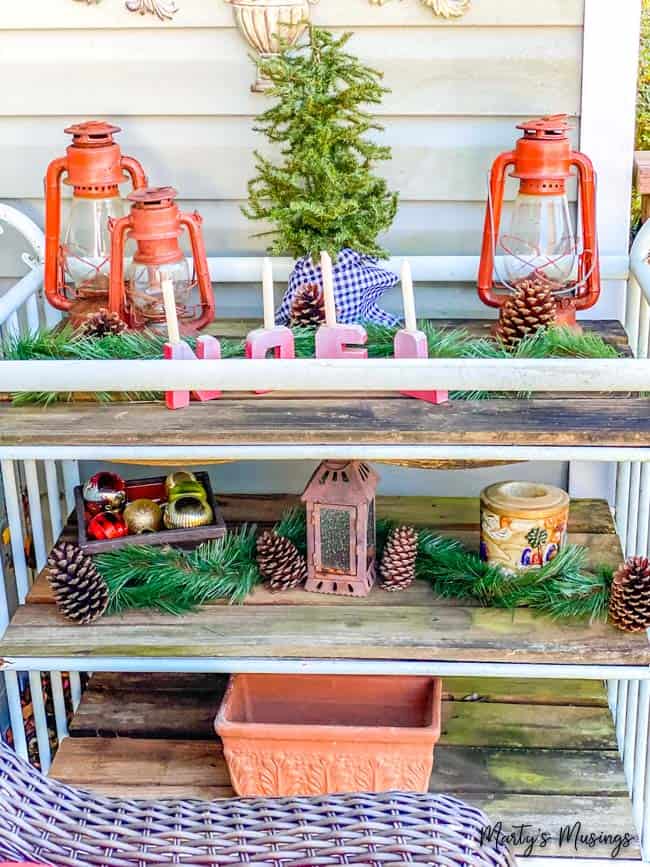 Step 2. Round up inexpensive ornaments and gather in containers.
By shopping yard sales, thrift and dollar stores it's easy to find inexpensive ornaments to use outside. Or you can wait until after Christmas and get amazing markdowns! (Read all the ways I use extra Christmas ornaments here.)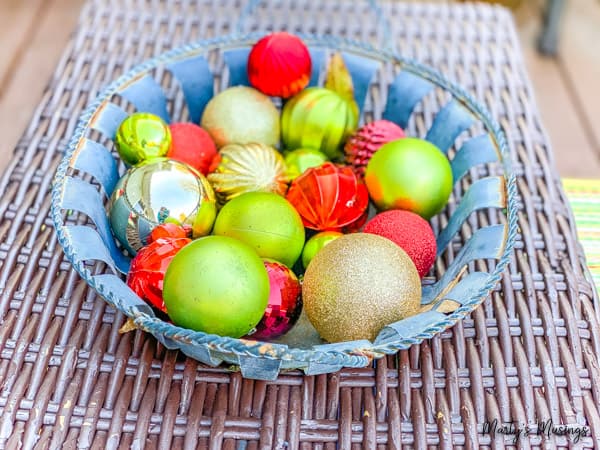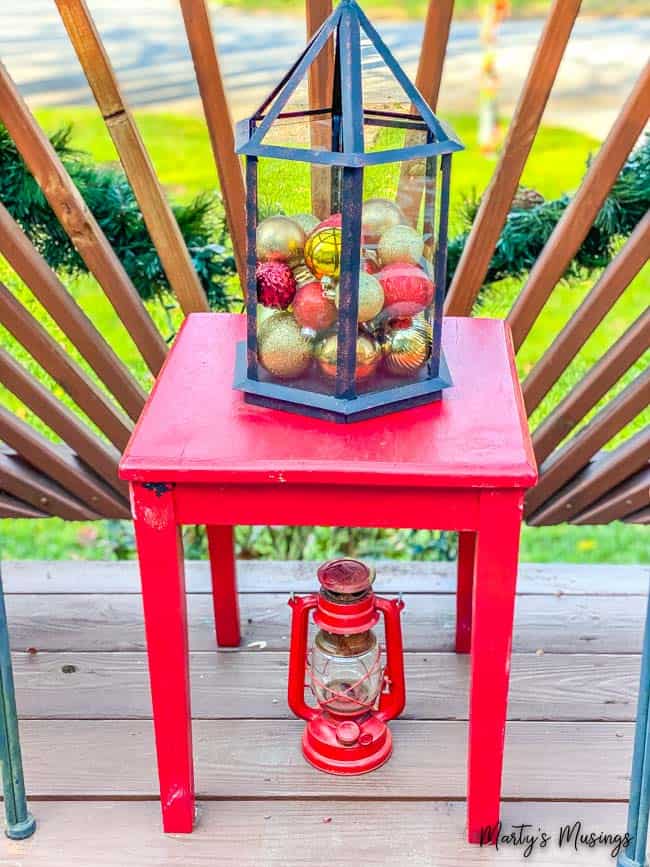 Step 3. Take advantage of natural elements.
For decades we went every Thanksgiving evening and bought our live Christmas tree from the same mom and pop shop. I would always ask for stray branches to use both inside and outside.
Last year we made the switch to an artificial tree and I do miss my free greenery!
I love these old (OLD!) luminaries and planter boxes. In the summer the boxes hold fresh flowers and at Christmas they hold leaves clipped from our bushes, pine cones and ornaments. Simple but effective!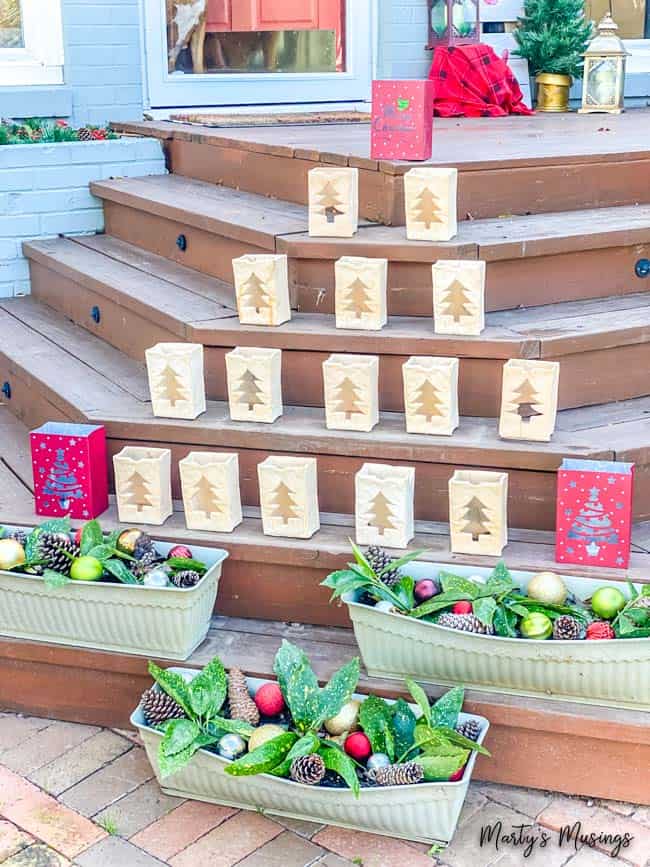 Step 4. Embrace color!
My deck is naturally decorated with color because it creates such a happy place for me. If color isn't your thing it's still the perfect time of the year to try it out. If you don't like it go neutral!
I almost waited too late to get a cute door mat but I love this "let's state the obvious" mat!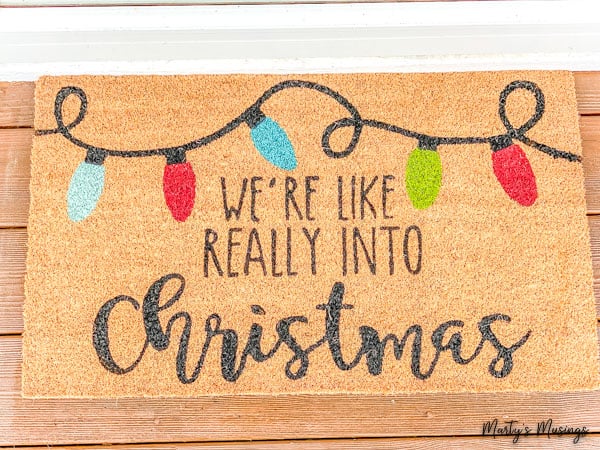 I believe we should decorate with what makes us happy!
Step 5. Recycle decorations you're tired of.
Maybe you don't want to use the same decor every year inside your home. Send the unwanted decor outside!
This Joy sign and the lanterns are from previous years and the tree was one my mom had in her nursing home.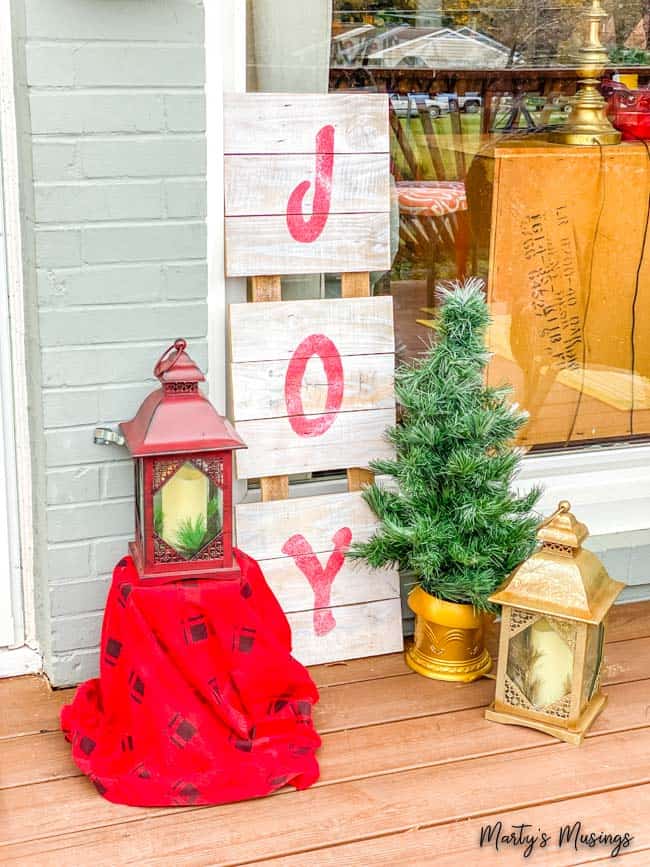 Step 6. Texture is your friend!
Seasonal pillows and throws add so much to the beauty of an outdoor area.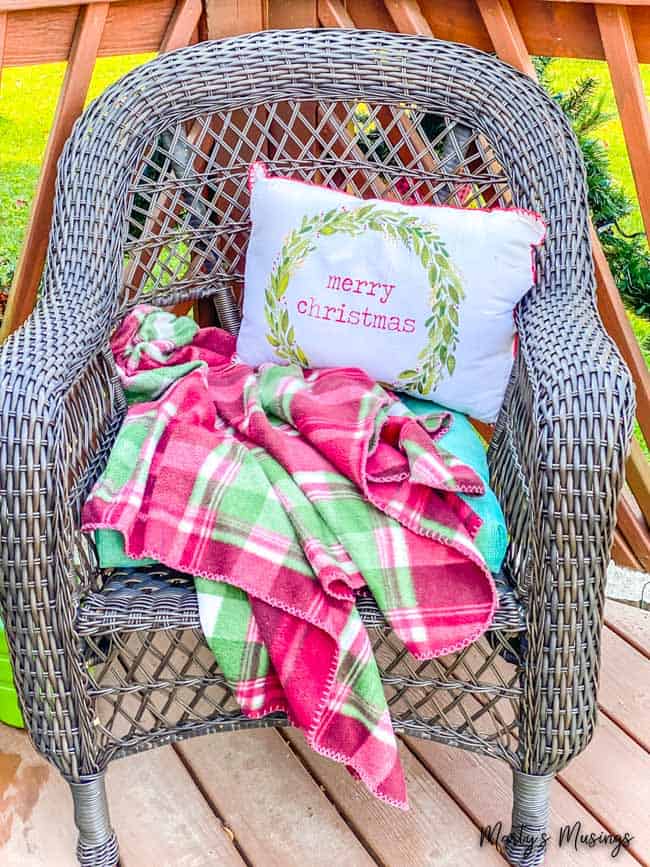 I use these indoor/outdoor pillows all summer and right into Christmas. Nothing makes me happier than pops of color on my deck!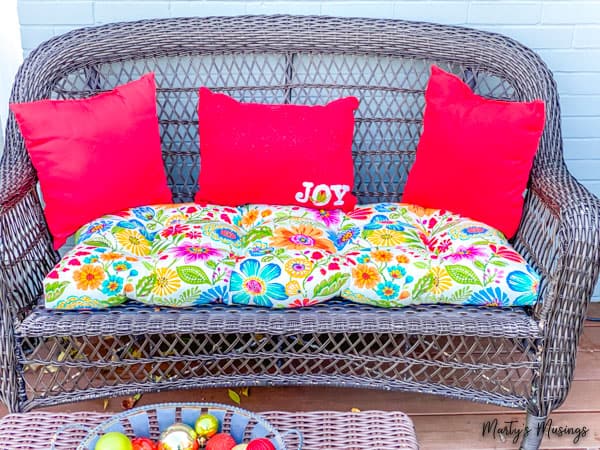 Step 7. Let go of perfection.
I like to say I'm a recovering perfectionist! As much as I would love for my photography to be perfect you can find some leaves or slightly crooked decor in these front porch Christmas decorations.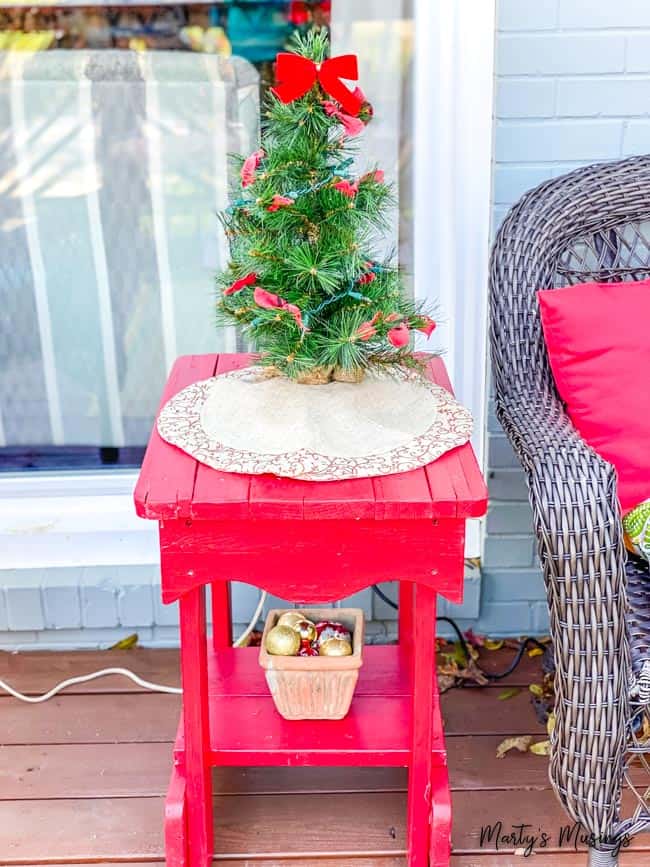 You won't find the electrical cords photoshopped out, either. 'Cause ain't nobody got time for that! You'll also see water in places because I had to photograph this area before the sun comes over the house.
So I'm sharing my home with you in hopes that it will encourage you to just do it! Don't let the desire for perfection keep you from enjoying your home, especially during this season.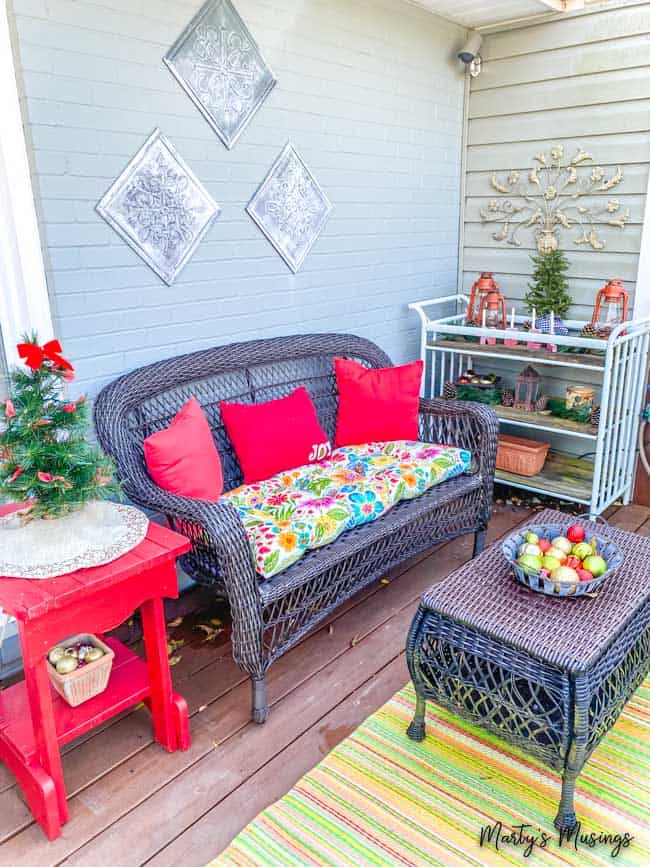 Also let me share a tip if you leave your cushions outdoors for any length of time. I keep the "good" side flipped under so I don't have to wash the cushions for photos! This also works if you have company coming and want a clean side for them to sit on!
Eventually I plan on storing the cushions for the winter. Although we don't usually get a ton of snow or ice storing them will help them last longer!
My hope is you'll be inspired to decorate your own home using these ideas.
Favorite Christmas Decor
(I've included some affiliate links for your convenience. Click here to read my full disclosure policy.)
Door mat (similar to mine)
Red and Black Buffalo Plaid Throw
Pillow Covers
Christmas Tree (the one we bought last year)
Buffalo Plaid Ribbon
Christmas Tree Luminaries (not ceramic like mine)
MORE CHRISTMAS PORCH INSPIRATION
Be sure to visit all the participating bloggers for festive decorating inspiration for your front porch, patio, sunroom and screened-in porch.
Atta Girl Says // House of Hawthornes // DIY Beautify // Chica & Jo
Worthing Court // Cottage at the Crossroads // Postcards from the Ridge // Weekend Craft
This Worthy Life // Marty's Musings // Sweet Pea // Our Crafty Mom