20+ Easy One-of-a-Kind Christmas Decorations and Crafts
This post may contain affiliate links which won't change your price but will share some commission.
These 20+ easy one-of-a-kind Christmas decorations and crafts ideas will help you stay on budget and still create the perfect holiday home for you!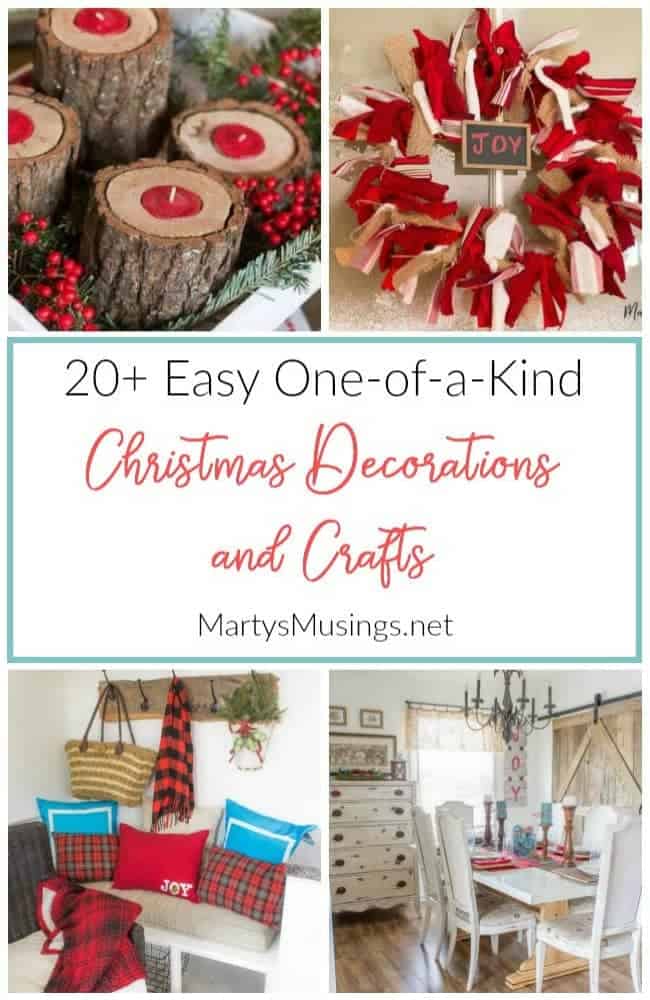 Many, many years ago when I was a young wife and mom I had high expectations for myself.
Especially around Christmas time.
You see, the holidays were an opportunity to embrace my inner crafter and make all.the.homemade.things.
I was known for the annual party I gave for my choir members. I was the music director for a small church and each year my husband and I would host a gathering at our home, completely provided for by me.
The decorations, the food, the beverages, EVERY.SINGLE.THING.
It was my gift to my choir for their faithfulness in serving week after week, side by side with my family.
We would have anywhere from 30-50 people each year and many of our friends stayed until the wee hours of the morning. (And y'all know my house isn't that big!)
Of course, all the food had to be homemade. I began scouring for new recipes in September, started cooking and freezing goodies in October, and our annual whole house cleaning was a fall affair.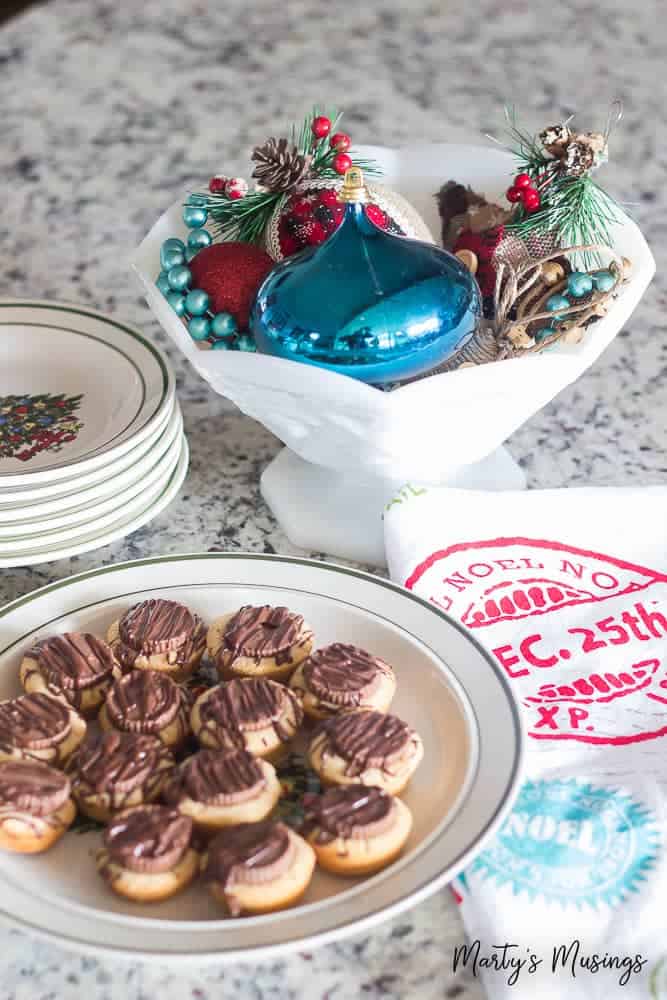 All during these hectic weeks we were also busy planning and performing our annual Christmas program.
My biological children were newborn and four-years-old when I accepted the position so you can imagine just how nuts I was to attempt such craziness. We served this particular church for four years and eventually I homeschooled the kids and juggled this part time work as well.
Can you say over achiever? Or maybe too young to know better?
Luckily this was pre-Pinterest or I would have had way too much inspiration to fuel my fire!
Now I look back and know there was a part of me that wanted to impress and prove I had it all together with my life.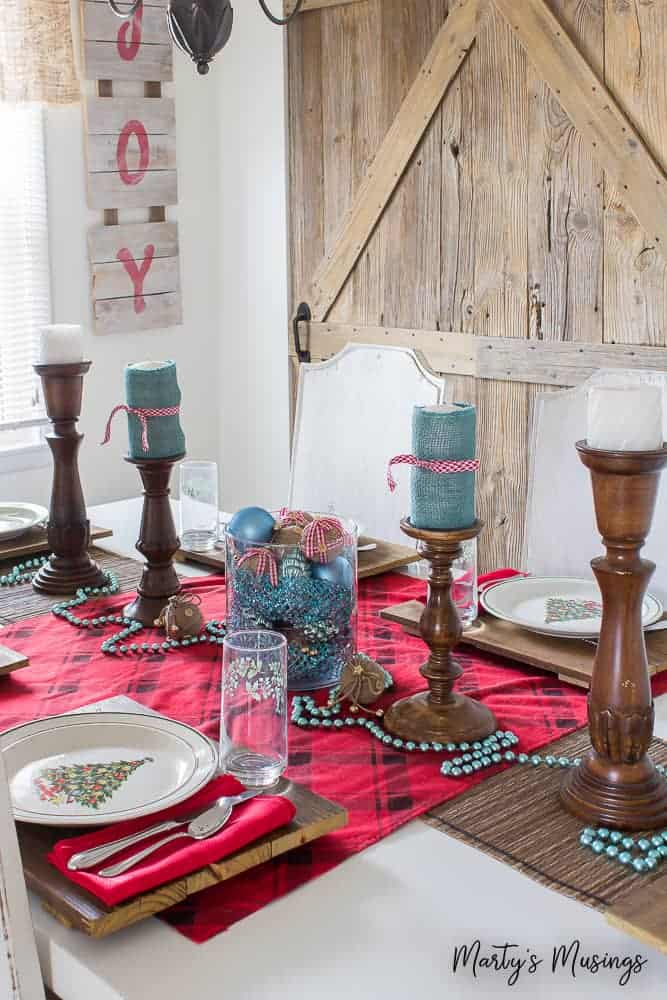 I COULD do it all. But why did I think I had to?
Probably the same reason so many of you can relate today.
You may not be hosting a Christmas party, but you may be juggling work and home responsibilities as car pool and work deadlines are a constant conflict.
Or maybe you're part of the sandwich generation, still parenting teenagers while tasked with the responsibility of taking care of your elderly parents. Every day you feel like Gumby (look it up if some of y'all don't know who that is!), stretched too thin and overwhelmed.
Quite possibly you're asking yourself, how do I regain the true spirit of Christmas?
Wherever you are in your journey, I want you to know that none of these projects I'm sharing today are meant to make you feel less than or inadequate.
I fight the "not good enough" battle every day but know that God has chosen me as His daughter. I am perfectly loved and acceptable just as I am.
My goal is to inspire you to maybe try one idea this year or pin a few for next year. Maybe there will be something in a project that you can use in your everyday decorating.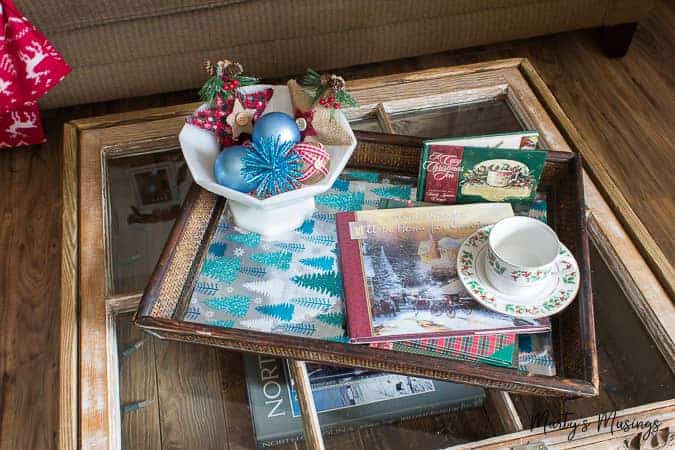 You probably love decorating and receive joy when you craft or try a little DIY project now and then.
Let these projects encourage you to find that joy again.
Carve out some "me time" in the midst of this crazy holiday season and reclaim the love of handmade for the "right" reason.
I'm not that same perfectionist woman anymore. I've learned a lot from the setbacks in my life and the relational challenges God has laid before me.
I realize as wonderful as those Christmas parties were, I missed out on so much by not being present in the moment and focusing too much on perfection.
I do believe those who attended felt welcomed and loved, but I could have asked for help. That's one of the many lessons I've learned and am still trying to put into practice.
If you want to know how to make Christmas decorations step by step these ideas are for YOU!
So here are my favorite Christmas decorations and crafts from my blog all gathered into one place! Enjoy!
Easy One-of-a-Kind Christmas Decorations and Crafts
Christmas Crafts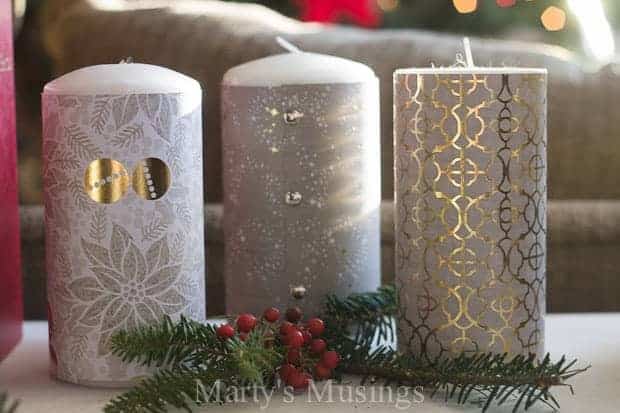 5-minute Simple Christmas Craft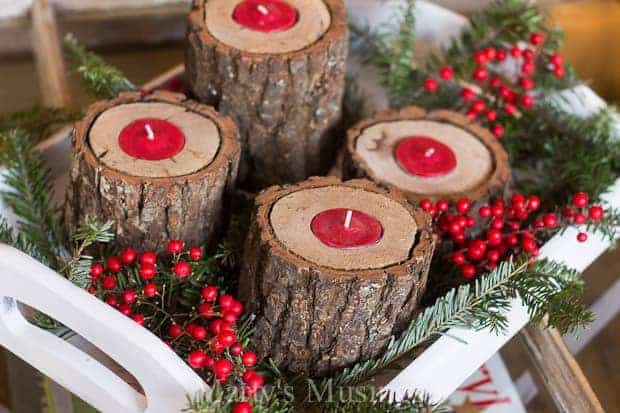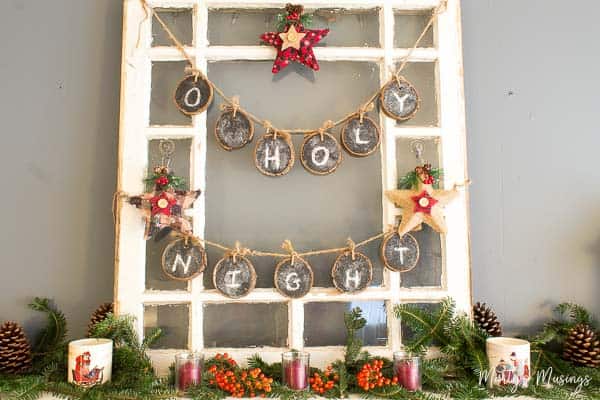 Chalkboard Banner with Wood Slices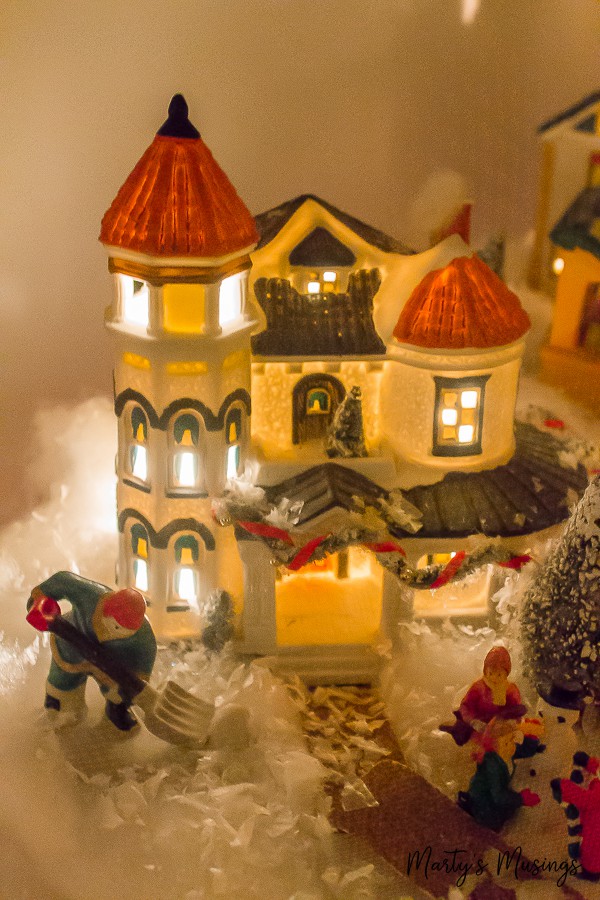 How to Create a Christmas Village Display
Christmas Wreaths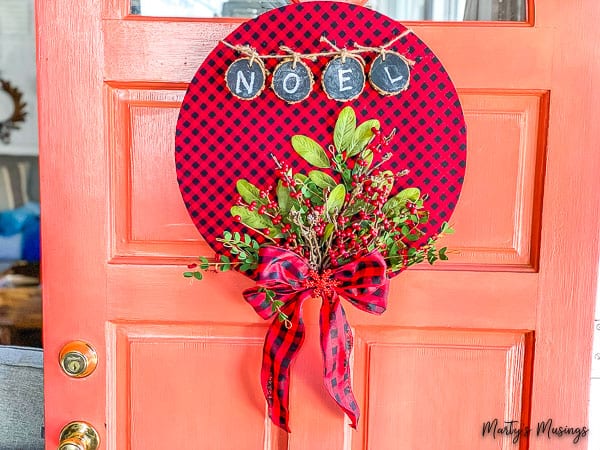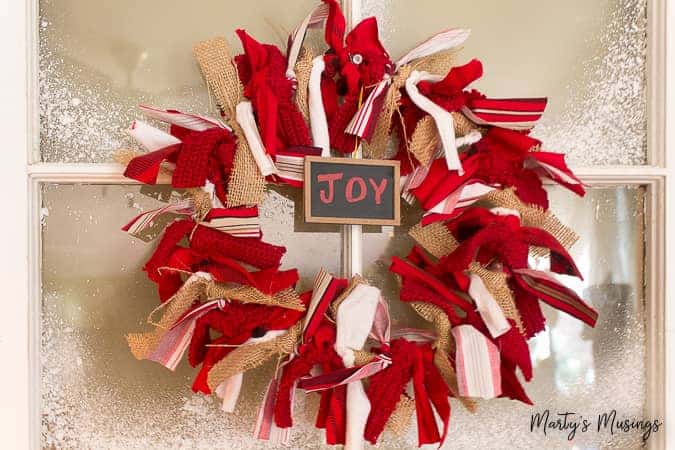 DIY Christmas Projects with Wood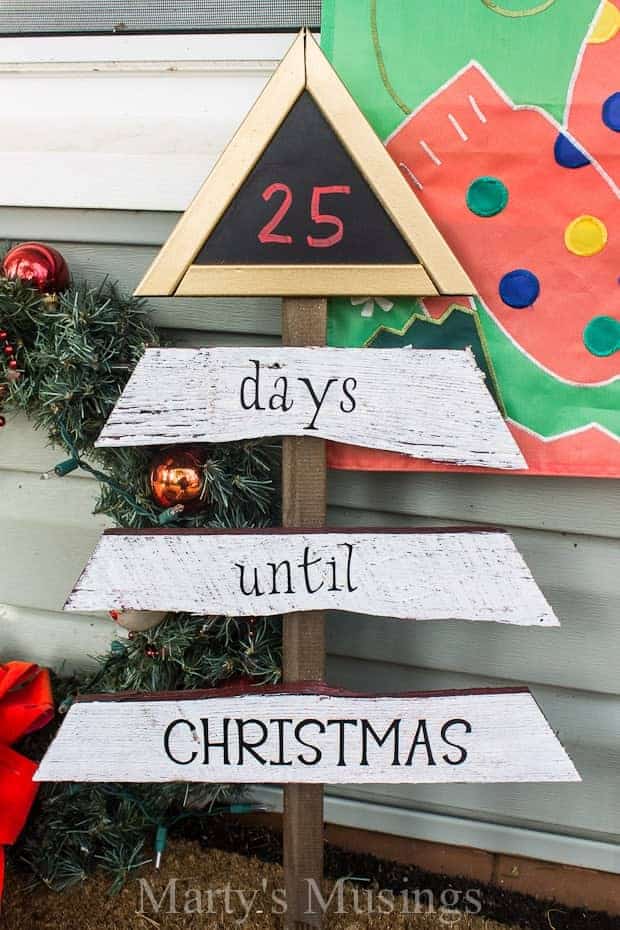 Fence Board Chalkboard Christmas Countdown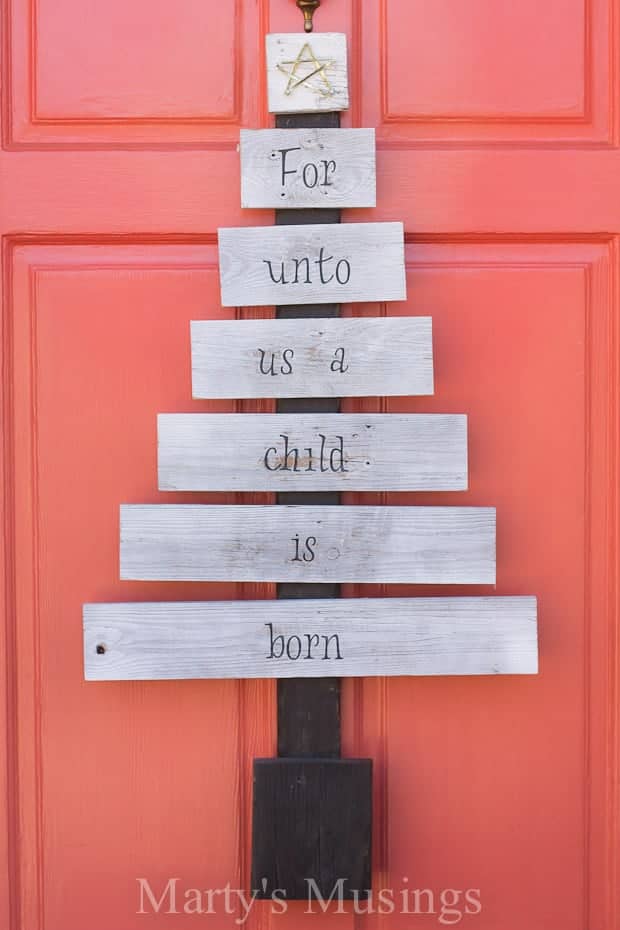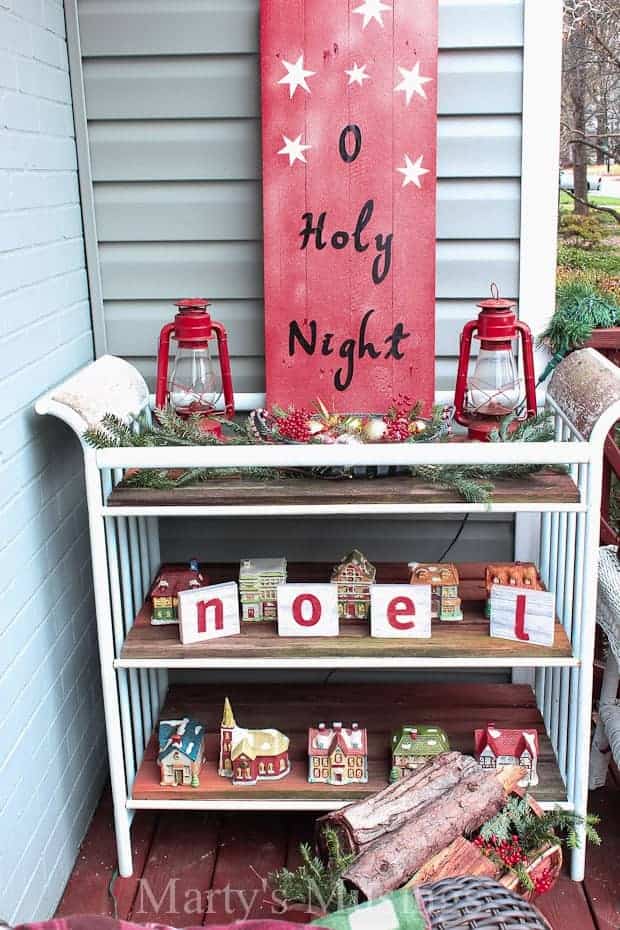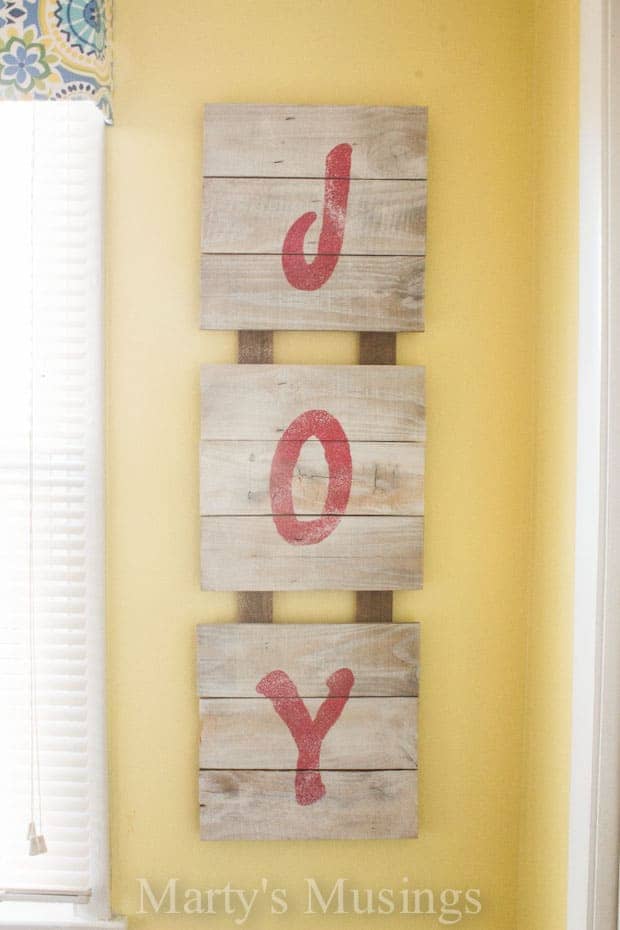 Fence Board Joy Christmas Sign
Christmas Ornaments and Gifts
Want to add a personal touch to your Christmas ornaments and gifts? Try these easy projects with the kids this year!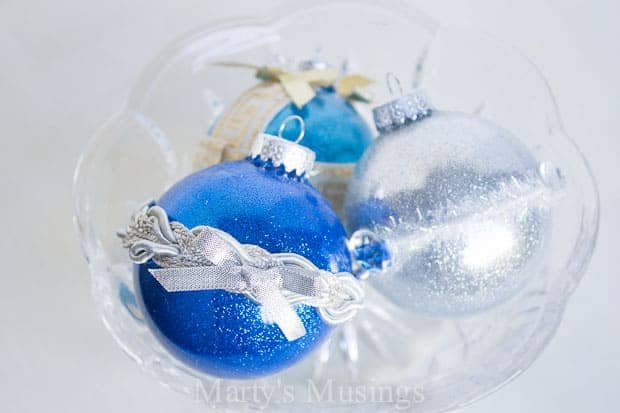 No Mess Handmade Glitter Ornament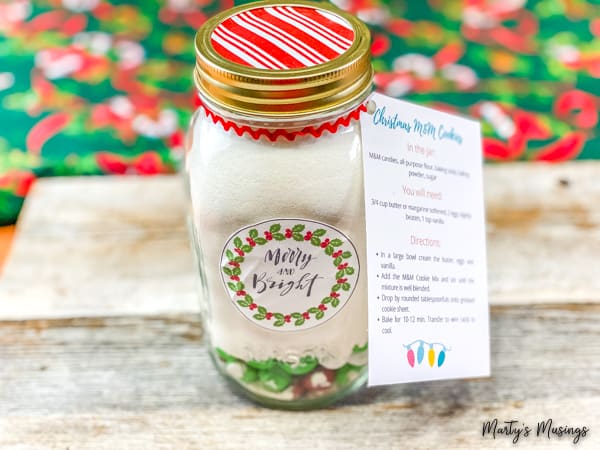 M&M Cookie Mix in a Jar with free printable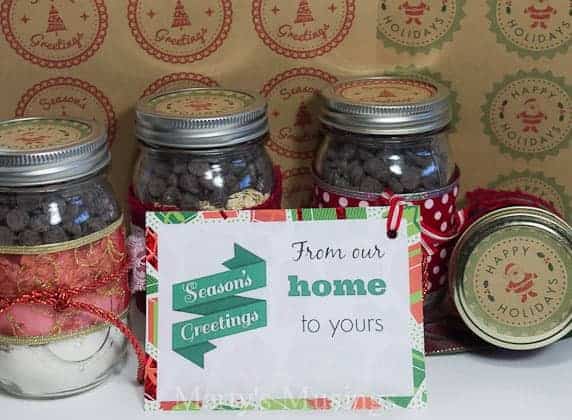 Christmas Mason Jar Labels and Tags plus free Printables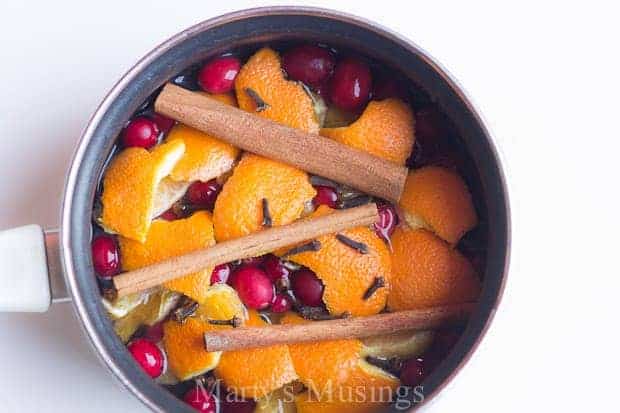 Easy Simmering Homemade Potpourri
Christmas Decorating Ideas for Every Room (don't forget the mantel!)
If you want to make your home more festive for the holidays without spending a lot of money I've got you covered!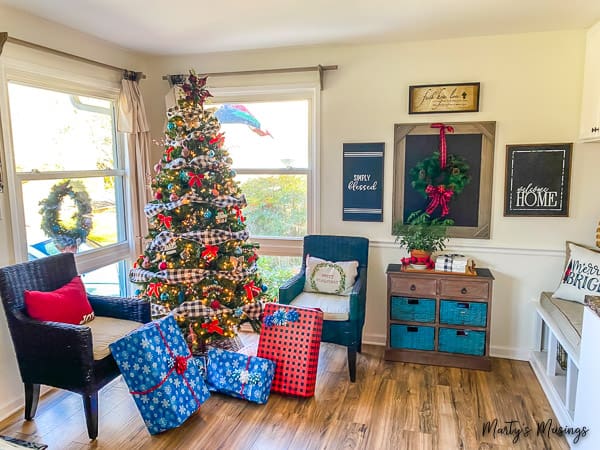 11 Ways to Add Buffalo Plaid Christmas Decorations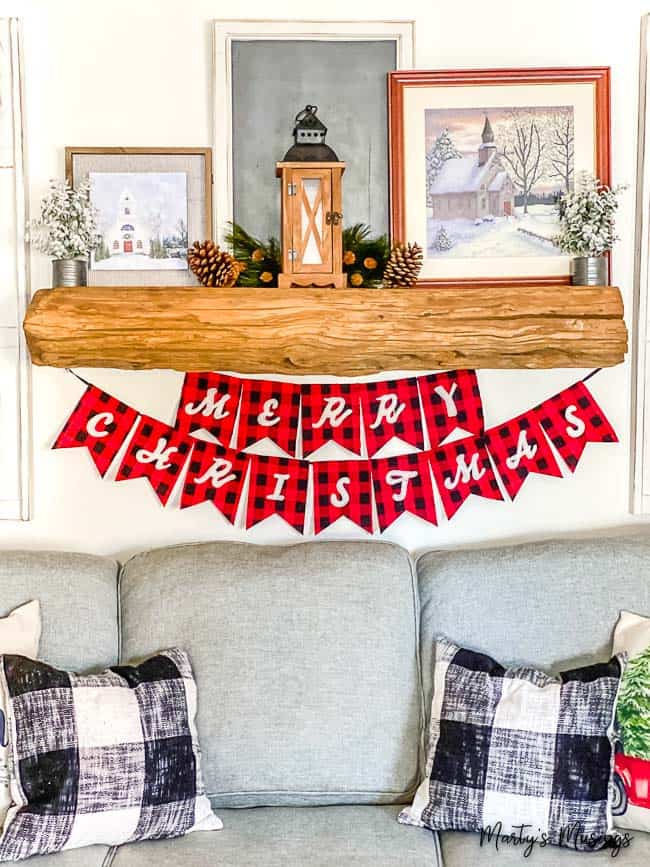 How to Decorate for Christmas on a Budget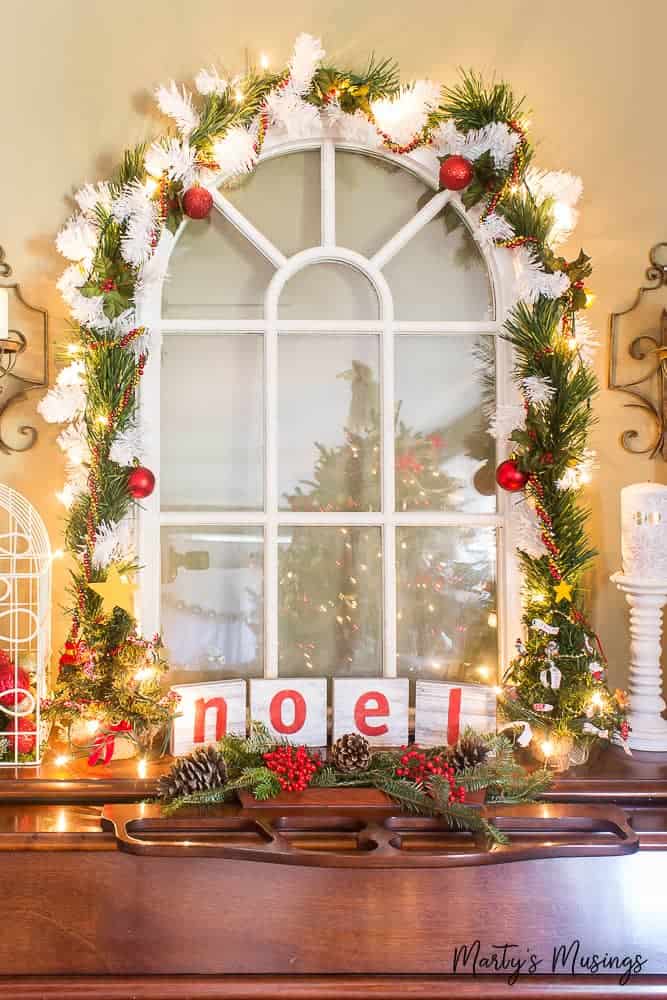 10 Creative Ways to Use Extra Christmas Ornaments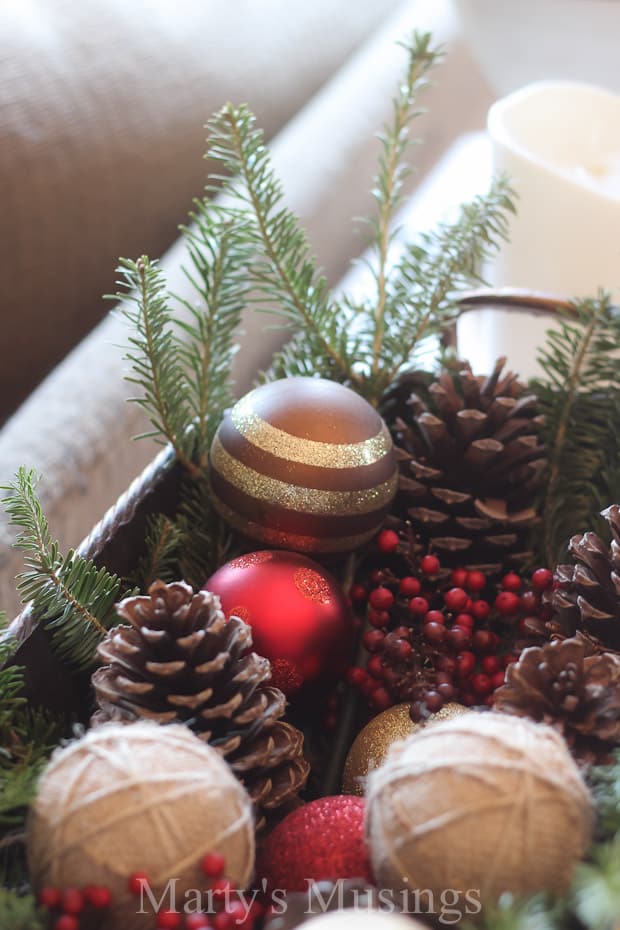 5 Cheap Christmas Decorations for a Simple Authentic Home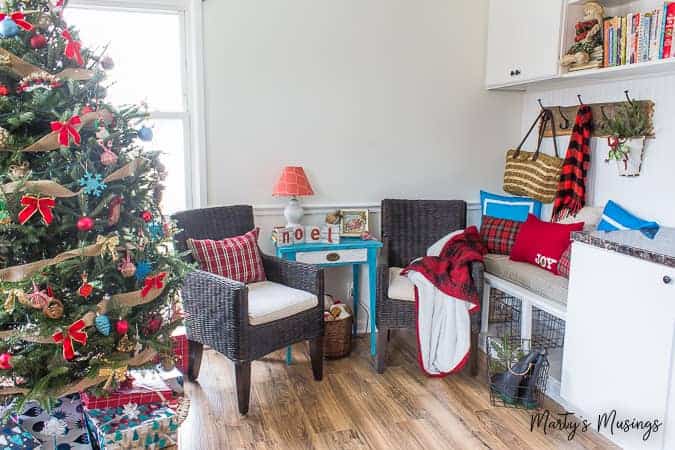 Rustic and Thrifty Christmas Home Tour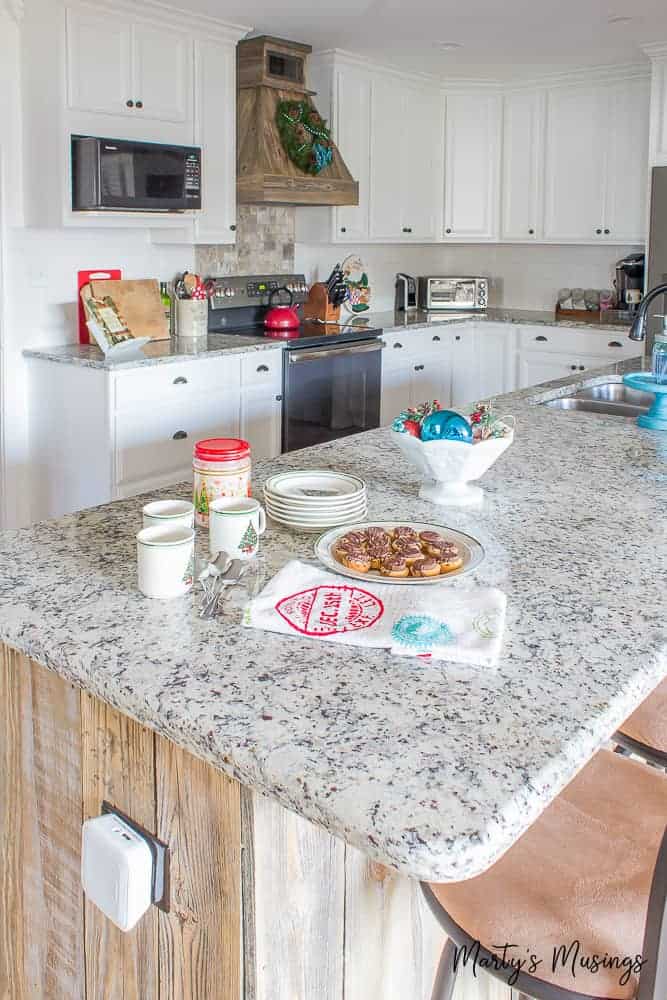 Rustic Christmas Kitchen Decor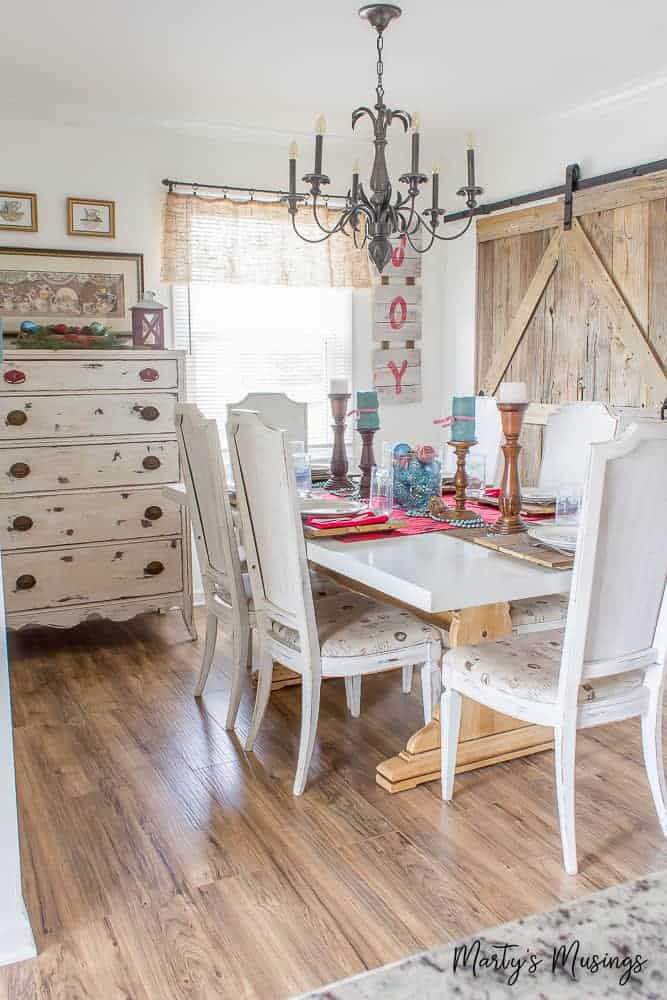 Rustic Christmas Table Decorations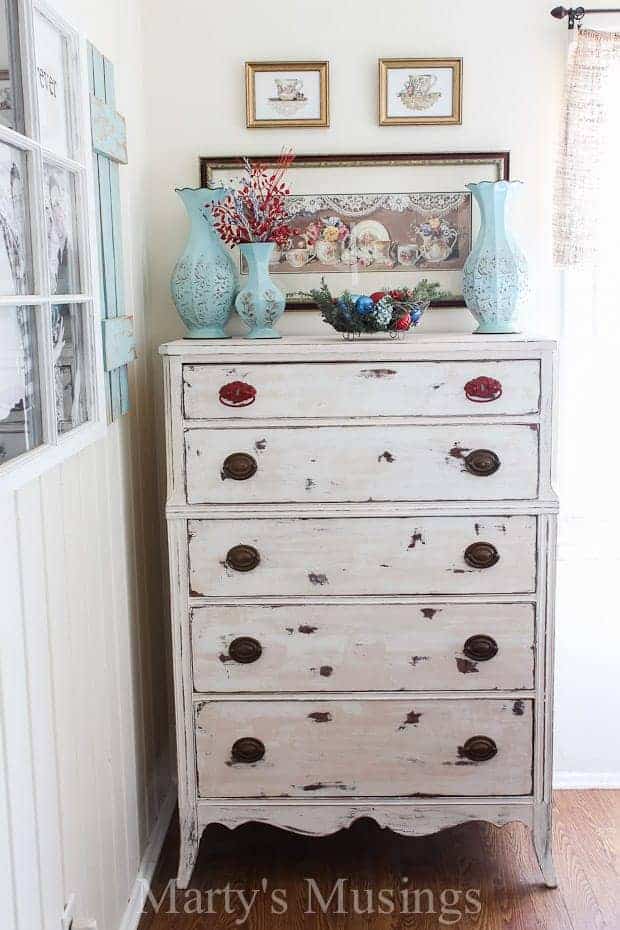 Decorating with Red and Aqua in the Kitchen
Christmas Mantels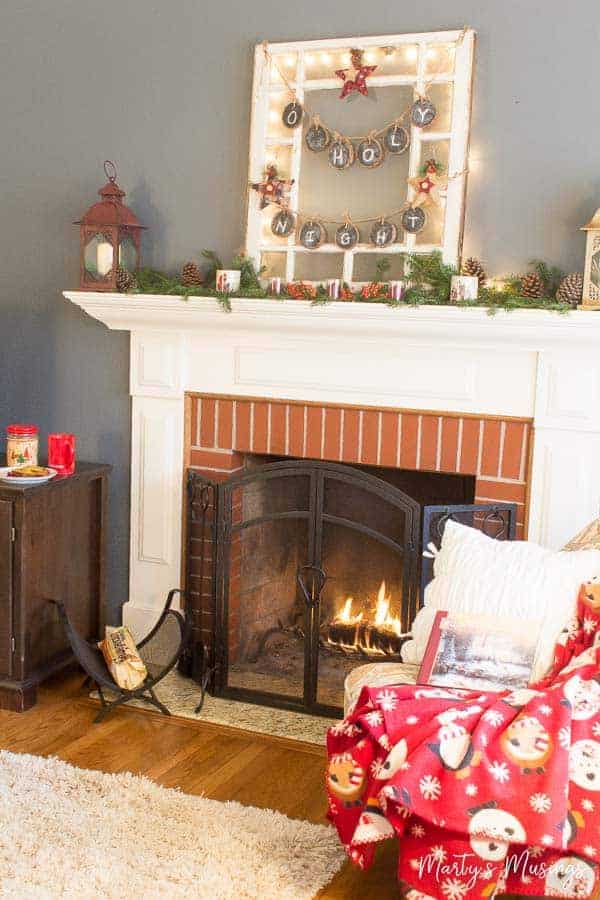 How to Decorate a Christmas Mantel the Cheap Way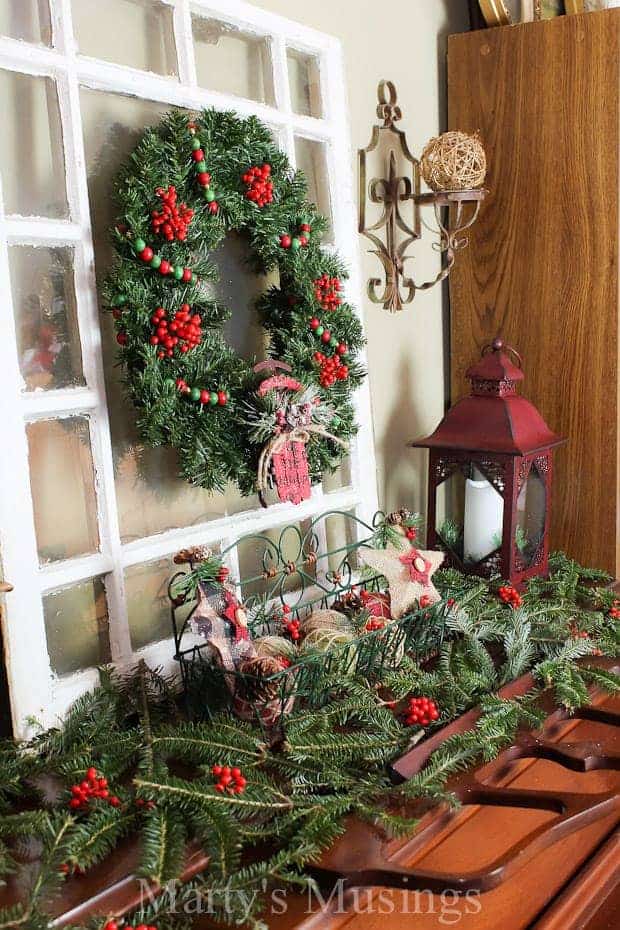 Christmas Mantel Decorating Ideas
Outdoor Christmas Decorations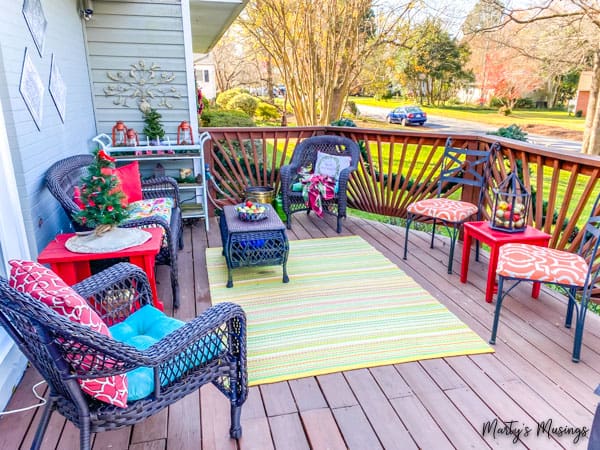 Front Porch Christmas Decorations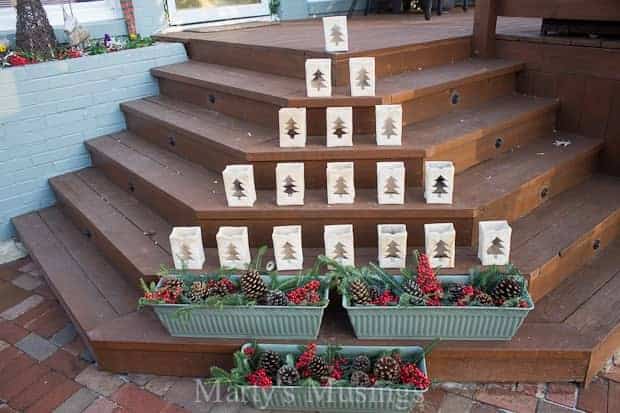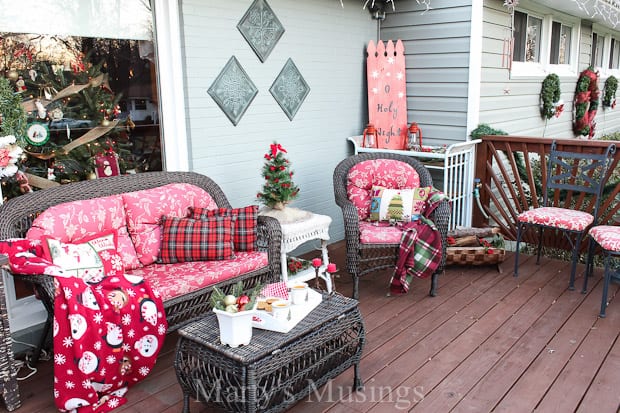 Inexpensive Deck Decorating Ideas
If you could tell your younger self one thing, what would it be? I'd love to know!
If you're starved for more Christmas decorations and crafts ideas I really like this roundup from Country Living and this one from Good Housekeeping.