How to Declutter After a Death or Loss
This post may contain affiliate links which won't change your price but will share some commission. Read more here.
If you don't know how to declutter after a death or loss, these five easy steps will walk you through the process of getting unstuck and letting go.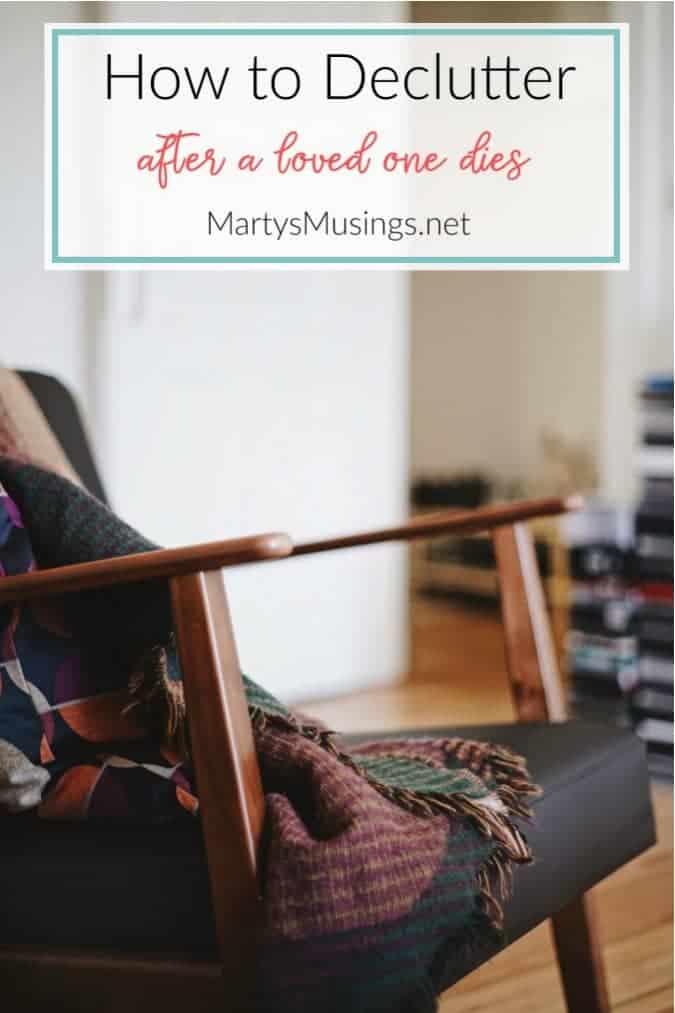 Photo by Malte Fleuter on Unsplash
I still remember the day my parents moved into the nursing home.
Totally unexpected, this move changed not only their lives, but my own.
At the time I was homeschooling my youngest three children, with my oldest daughter still living at home.
I thought I was already busy, but I had no idea what overwhelm truly felt like until my parents physical condition worsened.
My dad had back surgery and went from the hospital into a rehab facility.
Of course, our family vacation was scheduled right about the same time but my mom was still capable of driving to visit dad each day.
However, an inner voice told me to cut my vacation short and my daughter and I drove back early to check on my parents.
The very next morning my mom ended up in the hospital with a diagnosis of congestive heart failure. From there she moved into the room next to my dad in rehab.
Not exactly what they had planned. Certainly not what I expected.
Their next step was a small room in skilled nursing care, where my mom and dad lived together until his death a few months later.
They never returned to the home they shared or the accumulation of possessions from almost 65 years spent loving and doing life together.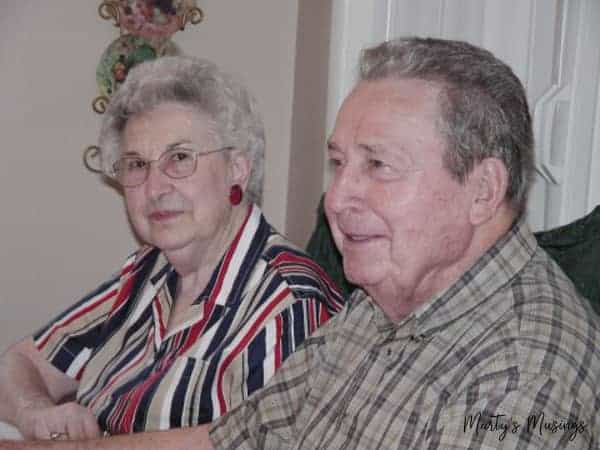 My story may be different than yours, or it may feel frighteningly familiar.
Maybe you've been tasked with the chore of taking care of a family member's property like I was.
Or possibly you're the family caretaker of all the sentimental memorabilia.
Maybe these valuables represent the world to you but have no meaning for the rest of your family and that grieves your heart.
Does your story include the loss of a child and you can't face the room he/she lived in?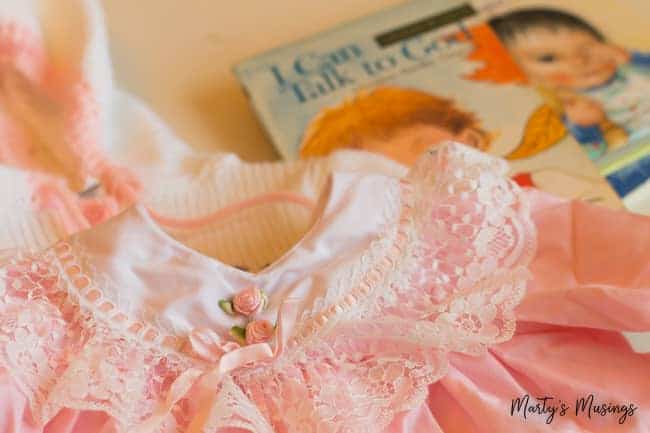 You could even be keeping items from a marriage long ended and you just don't understand why you can't let go.
Wherever you find yourself, I believe there is a point where we all get stuck.
It could be because of the grief you haven't finished processing or maybe you're just overwhelmed by ALL.THE.THINGS.
No matter the reason, I believe there are some tools that will help you learn how to declutter after a death or loss and move forward.
Perhaps you should first ask yourself this question:
What's your motivation? Why should you go to all the trouble to declutter?
Because sometimes holding onto the "stuff" keeps us locked in the past.
For many people it can even feel like a prison, keeping them from moving forward and enjoying new experiences and relationships.
For others, clutter keeps them from finding peace in their home.
Do you walk in the door of your home and want to turn back around because the mess/stuff/disorganization physically exhausts you?
These 5 tips on how to declutter after a death or loss apply whether you're dealing with the stuff that you've collected in your own home or going through someone else's, as in my case.
How to Declutter After a Death or Loss
1. Take your time
When my sister passed away suddenly at the age of 53 from a massive heart attack, we were all in shock and grief.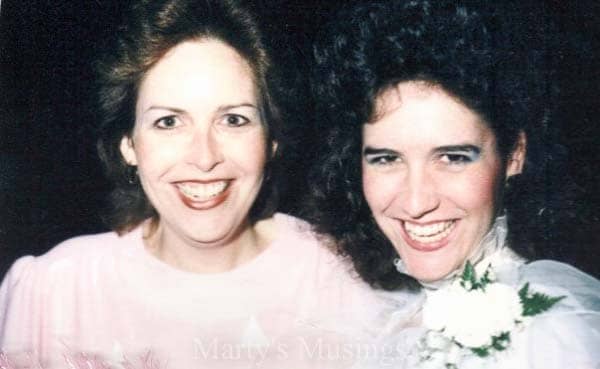 (at our brother's wedding in 1986)
My brother-in-law wanted us to remove Brenda's clothes and jewelry from their house immediately. My niece was only 20 years old at the time and I stepped in to help her with this overwhelming task.
If I could go back I would have asked if we could wait until a later date when we had time to process the loss at least a few days.
We were all ill-equipped to handle such a tragic loss but going through her clothes three days after the funeral was unbearable. My niece and I each took a few things to remember her by and bagged up the rest to give away.
Whether it's clothes, furniture, photographs or memorabilia, if at all possible take some time to process the loss before dealing with all the "stuff" of your loved ones life.
2. Ask for help
The loss of a loved one brings up so many difficult emotions, often followed by complicated relationships with the living.
When my parents moved into the nursing home I was a stay-at-home, homeschooling mom with five kids. My brother lived out of town and was a busy executive.
I took on the job of sorting through all my parents life possessions because I felt I didn't have a choice. All I asked my brother was if he wanted anything of theirs.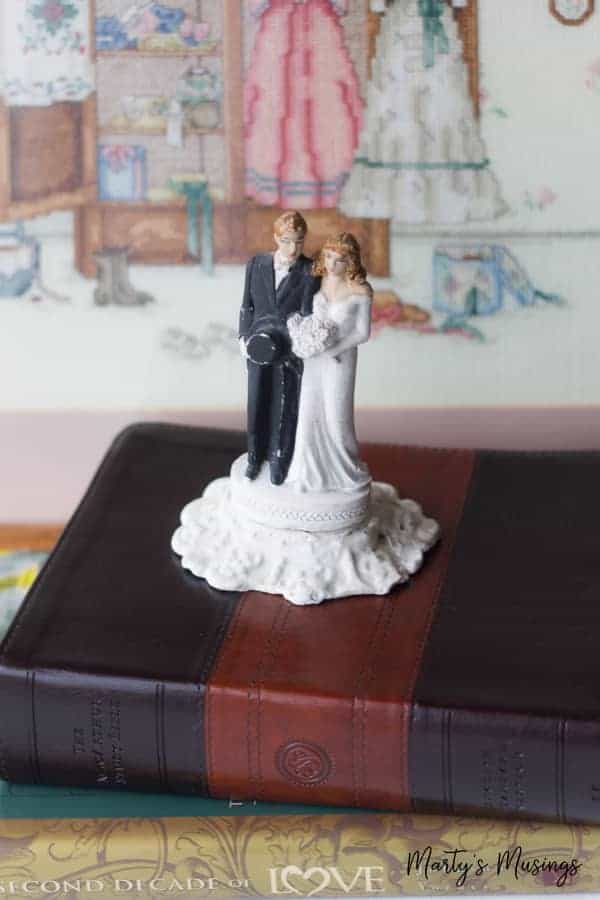 As I've been through grief counseling and found healing for the wounds on my heart, I know that I should have asked him to do more.
I carried the responsibility when I should have reached out for help. I don't know what his response would have been but at least I might not have born the overwhelming weight alone.
If you don't have a family member to help you sort through the clutter, ask a friend to assist you who will not only help but will give you perspective.
Find someone who will ask questions and remain neutral so you will make PROGRESS towards the goal of decluttering.
3. Start small and set an achievable goal
Decluttering itself can be arduous but when you add in the fact that you're processing a loss it can feel like it's too much to bear.
That's why it's important to take your time (#1!) but also to start small.
Don't tackle an entire room the first day.
If emptying out the kitchen is your goal, start with one cabinet or even the junk drawer first.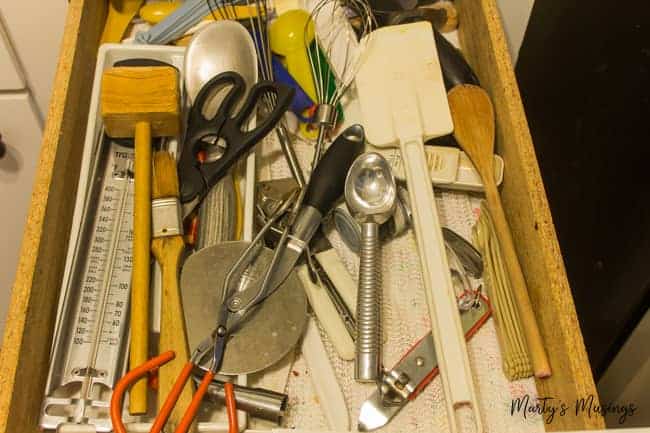 Start where you can find immediate success and build upon it!
Overwhelm happens when we look at the big picture and don't know where to begin. So start with one small space and go from there.
Rome wasn't built in a day. Tackling the clutter and a life lived with "stuff" will take time.
4. Sell or give it away
Formulate a plan for what you're going to do with the stuff once you declutter.
Ideally if you have family members who are interested in things they would go first and what's left would be sold or given away.
If you're up for the task, holding a yard sale is a great way to make money. You just have to decide if the time investment is worth the possible money earned.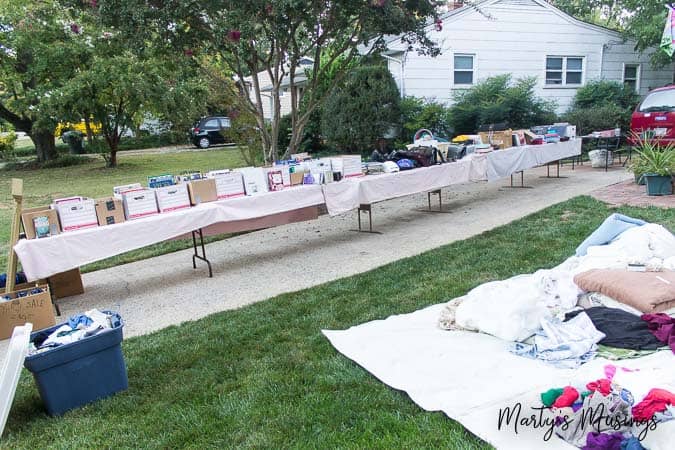 For larger items like furniture or more expensive things like china (and even clothes), possible places to list them are Craigslist, your local newspaper and phone apps such as OfferUp and Thredup.
Is there a charity that was near and dear to the heart of your loved one? See if they have need of what you're giving away. If it's a church, find out if they have yard sale fundraisers or a family in need.
Knowing the items you're giving away are going to help someone else allows you to release them with purpose and good will.
5. Give yourself a reward/incentive
One of the hardest things to face with decluttering is to actually START. If I'm going to be honest here, that's usually the most difficult part of ANY project.
To motivate yourself to take that first step, arrange a reward or incentive from the very beginning.
For example, when I clean out this cabinet of glassware I'll take a 10 minute break and check my social media.
After I throw away all the junk on this shelf I'll play with the dog for 10 minutes. (Accomplishing a task + exercise = feeling good!)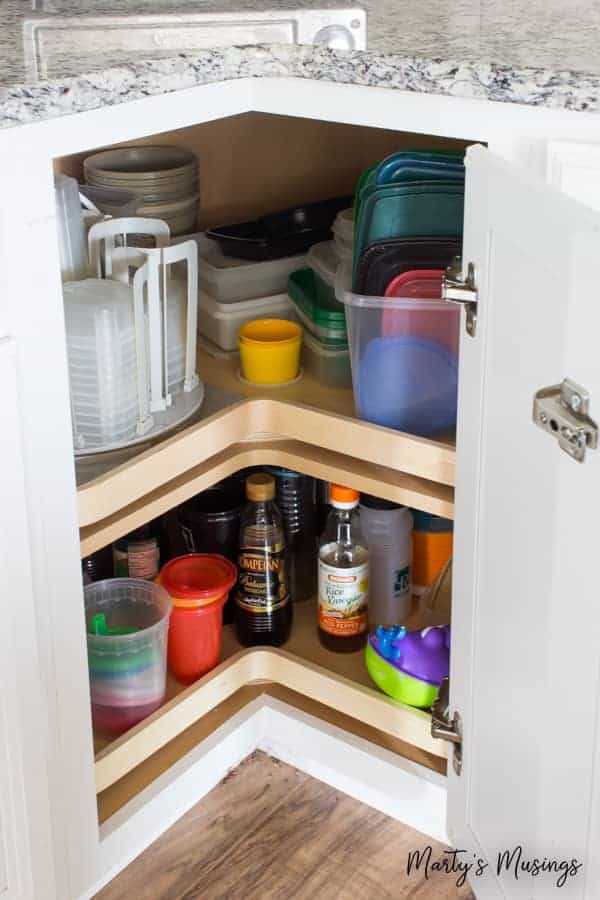 When I go through this one closet full of clothes I'll go to Starbucks with a friend.
See how that works? Dangle a carrot in front of yourself!
Whatever it takes to get you started, as long as it's not harmful lol!
We all need a positive thought or experience to help us cope with the painful emotions and unpleasant task of sorting through the belongings left after someone we loved has died.
(I've included some affiliate links for your convenience. Click here to read my full disclosure policy.)
My husband and I both worked with a grief therapist through the book The Grief Recovery Handbook and it was life changing for us. I highly recommend it as a resource if you've experienced loss of any kind. You can also find more information and/or connect with a grief special in your area here.
If you want to read more about my journey through grief these posts will get you started:
When Should You See a Therapist?
Living with Grief and Heartbreak
Clutter and Grief: Are They Connected and are You Stuck?
How to Declutter After a Death or Loss (you're here)
What No One Wants to Talk About at Christmas
How to Overcome Stress and Anxiety When You're Stuck