Clutter and Grief: Are They Connected?
This post may contain affiliate links which won't change your price but will share some commission. Read more here.
Wonder why you're overwhelmed and can't get control of your home? The connection between clutter and grief may be your missing answer. If you've experienced loss and feel stuck there is hope!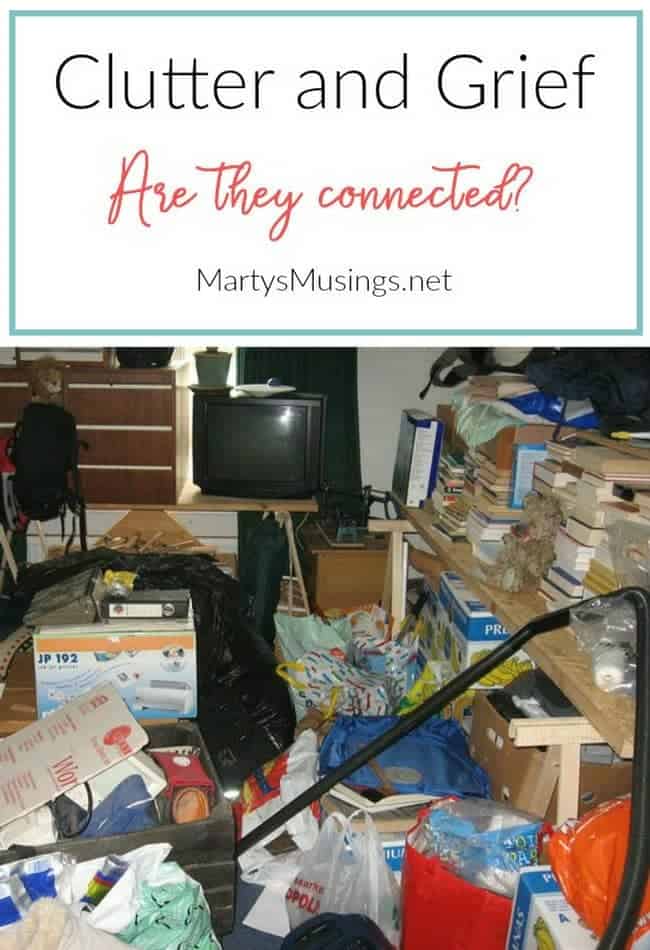 My husband and I were arguing that night at the dinner table.
I remember it well.
We had recently adopted a sibling group of three children and gone from a family of four to seven.
It was a radical leap and one that still had us reeling three months after they moved in.
The phone rang and my mom was on the other end, informing me my sister was being rushed to the hospital.
That's all she could tell me.
Five children and one stunned husband stared at me from the dinner table as I barely formed the words to tell Tim where I was going.
As I rushed outside I realized his newest (albeit old but hopefully reliable) work vehicle was at the end of the driveway.
My panicked mind could hardly figure out where the lights and ignition were as the sun was going down that warm October evening.
With no time to trade cars in our single wide driveway, I had to corral my racing heart and head to the hospital five minutes away.
Please get me there safely. Please don't let me wreck, I prayed over and over.
My brother-in-law was smoking a cigarette aimlessly outside the emergency room doors and said they were working on my sister.
Working on my sister? What does that even mean?
I rushed in to the waiting room to the news that the doctors were indeed trying to revive my sister but it didn't look good.
Strangers I didn't know told me no one could get ahold of her daughter, my 20-year-old niece Jennifer.
I frantically raced to the nearby shopping center where she worked, not even knowing exactly where to find her.
Somehow finally locating the retail store, she had to find someone to cover her shift before we raced back to the hospital.
We were too late.
My precious sister Brenda was gone, dead of a massive heart attack at the age of 53.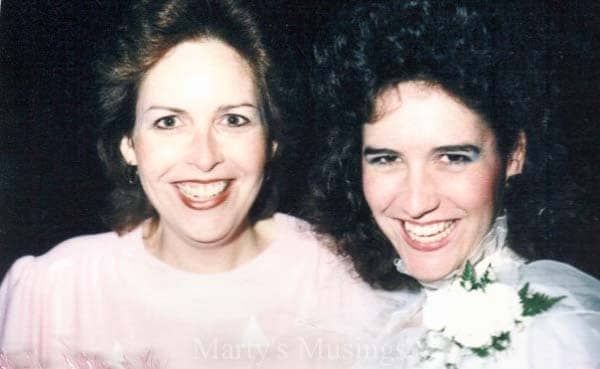 To this day I can't recall the subject of the argument between my husband and me.
After life crashes so quickly in one breath the insignificant details just don't matter.
I do remember him bringing all our children to the hospital ER, with one toddler hanging on to me for dear life.
Or was I hanging on to her?
As if somehow her one beating heart could bring back to life another.
I couldn't hold on tight enough.
Because I write openly about my journey through grief and loss I connect personally with so many of you.
You tell me your stories of love lost and hearts broken.
When my sister died I was overwhelmed by the demands of my life and wouldn't process the loss of my best friend until many years later.
Grief can teach you many lessons yet keep you stuck repeating the same patterns over and over.
Yeah, grief is funny that way. One of the coping mechanisms is to throw yourself into life, taking care of everyone else but yourself.
I became the strong one in my family who didn't ask for help.
Did I mention my mom passed away from hypothermia outside the locked doors of her nursing home on Christmas Eve 2010?
Or the tragic fact that my husband's brother also died from a massive heart event at the age of 52 in 2015?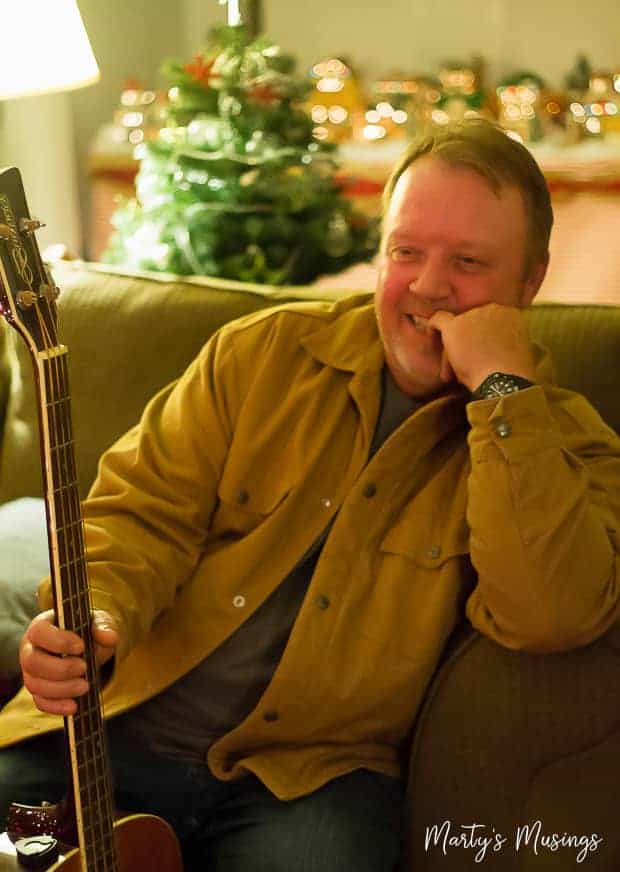 Add to that my marriage also hit bottom last year because of the trauma of my own husband's childhood and losses. We had become two prize fighters, beaten and bruised by the life we had been given.
Hard stuff, right? I know I'm not alone.
Clutter and Grief: Are They Connected?
Here's what I've learned through my walk through grief these last almost 20 years.
It's painful. It's not fair. It feels like you will never EVER be the same again.
Life may be shattered beyond recognition.
Hope feels like something that belongs to everyone else and completely unattainable for you.
I KNOW someone reading this knows exactly how I felt. Alone. Fractured. Overwhelmed.
And the problem as I see it is no one wants to talk about it.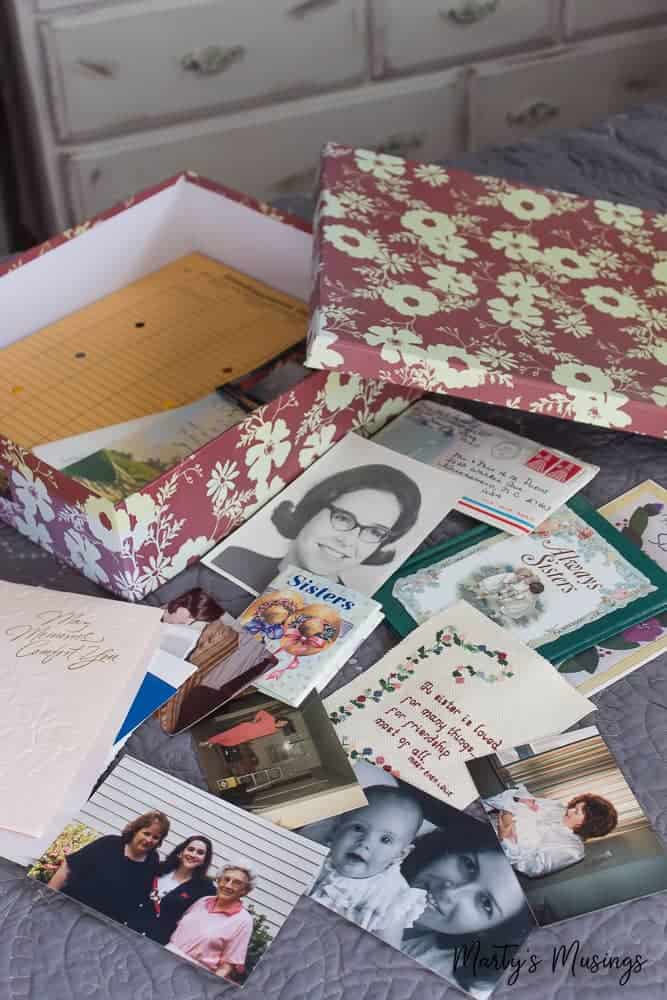 It's just too difficult. Uncomfortable. Socially unacceptable.
I believe getting stuck in grief affects more than just our emotions and our relationships.
It affects our physical home.
When we get stuck with our stuff, our life becomes cluttered as well.
We don't know what to do with those things that have memories attached to them.
But there's a problem.
We end up with too much stuff, clutter, baggage.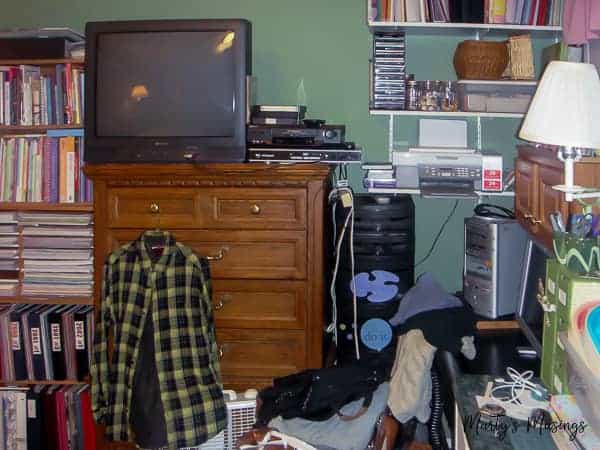 Clutter is not just the stuff on your floor – it's anything that stands between you and the life you want to be living. Peter Walsh
We are imprisoned by the weight of our grief and the clutter we can't seem to part with.
What do we do with things that hold an emotional attachment while keeping the cherished memories?
Here's what I believe.
[clickToTweet tweet="You have to let go of the past to move forward, both in your life and in your home." quote="You have to let go of the past to move forward, both in your life and in your home."]
We can choose the memories that fill us with joy, choose to celebrate little moments with those we love.
We are still alive for a reason and sifting through the baggage of our emotions will help us deal with the clutter in our home.
Grief has no timetable.
My sister has been gone for over 17 years and I still have a box of pictures and letters that I've never sorted through.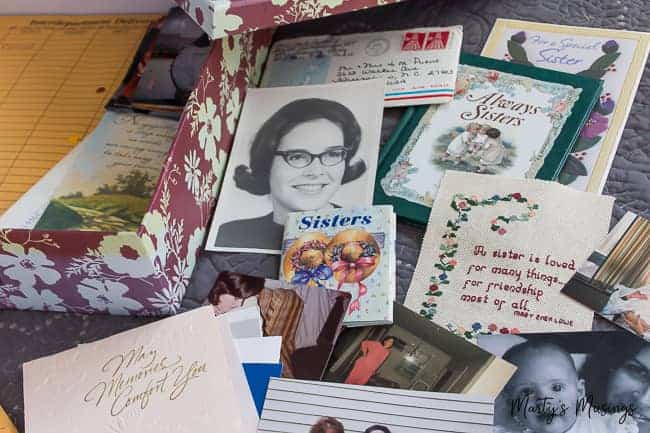 I've written the story of her death as I recall it which has led to much healing. I created a few scrapbook pages years ago but that box of memorabilia still collects dust under a spare bed.
There will be a moment in time, or a girls craft retreat, when I feel ready to tackle that box and both enjoy my memories and grieve my losses.
I believe I will know when it's the right time.
I have so much more to say about this topic, my friends, but for now, just know you are loved and treasured.
You are not alone as you struggle, whether it's with your home, clutter and grief, or emotional overwhelm.
As you think about your life, what is one item you have held on to that you know you need to part with? Why can't you let it go? Do you struggle with clutter and grief?
(I've included some affiliate links for your convenience. Click here to read my full disclosure policy.)
My husband and I both worked with a grief therapist through the book The Grief Recovery Handbook and it was life changing for us. I highly recommend it as a resource if you've experienced loss of any kind. You can also find more information and/or connect with a grief special in your area here.
If you want to read more about my journey through grief these posts will get you started:
When Should You See a Therapist?
Living with Grief and Heartbreak
Clutter and Grief: Are They Connected and are You Stuck? (you're here)
How to Declutter After a Death or Loss
What No One Wants to Talk About at Christmas
How to Overcome Stress and Anxiety When You're Stuck