Diapers and Donuts Baby Shower: Printable Invitation
This post may contain affiliate links which won't change your price but will share some commission. Read more here.
Honor your favorite mom with a Diapers and Donuts Baby Shower Sprinkle and practical gifts of all things diaper related. Includes a FREE printable invitation!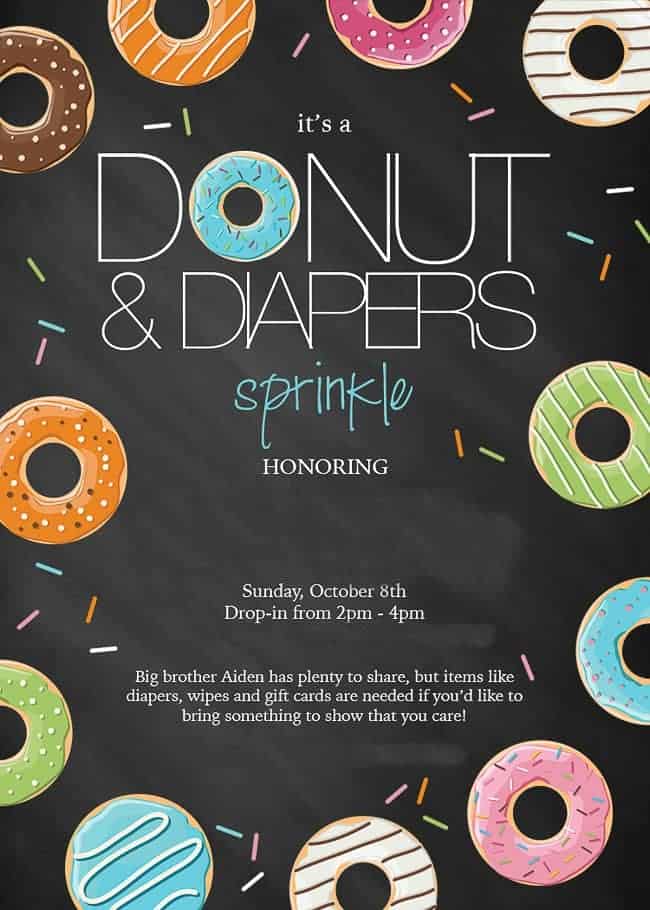 What is there about your firstborn child that can never be duplicated?
Is it the excitement of a first pregnancy?
All the experiences of morning sickness, the first kick and growing child in your belly?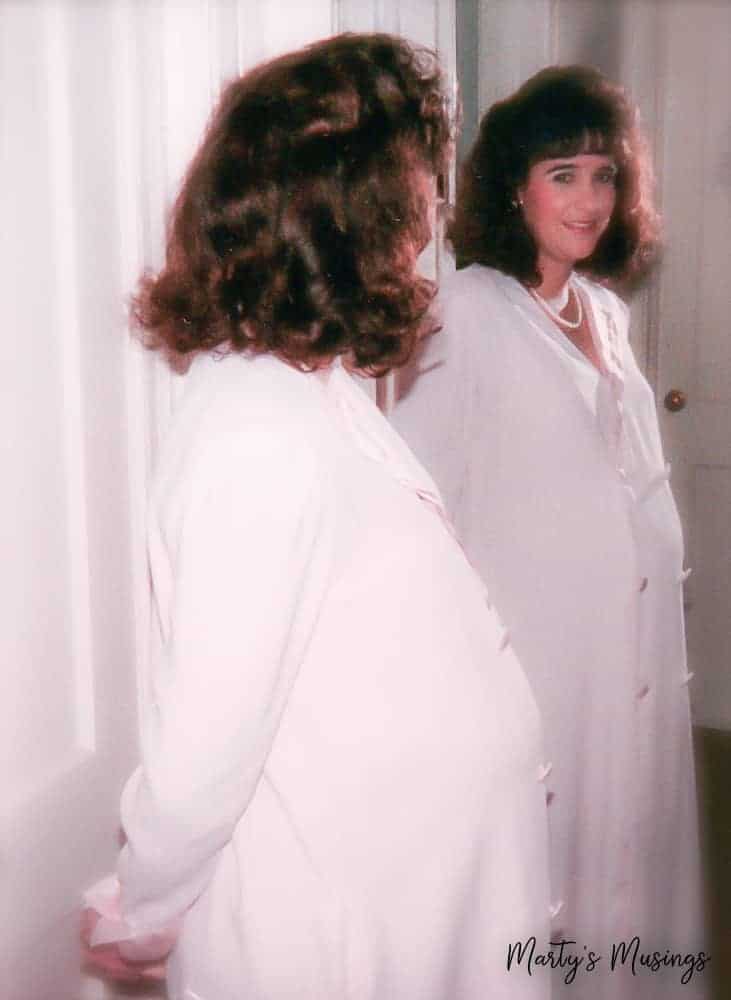 Could it be the fears and unknown for the delivery (the pain!) and safety of your child?
Maybe it's the thought that you're never quite prepared enough and will probably mess up this child in a big way!
I've always told my oldest daughter Rachel that she was my practice child, the one God gave me as such a mirror of myself.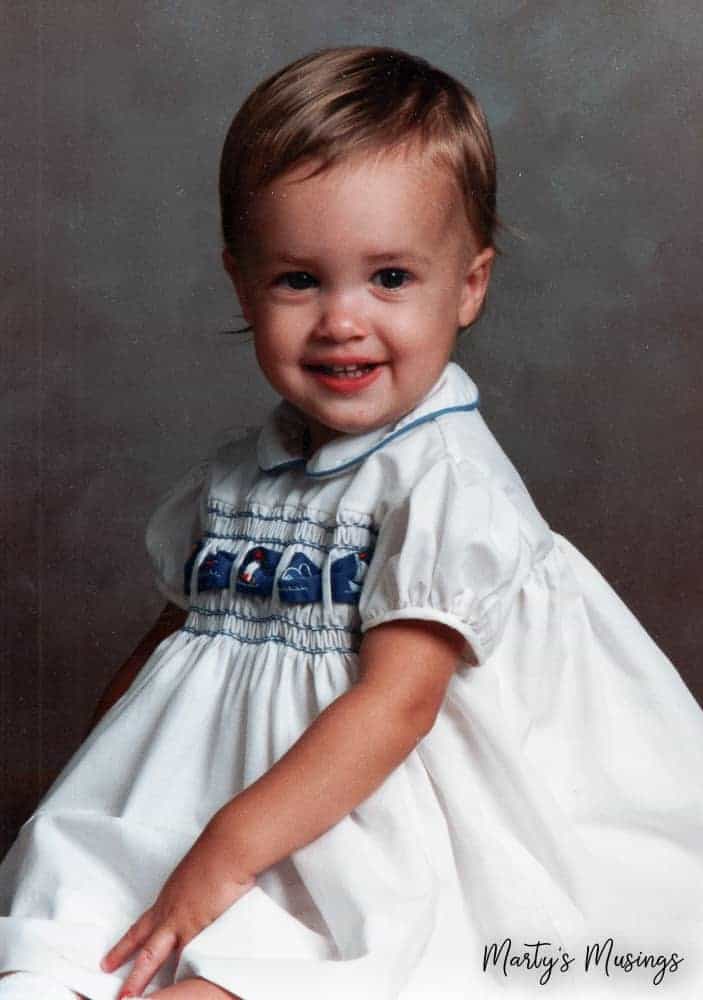 She was stubborn, a picky eater and oh so opinionated but also full of life with an "800 watt smile" as a friend used to say.
When we adopted a sibling group of three children when she was eleven, there was no doubt in her mind that she was all in.
That's how Rachel does life. All or nothing. With passion and flare.
We spent many years working side by side in our home, through our family's decision to homeschool, battling for the hearts of her adopted siblings or just living life together 24/7.
These heart binding moments didn't end on her wedding day six years ago.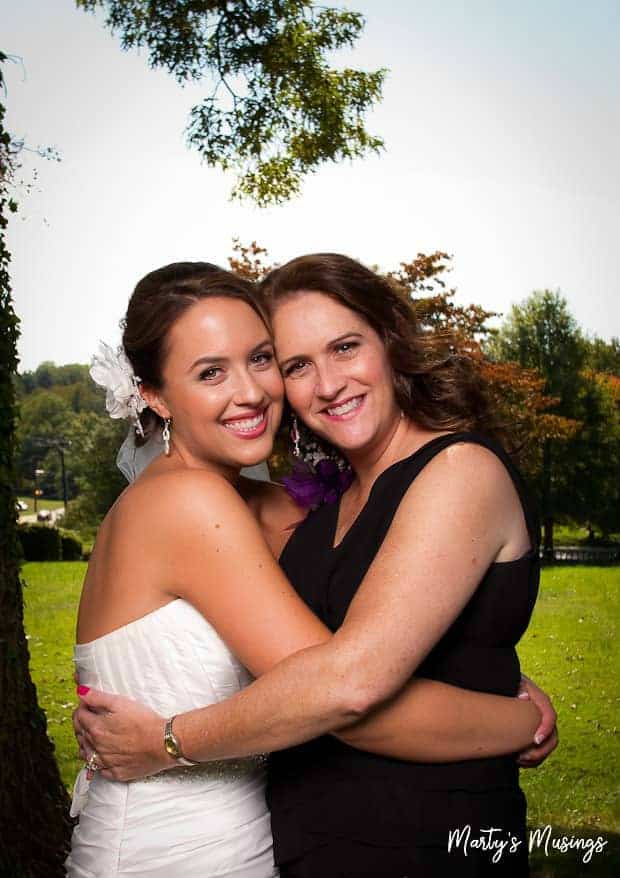 In fact, she called me from the car as she pulled away from her reception to tell me what a perfect day it had been.
She phoned me before they left the airport for their honeymoon.
She emailed me from Jamaica during their honeymoon.
You see, we had become friends.
After she got married I used to call myself "google mama" because she would call me to ask the simplest questions.
Recipe questions: how long should I cook the potatoes in the microwave?
Work questions: so and so is driving me crazy. What should I do?
Husband questions: DONNY is driving me crazy. What should I do? ~cue hysterical laughter~
I would just listen and try to give words of wisdom where appropriate and prompt her problem solving skills when I could.
In reality she and I were just continuing the precious bond of mother and daughter.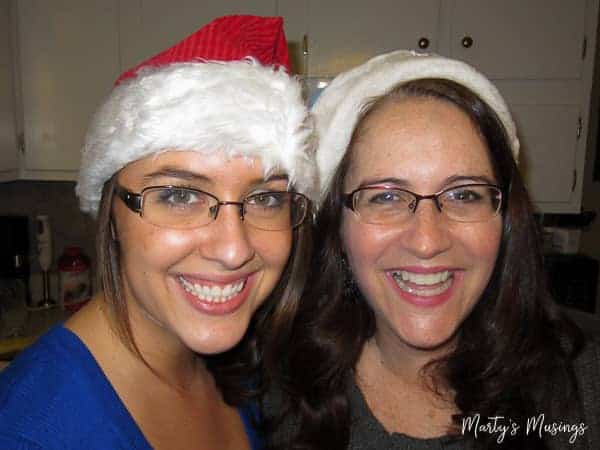 Mostly we were just learning how to maneuver this new adult relationship together.
It certainly wasn't without its difficulties, though.
Rachel's first Thanksgiving morning with Donny she was in tears because she didn't wake up to the smell of turkey cooking or watch the parades with her siblings.
Donny just didn't understand. How could he? It wasn't HIS family tradition.
But, boy oh boy, it was OURS.
I had to gently remind her Donny was her home now. (And the turkey was waiting for her when they got to our house!)
Yet the most amazing piece of our new relationship has been watching my daughter become a mother herself.
If I thought I was "google mama" before, I am the real expert now!
When did you get over your morning sickness?
When did you feel the baby kick?
Will this child ever get here?!!
Every step of the way I was able to experience her excitement and relive the joy of new life. (See our Baby Gender Reveal Party and Elephant Themed Baby Shower for more ideas!)
Plus, I became a Nana for the first time! Oh, what an amazing gift!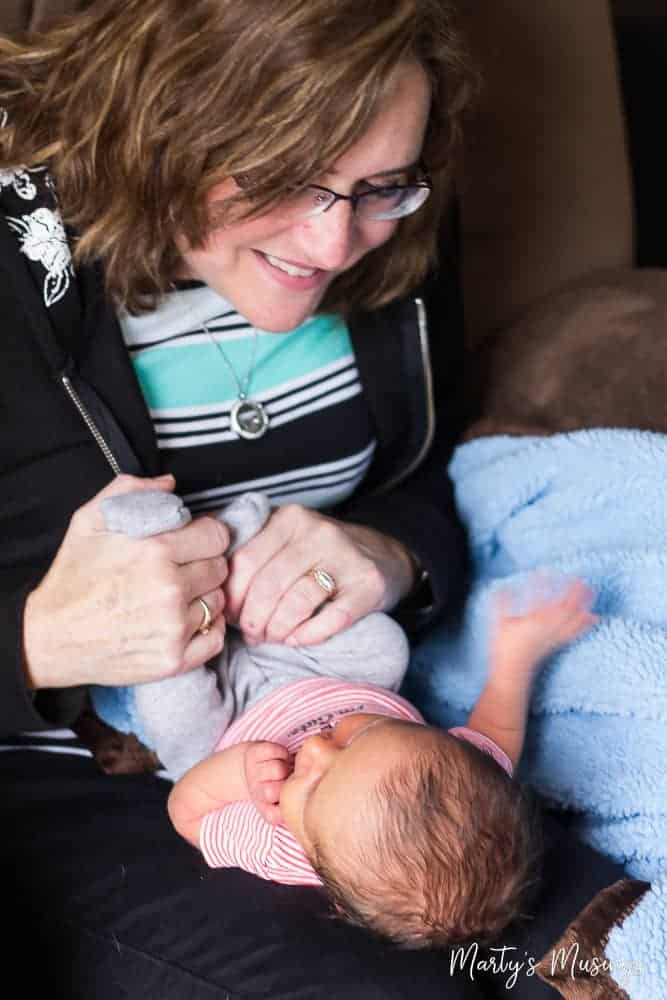 Aiden James Baldridge was born on December 17, 2014. (You can read about his chaotic, surprise entrance into the world here.)
I have reveled in my Nana-ness (made up word, you're totally free to copy it!) and my new role in Rachel's life.
Somehow two years passed and on my birthday, I got another little surprise!
Isn't that the best kind of news?!! If you didn't watch the short clip you need to! Rachel totally surprised me and my reaction is priceless.
We were all overjoyed at the news!
My niece Jennifer is an amazing photographer and captured the baby gender reveal perfectly a few weeks later on camera.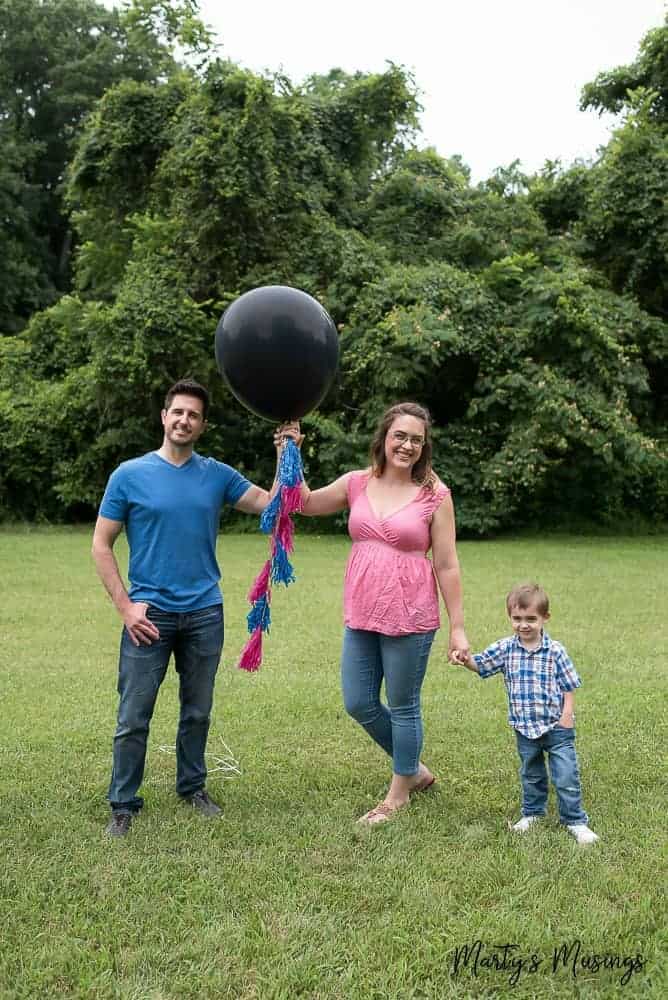 Another boy to add to the growing family!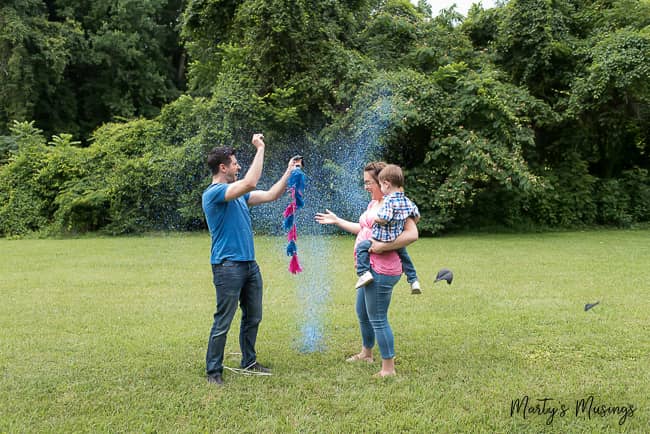 Aiden wasn't too sure about the news!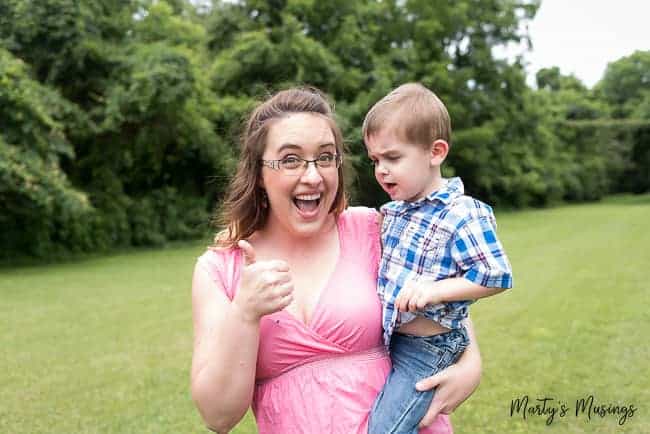 Love this sweet family of mine.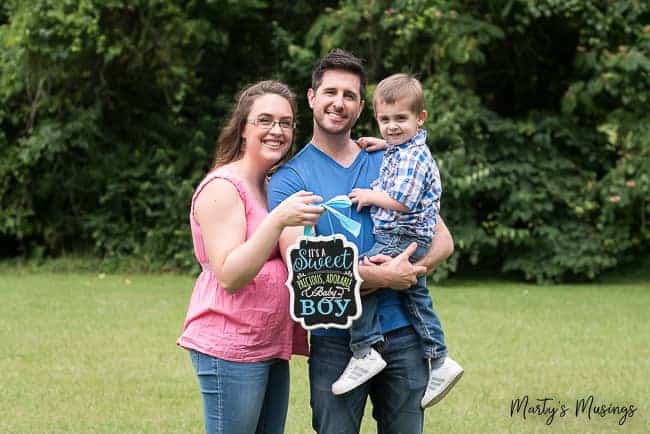 Three generations – so blessed.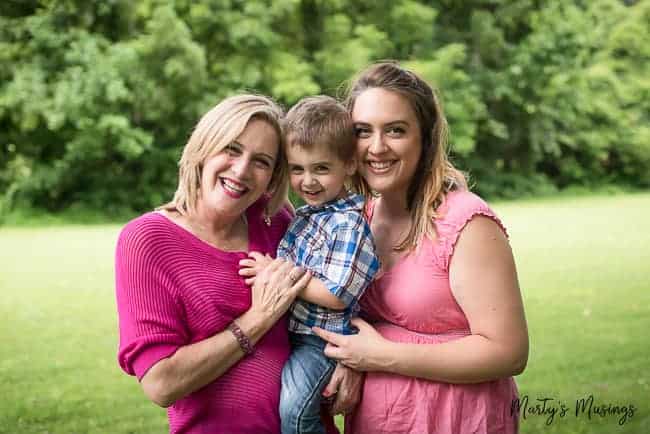 The months and pregnancy flew by (at least for the rest of us ~smile~) and my niece Jennifer, daughter Stephanie and I wanted to throw Rachel a diapers and donuts baby shower or "sprinkle."
Never heard of such a thing? Me either, but it's basically for the mom who has all the necessities but diapers, etc, and gift cards are still welcome additions!
Diapers and Donuts Baby Shower
(I've included some affiliate links for your convenience. Click here to read my full disclosure policy.)
Supplies
Gold gel ink pens or Silver gel ink pens
Jennifer designed the cutesiest diapers and donuts baby shower invitation and you can get your own free printable invite here!
All you need for your own invitations is heavy white cardstock (prints two invitations per sheet) and a gold or silver gel pen (and envelopes if you're mailing them!)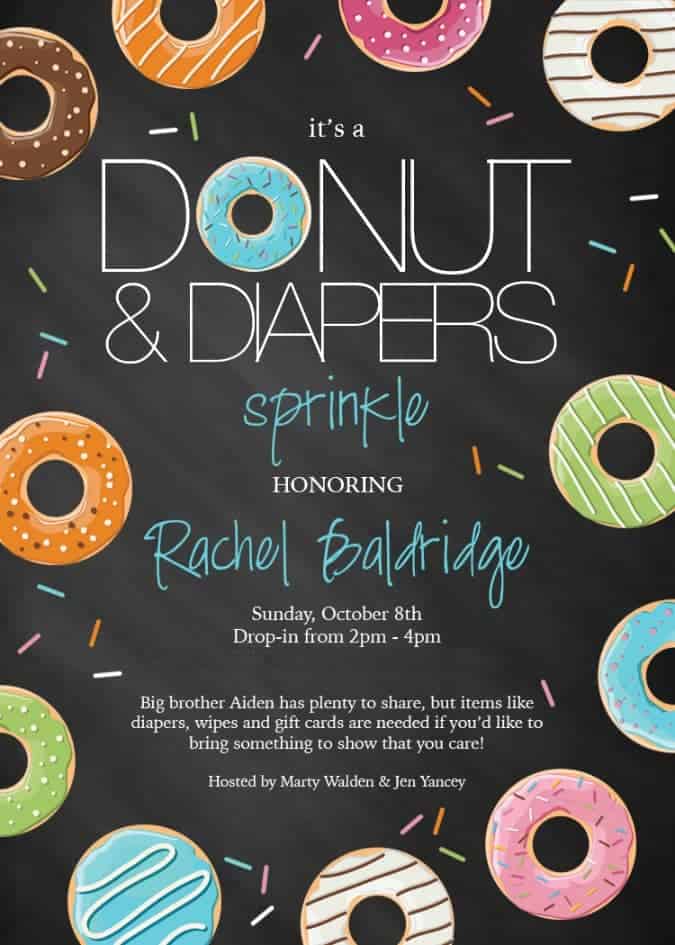 My favorite women! (from left to right, my daughter Stephanie, me, Rachel, my niece Jennifer, my daughter-in-love Emmaline)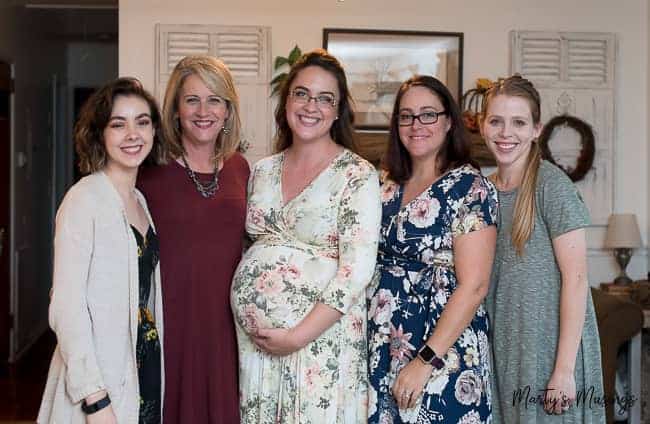 In my next post I'll share all the Diapers and Donuts baby shower decor and party ideas, including this amazing donut wall. I'm drooling, aren't you?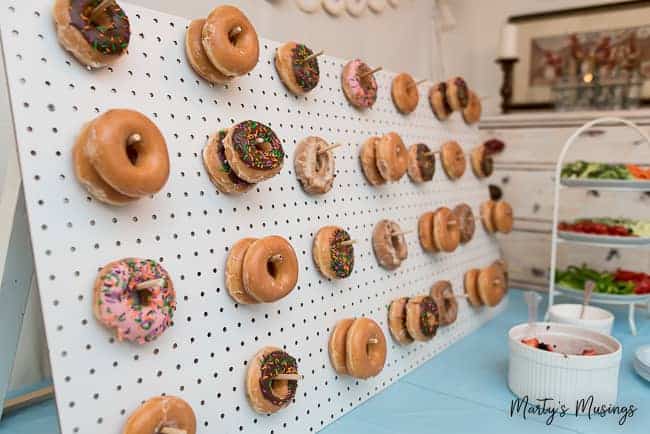 Pictures courtesy of JLY Designs Photography
I don't always get this mama thing right. Sometimes I give advice when it's not asked for and other times I have to refrain when I'm asked and let Rachel figure it out on her own.
If you're a young mom like my daughter I just encourage you to breathe deep and know God uniquely gifted you to be your child's mother.
The days may seem long and you may feel overwhelmed, but you are doing a beautiful, loving work every single day.
In spite of my many failings and inadequacies, Rachel turned out quite amazing!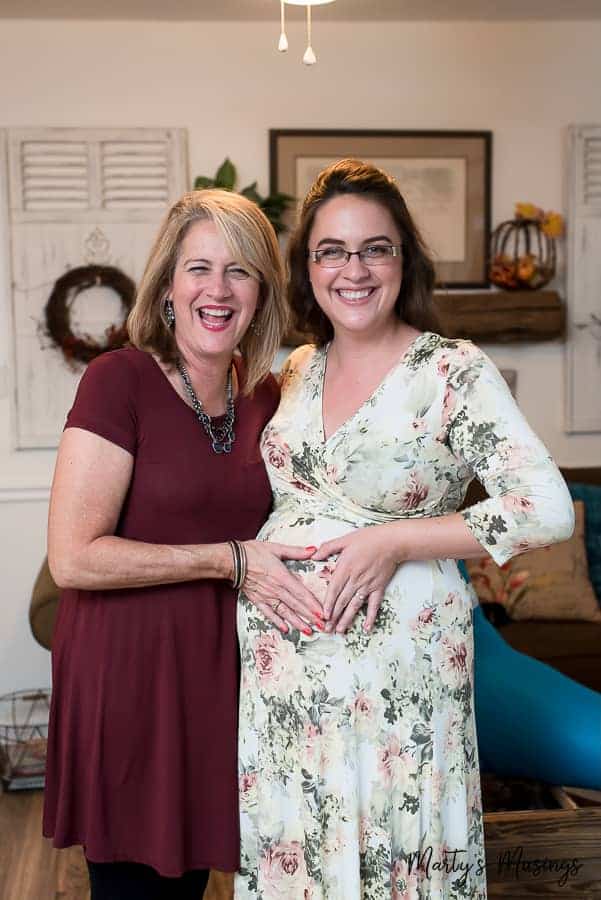 If you're a grandmother like I am and maybe feel like you don't have the relationship with your children or grandchildren that you desire, it's never too late to make a change.
Speak life into your own heart and out of that abundance will come words of wisdom and love for your family.
You are, "fearfully and wonderfully made." (Pslam 139:14)
The faithful love of the
Lord
never ends! His mercies never cease. Great is his faithfulness; his mercies begin afresh each morning. (Lamentations 3:22-23)
Free Printable Diapers and Donuts Invitation
(There's some great information on printing in this post.)