How to Plan a Baby Gender Reveal + Free Printables
This post may contain affiliate links which won't change your price but will share some commission.
All the details and practical tips on how to plan a baby gender reveal party. Includes FREE PRINTABLES with ideas for food, decor and reveal.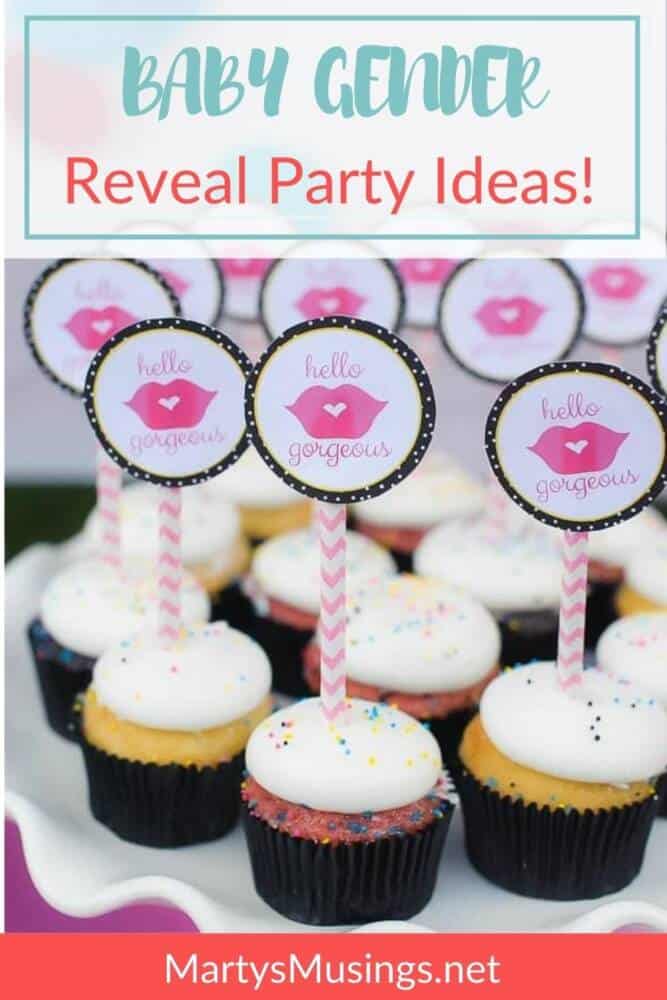 As of a few months ago I hadn't even heard of a baby gender reveal party, but today I'm here to share all the details of the fabulous way we celebrated our first grandchild on the way.
Tips for throwing a baby gender reveal party:
Decide on location for the party.
Invite family and friends, including someone who can be trusted to keep the secret of the baby's gender.
Choose the theme and decor.
Prepare the food. This doesn't have to be fancy. An ice cream party is a great suggestion where everyone contributes!
Vote for team girl or team boy.
Do something creative for the reveal, such as silly string.
Baby Gender Reveal Party
(I've included some affiliate links for your convenience. Click here to read my full disclosure policy.)
Silly String
Galvanized buckets
Party supplies (not like what we made ourselves but would save time!)
Paper supplies
When our oldest daughter and son-in-law announced that they were expecting our first grandchild we were so thrilled! Rachel immediately started talking about a gender reveal party and I hightailed it over to Pinterest to see what she was talking about!
(I should have known at this point that we would go into "planning prep" as a team since Rachel's wedding was a DIY for most every detail. Rachel and Donny did the bulk of the party work, but I have the pleasure of sharing it!)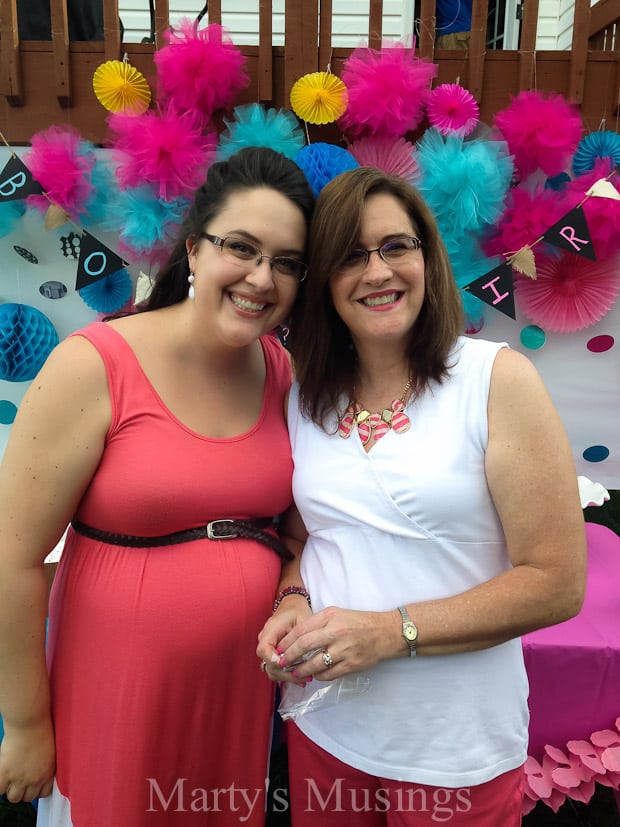 As the weeks progressed Rachel found out she would have an ultrasound right at 20 weeks and we planned the party for the next day.
It should be noted that the doctor told Rachel and Donny that it was possible that they wouldn't be able to tell the gender at the ultrasound appointment.
At this point, my planner daughter immediately said that was NOT a possibility since we were having a party that totally depended on knowing the gender!

1. Decide on location.
Rachel and Donny wanted to have the party in their backyard and from the beginning we prayed for no rain! I can just tell you that the backup plan would not have been half this pretty, but God was gracious to give us a beautiful sunny (and hot!) evening.
You can see a wide shot of the back of their house and deck and how we set up the tables, clearly equally divided between pink and blue!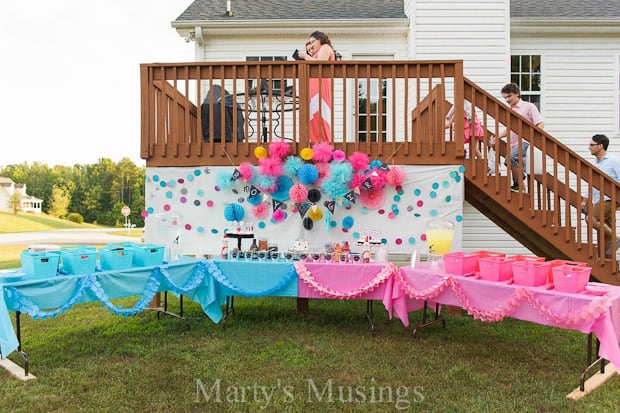 2. Invite family and friends.
The guests were comprised of both family, friends and coworkers who were excited to join in the celebration of a precious new life.
This is the time you want to have a good friend who can keep a secret!
Since Rachel and Donny didn't want to know the sex of the baby until we all celebrated together, Whitney was tasked with the sealed envelope that contained the much awaited baby sex and the responsibility for purchasing all the silly string for the guests from the dollar store.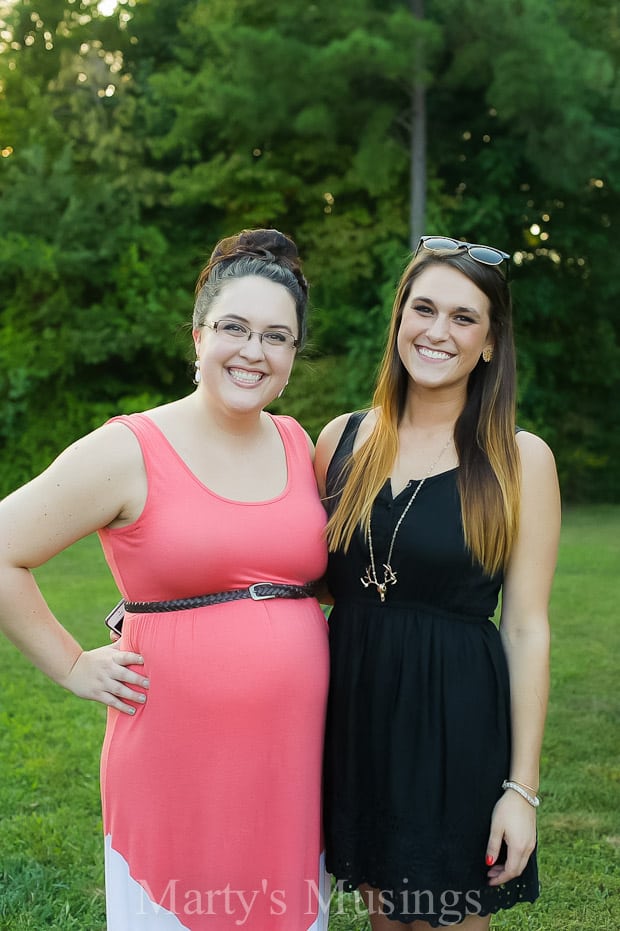 (Whitney was smart enough to check each can as she removed the blue or pink lid, which was a brilliant idea because some of the lids had been switched!)
Rachel's dad provided security. This was a rowdy bunch after all.

3. Choose the decor
Rachel decided to use teal to represent boy and hot pink for girl and this combination created an explosion of color when we pulled it all together.
We wrapped a roll of thin white plastic around the deck to use as a backdrop and then attached all the tulle pom poms, fans and strands of circles (cut from cardstock with my handy Cricut diecutting machine) with fishing wire.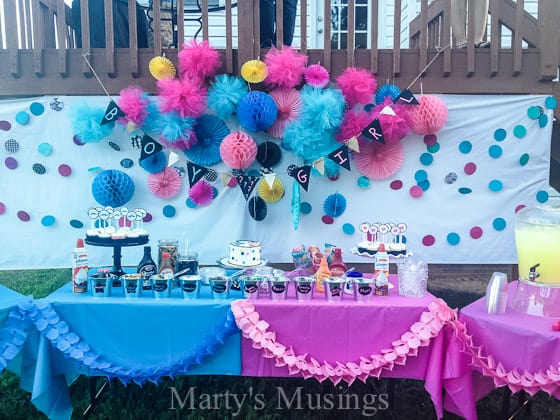 We mixed in some black and yellow as well.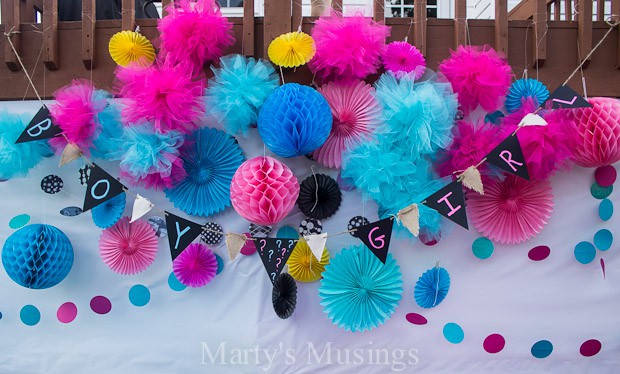 I made an inexpensive banner out of chalkstock tile, burlap and canvas pendants (read the tutorial here) using chalkboard markers. The banner can be erased and used over and over again!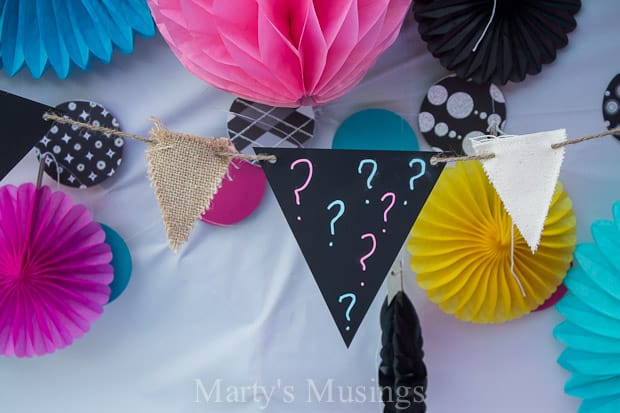 Tutorial coming soon on the tulle pom poms (in teal and hot pink), my new favorite easy party decoration!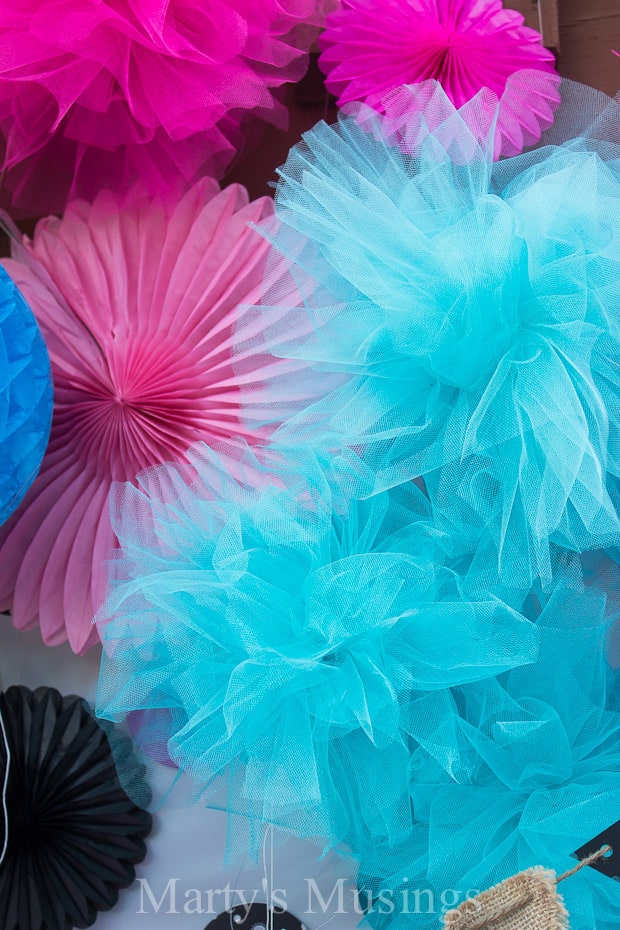 Tim had the idea to use baby food jars for the homemade DIY citronella candles we make for the tables in the yard. Perfect addition to an outdoor party!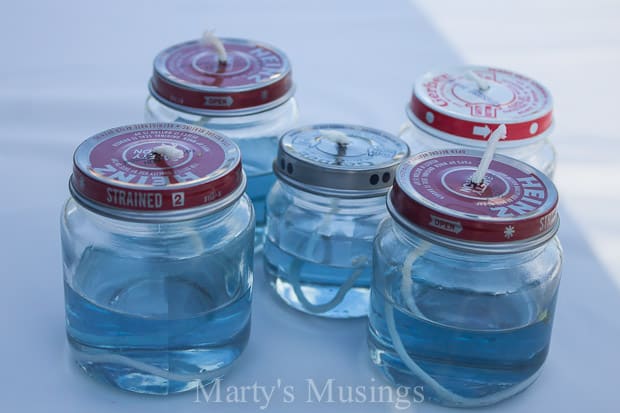 On the deck we had a table set up like a voting booth with ballots to cast votes for girl or boy Baldridge.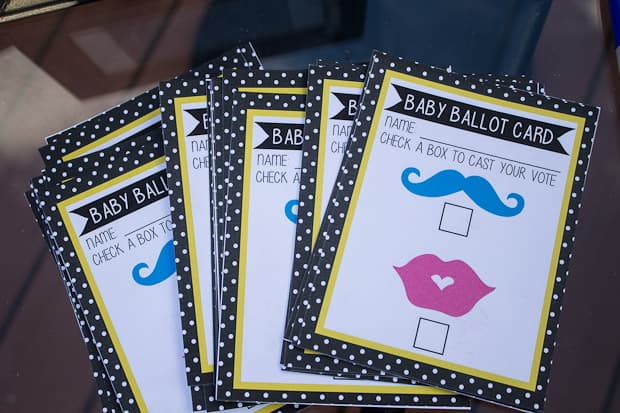 Ultrasound pictures and a wedding photo gave us a walk down memory lane!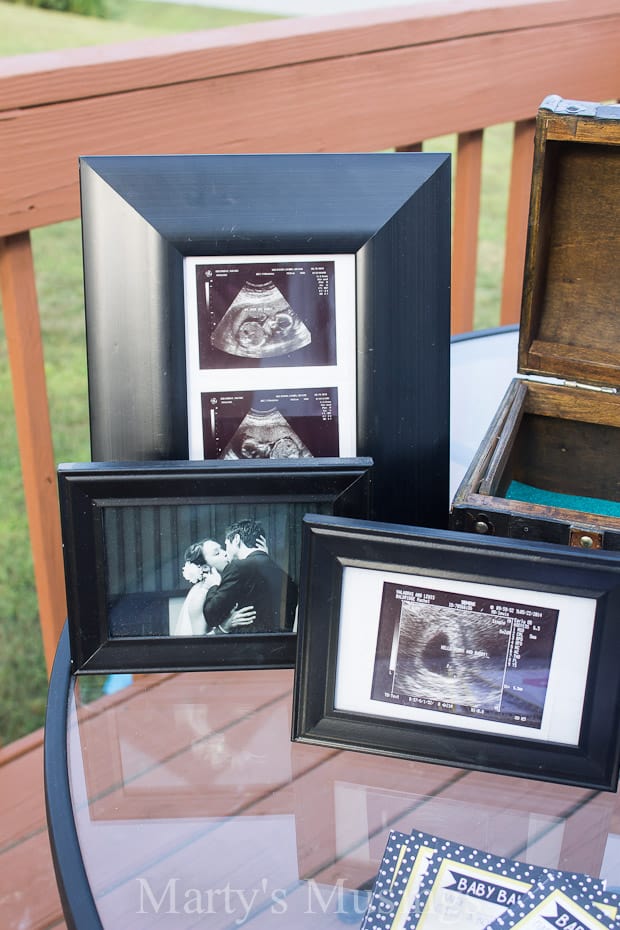 4. Prepare the food
Rachel's friend Whitney was a sweetheart and decorated the girl and boy cupcakes.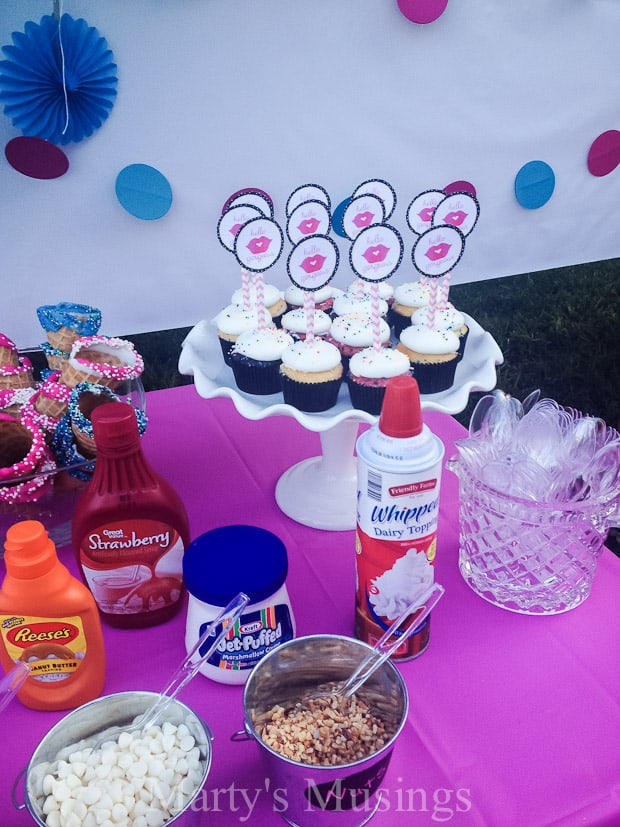 Rachel provided all the fixin's for an ice cream bar and served them in these adorable tin buckets from Target.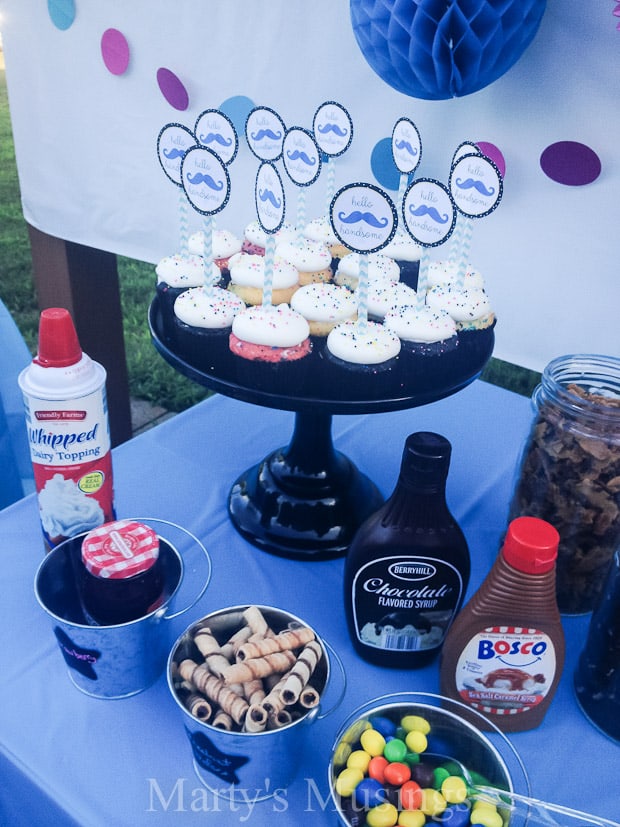 Each family was asked to bring a gallon of ice cream and we poured bags of ice in these dollar store plastic baskets to keep them from melting.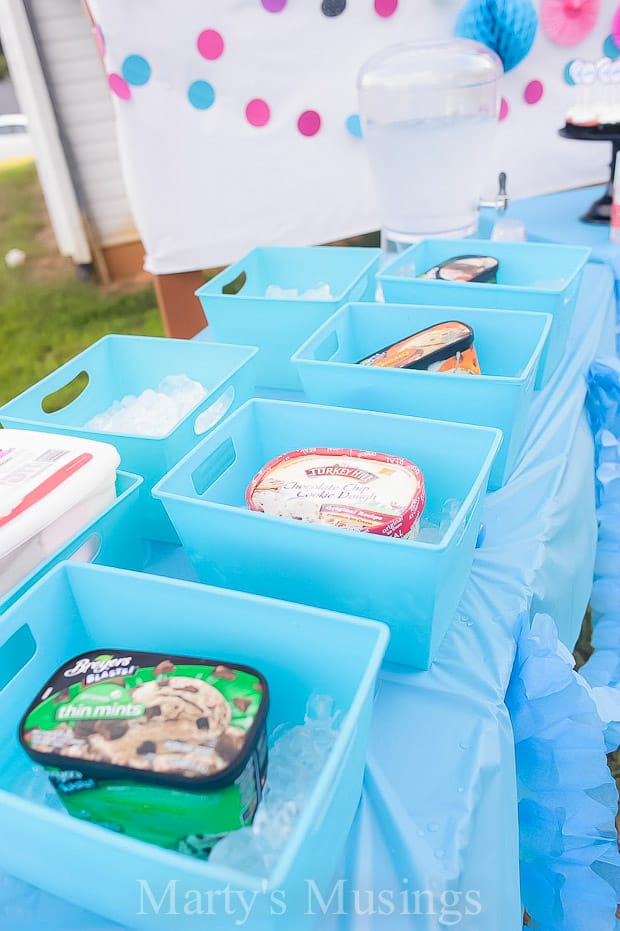 Rachel dipped ice cream cones in almond bar candy coating and sprinkles and they were adorable!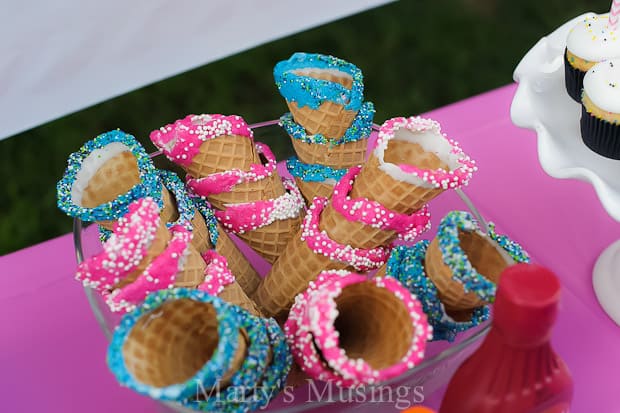 Cupcake toppers separated the girls from the boys!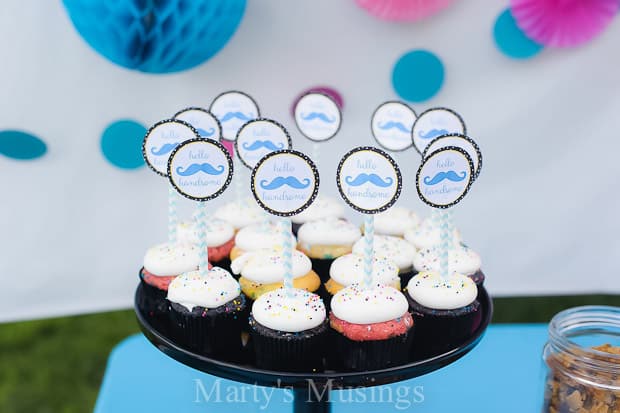 I should add that Donny created all the graphics for this party and did a great job!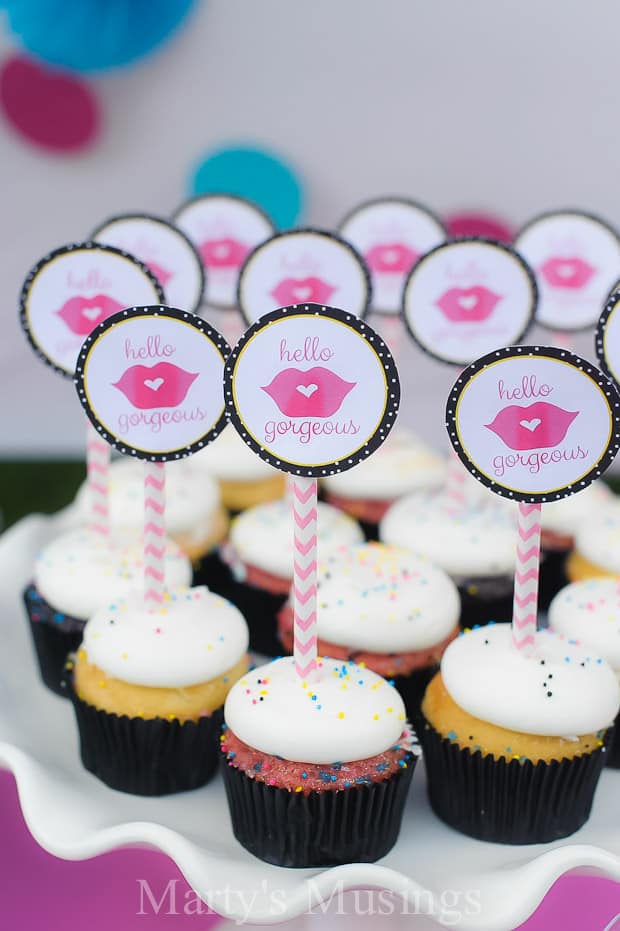 In addition to the cupcakes we had a beautiful cake with the inside tinted blue.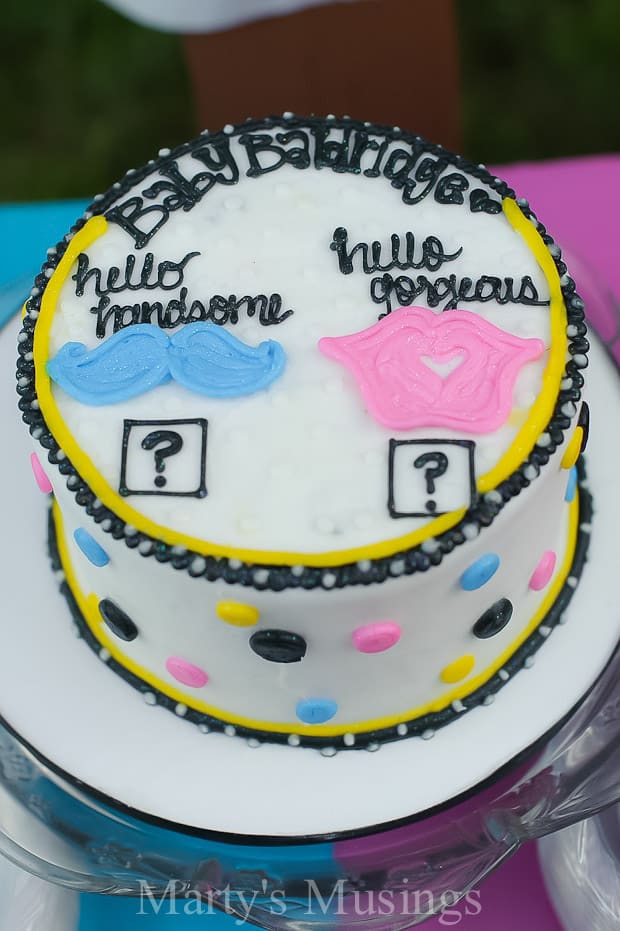 5. Vote for team girl or team boy.
The guests were all asked to vote for Team Girl or Team Boy and wear pink or blue in favor of a Boy Baldridge or Girl Baldridge. Such a terrific way to get the guests involved in the fun!
Can you tell what I was voting for? Our family was totally divided!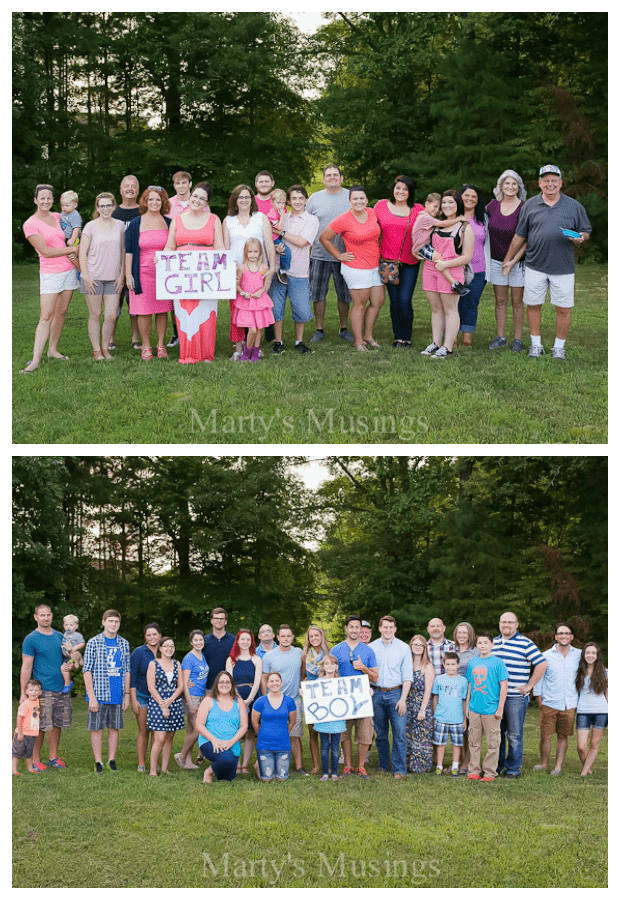 6. Do something creative for the reveal.
After everyone stuffed their faces with enjoyed the ice cream bar it was time for the big moment!
Rachel and Donny were separated from us so that all the guests could spray them with silly string.
It was an amazing moment to celebrate as we all showered them with blue string and watched as their faces reflected the news!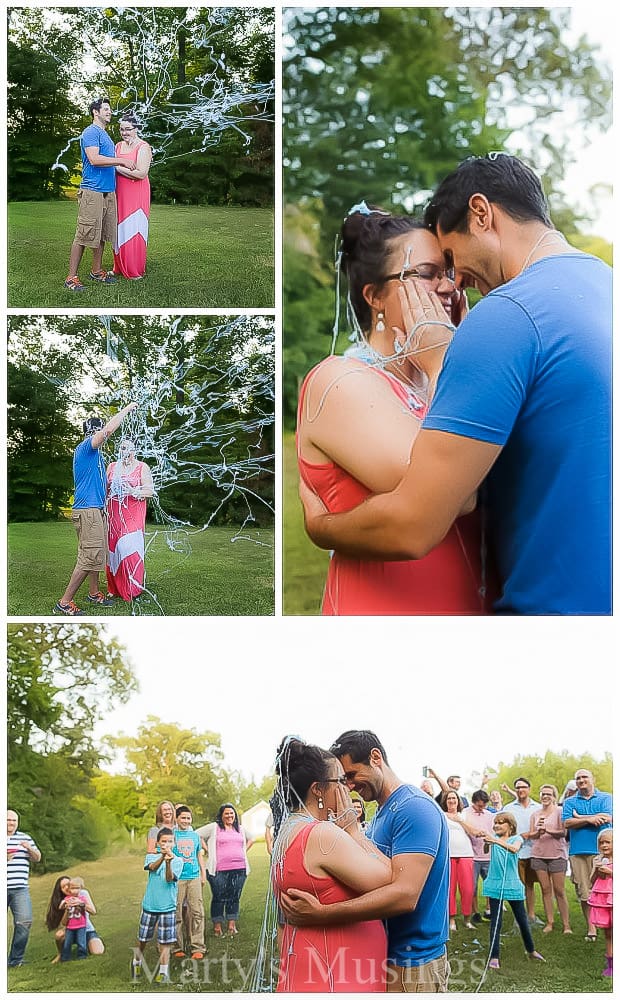 And it was Team Boy all the way!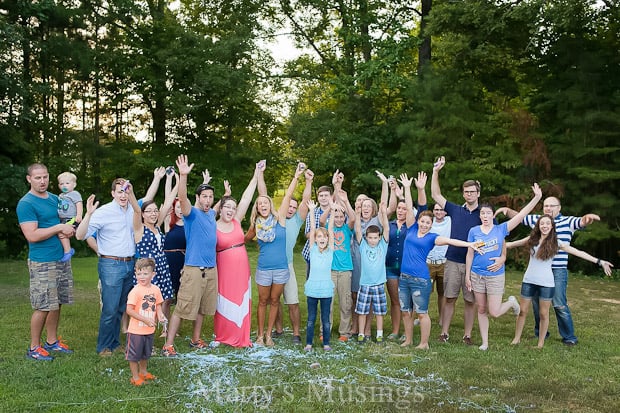 We can't wait to meet you Aiden James Baldridge!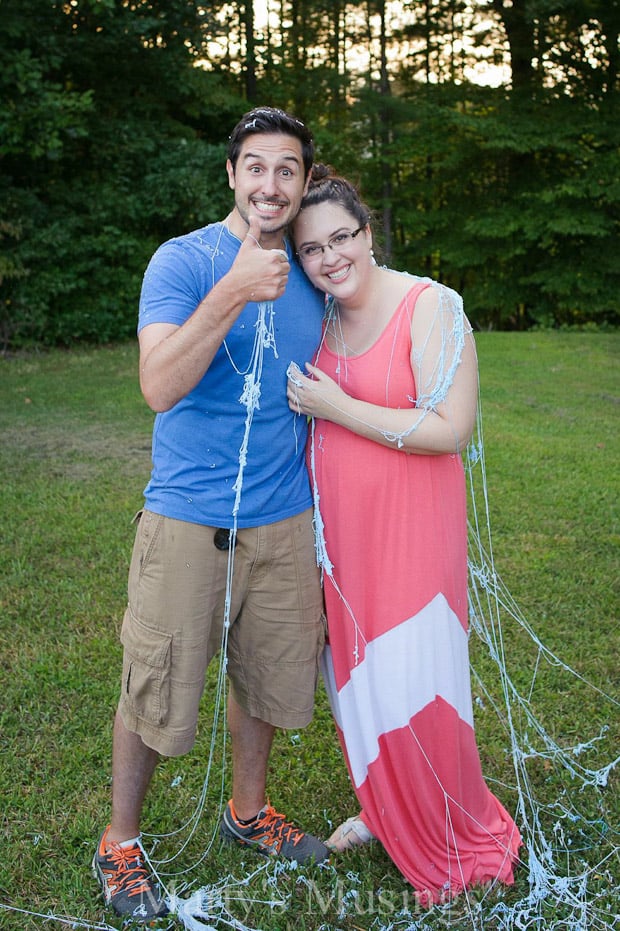 My niece Jennifer of Jen Yancey Photography graciously took pictures so I could enjoy the festivities. Her pictures would be the clear, beautiful shots and mine would be all the other ones!
(You can check out all the news about the elephant themed baby shower I threw for Rachel and the story of Aiden's anxious arrival.)
For the baby gender reveal printables below, just check landscape orientation when you print the files and use cardstock paper for best results.
The invitation has also been left generic for you to fill in your own info (date, time, location, etc.)
Enjoy and I'd love to see some baby gender reveal pictures of your own!
FREE Printables!
PERSONAL USE ONLY – these printables are the property of this blog and for your personal use only. Please feel free to share a link to this blog post for friends and family to download their own copy but do not print and sell these printables for profit.
Thanks for understanding!
Click here for the Invitation
Click here for Baby Voting Ballot
Click here for Ballot Box Sign
Click here for Boy Cupcake Topper
Click here for Girl Cupcake Topper
Click here for favors for your guests!
For more fun party ideas check out my Elephant Themed Baby Shower, inexpensive Sweet 16th Birthday Party Ideas, and Graduation Party Ideas.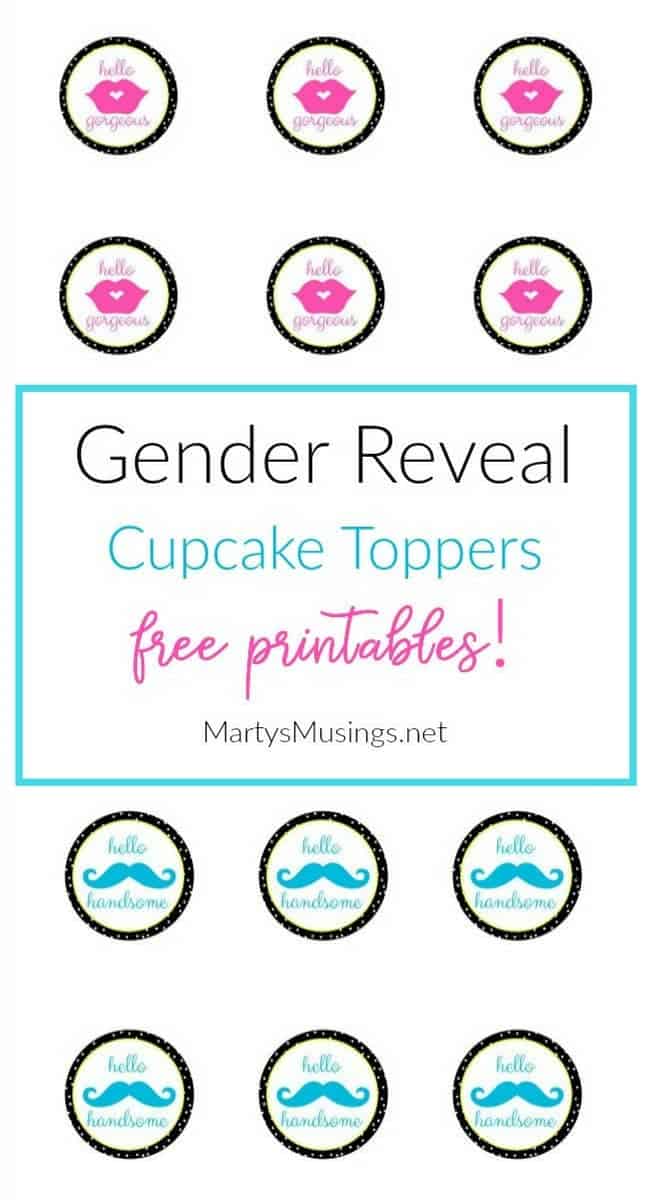 Are you following along with my new series?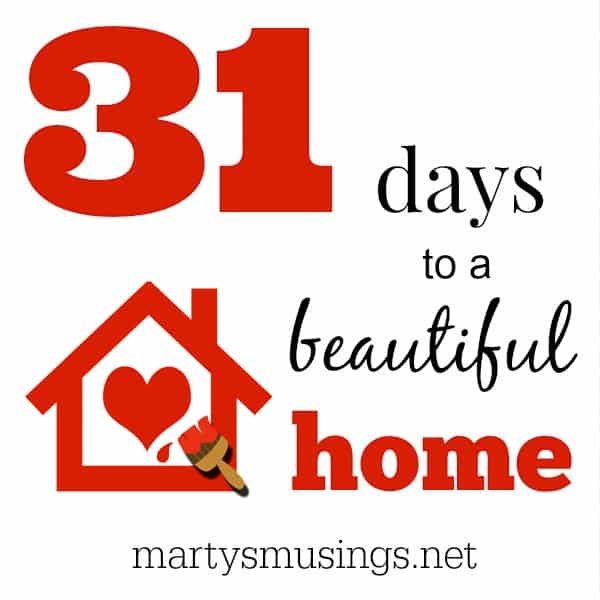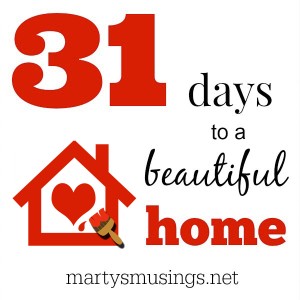 My hope is that my 31 Days to a Beautiful Home series will motivate and inspire you to spend just a bit of time creating a home you will love and embracing the life you have been given! Just click here to view all the posts.