Graduation Party Ideas
This post may contain affiliate links which won't change your price but will share some commission. Read more here.

Once upon a time there was an incredibly talented and funny young man who didn't quite live up to his potential.
He loved his theater major in college but never could manage to finish that degree he started.
Years passed. He married a singer and actress and started a family.
One child. Another. Then a sibling group of three by adoption.
This man was blessed with family and friends and somehow the years passed faster than he ever could have imagined.
God began stirring the strings of his heart to finish that long ago delayed degree.
That man is my husband, otherwise known as my DIY hubby to all you readers!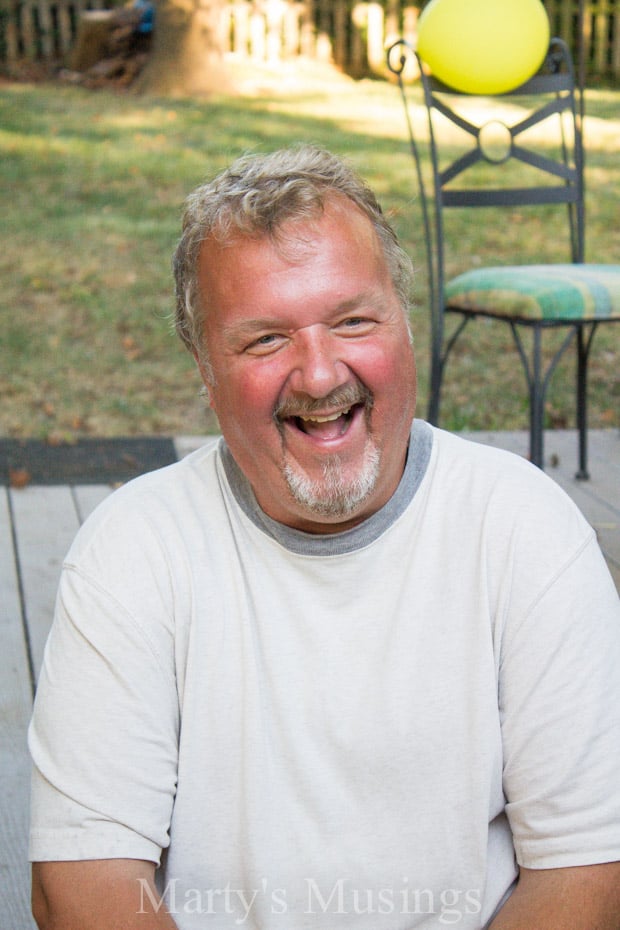 To me he's the rock that I cling to in the midst of the storms that sometimes rage through our lives.
This man makes me laugh more than anyone I've ever known. I can be steaming mad yet chuckle in spite of my anger.
His sharp wit and quick humor are trademarks of his personality.
The two of us have grown closer in these last two yea because of a new commitment to making the most of these years that will soon find us empty nesters.
To honor this man and celebrate his amazing achievement I threw him a surprise party to celebrate his BS in Religion degree from Liberty University.
Even with his 60 hours taken online at Liberty it still took an act of God and a miracle to complete the actual degree (thanks to a change in curriculum, a little procrastination and a whole lot of math anxiety.) Can I just say,
Praise God for No More Math!
'Nuf said.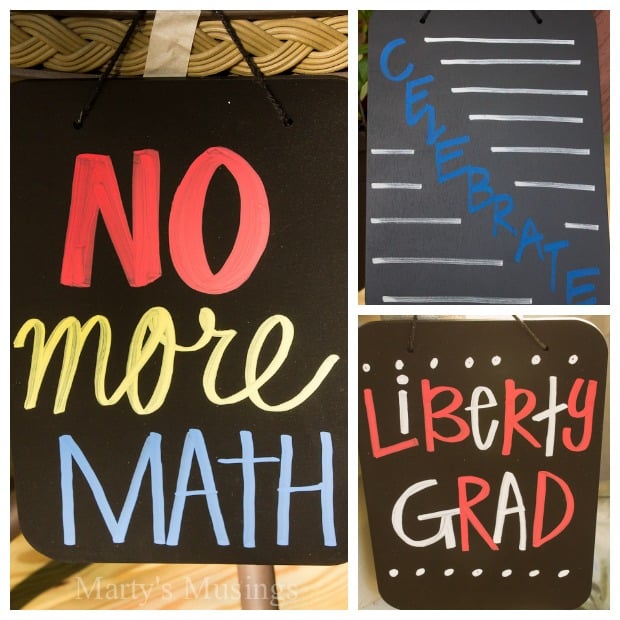 For my graduation party ideas I served a simple menu consisting of hamburgers (on my famous bread machine hamburger buns) and hot dogs, potato salad, veggies and hummus (for the healthy eaters) and my favorite punch recipe.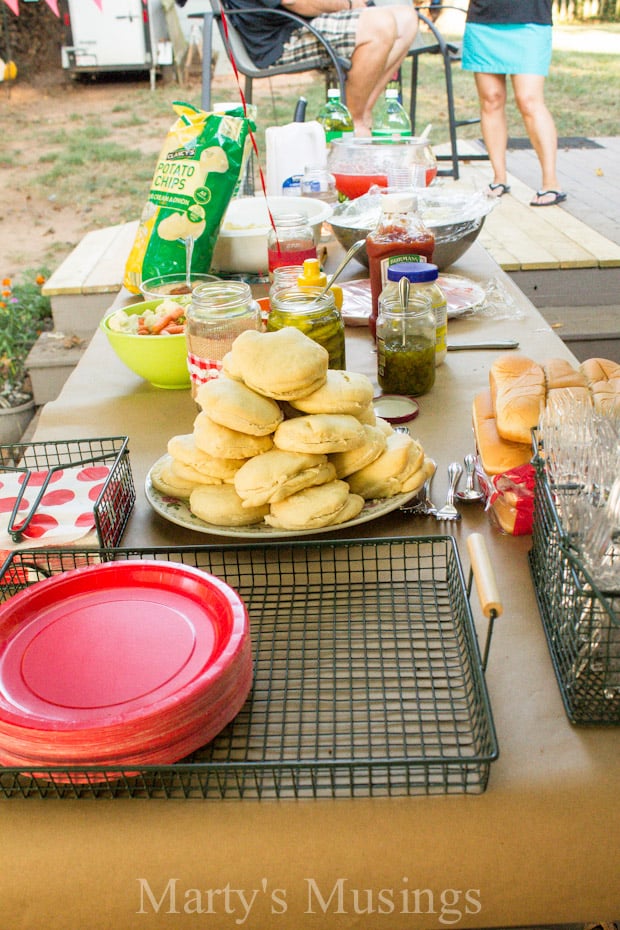 For dessert my youngest daughter made these adorable graduation caps. Yummy!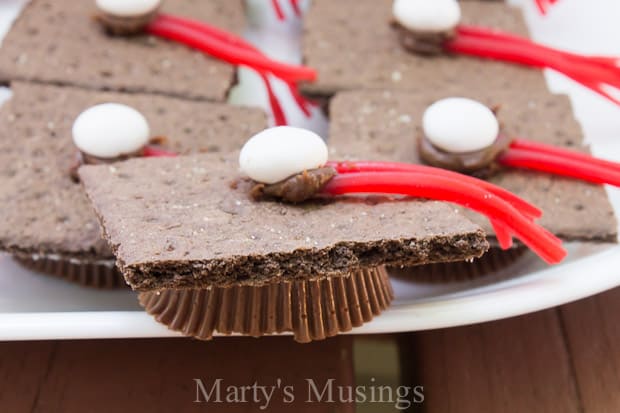 The ruse to get him out of the house on a Sunday afternoon? My co-conspirator married daughter and her husband needed a toilet reset in their first home!
Isn't that just the greatest excuse ever?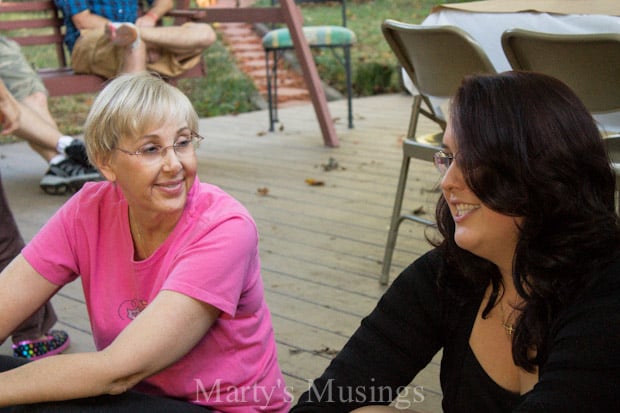 You can imagine that daddy wasn't totally stoked about missing his marathon Sunday afternoon nap, but because he's a great dad he traveled 45 minutes to their house to help/teach/supervise the installation.
Little did he know the second he left the house we were all scurrying around like little mice!
Usually Tim leaves the backyard spotless but it "just so happened" that he "had" to add a new section to our back deck the day before, complete with old boards, nails and rubbish left all over the backyard.
My youngest son worked like a trojan cleaning, blowing and spiffing up the back while my youngest daughter and I started bringing all the food from our next door neighbor's house (where we hid it the day before) and began decorating tables.
My son Joshua and his fiance Emmaline arrived from college and added their muscle and creativity to the craziness!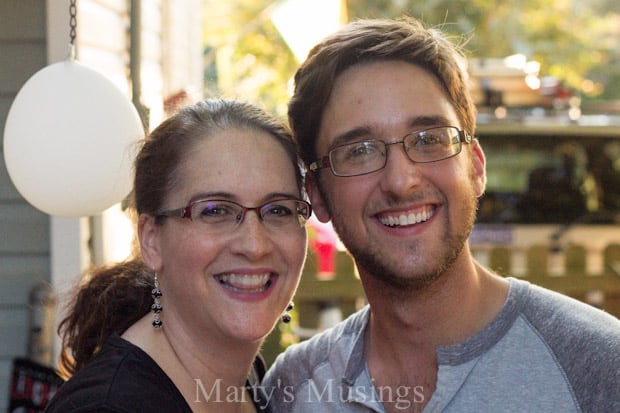 Emmaline drew all the signs (she was a natural artist!) and Joshua helped me secure the banner.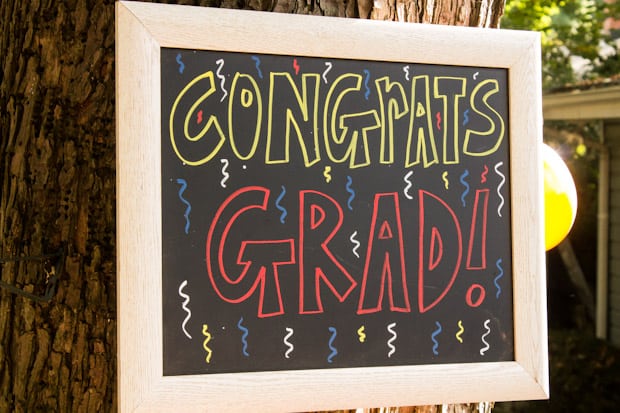 I used dollar store brown wrapping paper for the tables and the thrifty mason jars I made for my son when he proposed to his girl Emmaline (soon to be his wife in four weeks!), along with a roll of repositionable chalkboard paper for the guests to write encouraging notes.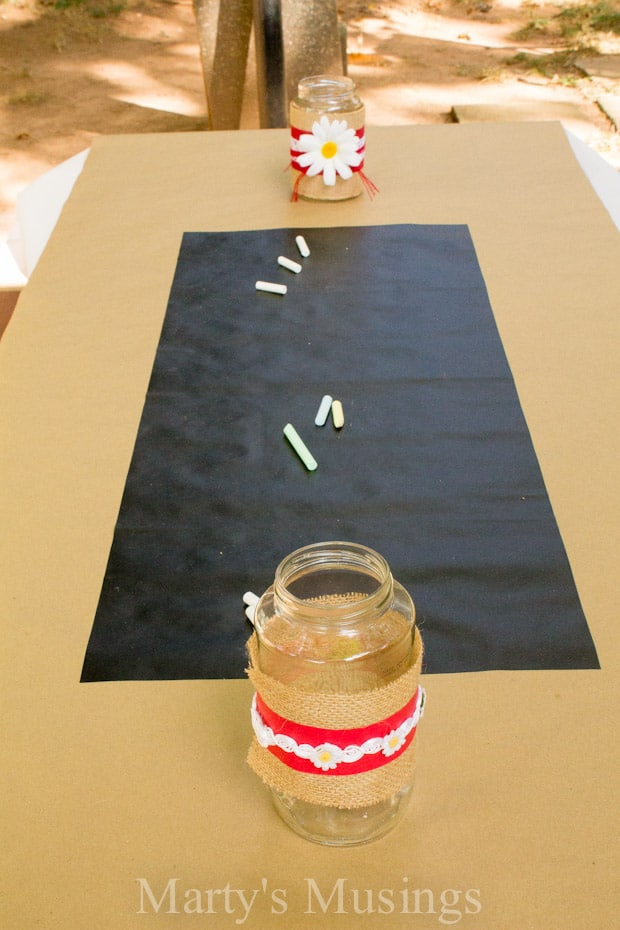 My favorite part of the party decor? This banner I created with pictures of my husband throughout his (long) school years!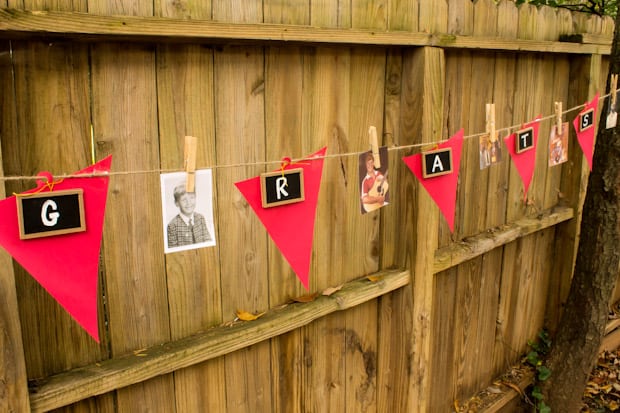 I simply scanned the old pics, printed them on white cardstock and attached them to jute for a banner that was 67″ wide. I used my Cricut with the Lyrical Letters cartridge set on 4 1/2″ and the flag setting on red cardstock paper. Then Joshua helped me attach the mini 2×3″ chalkboards to the flags, anchoring them on the back with a washer (his brilliant idea, not mine!) The banner spells out "congrats."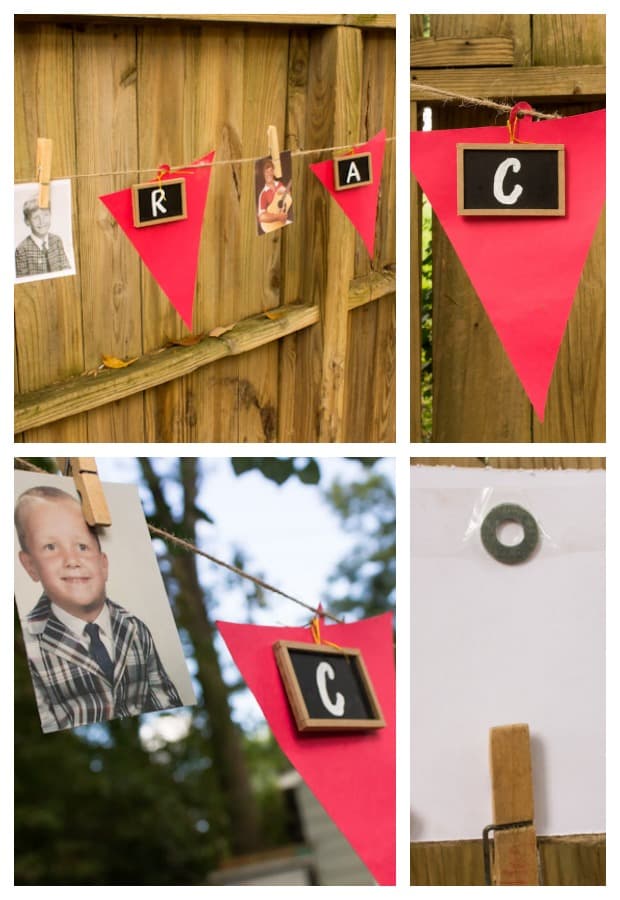 My husband was totally caught off guard! Our son Joshua recorded his arrival on one phone and had his sister on facetime on the other so she could see her daddy's face (since unbeknownst to him she and her husband were right behind him!)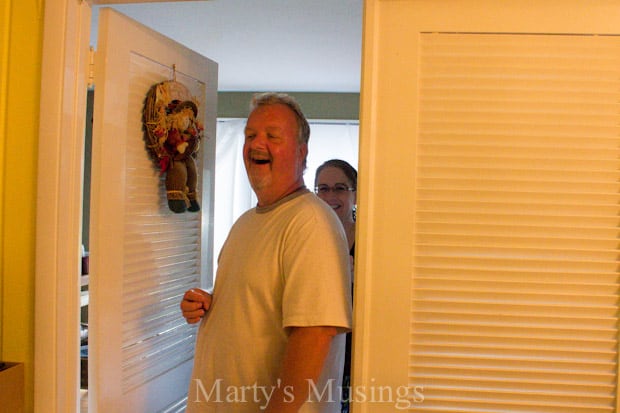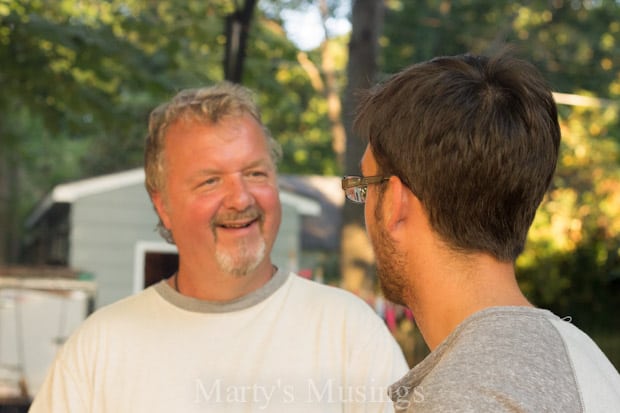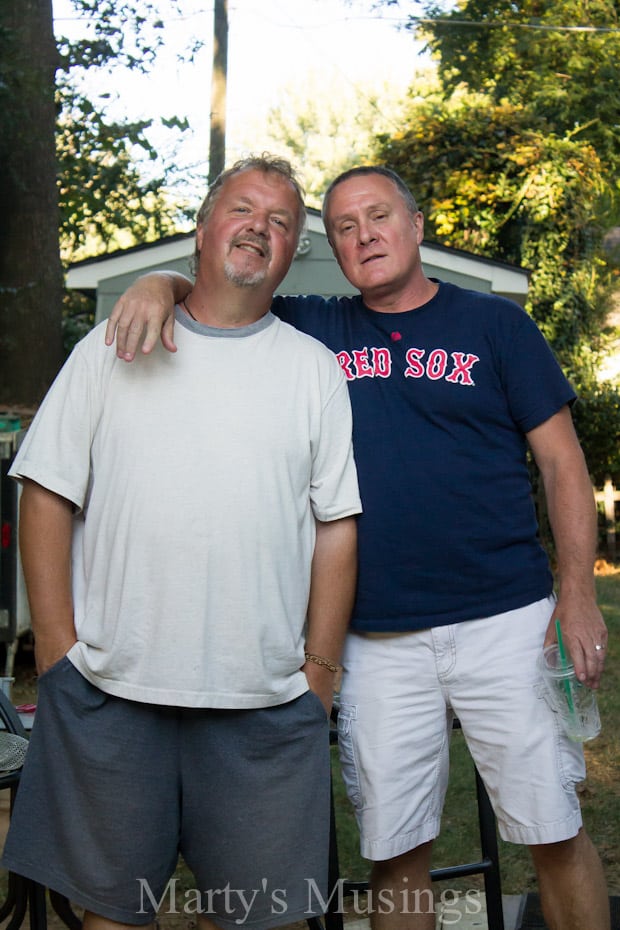 It was a wonderful evening celebrating time well spent and a life well lived. I love you, my DIY hubby!