What No One Wants to Talk About at Christmas
This post may contain affiliate links which won't change your price but will share some commission. Read more here.
Ever noticed that NO ONE wants to talk about losing a loved one at Christmas? This poignant essay breaks the barrier on the grieving process and offers hope!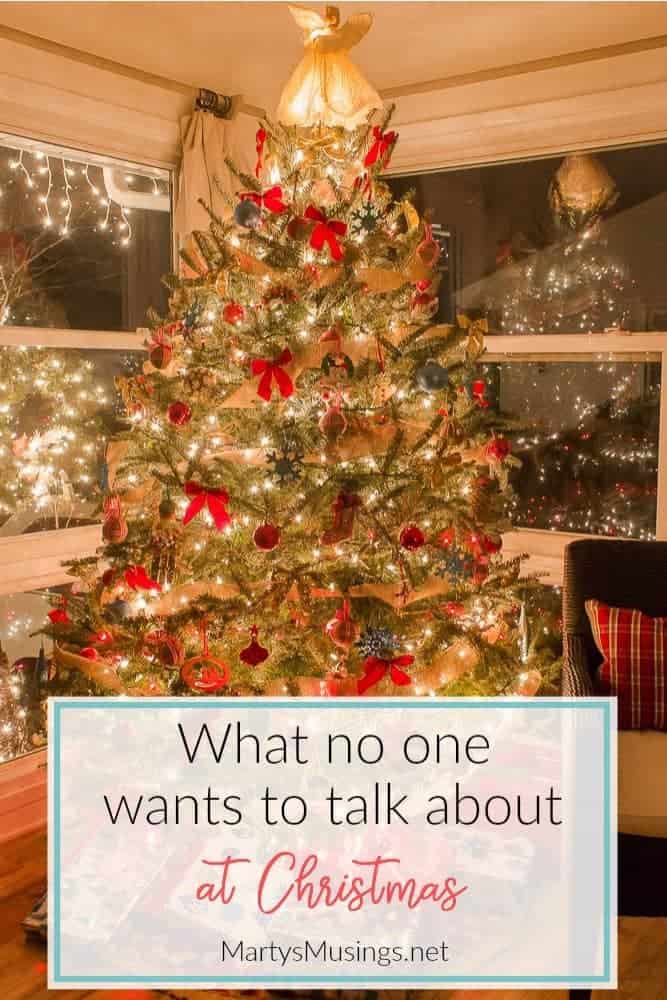 Today I went into the attic and pulled out the baby clothes I had saved from my two biological children. It's been years since I tenderly went through them. I touched them almost prayerfully, letting the memories roll over me in waves.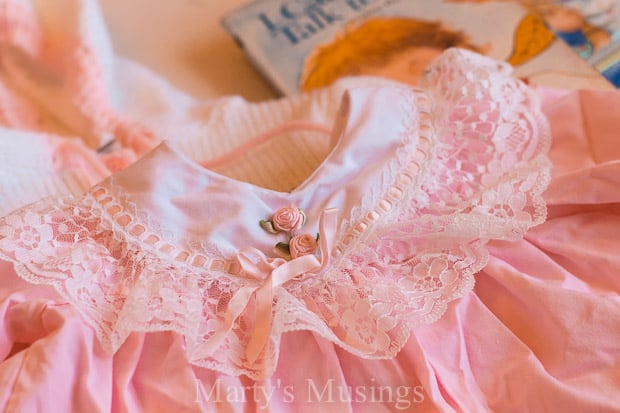 As a new mother you can never imagine that the little infant you cradle will one day be cradling their own precious bundle. It's not possible to see that far into the future.
As you rock them to sleep, change diapers and sing lullabies you just hope and pray that somehow your child survives your bumbling efforts at mothering.
Planting seeds one moment, one day at a time.
One little pink dress shattered my fragile heart into pieces.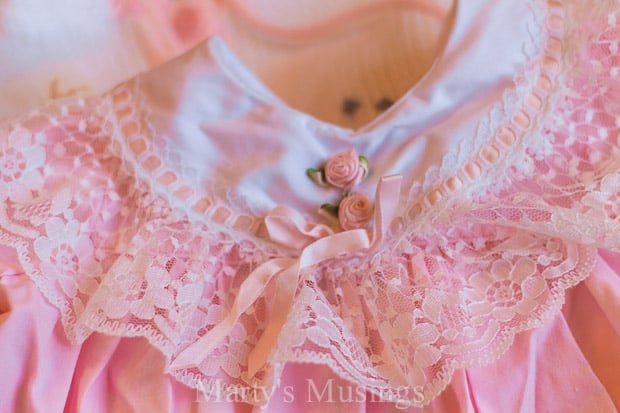 We always thought our first pregnancy was a boy until little Rachel Faith made her royal entrance into our world and dispelled all those beliefs!
One sweet little baby, ten fingers, ten toes and a set of lungs to announce her very presence.
Instant love at first sight.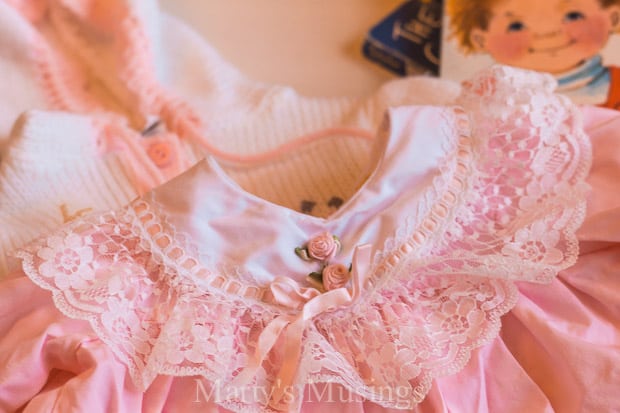 This precious pink dress was a gift from my sister, whose death in 2000 is a grief I still carry to this day.
Not as overwhelming and heartbreaking as those first horrific days, but a grief none the less.
Oh how my sister loved this first niece of hers.
At the time my husband and I had just gotten our three adopted siblings when my sister's death shattered our world.
Dead of a heart attack at age 53, unimaginable grief filling our lives and devastating our family.
Family gatherings and holidays would make the grieving process at Christmas so very difficult.
Just a million little memories
That remind me you're not here
Just a different kind of Christmas
This year
Yet somehow these three wounded children God gave us at just the right time would provide distraction and a new focus that changed our lives.
Their journey through abuse, wounded hearts and unspoken grief helped me walk a path I never thought I'd face.
Their battle to attach to their new family taught me everything I now know about true love and devotion.
They helped me survive a painful loss I would never have chosen, yet one God knew of before time began.
I'm unwrapping all these memories
Fighting back the tears
It's just a different kind of Christmas this year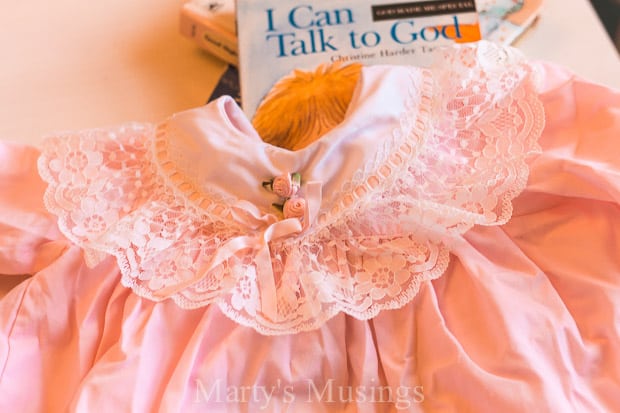 A frilly pink dress reminds me that every baby is a gift, proof that God exists and loves us with an everlasting love.
And this week our baby girl gave birth to a beautiful boy named Aiden James. His birth reinforces everything I believe about God and the greatest gift He gives His children.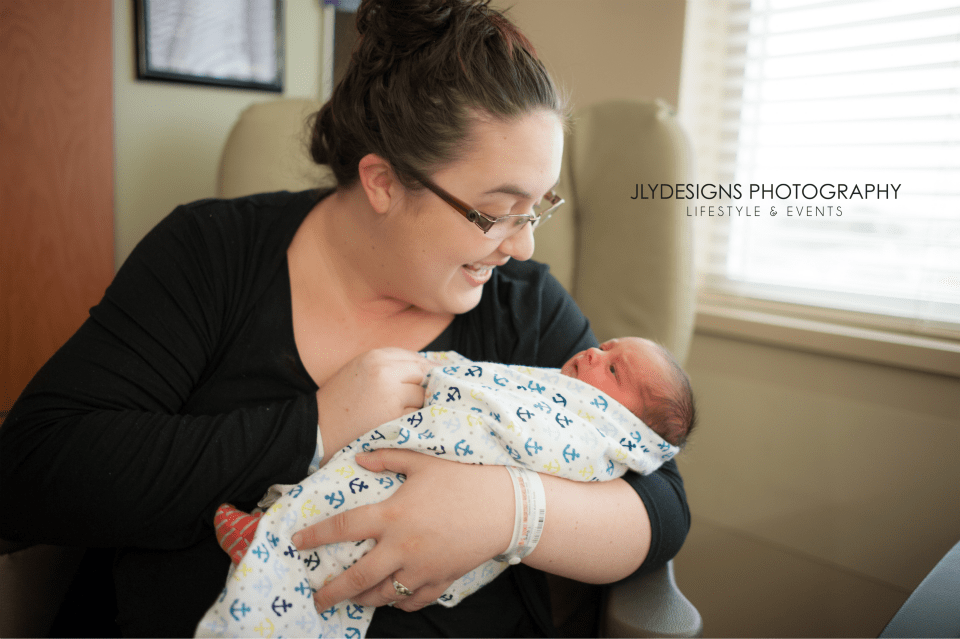 It's time to fill this house with laughter like it used to be
Just because you're up in heaven, doesn't mean you're not near
If it seems like you're the only one who isn't jolly this year, the only one with a heavy heart threatening to overflow,
You are not.
You're not alone. No matter the years or journey, we all carry grief and losses.
Let God love you through yours today.
**My husband and I both worked through the grieving process with a grief therapist and the book The Grief Recovery Handbook. It was life changing for us. I highly recommend it as a resource if you've experienced loss of any kind. You can also find more information and/or connect with a grief special in your area here.
Different Kind of Christmas
Snow is falling christmas's here
Lights coming up and down the street
Sounds of carols feels the air
People rushing home family everywhere
Putting candles in the windows
Putting light upon the tree
But there's no laughter in this house
Not like it used to be
Just a million little memories
And reminds me you're not here
Just a different kind of christmas
This year
In the evening fire's glow
Dancing underneath the mistletoe
A letter left from Santa Claus
Won't be the same this year in this house because
There's one less place set at the table
One less gift under the tree
And a brand new ache to take their place inside of me
There's voices in the driveway
Families right outside the door
And we'll try to make this Christmas like the ones we've had before
As we gather round the table I see joy on every face
And I realize what's still alive is the legacy you made
It's time to put the candles in the windows, the lights upon the tree
It's time to fill this house with laughter like it used to be
Just because you're up in heaven, doesn't mean you're not near
It's just a different kind of Christmas
It's just a different kind of Christmas this year