5 Tips on How to Make Money on a Yard Sale
This post may contain affiliate links which won't change your price but will share some commission. Read more here.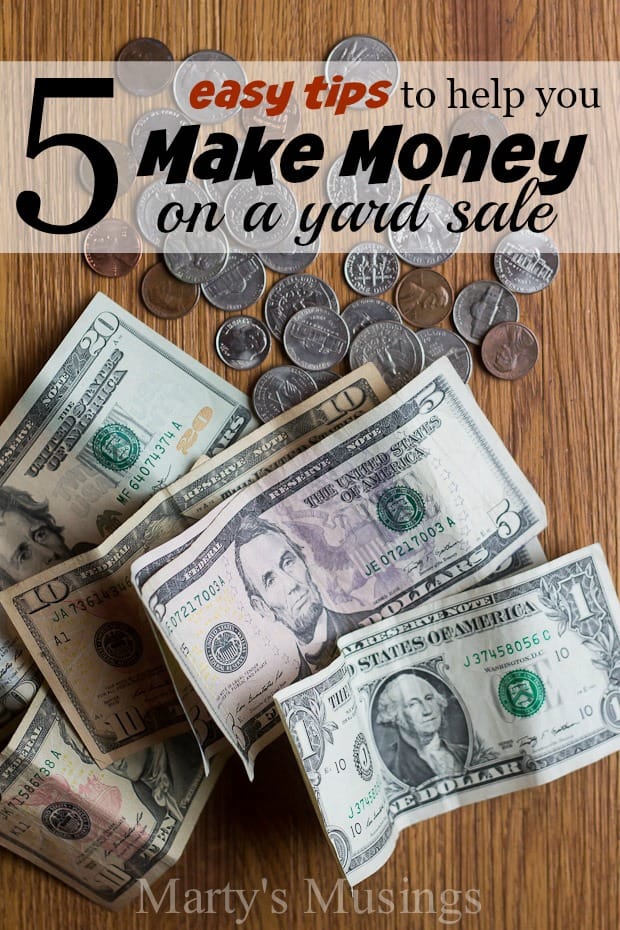 It's yard sale season and I'm back with more of my great tips! I live for this time of year that feeds my DIY and creative soul while saving us money.
A few months ago I posted on how to tell whether that perfect buy is trash or treasure and the top 10 bargains to keep an eye open for when yardsaling.
I have been committed to living on less (mostly 'cause there was always a lot more "less!") for many years, but I also looked at saving money as my way of contributing to our household when I was a stay at home mom only.
(Only? Good grief. Have you seen my job description? Homeschool teacher, cook, maid, chauffeur, nurse, coach, therapist and the list goes on and on! Can I get an amen?)
However, one of the ways I contributed financially was to hold a semi annual yard sale. This also helped me get a handle on all the "stuff" that inevitably made its way into our home.
Without further ado here are my top 5 tips to help you make money on your next yard sale.
Where to hold the sale
In the best place with the most exposure! Since most of us don't want to drag our stuff all over town choosing your own yard or garage is a likely possibility. But if you're stuck where there is not much traffic you might consider combining sales with someone with more traffic and exposure.
Always get permission if necessary from the powers at be if you live in a complex or have a neighborhood association. If possible, join a group sale with more prospective buyers.
.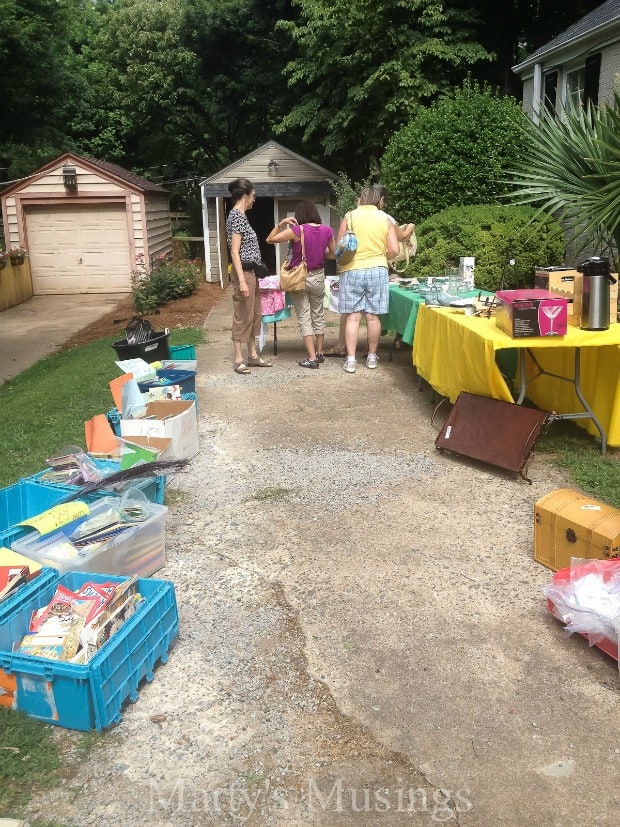 Decide what to keep
Sometimes it's hard to purge so here are some questions to ask yourself about what to keep and what to get rid of.
Do you have room for it?
Does it serve a purpose (functional or sentimental)?
Does it work?
Do you need it?

Labelling and Pricing
There are two schools of thought about labelling and pricing your yard sale merchandise. One is just to take everything outside and not worry about pricing. The upside is that it doesn't require much preparation beforehand, but the downside is you are constantly on call to price your items during the event. That gives greater opportunity for customers to haggle over prices.
If you have time go ahead and mark prices and use removable stickers! As a dedicated yardsaler I can tell you it is incredibly frustrating to buy something and not be able to remove the sticker. It's even worse if it damages the item!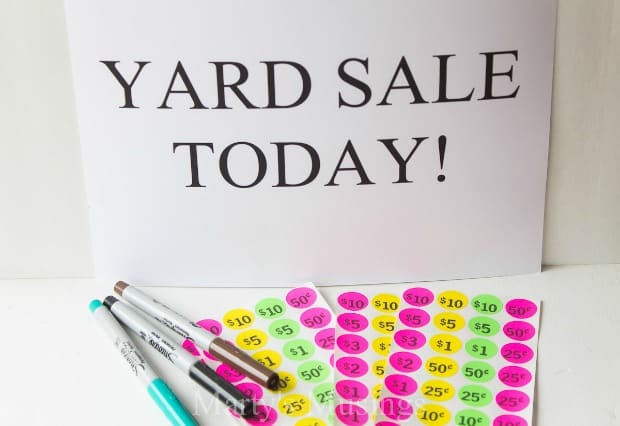 Make your prices reasonable with a little wiggle room for negotiation. A good rule of thumb for pricing is 10% of the retail price. That may sound like a pittance but yardsalers often know the base price and expect to get a bargain. Don't be afraid to hold out, though, if you don't get the price you want. You can always try selling it on Craigslist or donating it to a charity.
Setting Up
Do as much set up ahead of time to avoid extra stress on the morning of the sale. Use your own tables or try to locate some on your own. Banquet tables are an ideal size and you can even rent them if necessary. Rolling racks can be used to hang clothing or fold them on the tables.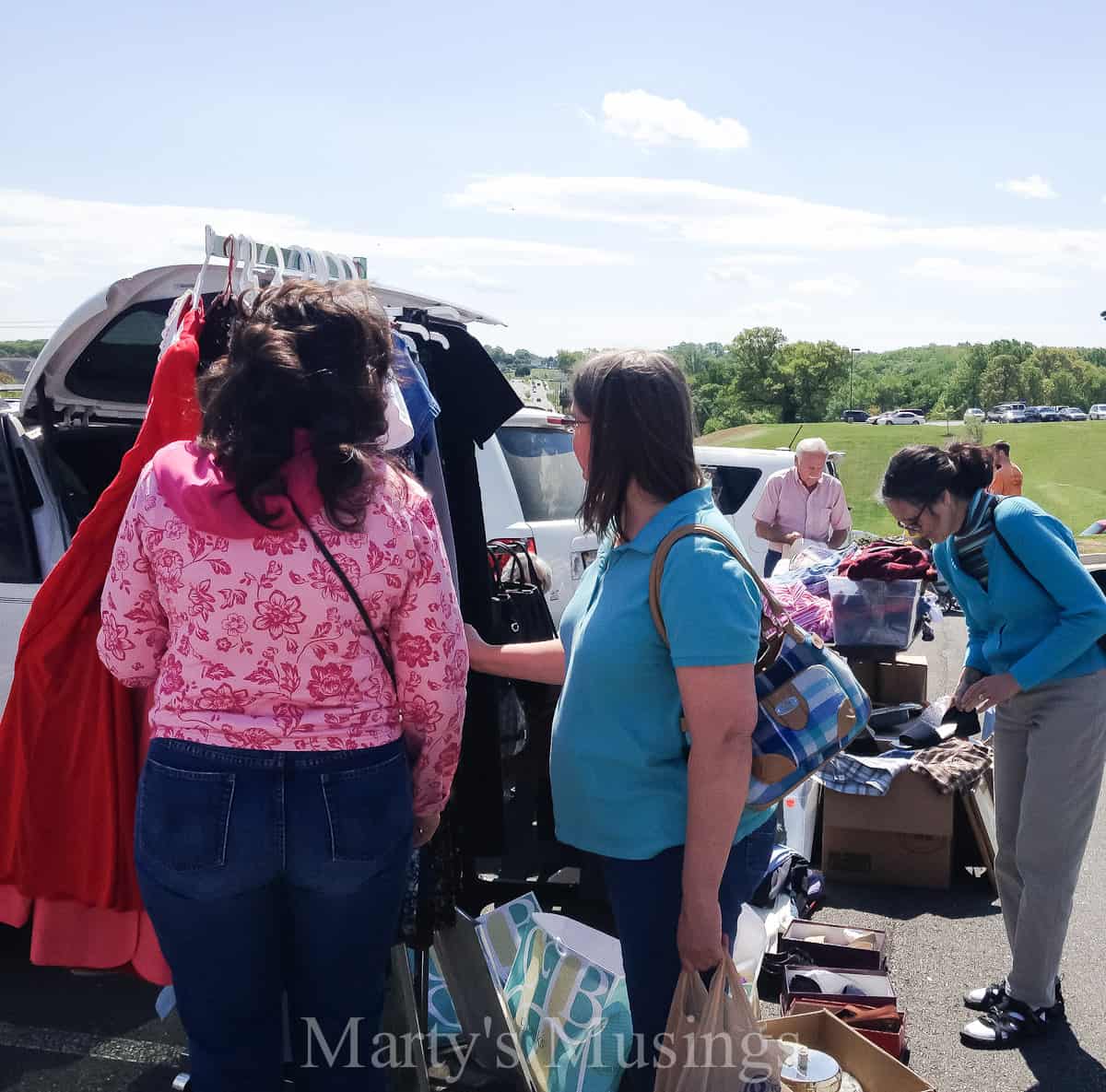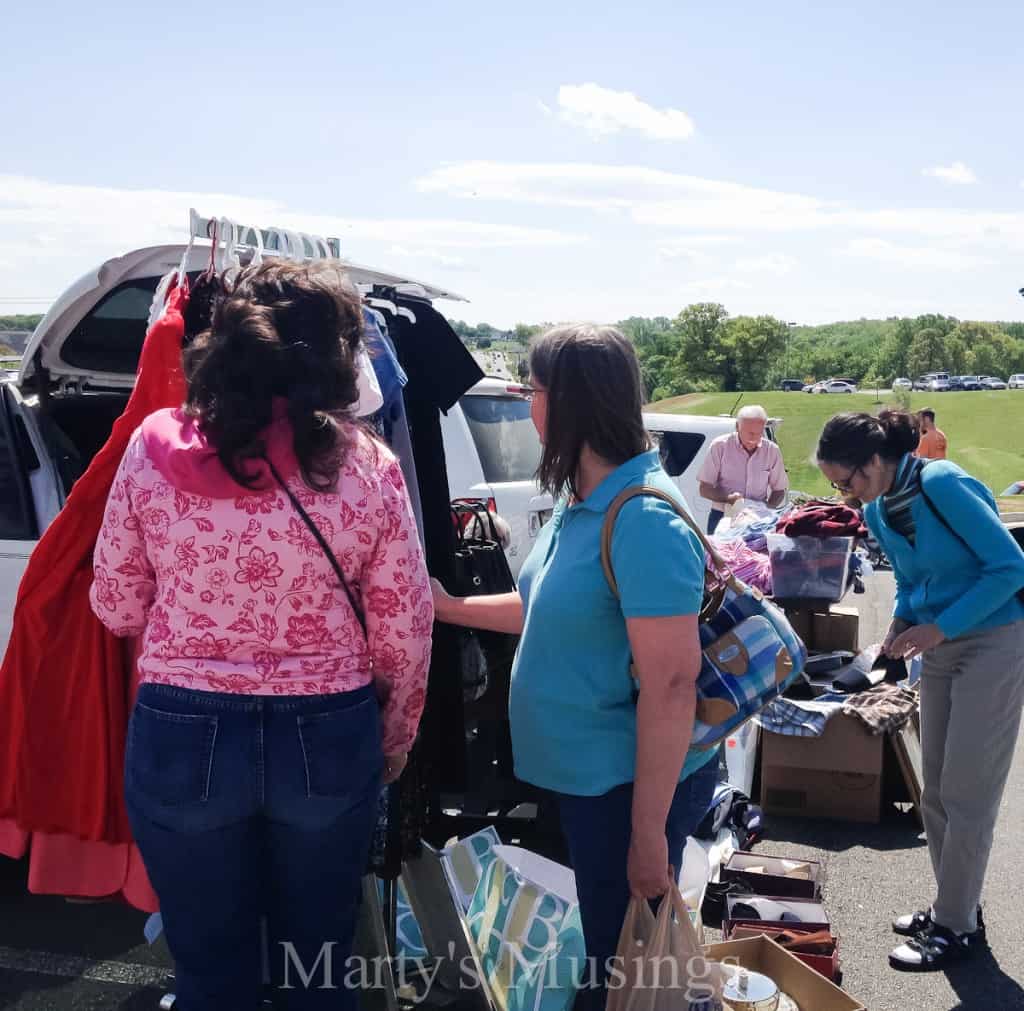 If you have electronics to sell make sure you have an extension cord for perspective buyers. If it doesn't work mark it as such but don't expect to make much money on those items.
Have a free box to help entertain children while their parents are shopping. Everyone loves free stuff and you get to rid your home of a few more items!
Promote Your Sale
In the age of smartphones there are several apps that will help you spread the word about your sale. I personally use Yard Sale Treasure Map but other apps include Garage Sales by Map – Free, Garage Sale Tracker and Yard Sale Mapper. Also list your sale on Craigslist (it's free) and take out an ad in the local paper (will cost you).
What will you be looking for this year?
This post previously appeared at ForRent.com. For more details please visit the ForRent.com blog.