Picture Frame Front Door Wreath
This post may contain affiliate links which won't change your price but will share some commission. Read more here.
Create a warm welcome for guests with this easy and inexpensive front door wreath using a repurposed yard sale picture frame, silk flowers and wooden sign.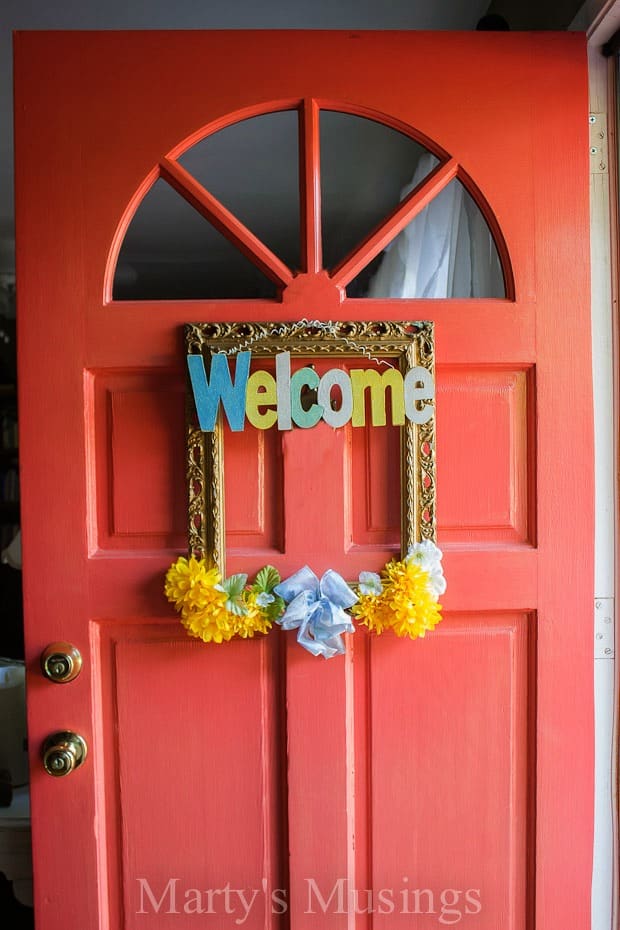 I love to craft and DIY while I turn yardsale and curbside junk into beautiful treasures for my home.
But I do have a confession to make.
Since blogging is now also my job being creative is sometimes a necessity, not a luxury. That can sometimes put extra pressure and stress on me to come up with the "latest and greatest."
I believe God made each of us creative in our own way.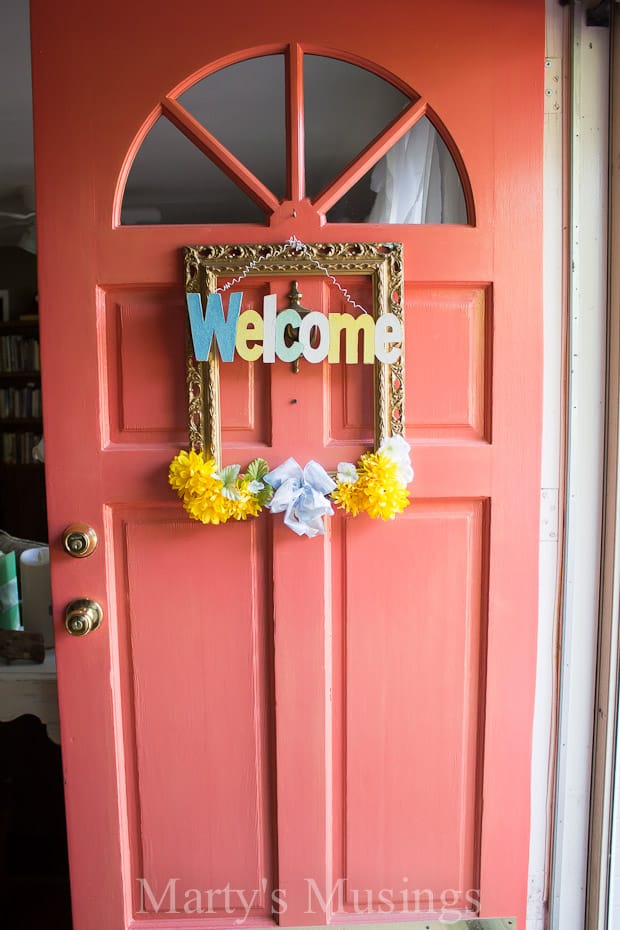 Yet I have had so many women tell me through the years that they're just not crafty like me.
Creativity is about finding something you enjoy doing. Whether that's cooking or crafting, writing or photography, finding your passion is an important part of growth.
Out of the women in my family (my mom, my sister and I) my sister Brenda was by far the most talented artistically. (I got the musical genes.)
When she lived in Japan she learned how to embroider these intricate needlepoints, some of which we still own today.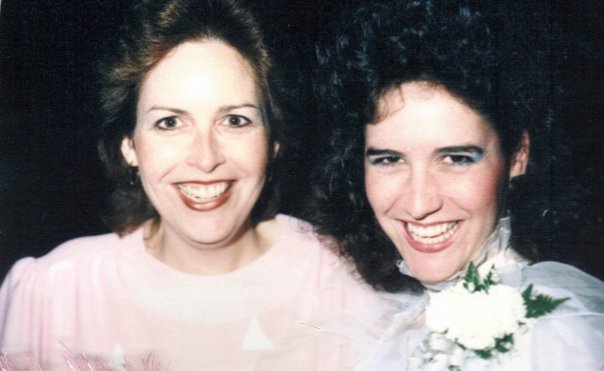 She taught me how to cross stitch when I was in high school and she and I always said we'd be cross stitching one day together in the nursing home.
Sadly she passed away at the young age of 53 but I know she would have enjoyed and supported my blog (and given me tons of ideas!)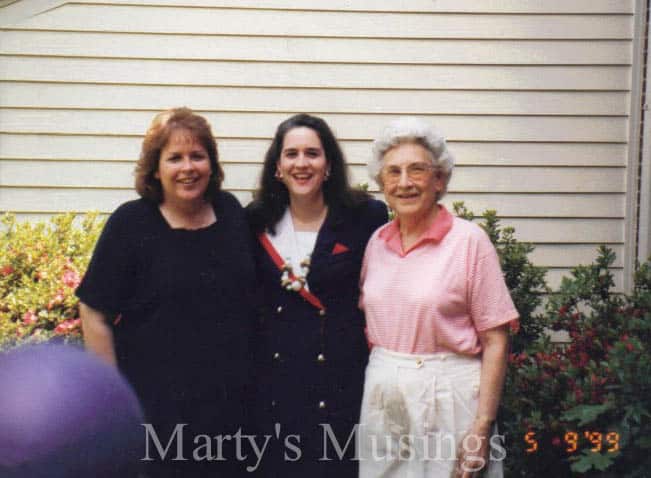 In her home were stacks of decorating magazines that she pored through for new ideas and inspiration. She was my yard sale partner always on the hunt for wicker furniture to spray paint and transform.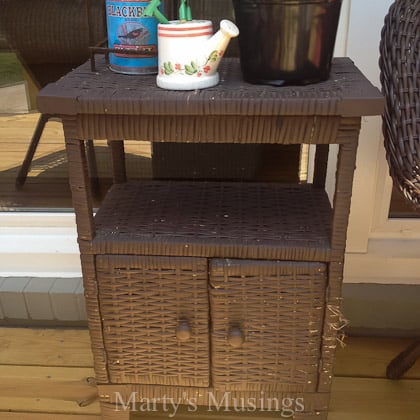 I was in the middle of crazy child rearing years then so my decorating style was to simply paint every room a different color, put a cross stitch in a hoop with some ribbon and call it good!
I often think my sister would have loved the way my style has evolved (and hopefully improved) but one thing has remained the same.
I still love me some color!
I may not have to paint every single room a different bright hue but I love pops of color and my front door certainly sets the tone for my home.
Picture Frame Front Door Wreath
This front door wreath is such an easy project since I used a frame I picked up at a yard sale. (Big surprise, right?!) The chipped, cracked edges are just my style.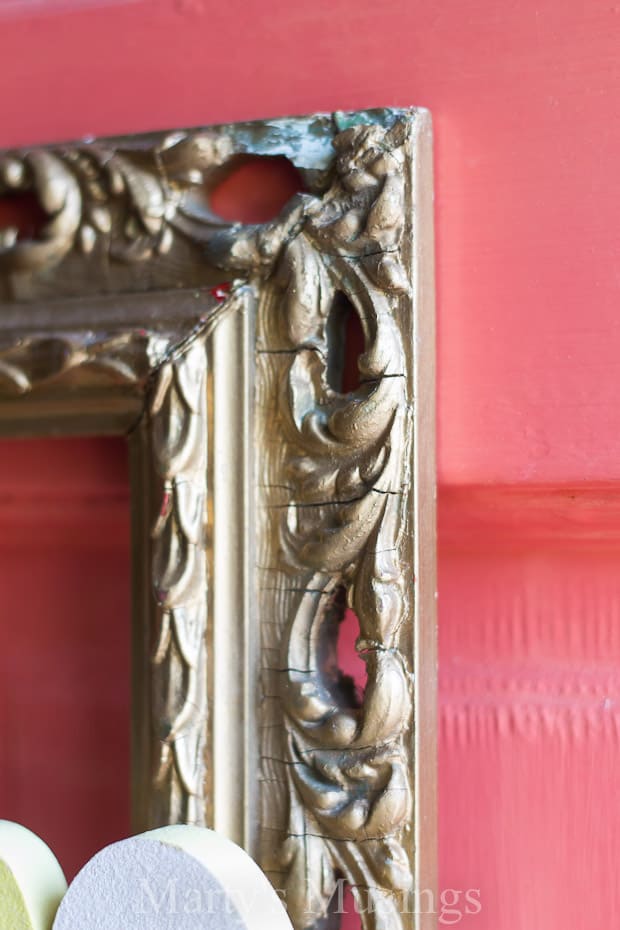 I simply glued some silk flowers on with a hot glue gun and added a bow.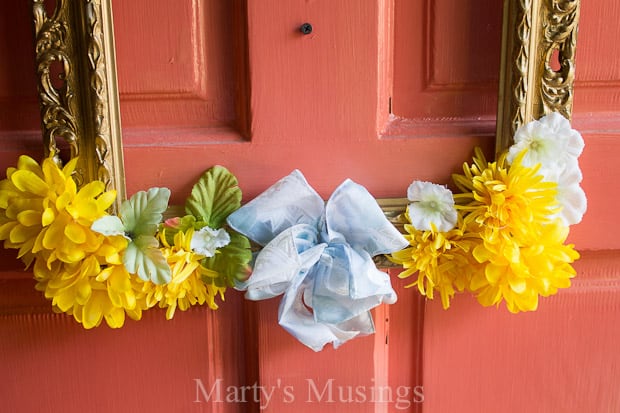 The wooden sign actually came from an Easter wreath and I'll probably paint over it one day, but for now it's bright and cheerful and I like it!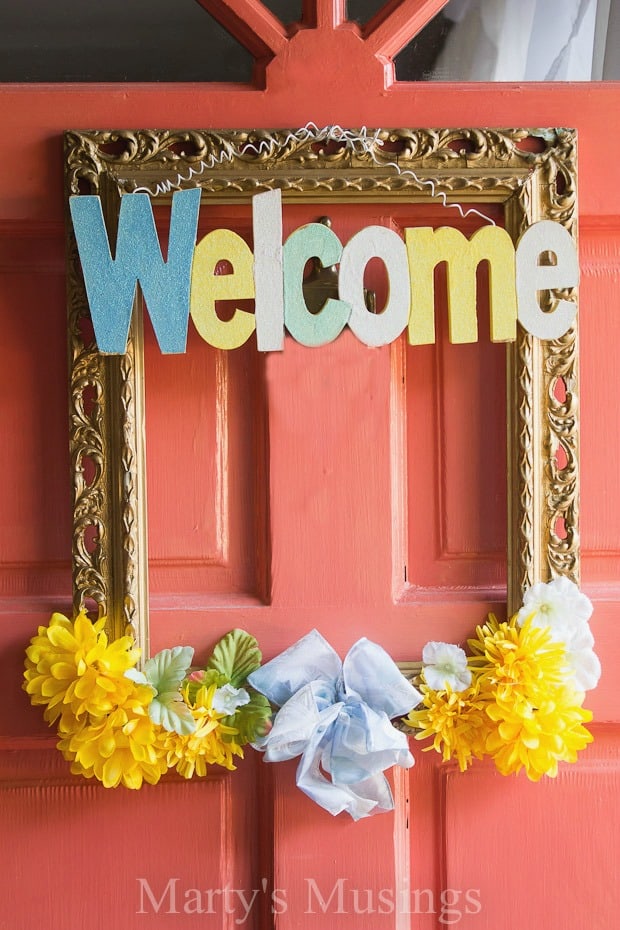 It may not be the latest and greatest, but this project was simple and I'm calling it done!
What is your favorite way to show your creativity?