Fall Cottage Decor + My New Home!
This post may contain affiliate links which won't change your price but will share some commission. Read more here.
With this simple guide to fall cottage decor your home will feel instantly cozy, with just enough rustic charm to bring the outside in.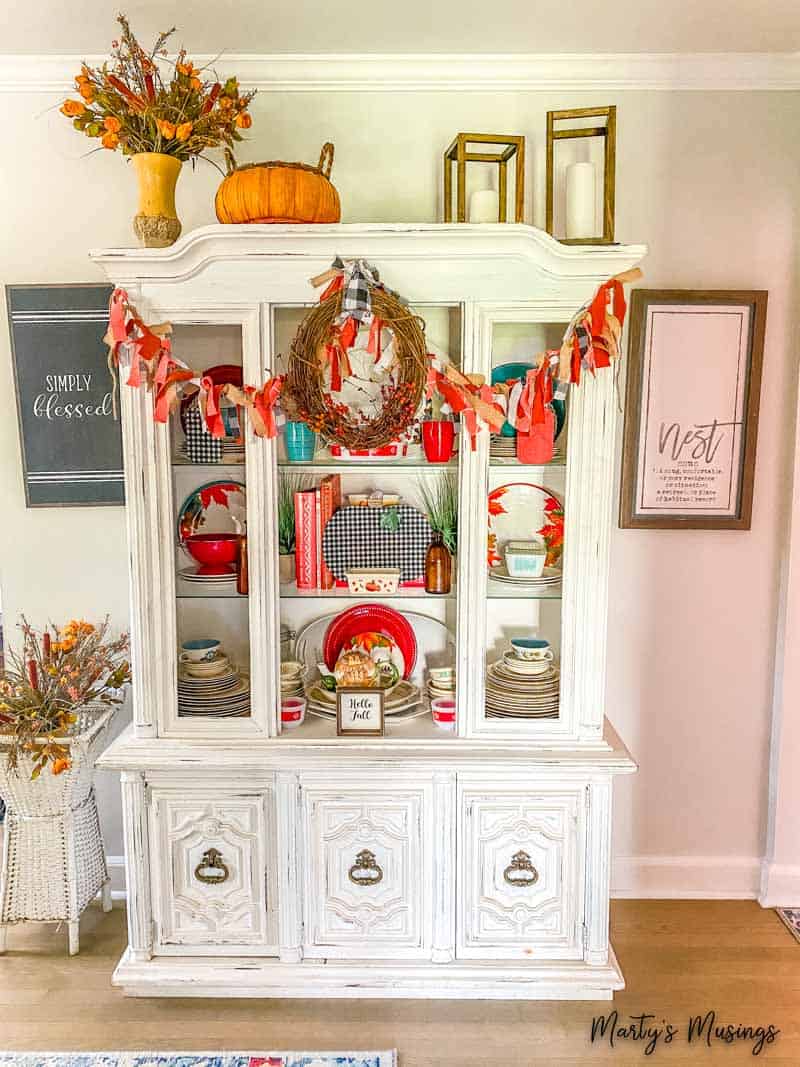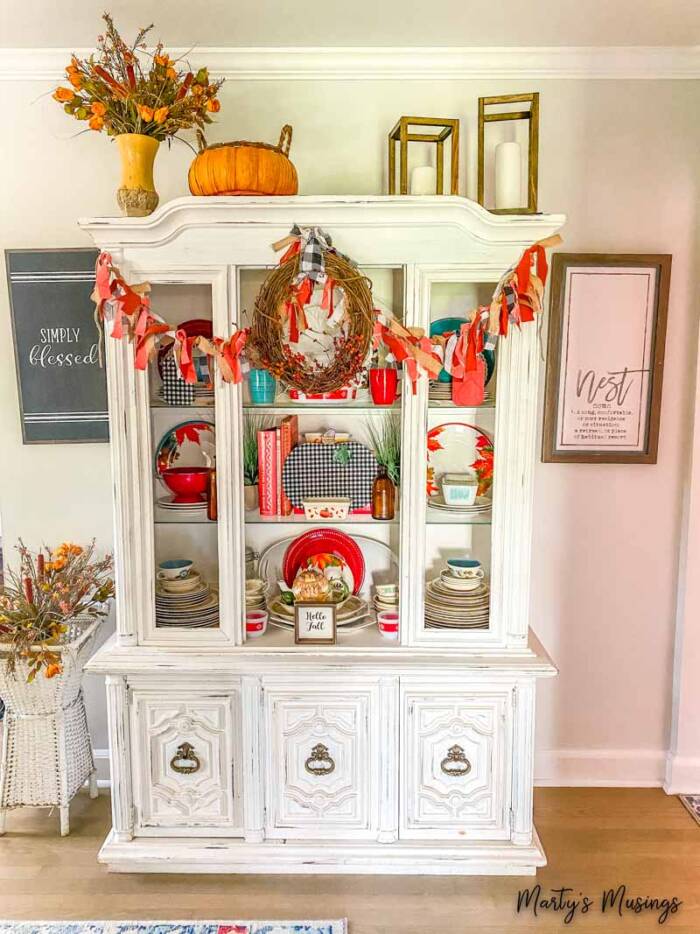 These last four months have been a blur of brokenness, change and the goodness of God.
In June the difficult decision was made for my husband and I to separate. This was not the ending I imagined for our story but I've seen the faithfulness of God in a million different ways.
For years I've shared the home my husband and I own together, letting you see glimpses of simple projects on a budget and massive makeovers (our ranch style kitchen and farmhouse bathroom).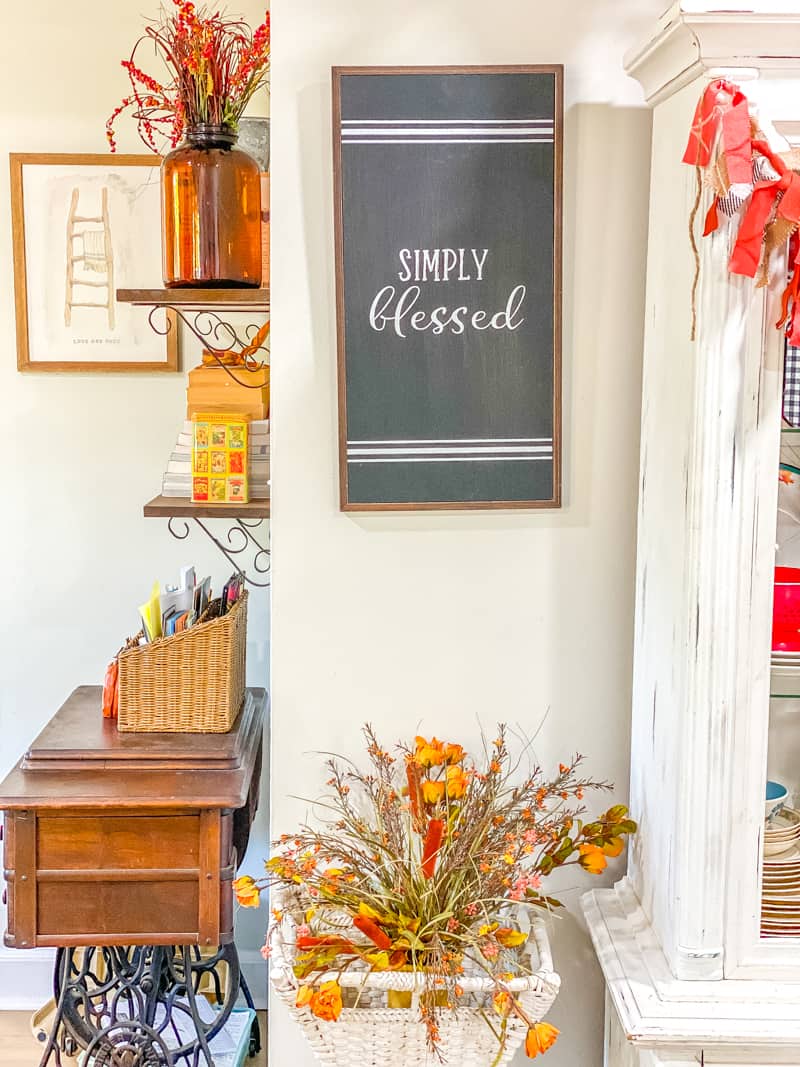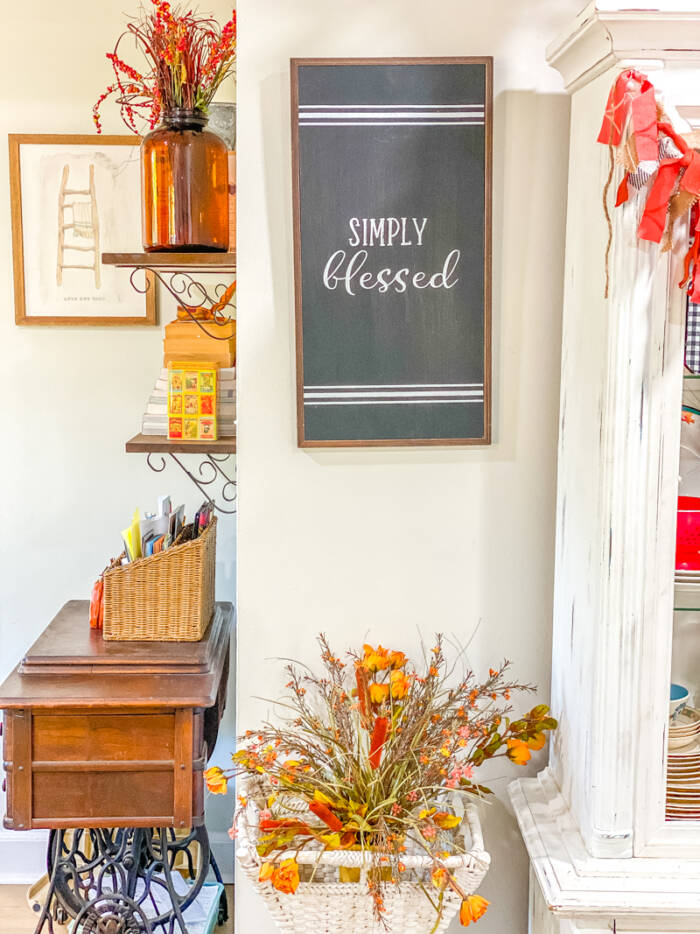 Because of the new direction in our marriage we put our dearly loved home up for sale.
Unbelievably we've had two buyers fall through and our home has been on the market for three months. The first buyer lost his job a couple of days before closing. An investment company backed out an hour before the contract was proceeding.
We've spent a lot of time and money making sure the next buyer will make it to closing! In the future I'll have much to say about decluttering and the selling process. It's been a rough ride but the end is in sight.
For weeks I was focused on next steps.
Where will I live? Should I rent or buy? What does the future look like? All.the.decisions.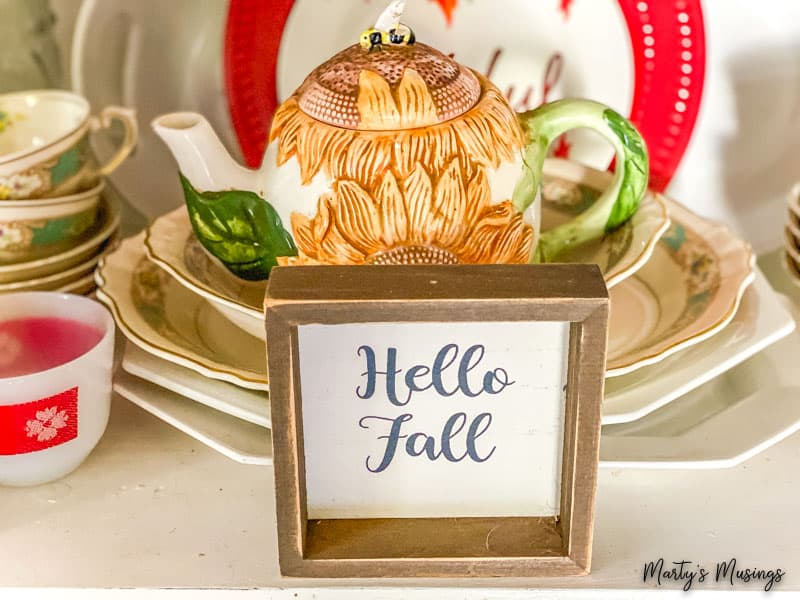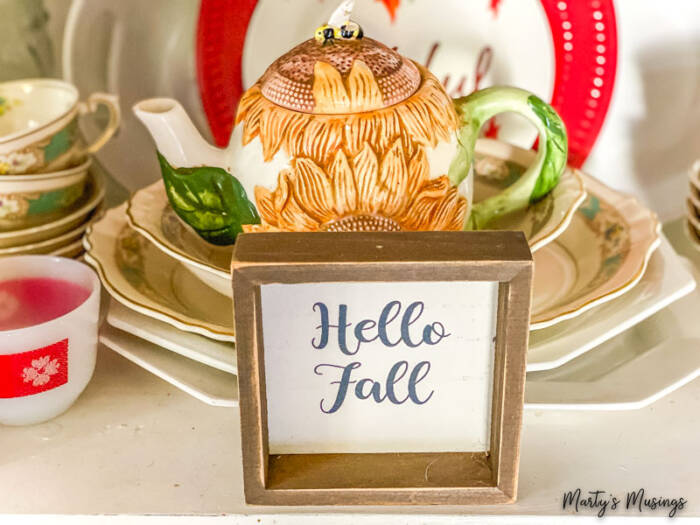 On July 30th I purchased a little cottage I'm turning into home sweet home step by step, day by day. This new home will have all the inexpensive projects you've come to love combined with the wisdom of an encouraging friend. We can do this, my friends!
Moving into my own home, stretching as I've learned to do things I've never done before and coming into my own as a woman of God have been quite the ride!
Through it all I'm learning to make mistakes, trust my instincts and pray without ceasing. All of the fall cottage decor you see in these pictures was in my old home and now I'm using the pretties in a fresh new way.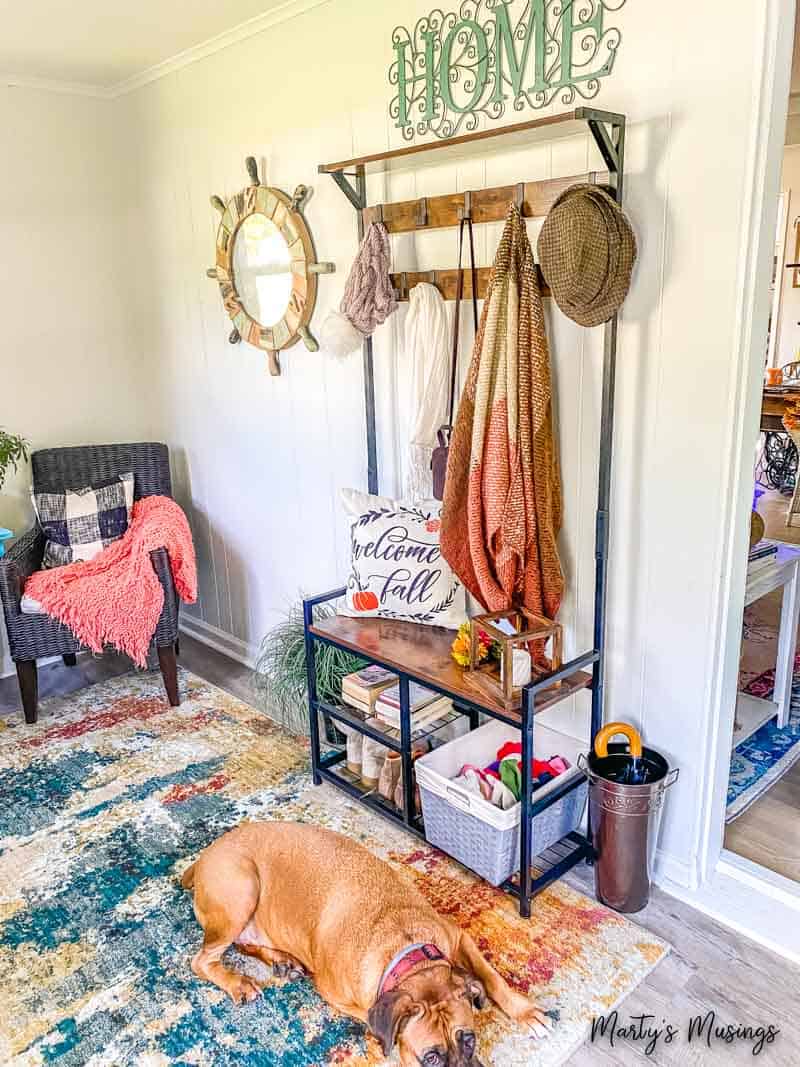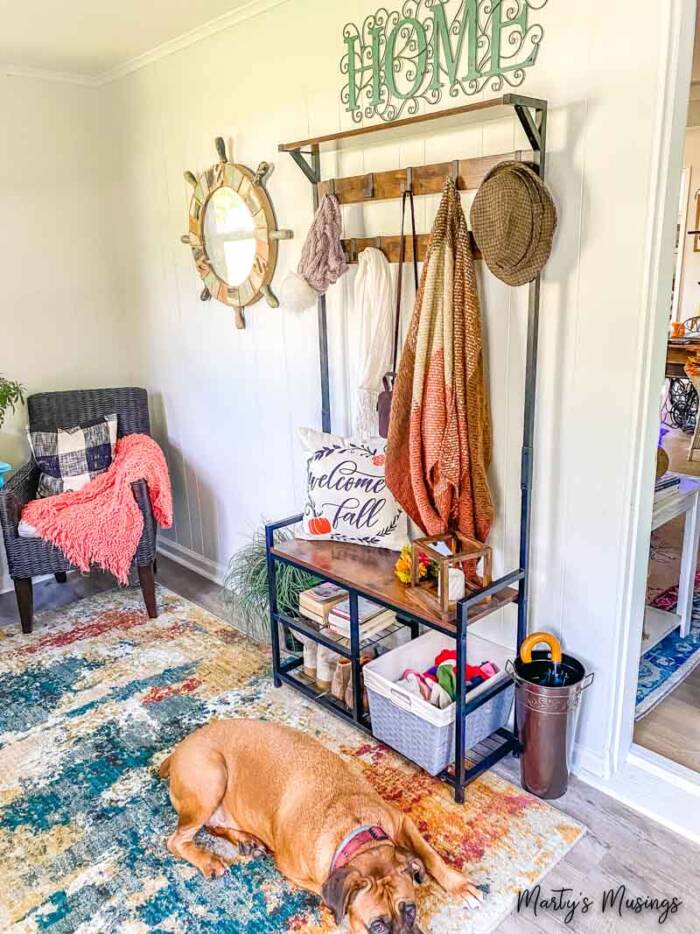 You can't see the nail holes where I didn't get it right the first time….or the second. Or third. I just see where I tried something new and succeeded! There are lessons for all of us in my small little cottage. And I'll be sharing them in the months to come. I hope you'll follow along!
Honestly I feel blessed to be loved so well by my friends and family. I've shed more tears than I thought possible yet I know in this next season God is going to do amazing things! That's been the prayer of my heart for months.
My desire is to be a real and transparent light for Jesus with home ideas and inspiration thrown in. You won't find fake here my friends.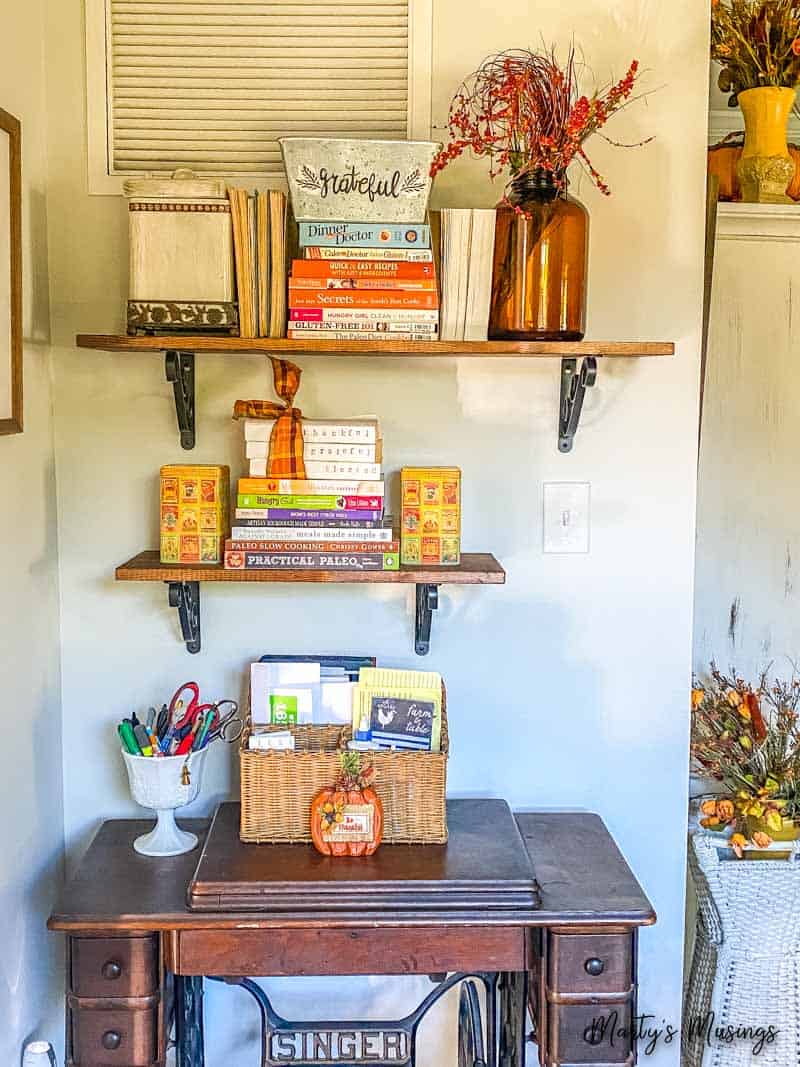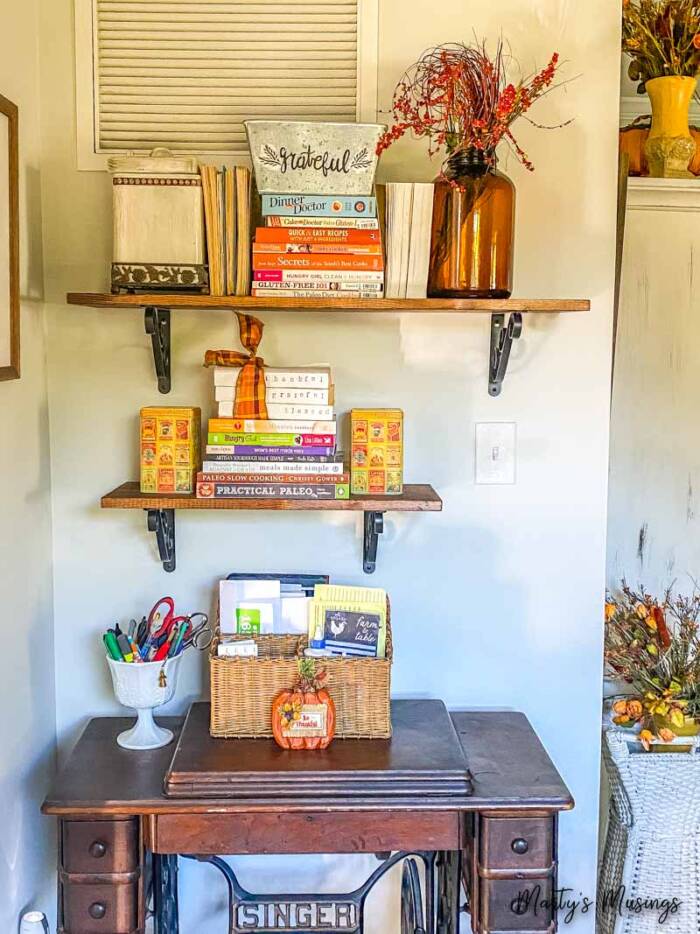 In this present moment I have to let go of "what could have been" and believe that "what is" will one day be a beautiful story of God's redemptive work.
I don't have to understand why all things happen. I just have to believe God is bigger than I can see and accept His ways are not my ways.
Life is rarely easy and God gave me a phrase weeks ago as I process and grieve.
With divorce there is no funeral and burial where life is celebrated. There is just ongoing pain and deep disappointment in our humanity.
My new home is half the size of the home my husband and I shared, but I love this little bungalow with all my heart! I've found clever ways to store the most important things yet still decorate in a way that shows my style and heart.
Welcome to my new home tour with a few fall decorating ideas to add simple fall cottage decor to your home as well.
1. Grab a few books
Decorating with books is one of my favorite inexpensive tricks. My new shelves above the vintage sewing machine contain cookbooks and a few accessories.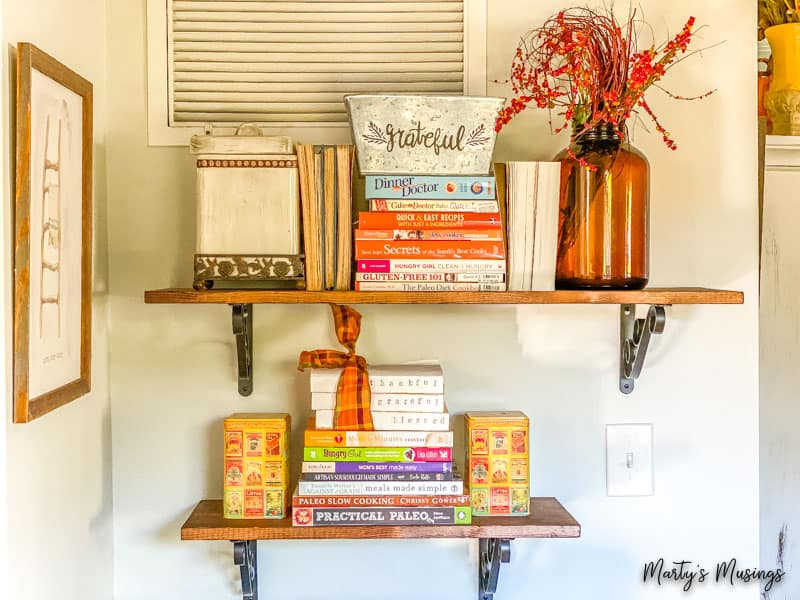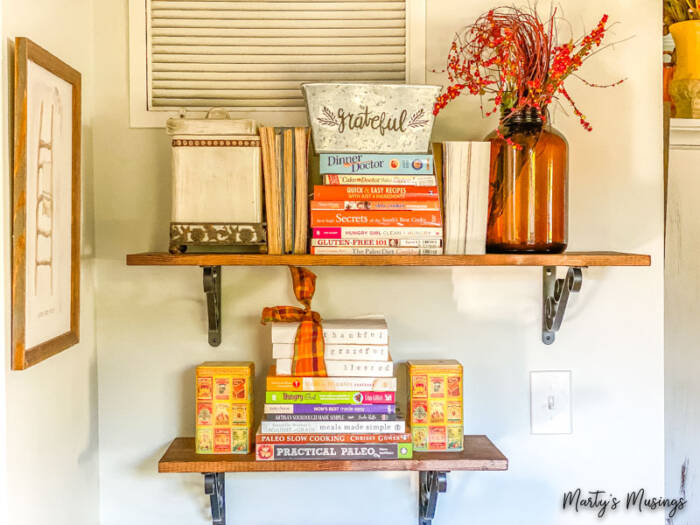 Everything in my new cottage serves a purpose and has a place to live. If not, it needs to go! I've found it mind blowing how easy it is to get rid of all the things when there's no room!
I also used old unwanted books with the covers torn off to hide some of the electronics beneath the tv.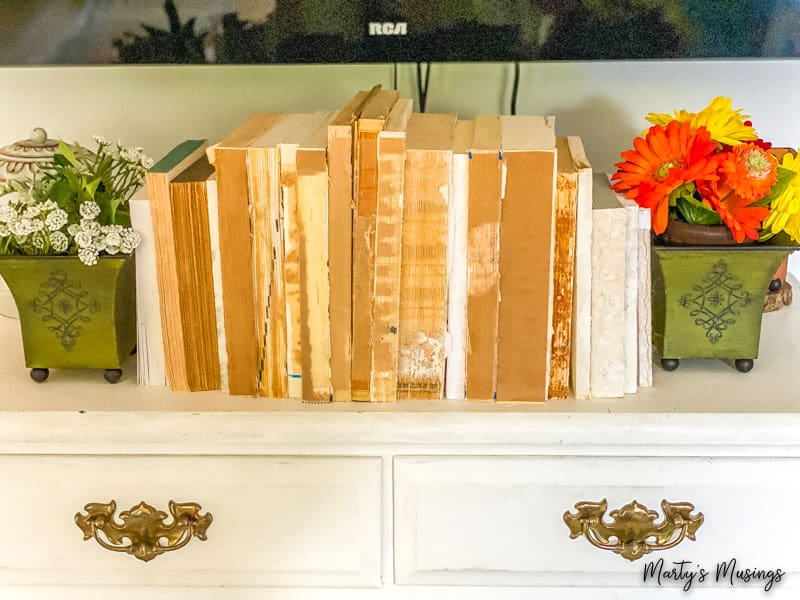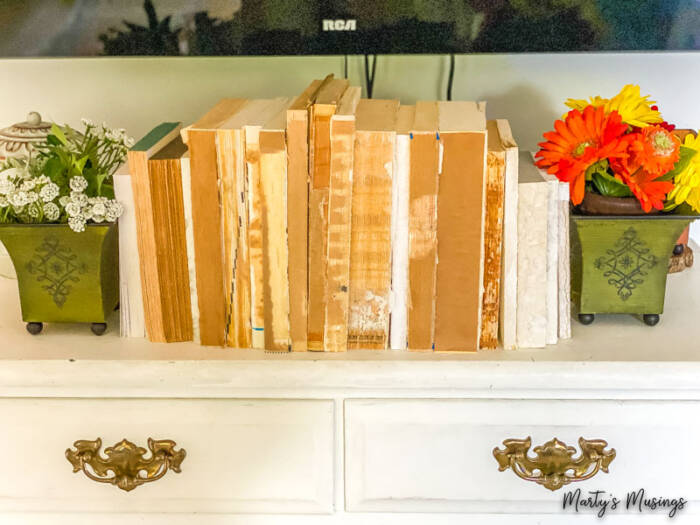 2. Get a cozy fall blanket for texture
One of the questions asked most is when can I start decorating for fall? And my answer is whenever YOU are ready!
After my move in July I concentrated on where to put the belongings I brought with me. I wasn't sure when I'd decorate for the season but eventually my tubs of fall decor called my name!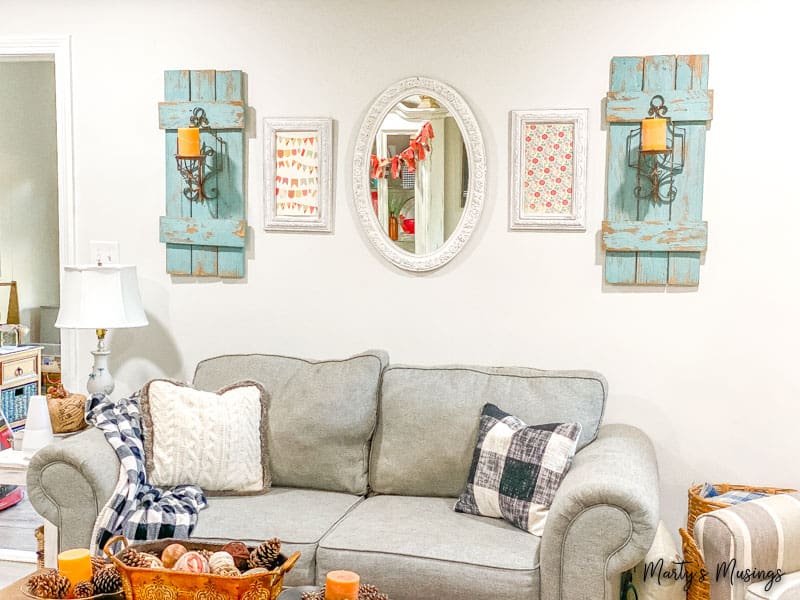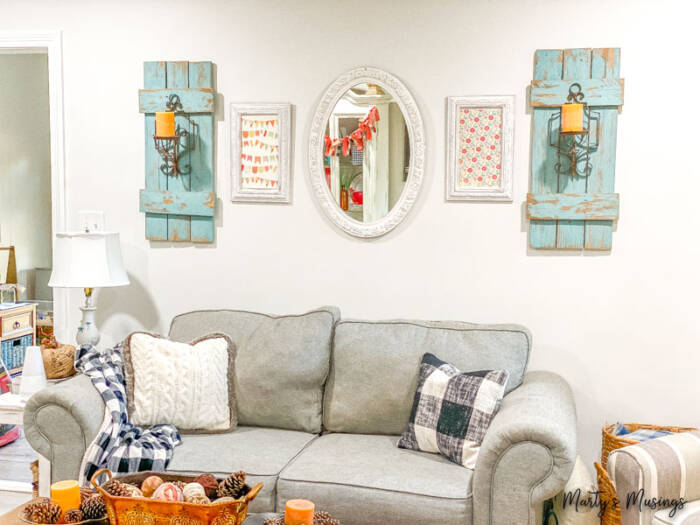 The fall season is my favorite, but I don't think there's a right or wrong answer on when to decorate for fall. I'm a firm believer in decorating when you have the time and when it brings you joy. If it's a burden DON'T DO IT!
I don't have a fireplace mantel but love the simple wall decor over my love seat. It's a perfect addition for entertaining guests! My small home overflows with flea market finds and farmhouse fall decor to encourage coziness!
The only new thing I bought this year was this orange/rust throw. I couldn't resist the large cable knit goodness (and my dog Carson burrows into it all the time!) Plaid blankets are also a favorite way to add depth and color this time of year.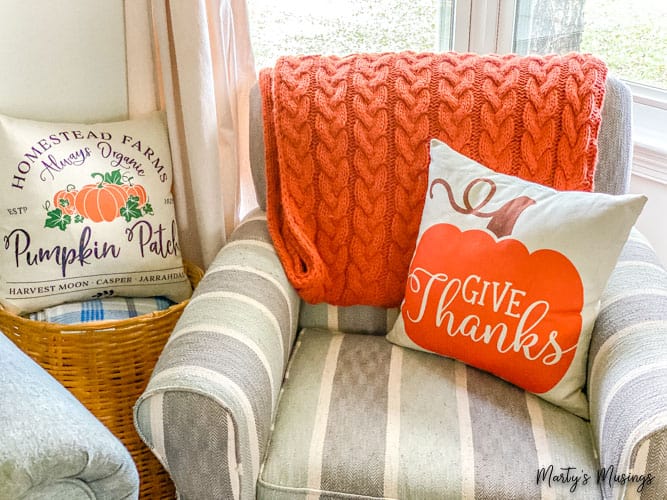 3. An easy fall cottage home centerpiece
A friend gave me this small dining table which opens up so I have a nook for eating. Even though we were snug I've entertained and it brought me such joy!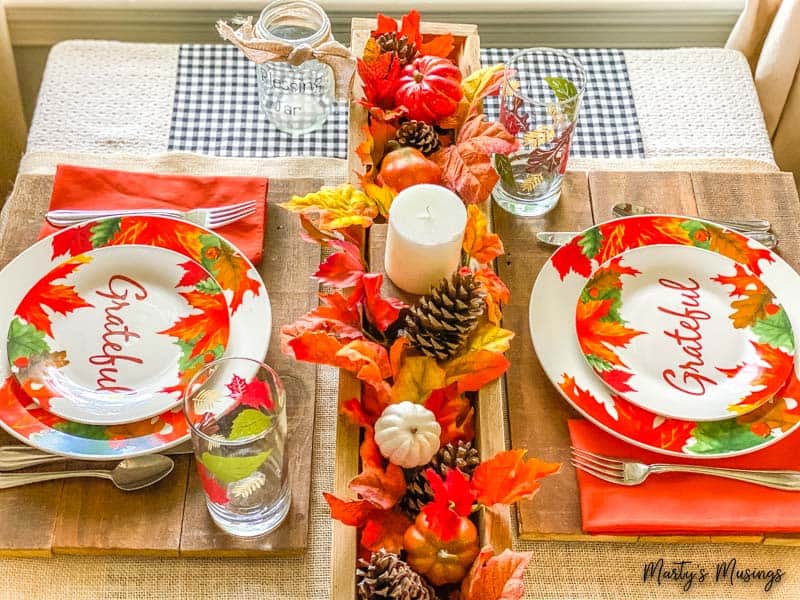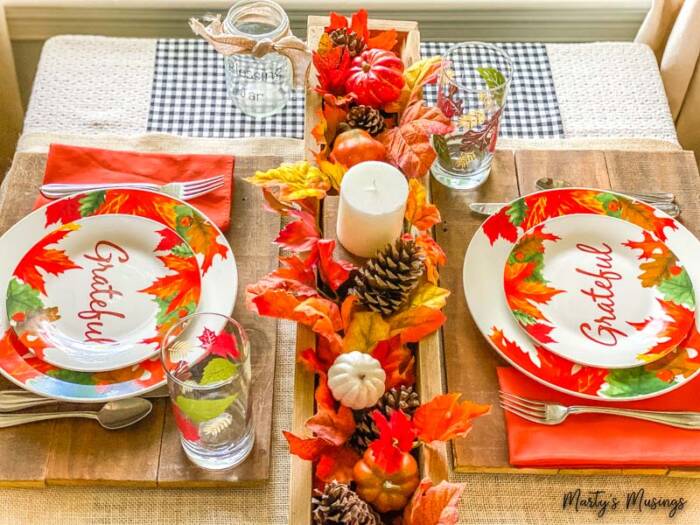 The table stays set and ready because I'm all about living in pretty and functional spaces!
My dollar store "grateful" plates grace my DIY rustic wood chargers and no sew table runner.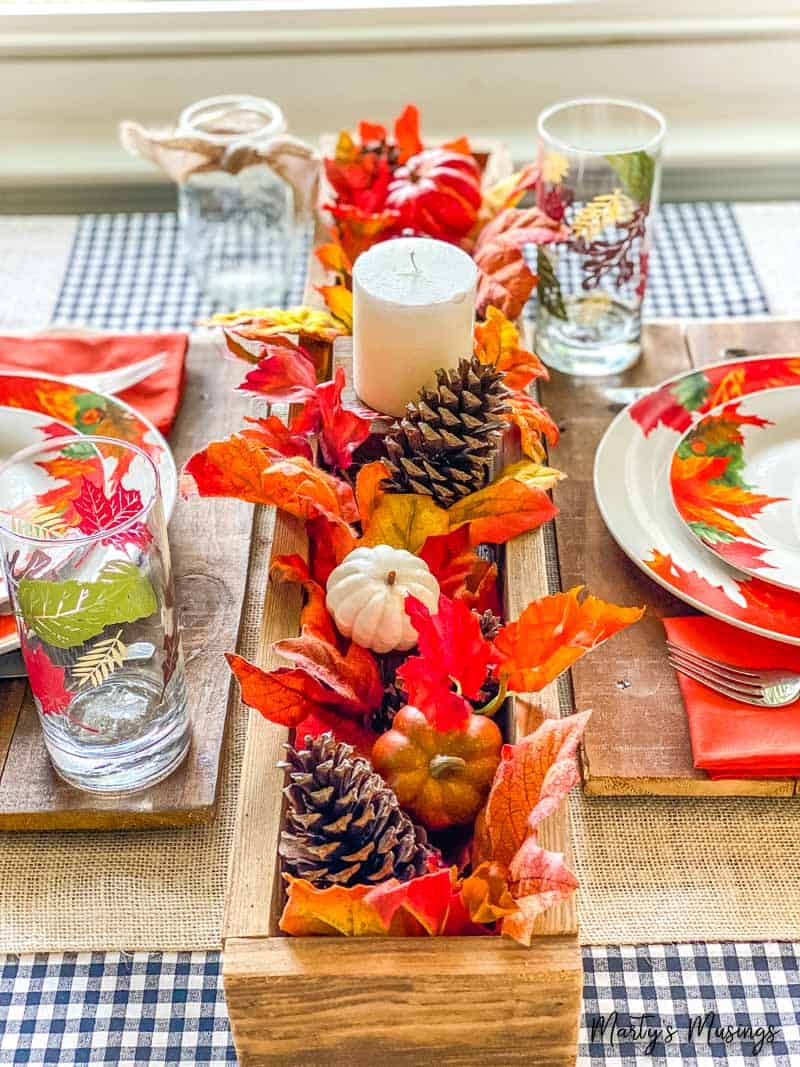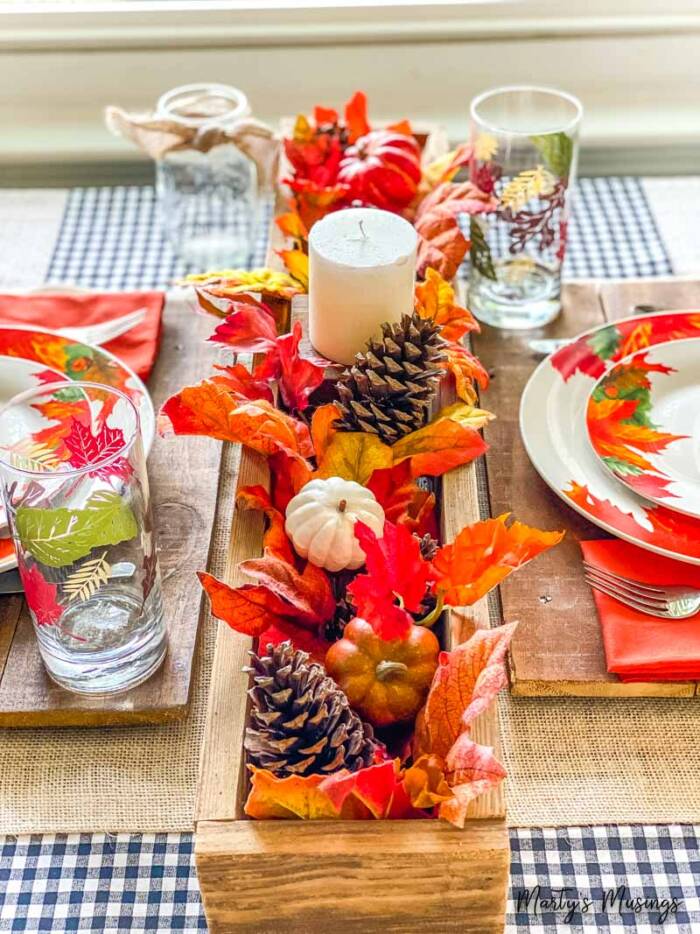 This arrangement would be perfect for a larger table as well.
4. Pumpkins are the best
How do you spice up your home without spending a lot of money? You can never go wrong with pumpkins!
In the past I've purchased real mini pumpkins but I wanted to use things I already had. With only half the space of my old home, I don't want my new cottage to feel cluttered.
In the past I've purchased real mini pumpkins but I wanted to use things I already had. With only half the space of my own home, I don't want my new cottage to feel cluttered.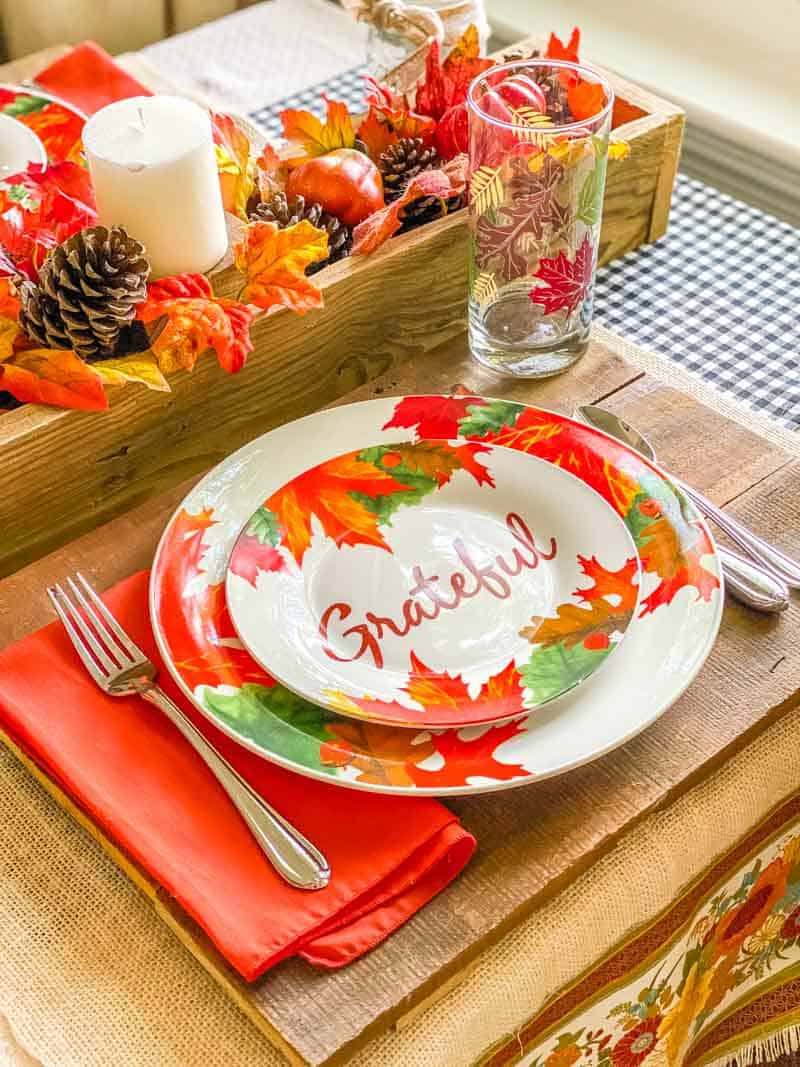 Pumpkins and pine cones, a perfect addition for this DIY rustic wooden box. A white pumpkin here, an orange pumpkin there makes me happy!
5. Throw pillows add layers
Interior designers know throw pillows add layers to any room. I have to admit I gave away a boat load of pillows when I moved! Apparently pillows were one of my many home decor obsessions!
When we got our couch it came with eight pillows. Now I use zipper covers to add interest for each season. (You can buy similar ones here.)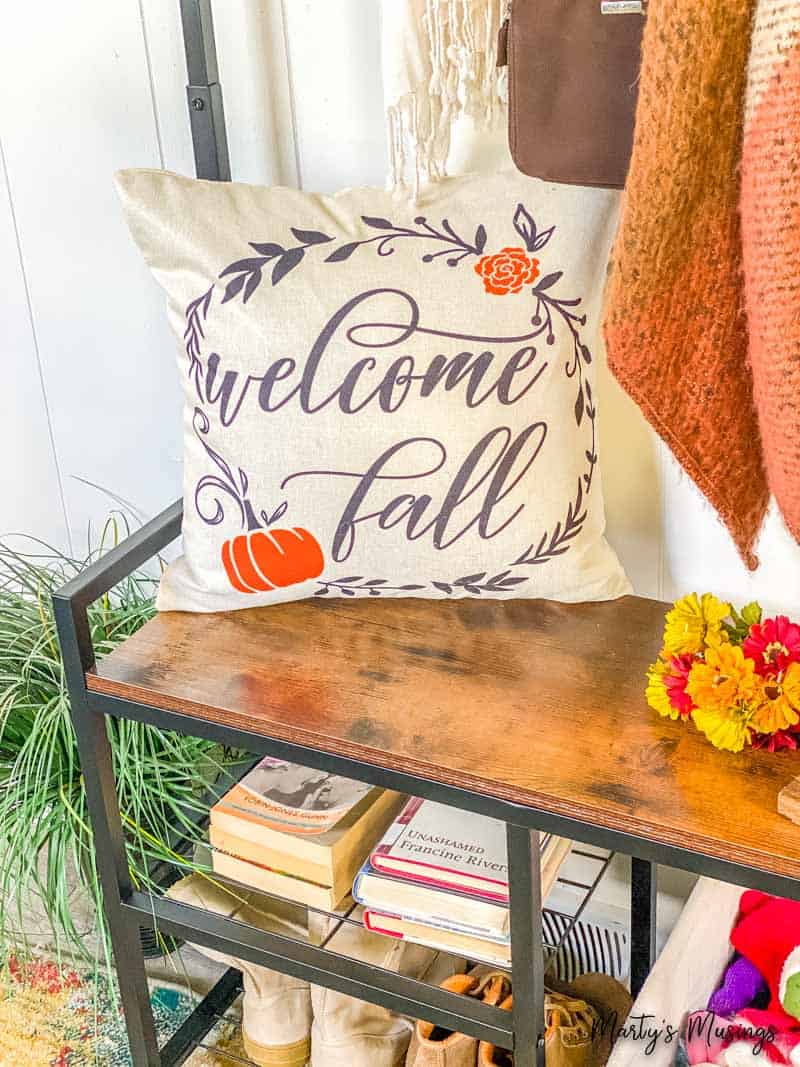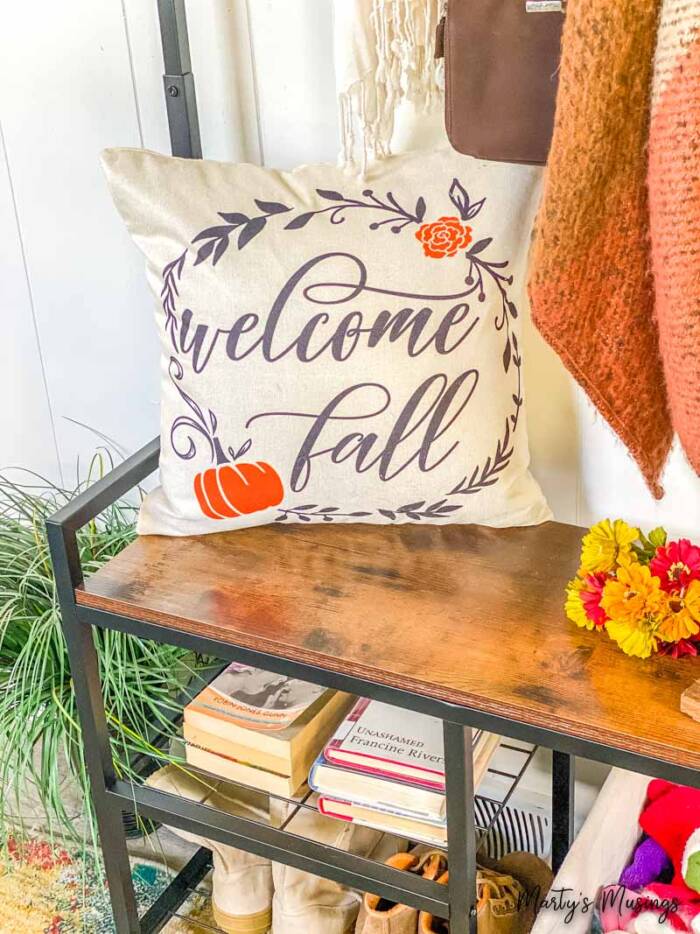 Fall flowers (real or artificial) and a fall wreath are a perfect addition to your cottage home (or any home for that matter!)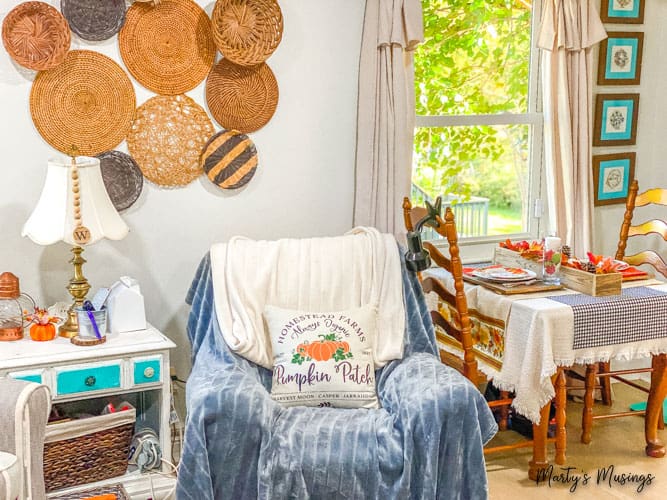 6. Create collections
I knew when I moved that I absolutely had to recreate this basket wall. Entirely made with yard sale finds and thrifty treasures it's such a happy sight when I walk into my living room.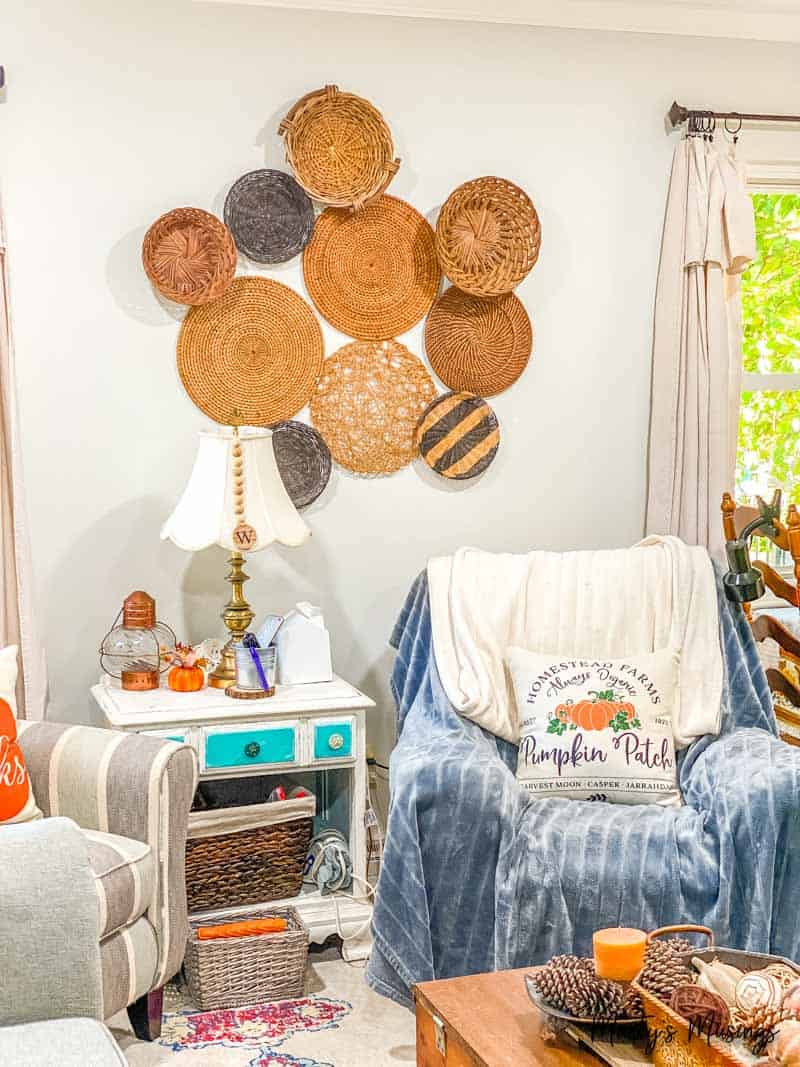 You'll usually find my dog Carson happily curled up in my recliner (or if I'm sitting he's my big lap dog!) He's been such a comfort to me in this season and you'll find him in many of my Instagram stories!
Find a rustic copper basket or bowl and make a collection with faux pumpkins, pine cones and assorted balls. Couldn't be easier or more attractive!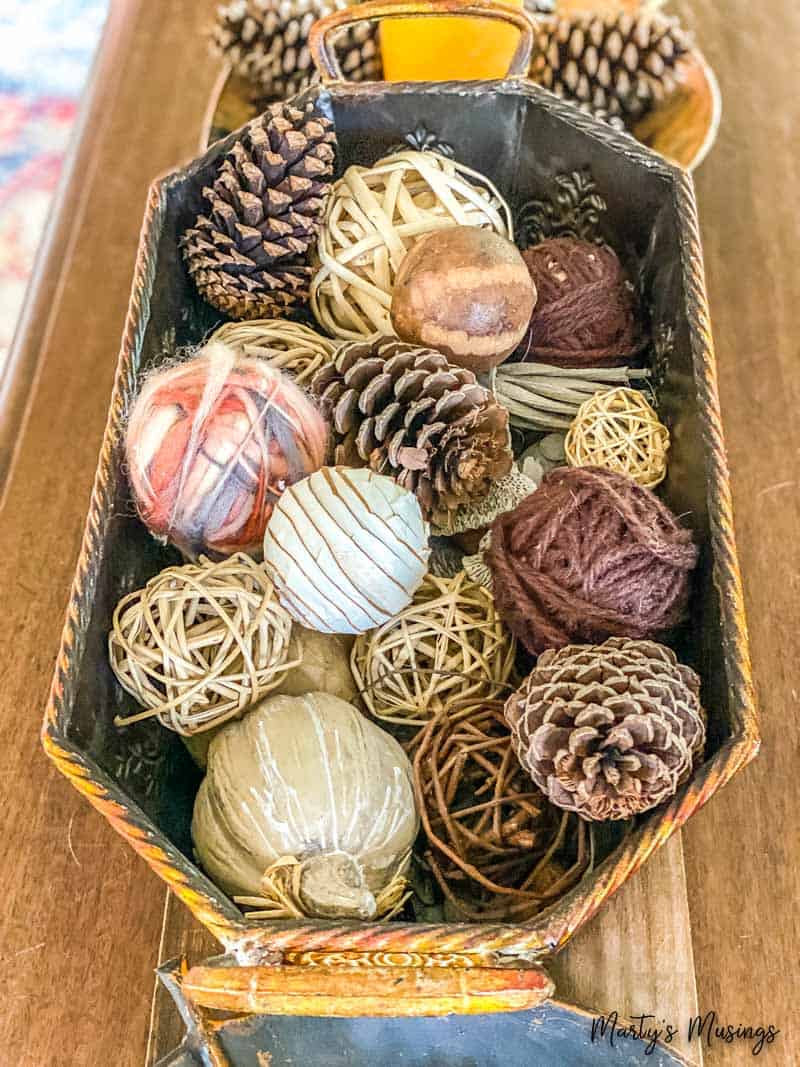 These two metal leaf trays now hold a star shaped pine cone arrangement and fall candle. Be creative and use what you already have, including acorns, pine cones and yarn or burlap balls!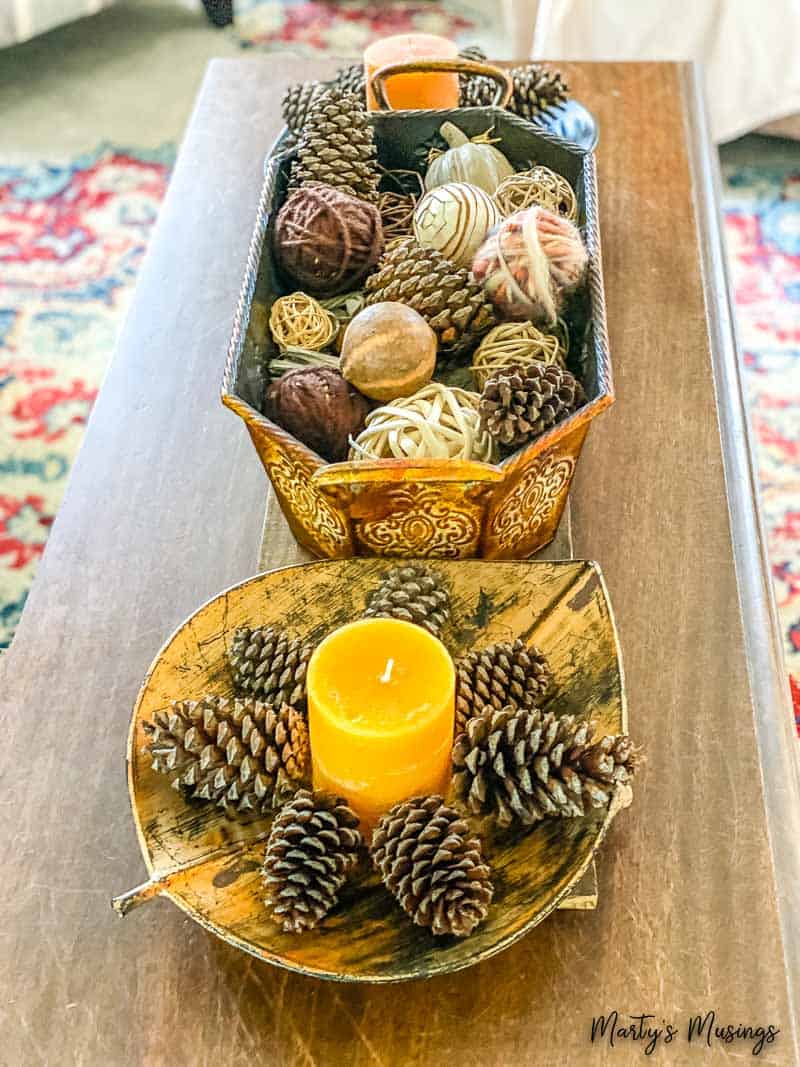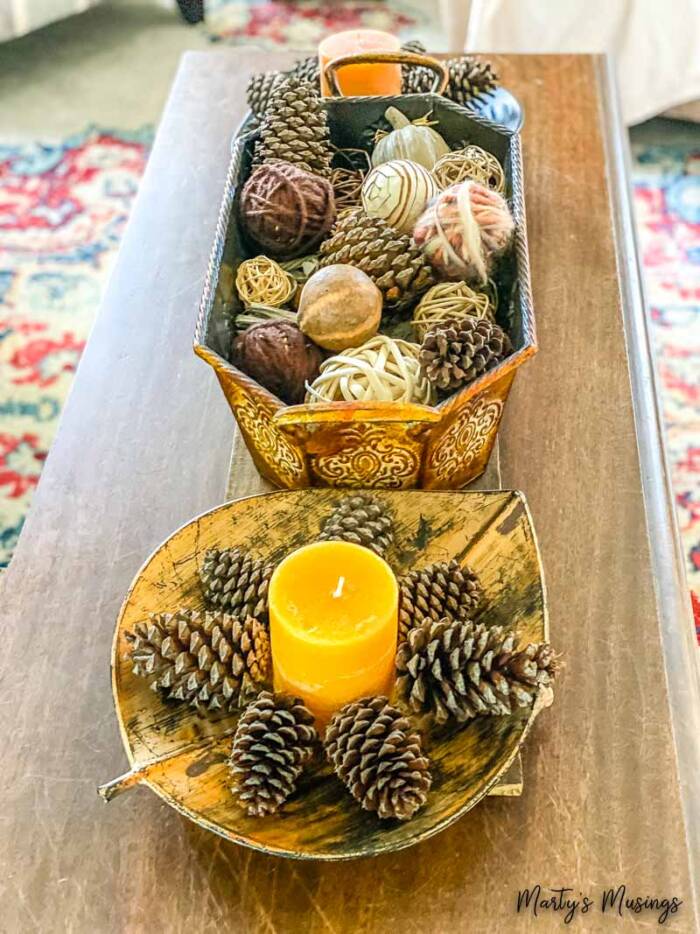 7. Hang a banner or garland
One of my favorite ways to jazz up a room is to hang a rag banner. Such an easy project!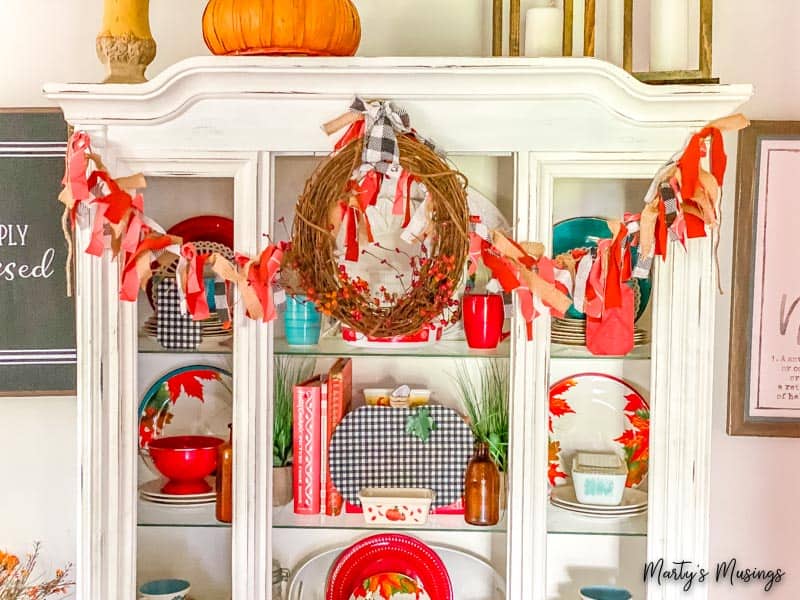 I have people tell me all the time my new home looks so "homey." At first, it felt like an insult. That's what you tell your grandma who makes homemade afghans and chocolate chip cookies.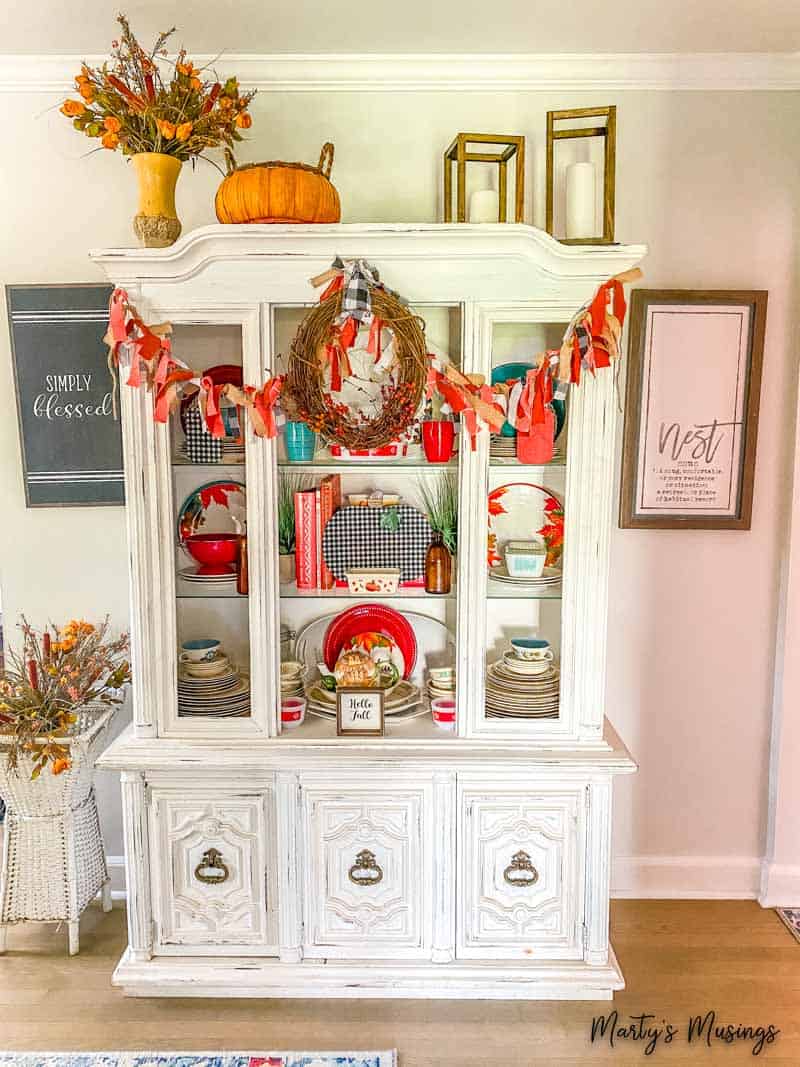 Then I realized it's the ultimate compliment. Home should be a place that feels safe, warm and authentic.
Who cares if it's filled with DIY projects, yard sale finds and dollar store goodies? Not me!
I'm loving my new little cottage and all the ways I've found to create the perfect haven for me and the women who will find warmth and homey hospitality here in the future!
What's your favorite part of my new home?
Cozy Fall Cottage Decor
With this simple guide to fall cottage decor your home will feel instantly cozy, with just enough rustic charm to bring the outside in. 
Instructions
Get a cozy fall blanket for texture.

An easy fall cottage home centerpiece.

Throw pillows add layers.
More Easy Fall Projects