5 Ways to Save Money on Fall Decorating
This post may contain affiliate links which won't change your price but will share some commission.
Great ideas for ways to save money on fall decorating, including tips on buying from thrift stores, using natural elements and shopping your own home!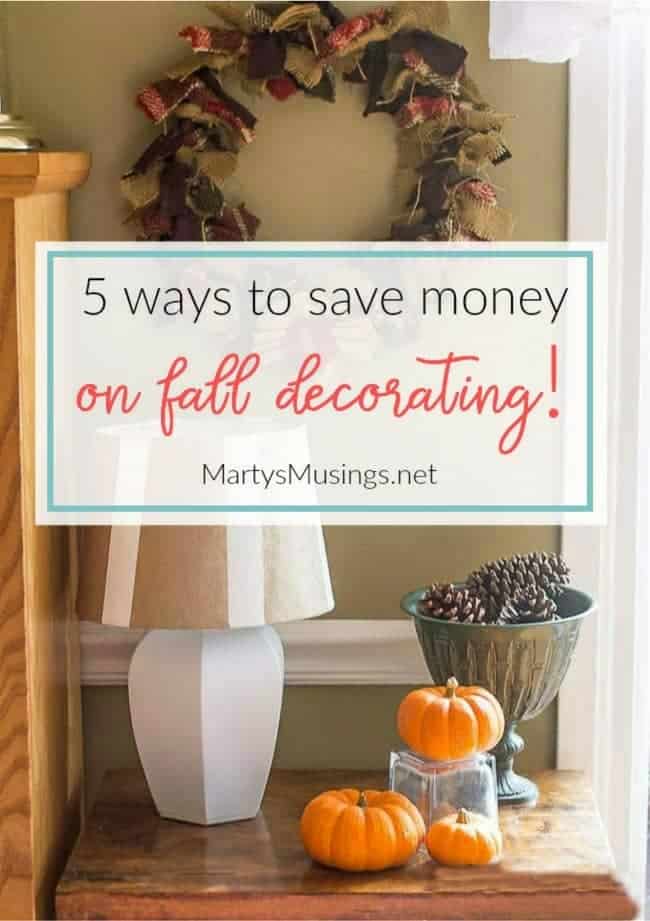 Have you ever wondered why people spend tons of money decorating their homes for every season and holiday of the year?
Me, too!
I have to confess when I started sharing my home on the blog here a few years ago I got caught up in the whirlwind of social media and pretty Pinterest projects. I was chasing perfection and the latest and greatest home decor styles just like everyone else.
By signing up to share my home tour with lots of well known bloggers I was hoping to gain new readers who would come see my pretty little house.
At the same time I was shoving the ugly "real life stuff" that didn't make the photo cut into tubs and moving from room to room, sweating and complaining.
I didn't love my home on those days.
I was critical, looking through the lens of comparison, always falling short.
The joy of my home was lost as well as the blessing of the life God had given me.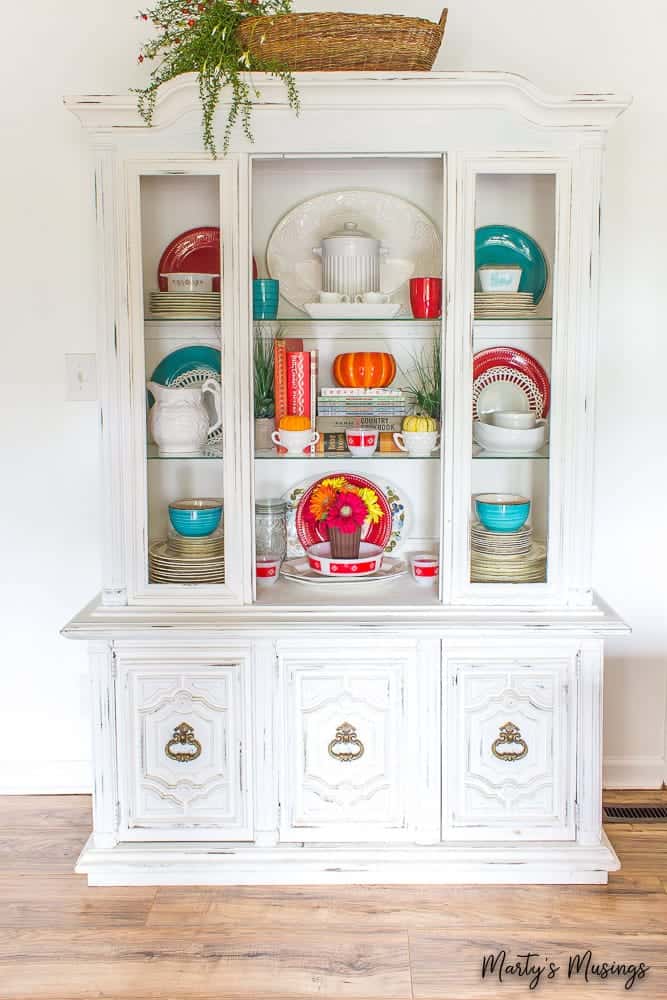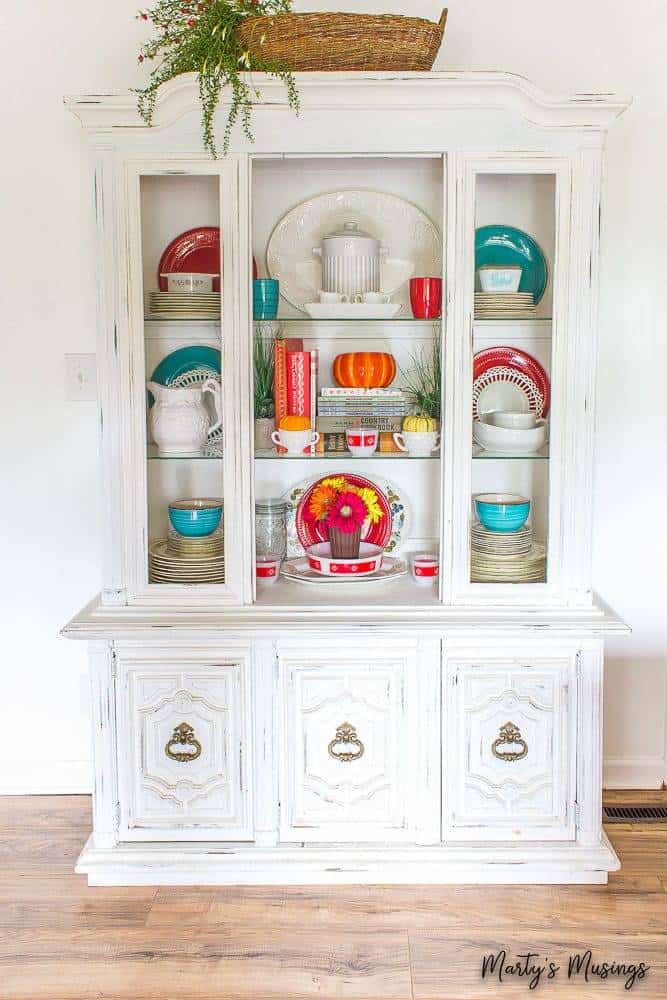 You probably never even notice I rarely do home tours anymore.
Truth is the stress of dragging fall decorations out in August just doesn't appeal to me at this stage of my life.
But here's the kicker: I don't even get asked to participate.
~sad face~
I'm okay with that.
Really.
The beauty of owning my own business is my journey doesn't have to look like everyone else's.
My heart's desire is to help YOU, my favorite people who graciously read this blog, love YOUR home and find contentment there.
When I write about my struggles to find time to decorate, learn to be creative and squeeze money out of the budget, I'm just being transparent!
So instead of some perfectly staged new photos I went back through all my fall posts to find the most inexpensive fall home decor ideas for both of us to use this year.
Here are my best tips to save money on fall decorating which don't require you to totally throw out what you have and redecorate your home from scratch!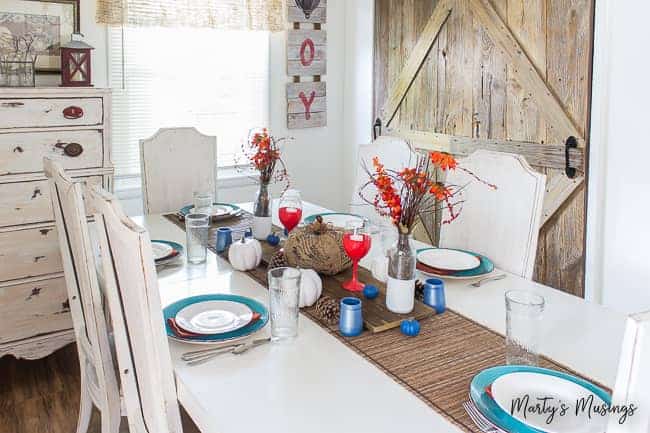 Orange and blue fall table decorations
Want to save money on fall decorating? Try these tips!
Use what you already own in a new way and think outside the box!
Bring in natural elements.
Shop thrift stores and yard sales.
Purchase wisely using coupons and sales.
Remember less is more.
5 Ways to Save Money on Fall Decorating
If you'd rather watch a video here it is!
1. Use what you already own in a new way and think outside the box.
I store my out of season home decor in the attic but sometimes all it takes is a walk around my house to repurpose some goodies for the next season.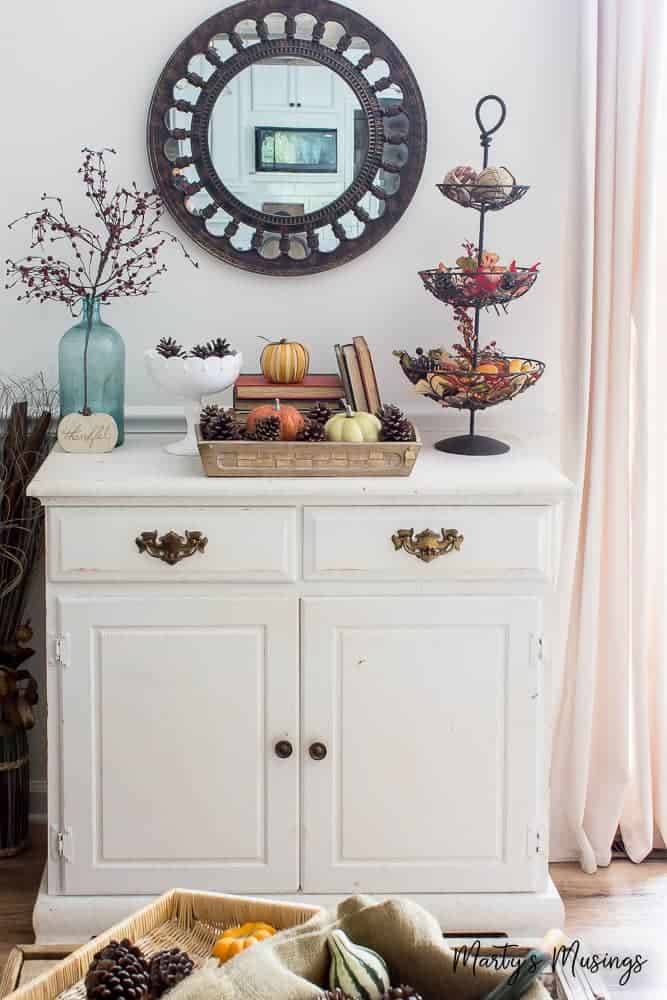 Easy fall decorating ideas for under $10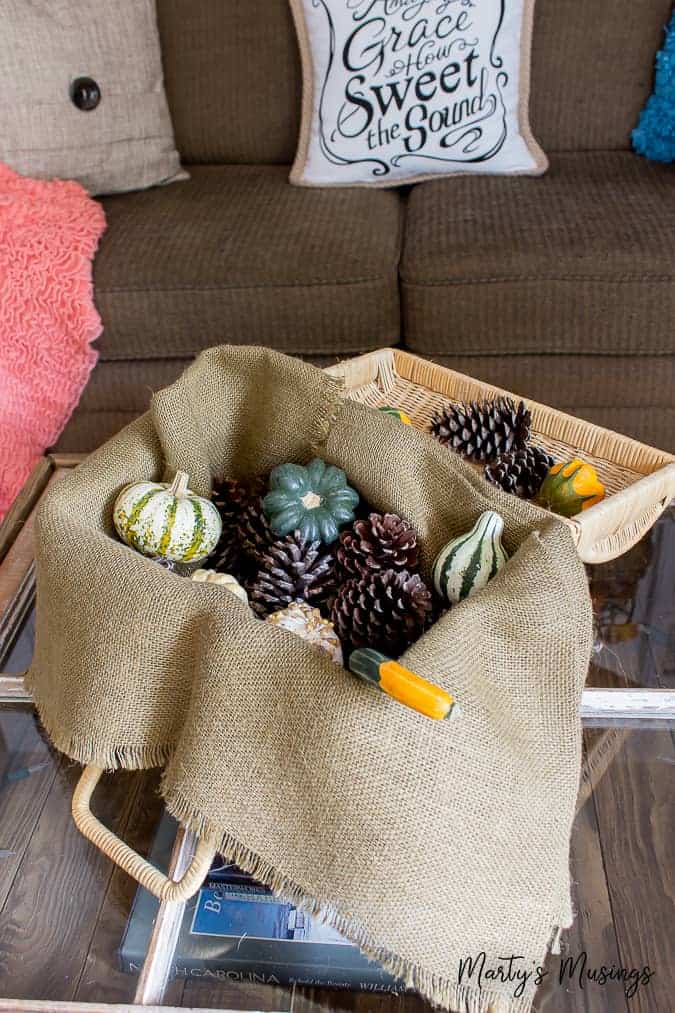 These white candle holders have been used to hold everything from burlap wrapped candles, Valentine decorations to candles at my daughter's wedding.
What could be simpler than mini pumpkins for these spray painted holders?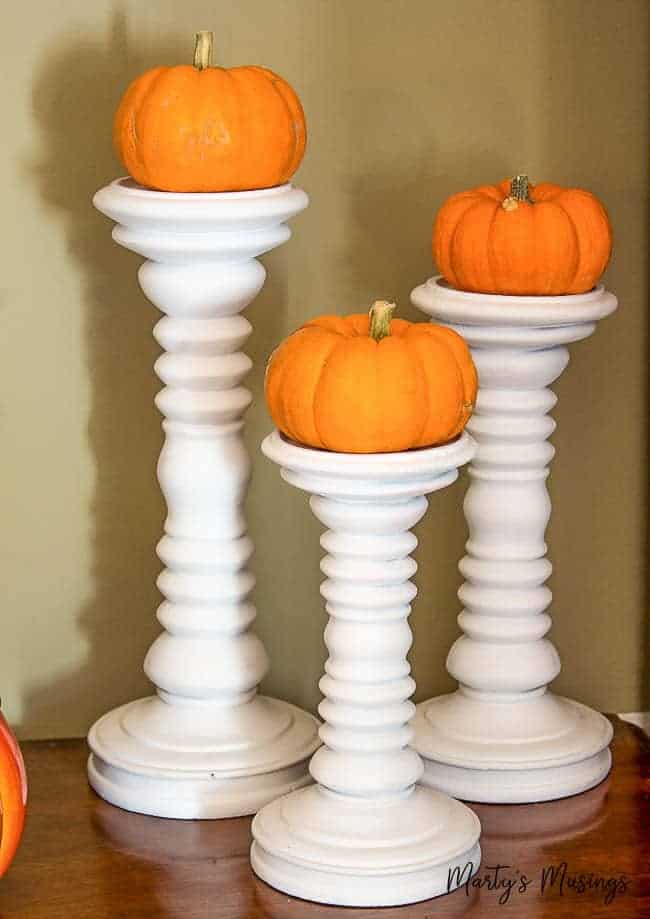 One of my favorite tricks for repurposing old candles is to wrap them in fabric and pin in place with decorative brads. (Whatever you do, DON'T LIGHT THEM!)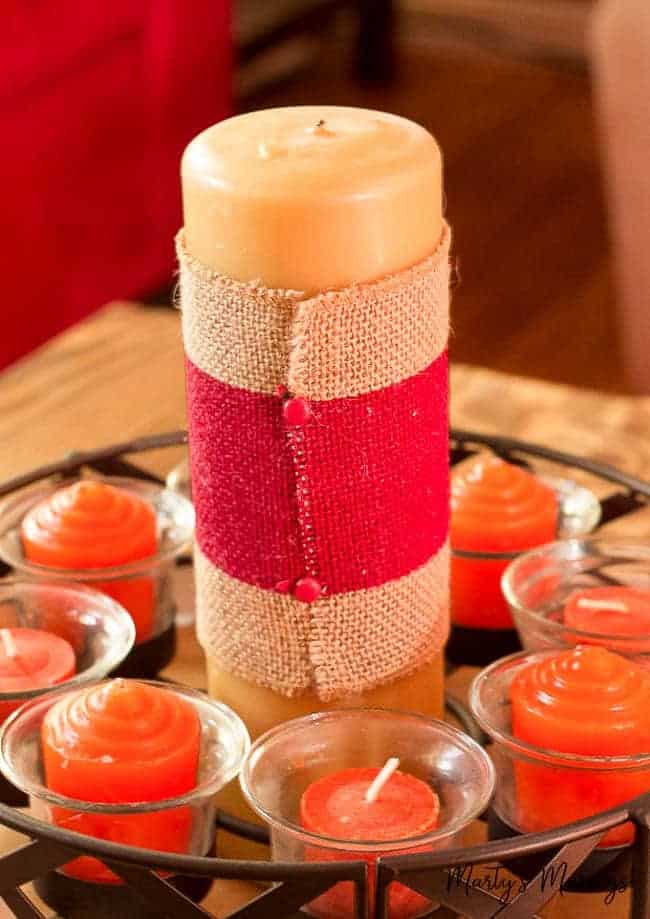 This 3-tiered stand is perfect for any season and here I mixed in both real and artificial pumpkins, gourds and greenery.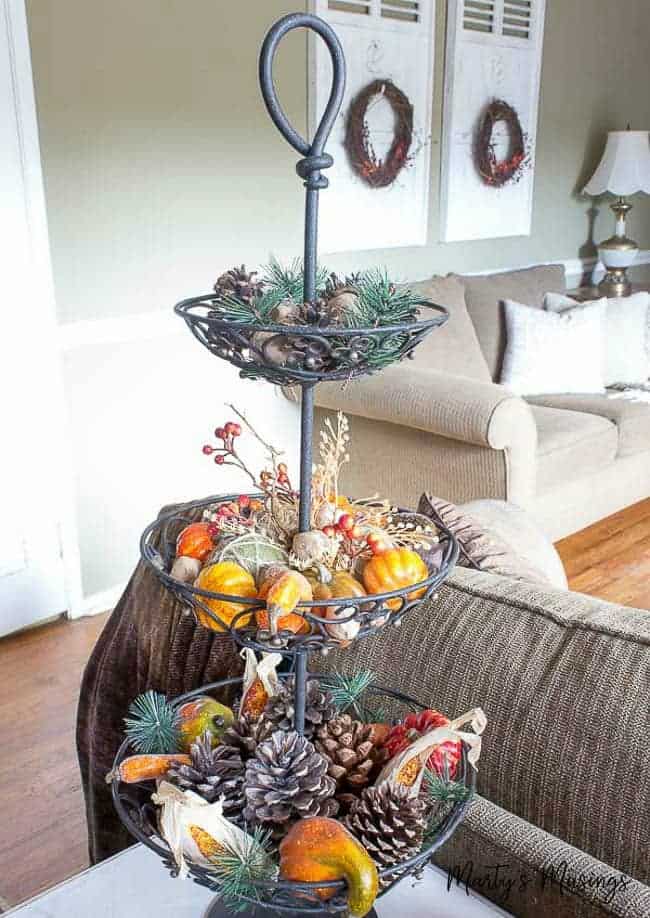 Are these pumpkins real or fake? You'll have to check out this oh so easy craft project to find out!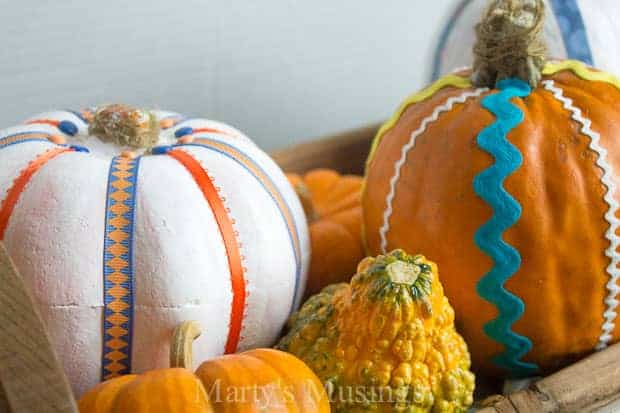 Burlap wreaths have been the rage for a while now but how about adding a couple of items from the dollar store for a brand new seasonal greeting for your front door?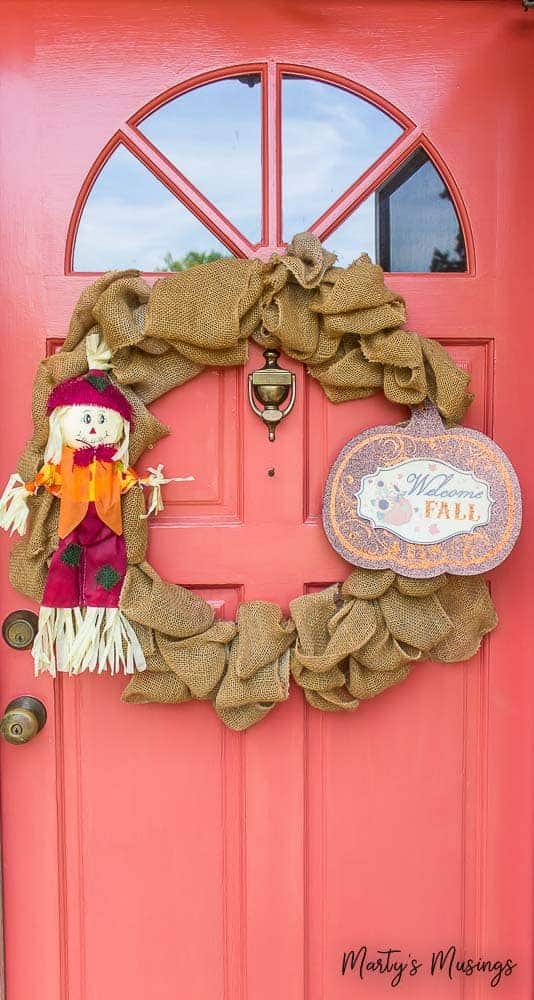 5 minute dollar store burlap wreath
2. Bring in natural elements.
What could be easier and cheaper than going outside and bringing in free ingredients from nature? Whether that's pinecones, branches, leaves, acorns or whatever is native to your area of the world, take a walk and discover the beauty that's right outside your door!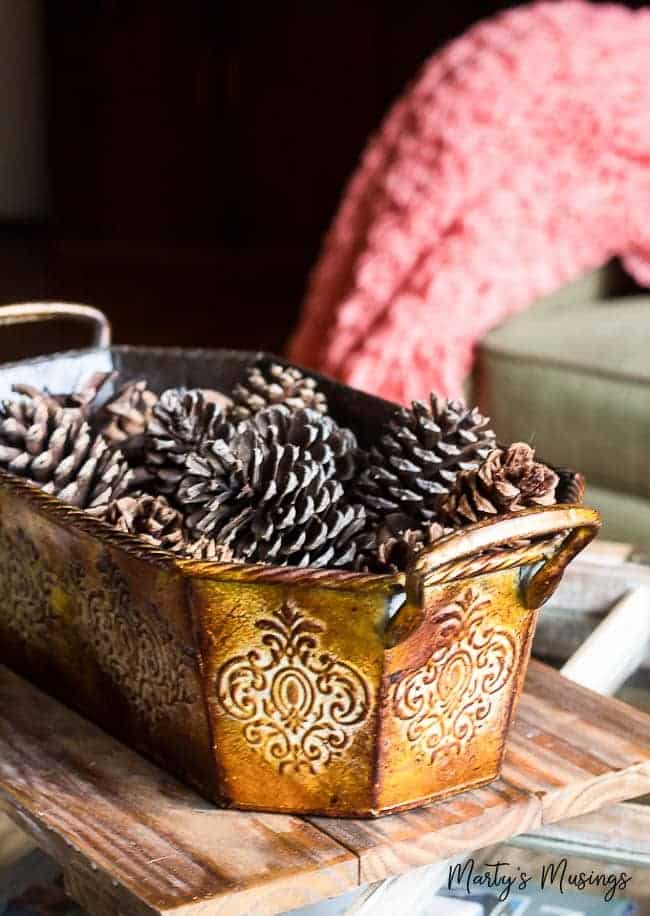 A thrifted picnic basket, a bit of burlap with pine cones and mini pumpkins make an easy table arrangement.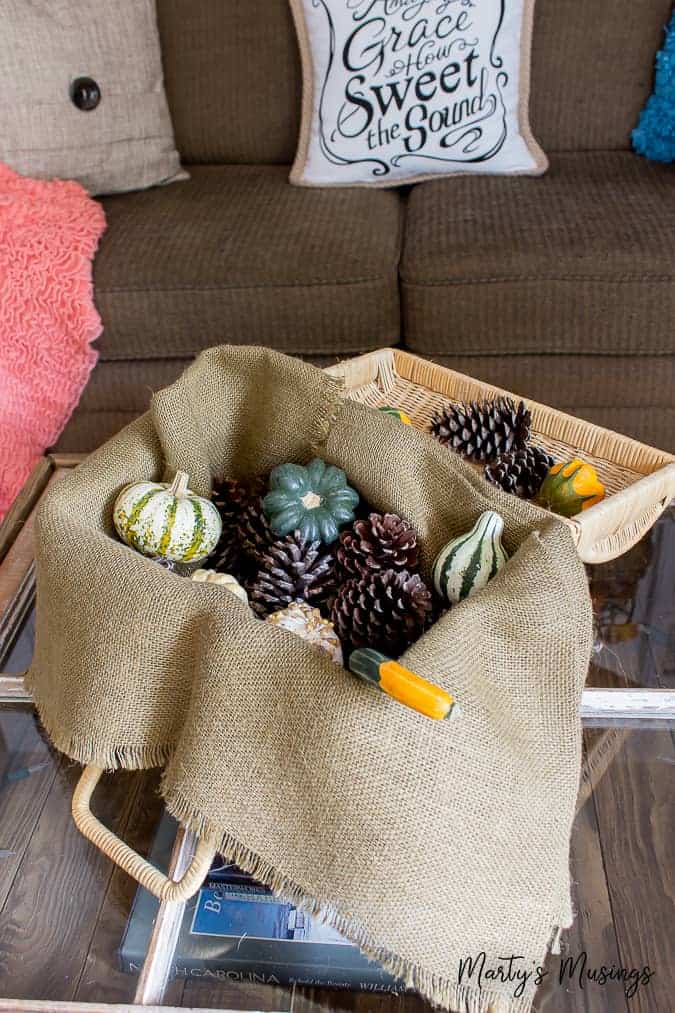 Most of the time we're just limited by our imagination and this pinecone door hanger is an example of thinking outside the box. So simple but so unique!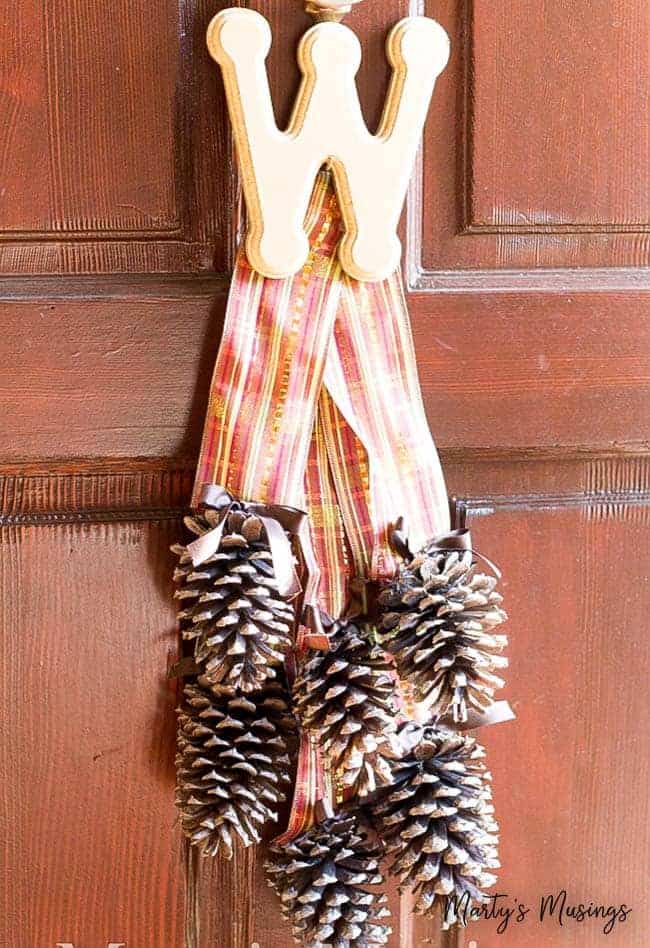 Still one of my favorite projects, this rustic log candle holder gets used for different seasons in my home. Whether it stands alone in a vignette or decorated as a centerpiece like below, it lends a rustic touch to the any season.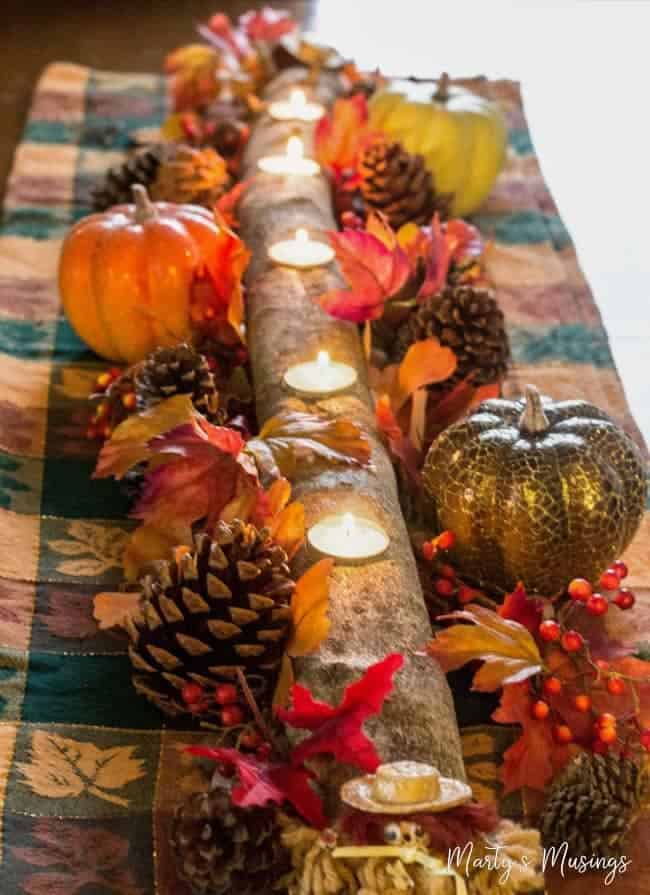 3. Shop thrift stores and yard sales.
Y'all know this is my favorite thing to do! This large mason jar was a $1 yard sale find and is filled with balls of yarn, pine cones and acorns.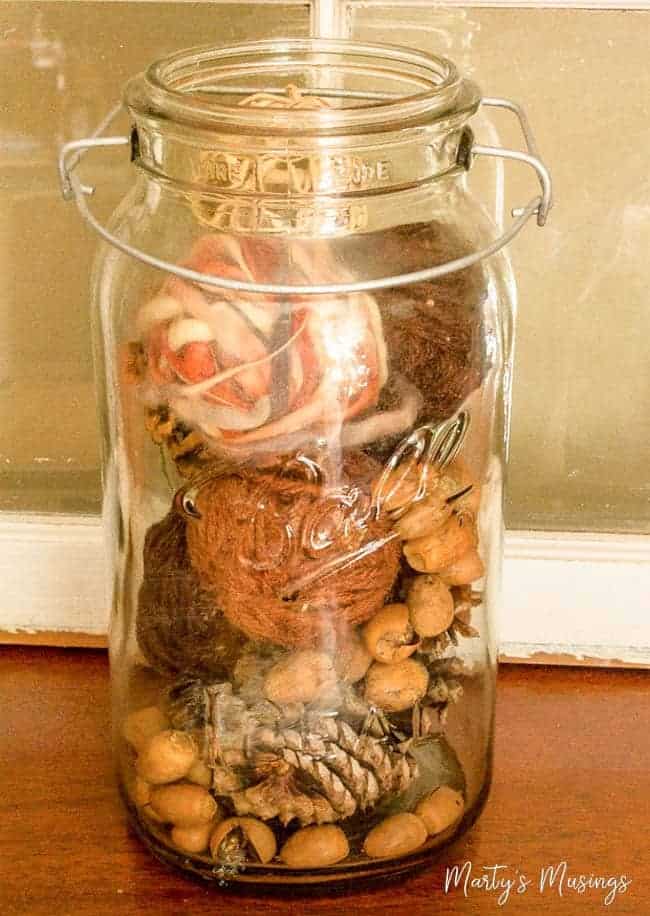 Fall decorating ideas and home tour
Here the oversized jar is used again as part of a fall vignette. So simple AND thrifty!

Believe it or not, I found the flowers and grapevine wreath at a yard sale and put them together with these wooden blocks for an adorable front door arrangement.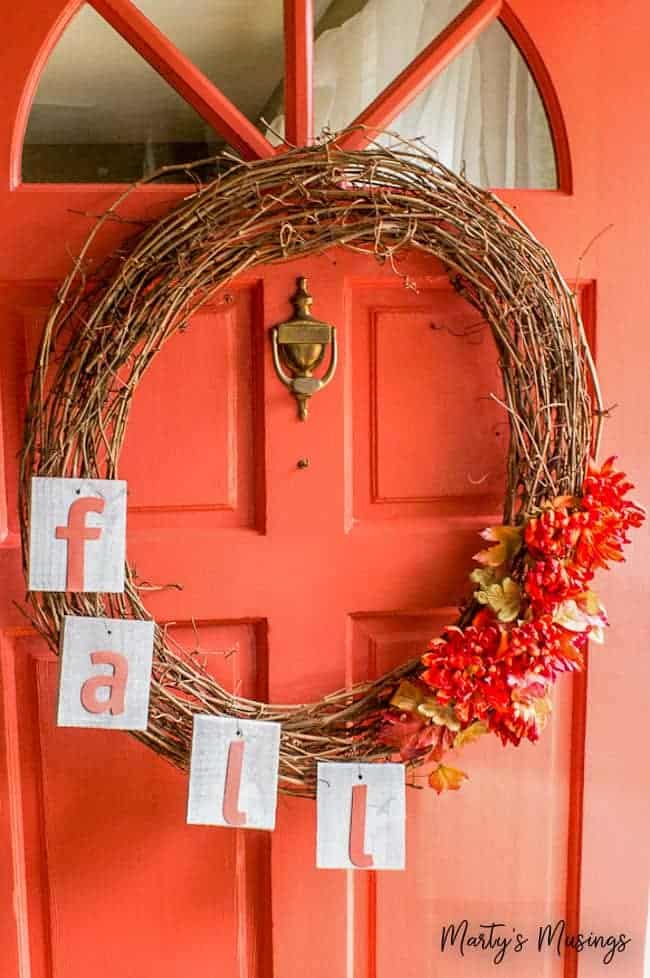 Although I'm not much of a wreath maker, I did create this fabric rag wreath with some old clothes, burlap and a wire coat hanger. Totally doable!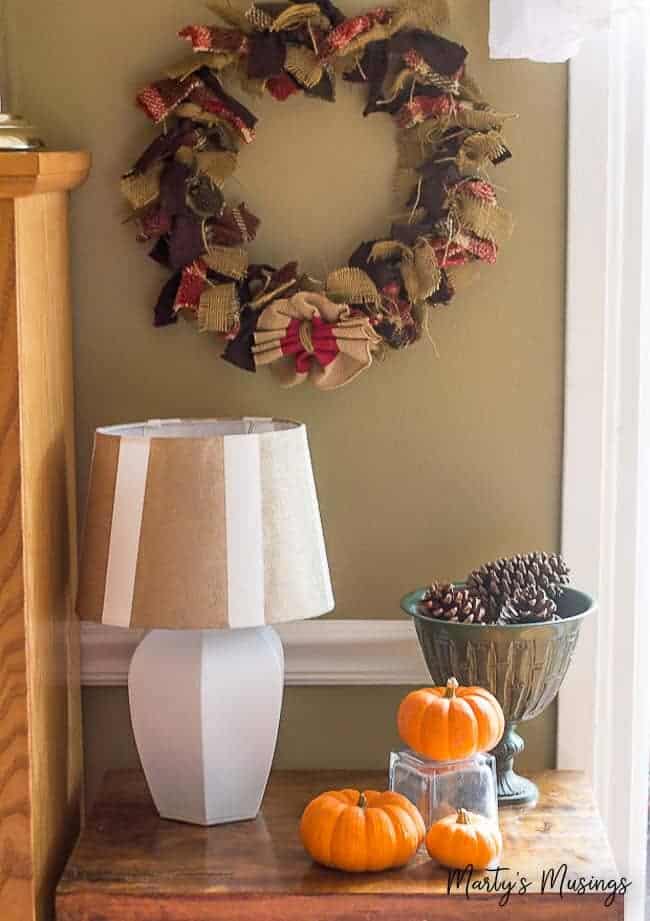 4. Purchase wisely using coupons and sales.
It's probably not possible to buy all your home decor and accessories without shopping at least a few "real" stores. But when you do, arm yourself with coupons and know when to buy!
I would include the dollar store as a favorite place to pickup a few fall items. This table setting and centerpiece was a total dollar store score!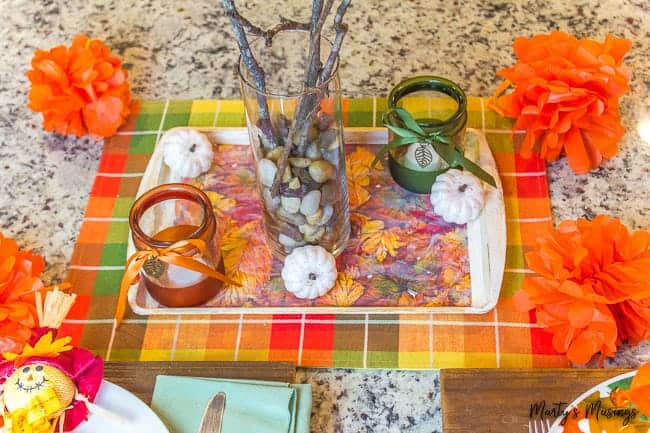 Easy dollar store fall table decorations
Most craft stores offer weekly coupons and carry a lot of seasonal decor items. Also purchase end of season items at drastically reduced prices and save for the following year.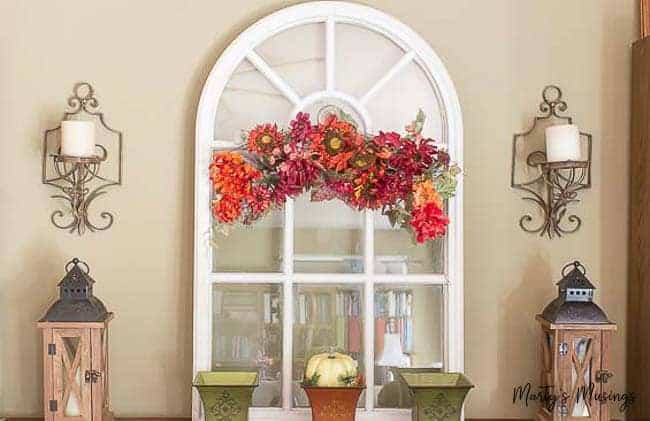 Fall decorating ideas for under $10
I like to mix in my own china with dollar store seasonal glasses or plates for a beautiful fall table. These inexpensive lanterns came from Big Lots and I use them everywhere in my home!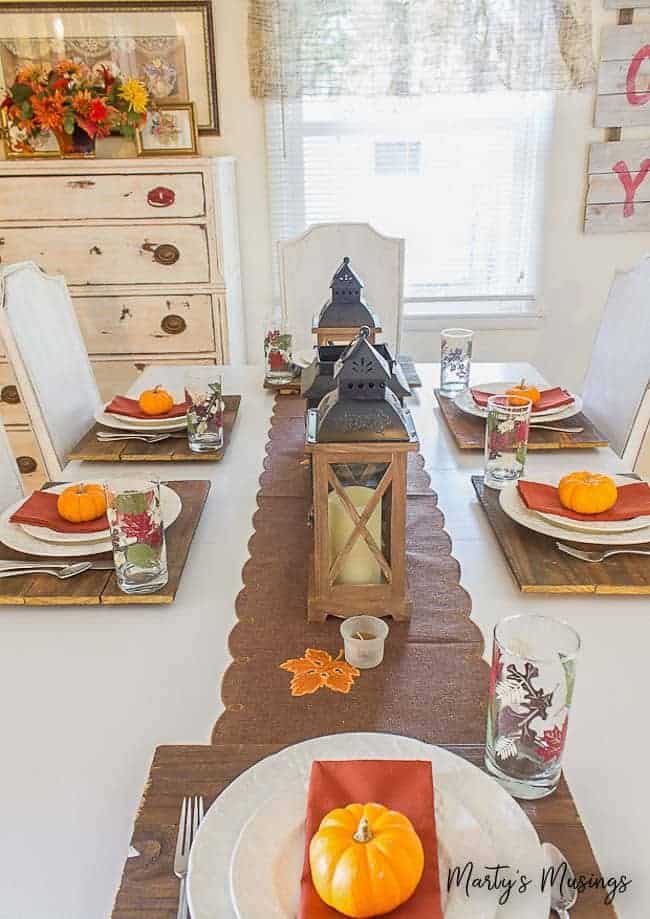 Rustic fall table (and pumpkin bread recipe!)
5. Remember less is more.
I'm a gal who loves decorating for the seasons but somehow I'm discovering the gift of the "less is more" philosophy.
Well placed accessories with a purpose look better than lots of little knick knacks stuck everywhere "just because."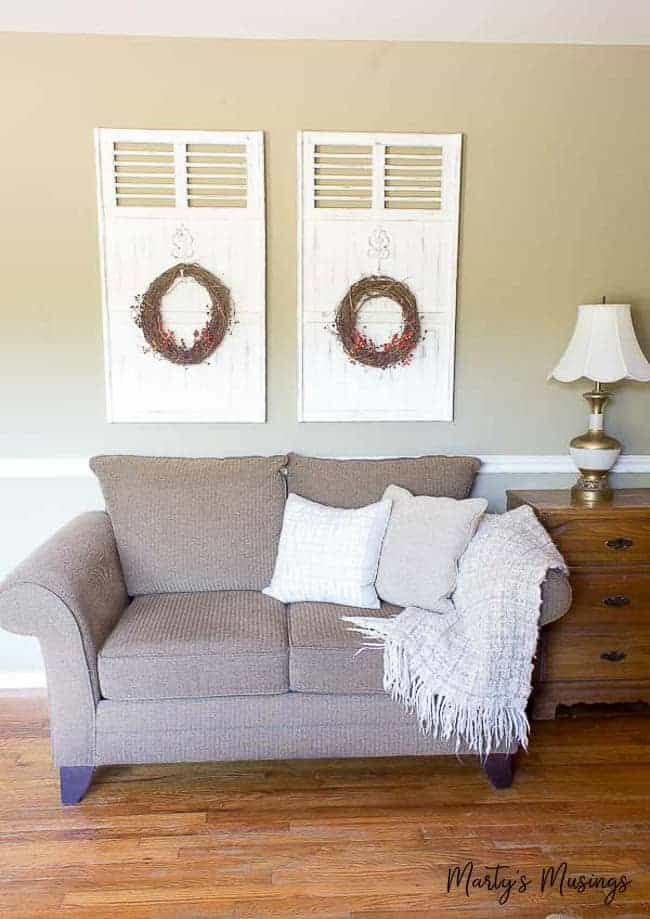 Y'all, that little tip has been a long time coming for me. In the past I loved collecting everything from teapots, to miniature teasets, to my Christmas village display.
But I'm here to tell you letting go of much of the "stuff" is freeing.
This easy candy corn banner I made out of paper plates is simple yet perfect for the season.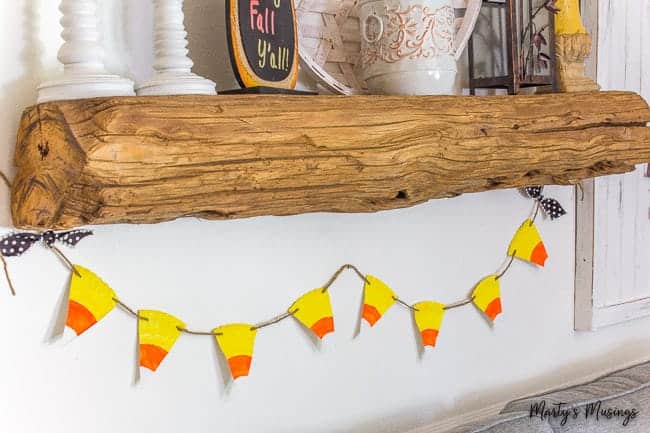 Adding a free chalkboard printable to a frame or using it as a guide like I did is so simple!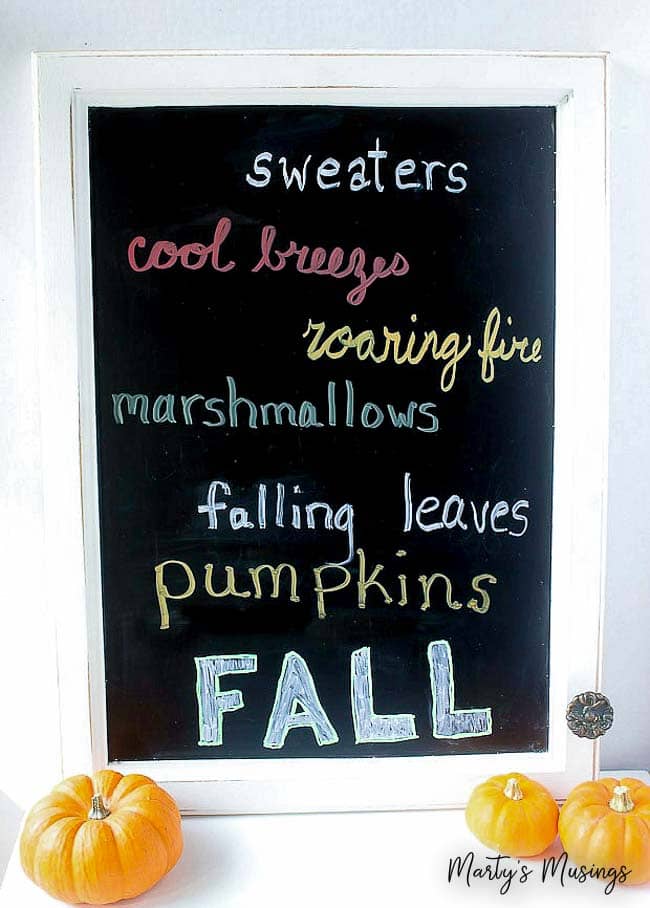 Celebrating the seasons should bring us joy, not weigh us down with one more responsibility for the to do list.
As you decide how to save money on fall decorating remember your time is valuable as well.
Happy fall y'all!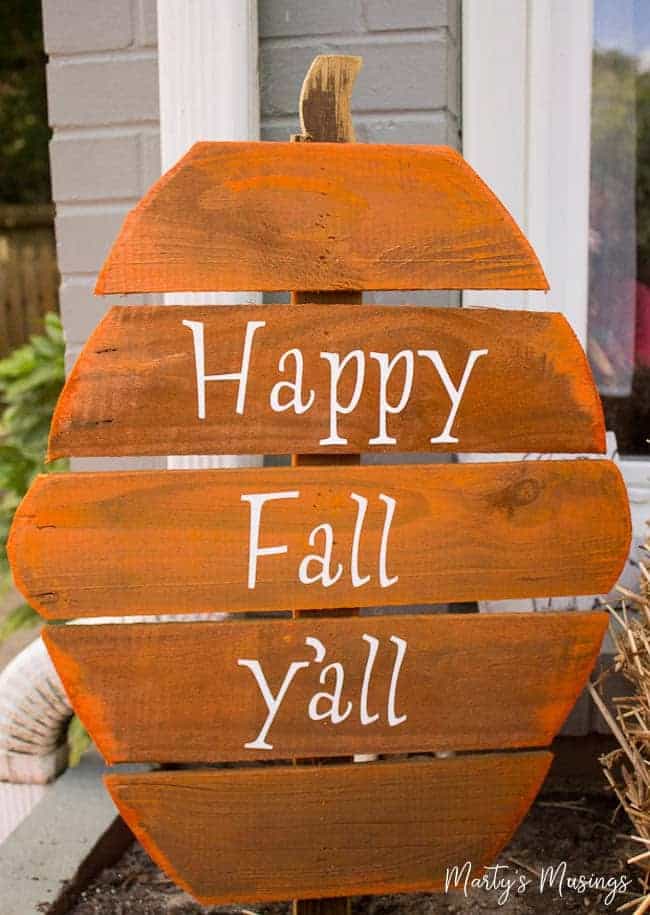 DIY rustic fence board pumpkins
Home Decor Sources:
I realize that not everyone has the time to implement all these strategies! To be helpful I searched for some alternative home decor "look alike's" to help you with your shopping!
Sunflower and pumpkin swag
Farmhouse fall wreaths
Burlap table runner
Rustic lantern
Fall pillow covers