Easy Fall Decorating Ideas on a Budget!
This post may contain affiliate links which won't change your price but will share some commission. Read more here.
With just a few practical tips you'll be on your way to a beautiful fall home. These easy fall decorating ideas are both inexpensive and simple to do!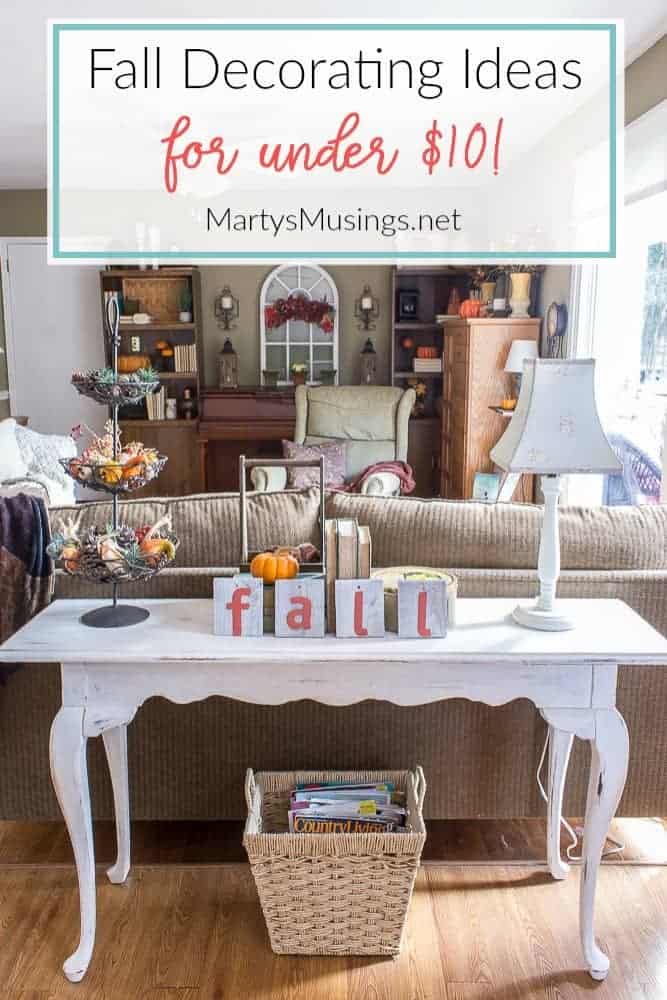 The breeze blows gently through my hair, the leaves crunch under my feet and the air feels crisp and fresh this morning.
I clasp a mug of my favorite Instant Russian Tea and my heart beats faster.
It's finally TIME!
My favorite season of the year is here!
Actually, it began a few days ago but here in NC the little invisible person on my weather app didn't get the message.
Fall arrived and the hot temperatures remained while my brain was immersed in work, parenting and a new grand baby!
As for my home? Until a few days ago there was a "Summer's Here" sign on the front door.
Yep. I'm a DIY home decor blogger doing everything backwards this year.
My "seem to always have it together" blogging friends put their fall decor up in August and were frantically scouring the countryside for pumpkins.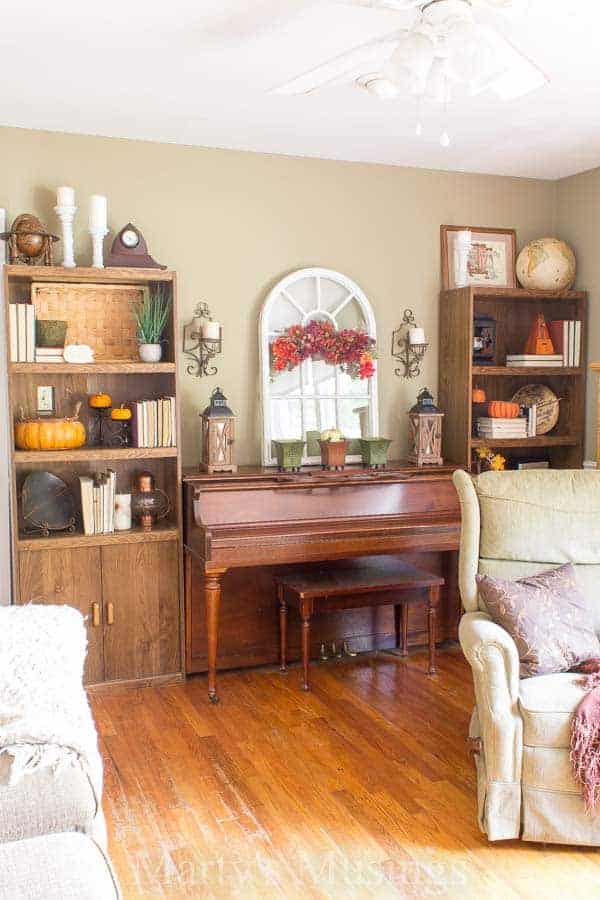 I.just.couldn't.do.it.
Not this year, folks.
Sometimes you just gotta go against the tide and stand alone.
Am I singing your song right about now?
Good intentions, Pinterest boards full of great fall decorating ideas and all that jazz.
Maybe you even purchased some craft supplies for you and the kids to make together because they were JUST SO DARN CUTE (like this Candy Corn Banner made from a paper plate!)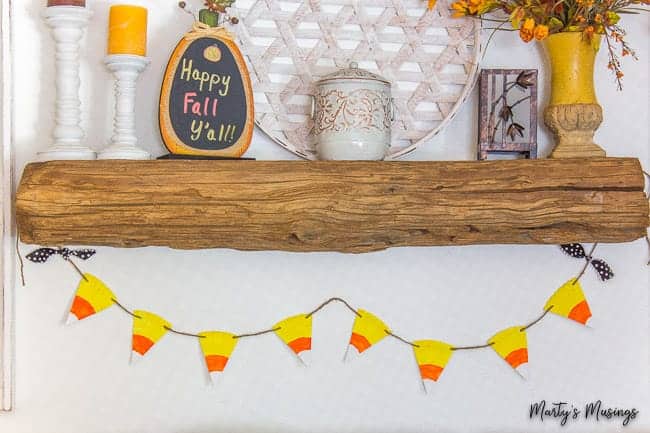 It's ok if you didn't get it done. Life happens. A lot.
Give yourself a break today and let's just do this together, with a few easy fall decorating ideas for under $10.
NO GUILT DECORATING. That's my motto this year.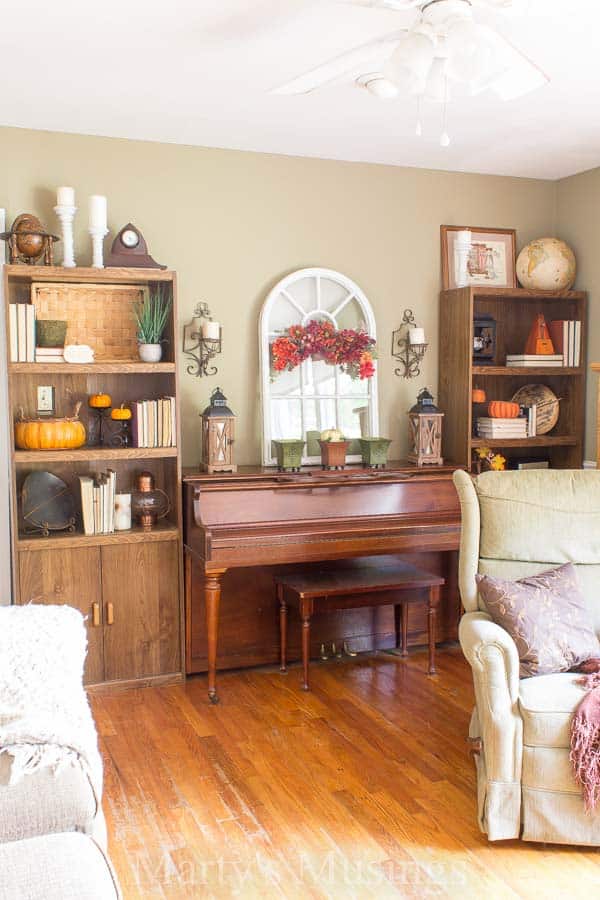 So many of you want to know how to decorate while staying within a budget so here's how I do it.
Easy Fall Decorating Ideas for Under $10
Tip 1. Use what you already have.
I love using everyday elements with a few seasonal touches. Below I just added pinecones, pumpkins and greenery to decor I already owned.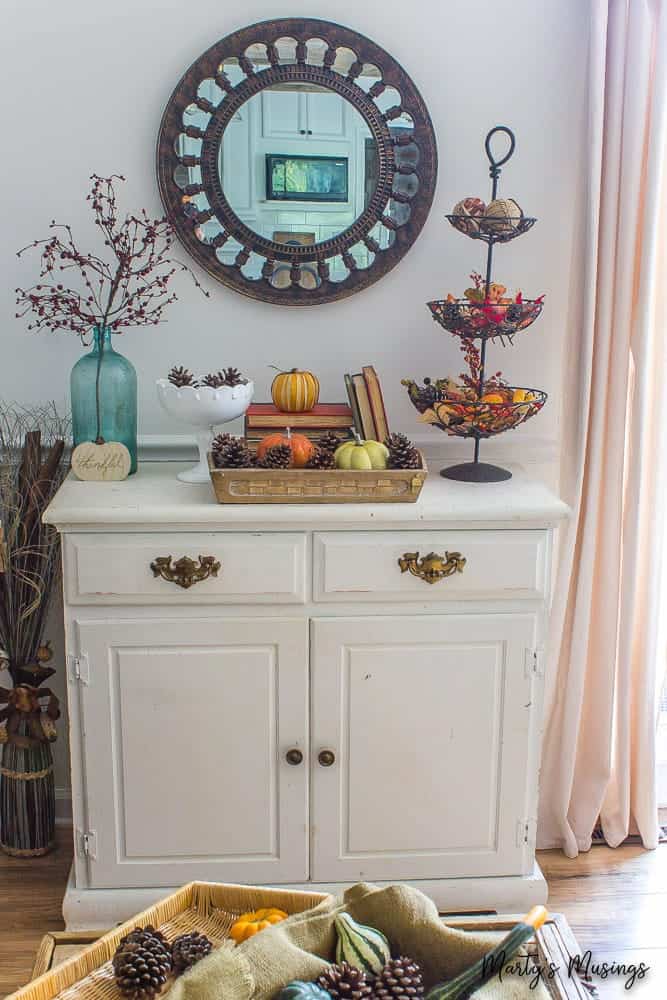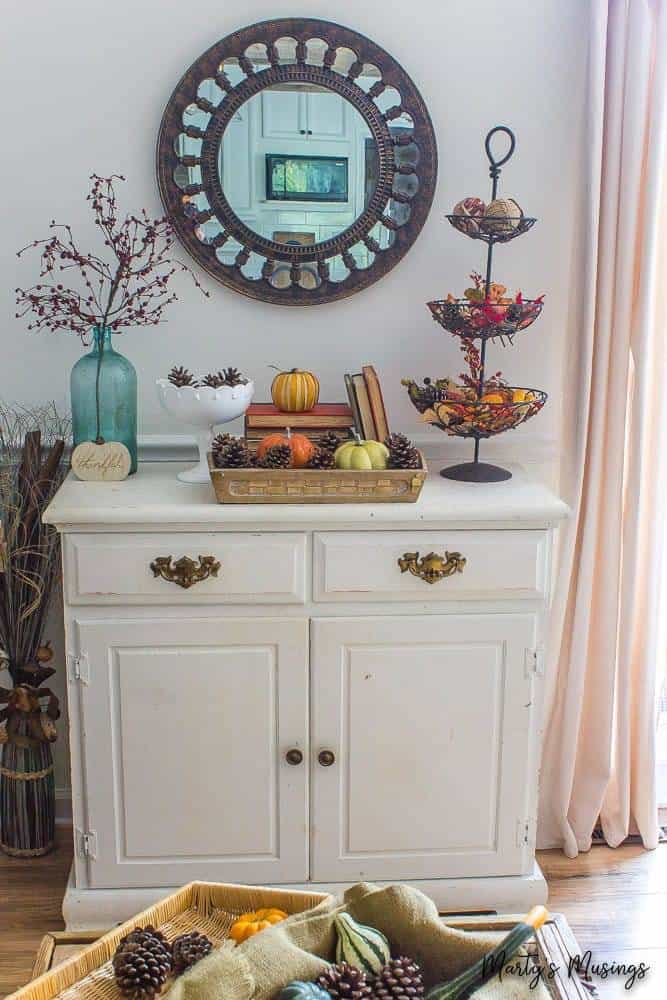 My china hutch is one of the easiest places to decorate. I already use red and aqua so I just added a couple of pumpkin elements to the mix.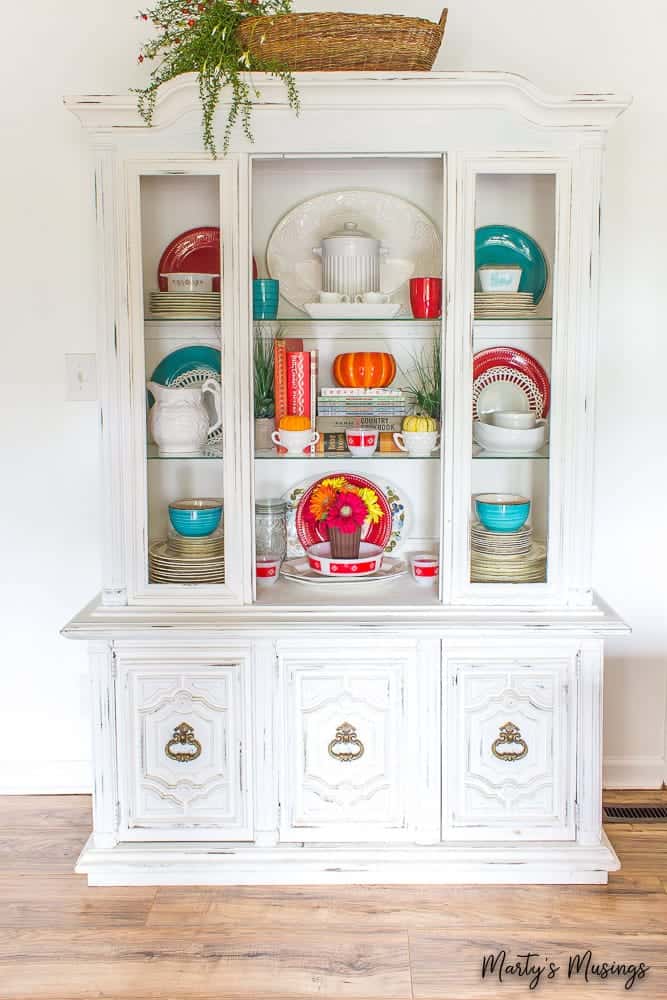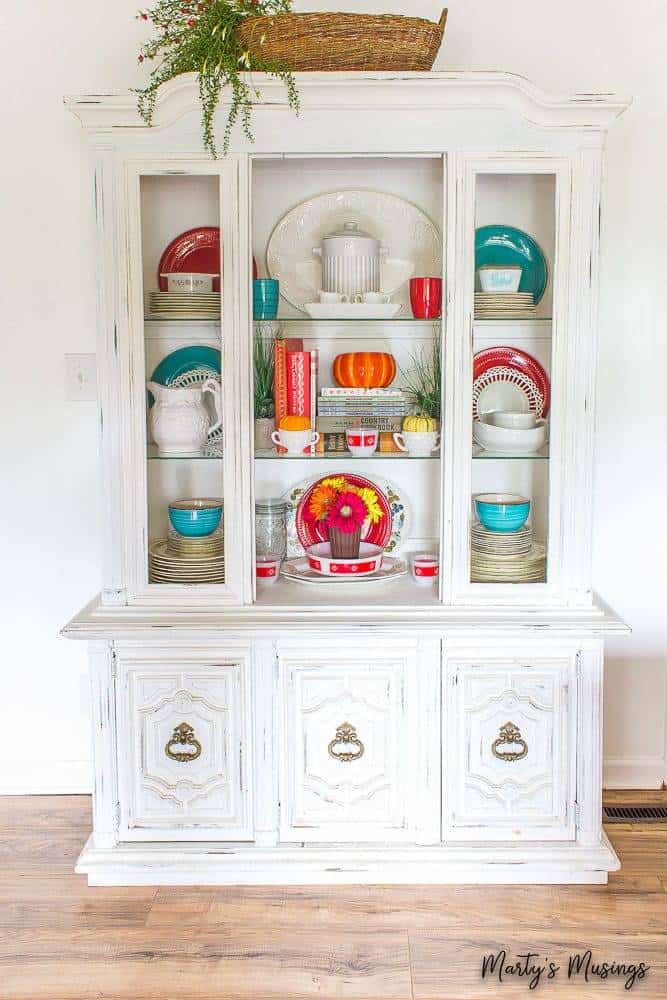 Before we remodeled, this vignette by my front door was one of my favorite places to dress for the season. But since I was short on time I just kept the books stacked like they were and added the fall wooden letters (stolen from this easy DIY wreath project!)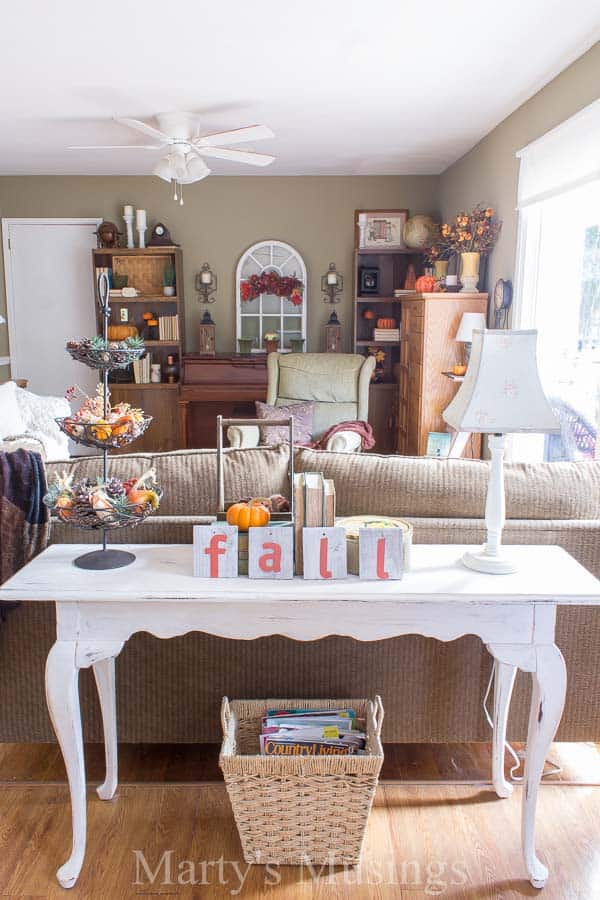 Have a few old books? Turn them backwards and use them as part of a vignette!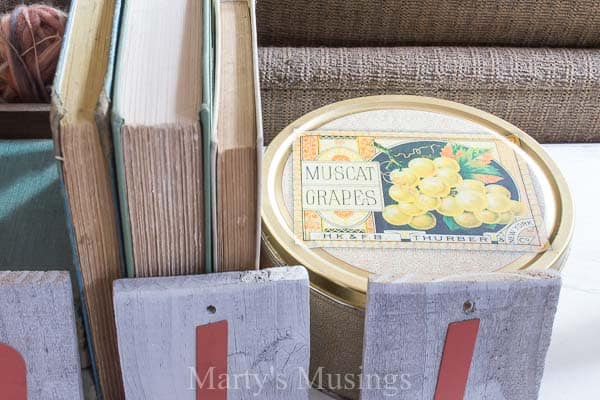 2. Add inexpensive natural elements.
I'm a big fan of adding small pumpkins and gourds to your decorations. They're inexpensive and easily available once the season is in full swing. Plus, they come in many colors these days!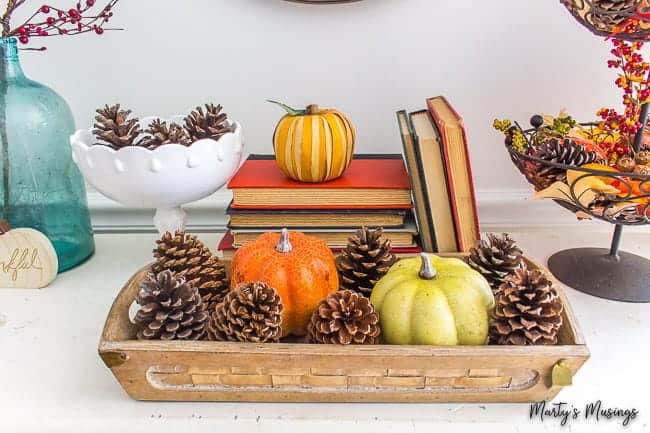 For this 3-tiered yard sale tray I added artificial pumpkins (bought on sale at the end of the previous year) with pinecones, one of the cheapest and easiest natural elements!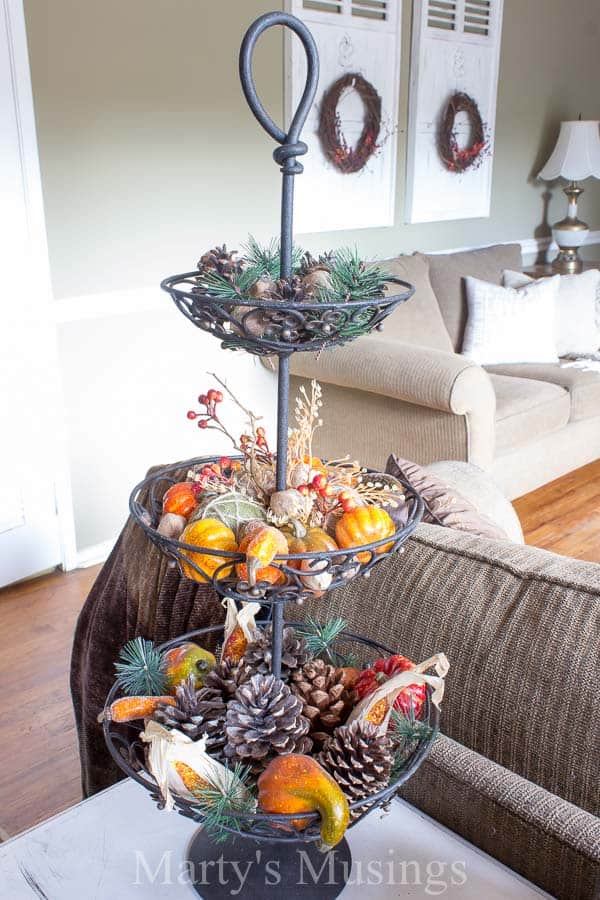 Gather a few pine cones with a bright colored ribbon and hang them on your front door!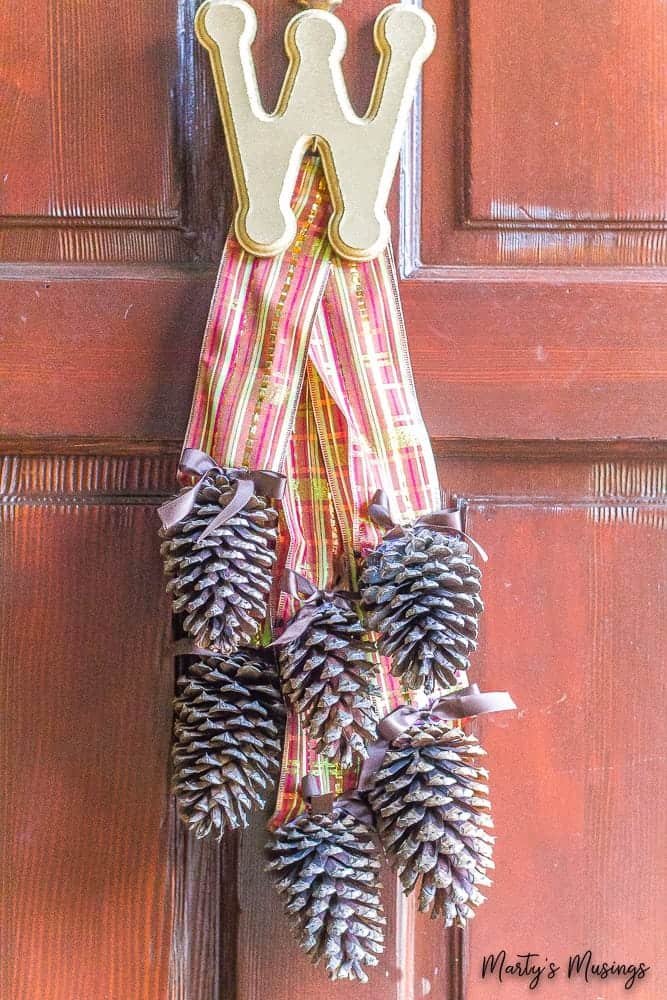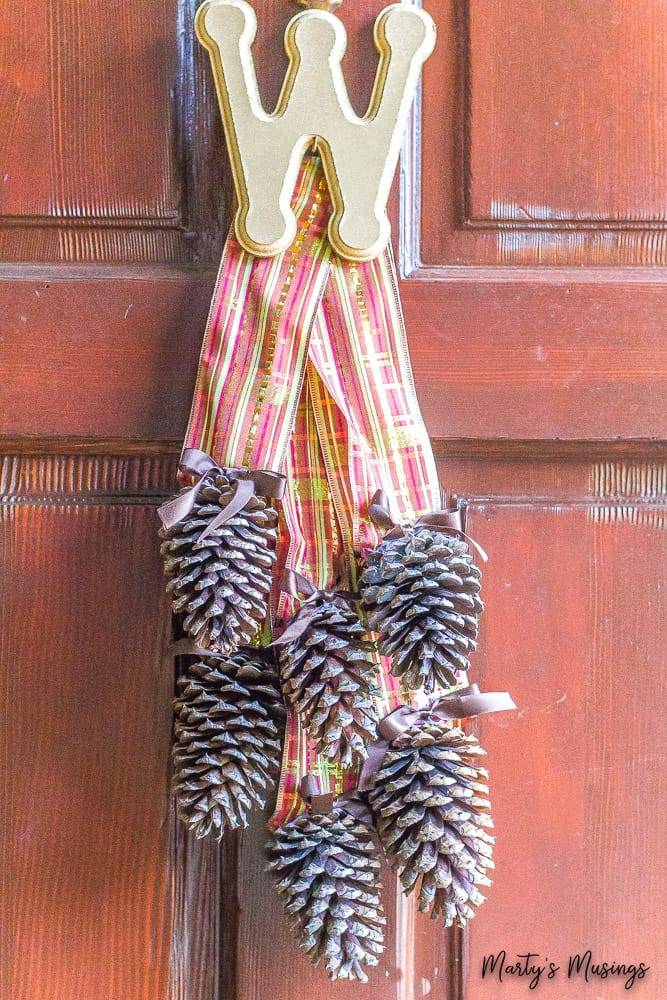 Have a favorite container? Add a few pine cones to an unusual basket or something similar to this copper tin.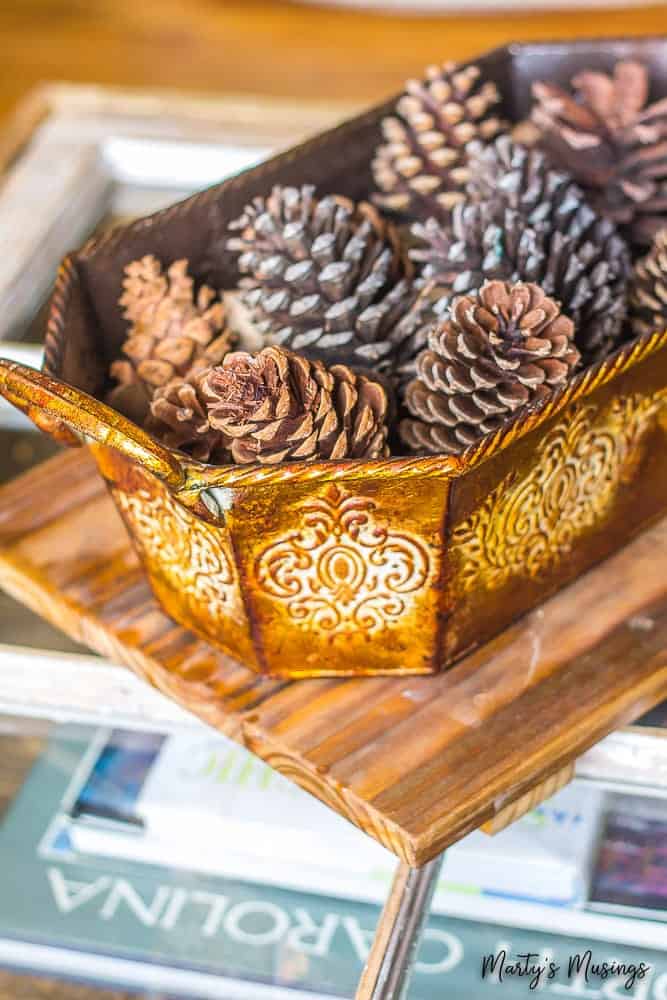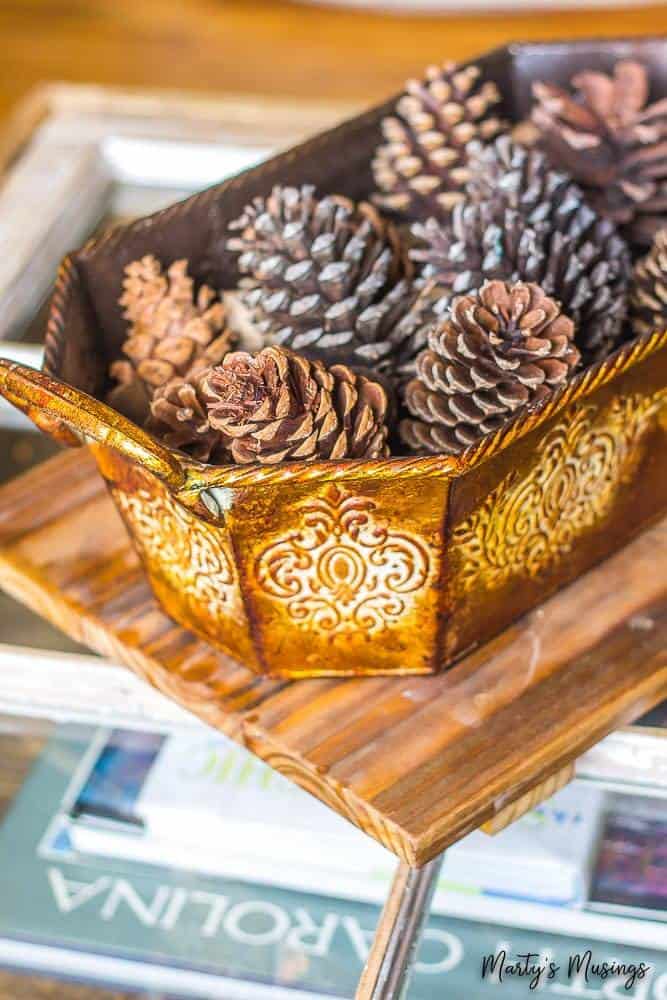 Go outside and find a few sticks and use in a fall centerpiece. That's what I did!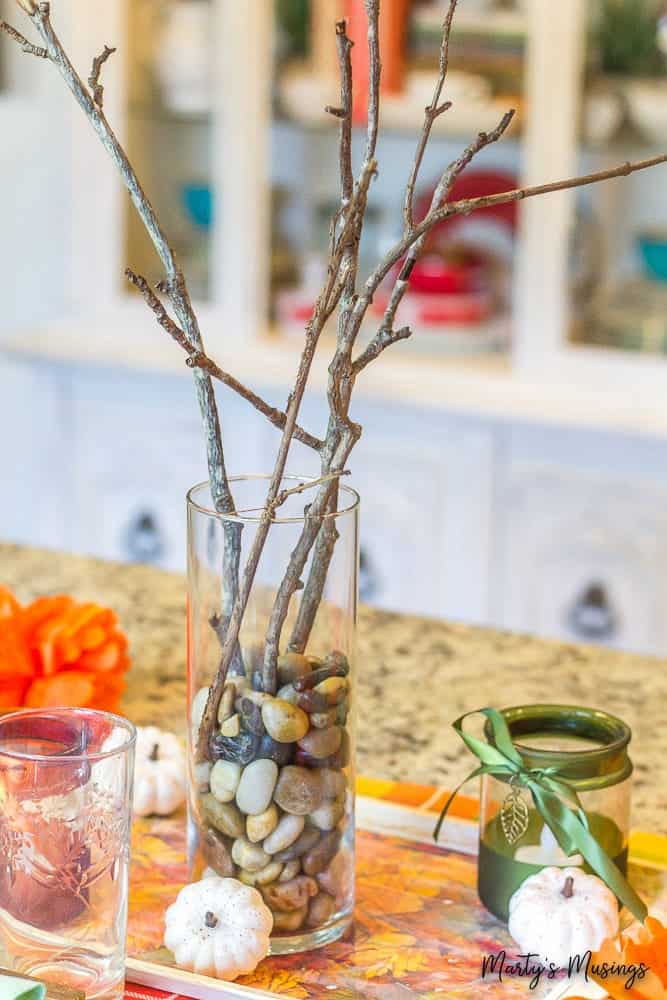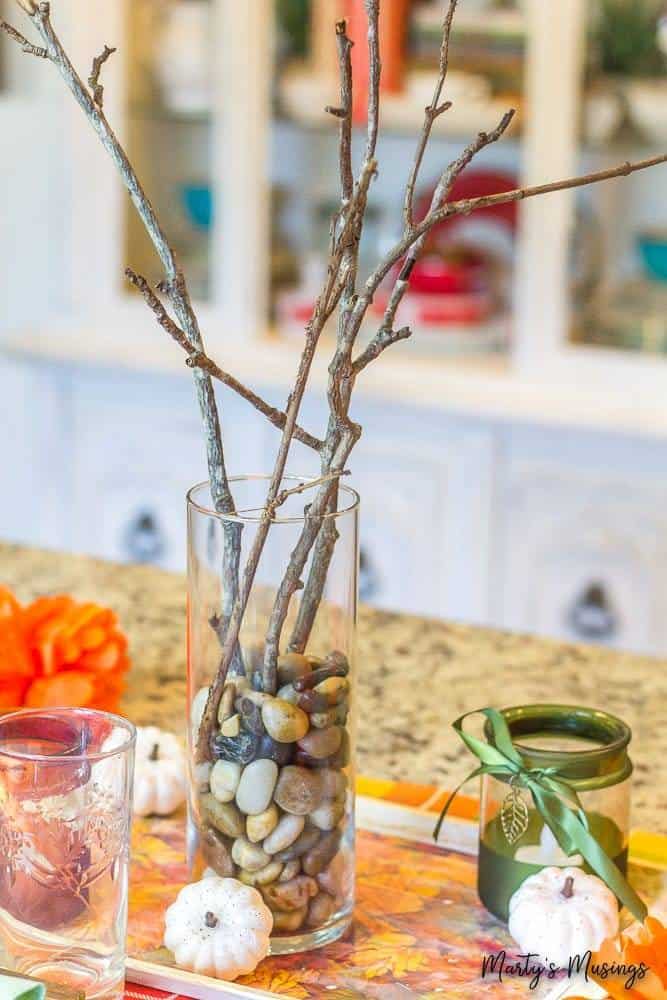 Use dollar store plates, candles and scarecrows to create an inexpensive fall place setting.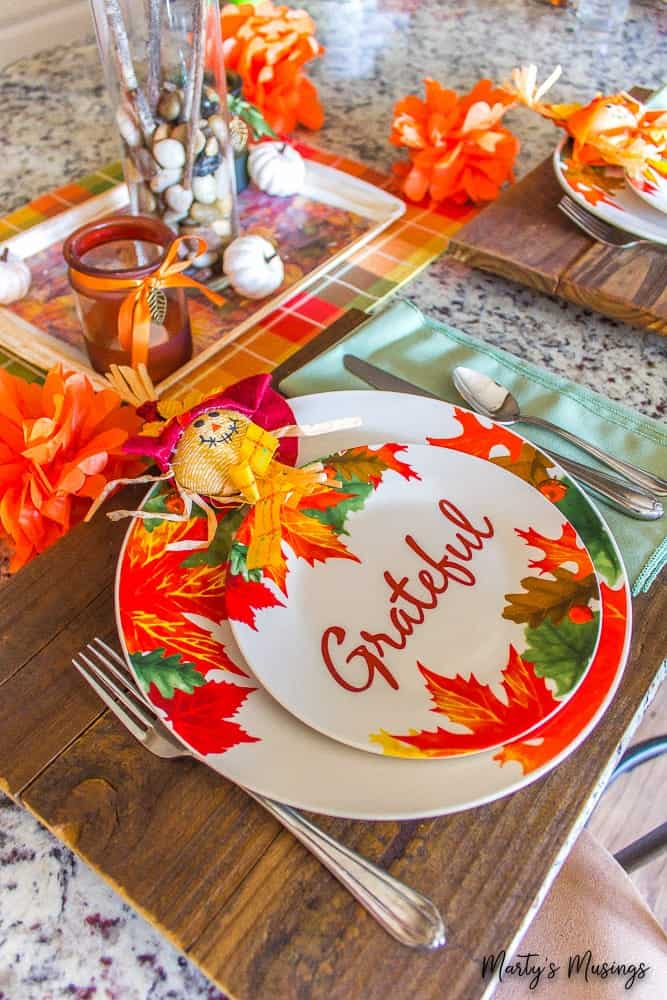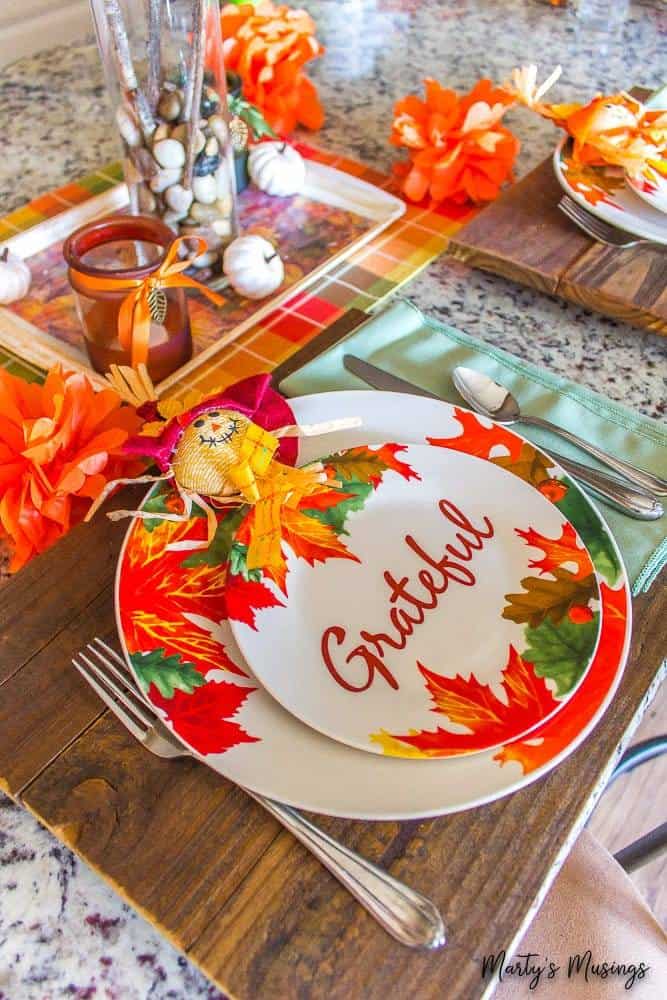 Most of my home decor accessories are from yard sales. (If you want to know how I do it my best tips are here.)
These candle holders were from my husband pre-wedding and I've since painted them white. They go with everything and are so simple to dress up for the seasons.
Wrap them in ribbon (or burlap here) and tie with string or jute. Such a cute idea!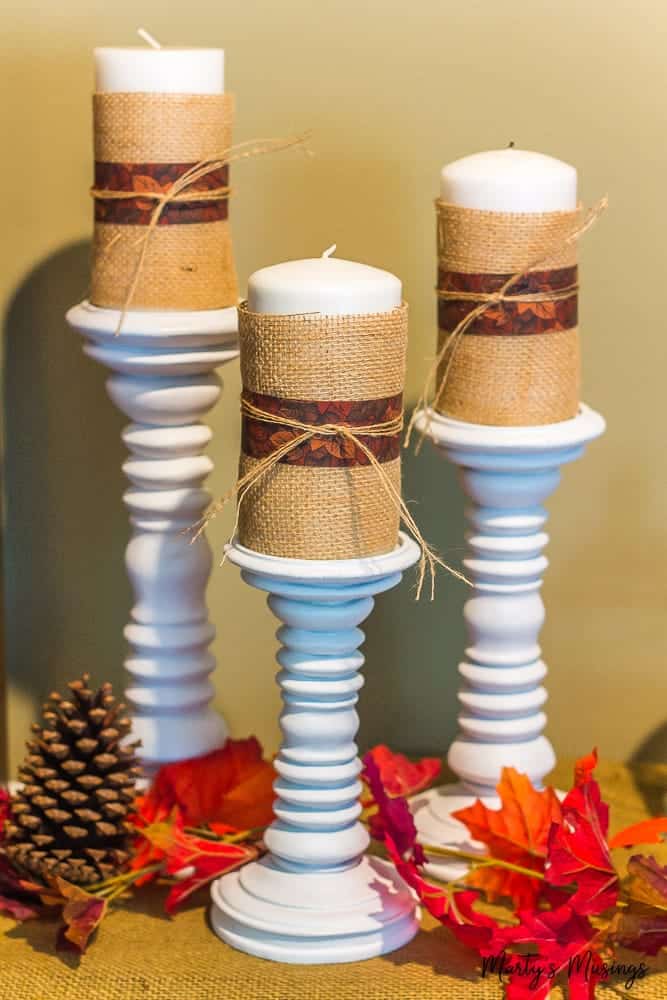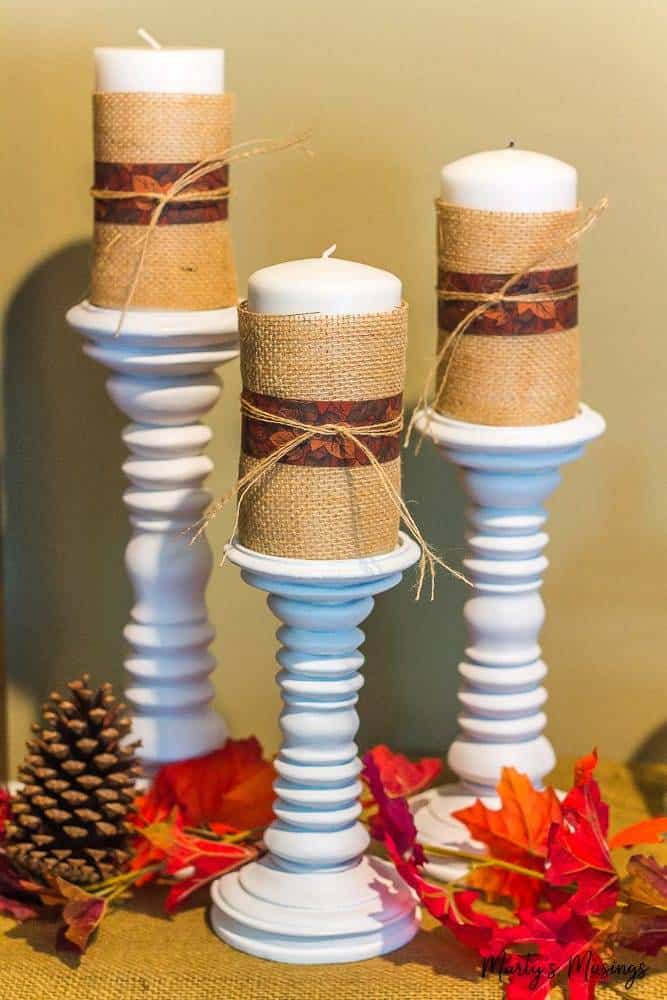 Add a few mini pumpkins to the tops for an adorable part of a vignette.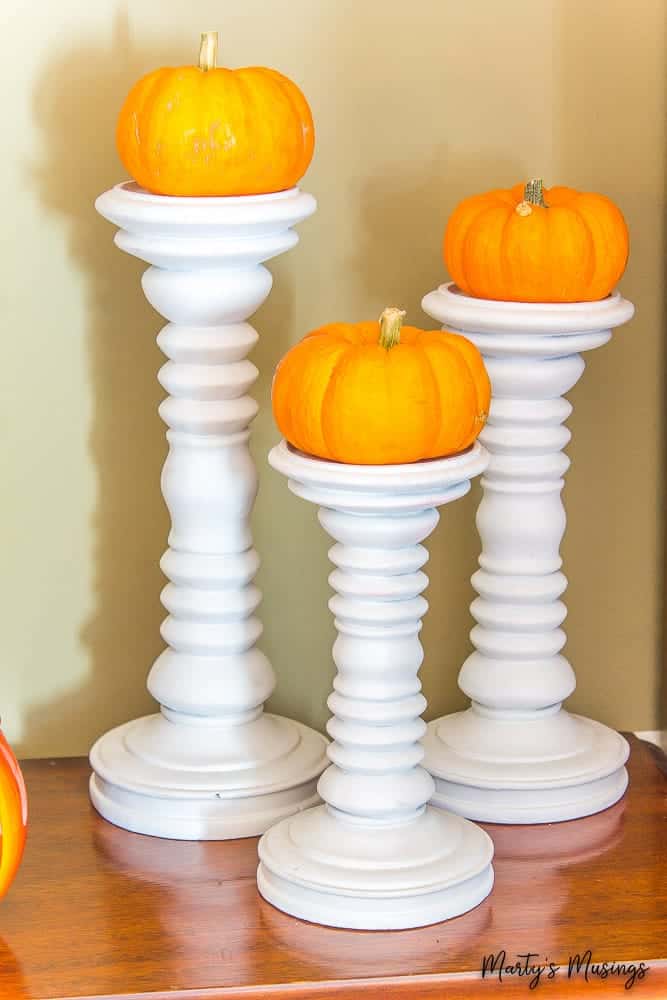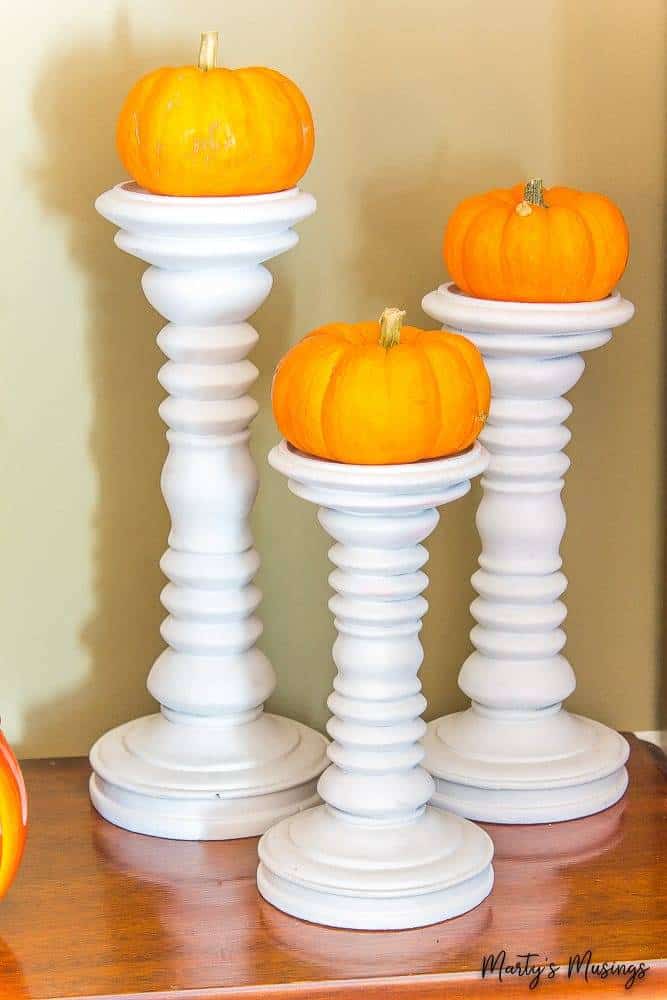 The vases and flower arrangements in this vignette were $1 yard sale finds and the picture was a gift to us many years ago when we were first married. It had been hiding in my attic stash for a long time but I love the way its simplicity lets the pops of orange shine!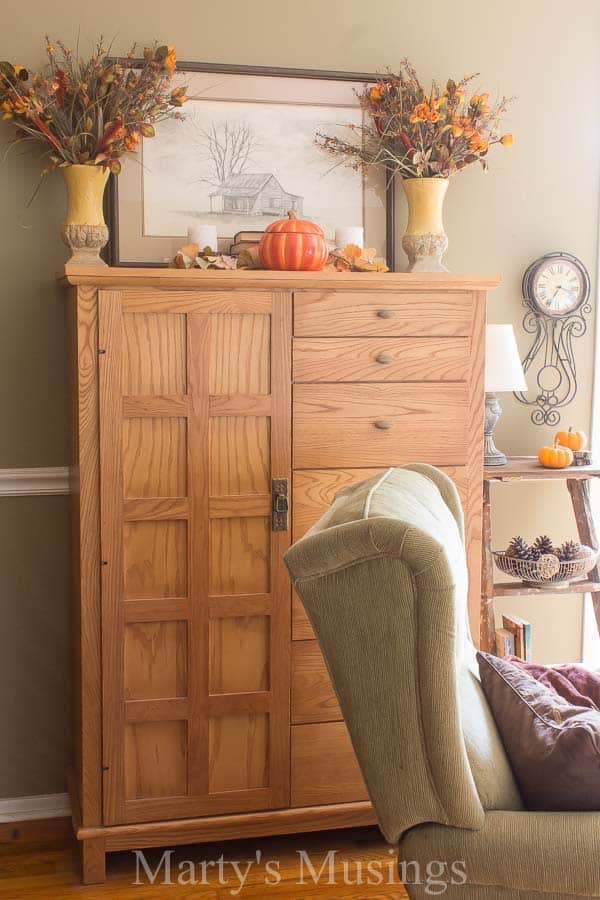 Tip 3: Fill in with new decor by shopping end of season sales, yard sales and thrift stores.
Decorating can be as simple as adding yarn balls and acorns to a large glass jar (found for $1 at a yard sale.)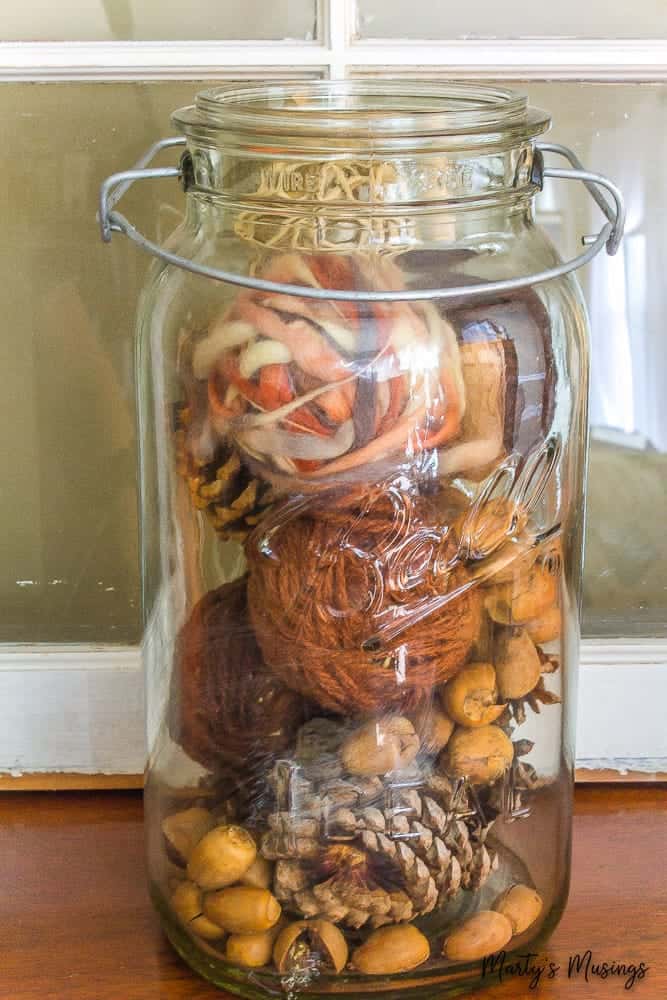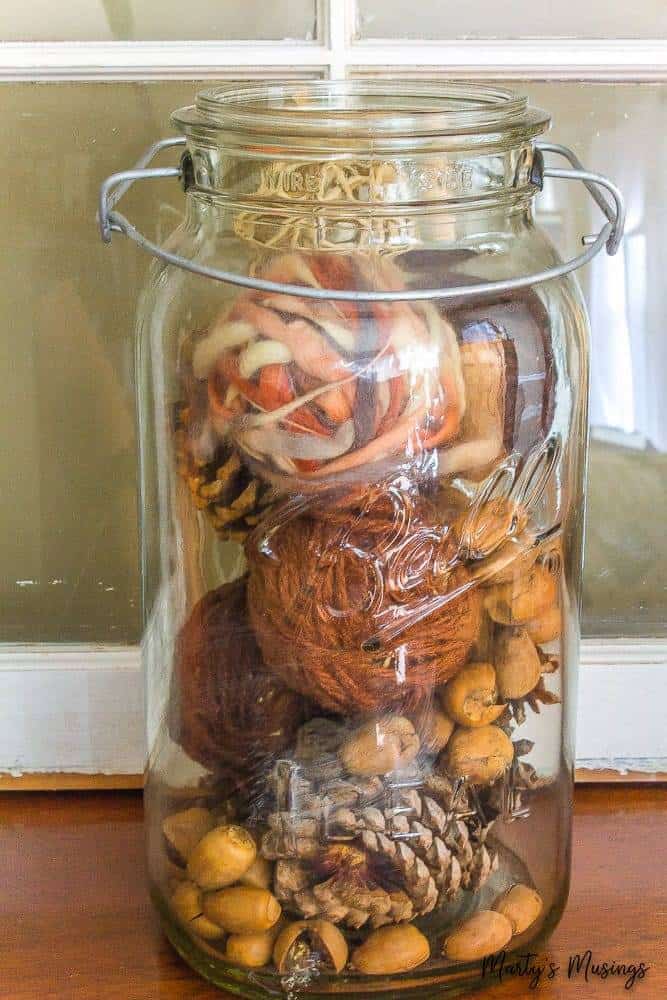 My DIY Step Ladder Shelf holds a couple of those pumpkins and a few rustic odds and ends. Casual and easy.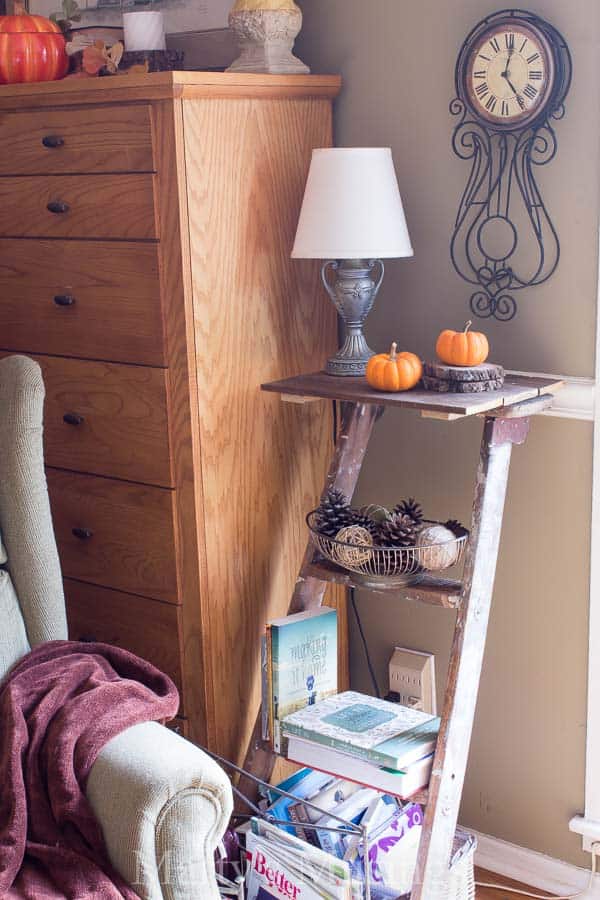 One of my all time favorite yard sale finds was these $1 shutters, now chalk painted and hung over the love seat in this picture. (This wall is now gone! You can read all about it our kitchen remodel here.)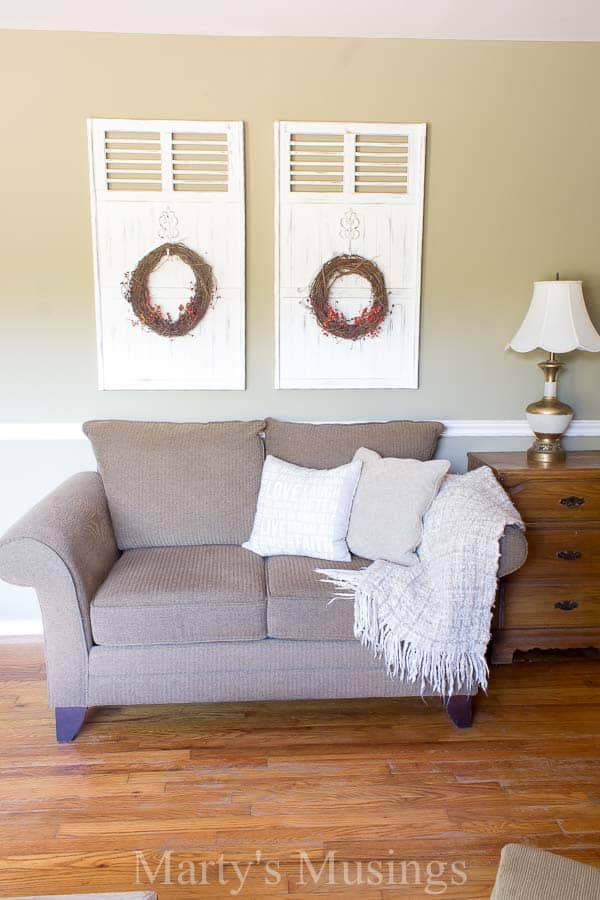 I've struggled with what to hang on them but these grapevine wreaths are perfect, decorated with some floral stems found at a you know where!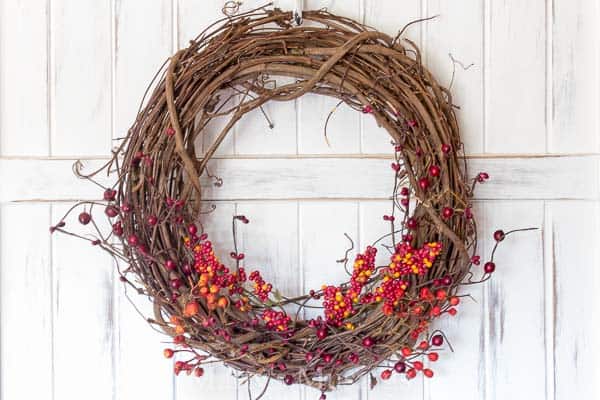 Whew, that's a lot of ideas! How about a freebie to close this post out?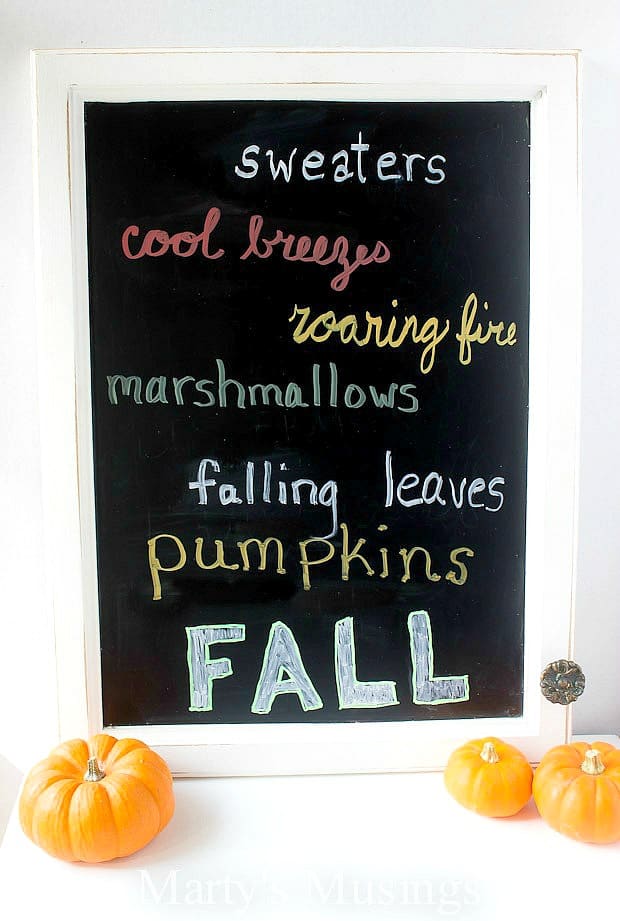 I really need to know, for my sanity's sake, is anyone else just now adding a few fall touches to your home?
Were you inspired or encouraged by these easy fall decorating ideas? If so, I'd love if you'd share this post!