How to Paint Kitchen Cabinets
This post may contain affiliate links which won't change your price but will share some commission. Read more here.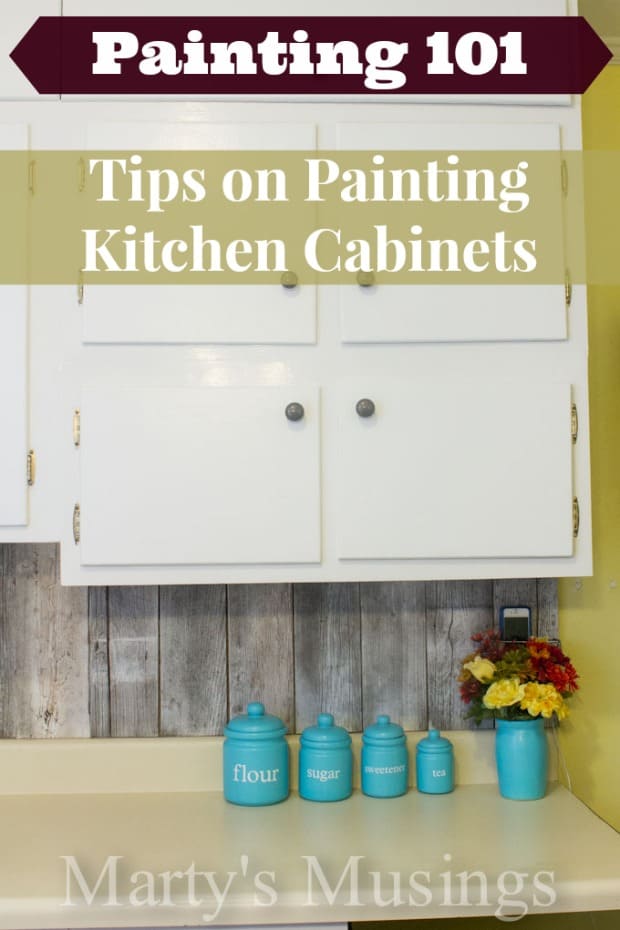 I'm so happy to be sharing another of our Ask Tim posts on how to paint kitchen cabinets. I love it when a reader says, "I know this question is more up Tim's alley than Marty's!" If she only knew my husband doesn't let me anywhere near tools or sharp objects. I'm not allowed to buy electrical items at yard sales without plugging them in first. And I'm usually the one who runs into the wet spot he just painted! ~sigh~
Today's question from a reader: I am in the process of buying a new home that has old wood cabinets. I would like to paint them white. Would love to know the right way to paint them because I have seen painted cabinets gone very wrong….lol.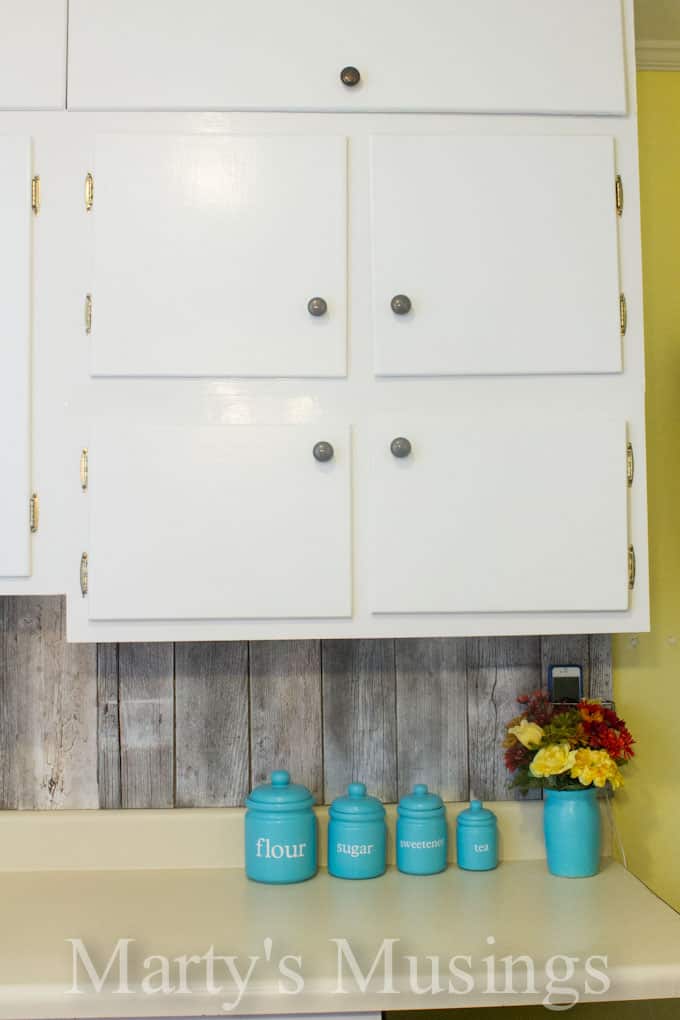 From Tim: There are a number of things to consider when painting kitchen cabinets, and all of them can have significant impact on the appearance and durability of the end product. Let's start simple and progress from there.
Preparation
Because you have no idea what these cabinets have been through, they must be cleaned and prepared to receive paint. Any kind of cleaning product is fine; Spray Nine, Krud Cutter, even 409. You want to get the grime off anywhere you'll paint, including the bottom of any upper cabinets. You must, however, be sure and remove the cleaning product as well. A final rinse with a clean sponge is a good idea. If needed, you can lightly sand any heavily worn places and even patch gouges and dings with spackle at this point.
Hardware
Now, let's talk about hinges and knobs/drawer pulls/handles. There is always great debate about whether or not to paint the existing hinges. It certainly makes the project easier if they remain and are painted. They need primer and paint just like the wood. If you choose not to paint them, I would highly recommend removing them, cleaning while you have them off. This mandates laying the doors out somewhere to paint them, but is does allow full access to the boxing and the inside of the cabinets (should you choose to do that as well).
CAUTION! If you are replacing the hinges, you need to match the new with the old exactly. Do NOT throw any hinges away until you are confident the new ones will work, are appealing to you, and do not require re-working the operation of the doors. So, that's your first big decision.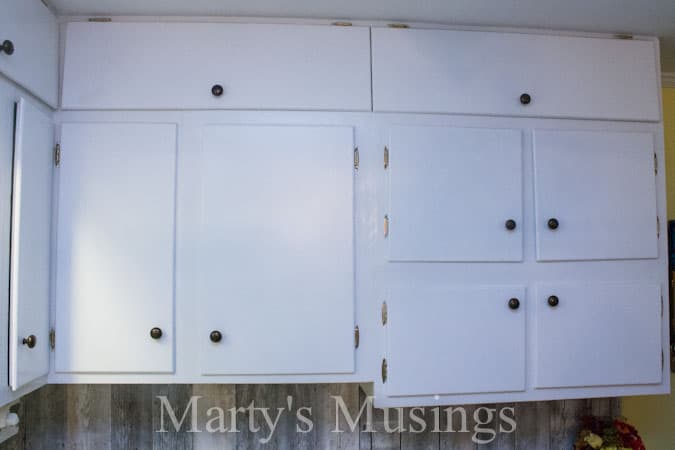 It is also at this point where you need to make adjustments and repairs if you go from single-hole handles and pulls to double-hole. You'll either need to fills holes or drill holes, depending upon your application. At any rate, make those adjustments now.
Priming
Next, regardless of the finish coat you apply, the wood must be primed with an oil-based primer. There are a number of application methods; spraying (requires extra equipment), roll and brush (you apply the primer with a small roller and then put brush strokes on the surface before the primer sets-up), and simple brushing. This is a very stinky process, so make sure you ventilate the work area well. Both Zinser and Killz have products available at home improvement stores, or you can go to a paint supplier. Again, this needs to be oil so that you are sealing the wood. These primers are formulated to receive any kind of top coat.
Latex or Oil-Based?
What to put on top of all this is probably your most difficult and important decision. Oil-based paint (called alkyds) or water-based paint (latex) are the contenders, with new hybrids that are a latex paint/primer combination. Home Depot's is excellent to work with and provides great coverage. The upside to the alkyd product is that it has a slightly harder finish. The downside is that it is more expensive, takes twice as long to dry, is harder on tools and brushes, and smells as bad as the primer. Oil-based paints also "yellow-out" over time. Because they are petroleum based, whites will turn yellow and creams will darken. The latex paints are typically much easier to work with and do not yellow with time. However, because they are clay based, the finish is a bit softer and more easily chipped and damaged.
Ideally, you want two coats of whatever choice you make on top of the primer. I would strongly discourage using any type of polyurethane as a final step on top of the paint. You want to be able to touch these babies up down the road, and the polyurethane completely ties your hands for that option. Honestly, I have painted my own cabinets with both oil and latex at different times, and they both require touch ups consistently. I would evaluate how fast you want this project to go, how much you want to spend, and let that govern your decision. My choice, given the option, is the water based product. If required, a light sanding and cleaning between coats may be appropriate.
Cleaning
After the necessary drying time, re-install your hardware and enjoy.  Here is am important cleaning tip once you achieve beautiful cabinets; do NOT use any cleaner that contains bleach or abrasives.  The bleach will actually soften the latex product, making it "gummy".  You'll be guilty of this around the handles and knobs.  Those magic sponges are great, and simple dish soap and water is good, too.  The abrasives will damage the surface, destroying its integrity over time.  That will allow kitchen grime to stick on those areas.  They key to longevity of these surfaces is to protect them as much as possible for as long as possible.  You will have to touch-up at some point, but the goal is to hold off as long as you can.
Practical painting tips for the home that anyone can use, including chalk painting, accent walls and choosing the right colors.