Print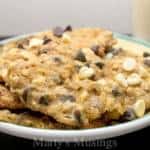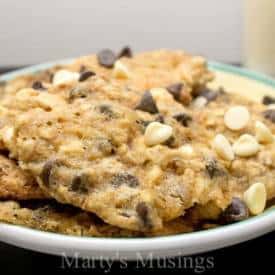 Chocolate Chip Oatmeal Cookies in a Pint Jar
Give this fun gift in a pint jar with a delicious chocolate chip oatmeal cookie mix.
Place flour, baking powder and baking soda in the bottom of a clean pint jar, tamping it down for an even layer.

Add an even layer of brown sugar on top and press it down.

Add an even layer of white sugar on top.

Next add an even layer of oats.

Pour the chocolate chips on top.

Finish off with the white chocolate chips to top off the jar.

Place the lid on the jar and decorate.
Include the following recipe notes
Preheat oven to 350 degrees and line a cookie sheet with parchment paper. Pour the contents of this jar into a bowl. Add 3 1/2 tbs cooled melted butter, 1 egg lightly beaten and 1/2 tsp vanilla. Stir until well combined. Spoon batter by the teaspoon onto paper. Bake for 12-14 minutes (less if chewier cookie is desired). Makes 12 cookies.
You can use all semi-sweet chips instead of white and semi-sweet if you like. You could also substitute butterscotch or peanut butter chips for variation.
I used old fashioned oats but you could use quick cook oats as well.
I like the cookies a little crispier so I cooked them 12-14 minutes. Cook a bit less for chewy cookies.