How to Make a No Sew Fabric Window Valance (Cornice)
This post may contain affiliate links which won't change your price but will share some commission.
OnlineFabricStore.net
but all opinions are my own.
Don't know how to sew? This thorough and easy to follow tutorial can help! Tips on making a DIY no sew fabric window valance as an option for decorating your home on a budget.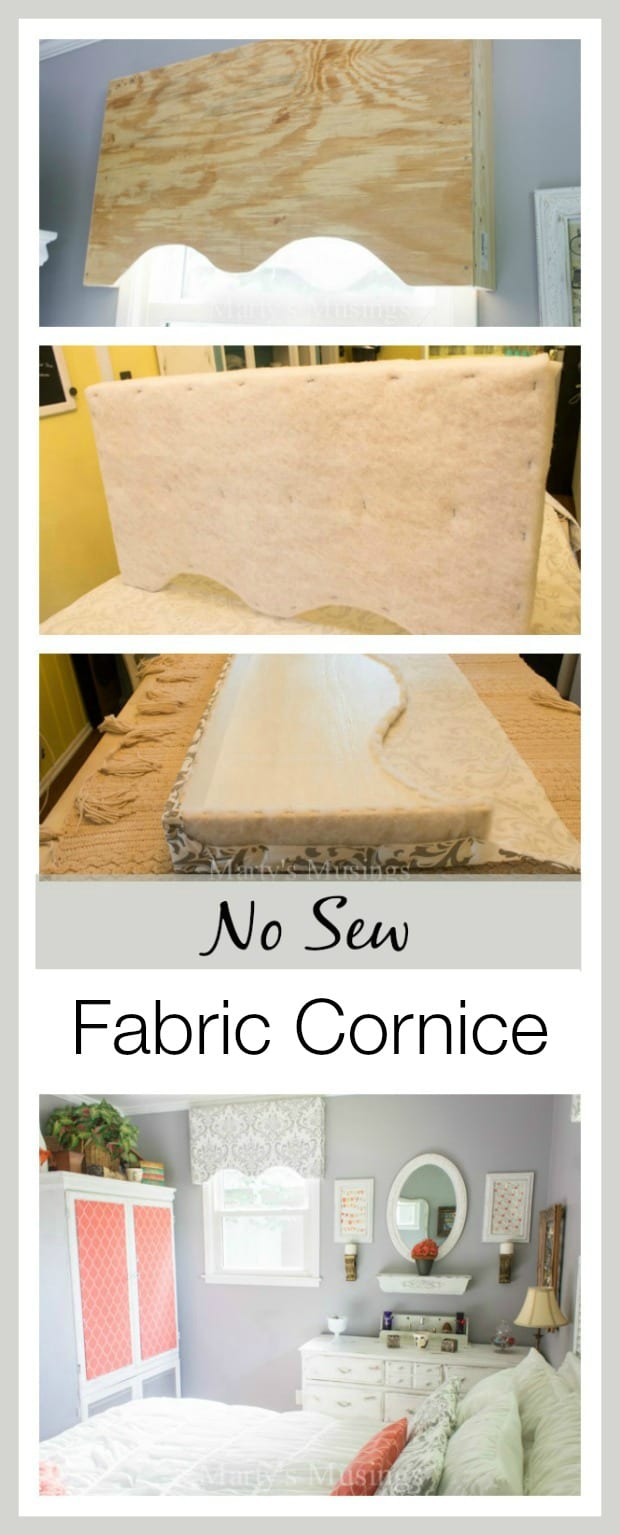 I am so unknowledgeable about window treatments and fabric. The best I can usually come up with is a yard sale treasure, which means it's not perfect but it will do.
When my DIY hubby and I started talking about our master bedroom makeover (which sounds totally pretentious because the room is only 10×12) I wanted to use fabric to tie everything together and was so excited when OnlineFabricStore.net wanted to partner with me.
Can I tell you what fun I had (and a little bit of stress!) in making that decision?
My final choices?
Premier Prints Traditions Storm Twill Fabric, Premier Prints Canopy Storm Twill Fabric and Covington Oh Gee Mandarin Fabric.
~drool~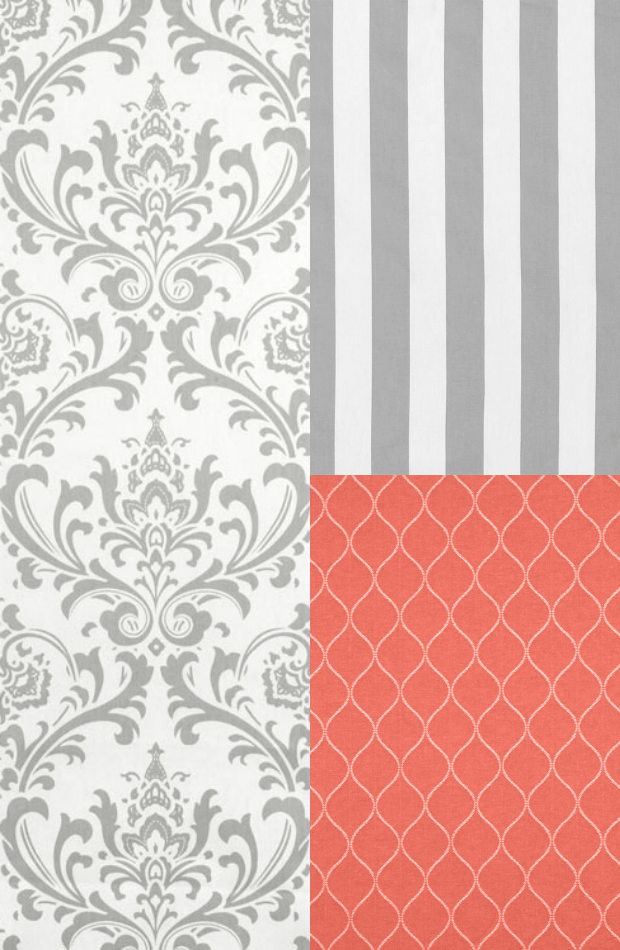 Aren't they lovely?
I have to say if you start with a really ugly before the after looks even better! Check. Got that one covered.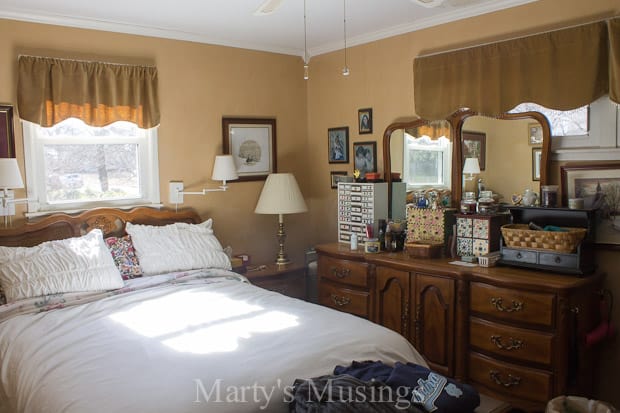 At some point in recent years I was so excited when I got those three valances for $5 at a yard sale. I loved the fringe, too. Since we have windows of different sizes these treatments did the trick for the time being. They were made of a kind of crushed velvet material.
Not sure why I liked them so much but if you have gold walls you might as well stick with goldish looking window treatments.
My friend Suzy from Worthing Court is an expert seamstress and was gracious enough to offer to make some fabric cornices for me. I had absolutely every intention of taking her up on that offer, but by golly, she decided to up and put her house on the market and buy another one that needed a total renovation! Say buh-bye to free time and to the enormous sewing room she had, at least for the time being.
At this point Tim had already purchased and cut the wood to Suzy's specifications and he and I (after WAY too many weeks of procrastination) took the plunge to figure out how to get this project done the no sew way!
(If you want a "real" tutorial with an actual sewing machine, check out Suzy's posts here and here.)
Without further ado, here's my DIY hubby with his own version tale!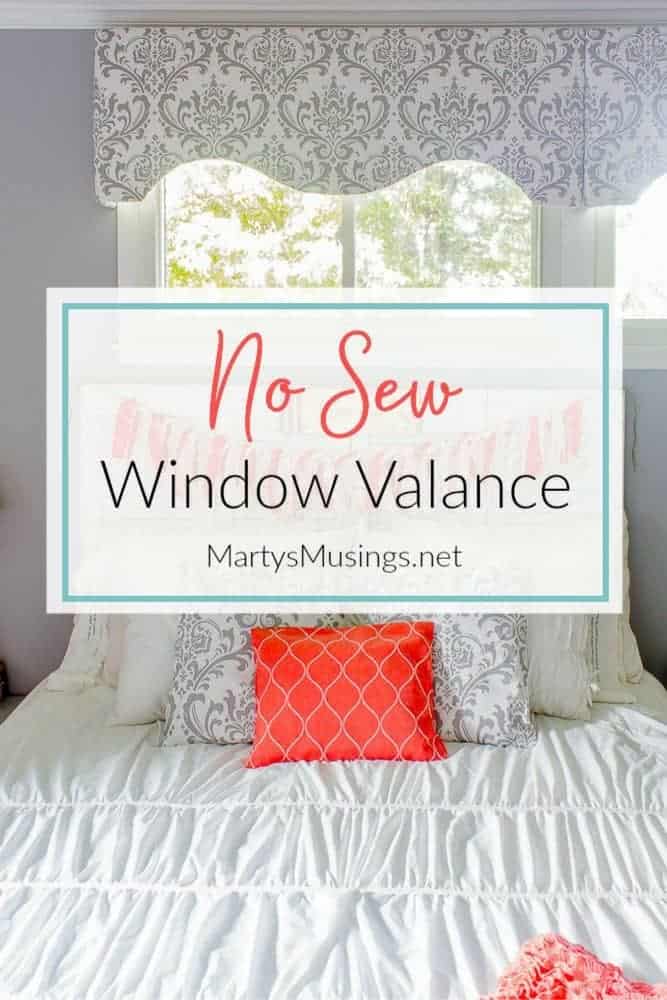 How to Make a No Sew Fabric Window Valance
Materials:
(I've included some affiliate links for your convenience. Click here to read my full disclosure policy.)
Fabric
Plywood
45 x 60″ Extra Loft Polyester
Staple gun
From Tim:
Clearly some construction has taken place prior to this! The cornice is based on 1/2″ plywood attached to a 1″ x 4″ frame that serves as the sides and top for the piece. But the focus here is what took place on top of all that wood. This first picture shows a test placement of the first unit made and to give us an idea of what was about to happen.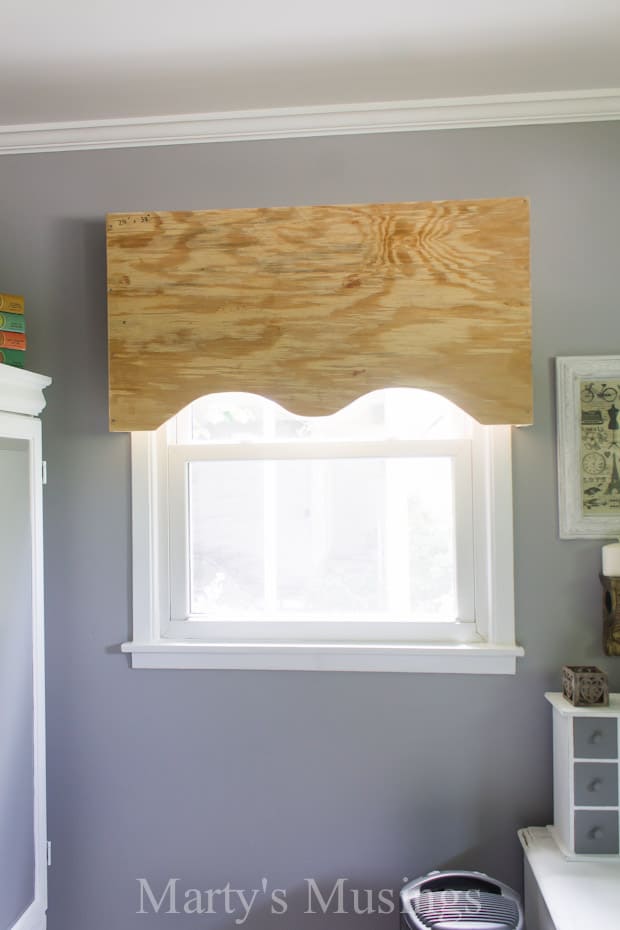 We actually decided to install this much higher on the wall, but the general idea is the same. Here it just sits on the top of the window casing for a look.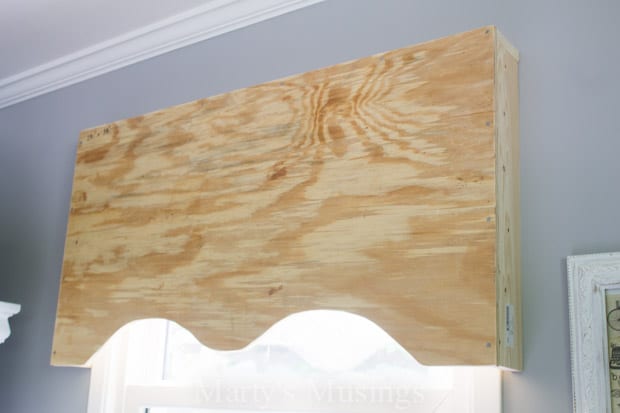 For grins, you get a closer look at how the pieces come together. The 1/2″ plywood was used for strength and it is important that nothing warps, even before construction.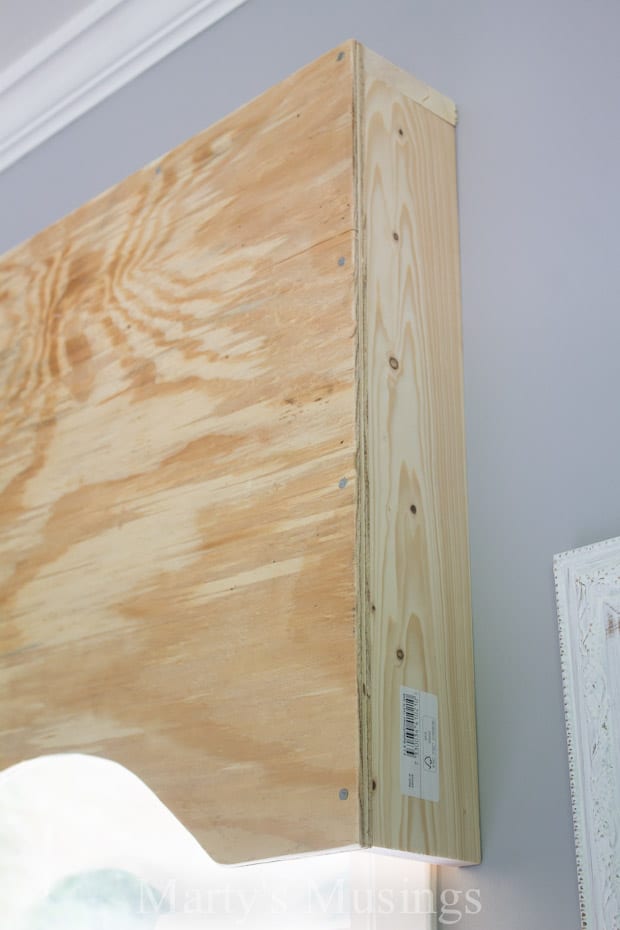 Because the fabric was not going to wrap all the way to the inside and cover the wood, I decided to prime and paint the inside with a white paint I had in my shop. This would ensure a good look from outside the window to the inside.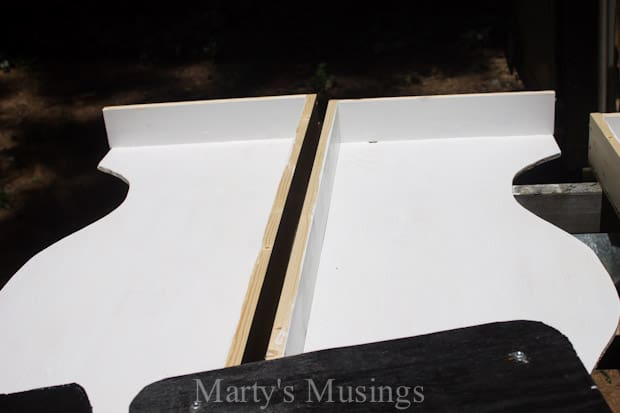 After drying, the pieces were brought inside on the kitchen table work bench and the process of covering began. We used one and a half packags of 45 x 60″ Extra Loft Polyester Batting.
Here, the batting is measured and cut for the first step in covering the cornices. This is not a terribly specific or precise step, but you do want to cover all sides, leaving a small remnant along the curved bottom, sides and top.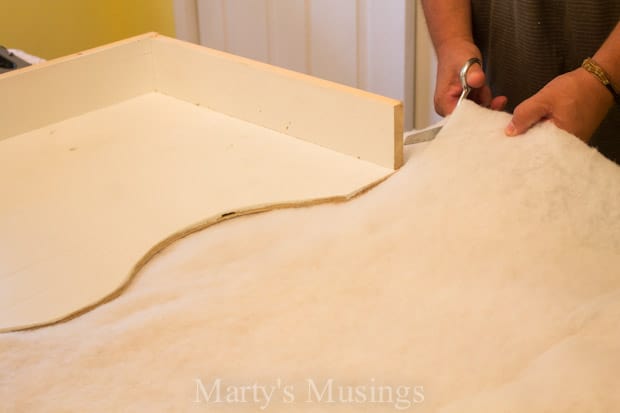 To attach, I used a staple gun and 3/8″ staples spaced a couple inches apart. These do have to be tapped down with a hammer, which keeps the material tight to the wood.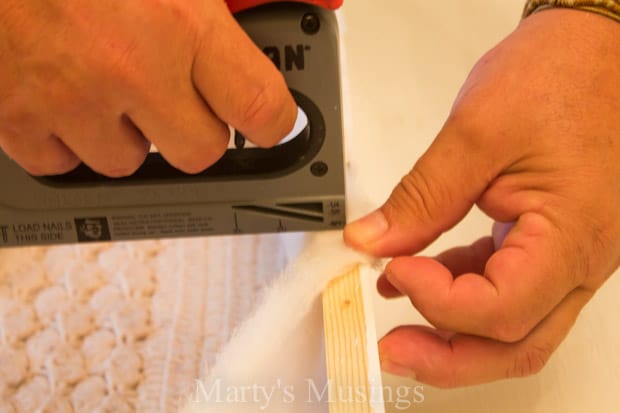 This is what the batting looks like when wrapped and stapled. Don't worry if you have seams, just keep them as tight as possible. On the last cornice I ran out of full pieces and had to use everything I had to cover it all. The fabric is actually underneath this cornice, upside down.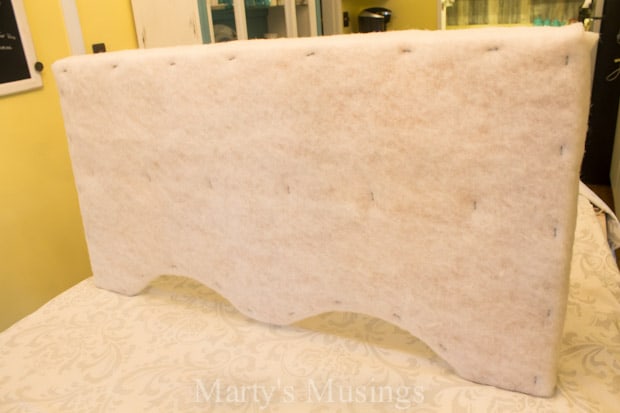 The same process for the batting is repeated for the fabric, with just a bit more attention to precision, detail, and finish. You can see here how much batting I left on the turn and the clean line I attempted to maintain.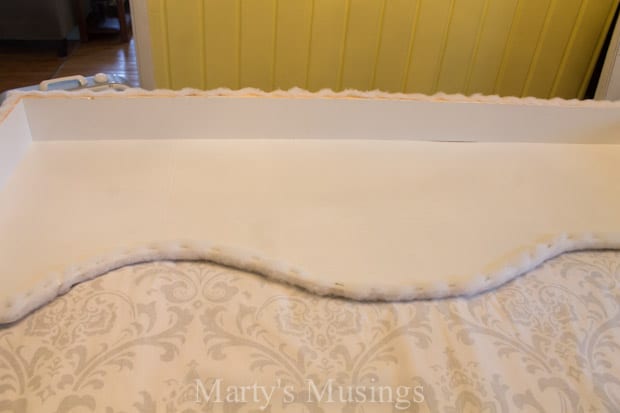 I started the wrap of fabric along the top of the cornice, then worked each side and finished with the more complicated curves at the bottom.
Late in the process, I actually had to blend in another piece on the sides to cover what we thought would not show. Not a huge issue; I just made sure that repeat matched and the end result was fine. The corners finish much like you do when wrapping a box with gift paper, or, for you hardcore bedmakers, military corners!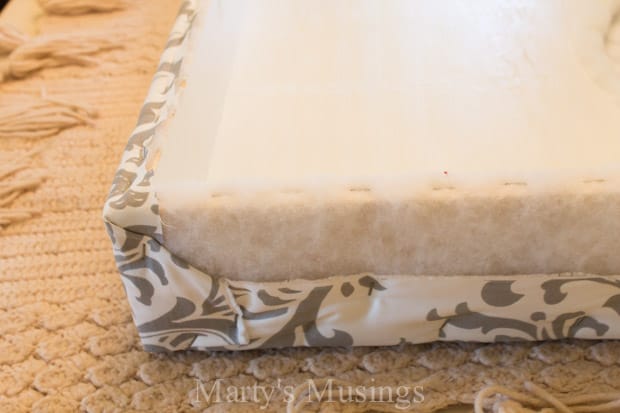 Here the top and sides are attached and I'm ready to tackle those curves.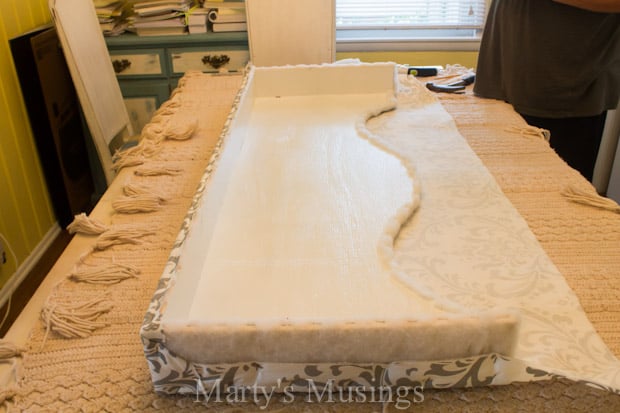 Referring back to the previous picture, this step begins with making a vertical cut at the bottom of each side to free up the fabric to roll up onto the cornice. See how the fabric lays back down after the cut?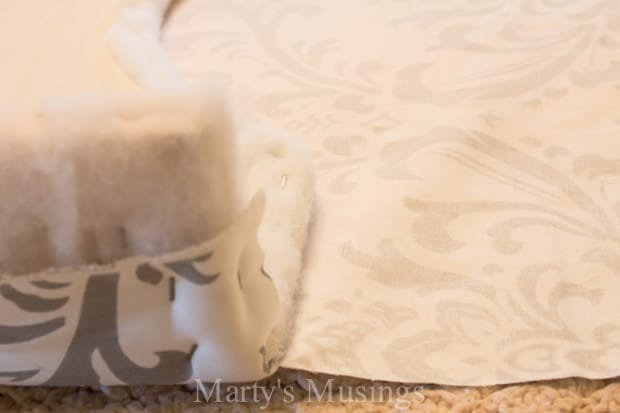 Suzy's tutorial was awesome at this point (well, not JUST at this point!) in that small vertical cuts would be made all along this big curve which would make rolling the fabric and matching the curve much easier.
First, however, I wanted to eliminate a bunch of that extra fabric, so it was trimmed to within a couple inches of the turn.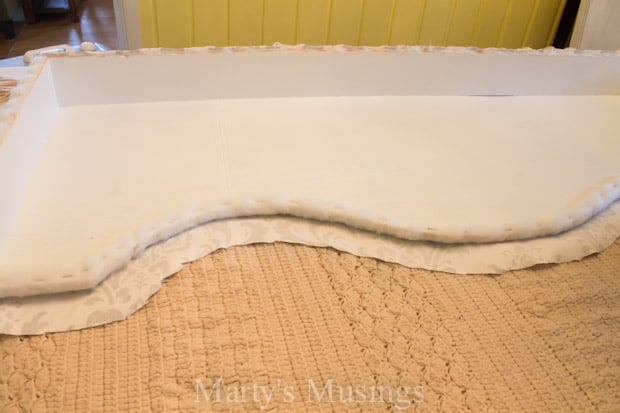 This shows all those small vertical stabs ALMOST to the turn…and that is important! Don't cut all the way to the turn or your cuts will show after the wrap is complete. This will not show and is designed to keep the fabric from bunching up and causing wrinkles across the front. Some of these may actually overlap, depending on the severity of your curves.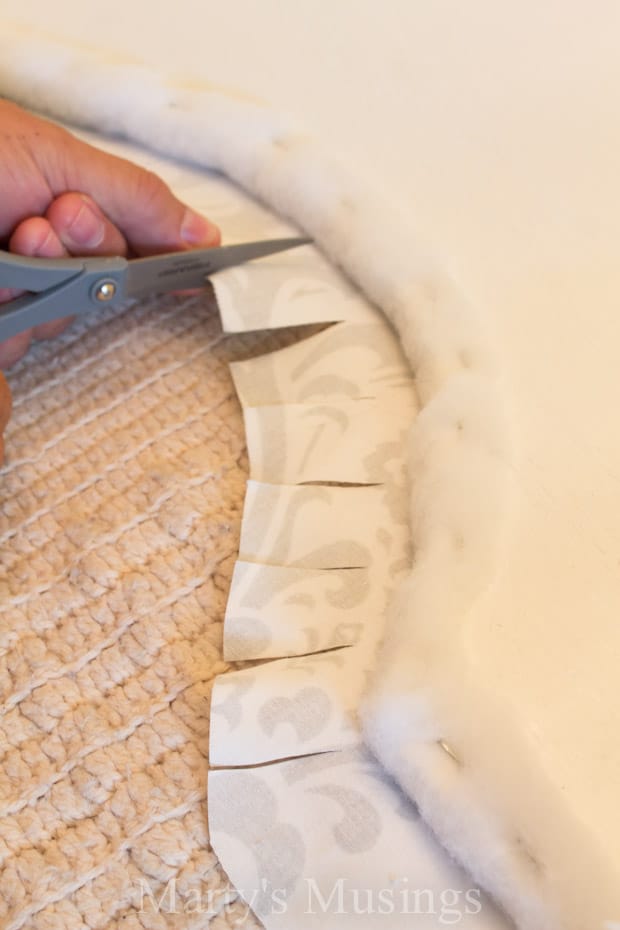 Here is the end result of the cut, wrap, and staple. Did I mention you'll need a LOT of staples?! You can also see how the staples need to be tapped down with the hammer. Finally, all that excess can be trimmed right back down to the staple line, and you have a nice, clean finish line.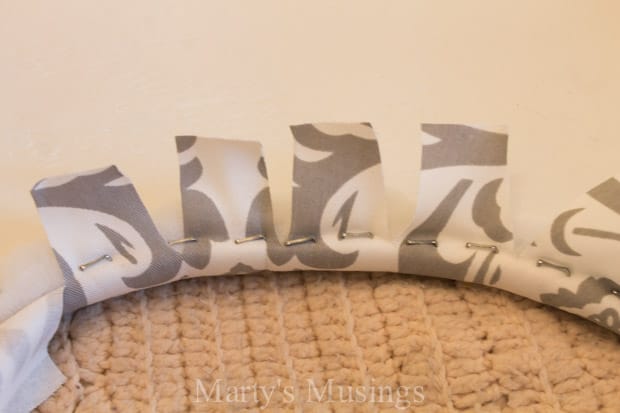 Remember the issue with the sides? Just match the repeat and attach. It is, I confess, not ideal, but we made the best of what we had. The piece of fabric was simply not wide enough to accommodate the size of our cornice. I think this works!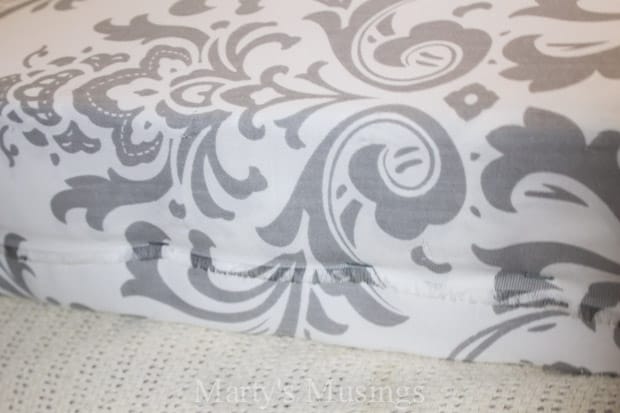 After the covering was complete, mounting to the wall was next. I chose 2″ "L" brackets and attached them with anchors at the desired height above the window casing and below the crown molding. Get those measurements right or use a level, or you'll have tipsy cornices! After placing the cornice on top of the brackets, just screw through the bracket into the top of the cornice from the inside. You will likely require a helper for these steps.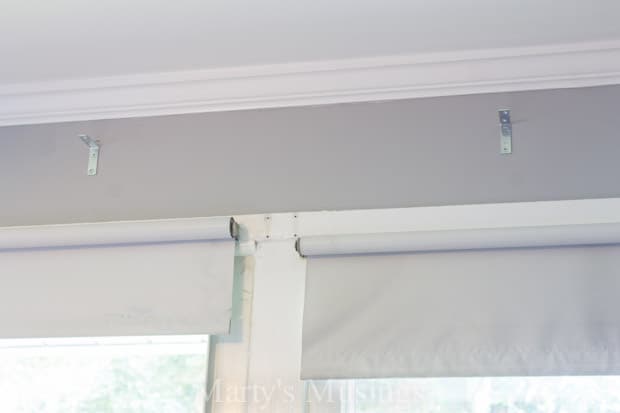 From Marty: Tim alluded to the fact that we were sweating it with this fabric! True to our "just get it in the house and we'll figure it out" attitude we barely had enough fabric to finish.
But finish we did and here is our no sew fabric window valance (cornice!)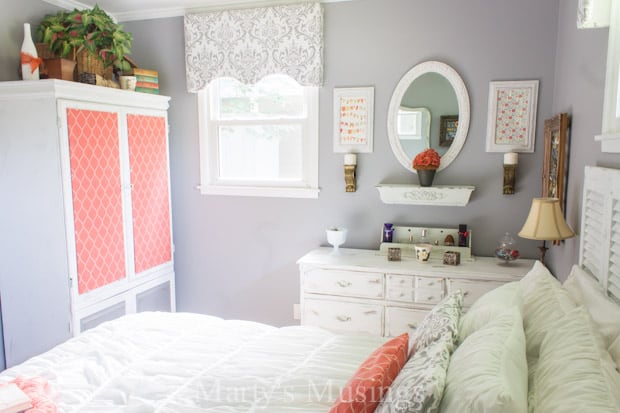 With a skilled seamstress like Suzy the details would be so much more precise, but when you DIY practically everything in your home you just roll with the punches and make it work!
Here's a shot of the long window above the bed. Raising the valance almost to the ceiling made such a difference in the feel of the room.
I cannot even tell you how much I adore the fabric. The coral especially just makes my heart sing! I have more DIY projects to share from the room, but I wanted to give a shoutout to OnlineFabricStore.net and encourage you to go dreaming shopping online!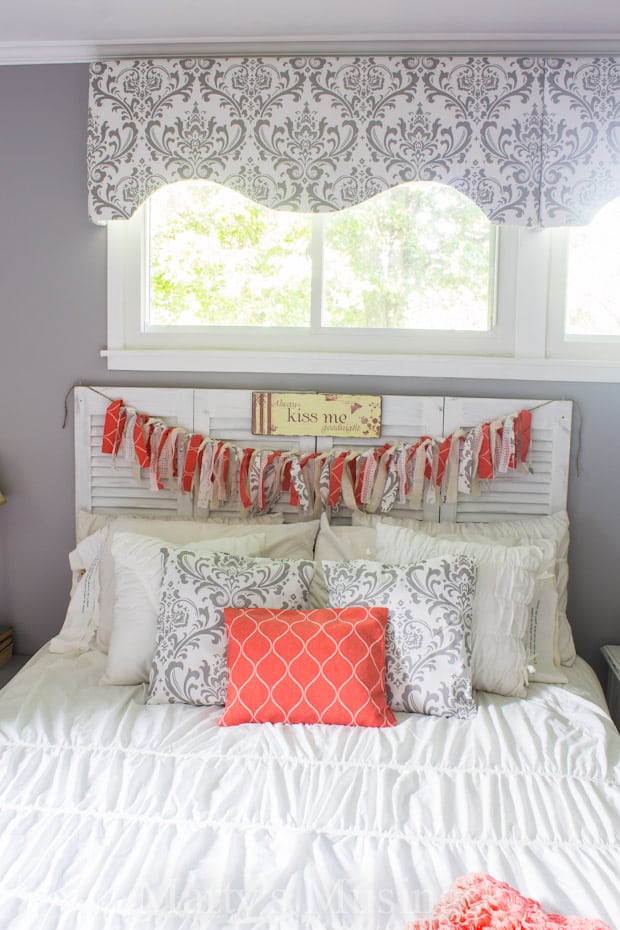 You can see the entire room with lots of before and after pictures here and how to decorate a bedroom for practically nothing.
Disclosure: The beautiful fabric was provided by