No Sew Window Valance Tutorial
This post may contain affiliate links which won't change your price but will share some commission.
Anyone else battle with good intentions?
Do they mock you, stare you in the face and laugh?
Kinda like New Year's Resolutions you break in the first week.
"No, I'll give up sugar because I want to lose 10 pounds!"
~eye roll~
"I'm going to organize my life this year, always be on time and stay ahead of the game."
What game? Who's playing?
Snicker, snicker.
Me? I bought myself a sewing machine at a yard sale a couple of years ago (read my best tips for scoring deals here) for $10.
Perfect. Except for one thing.
I don't sew.
Good intentions and all that jazz.
I really want to learn because I know it will allow me to make some great fabric projects for my home.
But I don't have time/my brain hurts already/insert an excuse here, I just haven't done it yet.
So in honor of good intentions I'm bringing back an older post for folks like you and me that want to do better but just aren't there yet.
Just don't hold my bright yellow, pre-kitchen remodel pictures against me! (Read how we went all Fixer Upper, took down a wall and gutted the room here!)
My design style is obviously a work in progress. I'll bet yours, is too.
I know you're totally supposed to pick the fabric first in a room makeover, but that's not how we roll! For us, it pretty much always starts with the paint color since my DIY hubby is a painting contractor and we're DIY "experts" for Behr Paint.
This chalk painted hutch started it all. Then we changed our kitchen to this cheery yellow and the room became my happy place.
After that I had to figure out how to bring it all together with a no sew window valance.
When I saw this fabric I was instantly in love with the bright colors and  since I don't sew Tim and I needed a no sew option for making window treatments.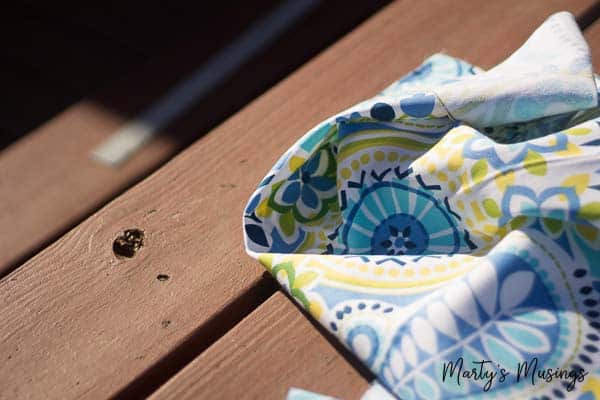 Here's my hubby to give you more details.
No Sew Window Valance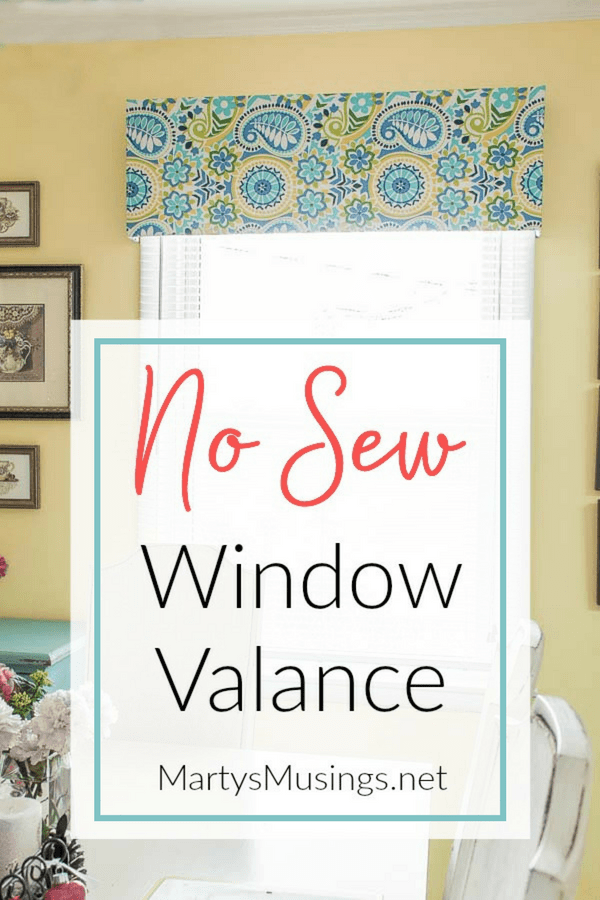 From Tim:
This project is really simple and requires a minimum of both material and tools. In fact, everything I used to build the valence was scrap…except the fabric, of course!
Measure and cut plywood
The width of the valence is determined by the width of the window. The depth (distance from the wall) and height (top of valence to bottom) is purely preference.
In our case, the window was a standard 40″ width, outside casing to outside casing. Remember, we're going outside the entire window system for a wall-mount application. The depth was 4″ and the height 13-1/2″…for some crazy reason. I think that was just because the scrap piece of 1/4″ plywood I had was that size!
So, I just measured and marked all those dimensions …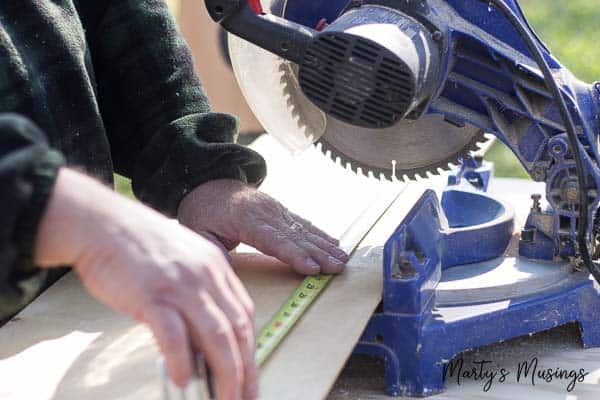 and cut with the chop saw.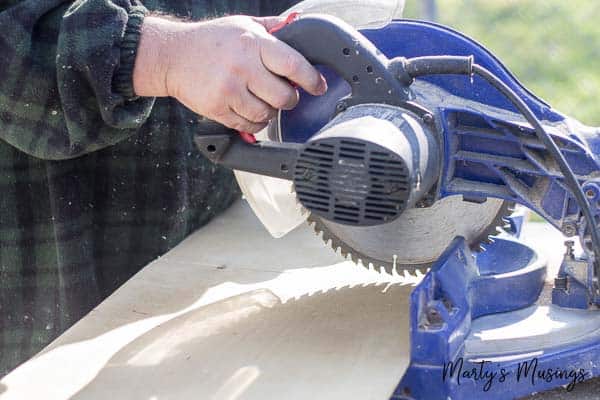 Screw into Square Dowel
Basically all we're going for is half of a box, with no top or bottom, so there are only two corners to deal with. I used some scrap pieces of square dowel I had and cut them roughly an inch short on each end. This would allow for the fabric to be wrapped and attached to the plywood without interfering with the dowel. None of the inside would be seen, hence the "Welcome Home" painted on the inside!
SIDE NOTE: by way of explanation, when any member of the family would go away on a trip we would place big signs in the yard upon their return to welcome them home!
(Marty: This only lasted a few times when the kids were younger and no one went anywhere! Eventually after a few scrapbooking trips for me, the family was like, you're coming home again?)
Anyway, the plywood was screwed into the dowel from both directions at the top and bottom of the dowel, at both ends of that 40″ piece of plywood. This would complete the construction of the framing for the fabric.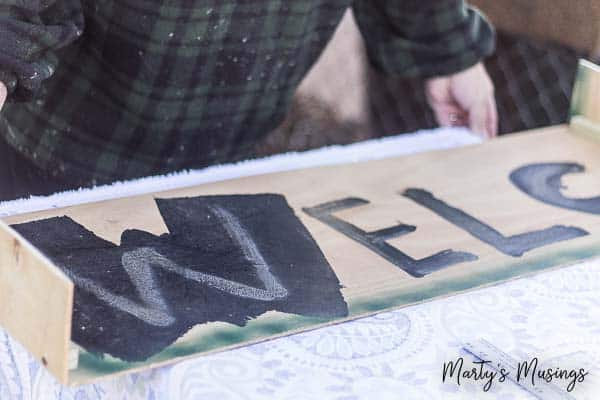 Measure and Cut Fabric
Now, time to measure, cut and attach the fabric. I wanted one entire piece for the whole valence, and that meant allowing overhang to wrap it around to the backside of the plywood. I gave about an inch extra all the way around.
This cool little tool is called a ZIP SNIP and is available at the big box hardware stores (or you can order it here.) It is essentially electric scissors, but has a rotating blade instead of vibrating cutters. Again, just mark and cut.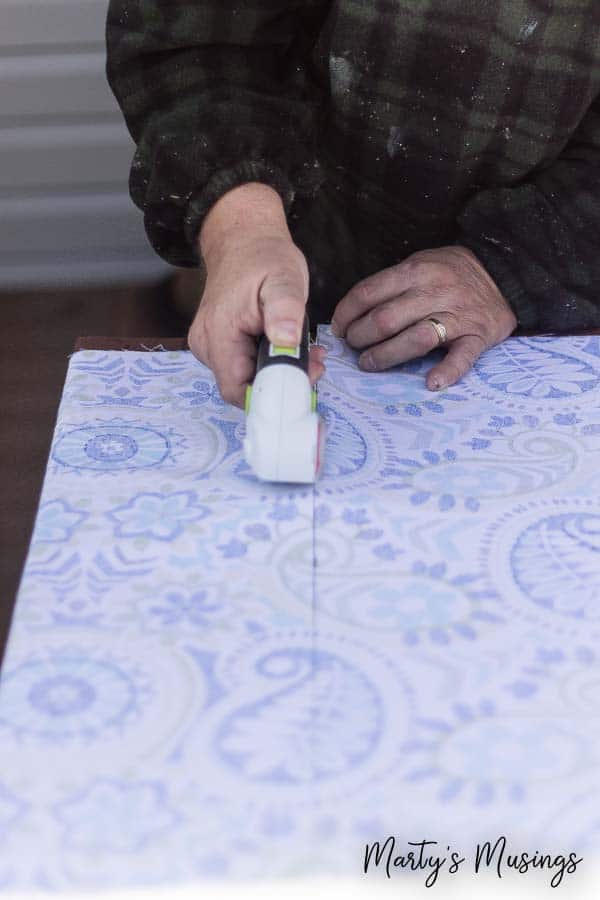 A good thing to re-visit before attaching the fabric is its orientation; just make sure any repeats in the pattern happen where you want them. A stable, flat surface is helpful, but I chose to do this outside on a picnic table – it was a beautiful day!
Attach Fabric
I didn't use any adhesive on our no sew window valence. Simply roll the fabric over the plywood and staple. (I like this staple gun.)
Now, I will confess to a bit of a design flaw here because I used staples that were just a bit too long for the 1/4″ plywood. Not only did I have to pry the valence off the picnic table (oops!) I also had to pound the staples flat on the front of the valance (double oops!). No big problem, though, they were totally invisible.
Be aware that this might be an issue to address with a solid fabric or a more subtle pattern. You DO need to staple on the INSIDE of the valance so that the staple heads show there and not on the front…I'm just sayin'!
The folds at the corner can be a bit tricky, but nothing shows on the inside. Just make it work for the front. Time to hang!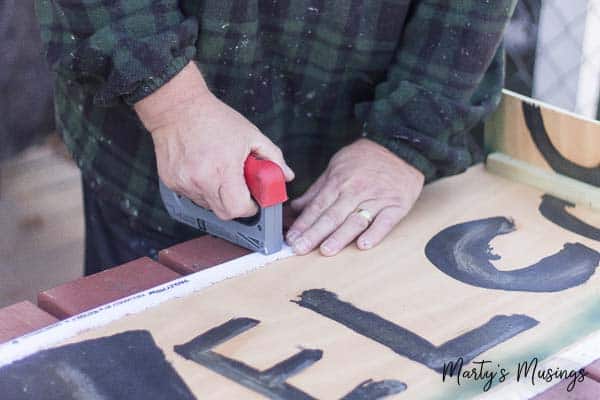 Screw Into Window Casing
This was the easiest part, but you'll need a helper. Just hold the valance in place and drive two short screws right through the fabric and plywood into the side of the window casing. No brackets!
I had no problem going through this fabric, but you might find with a thicker fabric that it will spin and bunch with the twisting screw. You can either opt for nailing it to the casing or cutting a very small "x" in the fabric where the screw will go and not letting the fabric twist up in the screw threads. Attach both ends and you are the proud creator of a beautiful new no sew window valance!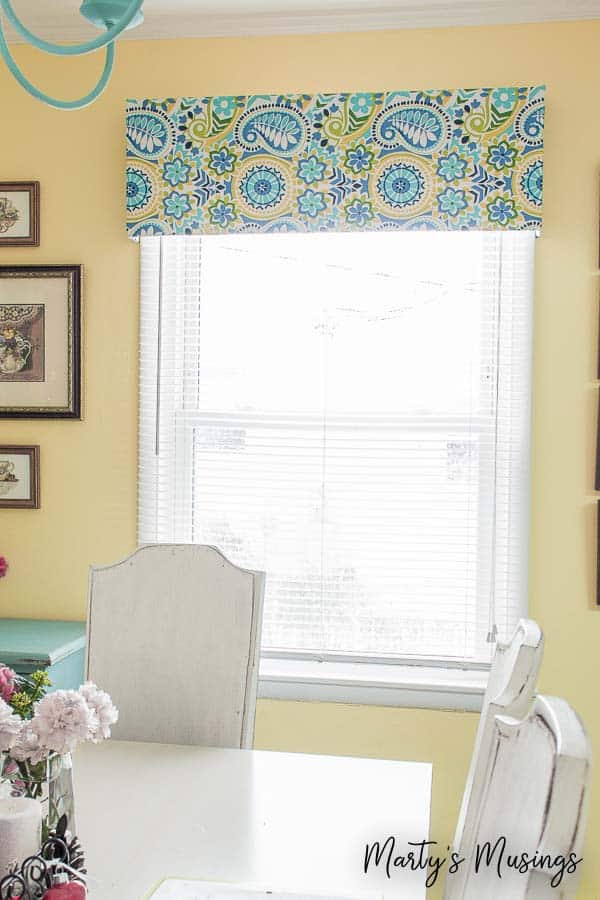 From Marty: I love the way the fabric pulls the colors together and brings out the yellow without overwhelming. You can see how we used a coordinating fabric on our no sew shabby chic kitchen chairs.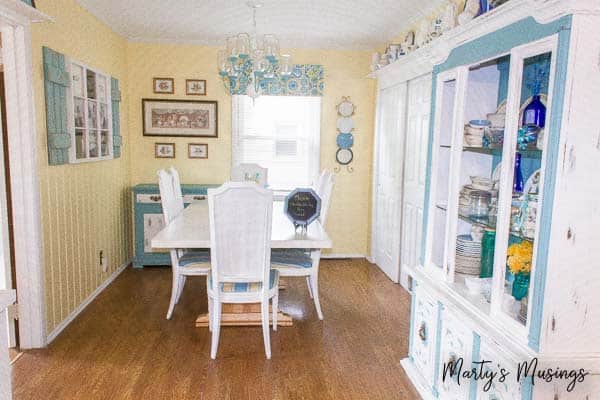 This post contains some affiliate links for your convenience.  Click here to read my full disclosure policy.