Shopping for New Furniture: 5 Money Saving Tips!
This post may contain affiliate links which won't change your price but will share some commission. Read more here.
Disclosure: I received products from Rooms To Go but all opinions in this post are my own!
These 5 money saving tips for shopping for new furniture will not only help you stay within your budget but make sure you get the best possible products!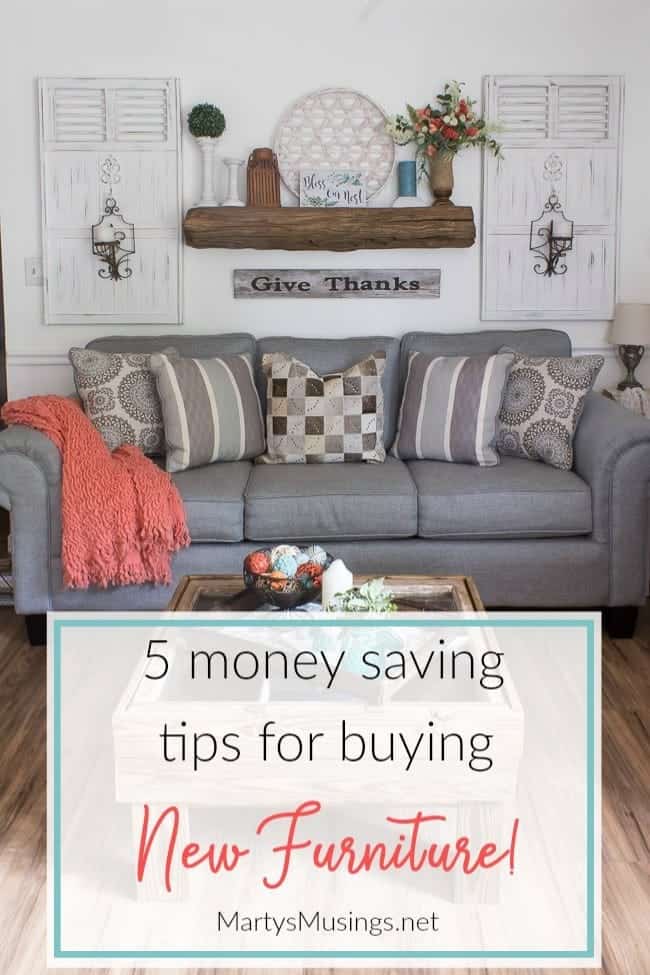 Do you dream of new furniture for your home but are lost as to where to start looking? There are SO MANY decisions, from style to colors to how to make everything go together. It can be overwhelming!
Two and a half years ago we took down a wall between our kitchen and living room and totally gutted the space. It was our biggest project to date and although we had a contractor do some of the bigger projects, my husband also tackled many of the smaller ones.
If you've ever renovated you know the money all dries up towards the end. All those extras you planned for usually go by the wayside.
New furniture was one of those "extras" for us. We had this beautiful new space with furniture that was way beyond its' expiration date.
(Here's a reminder of our well worn couch. Yikes!)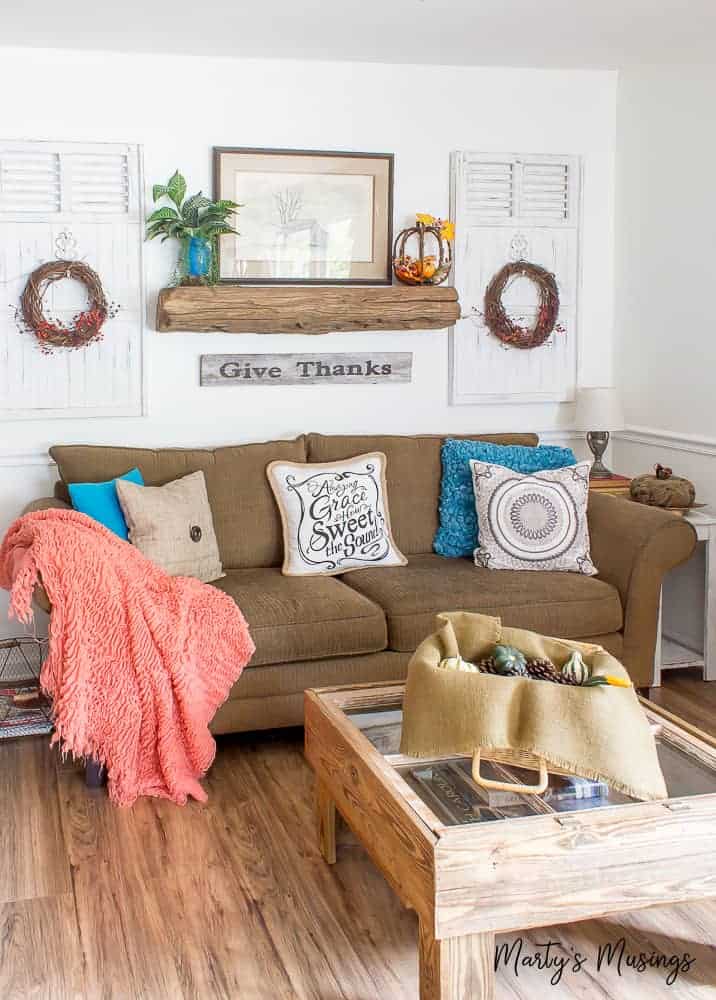 When Rooms To Go contacted me about partnering together I did a happy dance and thanked the Lord above!
We rarely buy new furniture at our house and I realized that you may experience the same kind of overwhelm when making such a big decision.
So I'm here today to share how Rooms To Go helped me pull this space together and create the open living area I've always wanted!
5 Money Saving Tips for Shopping for New Furniture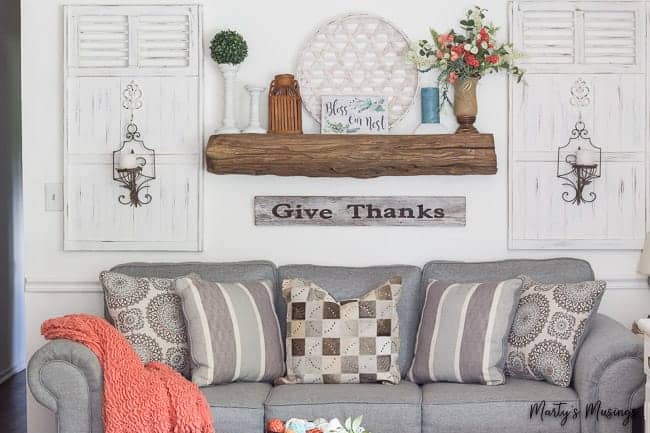 1. Take your time.
Do NOT rush the experience! My husband and I both looked at the Rooms To Go website and had an idea of color and style before we went to the showroom. But looking online isn't the same as deciding if the pieces will work in your room and home.
When we got to the showroom a sales representative greeted us at the door and was incredibly helpful as we told her what we wanted to purchase. She was able to show us which fabrics went with each different style, even down to swatch samples for pillows. (I think my husband threw up a little bit at this. Anyone else's husband HATE pillows? Is it a guy thing? Asking for a friend lol.)
Because we had an idea about what we wanted the experience was quick and painless. Our salesperson gave us plenty of space to walk around and window shop yet she was available to answer any questions we had.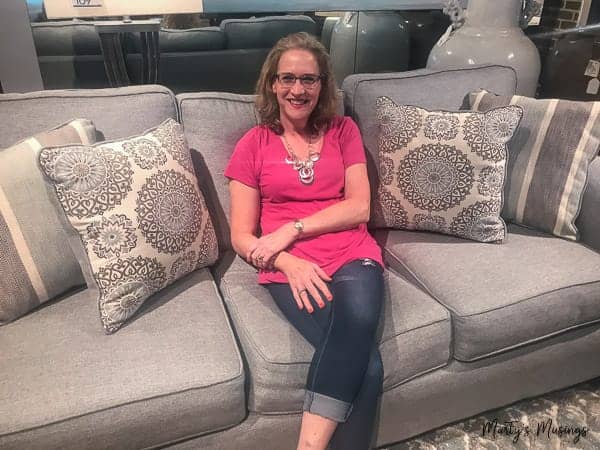 2. Measure your area before you start shopping.
While we were at Rooms To Go we were able to look on the back of each sales card and find the dimensions for each piece of furniture. Sure beats measuring it ourselves! The wall our couch was going on had a finite amount of space. We didn't have room for tables on either side (even though I saw the prettiest rustic ones I really wanted!)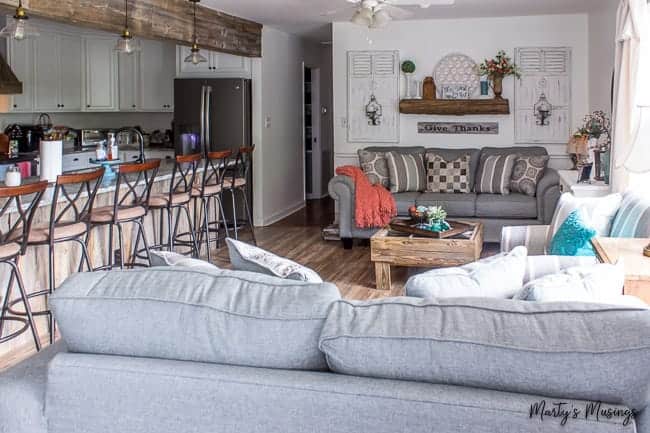 We actually ended up changing the footprint of our living room because of the furniture we chose. Our dog Carson likes to sit on top of (yes, on top!) the couch back to look out the window. I decided I wanted to try the chair we chose in front of the window instead of the loveseat. That way he has a smaller amount of fabric to get dirty ~fingers crossed~
3. Does it fit the style of your home?
I love RoomsToGo for their emphasis on putting together an entire room if you need that assistance. I hear from my readers all the time that you don't know how to combine styles or different pieces and accessories.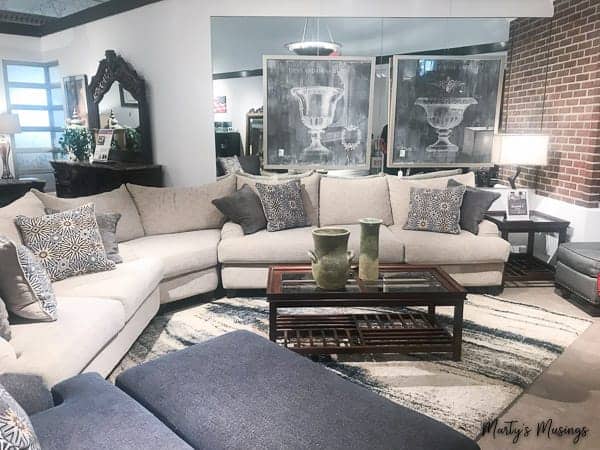 That's perfectly fine because you can buy an entire room at Rooms To Go, down to every single accessory and accent piece or you can buy just the items you want to replace, such as a sofa and loveseat.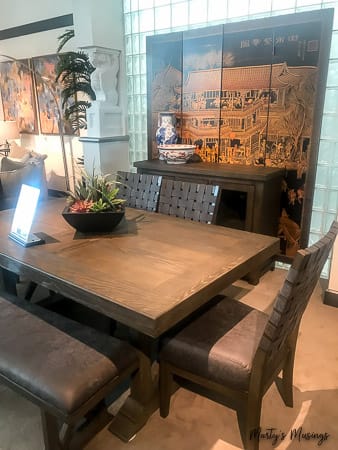 You can also mix and match from different rooms to create the look that's right for you.
At first we were thinking about going with dark gray but when we saw this furniture we changed our mind! We actually chose a color that I was afraid might be too light (called hydra) but I loved the blue/gray tint of the fabric. We weren't necessarily looking for a coastal vibe but we loved the striped chair with the couch and loveseat we chose.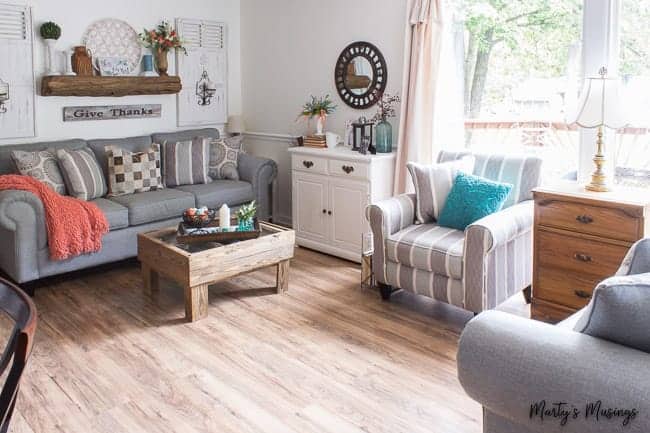 We chose the Pennington Blue sofa and loveseat with the blue striped accent chair.
4. Buy well made furniture.
This is an investment for your future so make sure you know how well the furniture is made. If that chair has wood, it is real or pressed board? Is the construction of the piece solid? Will it seat everyone comfortably?
Run your hands across surfaces and make sure that there are no rough spots or blemishes.
Who will be using this furniture? What's the fabric like and how durable is it? (pets and grandchildren anyone?)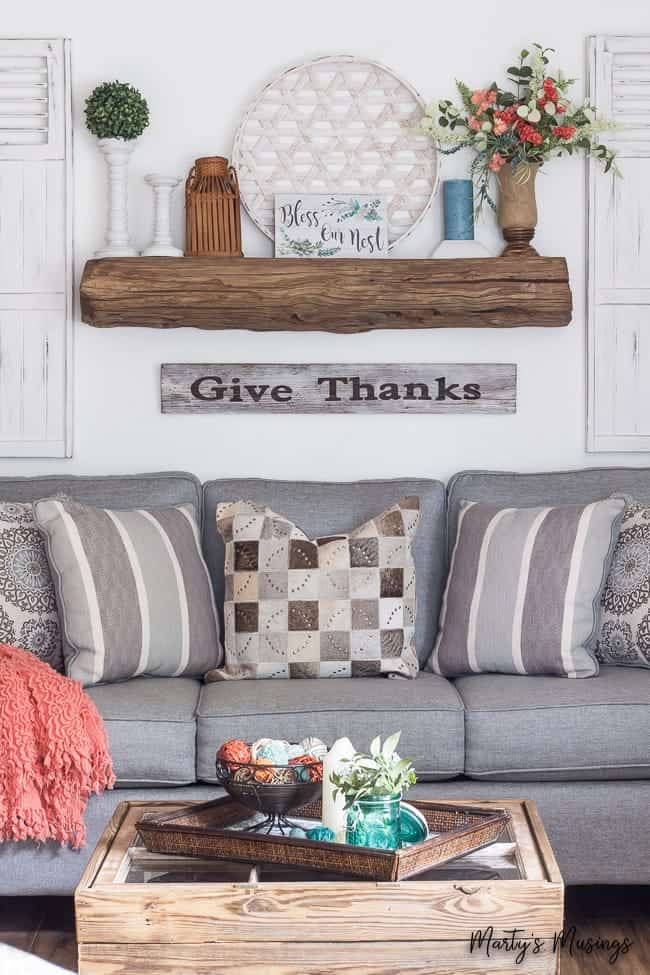 We have one dog, two cats and a kitten at the moment and they're used to being on the furniture. We wanted to make sure we got something that would last us a long, long time and we could keep clean. Leather was out because of all the little claws!
Can we talk about pillows again? lol These pillows are made to withstand a hurricane! They're also reversible which makes mixing and matching an easy task.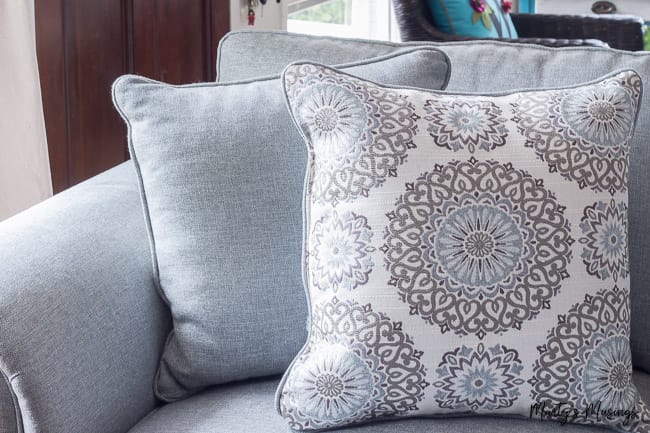 I also chose extra pillows I knew were such high quality I couldn't pass on them. Originally intended for our den, the center pillow fit right in with the rest of the wood we have in this room.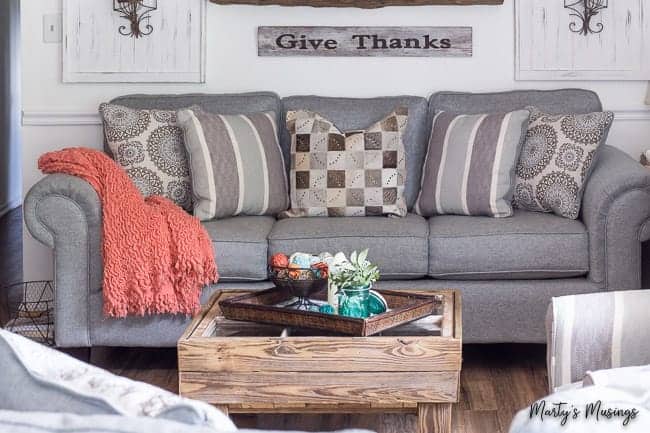 5. Stay within your budget.
Our experience with Rooms To Go was amazing because our salesperson was both knowledgeable and helpful while not pushing something on us that was outside our budget. She let us compare prices which was very important to me.
Rooms To Go has entire rooms priced affordably and we're so grateful to have found something we loved at a reasonable price.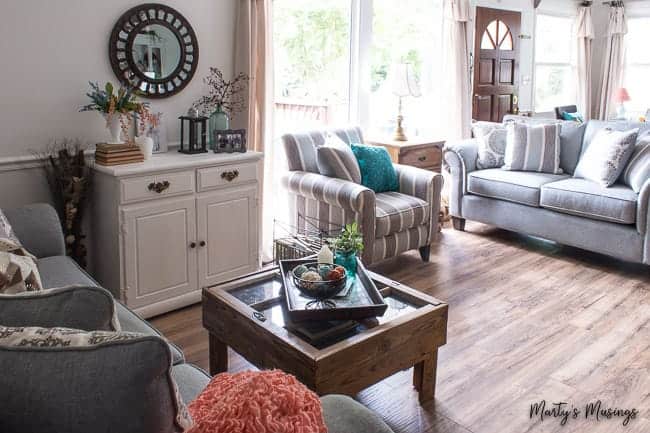 The best time to know how much you can afford is BEFORE you go to the showroom. Do your due diligence and make sure you AND your spouse are on the same page if you're shopping together.
We had our furniture delivered which is definitely the way to go! The furniture was wrapped in plastic for safety, and the men were in and out of the house in about 15 minutes!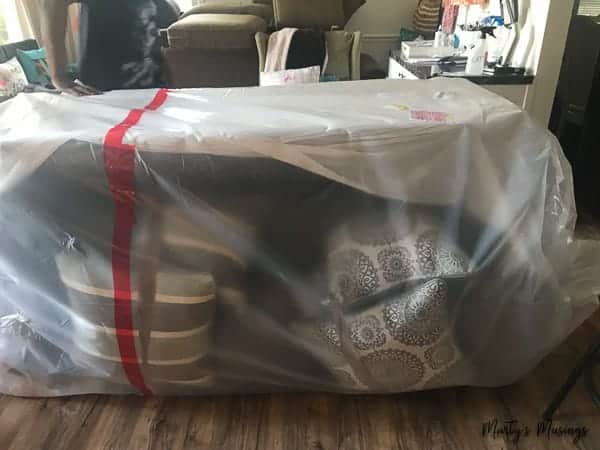 We couldn't be happier with our new furniture and are grateful for the opportunity to partner with Rooms To Go!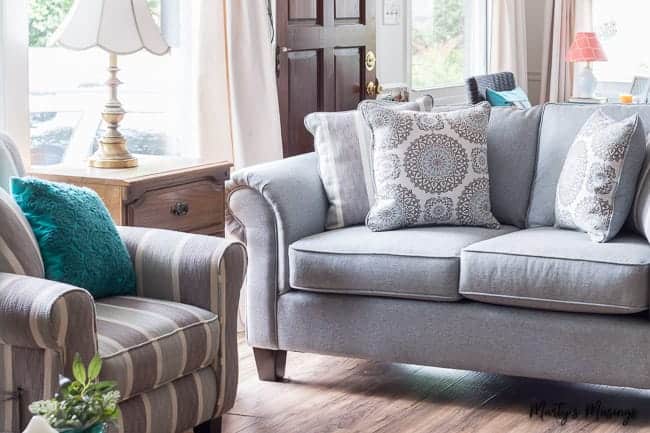 What questions do you have for me? Does shopping for new furniture overwhelm you, too?