Easy Spring Mantel + Inexpensive Decorating Ideas
This post may contain affiliate links which won't change your price but will share some commission. Read more here.
Want to add some beauty to your home for the season but don't want to spend money? This easy spring mantel and inexpensive decorating ideas are for you!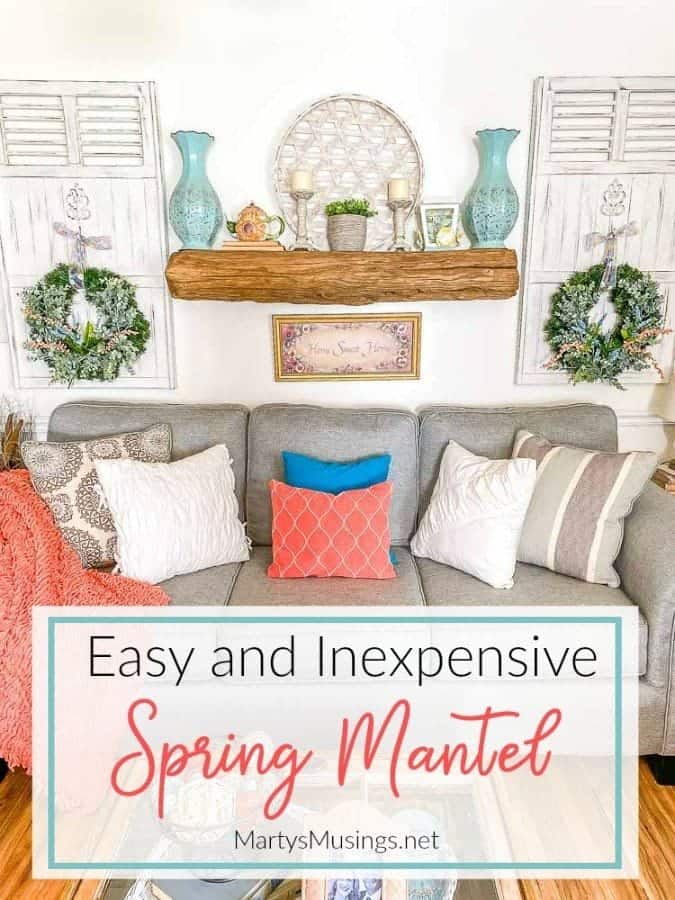 Heavy heart. Anxious spirit. Fear and overwhelm.
Right now this is probably all you see on social media and hear from your family and friends.
Our world has changed overnight. Kids are homeschooling (not by choice!) and everyone that can is working from home.
Finances are stretched and tempers explode.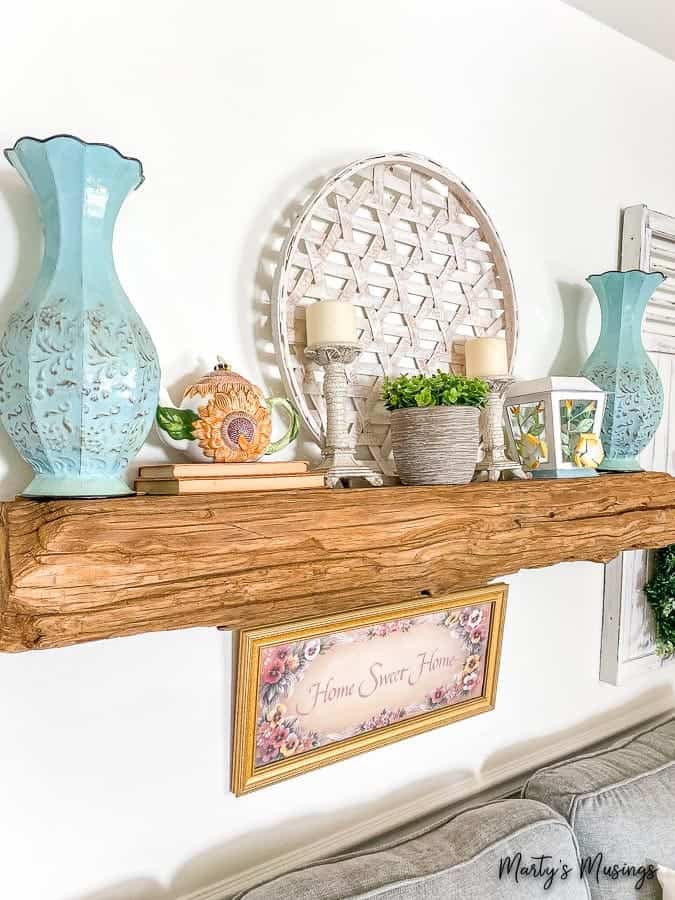 Are you feeling helpless, too?
These are difficult times we're living through but they are not insurmountable.
At this time of insecurity everything in me is fighting the anxiety Satan wants to use to kill and destroy.
My friends, don't let the devil get a foothold.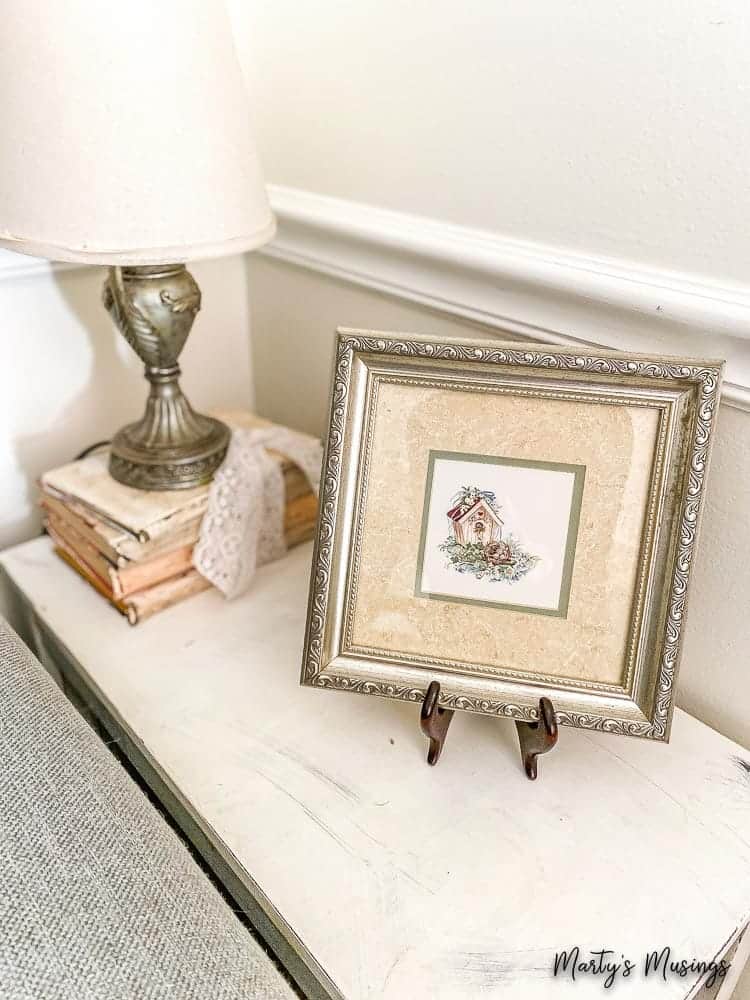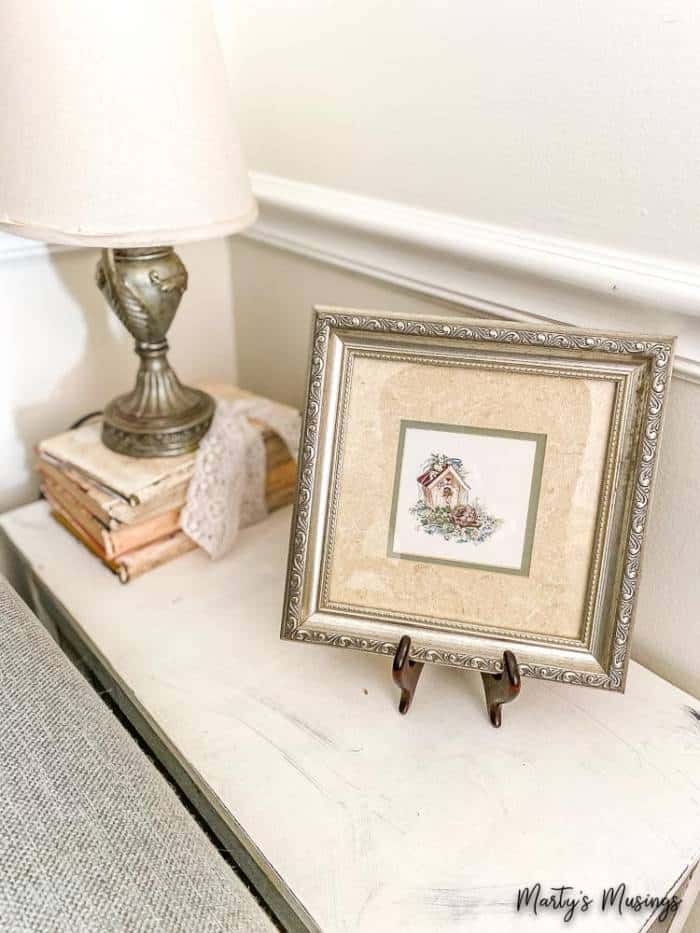 There's a time and season for everything and this just might be your season to grieve.
Grieve the loss of security.
Grieve the loss of a job or financial provision.
Grieve for your children who have lost normalcy and routines.
Grieve for those suffering whose health is compromised.
Grieve the inability to plan for the future.
Grieve for those who have no hope.
Then take this opportunity to rejoice!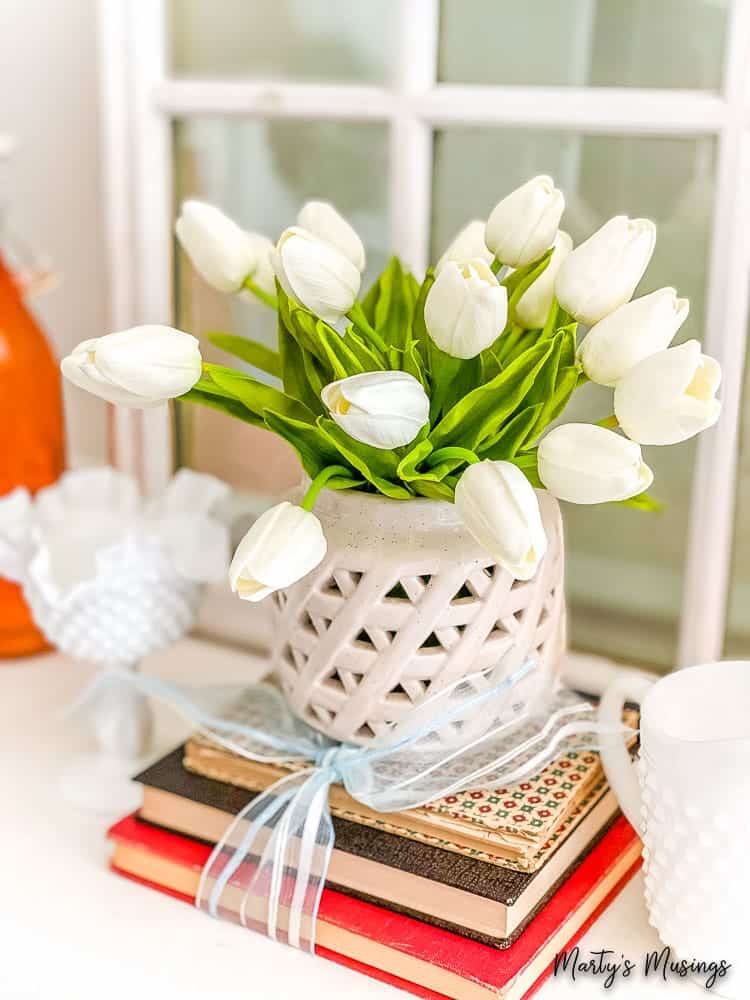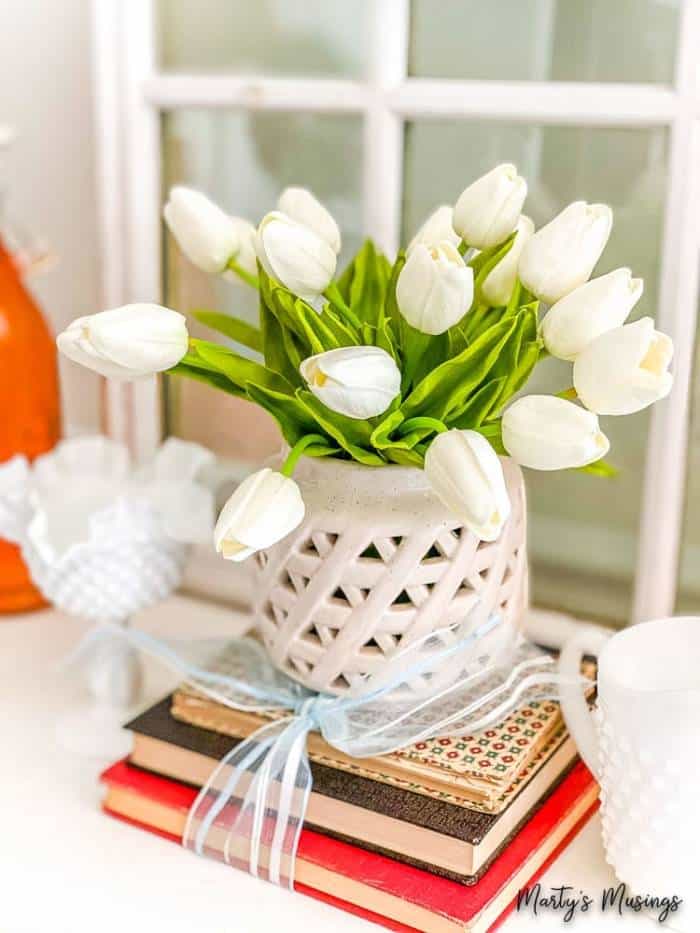 Rejoice that your security is in Christ.
Rejoice that there are always opportunities ahead even when you can't see the light.
Rejoice with the extra time you have to pour into your children and family.
Rejoice that doctors and scientists are working at light speed to develop a vaccine or way to further combat this universal sickness.
Rejoice that you are alive and only have to live one day, one moment at a time.
Rejoice that we are not a people without hope.
Be the light, my friends. Do the work to battle the enemy who threatens to steal your joy.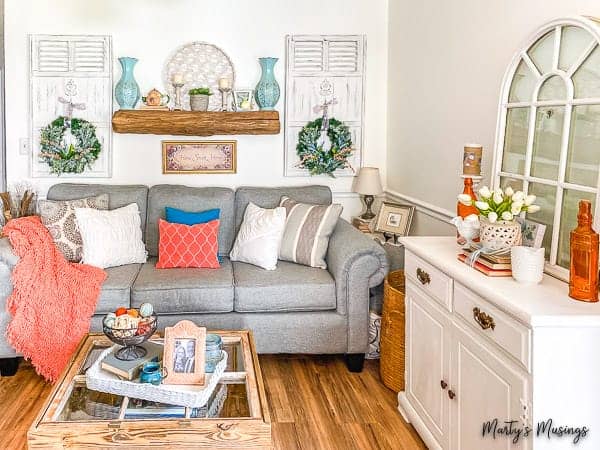 You are more than your fear.
At this uncertain time in our world I believe it's natural to look for distraction and reassurance. I'm so excited to be joining with some amazing bloggers as we share our spring homes.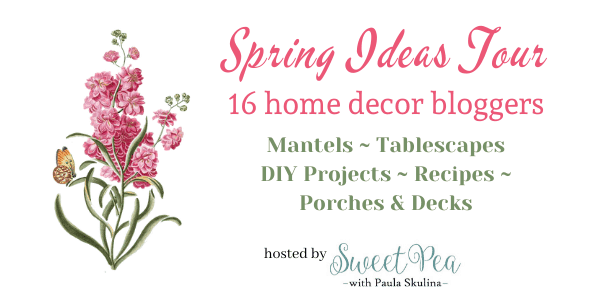 Easy Spring Mantel: Tips for Decorating for The Season
Today I'm sharing my easy spring mantel and more inexpensive decorating ideas in the hopes that beauty (and thriftiness!) will encourage you during this difficult season.
As always, I shopped my home (and my attic, which desperately needs cleaning out!) for most of the things you see featured in this post.
If you're interested in the many home accessories I've used, I'm linking some comparable items below. They may not be exactly like what I've used but hopefully they'll give you some ideas!
Home Decor Supplies
(I've included some affiliate links for your convenience. Click here to read my full disclosure policy.)
Real touch tulips
Glass bottle
Milk glass hobnail creamer
Burlap ribbon
Rustic shutters
Christmas wreath base
Eucalyptus garland
Wreath flowers
Organza ribbon
Round tobacco basket
Blue fluted vase
Gray planter
Sunflower teapot
Coral throw
Tip 1. Only decorate those areas that bring you joy.
I'll be honest and say I only decorate this one room for most seasons. (You can read about how we took down a wall and totally gutted the space here.)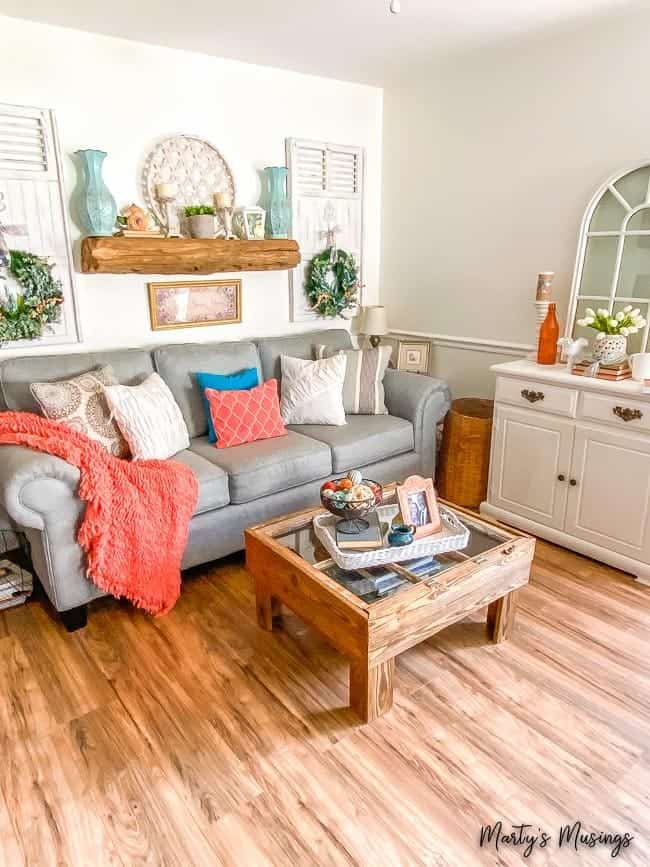 Just because I'm a DIY/home decor blogger doesn't mean I have to redecorate every other month. I don't put that expectation on myself and you shouldn't either!
I'm giving you permission to do as much or as little as makes you happy!
Tip 2: Use what you already have.
One of my favorite places to decorate, though, is my DIY floating mantel and $1 yard sale shutters.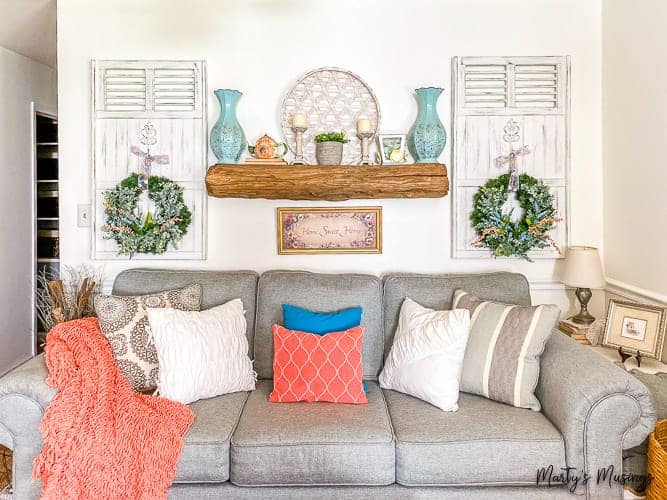 I've used the same basic inexpensive Christmas wreaths all this year by adding layers and ribbon I can change for the season.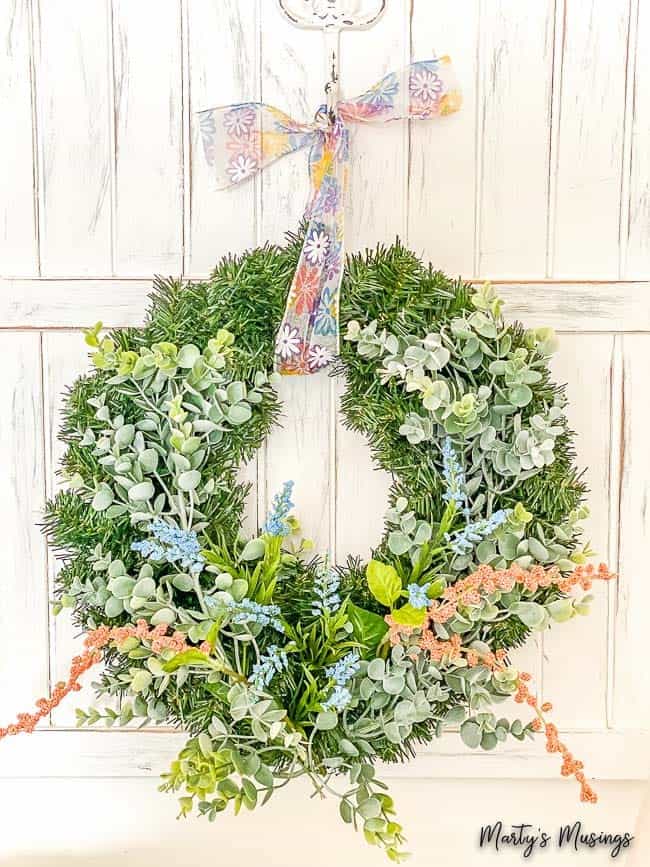 The Home Sweet Home sign is a touch of vintage (or says my husband! Not sure that's a compliment!) Everything else on this easy spring mantel except the tobacco basket is a yard sale find.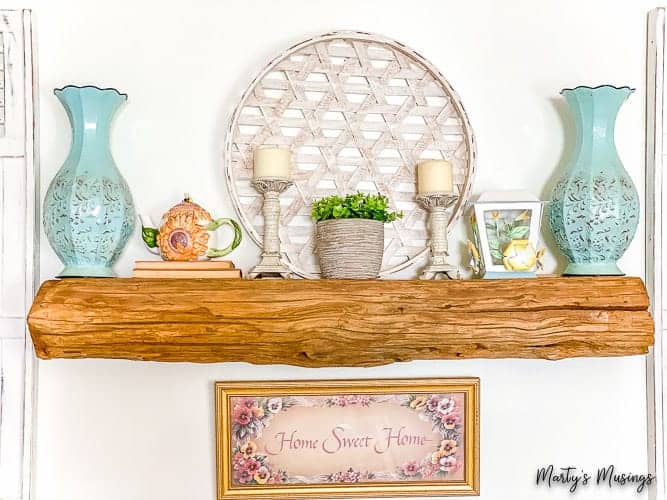 Tip 3. Use pops of color in your accessories.
Nothing makes me happier than coral and aqua/teal, the perfect colors for a touch of spring! Add a favorite bright throw and the room automatically looks more cheerful!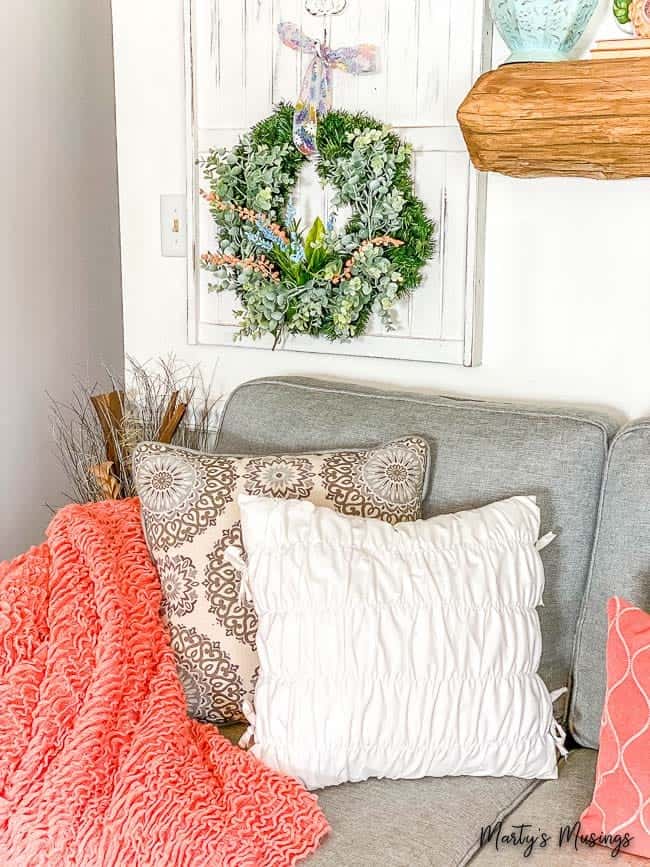 Tip 4. If you're going to purchase accessories make sure they can be used more than one time.
The second surface I always decorate is the top of this chalk painted buffet which includes this $10 yard sale cathedral window.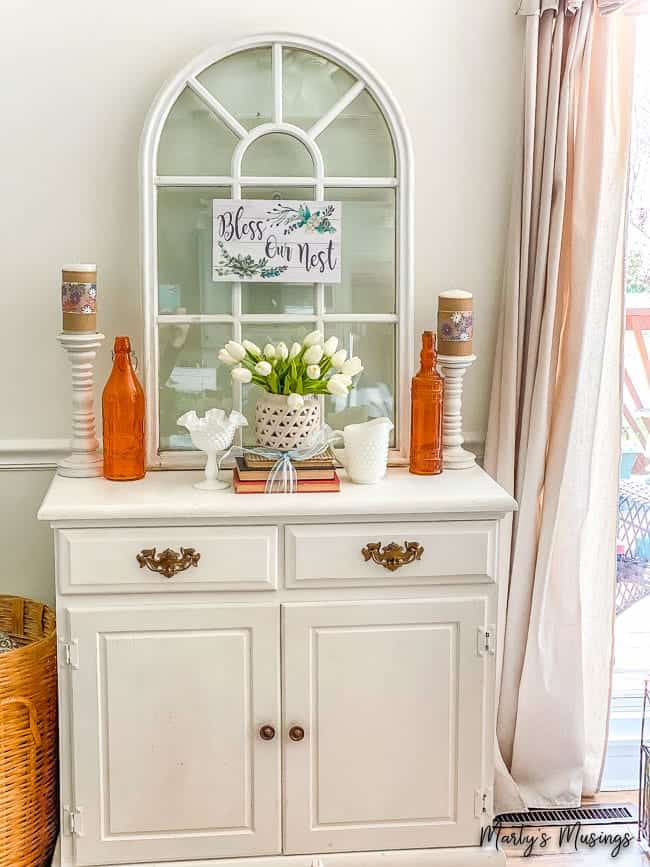 I love these real touch tulips on top of some old stacked books and know I'll be using them for years to come.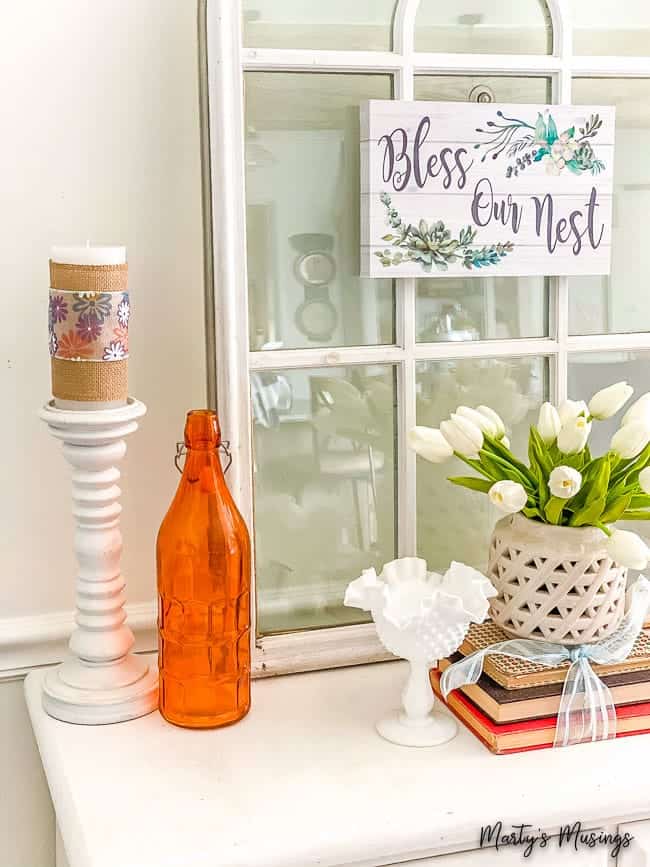 One of my favorite decorating tricks is repurposing old candles by wrapping them in ribbon. (Obviously, these are not to be burned!)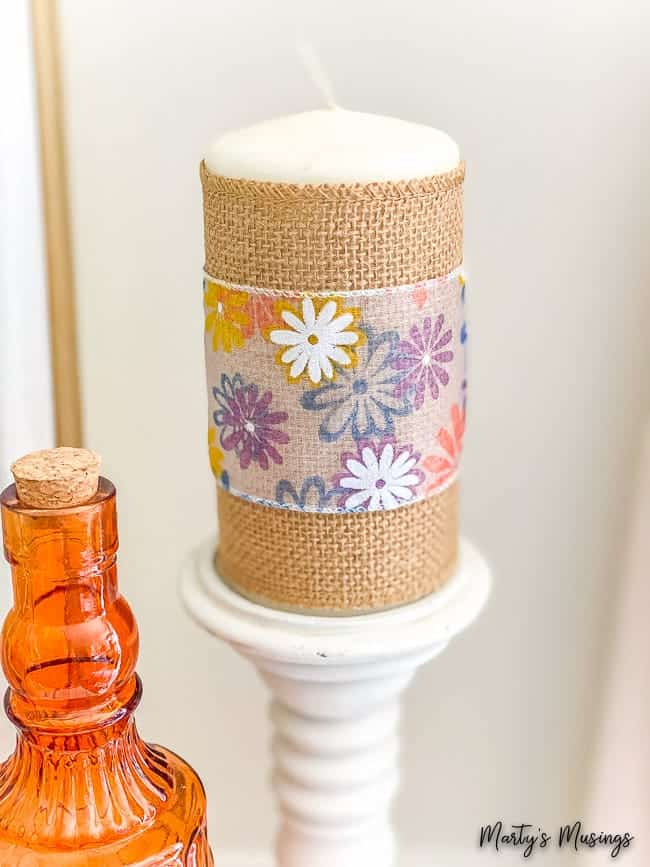 Tip 5. Gather items together onto a tray.
I also love to decorate my window table by gathering together a few items with a painted yard sale tray.
Did you guess the picture is just printed on white cardstock so I don't have to go to the store?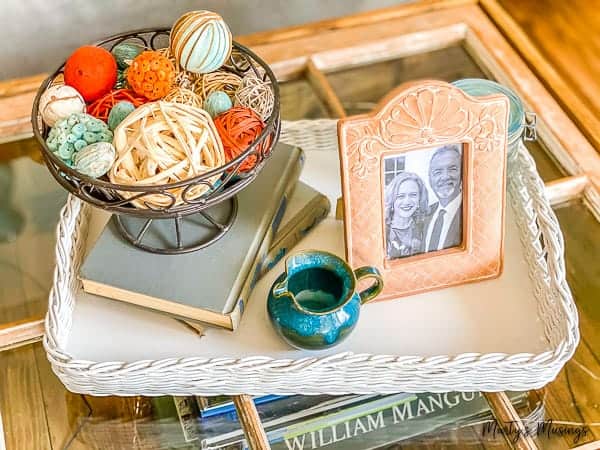 Tip 6. Use seasonal home decor your guests will see as they enter your home.
The little seating area and drop zone is the first area everyone sees when they come to visit. I love to make it cozy with pops of seasonal elements.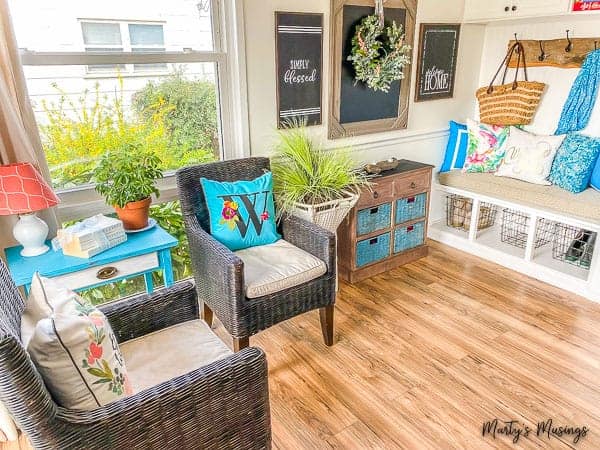 I used a matching wreath for this end of the room as well.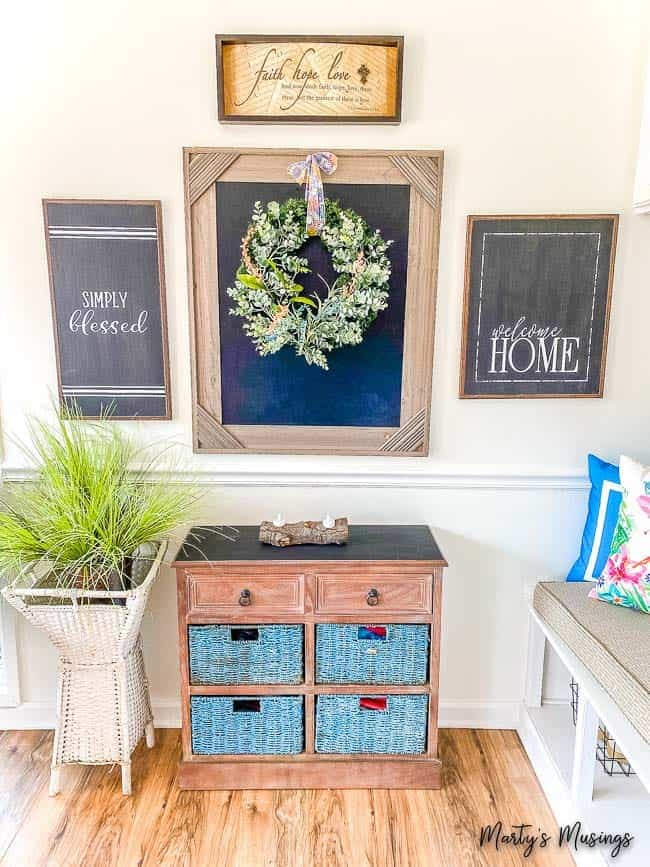 Don't forget the front door! I love the look of this tobacco basket against my bright coral door!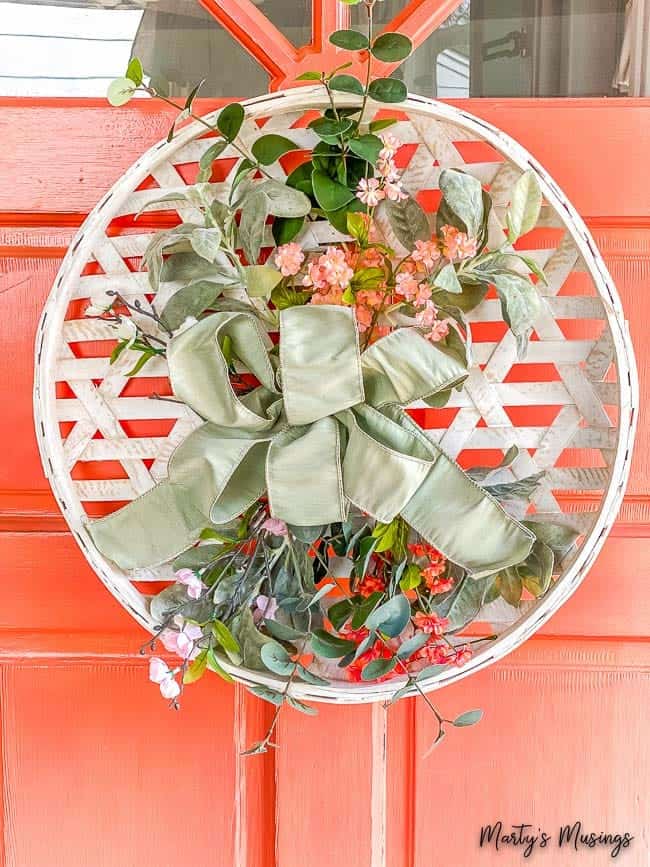 Tip 7. Make your home work for you!
Your home should be a place of comfort and joy, especially during these trying times.
The most important part of your home is the family gathered within its walls.
Enjoy all my friends who are sharing their beautiful spring homes!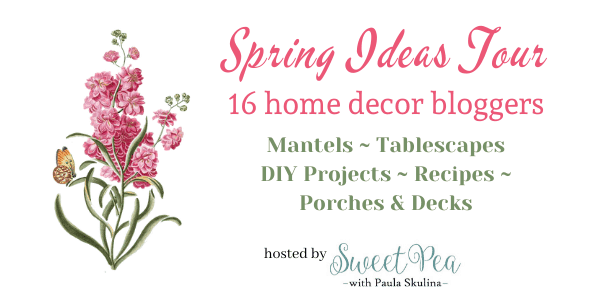 Monday ~ Mantels

Hearth and Vine | Postcards from the Ridge | Marty's Musings
Tuesday ~ Tablescapes

Lora Bloomquist | Our Southern Home | The Painted Hinge
Wednesday ~ DIY

Sweet Pea | 2 Bees in a Pod | The How to Home | Our Crafty Mom
Thursday ~ Recipes

My Wee Abode|Thistle Key Lane|Harbour Breeze Home|First Day of Home
Friday ~ Porches

Redhead Can Decorate | Worthing Court | Follow the Yellow Brick Home